Foodie Friday: What The Stars Ate This Week (Apr 29 - May 6)
All the photos that made us hungry this week.
Private dining dinners seem to be all the rage this week for celebs like JJ Lin, Li Nanxing, Shane Pow, and Vivian Lai, who enjoyed homely flavours in cosy settings. Meanwhile, Diana Ser celebrated turning the big 5-0 out at sea, Edwin Goh and Benjamin Tan indulged in supper in JB after work, and the cast of Key Witness met up for a long overdue wrap party. Read on for more.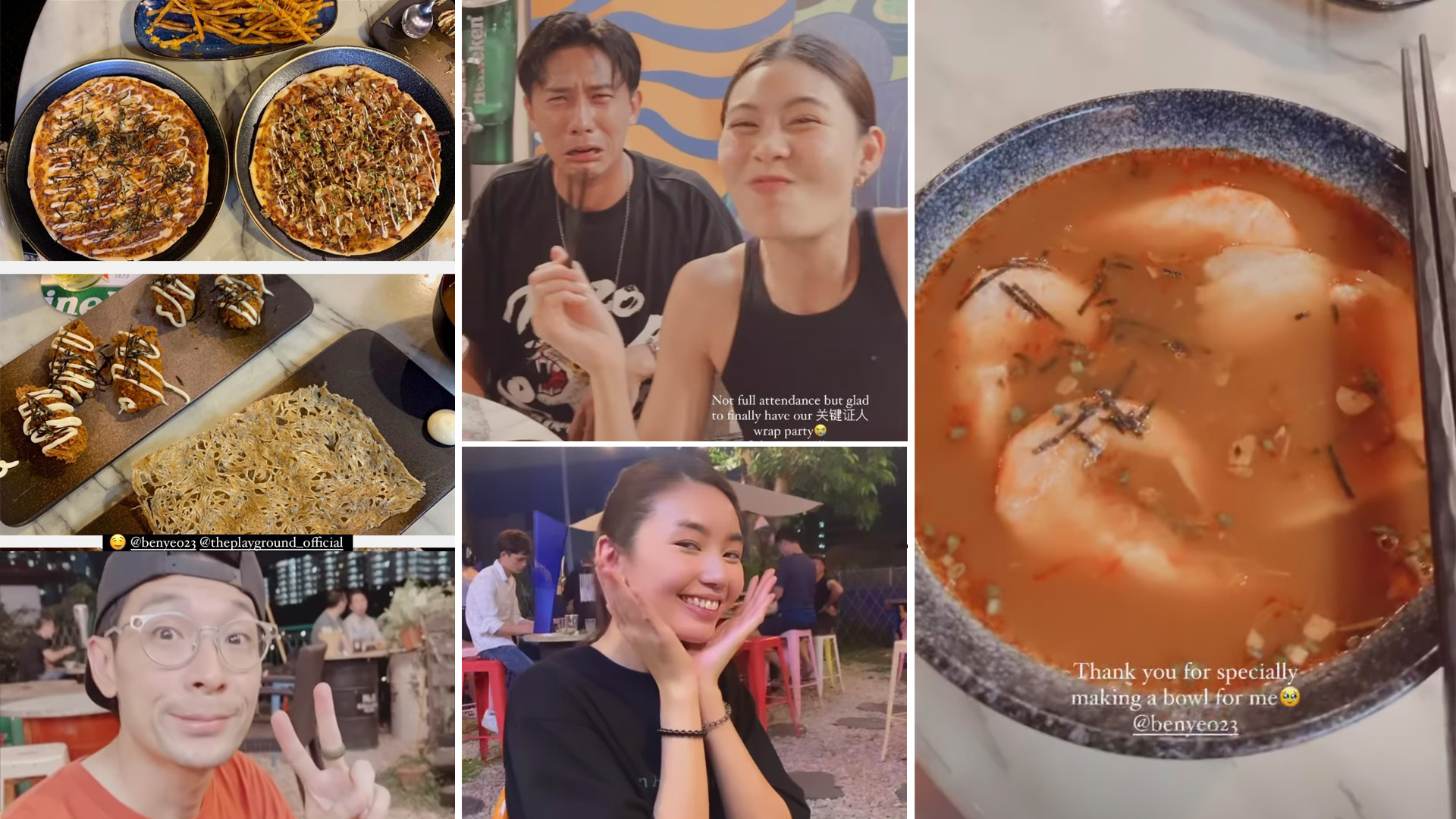 Desmond Tan, Denise Camillia Tan, and Sheryl Ang
What they ate: Izakaya nosh
Yummy factor: The cast and crew of Mandarin drama Key Witness had their long overdue wrap party at Ben Yeo's beer garden Playground so of course they had to try the signature eats from his izakaya stall SG Umami. We spy the SG Umami pizza, pencil fries with tom yum mayo, sardine tatami, and panko fried oysters. And Ben even personally whipped up his yummy fusion hae mee for Sheryl. Lucky girl!
Chen Xiuhuan
What she ate: Egg dosa
Yummy factor: Lunch for Xiuhuan was a simple yet hearty affair of egg dosa. And it sure looked like she couldn't wait to tuck into her savoury South Indian crepe with fluffy eggs and a side of curry gravy.
Apple Hong, Michelle Chong and Cynthia Koh
What they ate: Birthday meal
Yummy factor: Yes, we've lost count of the number of birthday celebrations Michelle has had for her 45th birthday (April 22) too. This time, the discerning foodies took the celebrations to Claudine Restaurant, where they were impressed with menu highlights like the roast pigeon, as well as the beautifully-deboned wild dover sole made flavourful with brown butter and capers. And, of course, there was plenty of wine to go around.
Jeanette Aw
What she ate: Afternoon treats
Yummy factor: Jeanette stopped to smell the roses on her day off from work, choosing to relax with a cuppa and cafe nosh at Under Der Linden. In fact, she enjoyed her time there so much, she almost forgot to snap photos of the small bites like fries and king tiger prawns with chilli and garlic.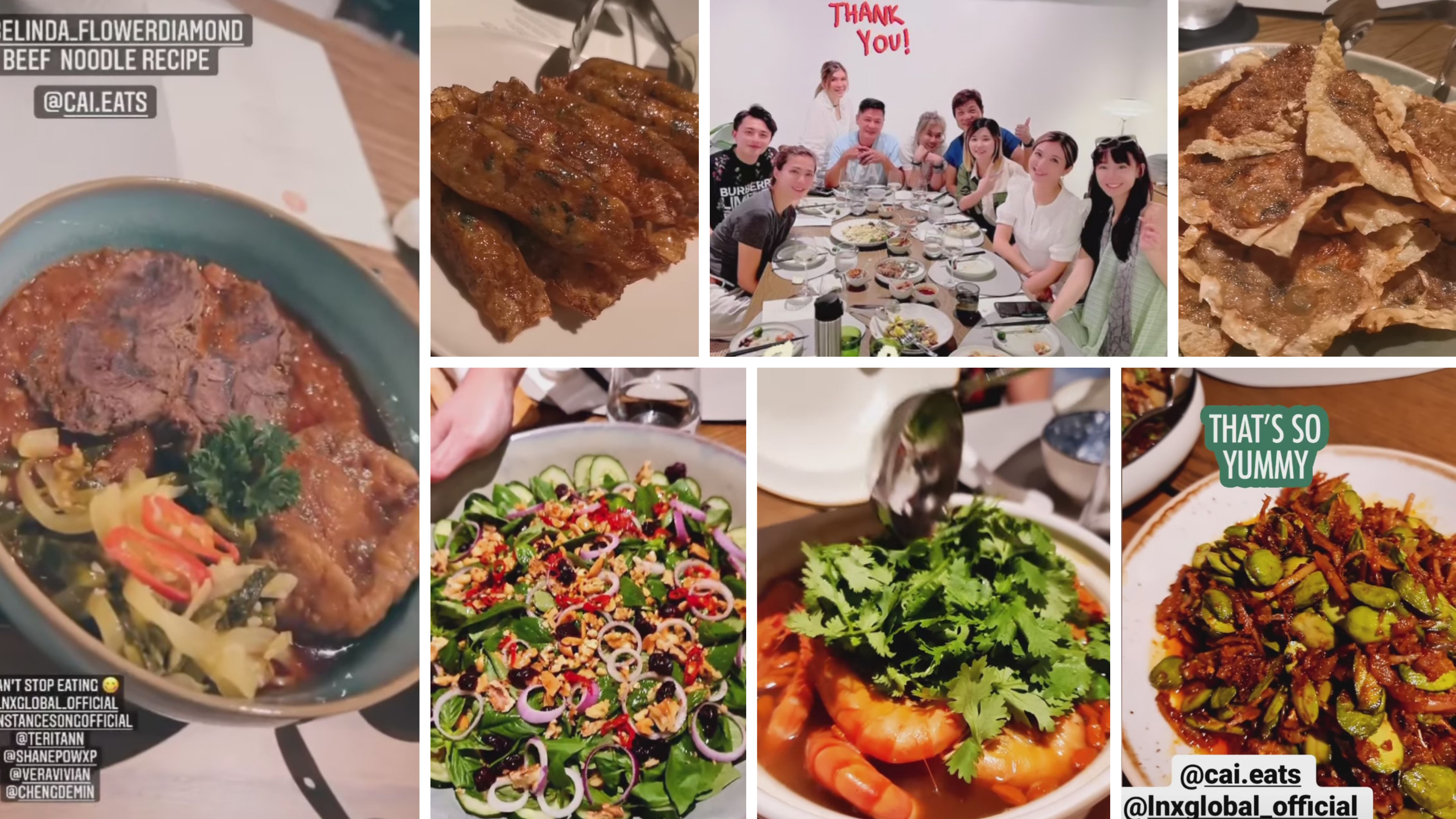 Constance Song, Shane Pow, Li Nanxing, Vivian Lai, and Julie Tan
What they ate: Private dining
Yummy factor: The celeb pals checked out private dining outfit Cai's where they indulged in culinary creations inspired by the chefs' Hokkien, Hainanese and Peranakan roots. There's their signature fried ngoh hiang, sambal petai, as well as a claypot prawn dish. We are very intrigued by the beef noodles, which features oxtail and shank in a spicy tomato broth with a dollop of kiam chye.
Kym Ng
What she ate: Brunch
Yummy factor: Judging by her activewear, it looks like Kym got her workout in before heading out for brunch — the balanced spread included fresh juice, tossed pasta, fresh greens and what looks like a prawn dish with toast.
Diana Ser
What she ate: Pandan cake
Yummy factor: While Diana didn't get to have the kelong dinner she wanted (the eatery had shut down), she did celebrate the big 5-0 (April 26) by going out to sea with family and having delicious pandan cake adorned with flower petals on a boat. Fun fact: The chiffon confection is from home-based bakery Mad About Pandan Cake, and it's helmed by hubby James Lye's cousin.
Das DD, Zheng Geping, Hong Huifang and Tay Ying
What they ate: Hawker nosh
Yummy factor: It's no secret by now that Das is a regular guest at family dinners with the Tays — sans Calvert. This time, they had hawker favourites at Makansutra Gluttons Bay — think grilled sambal stingray, stir-fried sambal kangkong and satisfying orh luak.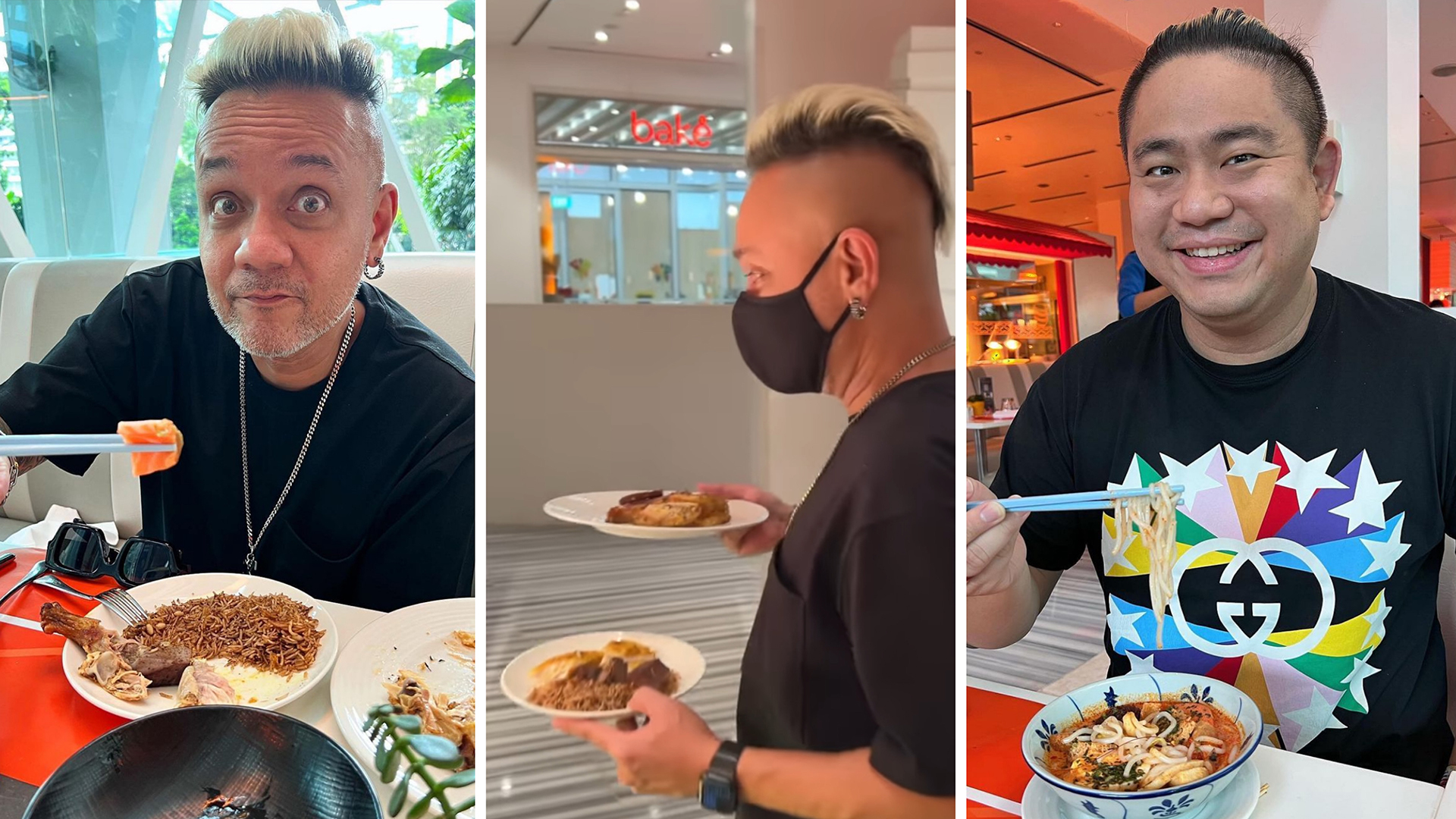 Vernon A and Justin Ang
What they ate: Buffet
Yummy factor: Who else makes sure to get at least two plates' worth of food before heading back to your seat at a buffet? The Muttons' Justin and Vernon ate till they "could barely walk" at The Line by Shangri-La Hotel, where they found themselves stuffing their faces with unlimited servings of juicy roast beef and chicken, as well as sashimi and laksa. BRB, going to make a reservation for this weekend.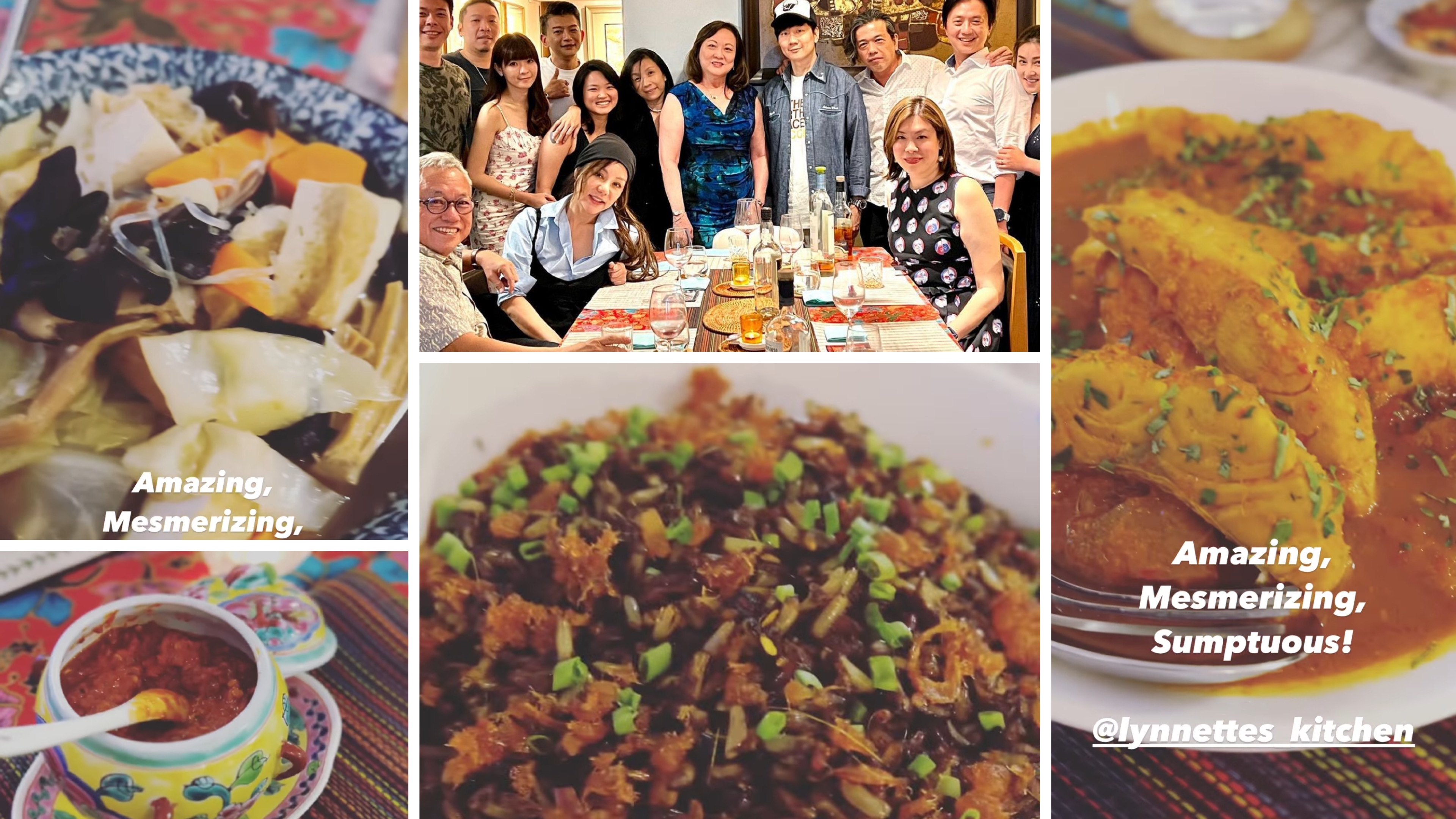 JJ Lin
What he ate: Peranakan dinner
Yummy factor: JJ had a private dining experience at Lynnette's Kitchen, where he tucked into "amazing" Peranakan eats like chap chye and tangy assam pedas, as well as unique menu items like buah keluak fried rice and more. Safe to say, the Mandopop star was impressed.
Sora Ma
What she ate: Bak kwa with bread
Yummy factor: A self-professed fan of the sedap combo, Sora has had her fair fare of bak kwa and bread creations. However, she may just have found the best version yet in her Malaysian hometown of Kedah. The buns are fried till the outer layer is crisp, and thick slices of bak kwa barbecued meat are sandwiched in between for maximum oomph. Pity she didn't manage to try the one with pork floss.
Benjamin Tan and Edwin Goh
What they ate: Supper
Yummy factor: Overnight filming sessions have got nothing on Edwin and Benjamin. Especially after a satisfying supper and rejuvenating massage in Johor Bahru after. Skewers of fried lok lok goodies and wanton mee have probably never tasted better after a long night of work.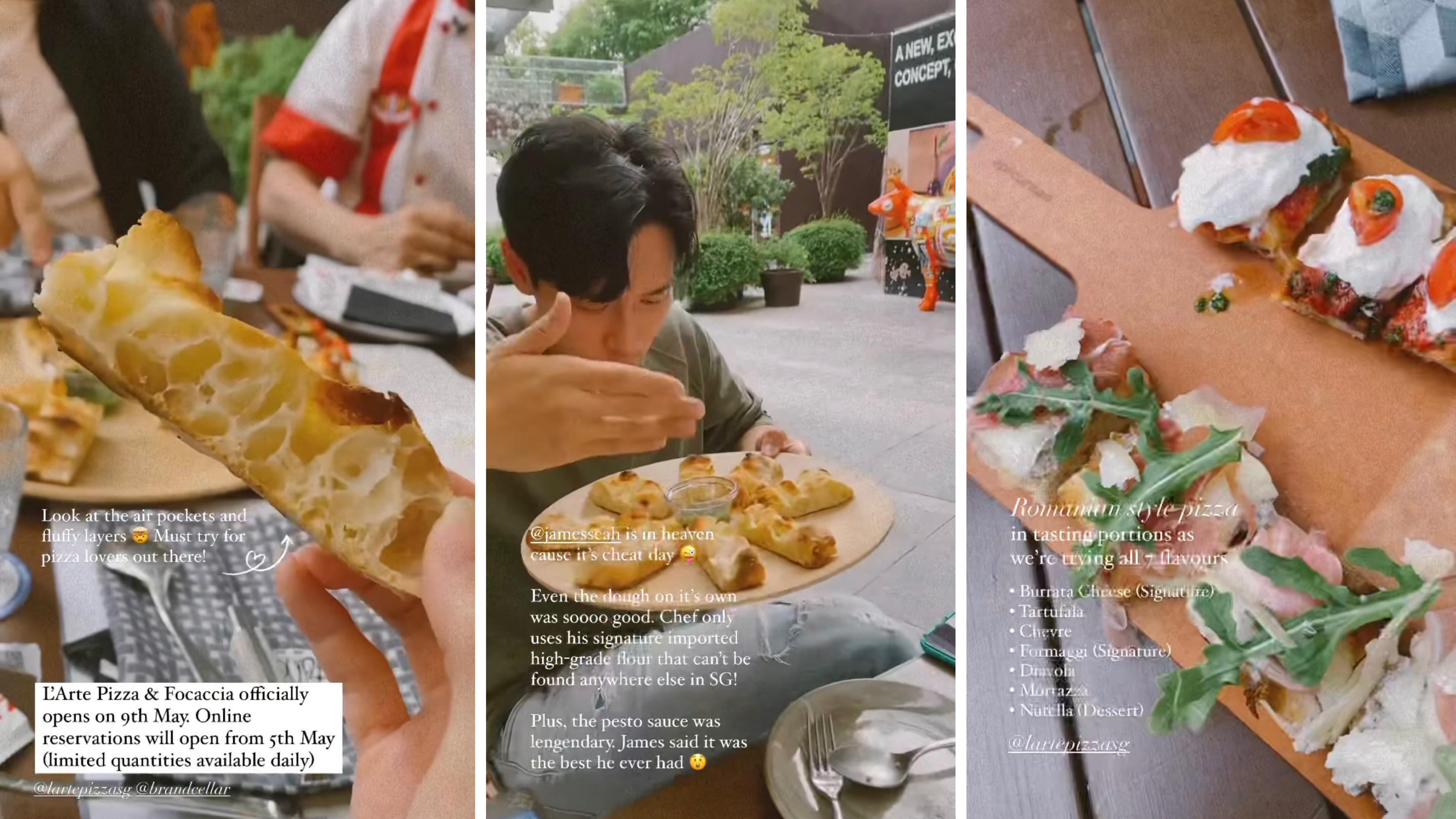 James Seah
What he ate: Cheat meal at L'Arte Pizza & Focaccia
Yummy factor: When it's a precious cheat day, you'll want to make the most out of it like James. The actor indulged in world-famous Romanian-style pizza and focaccia made by Chef Radostin Kiryazov, who's widely known as the "God of Italian Pizza", and made sure to take his time to savour every carby bite. And with ingredients like burrata, formaggi and nutella atop a fluffy pizza base, it's no wonder he's smitten.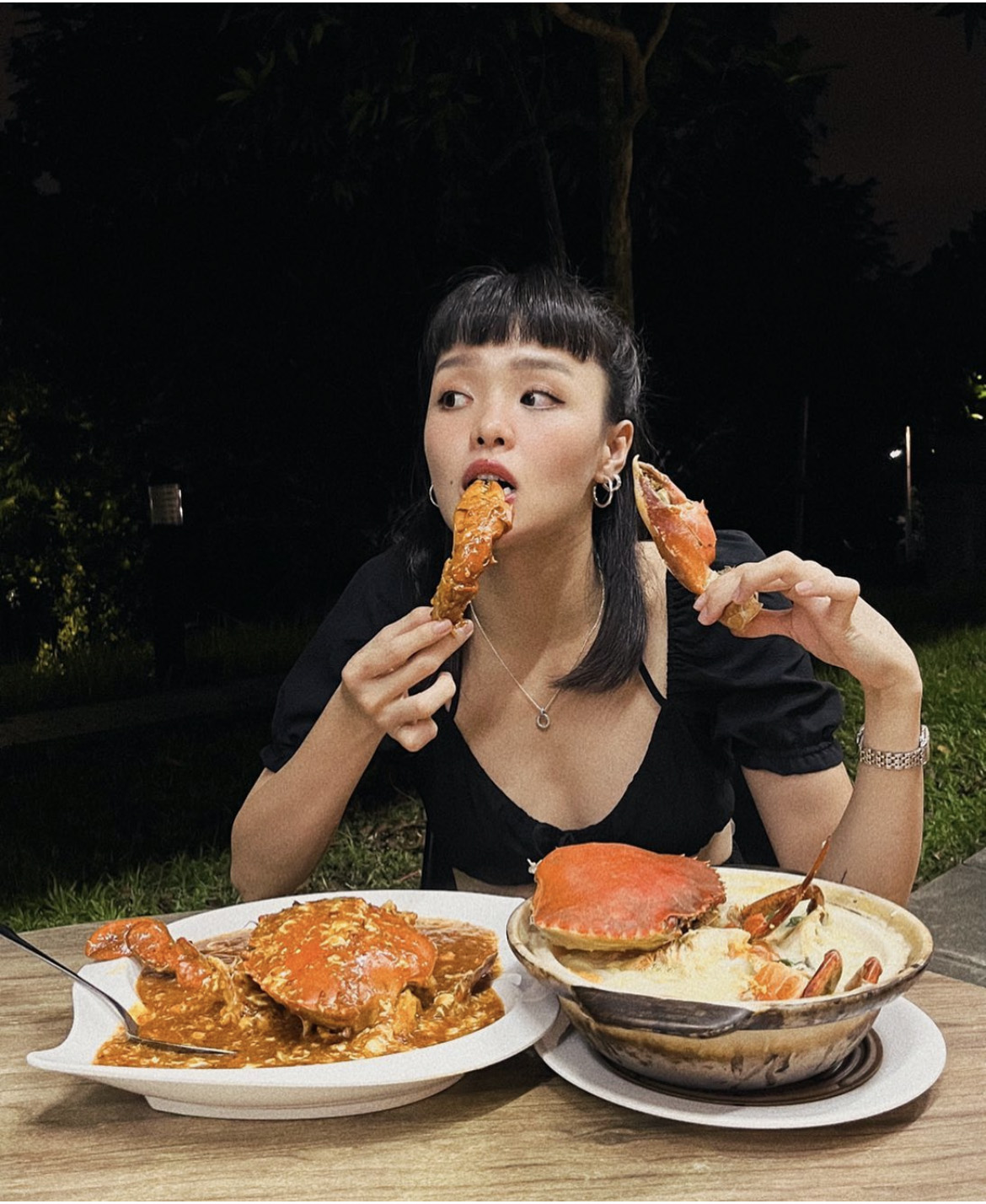 Hazelle Teo
What she ate: All things crab at Uncle Leong Seafood
Yummy factor: Pass Hazelle the juicy pincers, please. The YES 933 DJ is definitely not one to shy away from the messy affair of deshelling crabs and getting to the sweet meat within, especially when the crustaceans are served in the form of her fave chilli crab and claypot crab bee hoon.
Chua Enlai
What he ate: Pork noodles
Yummy factor: What better way to start his day in Bangkok than with a spicy brekkie at noodle shop Rung Rueang Pork Noodles? The Michelin Bib Gourmand eatery is famous for its Thai-style pork noodles with homemade fish balls, and Enlai chose to have it with their addictive tom yam broth.
Jernelle Oh
What she ate: Family dinner
Yummy factor: Jernelle took advantage of the long weekend to take her folks out for dinner at modern Chinese restaurant Clan 7, and we're loving the sumptuous spread. There was a whole roast duck in all its glistening glory, fiery la zi ji with crunchy cashew nuts, suan cai yu and more. Mummy Oh's fave dish of the night? The rich and nourishing old cucumber soup.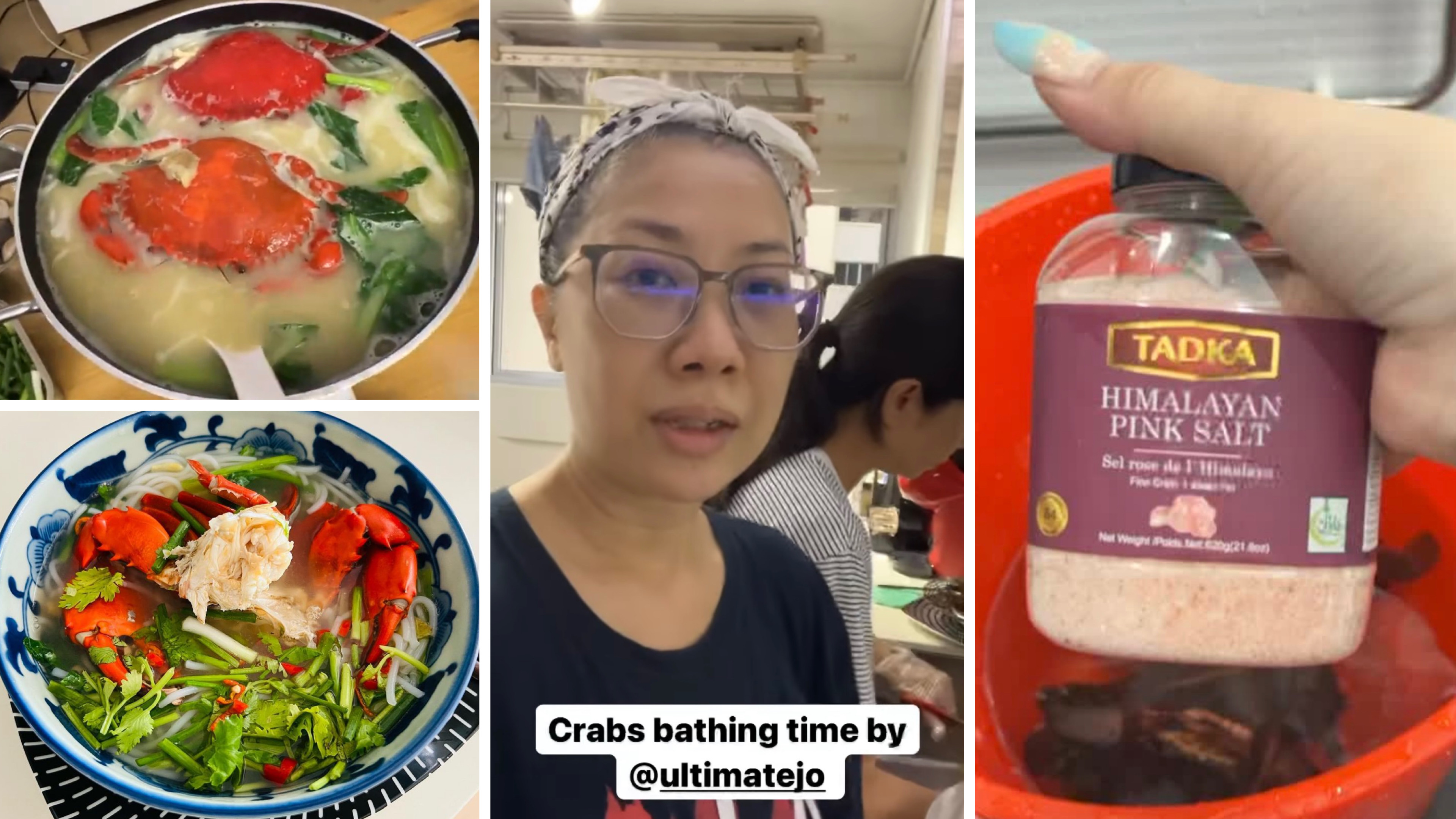 Patricia Mok
What she ate: Crab bee hoon
Yummy factor: Also enjoying a crabby meal was Patricia who "anyhow cooked" her own crab bee hoon soup at home with live crustaceans. She even used "expensive" pink Himalayan salt to give the crabs a good cleanse before popping them into the induction cooker with thick bee hoon, chilli padi and lots of chopped coriander. Looks pretty good, we must say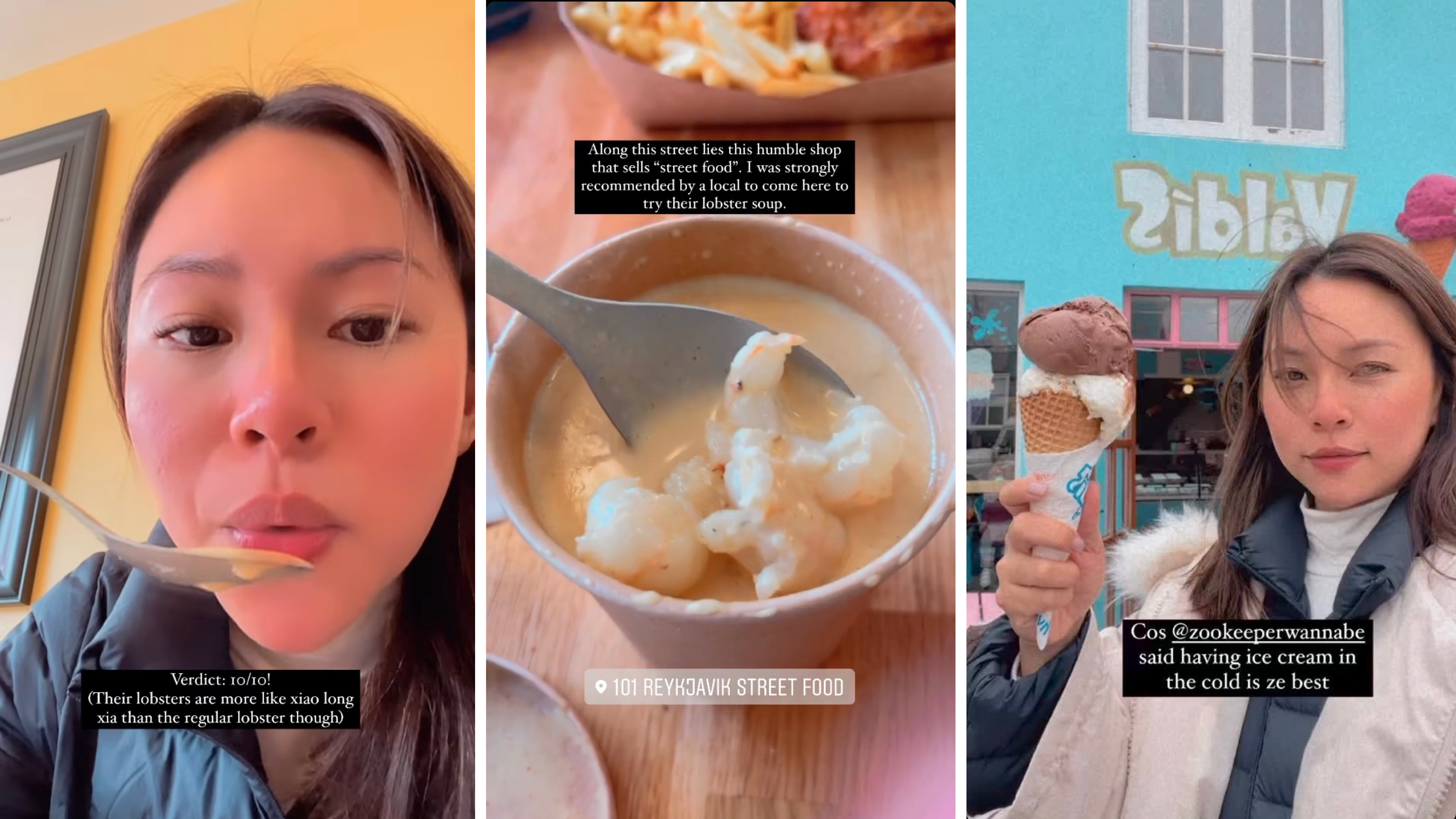 Kayly Loh
What she ate: Icelandic street eats
Yummy factor: On her last day in Iceland, Kayly decided to try the lobster soup at 101 Reykjavik Street Food which was recommended by a local and found it to be delish, though she thought the chunks of meat tasted more like xiao long xia (crawfish). And of course, it's hard to say no to a double scoop ice cream cone for dessert after her hot meal at the restaurant.
Kimberly Wang
What she ate: Indonesian eats
Yummy factor: Talk about major vacay vibes. Kimberly's dinner at Kaum Restaurant in Bali was a riot of colours with dishes like smoked tuna, grilled fish, tiger prawns and keropok to go with rice and a variety of sambal sauces.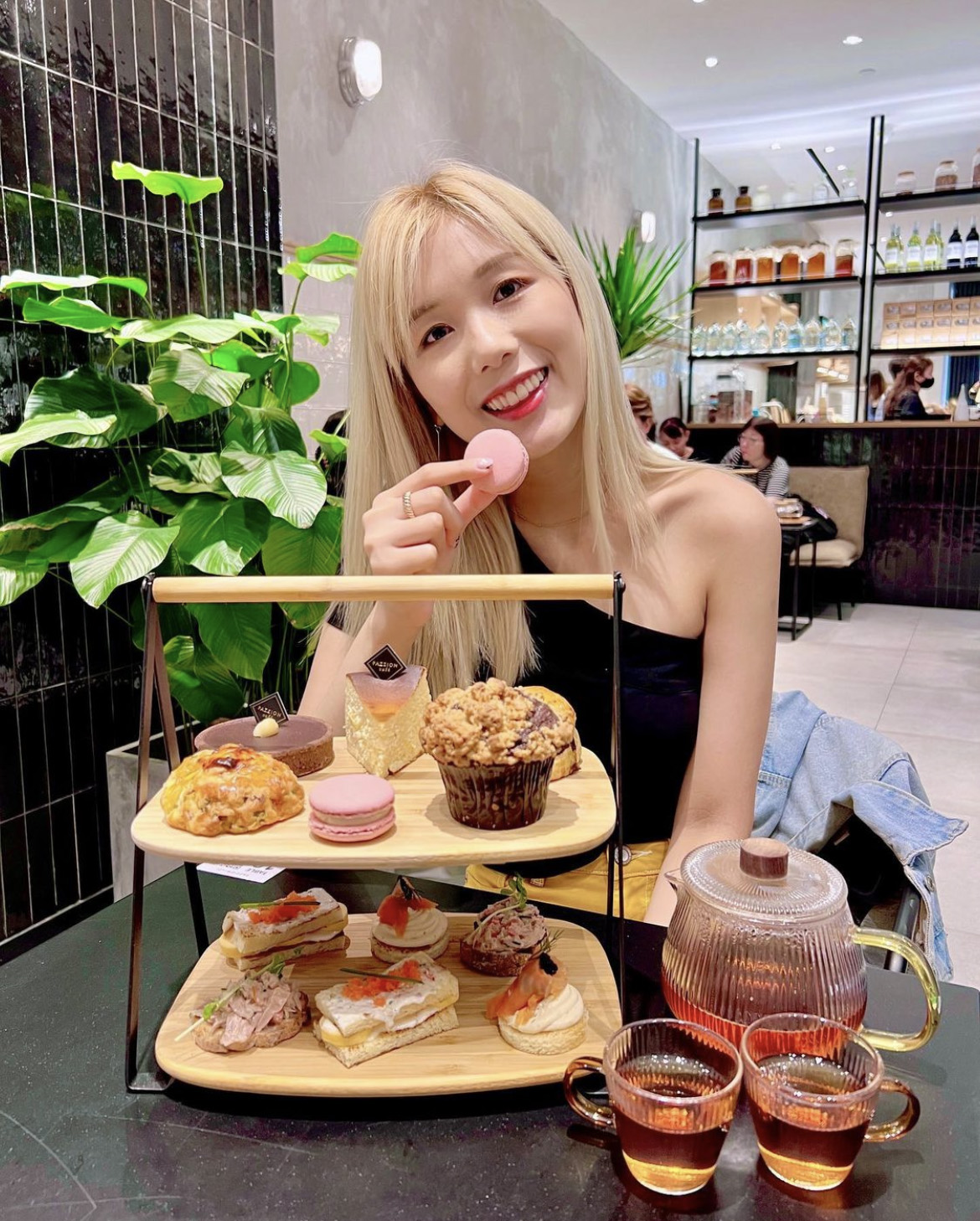 Evelyn Tan
What she ate: High tea
Yummy factor: Evelyn lived the tai tai life this week, what with getting her nails done and having afternoon tea. At Pazzion Cafe, she took things slow and enjoyed her freshly-brewed tea with light bites like scones, macarons and mini sandwiches.
Chen Diya
What she ate: Churros 
Yummy factor: Diya, who is holidaying in Seville, had her first taste of churros with a luscious chocolate dip, and she likened it to Singapore's version of you tiao. And while she enjoyed the sweet fritters from local restaurant Chocolatería Virgen de Luján, she just couldn't get over how huge the portions were.