Foodie Friday: What The Stars Ate This Week (Aug 15-22)
 All the photos that made us hungry this week.
This week, Romeo Tan, Elvin Ng, Zoe Tay, Bonnie Loo and He Yingying celebrated Jeffrey Xu and Felicia Chin's engagement, Belinda Lee, Phyllis Quek, Chen Xiuhuan and Hong Huifang had a curry party, and Thomas Ong got us drooling over his wanton mee collab with MasterChef Singapore alum Aaron Wong. Read on for more.
Romeo Tan, Elvin Ng, Jeffrey Xu, He Ying Ying, Felicia Chin, Zoe Tay and Bonnie Loo
What they ate: Korean barbecue
Yummy factor: The stars got together to celebrate Jeffrey and Felicia's engagement at Omma Korean Charcoal BBQ, and boy did they have a blast tucking into grilled meats, Korean army stew and watermelon soju. And for dessert, it was a surprise congratulatory cake from Bob the Baker Boy.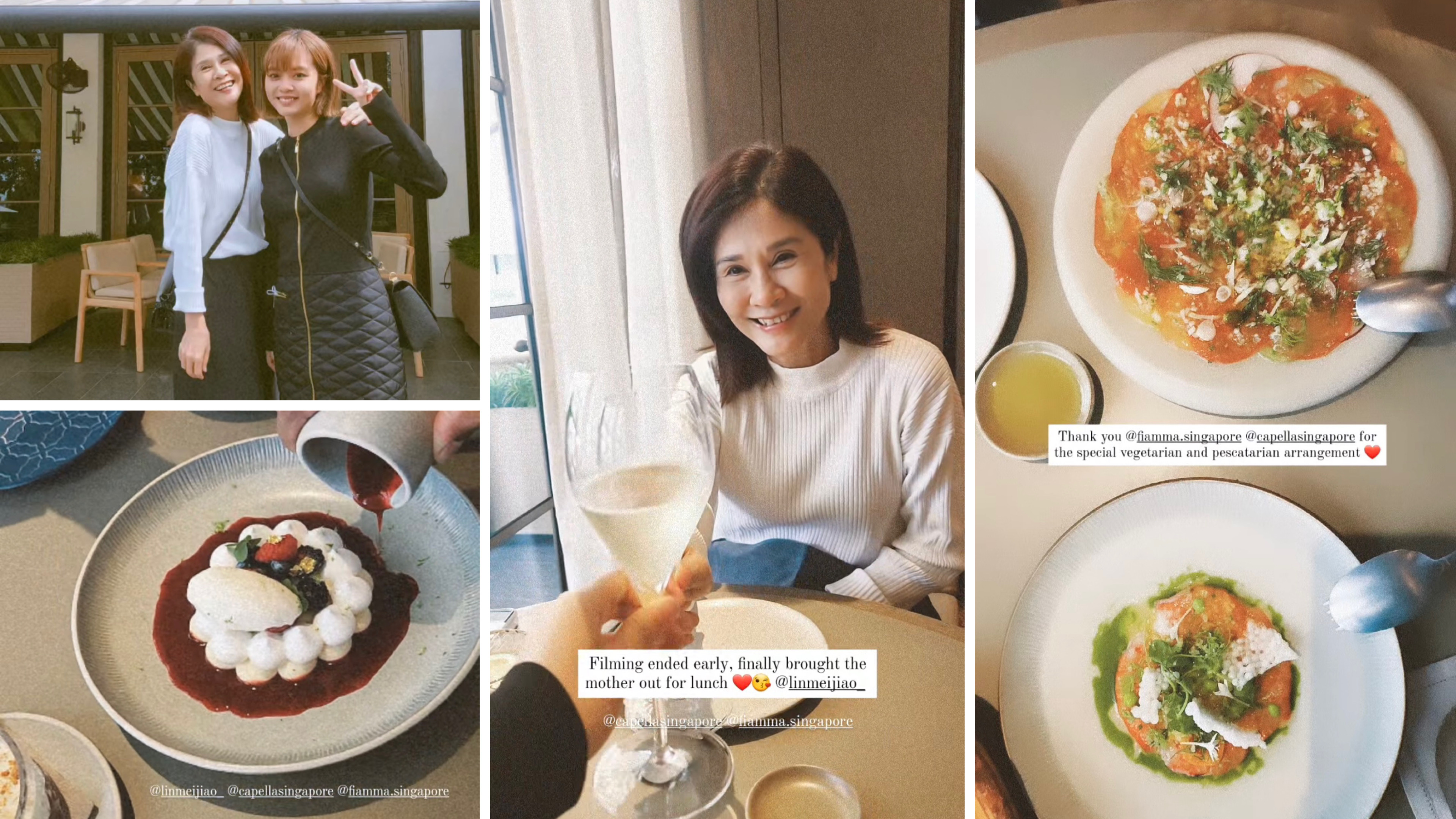 Chantalle Ng and Lin Meijiao
What they ate: Mother-daughter lunch
Yummy factor: Finishing work early meant Chantalle could have a relaxing lunch with Meijiao at italian restaurant Fiamma, where they enjoyed vegetarian and pescatarian eats like tomato and peach carpaccio, as well as plump Mediterranean prawns flavoured with basil and kumquat.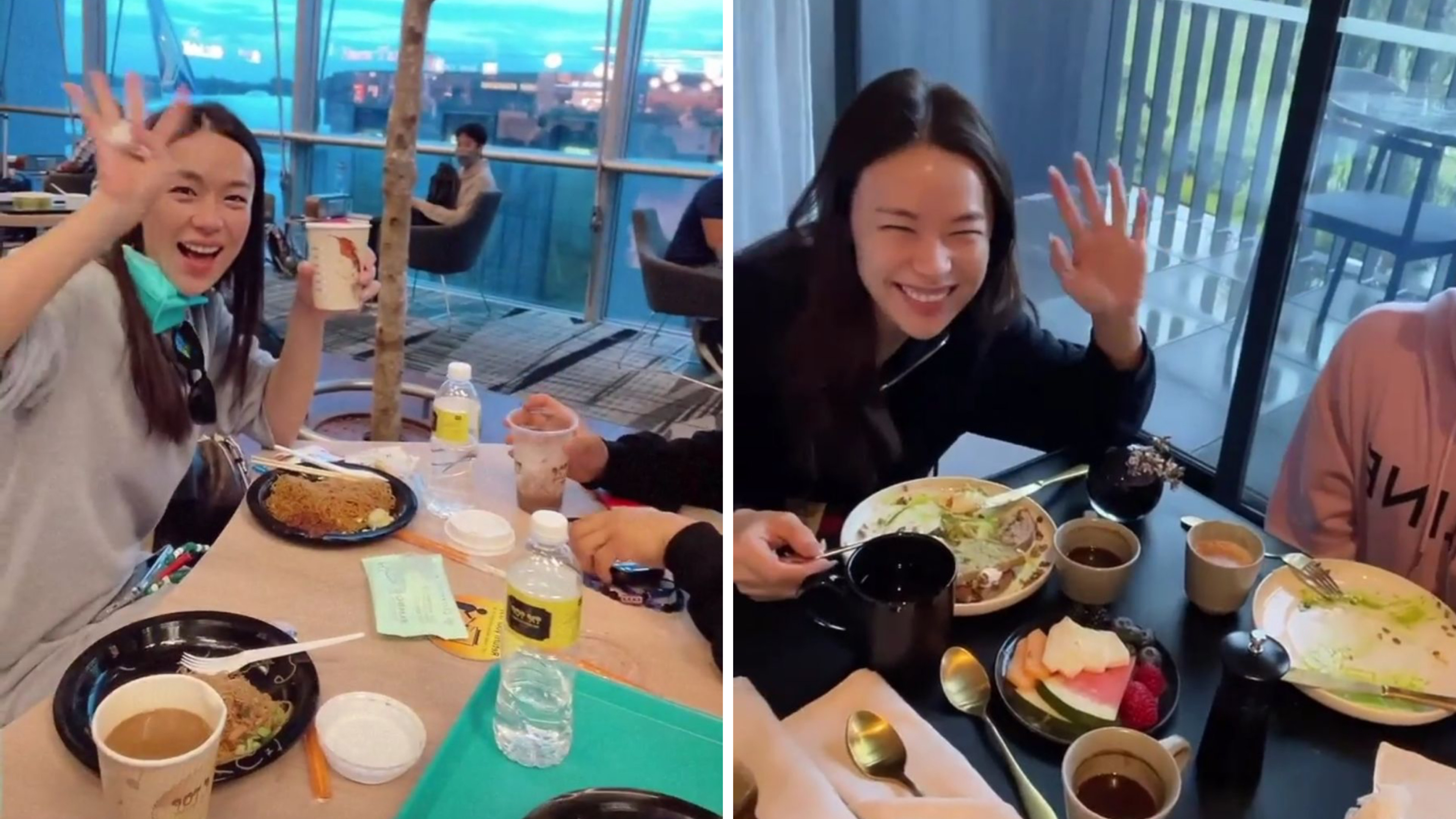 Rebecca Lim
What she ate: Comfort food
Yummy factor: We love how Rebecca looks so fresh on her travels, as well as her healthy appetite. She was spotted munching on fried beehoon from Tip Top before departing for Melbourne, as well as Aussie breakfast staples of avo and eggs on toast after a restful sleep.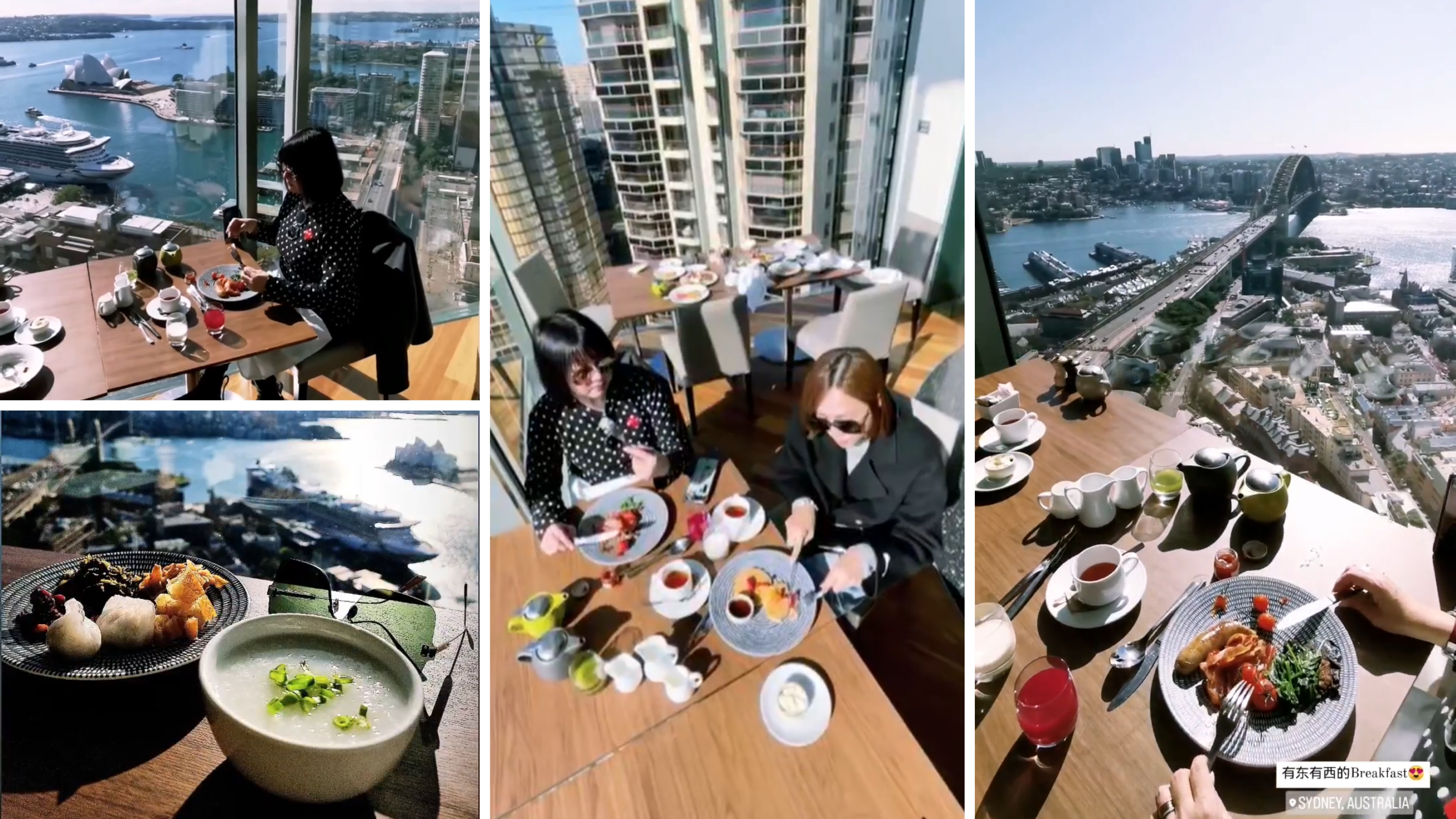 Chen Liping and Ya Hui
What they ate: Breakfast with a view
Yummy factor: You can take the girl out of Asia, but you can't take the Asia out of the girl. It was all 'rice and shine' for Liping, who enjoyed at least two bowls of porridge along with assorted dim sum, sausages and fresh greens at her hotel in Sydney, while Ya Hui chose to have good ol' pancakes with jam.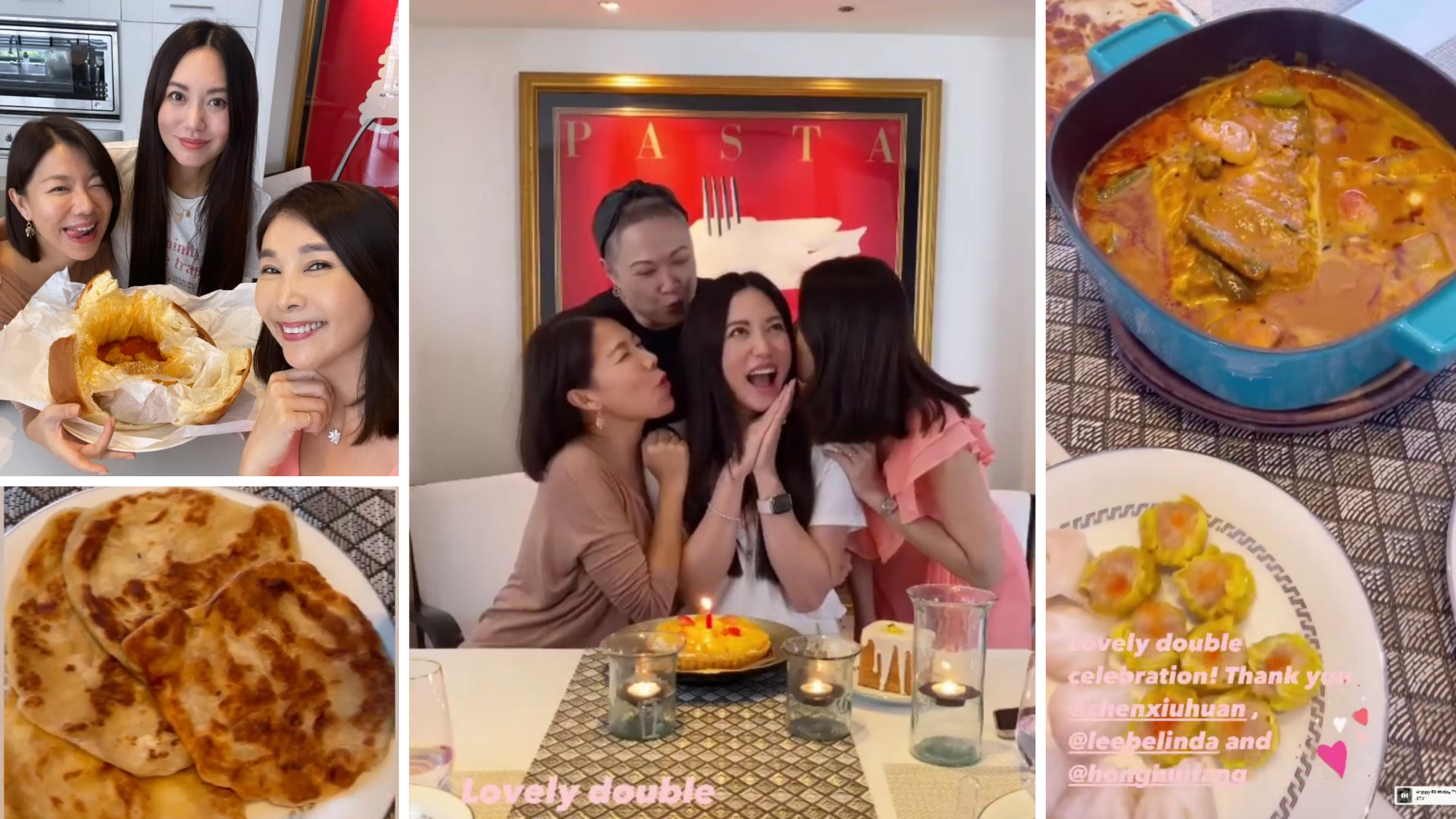 Belinda Lee, Hong Huifang, Phyllis Quek and Chen Xiuhuan
What they ate: Curry feast
Yummy factor: With Phyllis in town, Belinda, Xiuhuan and Huifang took the opportunity to throw a curry party to celebrate her birthday (she turns 48 on Aug 23). On the menu were Golden Pillow 933's shiok curry bun (savoury chicken curry wrapped in pillowy-soft bread), fish curry, and plenty of prata to mop up all the goodness. And for good measure, there were dim sum like siew mai and har gao too.
Carrie Wong and James Seah
What they ate: Freshest catch
Yummy factor: Looks like Carrie and James got to have a leisurely lunch break at Greenwood Fish Market while filming. Between them, the co-stars for upcoming drama Soul Detectives had what looks like the black pepper scallop risotto, wild prawn aglio olio and a seafood basket brimming with fried barramundi, calamari, and more to share. We sure hope they were not food props.
Thomas Ong
What he ate: Atas wanton mee
Yummy factor: Thomas is dipping his toes in F&B. Well, sort of. The foodie has collaborated with his pal, MasterChef Singapore season 1 finalist Aaron Wong, to launch Wang Ji Wanton Mee and the pair will be serving their favourite wanton mee which comes melt-in-your-mouth caramelised char siew made from Kurobuta pork, at the Singapore Food Festival 2022 from Aug 24 to Sep 11. The dish is something Aaron always whips up for house parties and Thomas is a huge fan of it.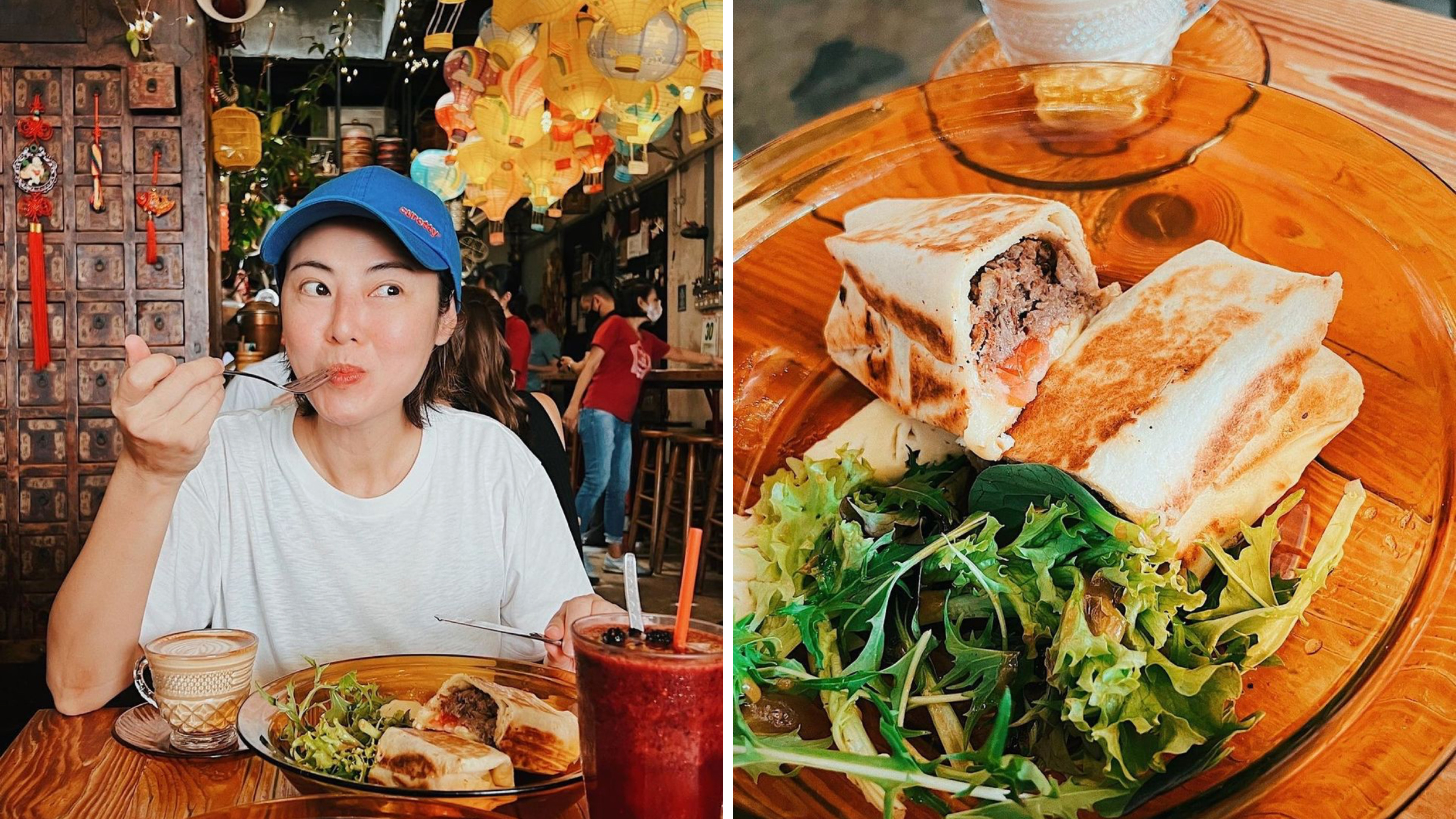 Cynthia Koh
What she ate: Post-workout fuel
Yummy factor: Cynthia's day was definitely off to a great start — just look at her post-workout glow. And her reward after a gruelling spin class? A wholesome wrap stuffed with spicy beef and cheese at My Awesome Cafe, along with vibrant greens and a cup of joe on the side.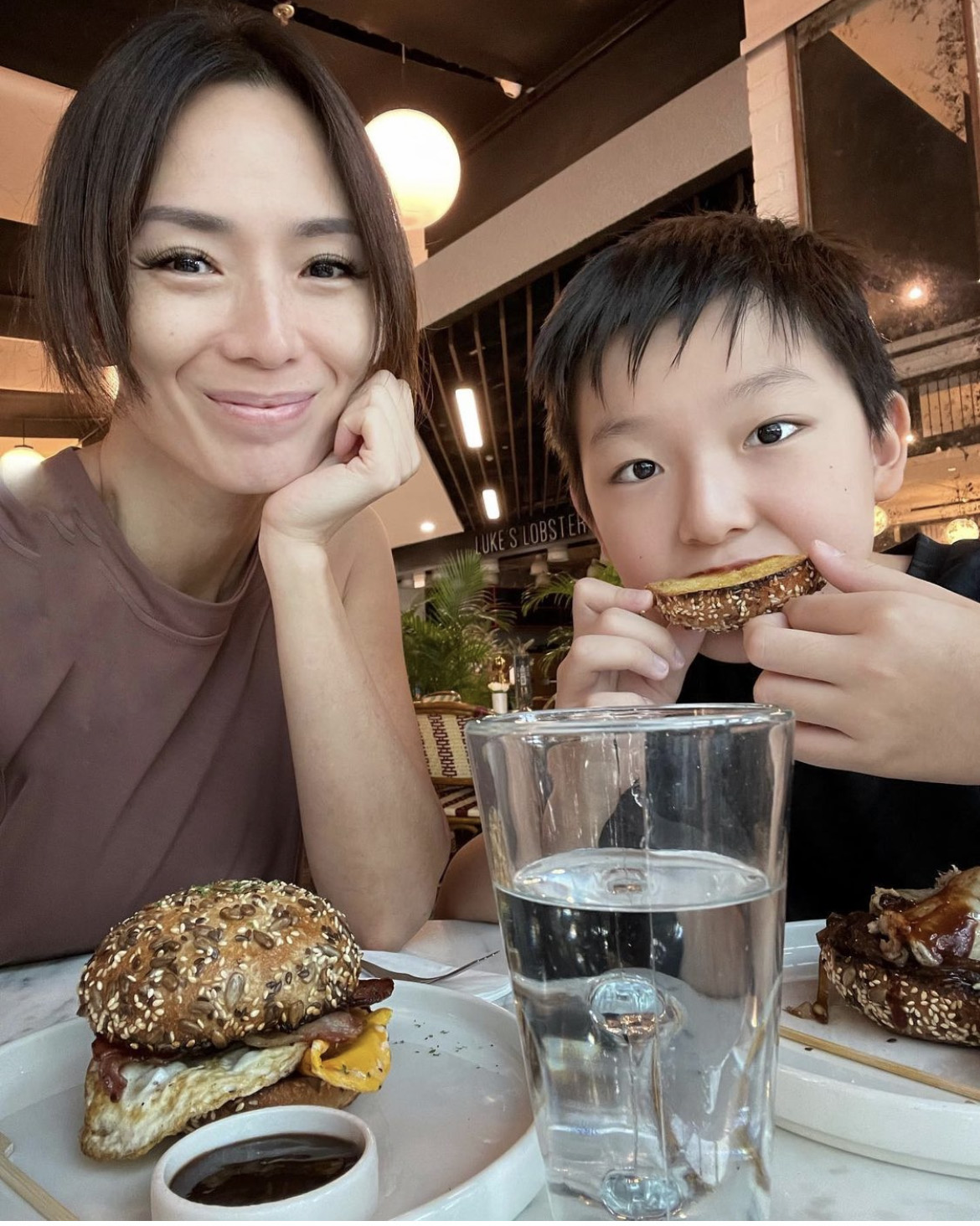 Jacelyn Tay
What she ate: Hearty breakfast
Yummy factor: Talk about breakfast for champs. Jacelyn brought her 11-year-old son, Zavier Wong to PS.Cafe to have his fave bunwich — essentially a sandwich made with seed-laden toasted burger buns — with hearty layers of fried eggs, bacon and cheese. According to Jacelyn, Zavier thinks "this is the best bread ever".
Kym Ng, Sheila Sim and Denise Camillia Tan
What they ate: Cha chaan teng nosh
Yummy factor: Filming for reality series Fashion Refabbed has its perks. Sheila and Denise joined host Kym for a yum cha sesh at Tsui Wah, where they tucked into cha chaan teng usuals like noodle soup and what looks like the eatery's signature spiced pork chop and egg fried rice.
Vernon A and Justin Ang
What they ate: Thai favourites
Yummy factor: Korat Thai Cafe may just be the Muttons' new fave haunt for Thai food. Aside from having classic mains like pineapple fried rice and pad thai, the foodies were particularly impressed with how "boomz" the crispy omelette was. Well, faster go while you still can as the owners are looking to retire and move back to Thailand.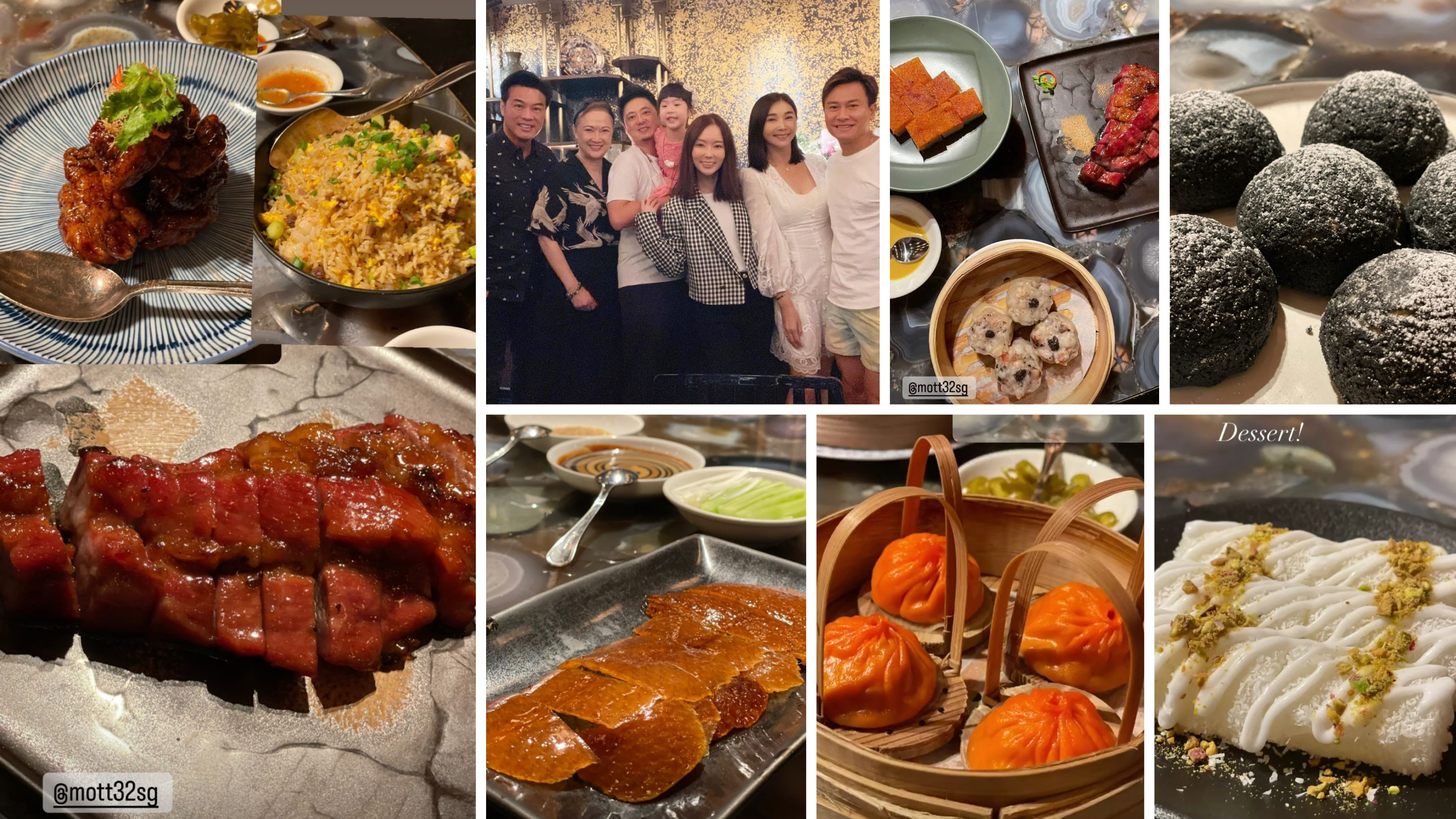 Zheng Geping, Hong Huifang, Yvonne Lim, Chen Xiuhuan and Jeff Wang
What they ate: Cantonese fare
Yummy factor: A get-together sesh at Mott 32 saw the celeb pals catching up over plenty of refined Cantonese fare — think popular roast meat options like the Iberico pork char siew and apple wood roasted Peking duck, as well as small bites like the black truffle siew mai and the hot and sour xiao long bao. Yum.
Edmund Chen and Xiang Yun
What they ate: Set lunches
Yummy factor: Edmund and Xiang Yun went on an afternoon date at Marina Bay Sands, where they settled at DB Bistro & Oyster Bar for lunch. We spy heirloom tomatoes and burrata for starters, steak hache with egg, as well as dessert. And it's never too early in the day for a glass of wine, yes?
Cheryl Wee
What she ate: Japanese noms
Yummy factor: Lunch at The Gyu Bar was a delicious affair for Cheryl and her family; their taste buds were pampered with scrumptious offerings like Yukke Uni Cone (waffle cone stuffed with beef tartare and fresh uni) and the seasonal spicy tomato sukiyaki with three kinds of beef. As for the kiddos, they had unagi don and beef ramen.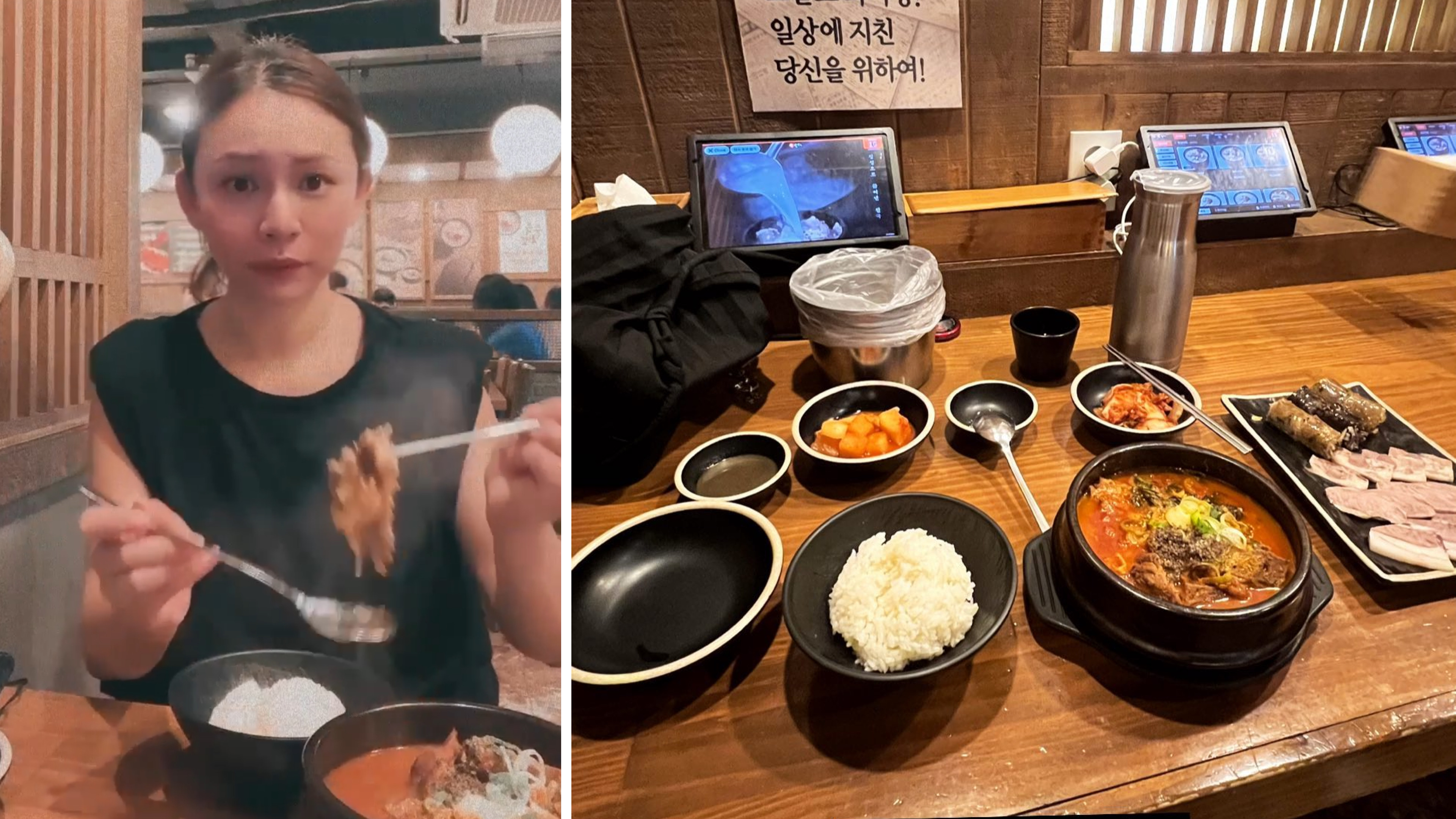 Kayly Loh
What she ate: Korean nosh
Yummy factor: Kayly walked into a "random store" in Seoul's trendy Hongdae district and was pleasantly surprised at how delish the food was. Not only was the pork bone broth thick and flavourful, the meat was so tender that it fell right off the bone. Plus, it helps that the eatery caters for solo diners too.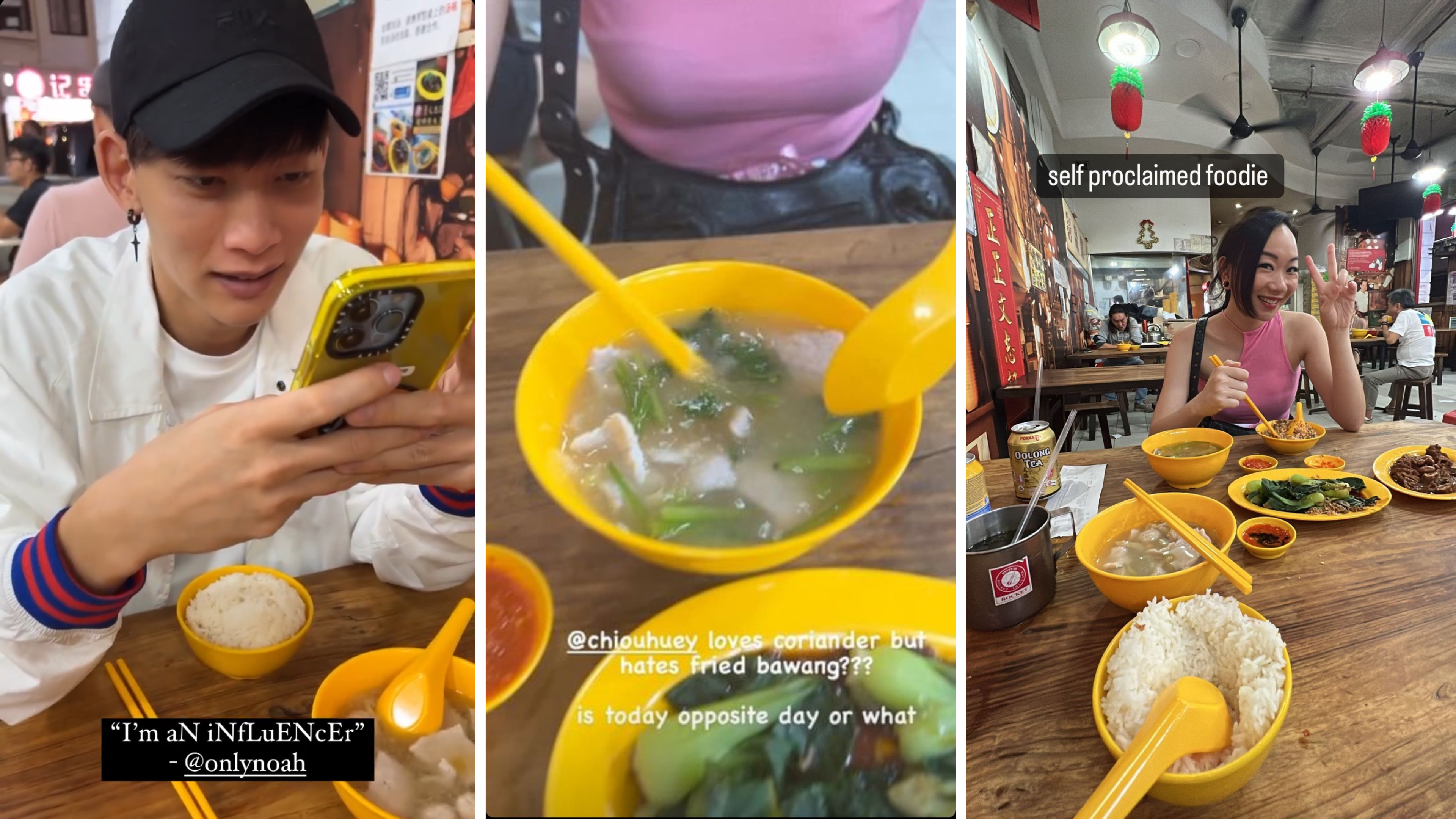 Noah Yap and Chiou Huey
What they ate: Pig's organ soup
Yummy factor: A trip to Mun Chee Kee's for pig's organ soup, braised offals and blanched greens revealed both Noah and Chiou Huey's distaste for certain garnishes. The former detests coriander, while the latter can't stand fried shallots. Well, it makes sense for them to dine together then, since they can pass over the offending ingredients to each other.
Tay Ying
What she ate: Al fresco meal
Yummy factor: What better way to wine and dine than with an alfresco meal in sweater weather at Yarra Valley, Australia's famed wine region? Tay Ying (and her boyfriend?) spent some time at winery Domaine Chandon, where she paired her wines with zucchini fritters, pork belly skewers and delectable cheeses.
Nick Shen
What he ate: Thai food
Yummy factor: Nick's first order of business in Bangkok? Have his fill of local fare, of course. His first meal in the Thai capital was at local chain restaurant Ros'niyom, where he tucked into fried mackerel and pork noodles served in a spicy and sour broth. As for his beverage of choice, he went for a unique smoothie made with sweet fish sauce, shrimps and fried shallots. We can't imagine what that would taste like.
Ya Hui
What she ate: Fresh seafood
Yummy factor: "What shell we have today?" appears to be the question of the week for Ya Hui, who has been indulging in flavours of the sea such as a "super good" seafood linguine and succulent whole lobsters while travelling Down Under.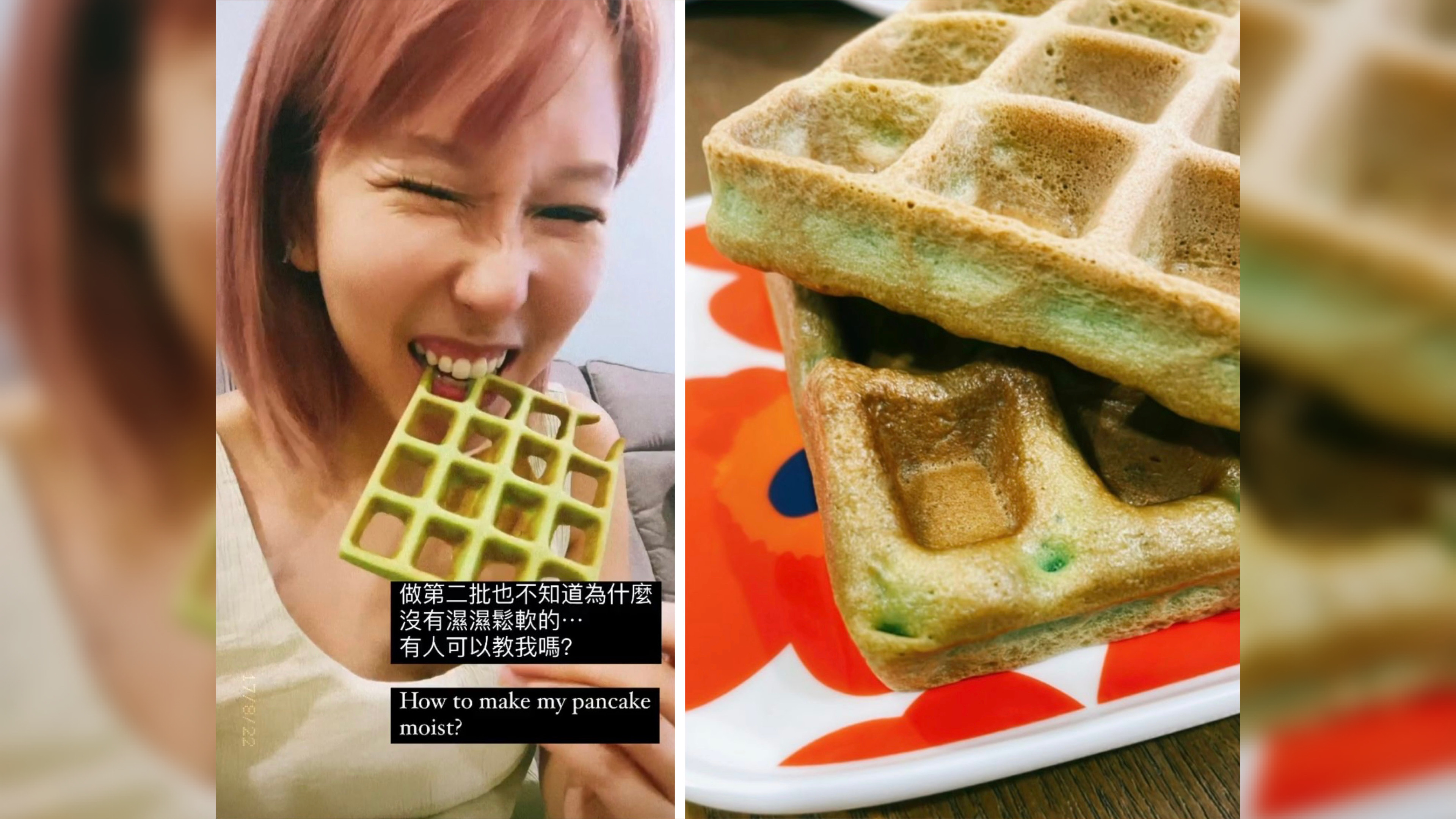 Kelly Poon
What she ate: Homemade waffle
Yummy factor: An intense craving for Singapore-style kaya waffles inspired Kelly, who's based in Taiwan, to make her own. And while it did not turn out as soft and pillowy as she'd hoped, we bet it still made for a delish nostalgic snack.