Foodie Friday: What The Stars Ate This Week (Aug 26 - Sep 2)
All the photos that made us hungry this week.
It's been a week of gatherings for the celebs. Carole Lin, Hong Huifang and Yvonne Lim celebrated Phyllis Quek's birthday, BFFs Huang Biren and former City Beat host He Yong Fang caught up over dinner, and former Mediacorp actresses Tang Miaoling and Cherie Lim got all dressed up for a fancy party. Read on for more.  
Carole Lin, Hong Huifang, Phyllis Quek and Yvonne Lim
What they ate: Birthday feast at contemporary bistro Botanico at the Garage
Yummy factor: Phyllis may have embraced the big 5-0 last week (Aug 23), but the festivities continued for the rest of her birthday month. Together with Carole, Huifang and Yvonne, they indulged in classics with a twist like truffle carbonara, a hearty breakfast platter and fried cauliflower finished off with spiced almonds and kaffir lime. And we have to say that their dessert platter looked delightful too.
Romeo Tan and Tasha Low
What they ate: Juicy steaks
Yummy factor: Romeo and Tasha had beef with each other... of the tender and juicy variety, that is. They probably had a memorable time filming Mediacorp drama Love In A Pot especially since they got to enjoy food prepped by MasterChef  Singapore season 2 winner and runner-up Derek Cheong and Leon Lim.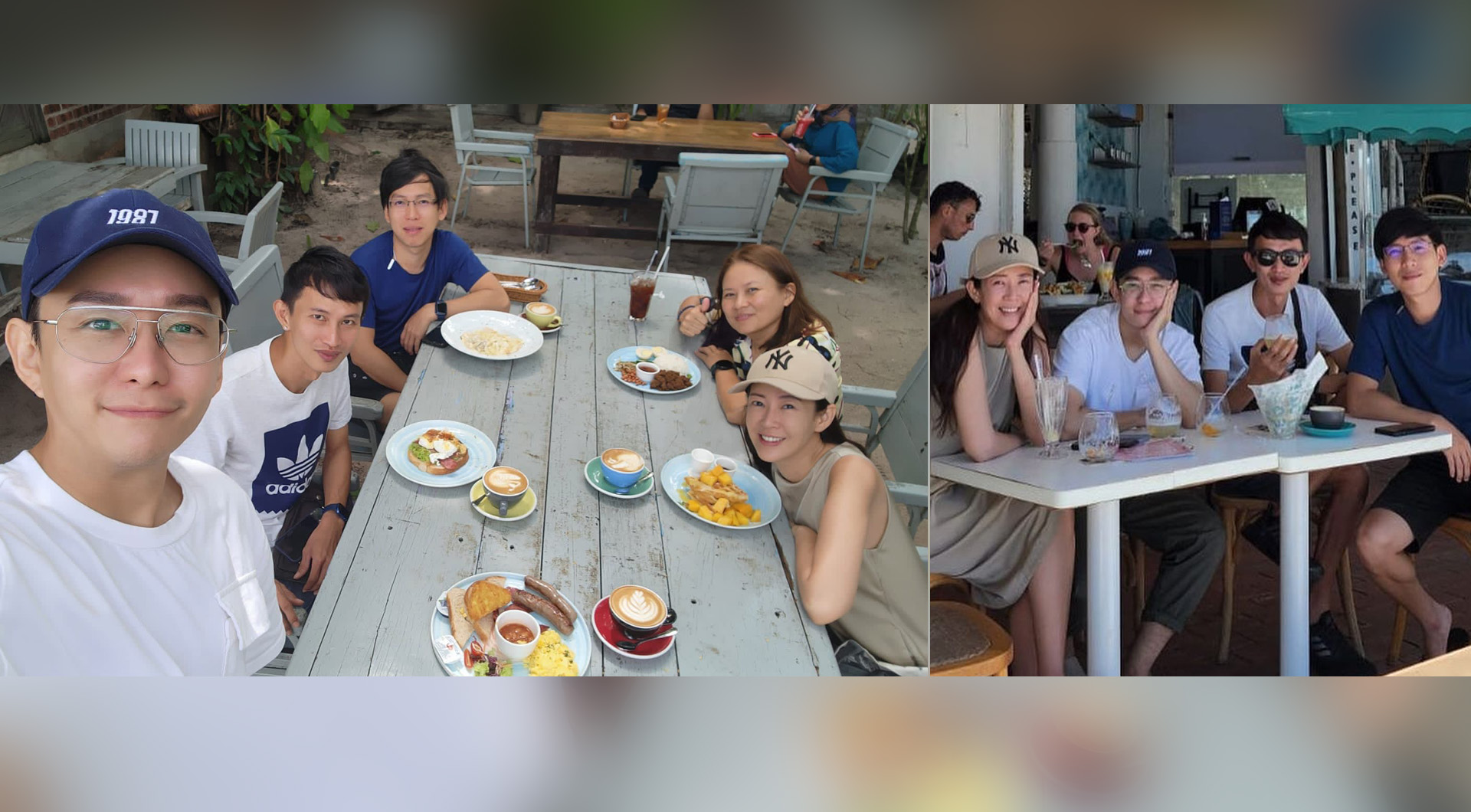 Jesseca Liu and Jeremy Chan
What they ate: Brunch nosh
Yummy factor: Mr and Mrs J, who are back in Jesseca's hometown of Langkawi, played tour guides to their friends from Singapore, taking them island- and cafe-hopping. One of the restaurants they visited was the idyllic Smilling Buffalo, where Jesseca had the Mango Waffle, and Jeremy, the Big Breakfast.
Ann Kok
What she ate: Small plates at Supply & Demand
Yummy factor: Ann's choice of indulgence over the weekend? Appetite-whetting eats like half a dozen shucked oysters with a touch of lemon juice and mentaiko, as well as bruschetta paired with parma ham.
Aileen Tan
What she ate: Light bites
Yummy factor: Aileen recerntly met up with good friend, former Hong Kong actress Kitty Lai (remember her from the 1994 Mediacorp telemovie, Challenge of Truth?) for croissants and coffee at Paris Baguette, and we like how the flaky pastries were chock full of wholesome ingredients. Now, if only they got themselves an additional cake or dessert tart to conclude their meal on a sweet note.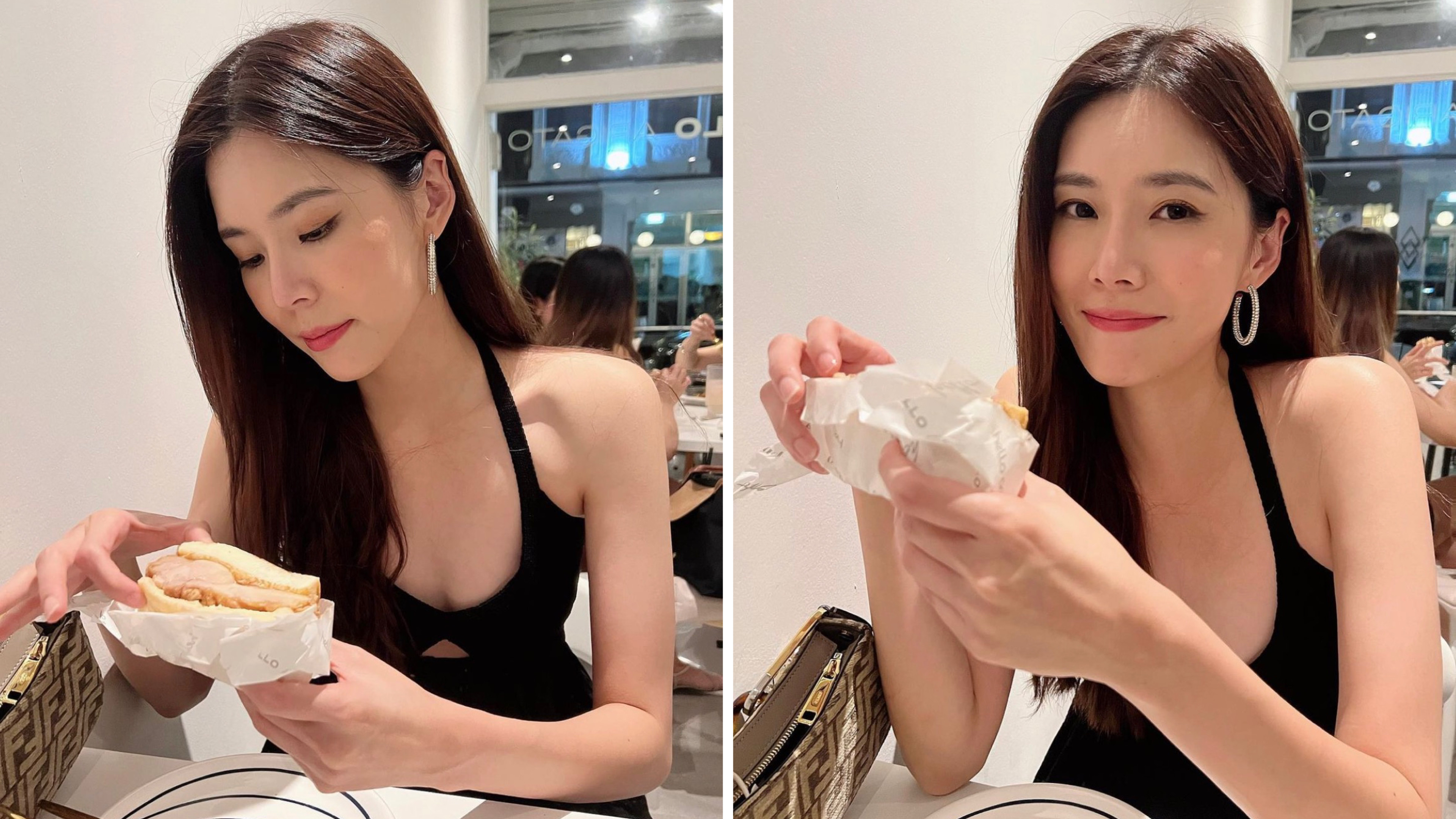 Carrie Wong
What she ate: Japanese-inspired comfort food
Yummy factor: Carrie was a picture of bliss with her speciality sando from local cafe Hello Arigato. And if we were to harbour a guess, she went for the har cheong gai special with cucumber slices and Japanese milk bread. 
Chen Diya, Chew Chor Meng, Belinda Lee, Lina Ng, Zhu Houren, Tracy Lee, Carrie Yeo and Apple Hong
What they ate: Finger food
Yummy factor: Judging by the variety of goodies on display, it seems like the celeb friends had a potluck gathering with lots to go round — think petite tiers of Nyonya kuehs and bite-sized sandwiches, as well as pastries and what looks like stuffed tau kwa and lor mai fan (Cantonese sticky rice).
Zoe Tay
What she ate: Truffle fries
Yummy factor: Zoe chased away the Monday Blues with great company and addictive finger food at PS.Cafe. The signature shoestring fries tossed in white truffle-infused olive oil and topped generous portions of shaved parmesan cheese is always a popular choice at the cafe.
Tang Miaoling and Cherie Lim
What they ate: Fine Italian flavours
Yummy factor: Former actresses Tang Miaoling and Cherie Lim attended a gathering with friends where things were done in style. Dinner was catered from Otto Ristorante, and guests were spoiled with a decadent menu featuring the likes of tagliatelle with luxurious wagyu and foie gras, crispy suckling pig and savoury tarts. Talk about a fancy house party.
Hong Ling and Nick Teo
What they ate: Dinner with a view
Yummy factor: After a long day at work, we bet the newly-engaged couple was looking forward to dinner at Yabai Izakaya, where they kicked back and relaxed with izakay nosh like fresh sashimi, sushi, oysters, yakitori, grilled squid, and more.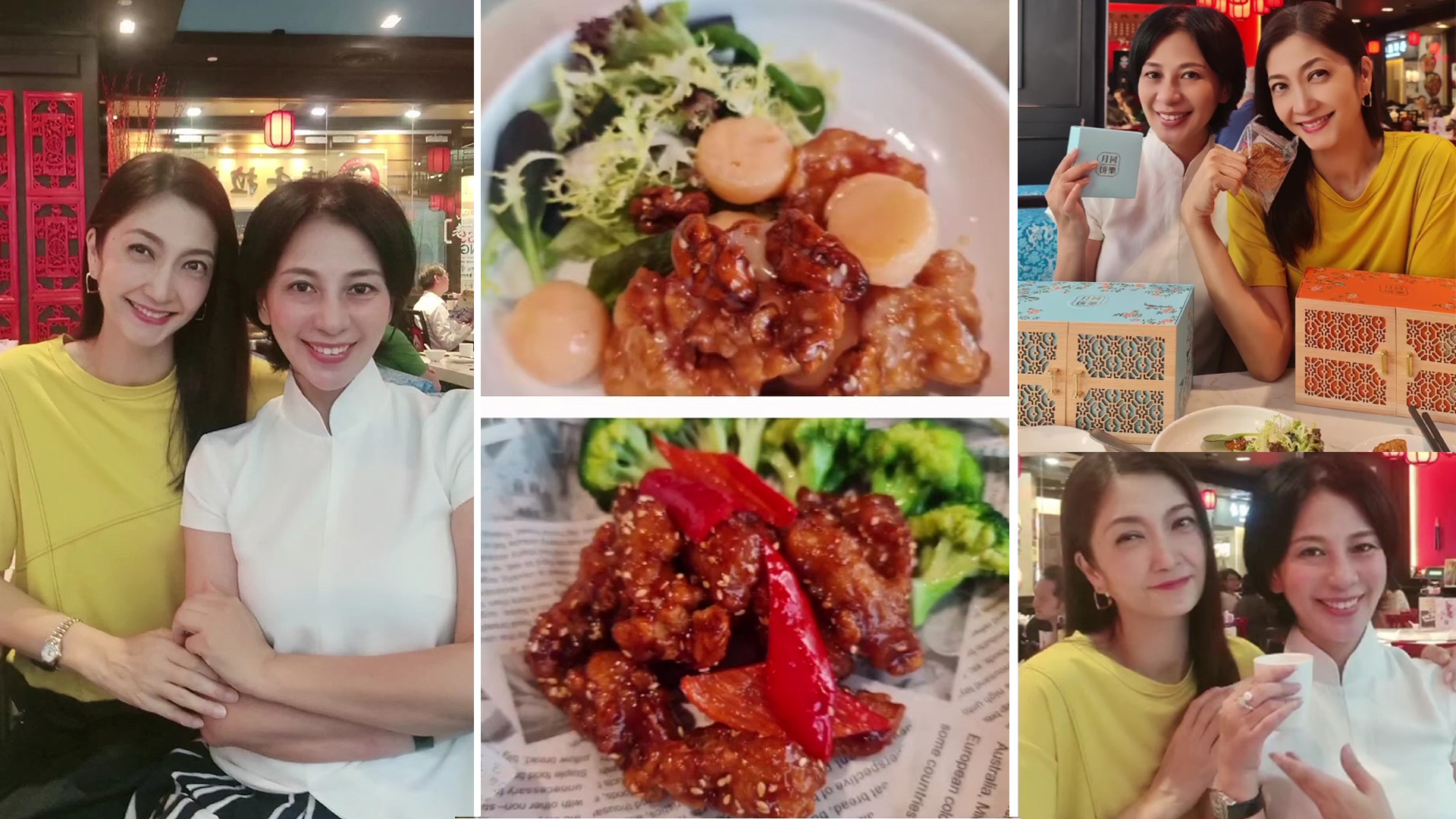 Huang Biren and He Yong Fang
What they ate: Contemporary Chinese cuisine
Yummy factor: Biren couldn't help but feel touched that good friend and former actress Yong Fang thinks of her whenever she comes across something delish. And since it's been some time since they last met, Yong Fang wanted to celebrate Biren's Best Actress Award win at the Star Awards earlier in the year. For their foodie outing this time, they visited Lao Beijing for delicacies like sauteed prawn balls with crunchy walnut and honey, General Tso's Chicken and traditional baked mooncakes for dessert.
Chen Xiuhuan
What she ate: Fried beehoon
Yummy factor: Xiuhuan had nothing but praise for her breakfast, a tasty combination of fried beehoon with plenty of ingredients from hawker stall Wenjie Nasi Lemak. And the noodles weren't the only thing that impressed her — the luncheon meat and otah proved to be delish as well.
Yvonne Lim
What she ate: Zi char eats
Yummy factor: Ben Yeo's charcoal fish head steamboat is probably a must-order for any celeb pal visiting his beer garden, Playground. And aside from other zi char delights like hotplate beancurd, Iberico pork ribs, and truffle prawn ball, Yvonne also made sure she got her fix of SG Umami's oh-so-shiok hae mee "ramen".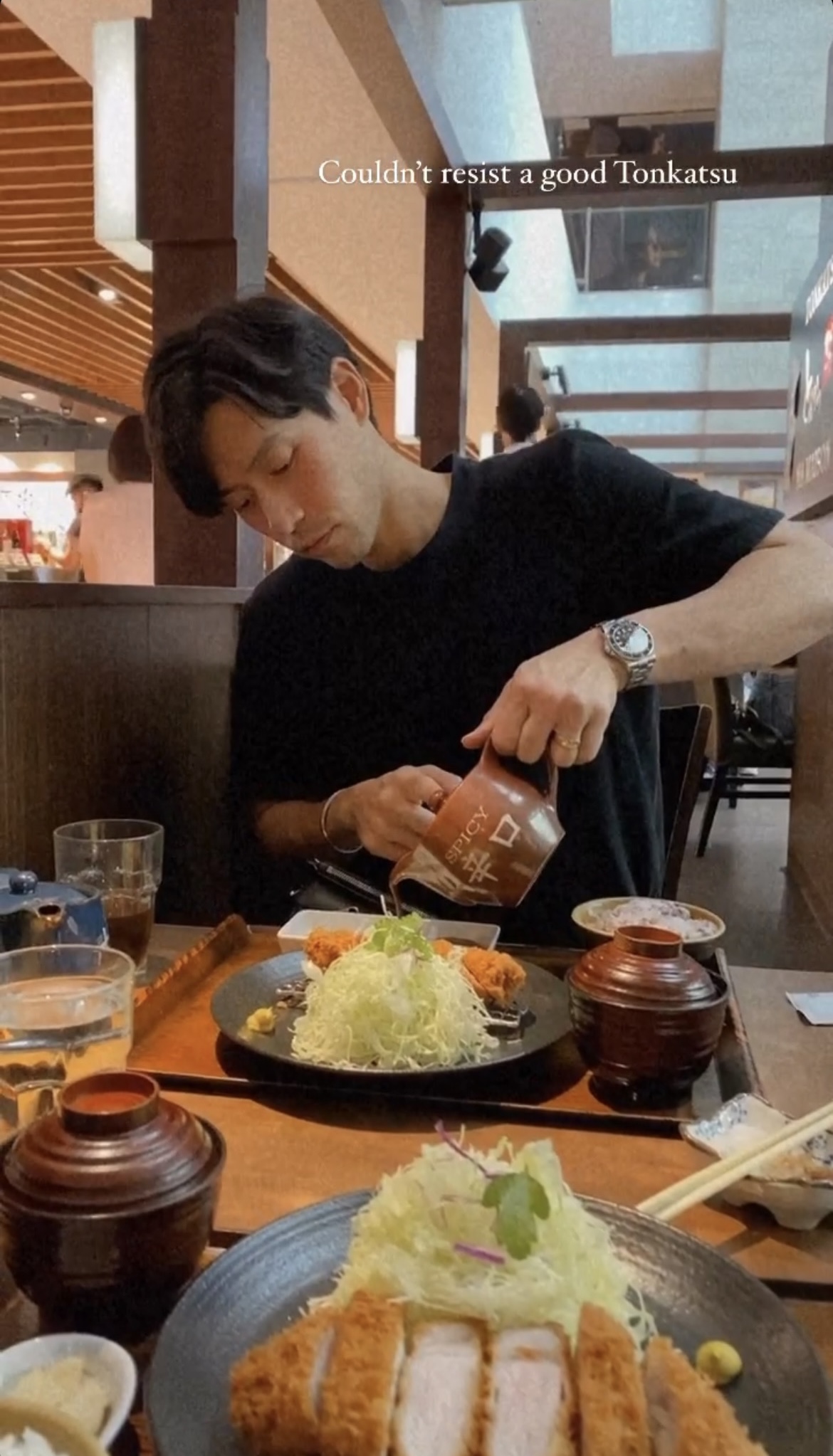 James Seah
What he ate: Tonkatsu
Yummy factor: Breaded, juicy and deep-fried to perfection? Yes please. Japanese pork cutlets are always a good idea, and James and his wife, influencer Nicole Chang Min, couldn't resist getting themselves some from Tonkatsu by Ma Maison. Just look at him all ready to pour himself some spicy sauce to go along with it.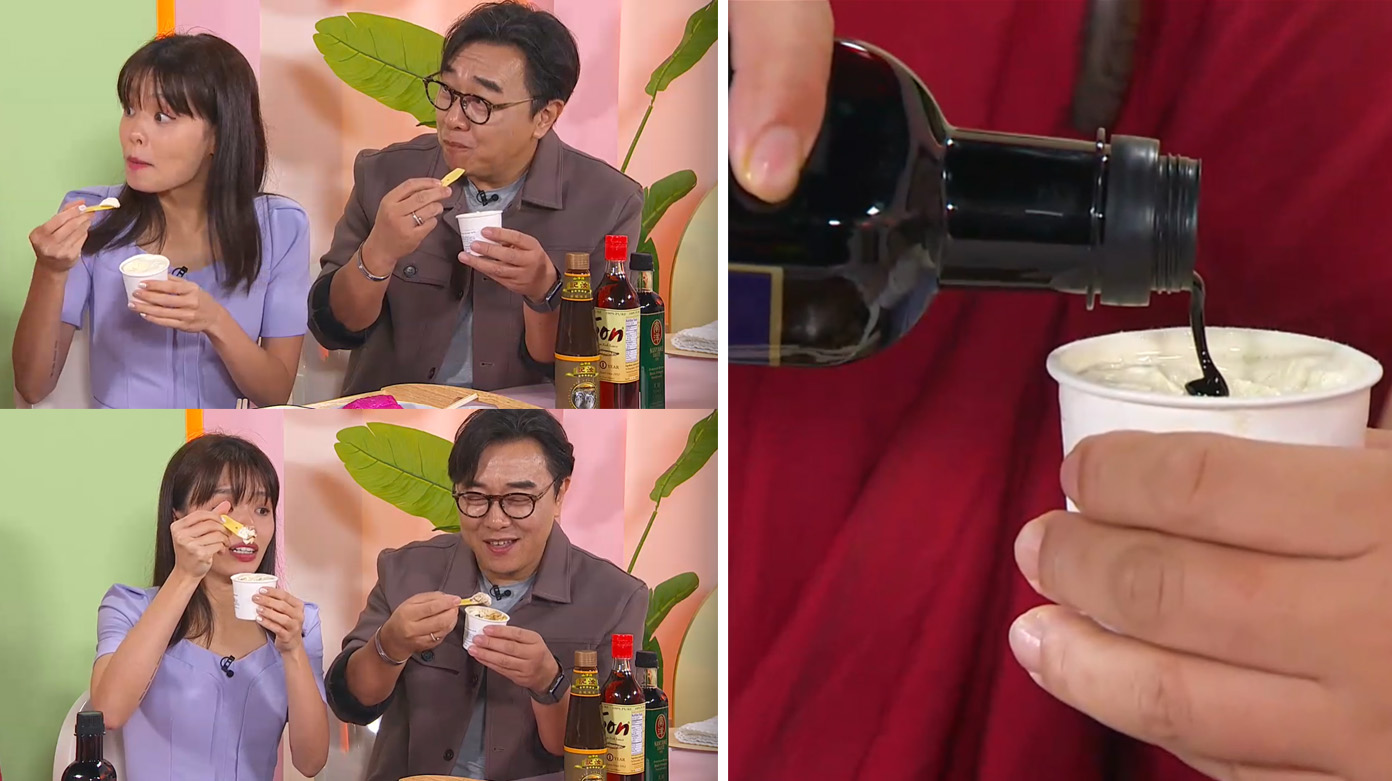 Hazelle Teo and Guo Liang
What they ate: Umami ice cream
Yummy factor: The Wonder Shop hosts got to try Sauce Legend's umami ice cream and boy did they find it intriguing. According to Hazelle, the vanilla-based ice cream with soy sauce is "a bit sweet and savoury" like salted caramel. Want to shake things up? Add some sweet sauce for a different dimension of flavour. Check out The Wonder Shop for details on how you can get your hands on the funky ice cream.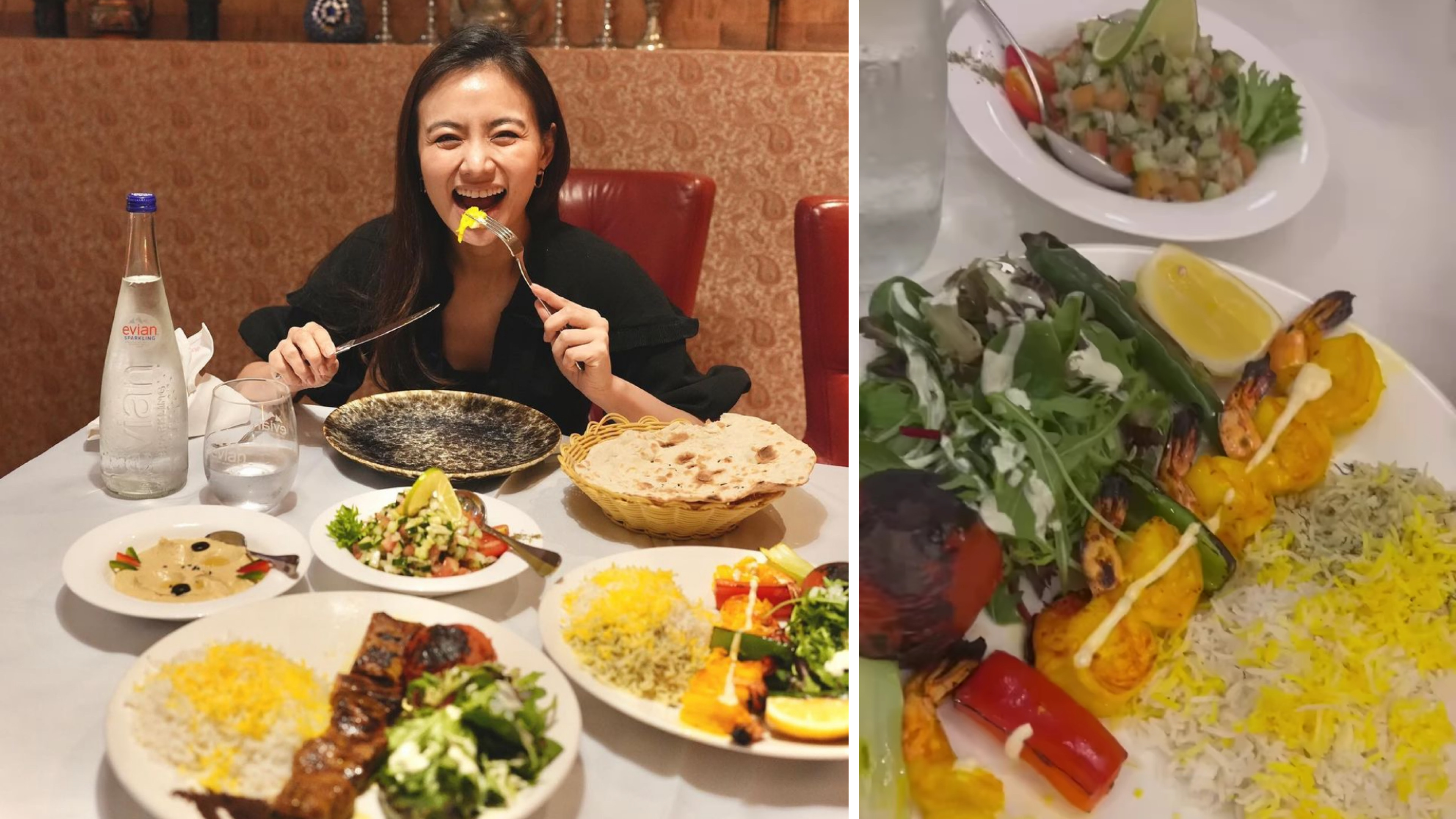 Cheryl Wee
What she ate: Persian food
Yummy factor: Cheryl and her husband Roy Fong switched things up a little for date night and visited Middle Eastern restaurant Shabestan for some Persian nosh. We're loving the vibrant colours of the wholesome dishes. Plus, it's hard to go wrong with fresh shirazi (cucumber and tomato salad), kebabs and flatbreads with delicious dips.
Belinda Lee
What she ate: Brunch fare
Yummy factor: Belinda's day started on a hearty note at Chock Full Of Beans with hubby David Moore. There, they enjoyed both the salmon croquettes benedict, as well as what appears to be the bacon and cheese waffles with scrambled eggs and sauteed mushrooms. Also, how adorable is that tiger latte art?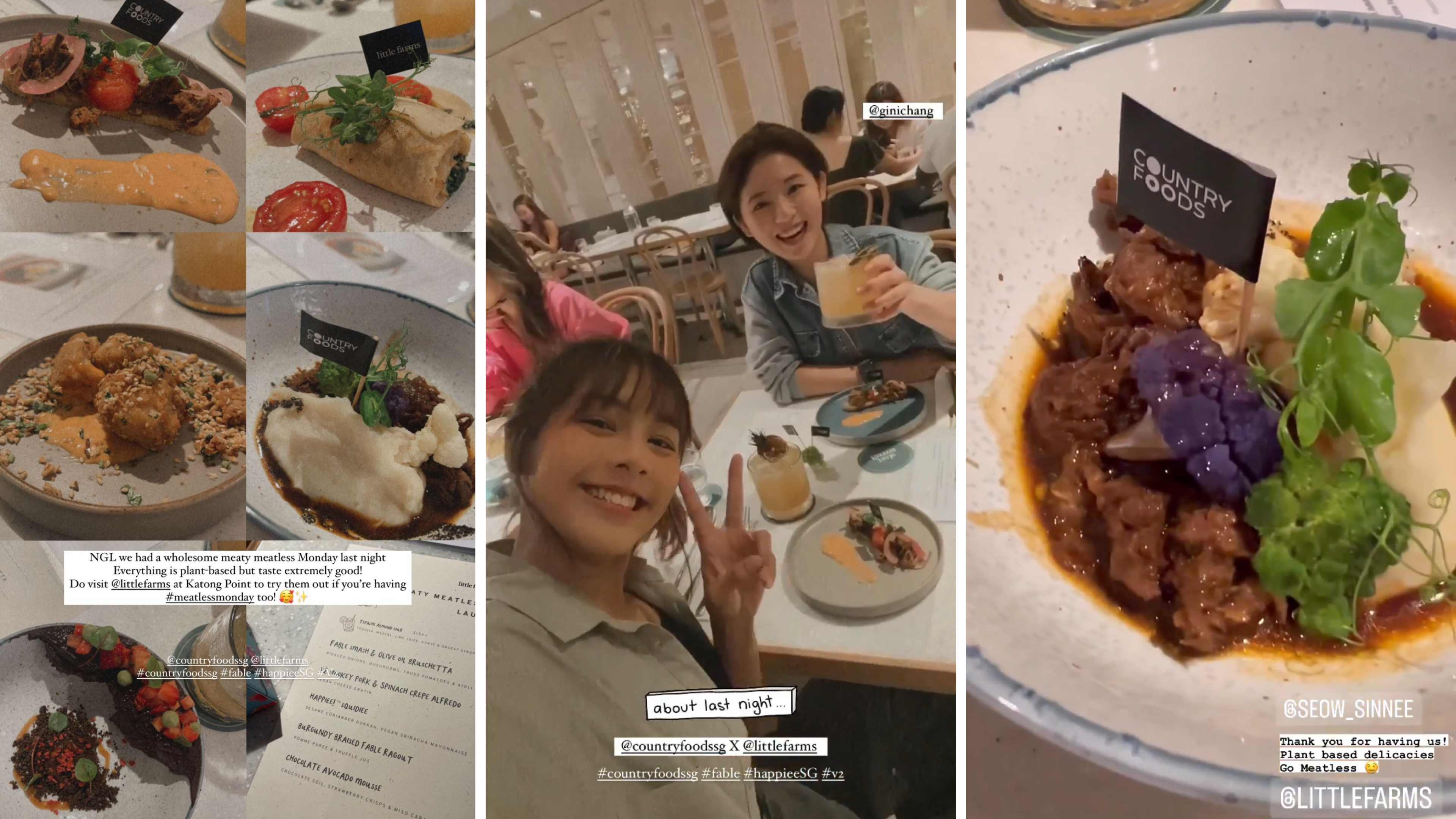 Seow Sin Nee and Gini Chang
What they ate: Plant-based dinner
Yummy factor: #JustSwipeLah hosts Sin Nee and Gini Chang enjoyed the five-course plant-based menu over at Little Farms so much, Meatless Mondays may just become a thing for them. Available every Monday for the month of September, meat alternatives from brands Fable, V2 and Happiee are transformed into innovative "meaty" creations such as deep-fried battered squid made from konjac, and mushrooms that have been braised for hours to resemble pulled pork.
Apple Hong
What she ate: Teochew signatures
Yummy factor: Check out that greedy look. As a proud Teochew, the authentic fare at Chao Shan Cuisine definitely appealed to Apple's taste buds, especially the fried crab bee hoon brimming with wok hei flavour, and steamed rabbit fish doused in shallot oil. 
Nick Shen
What he ate: Sichuan-style grilled fish at Kao Ge Yu
Yummy factor: In support of his friend's new restaurant, Nick headed over for the signature Sichuan green pepper grilled fish, which came topped with ingredients like clams, fried beancurd rolls and mushrooms to soak up all that goodness. And according to Nick, the Sichuan bingfen desserts — featuring jelly and a variety of toppings — were delish too.
Michelle Wong
What she ate: Family dinner
Yummy factor: Of all the delectable dishes Michelle enjoyed at Thai restaurant Khaw Thai with family, it was an unassuming plate of morning glory that stole her heart. Fun fact:  A special knife is used to strip the stems into thin slices with a crunchy texture before they're stir-fried with chilli padi and garlic. They also tucked into the usual suspects of tom yum soup, handmade fish cakes, and steamed prawns in garlic and lime juice.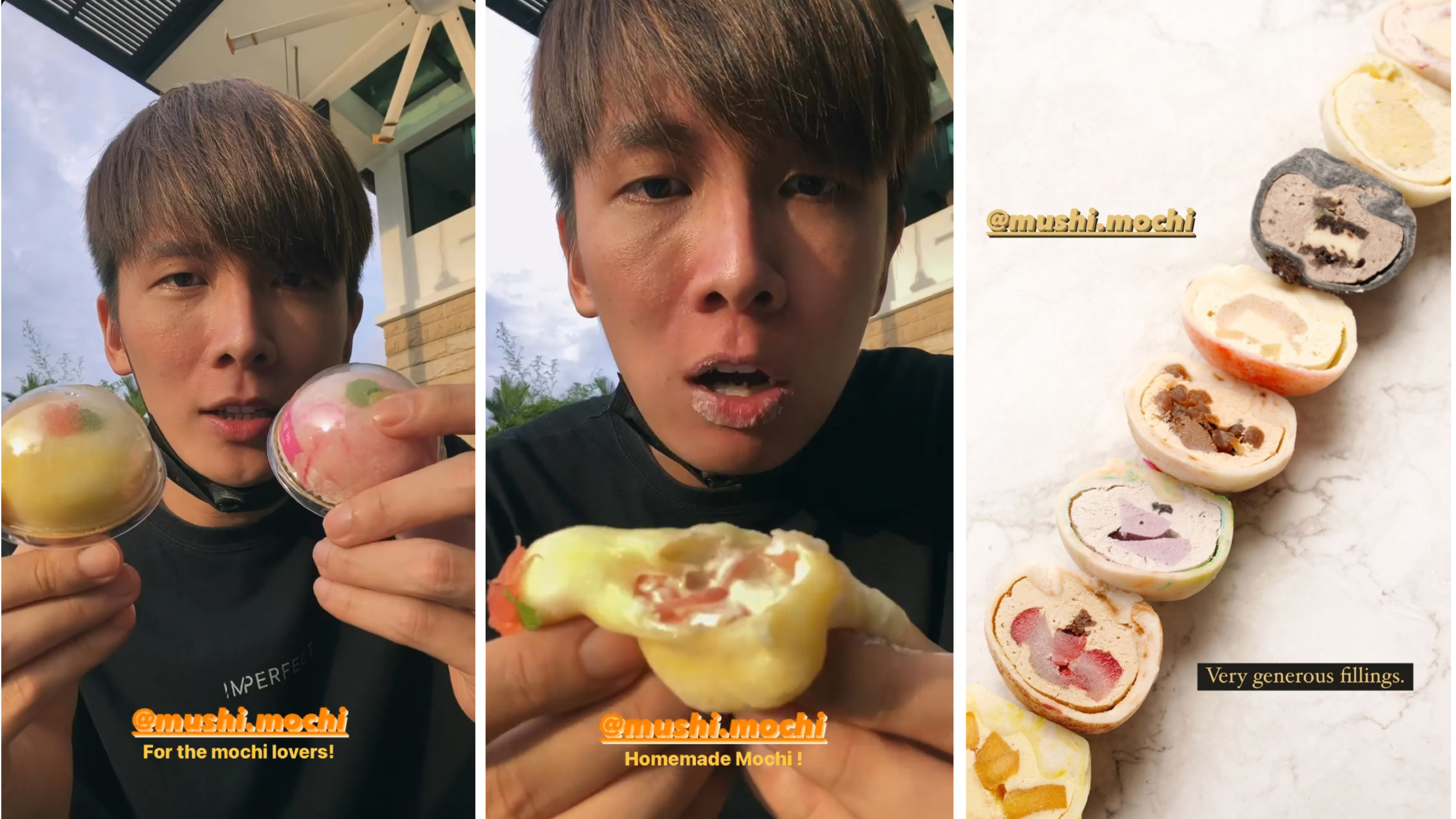 Rao Zijie
What he ate: Mochi 
Yummy factor: It's only natural for Zijie to promote his girlfriend Phyllis Seah's (yes, she's the self-proclaimed "chio bu" lok lok hawker) latest F&B venture Mushi Mochi, and he definitely got our attention with the chewy snacks in refreshing flavours like mango pomelo sago and jasmine peach. Each delicate treat is made by hand, and generously stuffed with cream and fresh fruits that practically oozed out as he bit into them.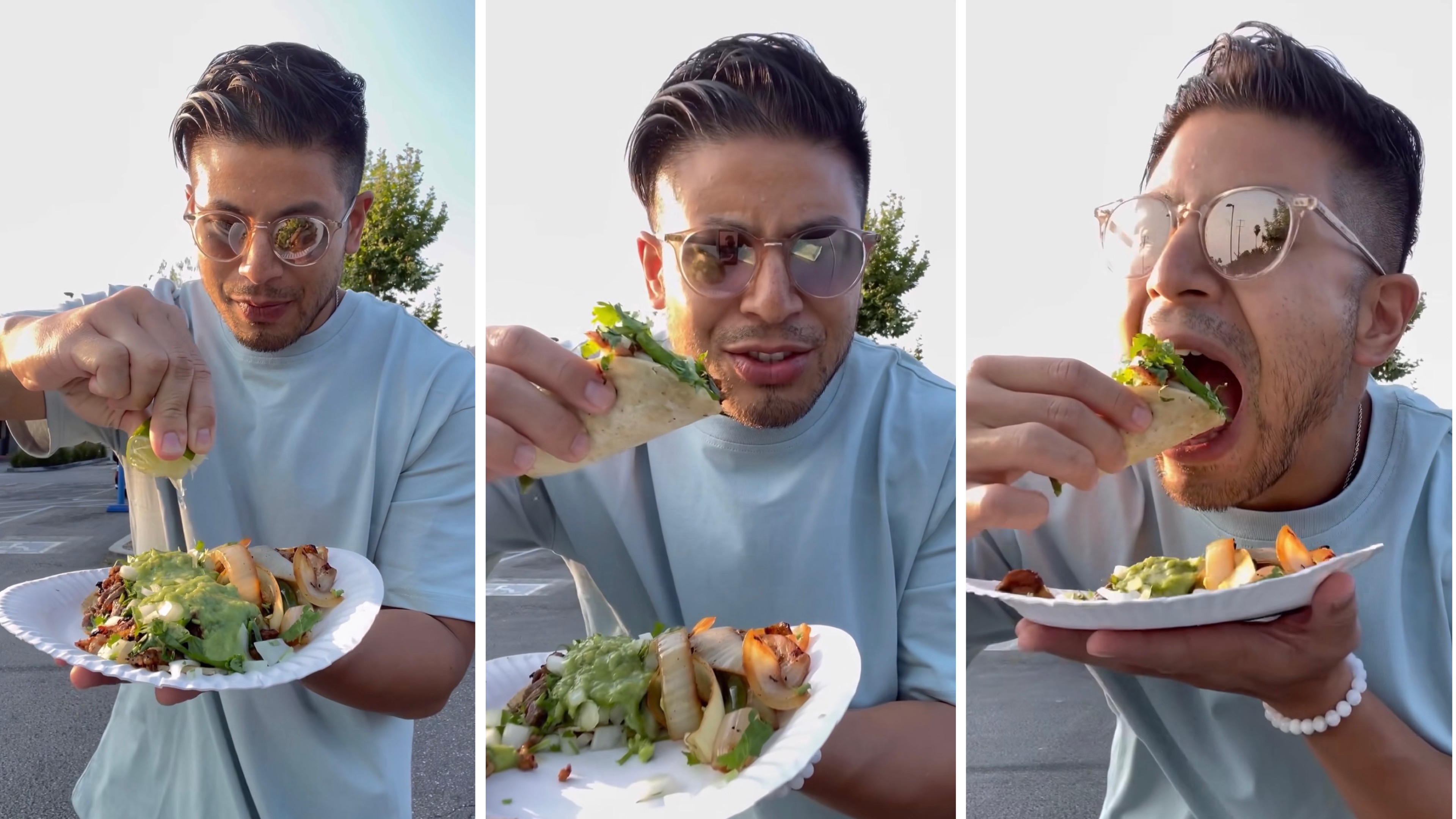 Alan Wan
What he ate: Tacos
Yummy factor: Alan absolutely loved the scrumptious tacos from Los Angeles-based Mexican food truck brand Avenue 26 Tacos. In fact, he couldn't wait and got started on his tacos in the middle of a parking lot — just a spritz of zesty lime was enough to elevate the fresh ingredients like guacamole and a generous heap of al pastor (grilled marinated pork).