Foodie Friday: What The Stars Ate This Week (Jul 22-29)
All the photos that made us hungry this week.
This week, Cheryl Wee and her hubby checked out a hawker haunt recommended by a friend, celeb pals Zoe Tay, Vivian Lai, Shaun Chen and Yvonne Lim had a feast, and Nat Ho met up with Utt in Bangkok. And then there's Ann Kok's lunch, which may have just ruffled Zhang Yaodong's feathers a little — read on to find out why.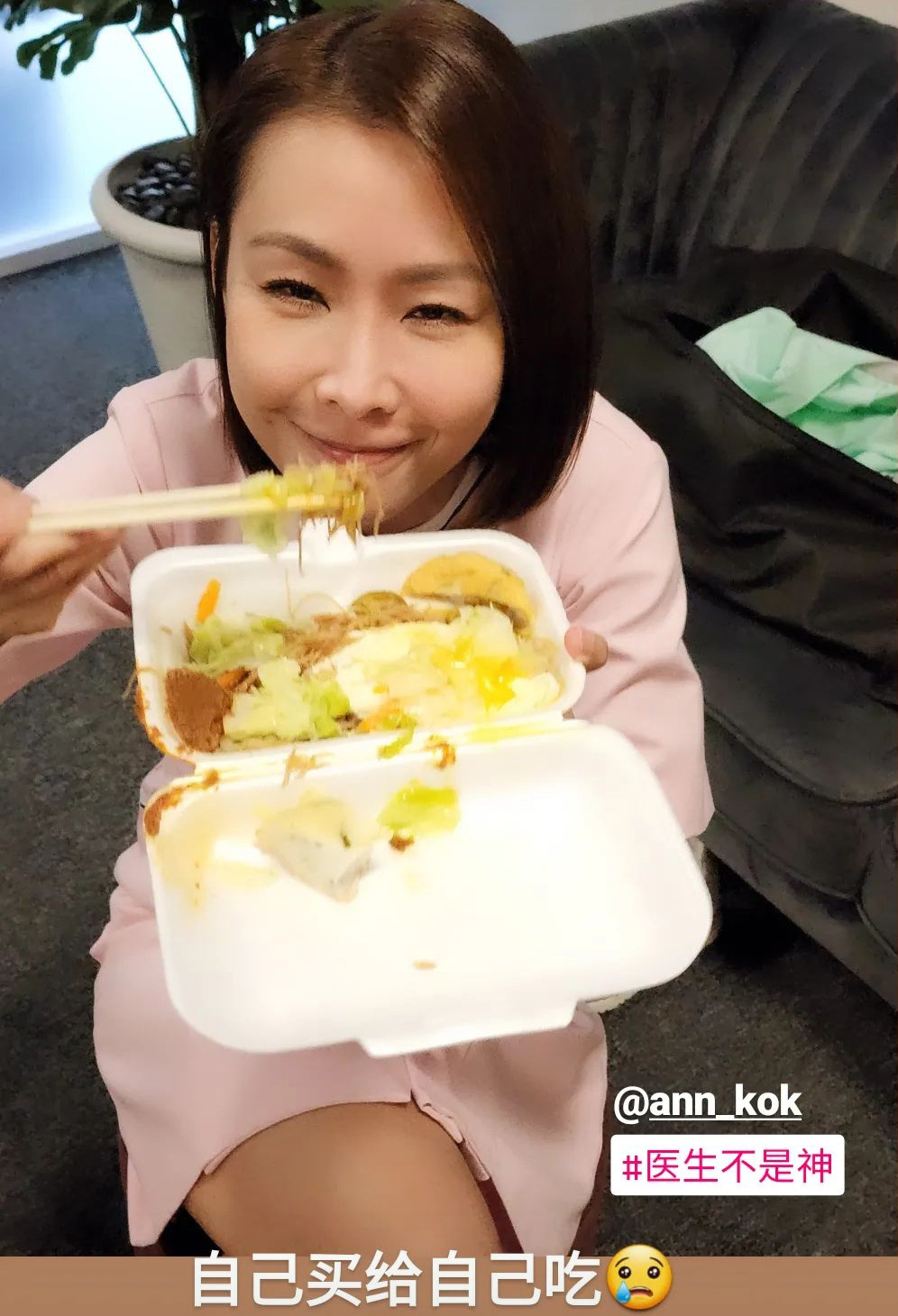 Ann Kok
What she ate: Fried beehoon
Yummy factor: While on set filming for upcoming medical drama Healing Heroes, Ann tempted co-star Zhang Yaodong as she tucked into her packet of economic fried bee hoon along with fried fish cake slices, stir-fried cabbage and a fried egg. Considering how Yaodong had treated Ann to lunch recently, she probably should have gotten him his share too.
Shane Pow
What he ate: Pad see ew or Thai stir fried noodles
Yummy factor: Looking for easy recipes to replicate at home? Shane whipped up a healthier version of the Thai rice noodle dish by using wholegrain kuay teow instead, and it looks just as delicious stir-fried with chicken chunks, scrambled eggs and greens. Check out Shane's Instagram account for the recipe.
Cheryl Wee
What she ate: Hawker fare
Yummy factor: A friend's recommendation led Cheryl and her husband Roy Fong to coffee shop Ah Lim Jalan Tua Kong at Joo Chiat. There, she went for a hearty bowl of handmade mee hoon kuay and she found it to be "pretty legit", while Roy enjoyed his al dente mee pok with much gusto. And since they had travelled all that way, why not have some braised duck for good measure too?
Kym Ng
What she ate: Snacks
Yummy factor: From munching on min jiang kueh (courtesy of Ben Yeo) to sharing pretty chiffon cakes and hot drinks with Hazelle Teo, Kym had certainly made the most of her tea break at work.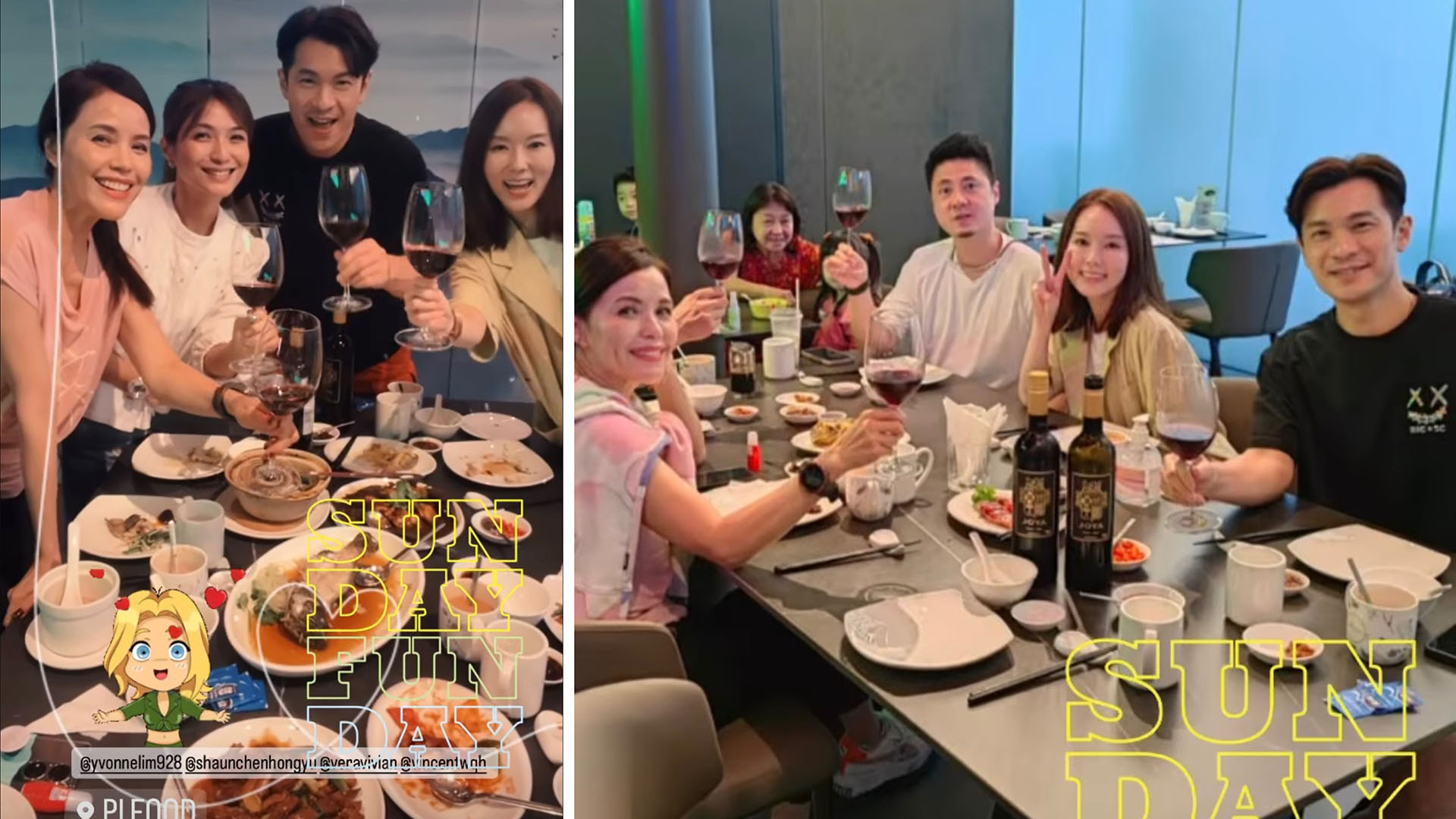 Zoe Tay, Vivian Lai, Shaun Chen and Yvonne Lim
What they ate: Cantonese cuisine
Yummy factor: The celeb friends caught up over the weekend at mod cha chaan teng Pi Food, where the food looked just as good as the company. We spy classic  favourites like steamed fish, stir-fried beef hor fun and claypot delights.
Chen Xiuhuan
What she ate: Local delights
Yummy factor: Why settle for prawn noodles or wanton mee when you can have both? Xiuhuan's lunch from Thomson Big Prawn and Wanton Noodle looks so shiok, and the portions are pretty generous for the namesake dishes too.
Joanne Peh
What she ate: Late dinner
Yummy factor: Joanne couldn't be more glad that she had saved some food for a quick late-night dinner after shooting her reality competition Streamers Go Live. All she had to do was pop her rice, greens and meat into the oven for a bit for a piping hot meal.
Cynthia Koh
What she ate: Protein bowl at Yardbird Singapore
Yummy factor: Instead of going for the American diner's signature fried chicken with waffles and watermelon, Cynthia opted for a guilt-free protein power bowl. And the dish sure lived up to its name with wholesome ingredients like grilled chicken, chickpeas, avocado, and crispy quinoa.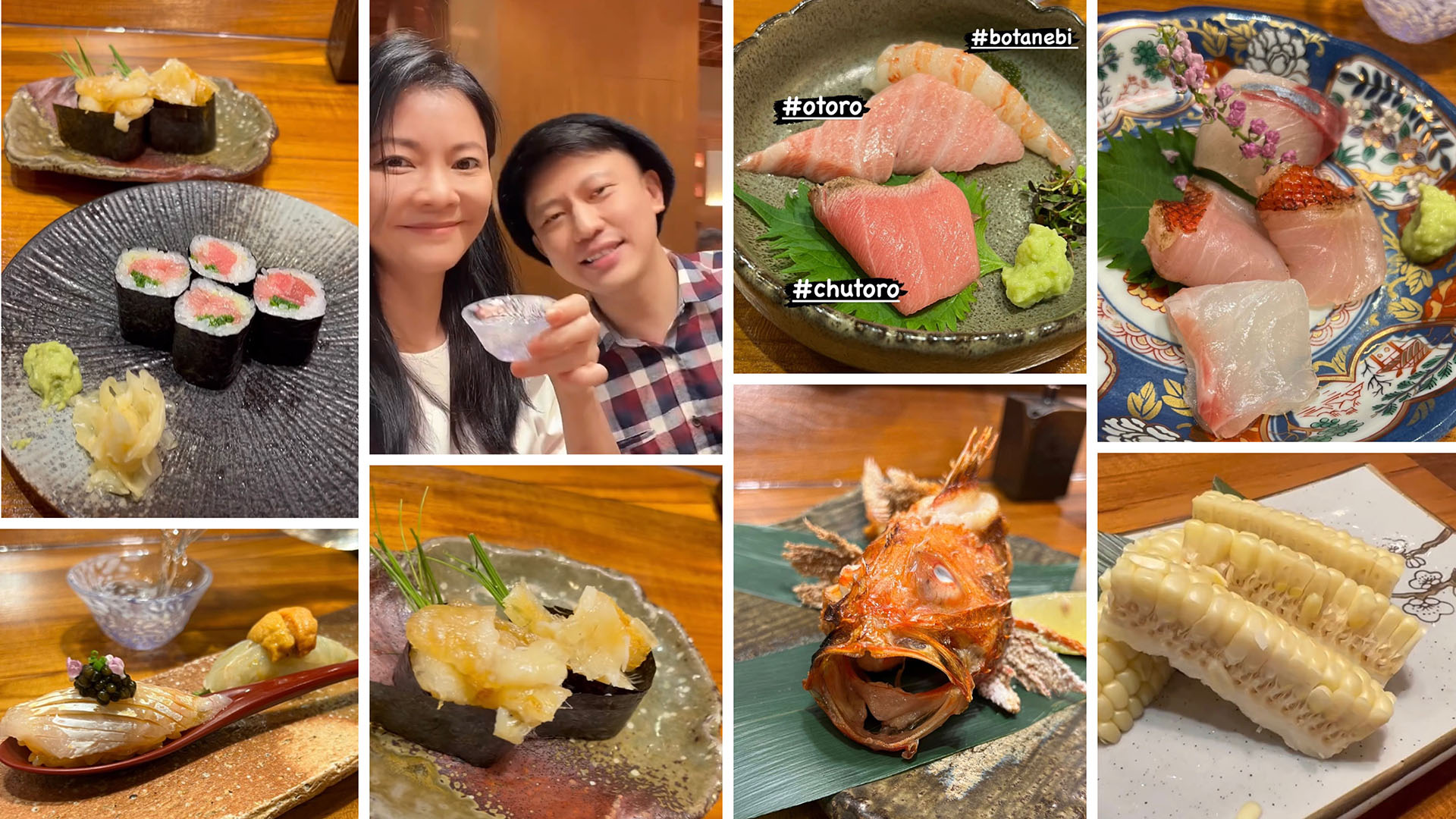 Michelle Chong and Pornsak
What they ate: Japanese dinner
Yummy factor: Whenever Pornsak dines with Michelle, he knows it's going to be a scrumptious affair. True enough, their dinner at Akashi Japanese Restaurant was a mouthwatering spread with highlights like fresh sashimi, hand-rolled sushi and Michelle's fave grilled kinki (or channel rockfish).
Steven Chia and Benjamin Kheng
What they ate: Cai png
Yummy factor: Ordering cai fan with Benjamin, one-half of the brainchild behind 'The Caifan Song', must have been a memorable experience for CNA presenter. And we're just as curious as other netizens: Did Steven sing the earworm song with Ben, and did they order their meat and veggies by saying ​​"zhe ge na ge" ("this and that'' in Mandarin)?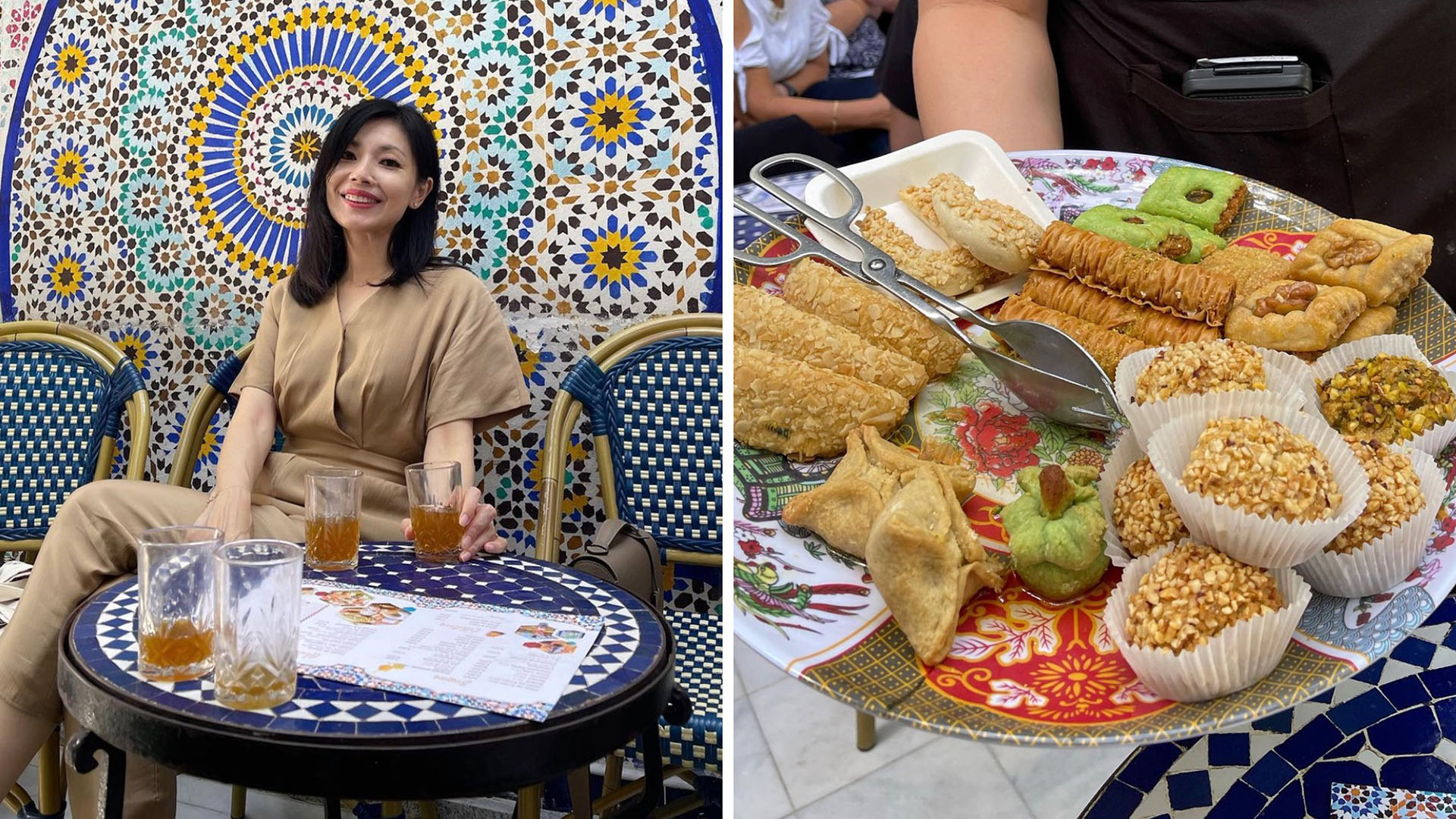 Sharon Au
What she ate: Afternoon tea
Yummy factor: Sharon was a picture of bliss at the Grand Mosque of Paris, where she spent a picturesque afternoon sipping on refreshing Moroccan mint tea and nibbling on delightful oriental pastries and desserts.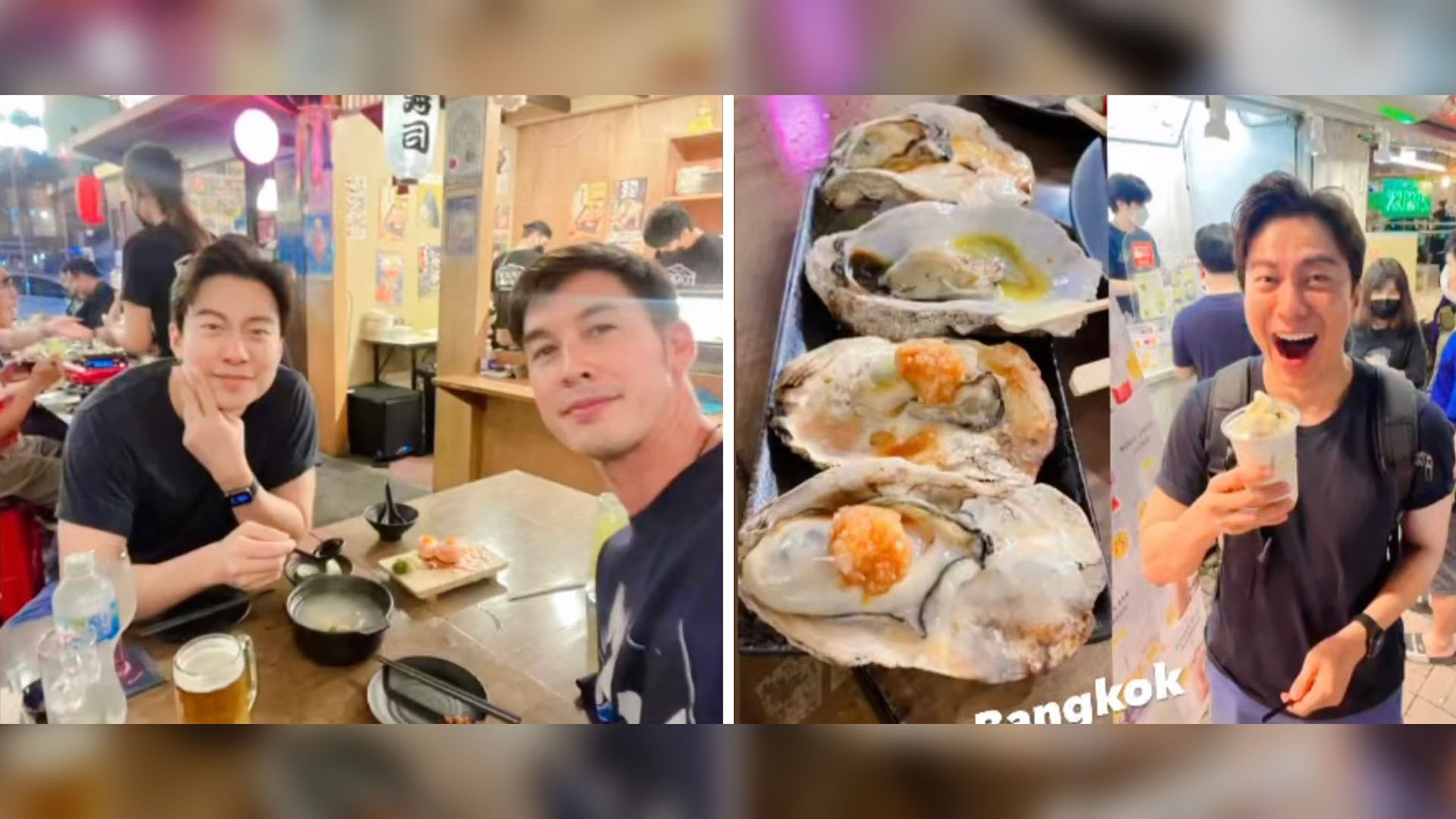 Nat Ho and Utt
What they ate: Vacay nosh
Yummy factor: Thanks to Utt, Nat got to explore Bangkok like a local. The former MTV VJ brought him to what looks like a homely Japanese joint for beer, sushi and oysters, and Nat sure looked pleased to get his hands on an ice-blended drink — perfect for the Thai capital's humid weather.
Kimberly Wang
What she ate: Indomie... at a wedding
Yummy factor: Forget refined tapas and drinks — "Indomie is life" for the 987 FM DJ. Kimberly was in Bali over the weekend for a wedding, and was so excited to find her favourite instant noodles served at the after-party. And never mind the glam 'fit — she was all ready to slurp up some tasty noods.
Patricia Mok
What she ate: Wanton mee
Yummy factor: Filming in Kuala Lumpur for upcoming movie What The Heist means that Patricia gets to have her all-time favourite wanton mee from Toong Kwoon Chye (she was there twice this week). And it's probably no surprise why she's a fan — just look at the plump wantons and caramelised char siew.
Evelyn Tan and Nico Weibin
What they ate: Brunch
Yummy factor: Brunch is always a good idea, especially when it's Evelyn's birthday month (she turned 29 on Jul 11). The radio personalities met up at Little Farms Market & Café, where Weibin treated the birthday girl to coffee and wholesome eats like sourdough toast with eggs and fresh avocado, as well as cured salmon with crisp tortilla chips, poached eggs, jalapenos and more.
Michelle Wong
What she ate: Grilled seafood 
Yummy factor: Talk about being spoiled for choice. All manner of street snacks and fresh seafood were neatly displayed and waiting to be picked by Michelle at Phu Quoc Night Market in Vietnam — think oysters, baby octopuses, snails, meat skewers and more.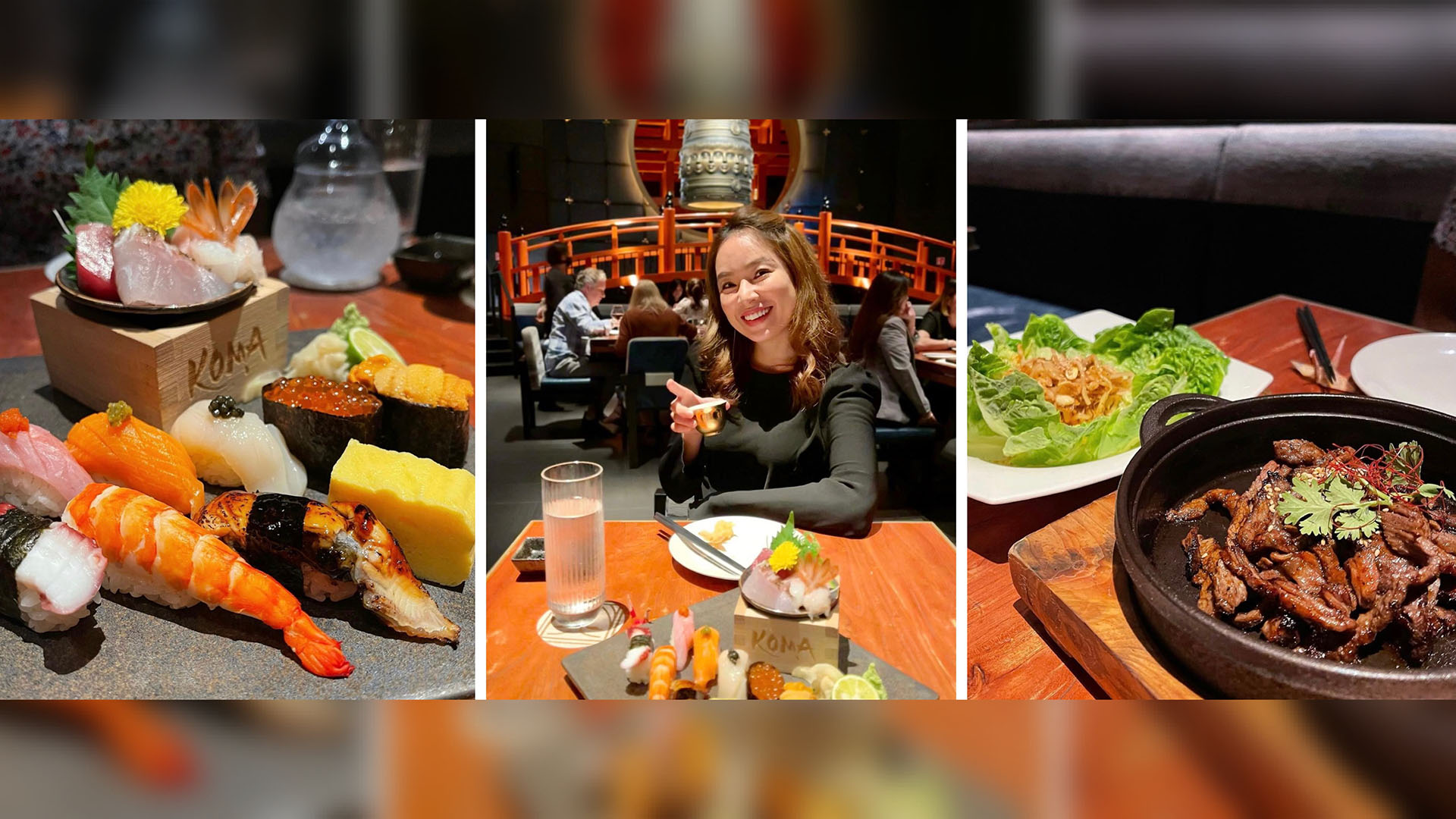 You Yi
What she ate: Japanese
Yummy factor: You Yi's dinner at Japanese restaurant Koma looked nothing short of fantastic. From what we can tell, she had the assorted sashimi and sushi platter, as well as the barbecued beef short ribs with fresh lettuce and a touch of spicy kochijan sauce.
Ferlyn Wong
What she ate: Spanish eats
Yummy factor: Modern Spanish restaurant Esquina is Ferlyn's new favourite haunt for paella. While other dishes like the melt-in-the-mouth Spanish pork jowl and foie gras brulee with leek jam on a crisp pastry were delectable, the sea urchin paella in particular impressed her with its rich flavour.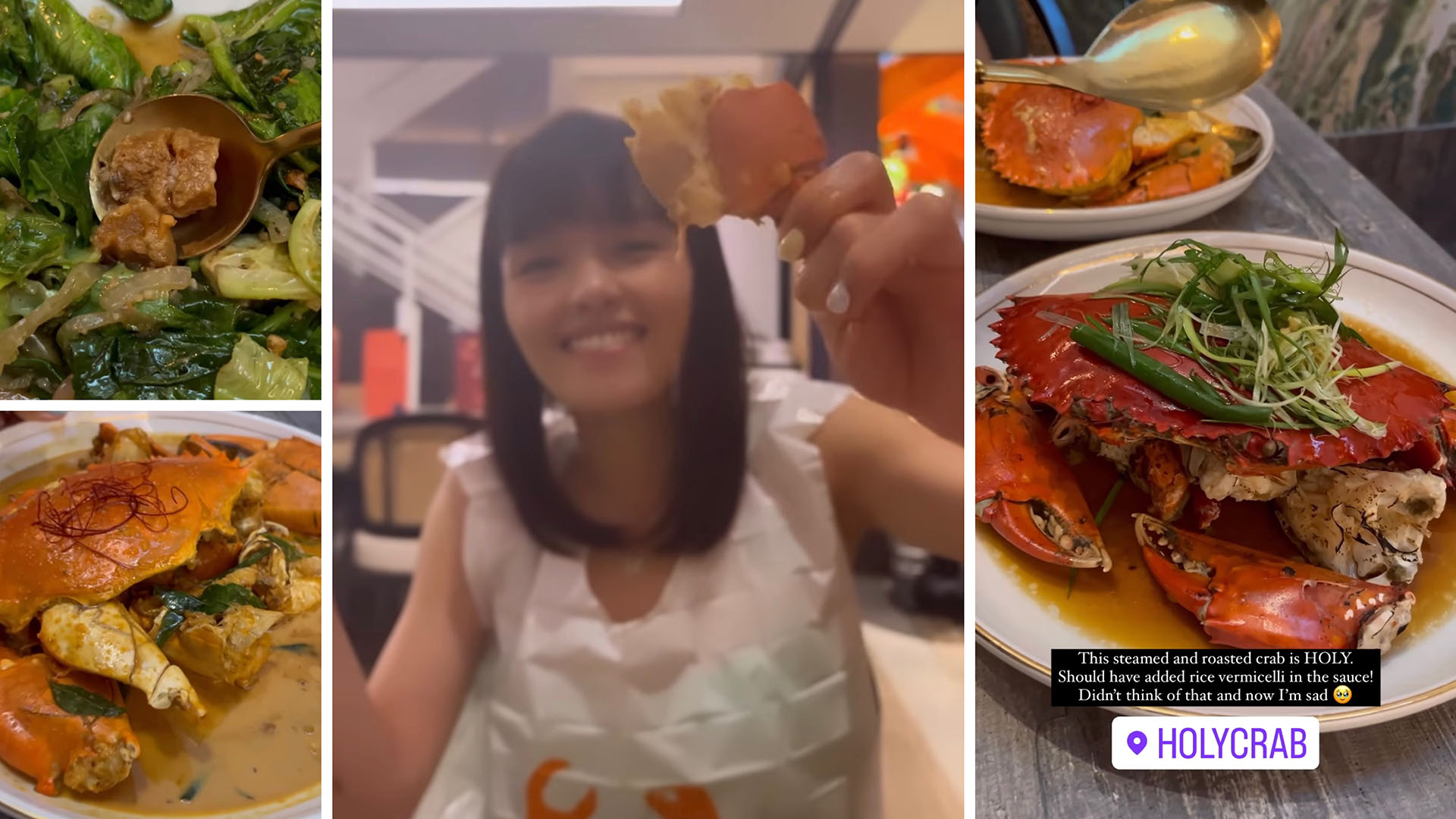 Hazelle Teo
What she ate: Crabs galore
Yummy factor: Hazelle's all for fried pork lard in her greens and deshelling her crabs sans gloves. For her, feeling the soft and tender flesh with her bare hands is the best part of the experience. And boy did she enjoy her crustacean feast at Holy Crab. Hazelle's recommendations include the salted egg yolk version as well as the steamed and roasted one with ginger and scallions. BRB, making reservations for this weekend.
Oon Shu An
What she ate: Brunch at Earlybird Cafe
Yummy factor: Check out what Shu An had for brunch with Michelle Chong. We're loving the sinful combo of fried chicken and fluffy buttermilk pancakes, as well as the thick slice of bacon paired with chilli scrambled eggs on sourdough toast. Yum.