Foodie Friday: What The Stars Ate This Week (Jul 8-15)
All the photos that made us hungry this week.
Happy reunions are never complete without delectable eats. This week, Yeo Yann Yan had a makan sesh with former Mediacorp actress Michelle Goh, Yvonne Lim got her fix of local fare with celeb pals like Chen Hanwei, Hong Huifang and Huang Biren, and Zoe Tay finally managed to pencil in brunch time with Tracy Lee. And if you've been craving supper, the tissue prata Chen Liping indulged in will surely whet your appetite. Read on for more.
Chen Liping
What she ate: Tissue prata
Yummy factor: Talk about being on a roll. Check out the paper-thin prata Liping had during her JB trip. And is that a drizzle of sinful condensed milk we spy on the towering creation? Add a little sugar and it's the perfect accompaniment to her hot teh.
Huang Biren, Chen Hanwei, Zheng Geping, Hong Huifang, and Yvonne Lim
What they ate: Local favourites
Yummy factor: Yvonne, who is back to star in a new Mediacorp drama, got her fix of local delights when she met up with celeb pals Biren, Hanwei, Geping and Huifang for dinner at Blue Lotus Chinese Eating House. There, they caught up over delicious eats like the restaurant's signature chilli pomelo crab with fried mantou, sweet and sour pork with lychee, lemongrass prawn sticks and more.
Xiang Yun
What she ate: Unique curry
Yummy factor: Fancy having a spicy and tangy curry? Xiang Yun recommends trying the fruit juice curry from vegetarian eatery Tracy Juice Culture. Not only does it count fresh juice as one of its main ingredients, it also comes with springy udon noodles and diced fruits like dragonfruit and grapes for a refreshing touch.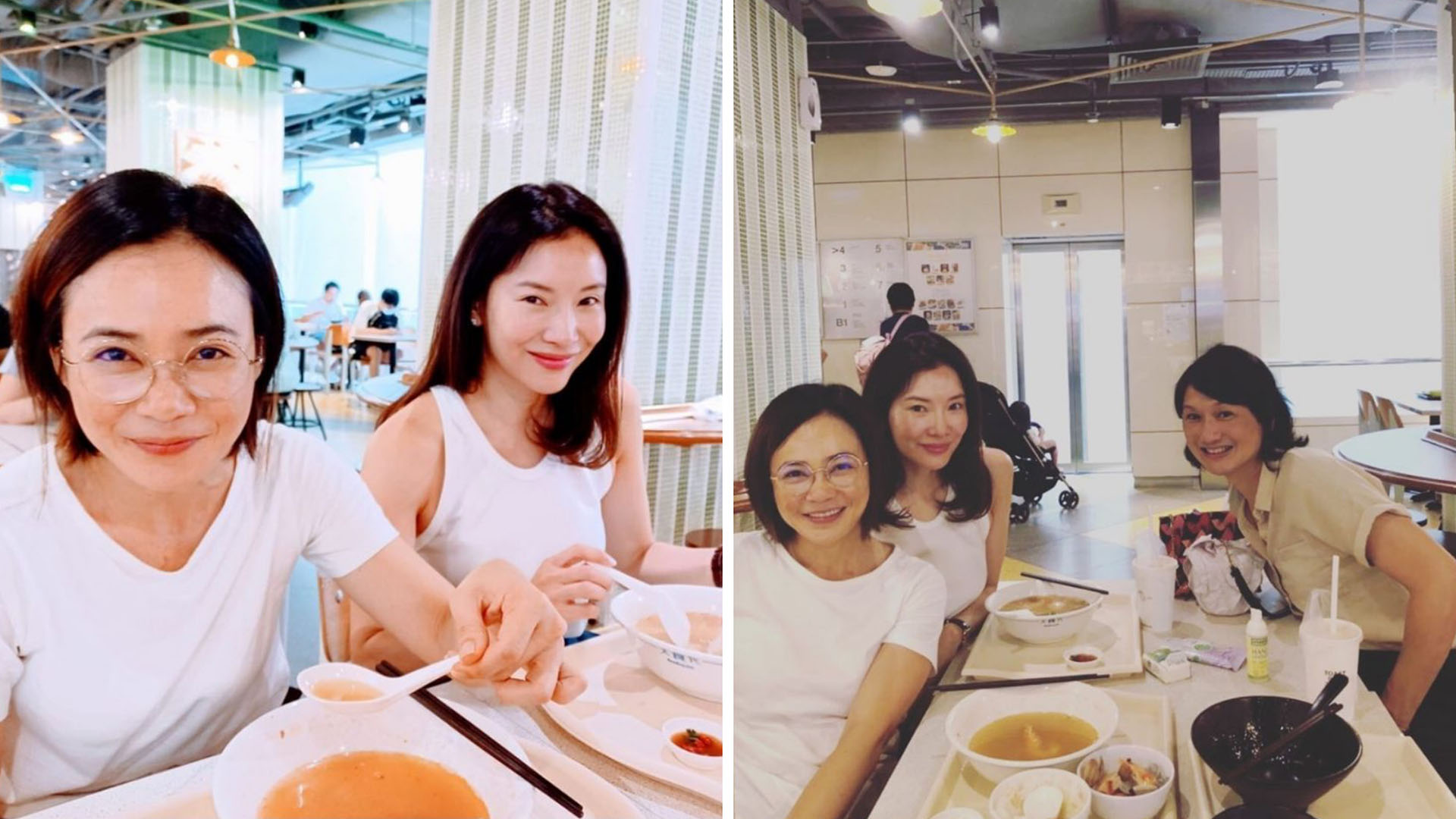 Yeo Yann Yann
What she ate: Local eats
Yummy factor: Remember Mee Pok Man star Michelle Goh? Yann Yann met up with the former Mediacorp — then TCS —  actress for a meal at Food Republic at Wisma Atria and the makan kakis sure looked happy to be digging into what looks like fish soup. Clean, comforting broth with fresh seafood — what's not to like?
Qi Yuwu and Joanne Peh
What they ate: Modern European cuisine
Yummy factor: Yuwu shared snippets of his meal with Joanne at Restaurant Poise, where the fancy menu included artfully-presented dishes like the coq au vin, caviar and potatoes, and roast pigeon. It surely made for a memorable dining experience.
Rui En
What she ate: Ginger flower chocolate
Yummy factor: Who better to learn how to make chocolate than renowned pastry chef Janice Wong? Rui En spent an afternoon learning how to make her own chocolate from bean to bar, and even got to include unique ingredients like the pungent ginger flower (you've probably tasted it in rojak) in her handcrafted treat.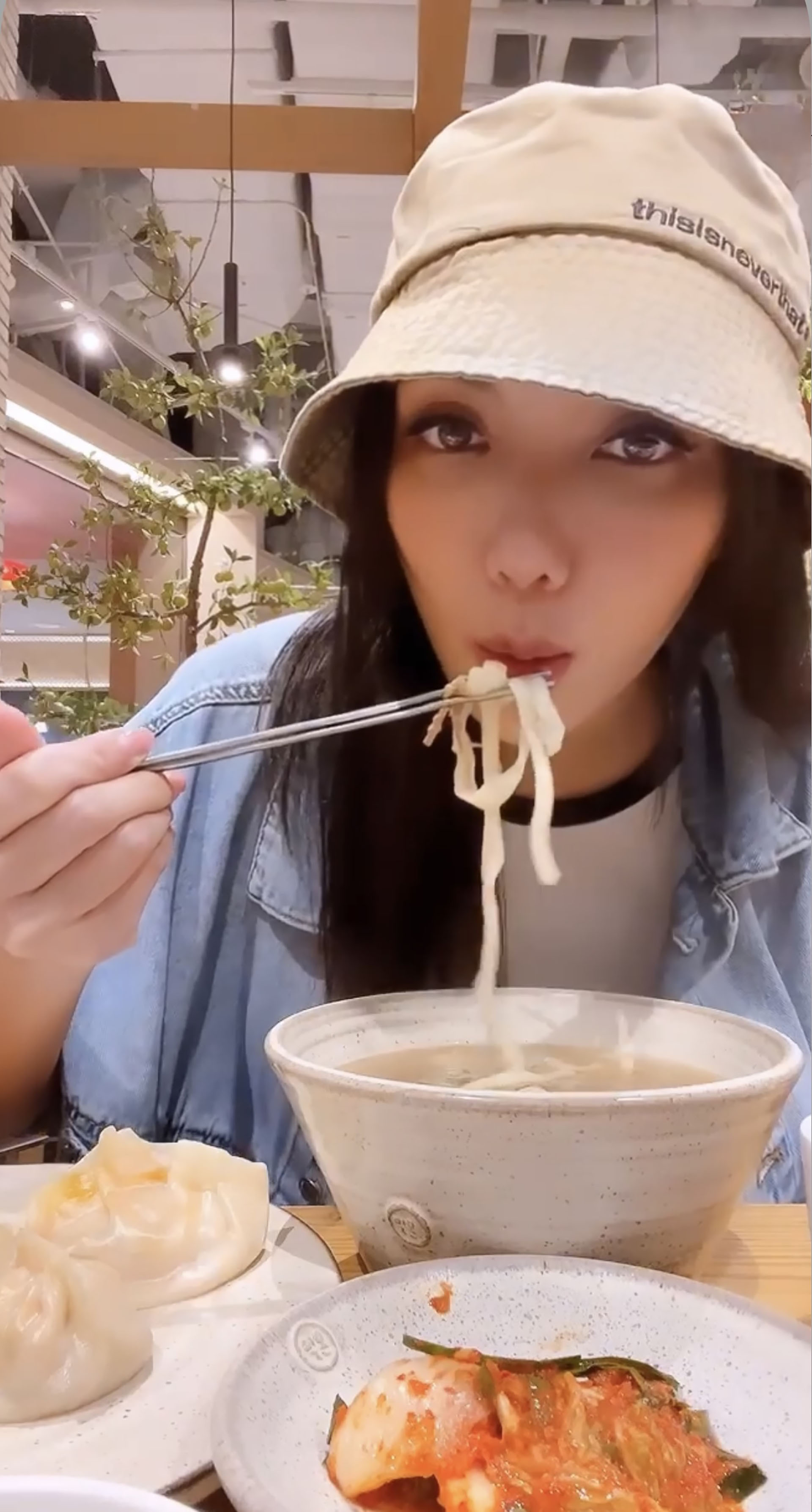 Jean Danker
What she ate: Korean comfort food
Yummy factor: Jean, who's holidaying in Seoul, could very well host her own mukbang show — just looking at her slurping up her bowl of noodle soup and savouring the plump mandus (K-style dumplings) and kimchi is making us crave for some now.
Tracy Lee and Zoe Tay
What they ate: Brunch
Yummy factor: Post-workout brunches are probably the most satisfying and boy did Tracy and Zoe have a hearty one at PRAIRIE by Craftsmen after their morning exercise at the Botanic Gardens. Aside from their caffeine fix, they got in their protein with all that smoked salmon and scrambled eggs on toast.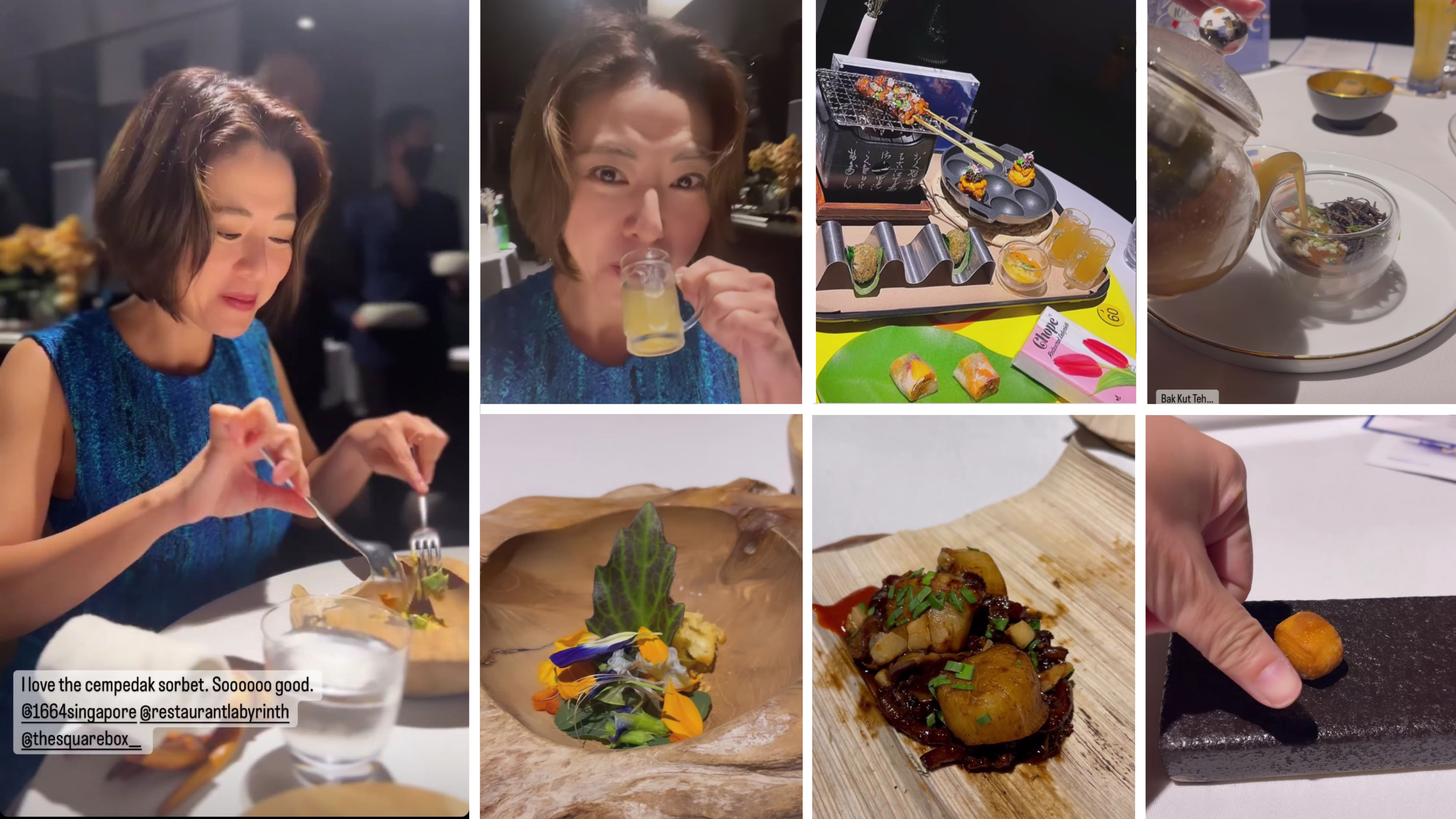 Cynthia Koh
What she ate: Local fare with a twist
Yummy factor: A gastronomic adventure at mod-Singaporean restaurant Labyrinth saw Cynthia enjoying the best of local flavours in a fine dining setting. We're talking elevated classics like mini mugs of sugarcane kombucha, "out of this world" bak kut teh made with tender kurobuta pork, mouthwatering "char kway teow" with XL clams, Hokkaido scallops and kuhlbarra barramundi fish maw, orh luak with caviar and uni, as well as rojak with at least 12 different herbs and accompanied by a tropical jackfruit and cempedak sorbet. P.S.: Have you seen a fried mantou that tiny before?
Felicia Chin
What she ate: Beef pie
Yummy factor: Felicia's surprise find in Canada was a freshly-baked beef pie she had for breakfast, which "tasted so good" with its flaky pastry and tender steak chunks. Plus, we love how the thick black pepper gravy oozed out immediately upon cutting.
Michelle Wong, Joel Choo, He Yingying, Edwin Goh and Chen Xi
What they ate: Oversized cake slices
Yummy factor: The celeb pals met up for Joel's belated birthday celebration (he turned 28 on Jun 26), and found themselves being fed with "a gigantic wedge of [fruit] cake" each. Well, with that much sugar to finish, we hope they have a really sweet tooth. And thank goodness the cake didn't look too jelak with its light and airy texture.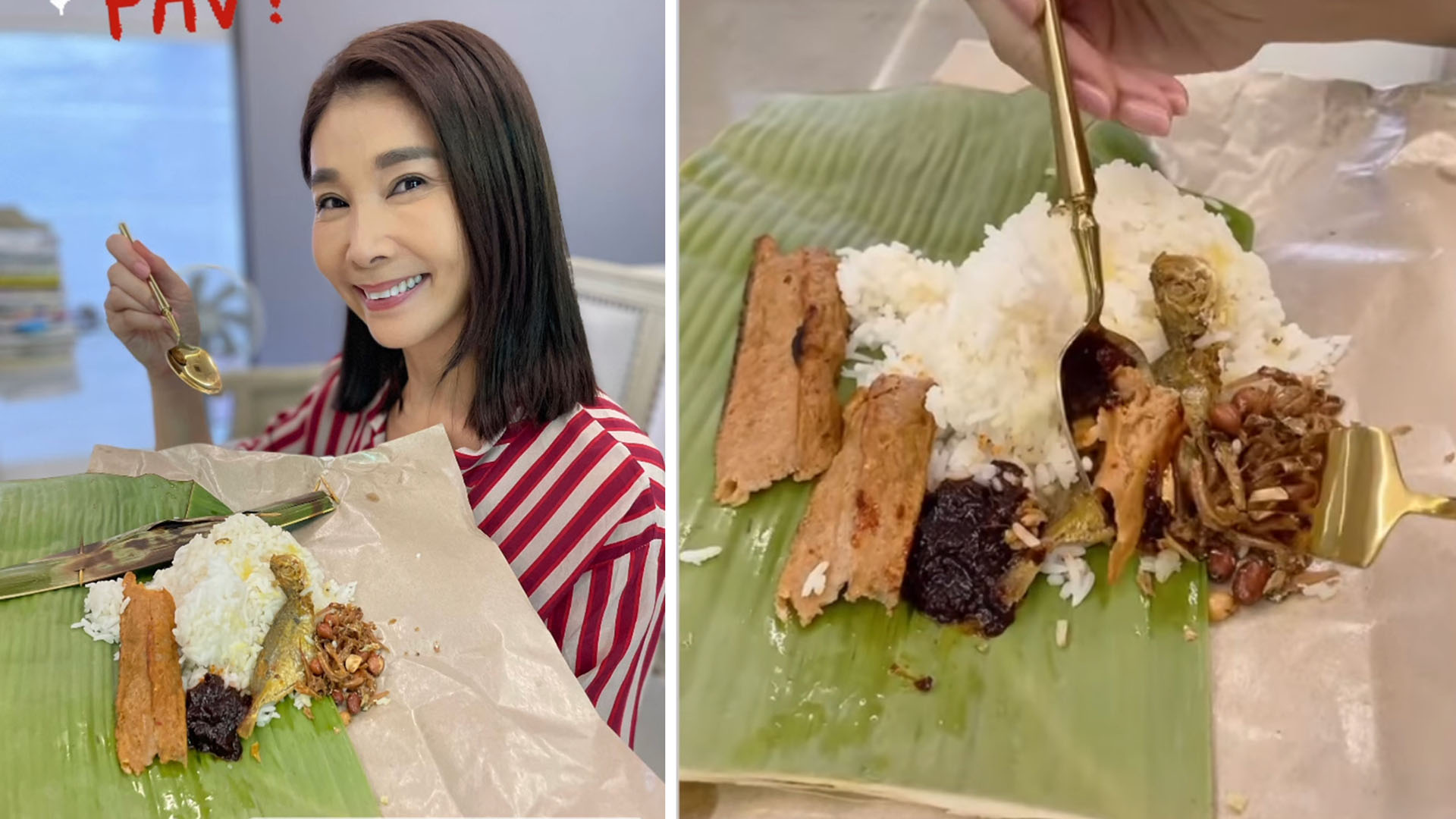 Chen Xiuhuan
What she ate: Nasi lemak
Yummy factor: Nasi lemak may be delish on its own, but it's definitely tastier when paired with the popular grilled mackerel otah from Hiang Soon at Jalan Kayu. And from the looks of it, Xiuhuan agrees wholeheartedly too.
Quan Yifeng
What she ate: Homemade chiffon cake
Yummy factor: Afternoon tea doesn't have to be an extravagant affair. Yifeng baked at least two flavours (could that be earl grey and butter?) of fluffy chiffon cake, and enjoyed the fruits of her labour with a glass of chilled milk. Now that's one way to cool off on a warm day.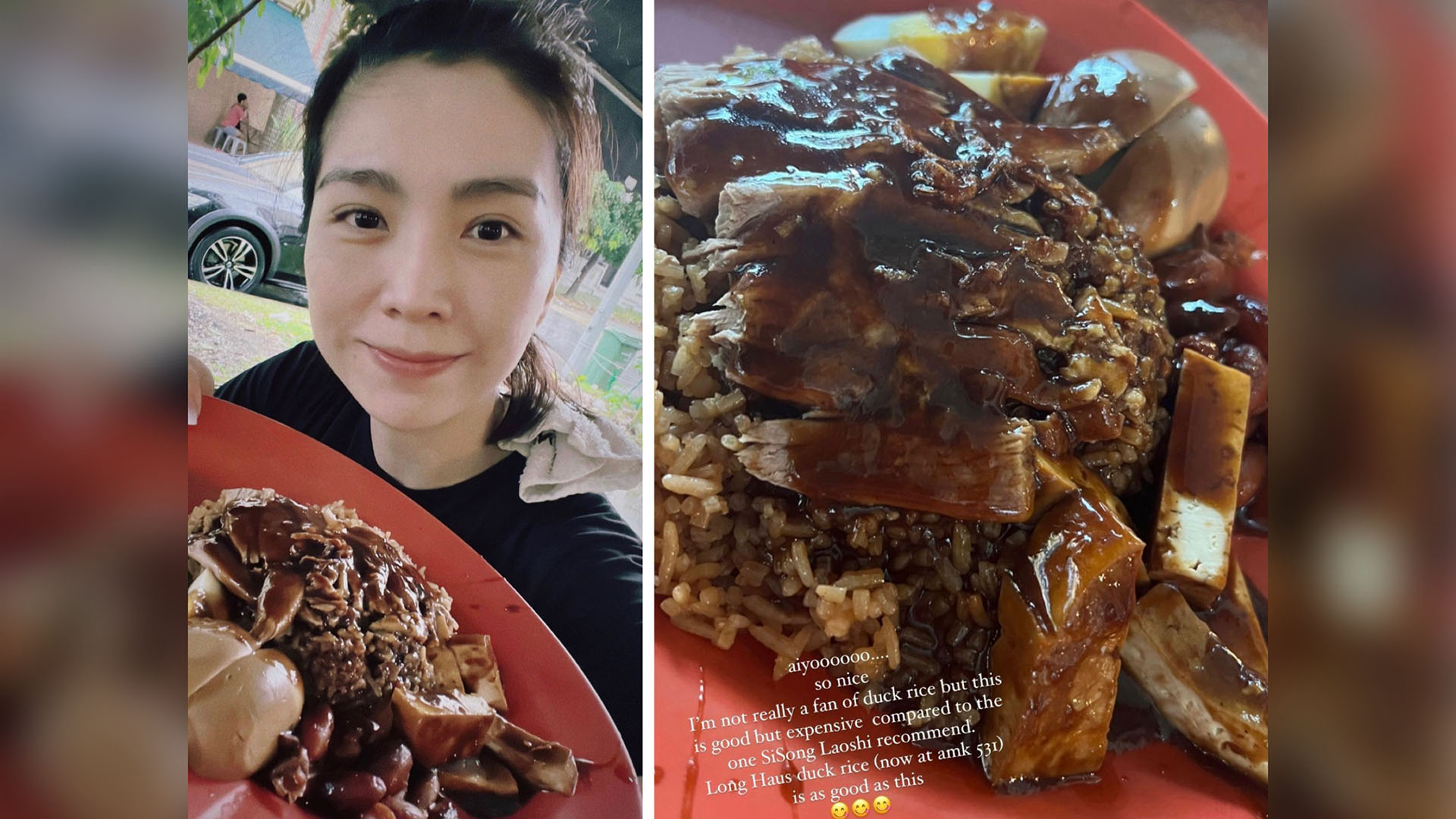 Sora Ma
What she ate: Duck rice
Yummy factor: Although Sora isn't usually a fan of the dish, she gave it a shot at Sean Kee Duck Rice after a tiring hike and found it to be "good but expensive". Well, we don't know about you, but her lunch sure looked tempting with additional ingredients like a hard-boiled egg, braised peanuts and beancurd all doused in viscous gravy.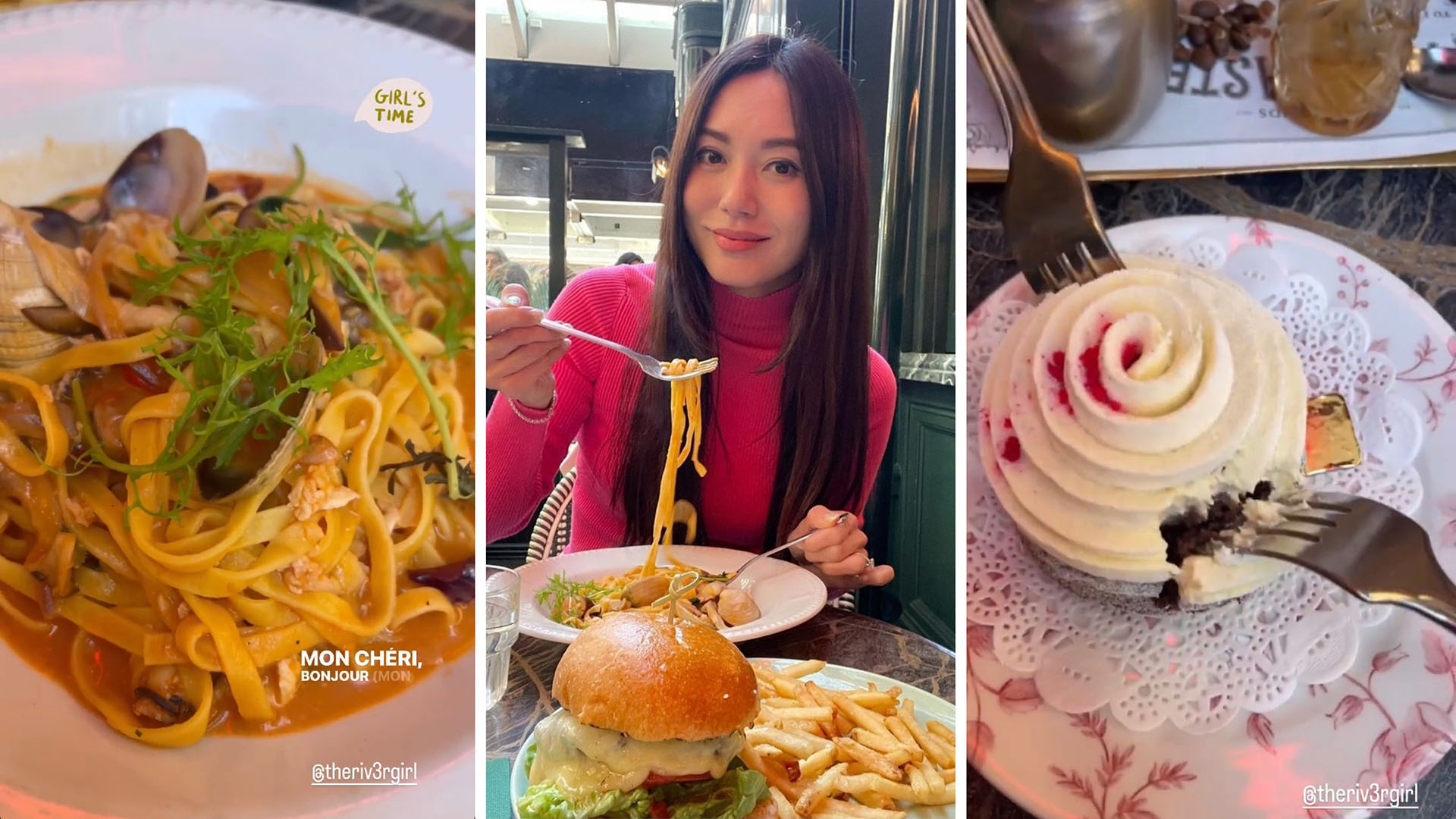 Phyllis Quek
What she ate: Seafood pasta
Yummy factor: A craving for good pasta got Phyllis heading out for brunch, where she scratched the itch with what appears to be a scrumptious pan-tossed linguine with clams, as well as a delectable tart for dessert.
Carrie Yeo
What she ate: Clams
Yummy factor: ...And not just any ol' clams mind you, but the seasonal duotou clams (or Chinese razor clams) currently available at Chinese restaurant chain Putien. Carrie had hers salt-baked, and remarked how sweet and fresh they were compared to the usual variety.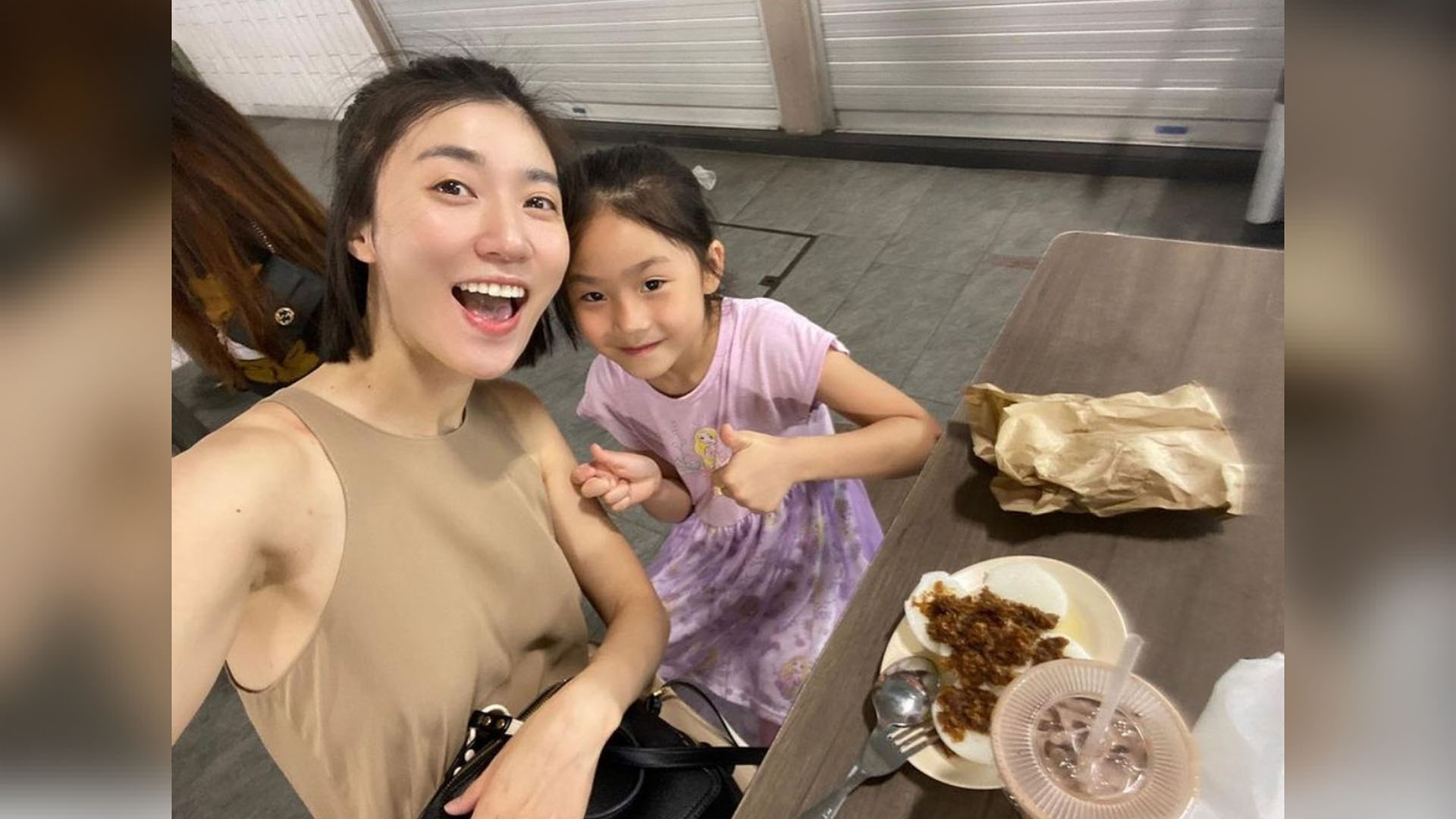 Kate Pang
What she ate: Chwee kueh
Yummy factor: Never mind that Kate didn't get to satisfy her craving for the likes of coin prata and tissue prata, she did get to share a mean plate of chwee kueh with her daughter, Avery. Plus, it didn't hurt that the steamed rice cakes came with a generous amount of chye poh.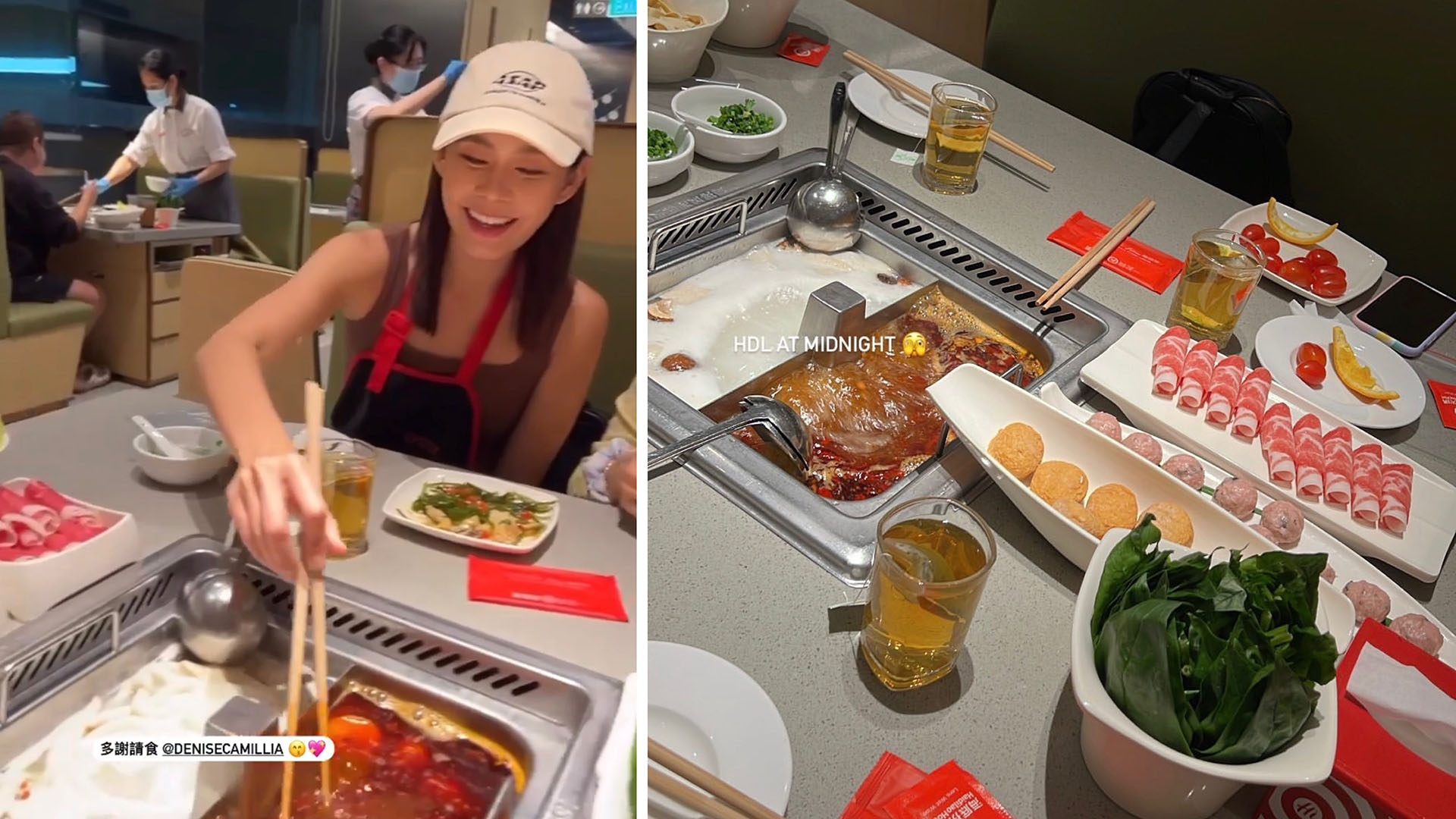 Denise Camillia Tan
What she ate: Hotpot supper
Yummy factor: It's never too late for a sumptuous hotpot sesh. Denise treated her family to a bubbling midnight supper at Hai Di Lao, where they enjoyed marbled meats and comfort foods along with their yuan yang soup bases.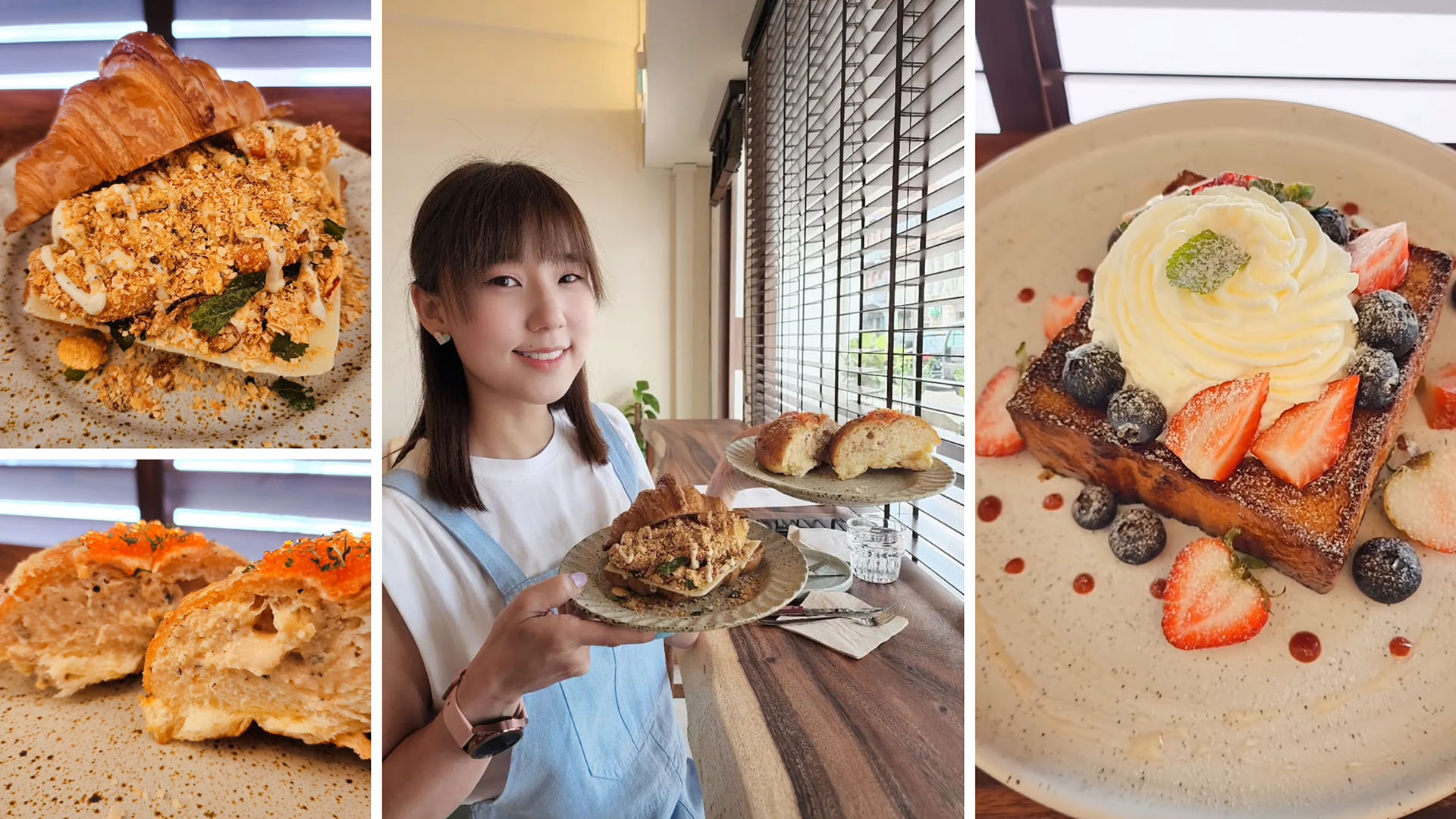 Gao Mei Gui
What she ate: Cafe nosh
Yummy factor: Good food equates to a good mood for Mei Gui, who was all smiles at Madu Bakery savouring fusion bakes like the mentaiko brioche and cereal prawn croissant, as well as house specials like the Madu Toast with mascarpone vanilla cream and fresh berries.  
Denise Tan and Yasminne Cheng
What they ate: Italian fare at Fiamma
Yummy factor: The radio personalities visited the brand-new Italian resto and found themselves falling in love with the menu —- think pizza tartufo with salami and shaved truffles, tender Florentine steak and a refreshing tomato and peach carpaccio which Yasminne thoroughly enjoyed. And would you look at that creamy tiramisu?