Foodie Friday: What The Stars Ate This Week (Jun 10-17)
All the photos that made us hungry this week.
This week saw plenty of food-filled reunions for our local celebs. Felicia Chin surprised boyfriend Jeffrey Xu, Zoe Tay and Aileen Tan on set with mid-day treats, Bonnie Loo caught up with her co-stars — including Paige Chua, Jernelle Oh, and Jesseca Liu — from two dramas, and celeb pals like Carole Lin, Huang Biren, and Phyllis Quek celebrated the birthdays of June babies Jacelyn Tay, Jin Yinji and Pan Lingling. Read on for more.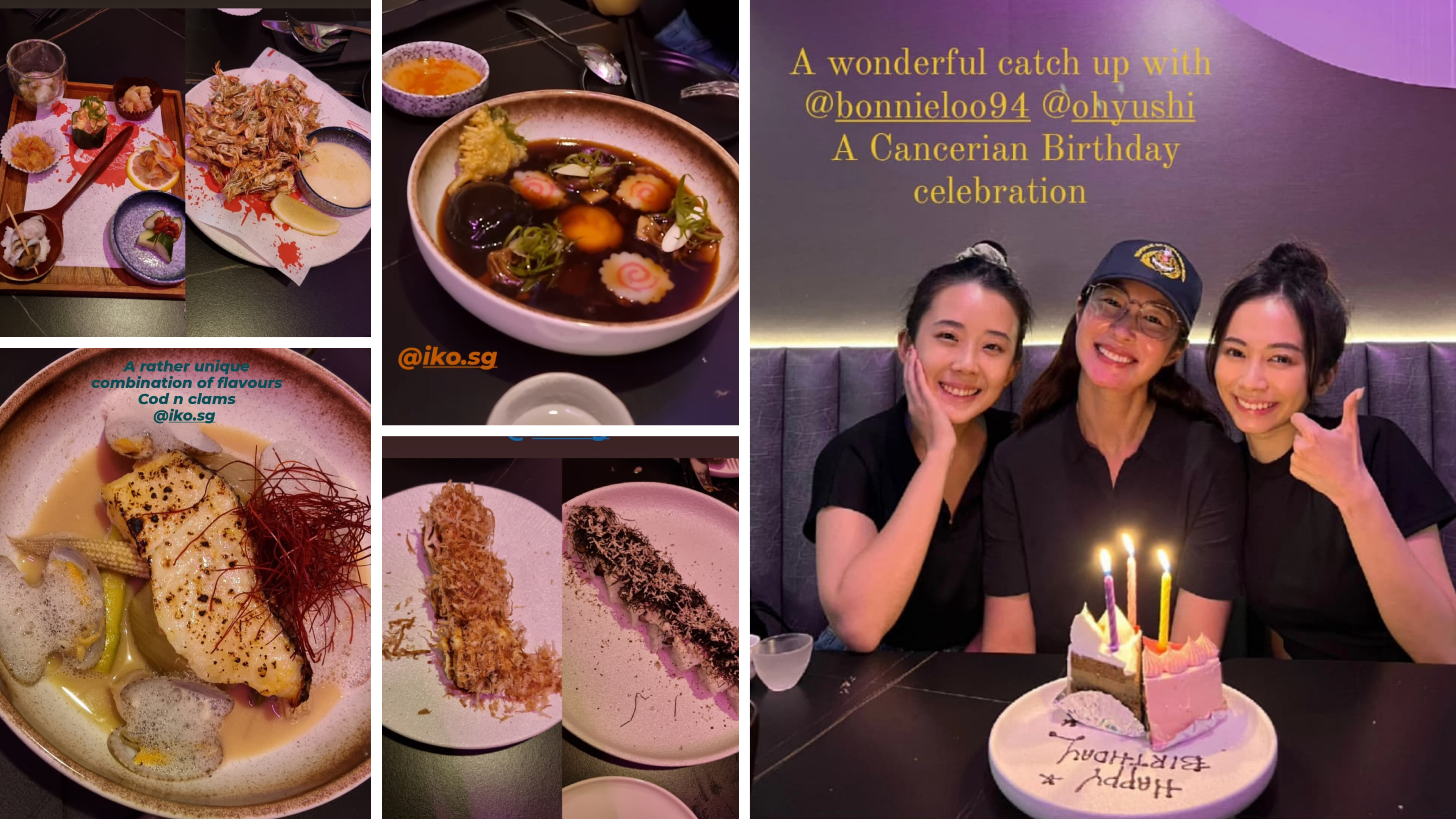 Jernelle Oh, Paige Chua and Bonnie Loo
What they ate: Japanese cuisine
Yummy factor: Did you know that the "Seoul Toast sisters" from long-form drama The Heartland Hero all share the same horoscope? The Cancerian trio took the chance to celebrate their birthdays together at Japanese resto Iko, where they indulged in seafood takoyaki, sushi rolls stuffed with foie gras and truffles, black miso cod and more. Happy birthday in advance!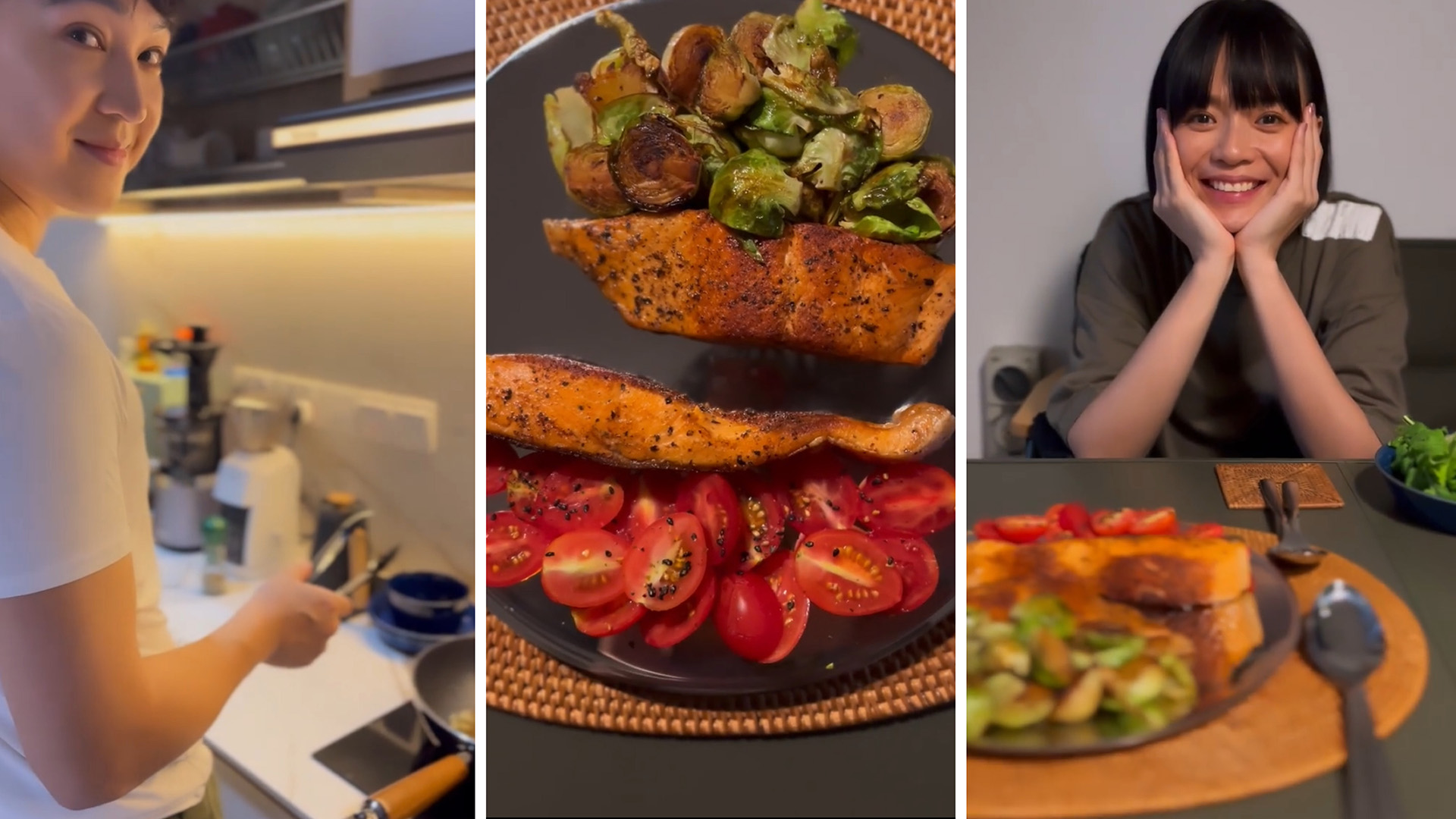 Jeffrey Xu and Felicia Chin
What they ate: Homemade dinner
Yummy factor: Is there anything sexier than a man who cooks? Felicia's all smiles thanks to Jeffrey, who whipped up a dinner of pan-fried salmon with charred brussels sprouts and her fave cherry tomatoes — perfect with a glass of chilled wine.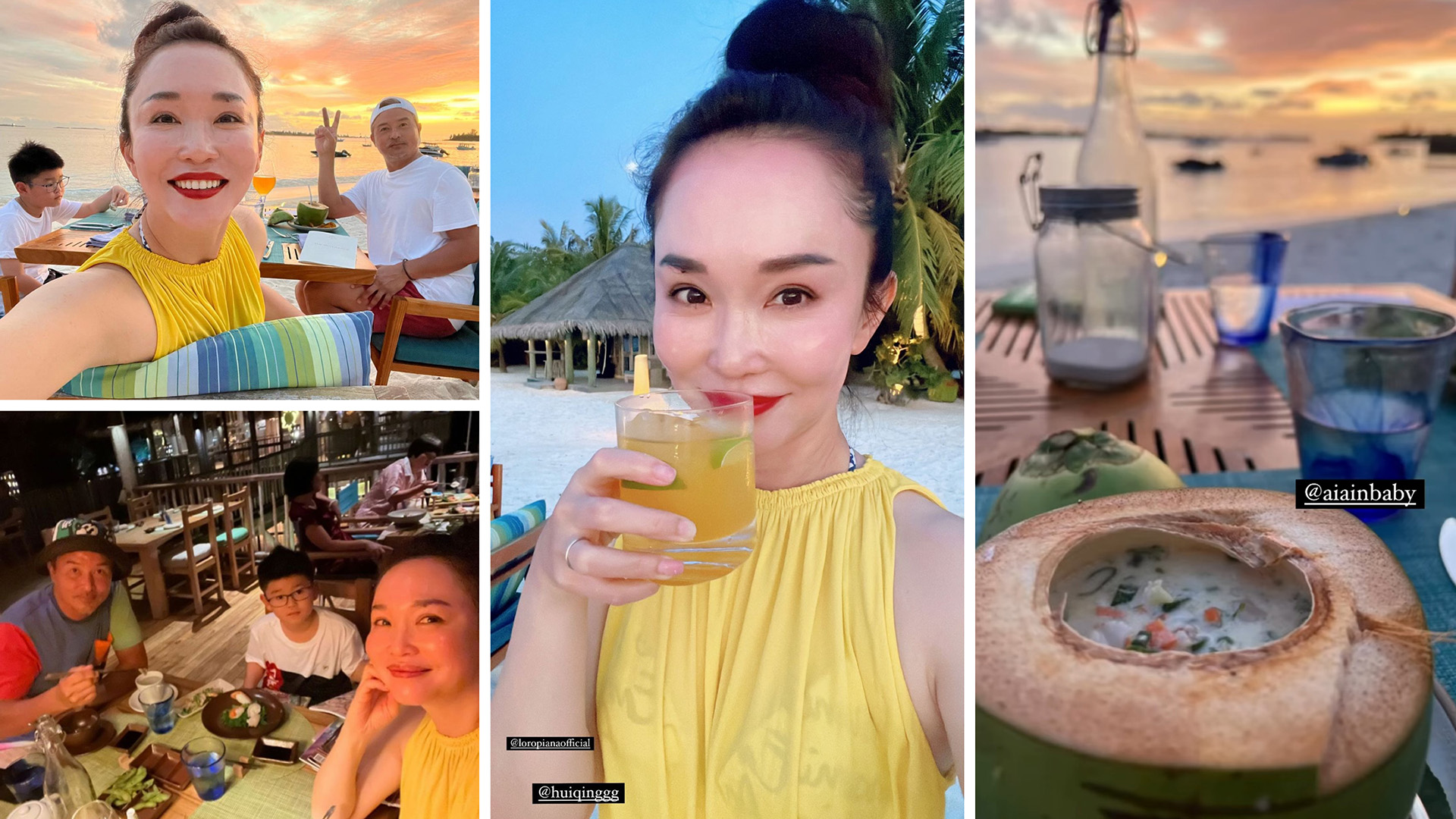 Christopher Lee, Zed and Fann Wong
What they ate: Beachside dinner
Yummy factor: Christopher, Fann, and Zed have been soaking up the sun and sea at luxurious resort Six Senses Laamu in the Maldives, as well as having romantic sunset dinners by the beach. And Fann was definitely a picture of bliss sipping on her cocktail and tucking into a crustacean-themed menu featuring lobster ceviche, lobster bisque, braised beef cheeks and more.
Thomas Ong
What he ate: Babi guling
Yummy factor: For lovers of babi guling, or spit-roasted suckling pig, no trip to Bali is complete without a stopover at famed Balinese eatery Pak Malen. Thomas ordered the spicy version and definitely felt the heat from the chillies (cue the iced drinks), but that didn't stop him from having his fill of the addictively crispy skin and fried pork.
Joel Choo and Zhu Houren
What they ate: Fried chicken
Yummy factor: Who needs a table when you can get a mobile chicken tray from KFC — complete with nuggets, fried chicken and a drink —  like Joel got for dad Houren. And seeing how Houren licked his fingers with relish after munching on his fried chicken, Joel may have just given him his yummiest Father's Day present yet.
Lee Teng, Quan Yifeng, Ben Yeo and Vivian Lai
What they ate: Best of Ben Yeo's beer garden
Yummy factor: Could dinner look any better? The stars had plenty to nom on at Playground, where Ben had prepared everything from charcoal fish head steamboat to platters of K-inspired lok lok, tom yum mayo fries and mao shan wang for his celeb pals.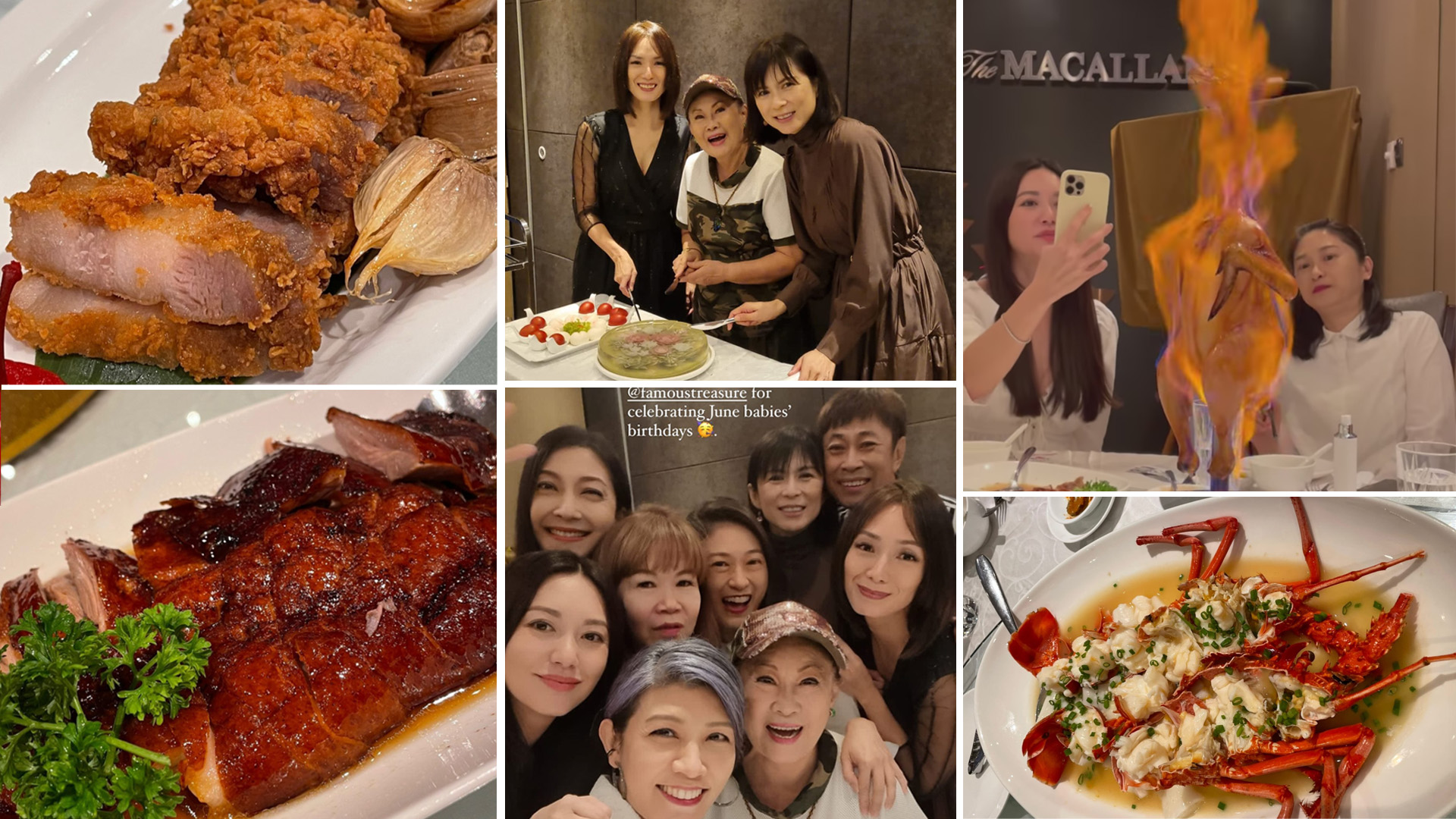 Jacelyn Tay, Jin Yinji, and Pan Lingling
What they ate: Birthday nosh
Yummy factor: Stars like Carole Lin, Huang Biren, Phyllis Quek, and Huang Shinan gathered to celebrate the birthdays of June babies Jacelyn Tay, Jin Yinji and Pan Lingling at Famous Treasure, where they enjoyed signatures like the roast Irish duck, roast meats, salt-baked flower crab, volcano chicken, and more. And of course, there's always space for dessert, especially when it's a pretty agar agar cake with life-like flowers.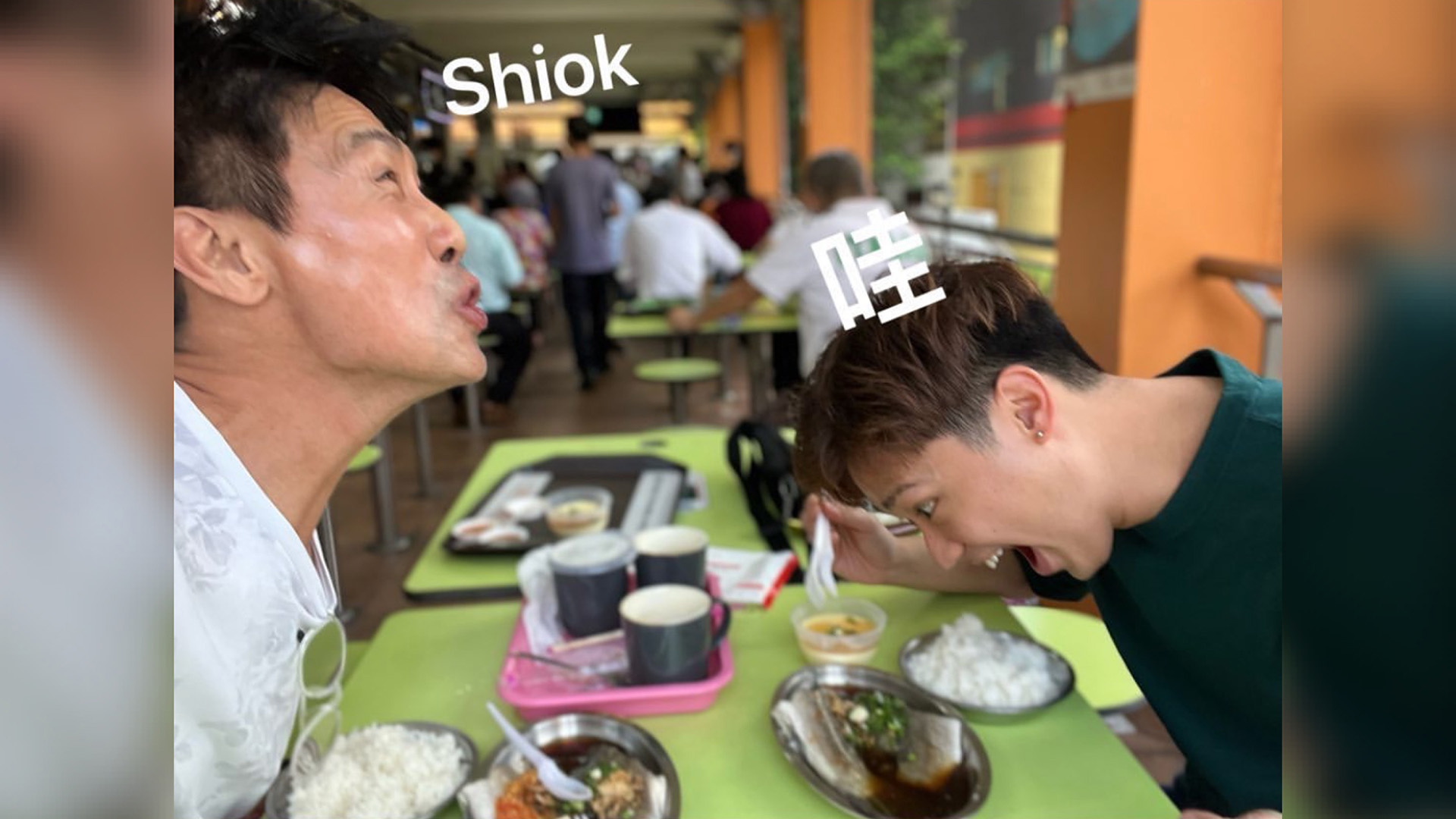 Edmund Chen and Chen Xi
What they ate: Steamed fish
Yummy factor: It's been way too long since Edmund and Chen Xi had their steamed fish fix from hawker stall Chi Le Ma at Golden Mile Food Centre, and boy were they overjoyed to have it again. Each set came with a generous slab of sea bass, steamed egg, rice and a whole lot of happiness.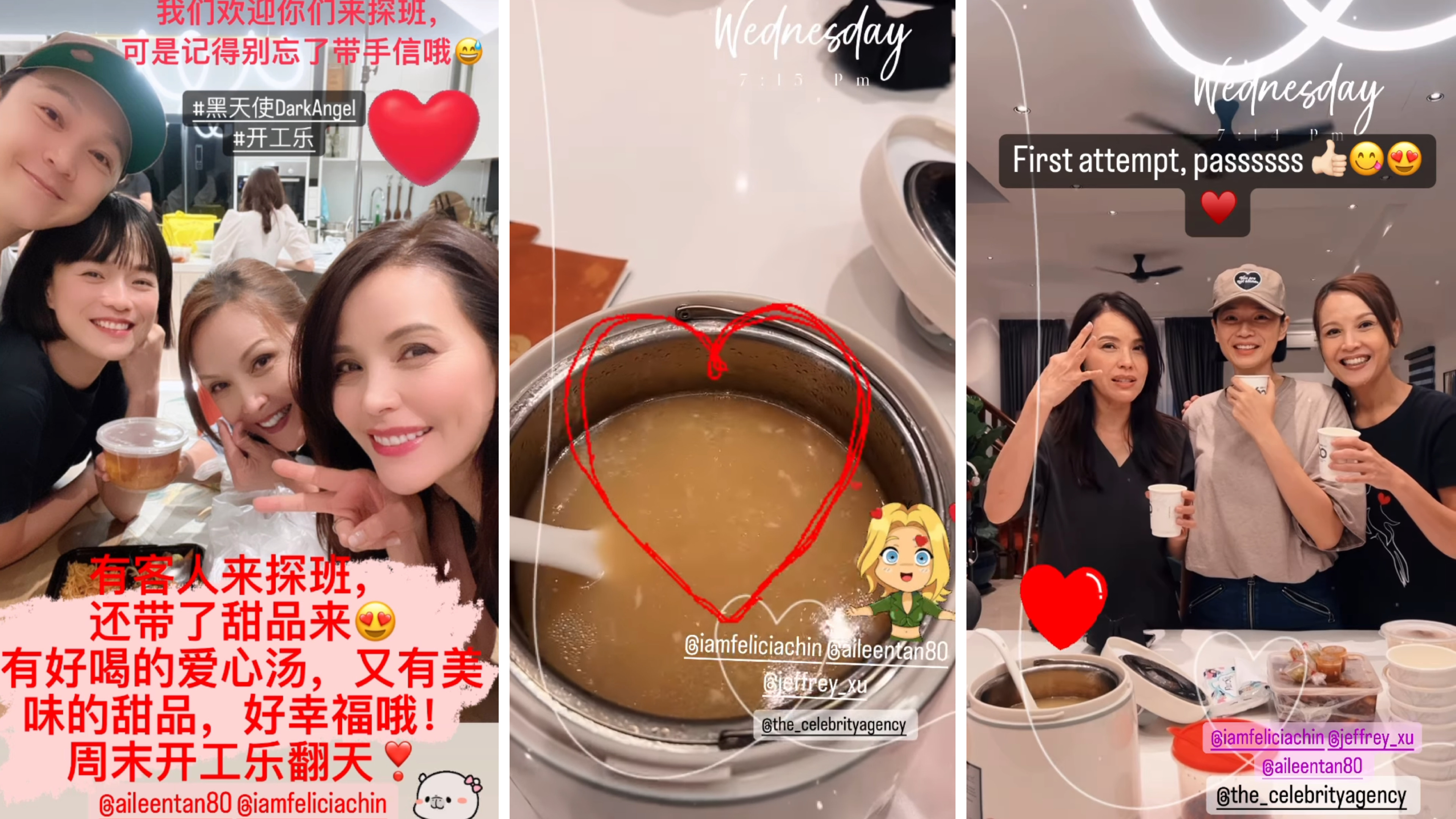 Jeffrey Xu, Felicia Chin, Aileen Tan and Zoe Tay
What they ate: Mid-day snacks
Yummy factor: Ever the sweetheart, Felicia has been surprising boyfriend Jeffrey Xu on the set of upcoming Mandarin drama series Dark Angel, and even brought along homemade soup and what looks like Chinese dessert and snacks for all the cast and crew, earning praise from Zoe. Special mention goes to the chicken and onion soup Felicia made using three chickens. So flavourful, Zoe quipped that it tasted like chicken essence.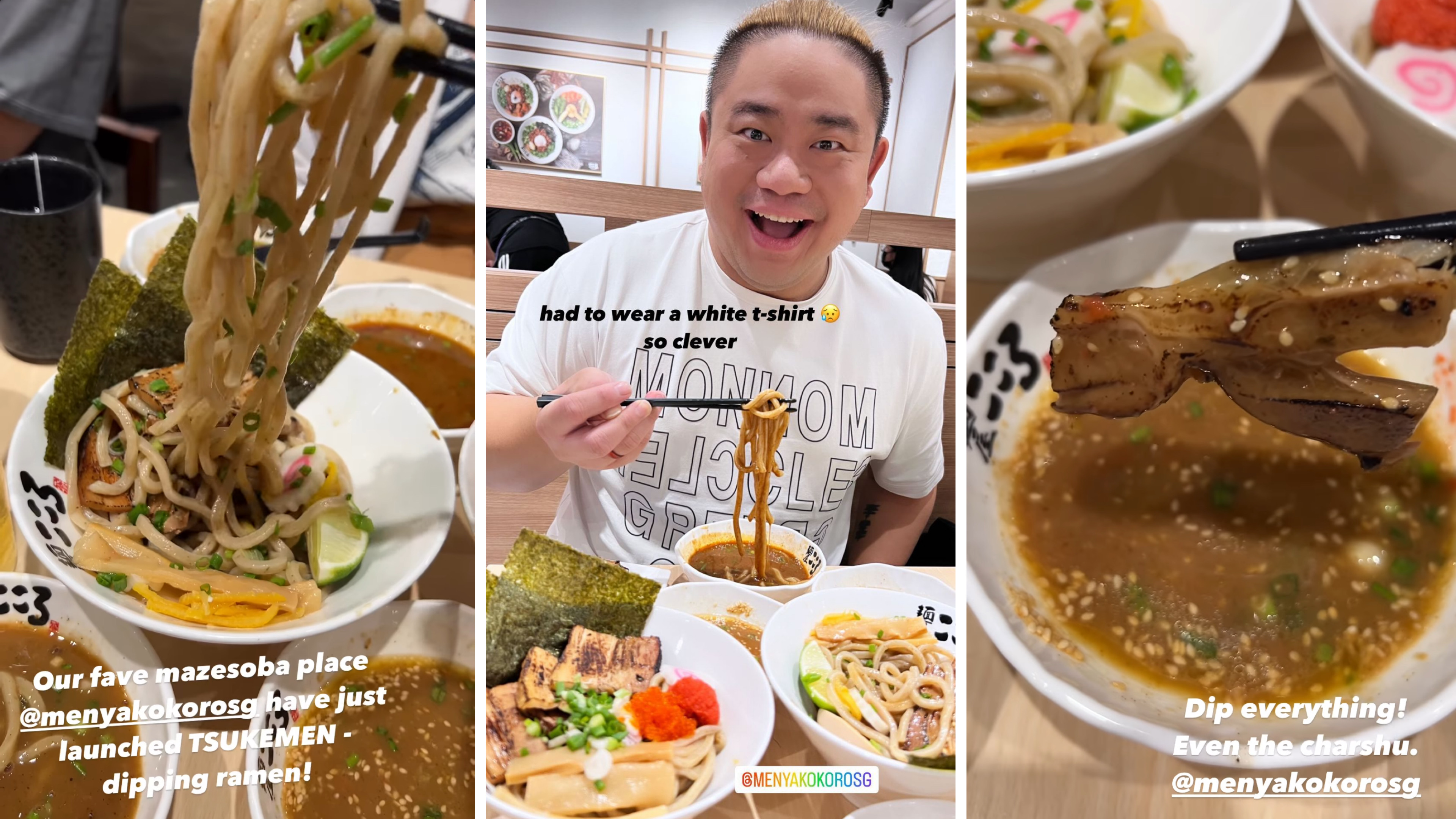 Justin Ang and Vernon A
What he ate: Tsukemen
Yummy factor: As fans of Menya Kokoro's mazesoba, the Muttons had to head back to the resto to try its newly-launched tsukemen with freshly-grated yuzu peel. And despite the fact that Justin made the rookie mistake of wearing a pristine white tee to have dipping ramen, he still managed to enjoy the chewy noodles and char siu with the accompanying umami broth with nary a stain.
Sharon Au
What she ate: Afternoon tea
Yummy factor: Sharon had the sweetest weekend at the swanky Hotel Plaza Athénée in Paris, where she enjoyed tiers of tarts, bakes and exquisite small bites with her afternoon tea. Talk about a sugar high.
Irene Ang
What she ate: Sashimi don
Yummy factor: When your work schedule allows for a leisurely lunch, you make the most out of it like Irene did — by having an oishii meal at Rakuichi Japanese Restaurant. Her set lunch included a bowl of sashimi don with an onsen egg on the side, as well as chawanmushi and dobin mushi (Japanese-style seafood broth served in a teapot).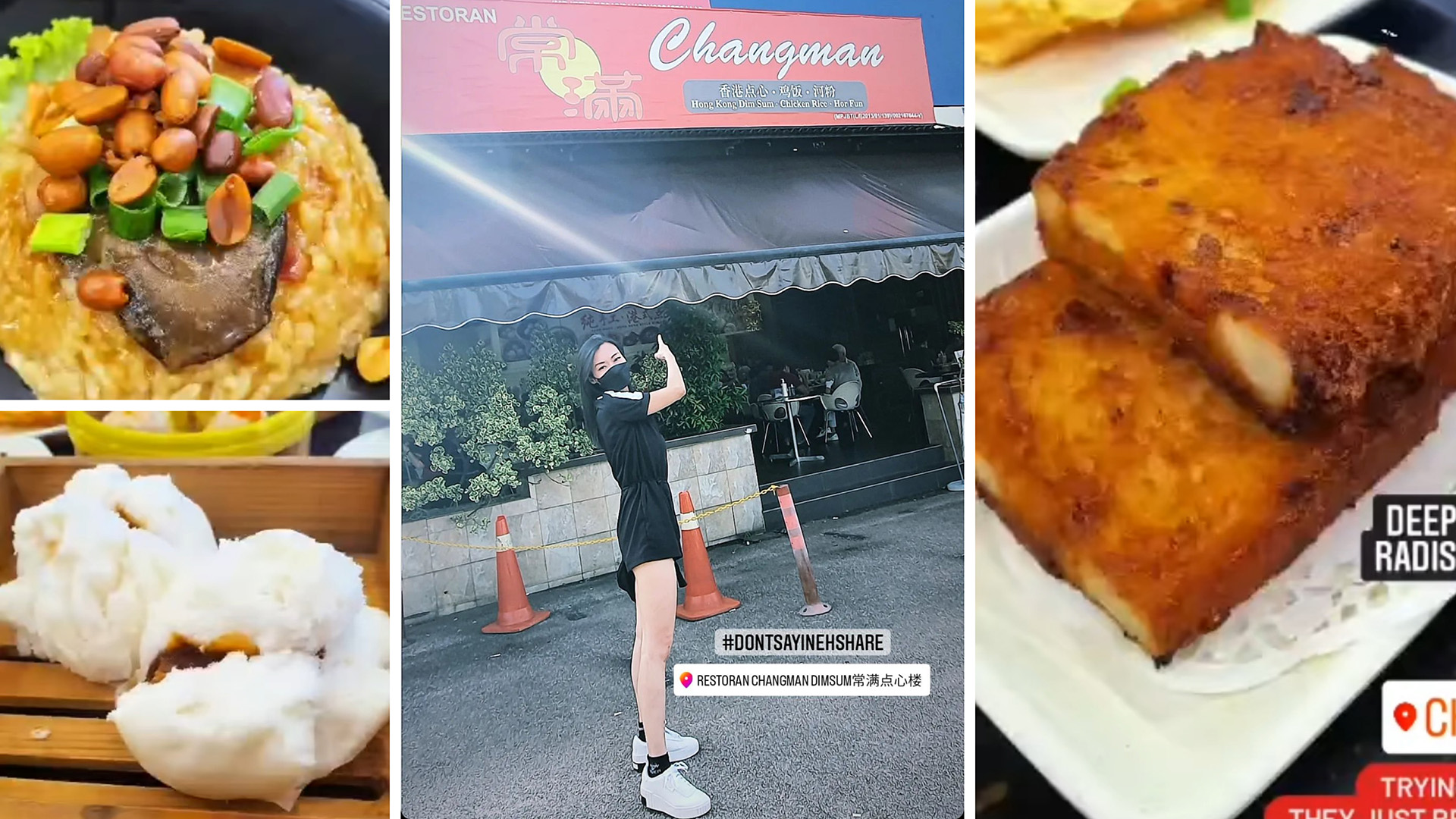 Jaime Teo
What she ate: Dim sum
Yummy factor: Heading to Johor Bahru for a foodie trip soon? Jaime recommends Changman Dim Sum for a satisfying yum cha sesh. We spy deep-fried radish cake, lo mai gai, siew mai and char siew pau. And you'll want to be early too, because the restaurant was almost full at 9am when she visited.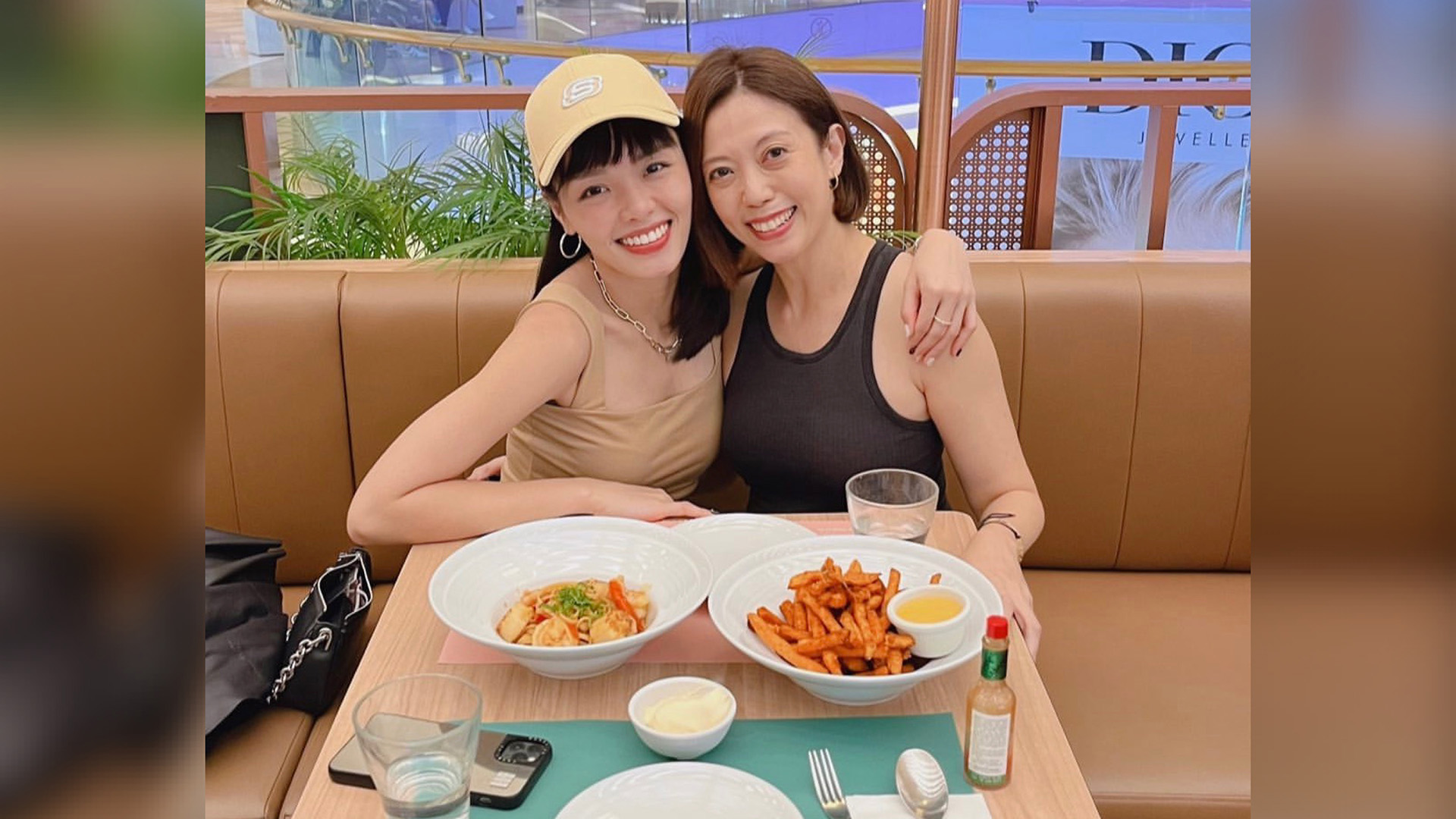 Hazelle Teo and Nico Weibin
What they ate: Hearty lunch
Yummy factor: The DJs' quick catch-up lunch at The Marmalade Pantry was a carb-heavy affair that saw them sharing linguine with seared scallops and tiger prawns, as well as a big bowl of sweet potato fries dipped in sriracha mayo.
Huang Shinan, Pan Lingling and Chen Xiuhuan
What they ate: Belated birthday meal
Yummy factor: Never mind that Shinan's birthday was in May, Xiuhuan finally managed to organise a belated celebration with him and wife Lingling at Chinese resto Xing Hua, where they tucked into everything from dim sum to heng hwa beehoon, drunken cockles, and fried prawn balls smothered in salted egg gravy.
Bonnie Loo, Jesseca Liu, Jeremy Chan and Zong Zijie
What they ate: Bar bites and drinks
Yummy factor: This week, Bonnie also met up with her Crouching Tiger, Hidden Ghost co-stars. The quartet looked like they had a chill time at Route 65 where they enjoyed bar bites like cheesy nachos, fries and drinks over live music.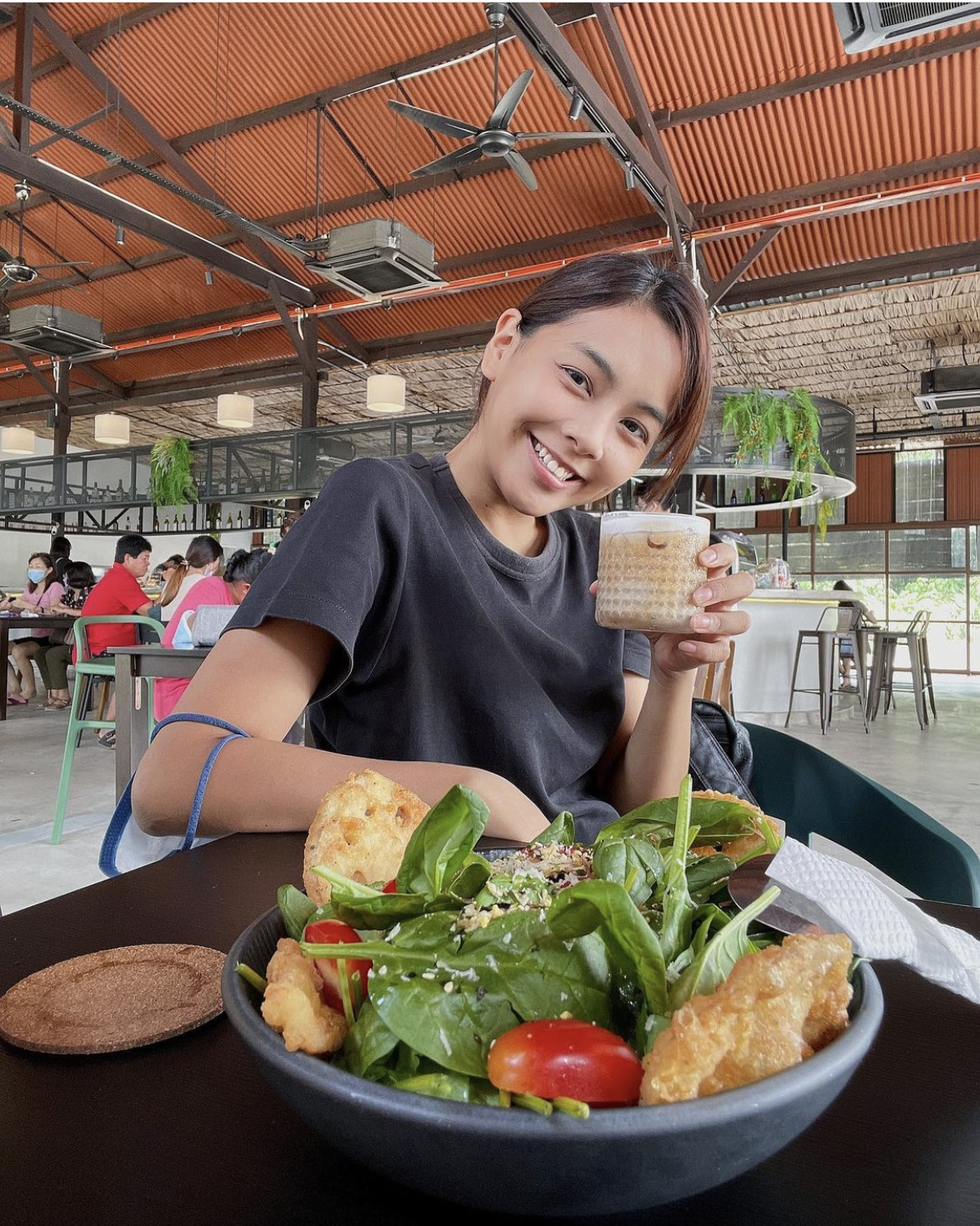 Seow Sin Nee
What she ate: Brunch at Fete in the Barn
Yummy factor: With an iced coffee in hand and a scrumptious-looking salad made colourful with cherry tomatoes and deep-fried lotus root slices in front of her, Sin Nee sure looked like she enjoyed her cafe brunch back in her hometown, Pulau Pinang. 
Nick Shen
What he ate: Dinner at Yardbird Singapore
Yummy factor: Although Nick had to queue for two hours to get a table at the American restaurant, his dinner impressed him enough to find the wait well worth it. His favourites include the Yardbird chicken wings, butter lettuce and grilled mango salad, seared barramundi and the scallop and chorizo pasta.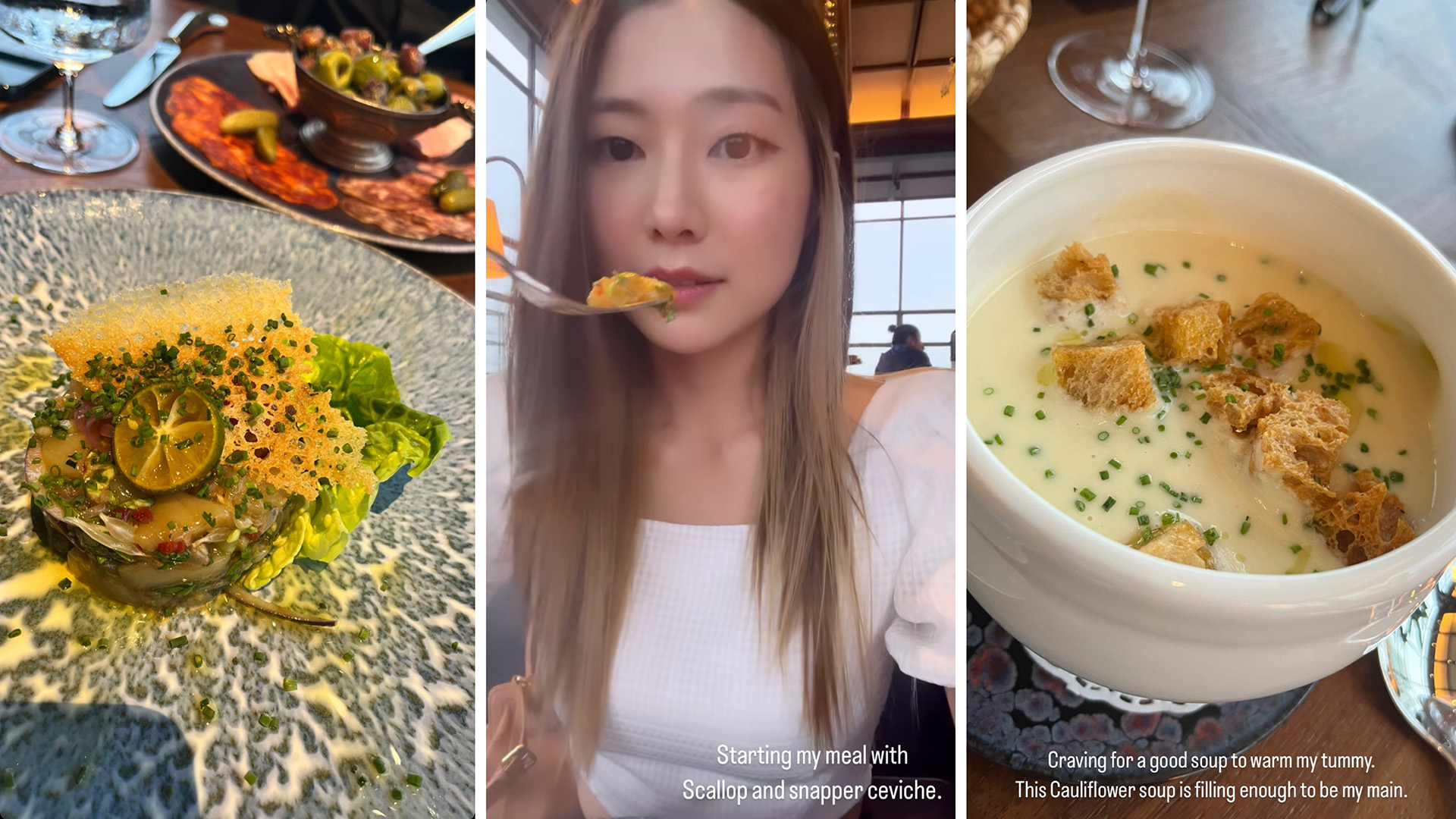 Ferlyn Wong
What she ate: Fancy eats
Yummy factor: Ferlyn shared snippets of her lunch at private wine club 67 Pall Mall, and it sure looked fancy — think starters like cold cuts and cured scallop and snapper with a spritz of tangy lime to whet her appetite, and a comforting bowl of cauliflower soup with crisp croutons to warm her tummy.
You Yi
What she ate: Birthday treats
Yummy factor: You Yi cleared her schedule for an entire day to spend it with her BFF for her birthday — how sweet is that? The duo enjoyed a hotpot sesh for two at Xiao Long Kan Hotpot before stopping by Cake Spade for desserts (check out that luscious chocolate tart) and drinks.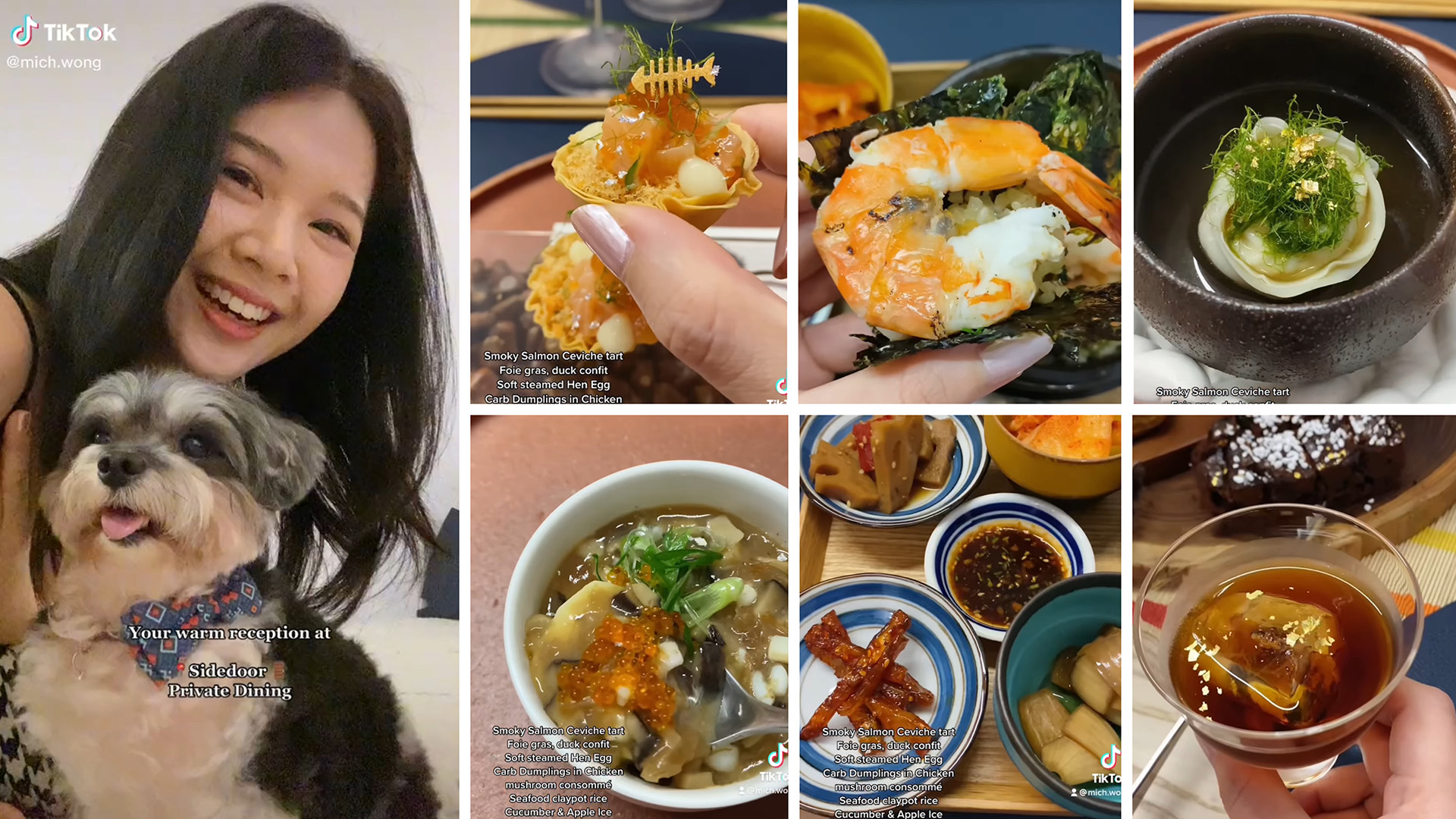 Michelle Wong
What she ate: Private dining
Yummy factor: Safe to say, Michelle was a fan of her private dining experience with Side Door. The menu included unusual dishes like a salmon ceviche tart, carb dumplings in chicken mushroom consomme, and seafood claypot rice. And not only did she enjoy the Korean-influenced six-course menu, she also got to play with the cutest resident dog, Kola.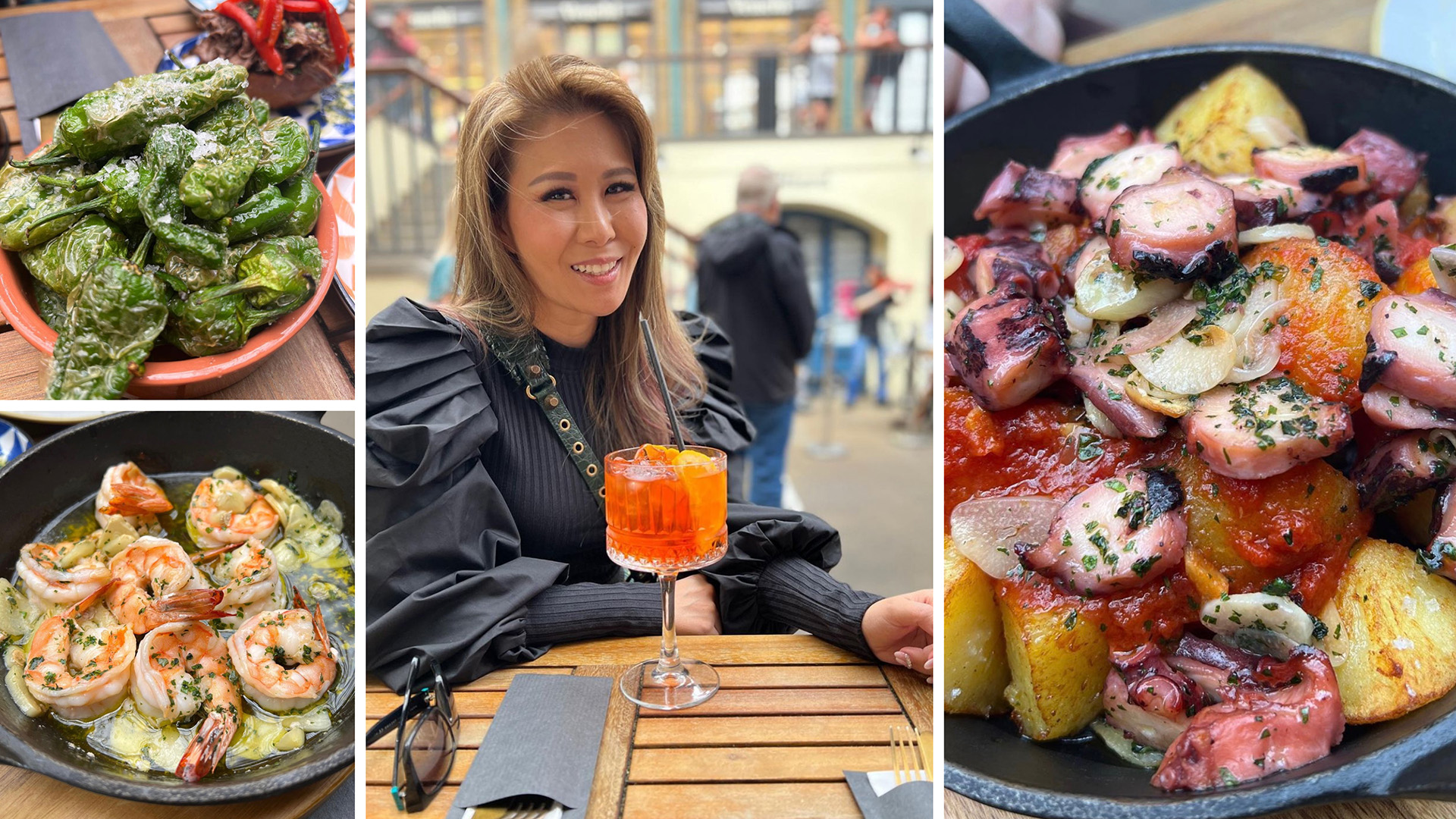 Yasminne Cheng
What she ate: Small bites at Tapas Stories
Yummy factor: Yasminne has been busy catching up with friends in London and indulging in delish tapas. We're salivating just looking at the grilled octopus, buttered garlic prawns, and peppers.