Foodie Friday: What The Stars Ate This Week (Jun 17-24)
All the photos that made us hungry this week.
Caution: Cravings may strike after checking out what the stars indulged in this week. Christopher Lee savoured Hainanese curry rice, Felicia Chin and Jeffrey Xu rewarded themselves with a post-workout zi char lunch, Jesseca Liu just couldn't wait to get started on her crustacean feast, and lucky Chantalle Ng and Romeo Tan got to enjoy Korean barbecue for breakfast. Read on for more.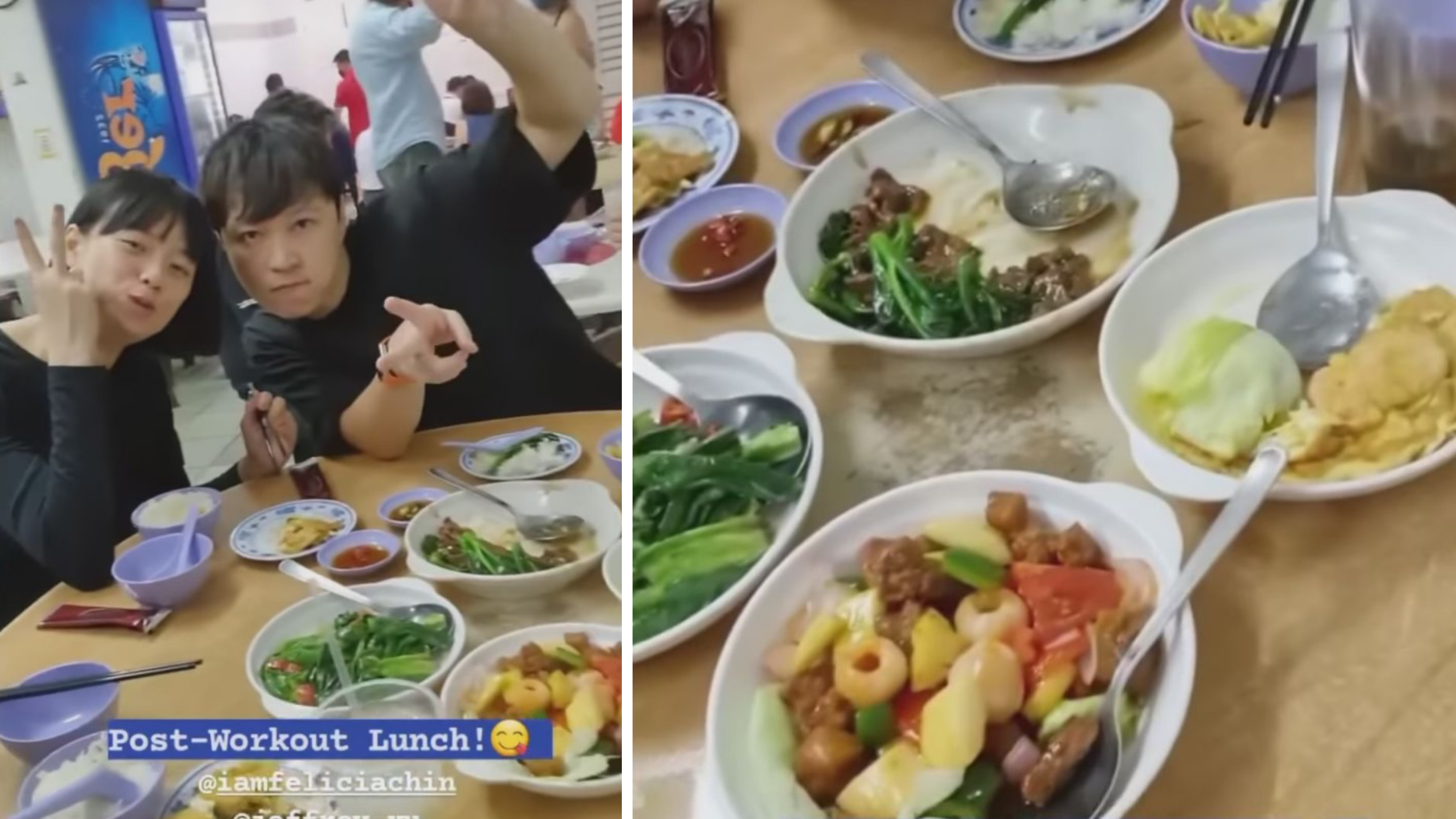 Felicia Chin and Jeffrey Xu
What they ate: Post-workout lunch
Yummy factor: After a gruelling morning workout, Felicia and Jeffrey rewarded themselves with a well-deserved lunch over at what looks like Kok Sen Restaurant — think zi char eats like sweet and sour pork, fried omelette, stir-fried beef with greens and more.
Zoe Tay
What she ate: Homecooked soup and porridge
Yummy factor: Remember the chicken soup Felicia Chin made for Zoe? This time, Ah Jie showed off her own culinary chops by whipping up a bubbling pot of hot and sour soup with lots of ingredients, as well as comforting porridge made flavourful with minced meat and dried scallops. Safe to say, everyone on set of upcoming Mandarin drama series Dark Angel was in for a delish meal.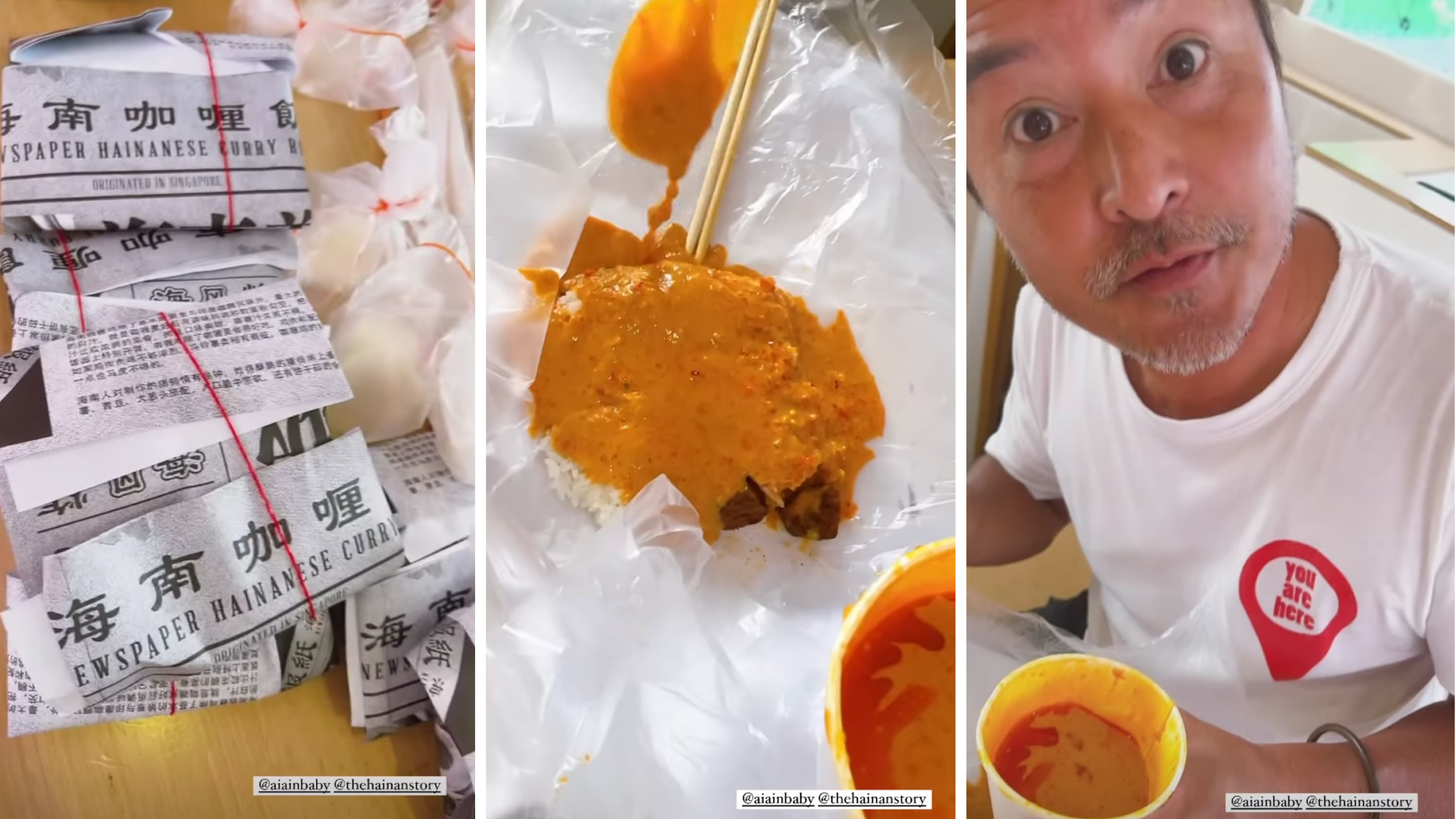 Christopher Lee
What he ate: Hainanese curry rice
Yummy factor: Plain rice with curry has never looked so tempting. Christopher sure looked impressed with the thick gravy from local eatery Newspaper Curry Rice. A concept by The Hainan Story, their signature curries contain blue ginger, chilli, curry leaves and freshly-ground pepper for extra oomph.
Rui En
What she ate: Cafe nosh
Yummy factor: What's your idea of a perk-me-up on a warm day? For Rui En, it's hanging out al fresco at Glass Roasters and enjoying an iced latte. The highlight for her had to be the banana bread though — as unassuming as it looks, the taste was "to die for".
Chantalle Ng and Romeo Tan
What they ate: Grilled meats
Yummy factor: Is it ever too early to enjoy a barbecue? Well, if an early call time at a Korean restaurant means getting to dig into grilled meats and banchan, Chantalle and Romeo are definitely not complaining. Maybe just avoid eating those charred pieces.
Qi Yuwu
What he ate: Lamb rack
Yummy factor: Now that's an impressive rack... of roast lamb. The daddy-of-two celebrated Father's Day at Osia Steak and Seafood Grill, where he had the pleasure of ordering a whole kilogram of his favourite protein — succulent lamb — to share with Joanne Peh and their kiddos.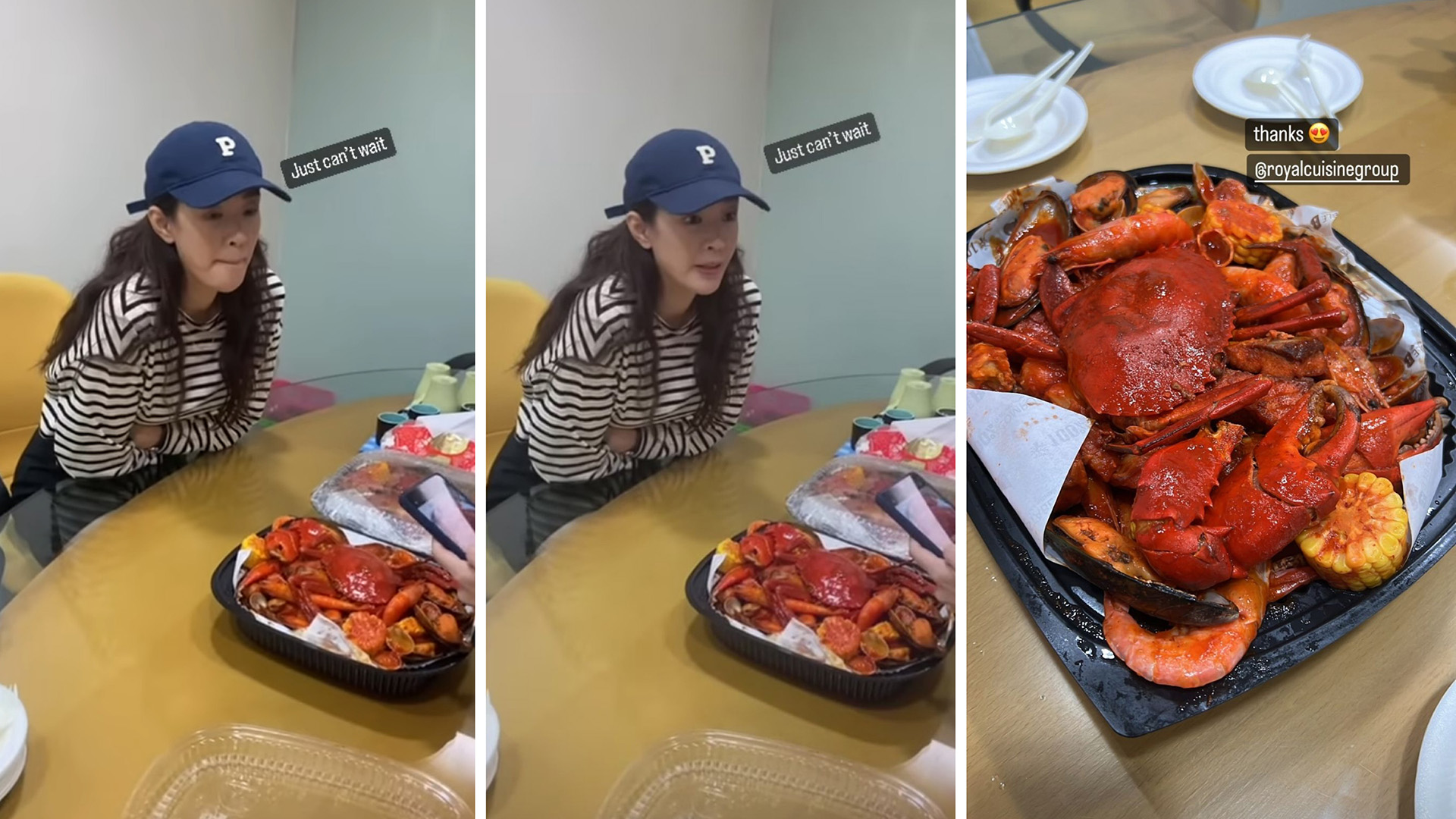 Jesseca Liu
What she ate: Crustacean feast
Yummy factor: Biting her lip in anticipation, Jesseca just couldn't wait to get started on her meal from caterer Royal Cuisine Group. And can we blame her? After all, their signature Seafood Shellout is a glorious combination of classic favourites like mud crabs, tiger prawns, blue mussels, and scallops.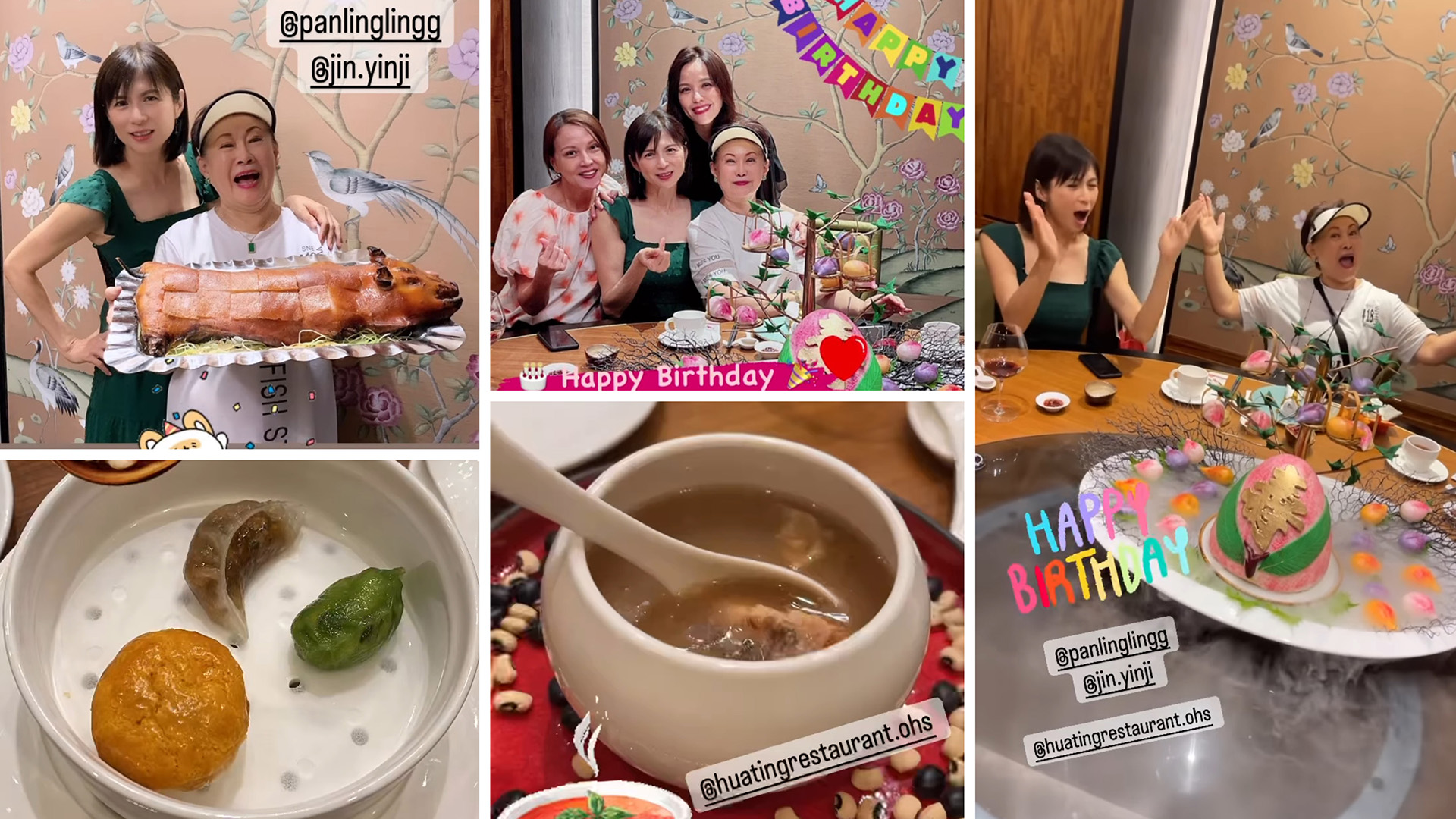 Aileen Tan, Pan Lingling, Zoe Tay and Jin Yinji
What they ate: Celebratory meal
Yummy factor: June babies Lingling and Jin jie were all smiles at Cantonese restaurant Hua Ting, where they celebrated their birthdays (Jun 17 and Jun 25) with Aileen and Zoe. And while the nourishing soup and dim sum look delish, the whole roast suckling pig and fancy longevity buns definitely stole the spotlight.
Cynthia Koh
What she ate: Fusion hae mee
Yummy factor: Cynthia has been meaning to try the hae mee "ramen" from Ben Yeo's izakaya-style food stall SG Umami, and finally got to do so this week. We think she's a new fan of the fusion creation, seeing how she was impressed by the robust soup base and al dente noodles. She said the dry version is a must-try too.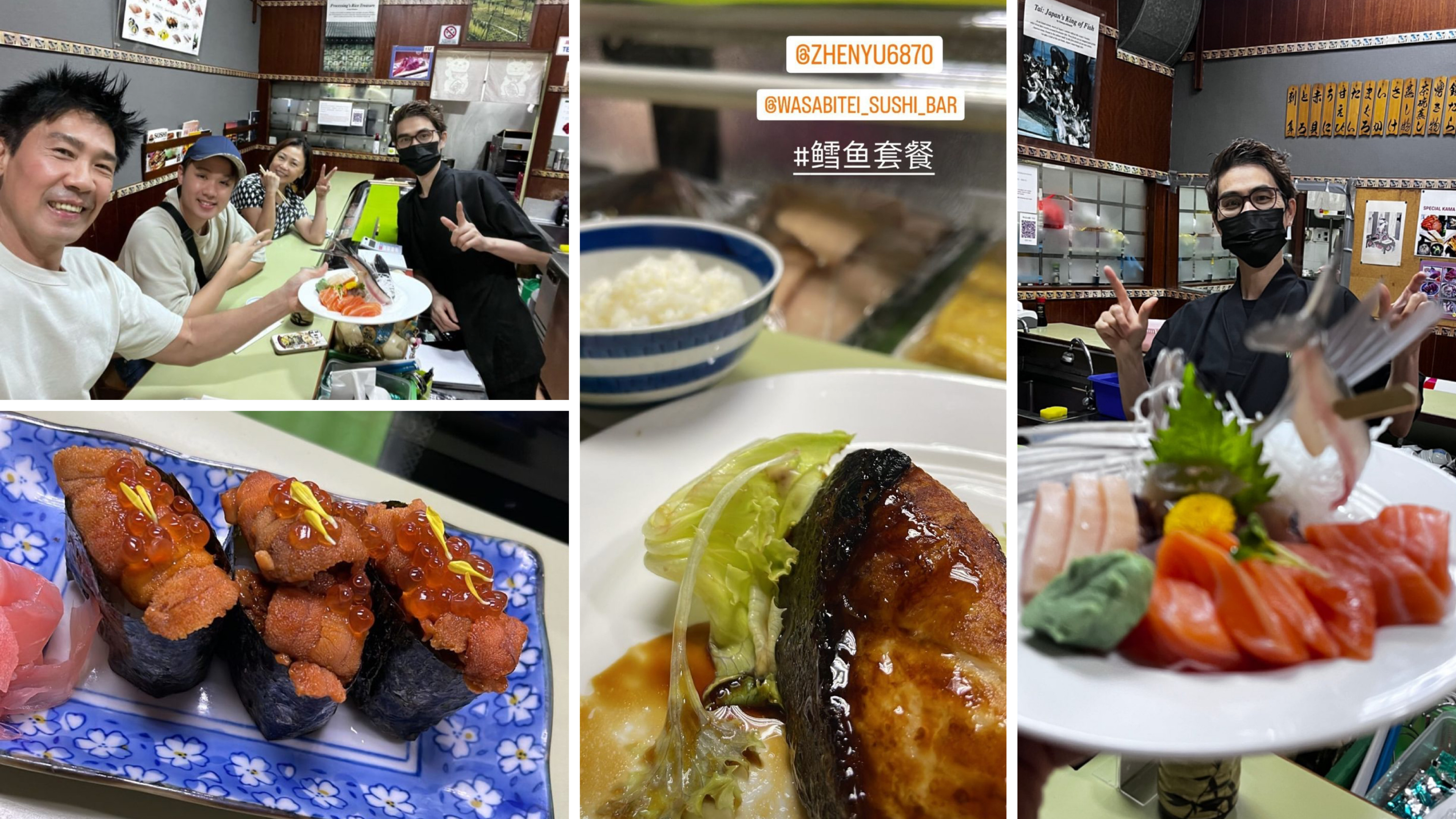 Edmund Chen, Chen Xi and Xiang Yun
What they ate: Japanese cuisine
Yummy factor: With menu highlights like an assorted platter of flying fish, salmon and swordfish sashimi, as well as grilled cod fish and uni sushi topped with ikura, we bet the Chens couldn't wait to get started on their lunch at sushi bar Wasabi Tei. 
Yvonne Lim
What she ate: Salmon and rice "cake"
Yummy factor: Forget the usual sugary confections for Father's Day. As a special treat for her hubby Alex Tien, Yvonne put together a savoury salmon and fried rice "cake" with edible rice paper flowers instead, and she even made use of last year's cake topper for good measure. Talk about being creative and keeping sustainability in mind.
Chen Xiuhuan
What she ate: Homemade feast
Yummy factor: You can always count on Xiuhuan to cook up a feast for her family from scratch — even when her schedule is full. Over the Father's Day weekend, she got her apron on and whipped up everything from pig trotter bee hoon with sliced omelette rolls to baked lobsters, crabs and more.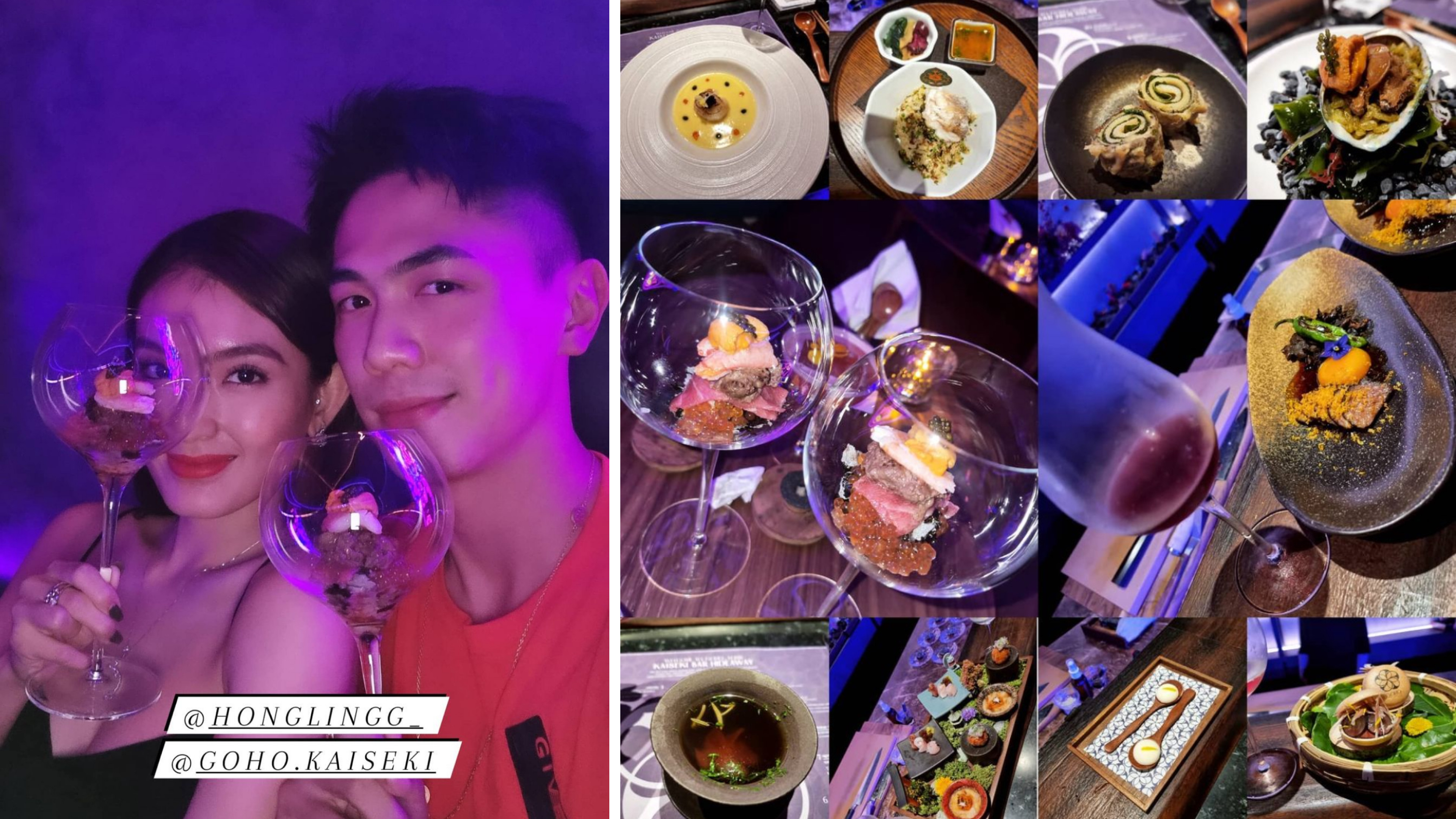 Hong Ling and Nick Teo
What they ate: Kaiseki dinner
Yummy factor: Date night for the couple was a multi-course affair at Goho Kaiseki, and it was a feast for the senses. Stars of the night include the duck tsukune with caviar, miso butter engawa (flounder fin) and Mt. Goho — decadent layers of rich ingredients like uni, wagyu, toro and caviar perfumed with smoked bonito and served in a wine glass.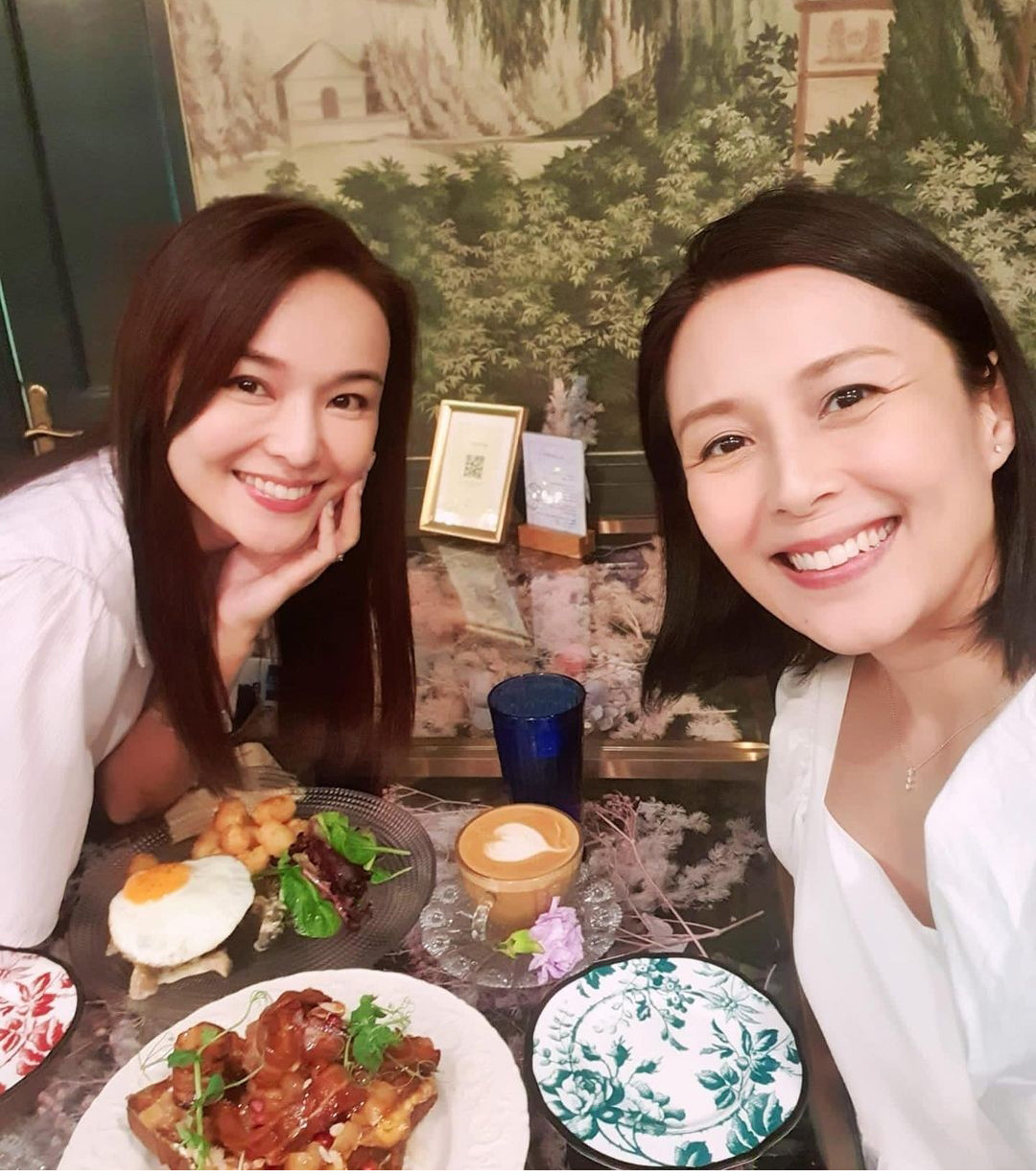 Apple Hong and Priscelia Chan
What they ate: Brunch nosh
Yummy factor: BFFs Apple and Priscelia managed to squeeze time out for their long awaited meet up at Le Jardin, where they caught up over brunch. How pretty is the French toast?
Cheryl Wee
What she ate: Korean dinner
Yummy factor: Cheryl's all for a K-BBQ night, especially if it means she'll get to slurp up her fave instant ramyeon. There's just something different about having it at a restaurant, and Cheryl surmised that it's due to the K-style mess tin container it's served in. Also, perhaps the accompanying banchan (Korean side dishes) played a part?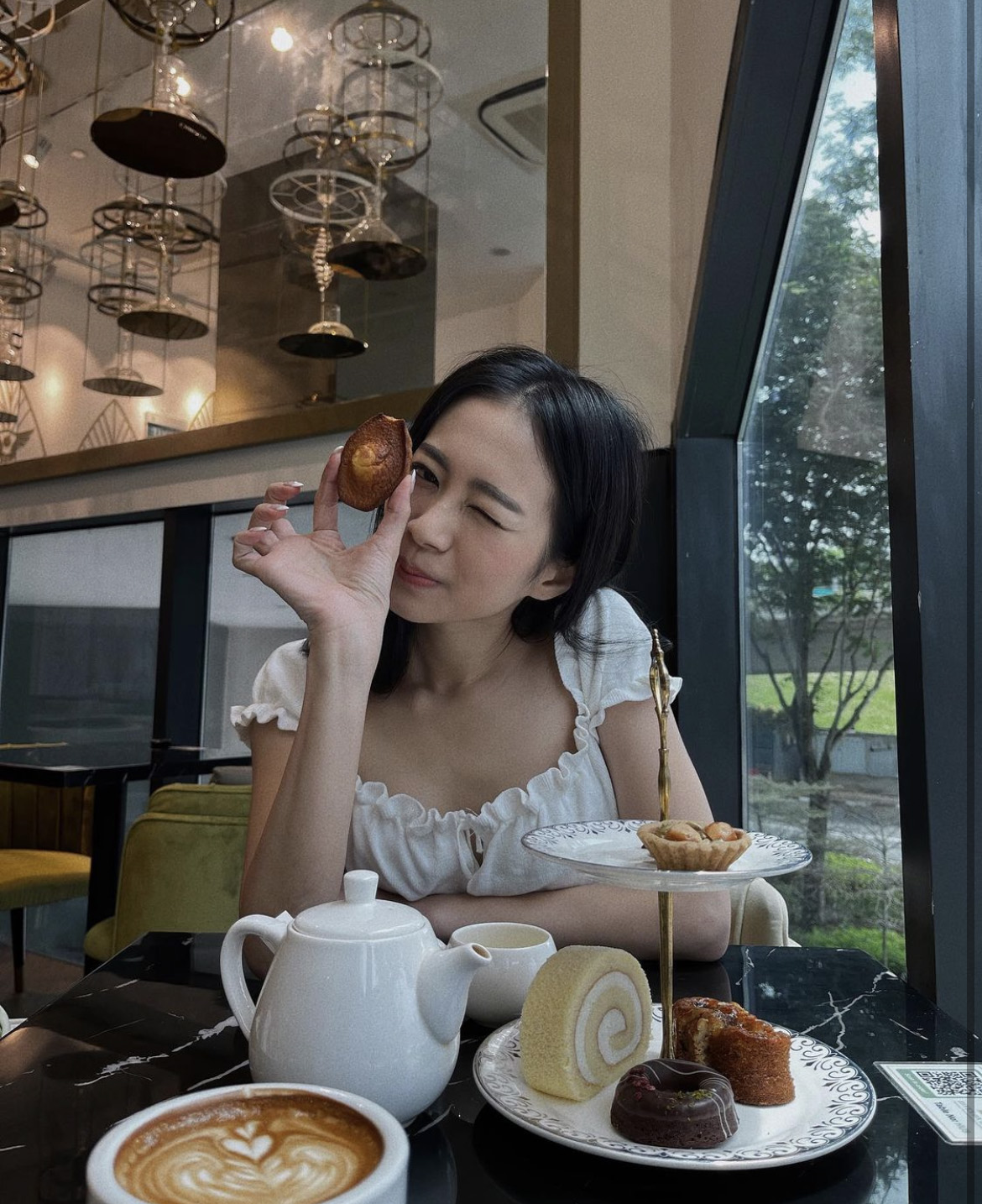 Bonnie Loo
What she ate: Guilt-free treats at Camaca
Yummy factor: While it can be tough to resist decadent bakes, the sugar-free options made Bonnie's indulgent high tea session at the dessert cafe — complete with two tiers of treats like a slice of Swiss roll, madeleine and brownie ring — a lot less sinful.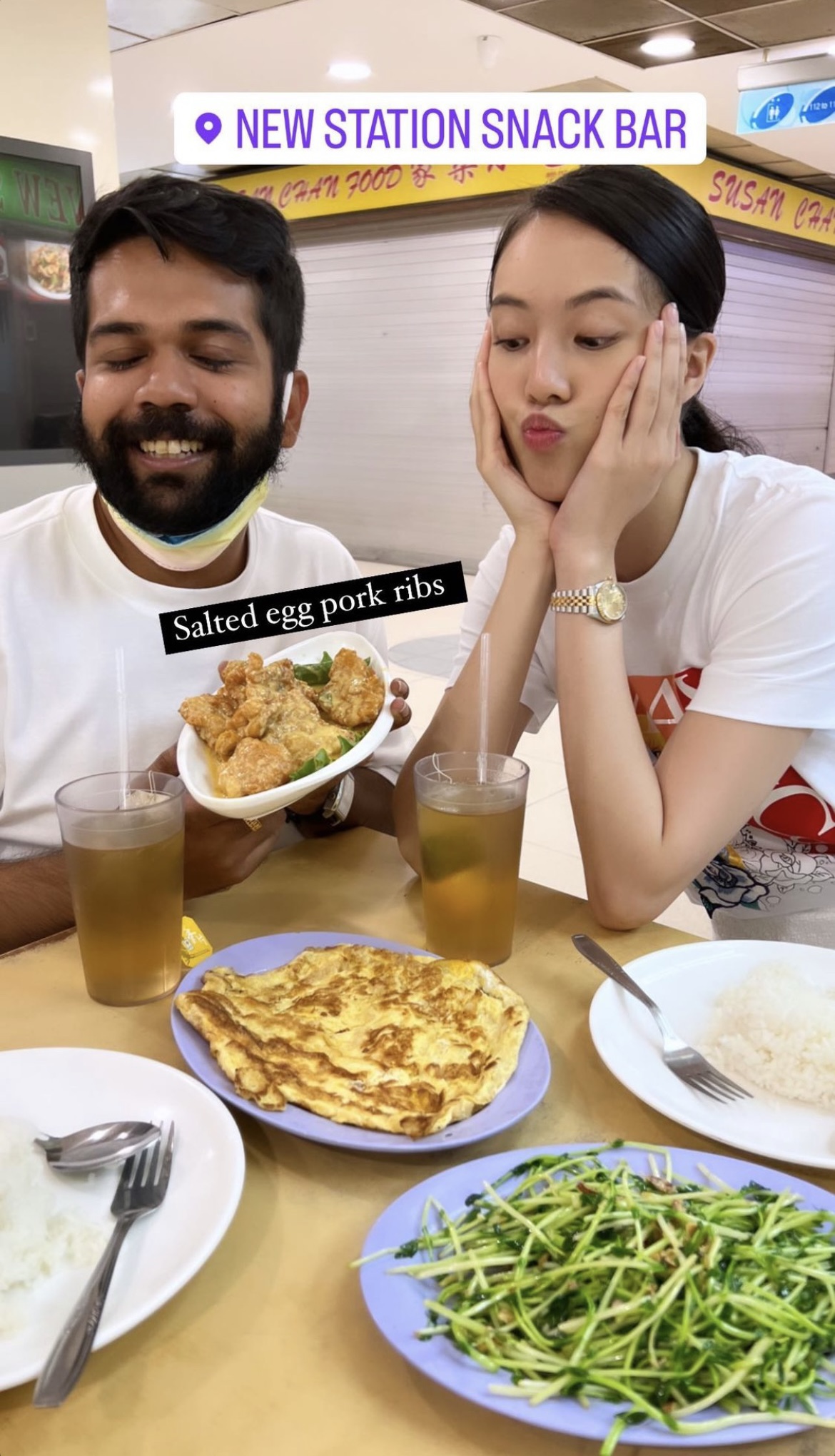 Das DD and Tay Ying
What they ate: Zi char dinner
Yummy factor: Dinner for two was a simple yet shiok one at New Station Snack Bar; both Das and Tay Ying indulged in the pocket-friendly eatery's popular salted egg pork ribs, fried omelette and stir-fried dou miao — the perfect combination to go with rice.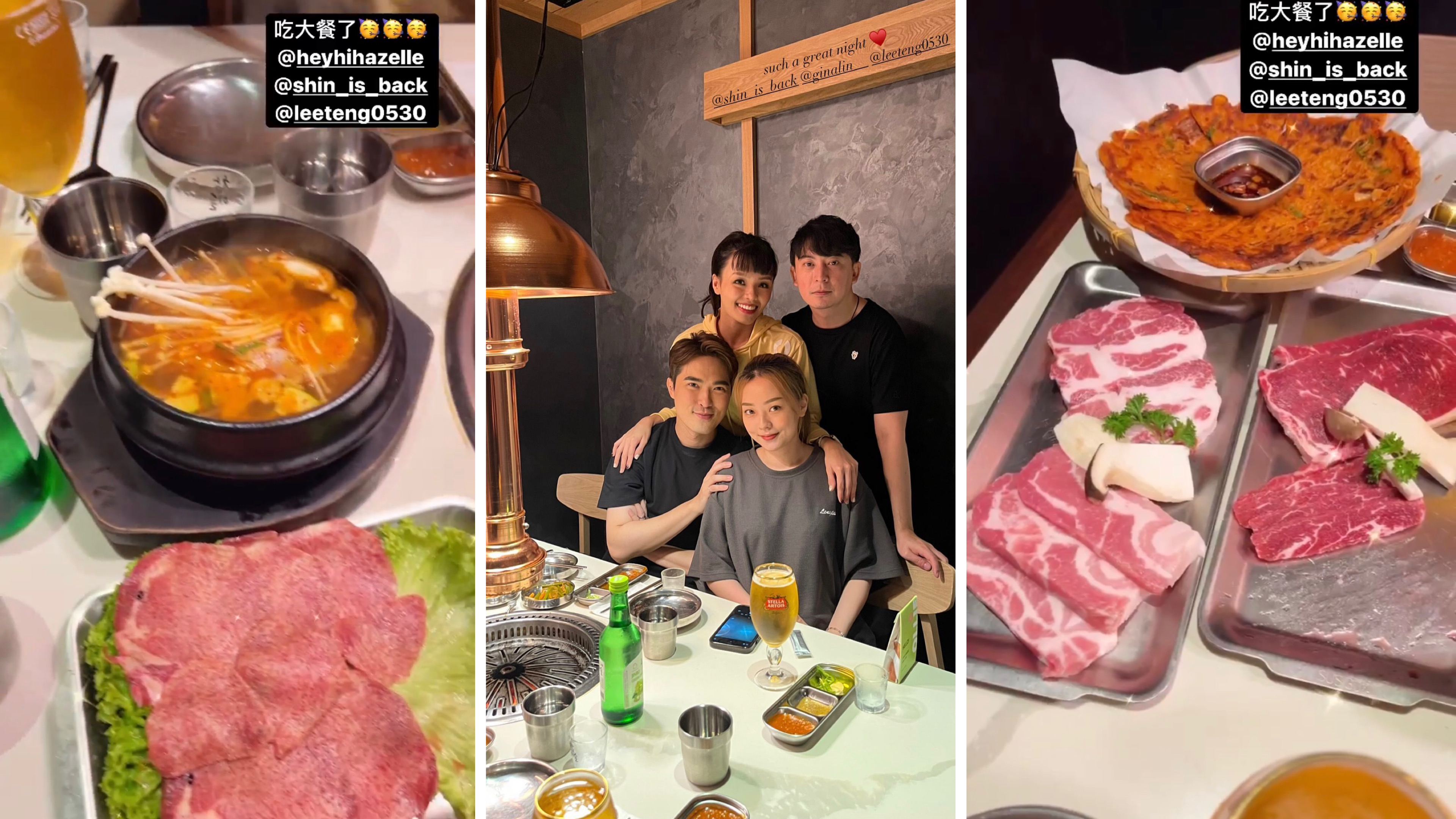 Lee Teng and Hazelle Teo
What they ate: Korean barbecue
Yummy factor: Over the weekend, Lee Teng and his wife Gina Lin met up with Hazelle for K-BBQ alongside soju and beer. And not only did they grill marbled steaks and juicy meats, they also got sides like kimchi pancake and stew to share.
You Yi
What she ate: Loaded nachos
Yummy factor: We love how You Yi took time out to pamper herself, be it going for treatments or indulging in a cuppa alongside crispy tortilla chips topped with melted cheese, diced onions, tomatoes, peppers and more.
Kimberly Wang
What she ate: Oysters and caviar
Yummy factor: With a glass of whisky in hand and a spoonful of smoked sturgeon fish eggs in the other, Kimberly definitely didn't let her Friday night go to waste at fine dining restaurant Caviar. Add her favourite fresh oysters to the mix, and it's TGIF for Kim right there.
Denise Camillia Tan
What she ate: Sumptuous meal
Yummy factor: What better way to pay tribute to Daddy dearest than with a sumptuous meal? The Tan family headed out to a Chinese restaurant in her hometown in Malaysia, where they tucked into a whole steam fish, stir-fried greens, fried goodies and more.