Foodie Friday: What The Stars Ate This Week (Jun 3-10)
All the photos that made us hungry this week.
'Tis was a week of catching up for celeb pals. Allan Wu and Qi Yuwu bonded over steaks, Thomas Ong and Carole Lin met up for traditional dessert, and Zoe Tay satisfied her craving for kway chap with Phyllis Quek and Hong Zhaorong. Meanwhile, Finance Minister Lawrence Wong was glad to get his hands on a plate of Hainanese chicken rice. Read on to find out where.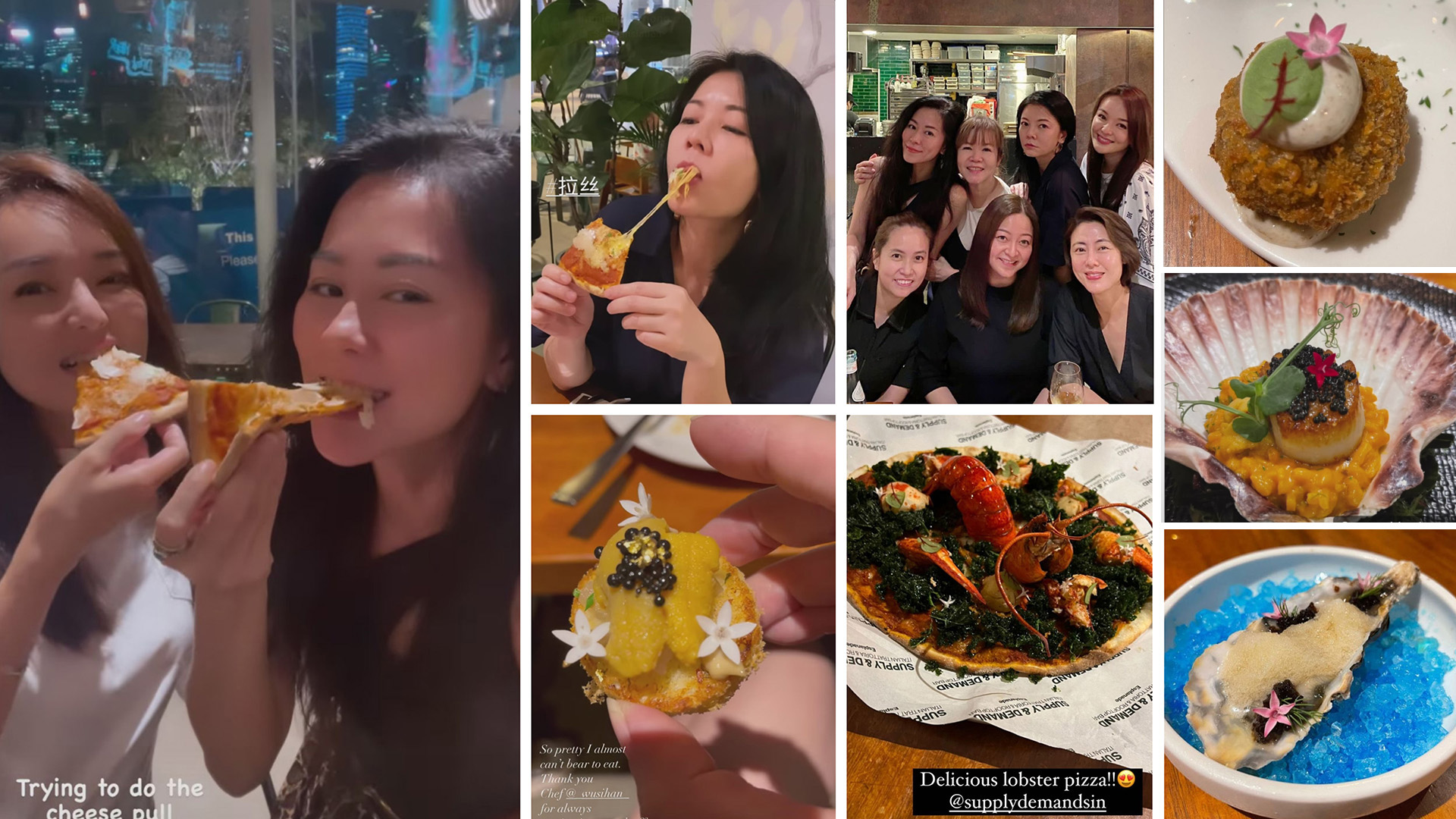 Michelle Chia, Michelle Chong, Apple Hong, Cynthia Koh, and friends
What they ate: Italian food
Yummy factor: Check out Michelle Chong's perfect cheese pull. Who's tempted to head down to Italian resto Supply & Demand for a quattro formaggi pizza now? The other star dishes include the "must-order" lobster pizza (with generous chunks of meat, no less), oysters with yuzu granita, and bite-sized uni and pear toast, uni risotto, and truffle mushroom arancini (rice ball).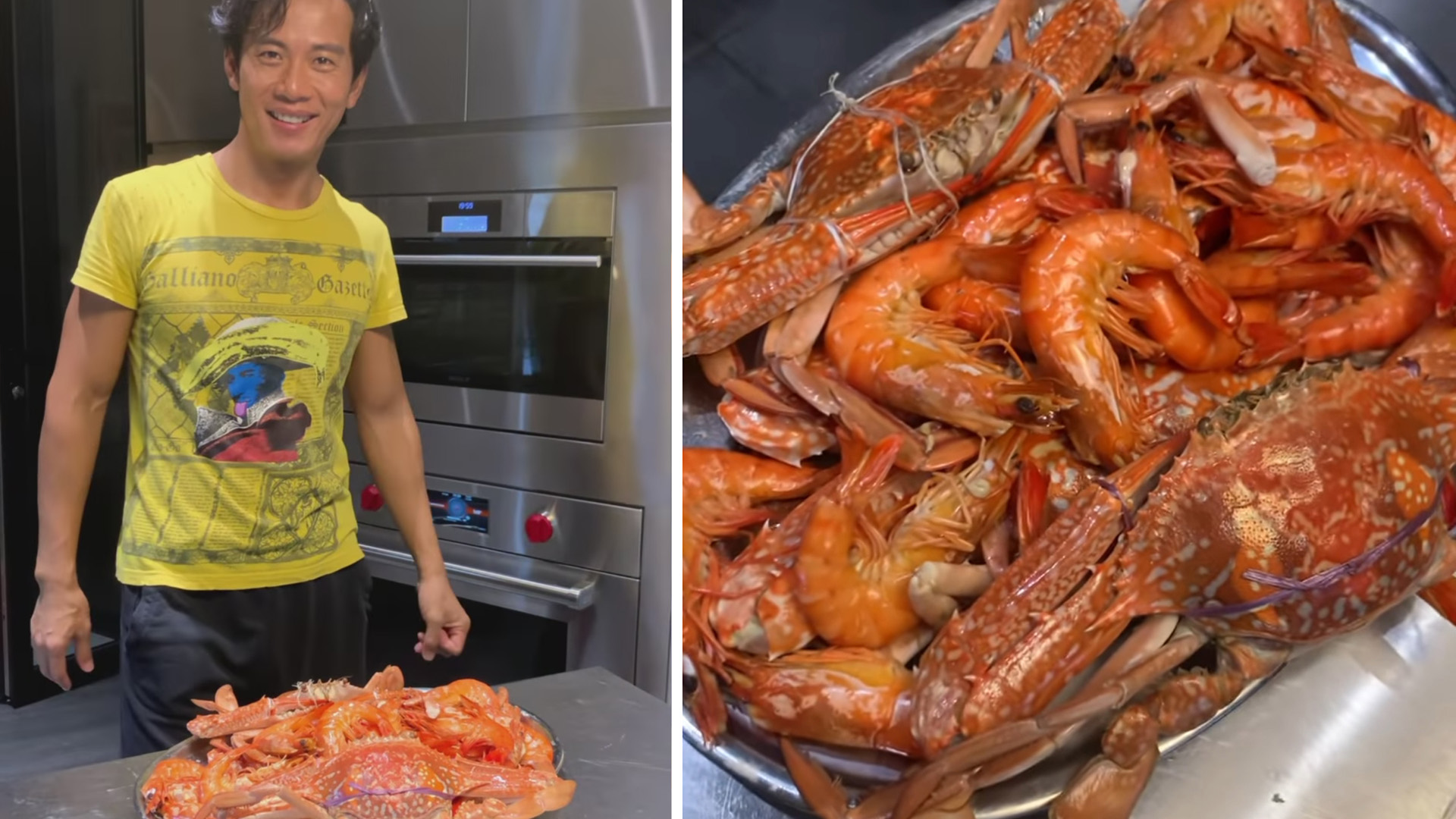 Qi Yuwu
What he ate: Seafood
Yummy factor: Yuwu certainly didn't let his professional home kitchen go to waste — just look at the flower crabs and prawns he prepared for dinner with family. All he needs now is a soy garlic dip on the side to go with the succulent crustaceans.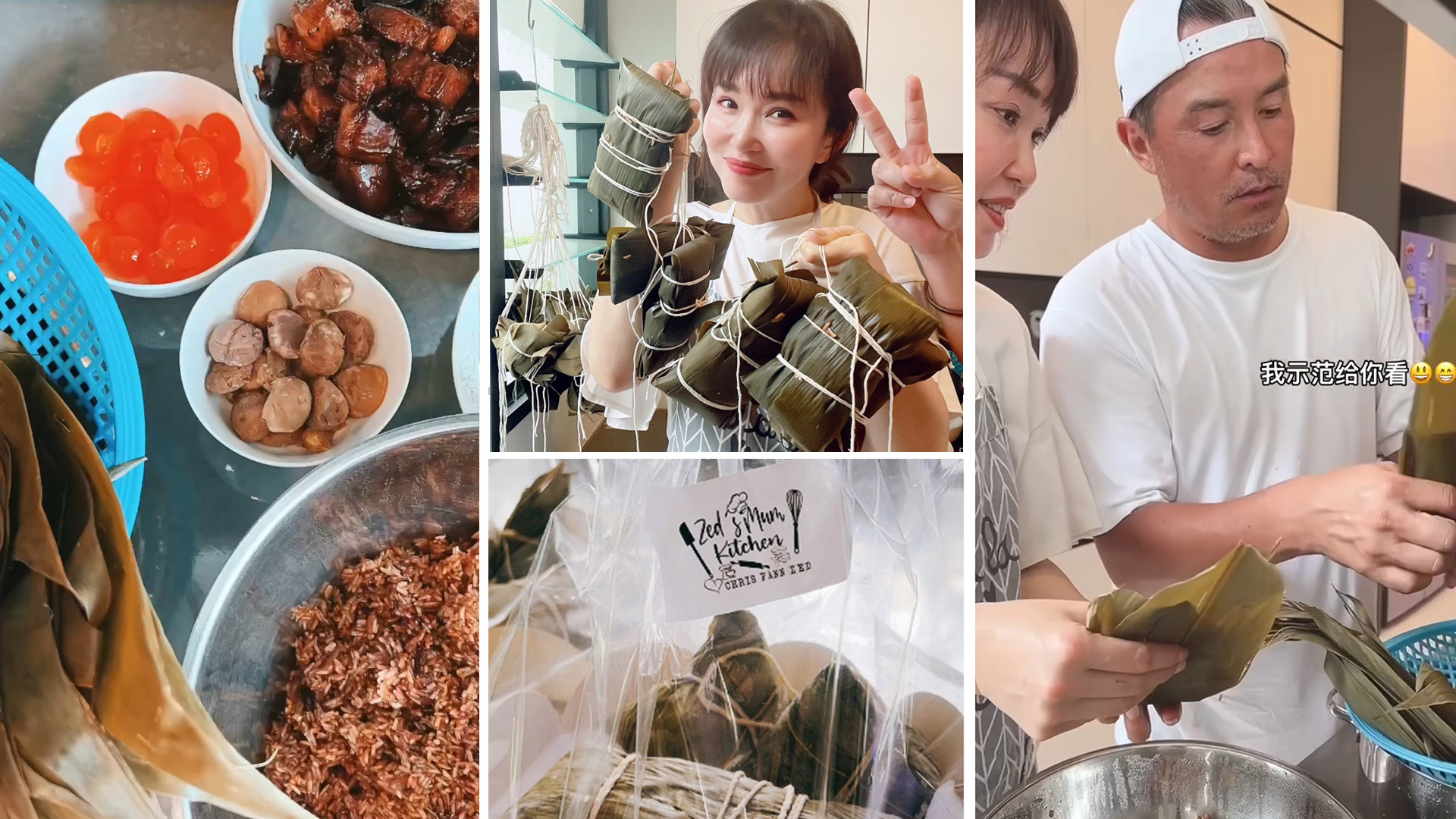 Fann Wong and Christopher Lee
What they ate: Bak zhang
Yummy factor: Is there anything Christopher cannot cook? Ever the model husband, he  prepared the ingredients and taught Fann how to wrap the rice dumplings, and we must say that she's a quick learner. Each bak zhang was stuffed with marinated meat, salted egg yolk and abalone slices, and they even printed stickers stating "Zed's Mum Kitchen" for the bags of rice dumplings. Too cute!
Chen Xi, Edmund Chen, Xiang Yun, Gavin Teo, and Chen Yixin
What they ate: Family feast
Yummy factor: The Chen family — along with Yixin's beau, Gavin — had the best of both worlds at Pot Addiction, where they got to experience having hotpot and K-style BBQ all at once. It was Xiang Yun's first time enjoying japchae and grilling pork belly on the side while having hotpot, and she thoroughly enjoyed the meal.
Zoe Tay, Phyllis Quek and Hong Zhaorong
What they ate: Kway chap
Yummy factor: Zoe finally got to satisfy her craving for kway chap, thanks to enthusiastic pals like Phyllis and Zhaorong who are always up for a scrumptious meal. Their trip to Holland Drive Food Centre rewarded them with bowls of silky kway in savoury broth, as well as accompanying sides like tender braised offal, duck meat, hard-boiled eggs and more.
Jamie Yeo and Jaime Teo
What they ate: Brunch
Yummy factor: The pals met up for brunch at Culina's, where Jaime ordered her favourite Reuben sandwich — grilled with corned beef, cheese and tangy sauerkraut — while Jamie opted for a classic beef burger with fries instead. And little did they know they would meet another Jaime at the bistro — what are the odds of having a server with the same name?
Lawrence Wong
What he ate: Chicken rice
Yummy factor: Now that fresh chicken meat is a precious commodity in Singapore, glistening poached chicken has probably never looked yummier. In any case, frozen and chilled meat works too, and Finance Minister Lawrence Wong is just glad that he's still able to have the local favourite — along with a braised hard-boiled egg — for lunch at YewTee Point's Koufu Foodcourt.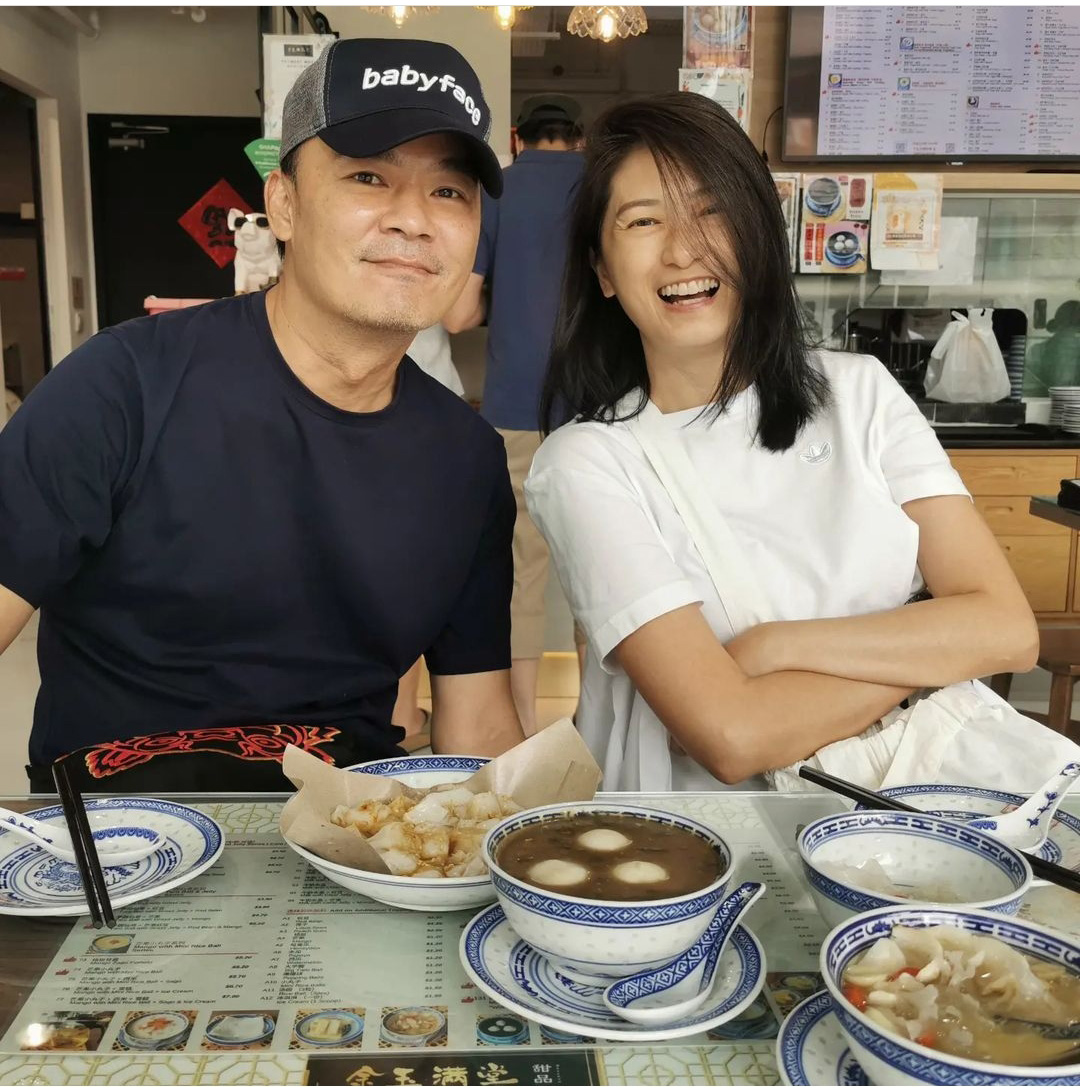 Thomas Ong and Carole Lin
What they ate: Chinese desserts at Jin Yu Man Tang
Yummy factor: Instead of having bak zhang to celebrate the Dragon Boat Festival, Thomas and Carole had traditional desserts like tang yuan in red bean soup instead. And it doesn't hurt to have some chee cheong fun on the side too.
Jeanette Aw
What she ate: Italian cuisine
Yummy factor: Jeanette sure looked like she really enjoyed her dinner at Italian restaurant iO Italian Osteria. We spy grilled octopus with Mediterranean sauce, homemade tagliolini with prawns and what looks like al coccio (Italian-style baked eggs) done right.
Chen Xiuhuan
What she ate: Heavy breakfast
Yummy factor: Although Xiuhuan has had her fair share of fine eats, she's definitely not one to turn down a hearty brekkie of chee cheong fun, fried bee hoon and kway teow — especially when the noodles come with plenty of ingredients like fried luncheon meat, sausage, fish cake, and chilli on the side.
Allan Wu and Qi Yuwu
What they ate: Steak
Yummy factor: It was a boys' night out for Allan and Yuwu who met up for steak at Dan's Steaks. It's "been way too long" since the duo got together for a meal, and they made up for it with choice cuts grilled to perfection over at Daniel Ong's steakhouse.
Hong Ling and Nick Teo
What they ate: Japanese cuisine
Yummy factor: Hong Ling and Nick spent date night at Japanese restaurant iKO where they enjoyed exquisite eats like the A4 wagyu "sukiyaki", monk fish liver & pork ravioli, and a "very delicious" iKO roll with foie gras, maitake mushroom, fig and topped with black truffle, before ending the night on a sweet note with the Hojicha Popsicle. Yum.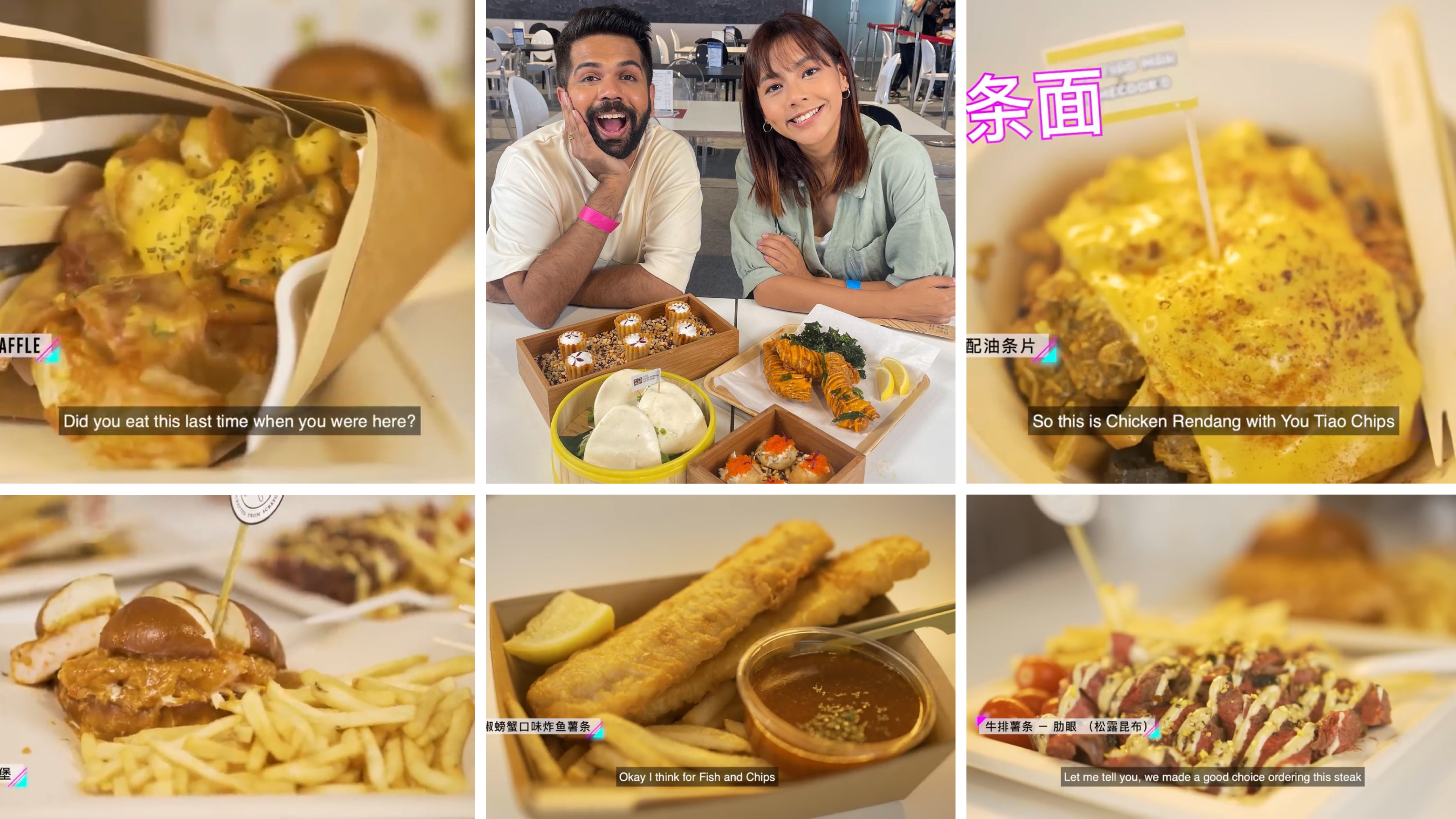 Das DD and Seow Sin Nee
What they ate: Street food
Yummy factor: Any plans for the weekend yet? Das and Sin Nee explored festival Gastrobeats 2022 and were rewarded with fusion gastronomical treats like truffle cheese praffles, fish and chips dipped in chilli crab sauce, and cheesy chicken rendang with crisp you tiao chips. Find out what their top picks were on #JustSwipeLah.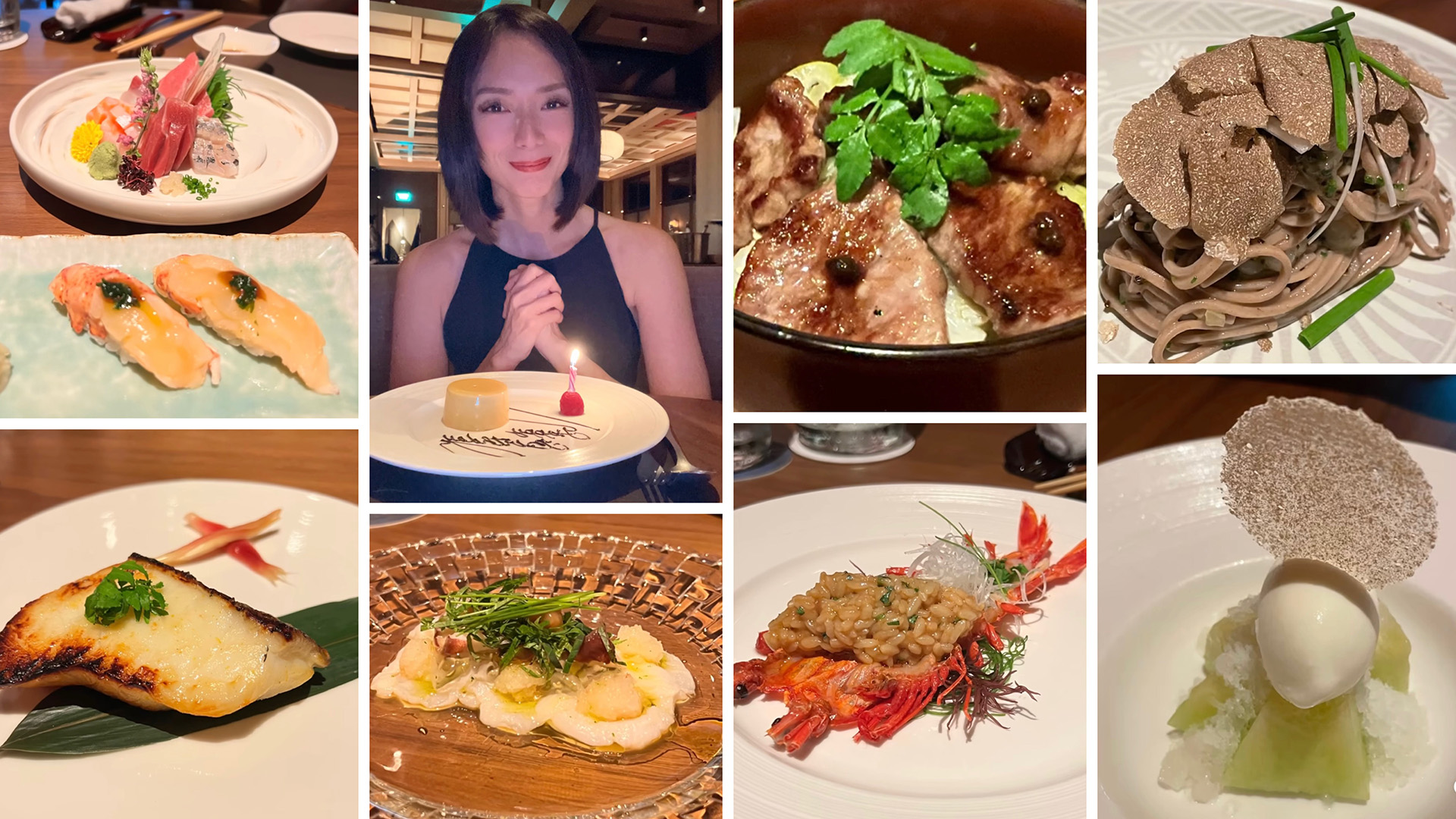 Jacelyn Tay
What she ate: Decadent eats
Yummy factor: Birthday celebrations started early for Jacelyn, who turns 47 this Sunday (Jun 12). And boy did she indulge at upscale Japanese restaurant Wakuda. Exquisite menu items include saikyo yaki (grilled miso Patagonian toothfish), cold soba with truffles and caviar, and a flavourful miso risotto topped with roasted carabineros.
Ya Hui
What she ate: Leisurely lunch
Yummy factor: Ya Hui took time out of her busy schedule to meet up with an old classmate for lunch at Bacha Coffee. The pair caught up over a cuppa and delish eats like sandwiches and what looks like the barramundi tajine — a wholesome fish dish accompanied by baby potatoes, mushrooms, olives and more.
Cheryl Wee
What she ate: Japanese dinner
Yummy factor: Date night got a lot fancier for Cheryl at famed Japanese restaurant Nobu's latest outpost in Singapore. There, she found herself loving the cocktails and dishes like the black miso cod, tempura shrimp, yellowtail jalapeno and more. As for desserts, the bento box chocolate cake with a scoop of matcha ice cream got her vote.
Hong Huifang, Tay Ying and Das DD
What they ate: Hawker delights
Yummy factor: Food tastes better when shared, and Huifang, Tay Ying and Das' Friday night dinner at Satay By The Bay couldn't look more shiok. Think classic dishes like grilled chicken wings, sambal stingray, stir-fried lala and kangkong to go with rice, as well as freshly-squeezed sugar cane juice to beat the heat.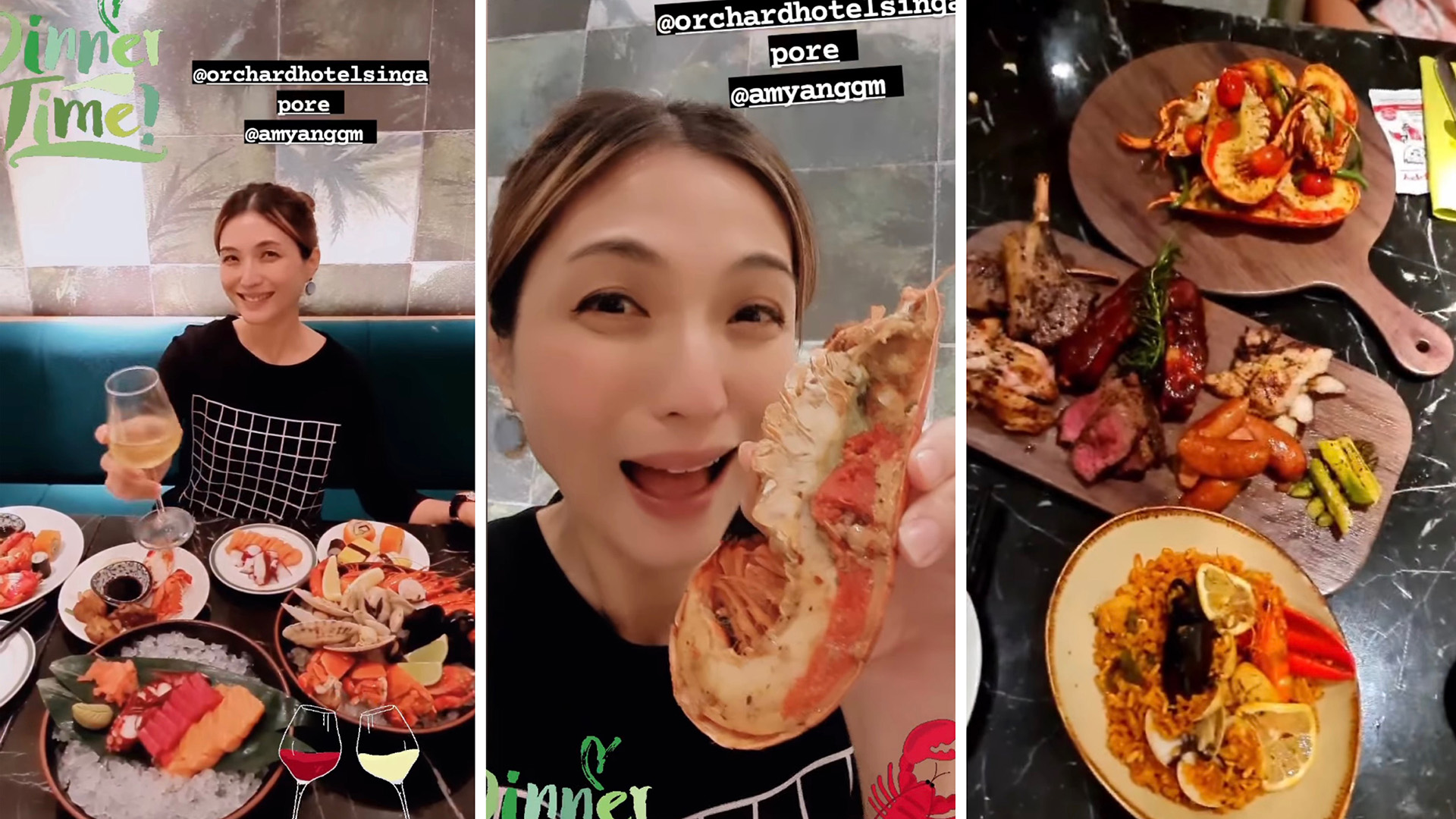 Vivian Lai
What she ate: Extravagant buffet
Yummy factor: Aside from fresh sashimi, sushi and plenty of fresh seafood, Vivian also got to taste the best of Argentinian and Spanish delights at The Orchard Cafe, where unlimited servings of lobster, chimichurri chicken, pork belly and more were served straight from the charcoal grill.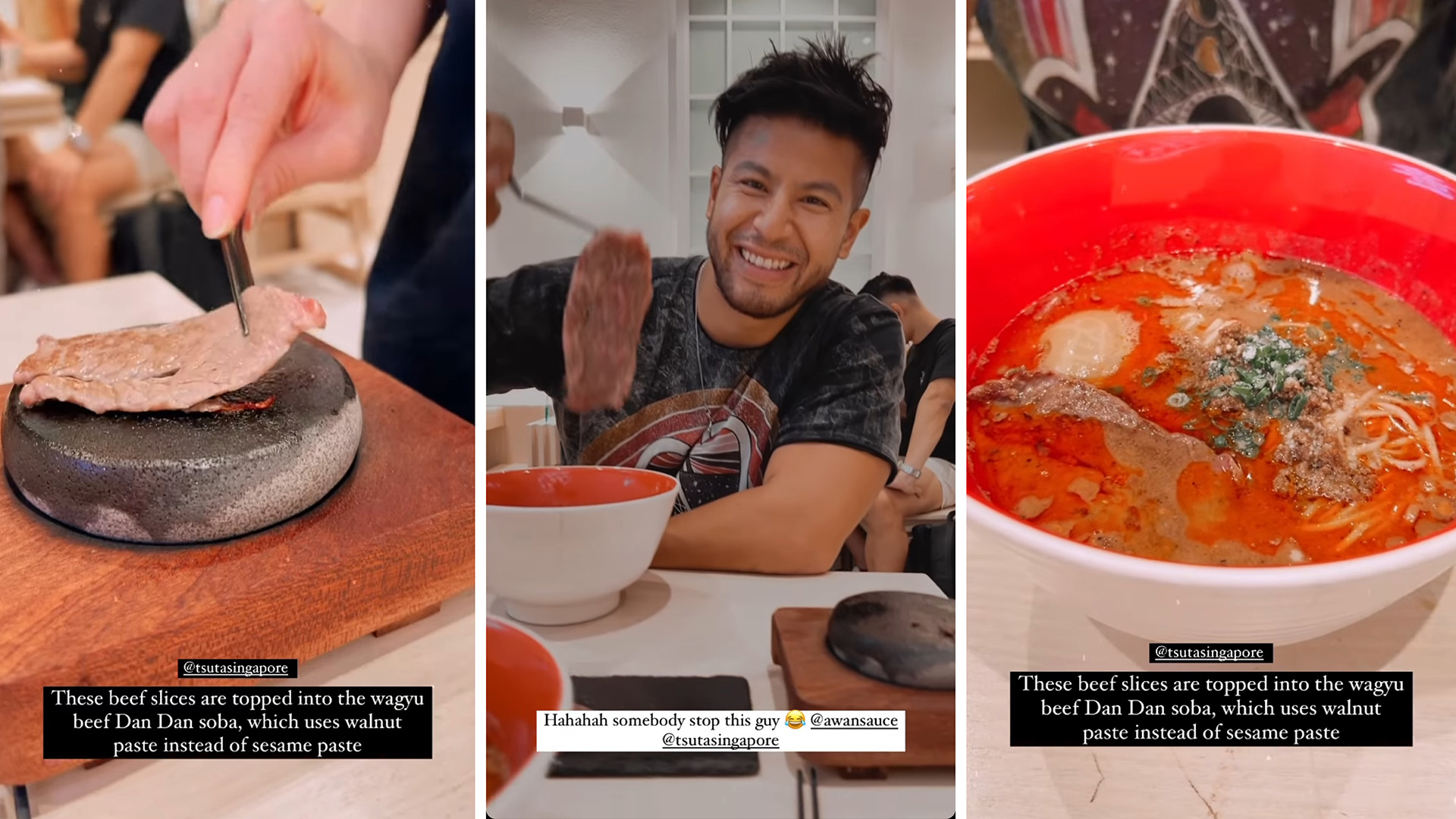 Alan Wan
What he ate: Dandan soba
Yummy factor: Alan's definitely a meat lover — just look at how happy he was to get started on his wagyu-themed dinner at Michelin-starred ramen joint, Tsuta. Elevated with minced wagyu beef and made rich with walnut paste, his dandan soba was probably a real treat to have alongside tender beef slices grilled on hot stones.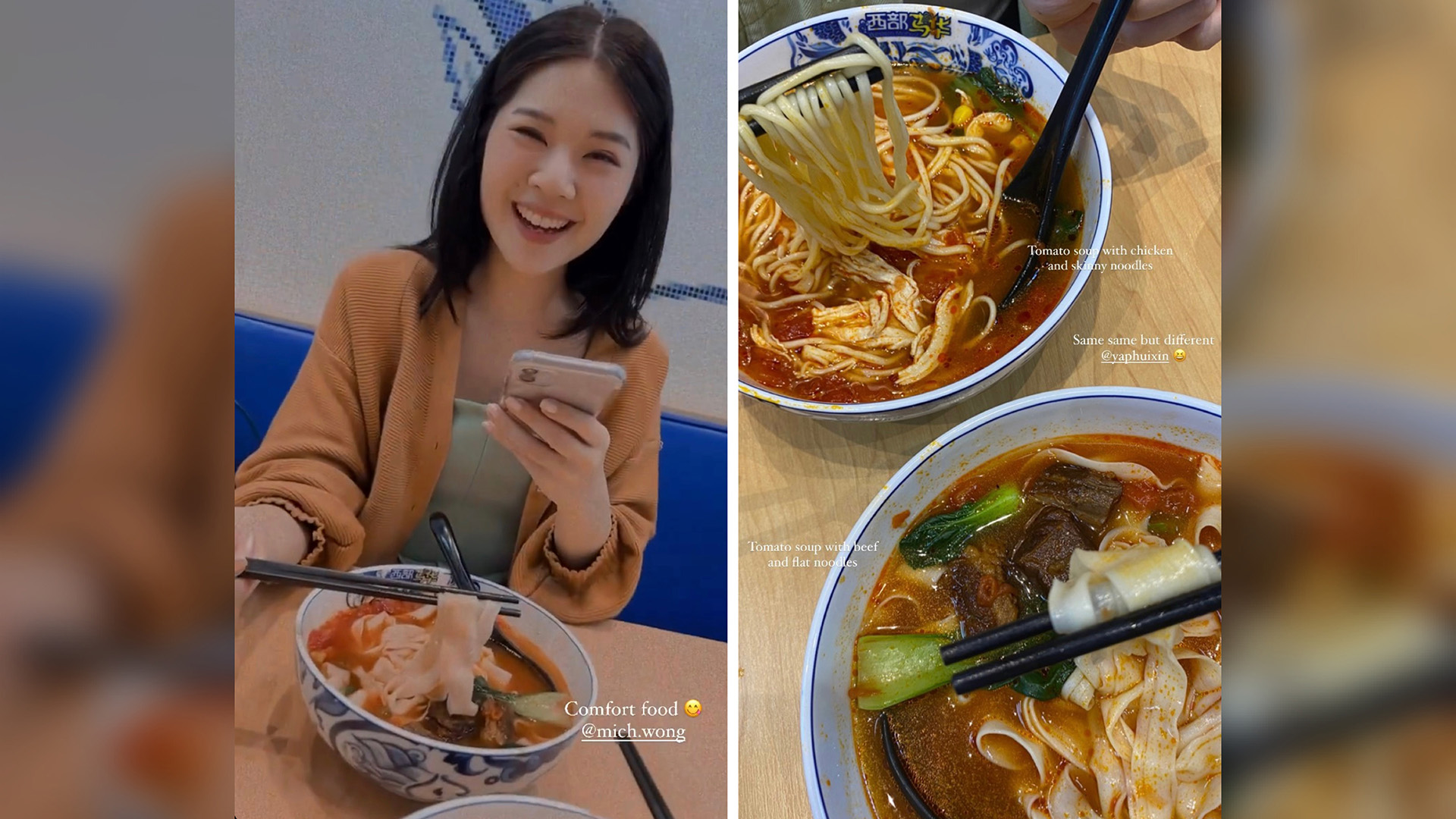 Michelle Wong
What she ate: Comfort food
Yummy factor: Gloomy weather calls for cosy cardigans and piping hot soup. As for Michelle, she found comfort in a hearty bowl of tangy sweet tomato broth with beef and Chinese knife-cut noodles, while her friend went for the same soup base with chicken and la mian.