Foodie Friday: What The Stars Ate This Week (Mar 18-25)
All the photos that made us hungry this week.
This week, Ben Yeo enjoyed Hainanese curry rice with a twist, Fann Wong launched a new yuzu-inspired confection, and Zoe Tay indulged in hawker fare with celeb pals like Jeffrey Xu and Felicia Chin after their hike. Read on for details.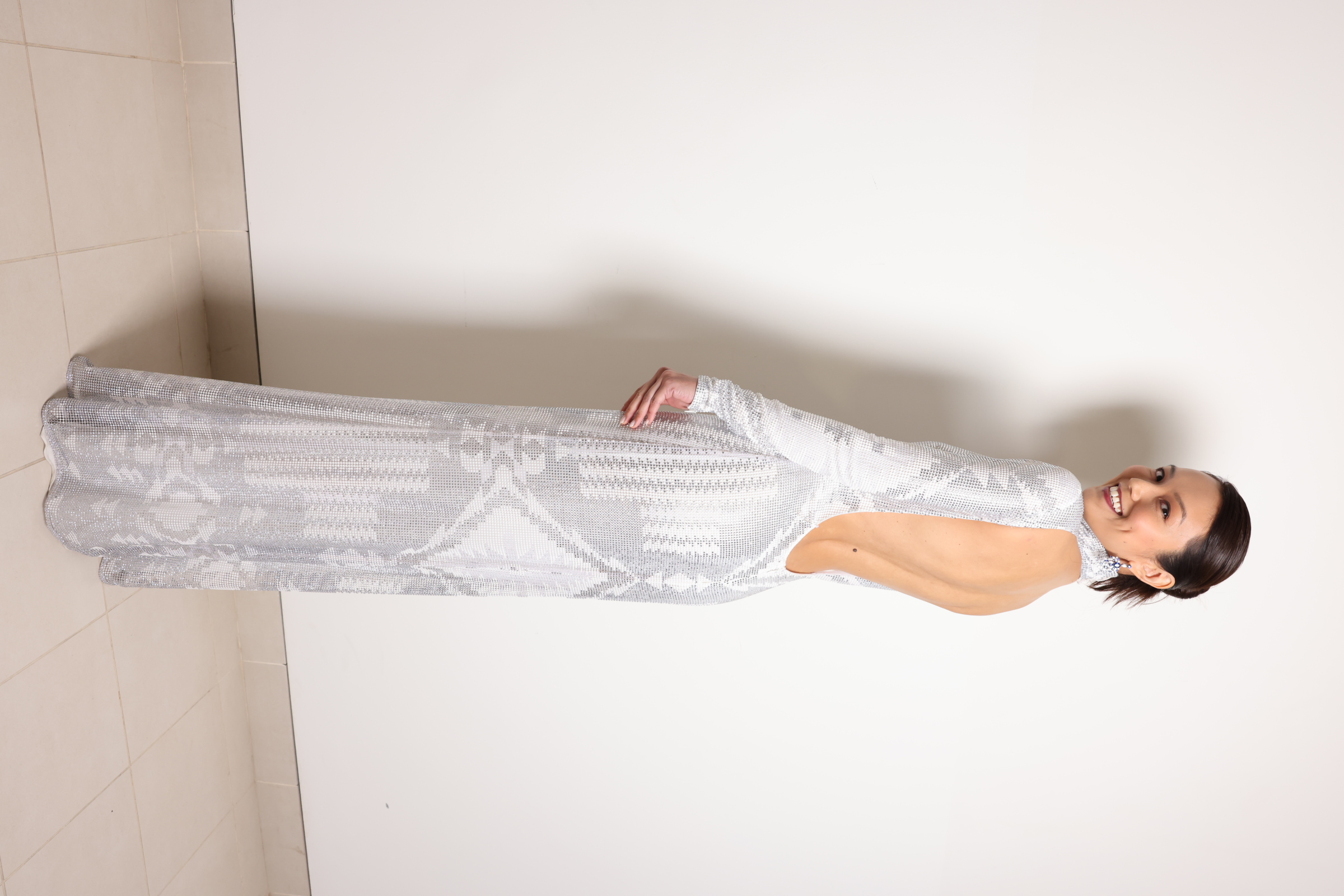 Joanne Peh
What she ate: Gelato
Yummy factor: Dessert of choice in the Qi household this week will probably be Yuwu's gelato creations in ginseng and goji berry flavours, both of which Joanne found refreshing and perfect as a warm weather treat. And with Yuwu personally feeding Joanne, naturally she had to show her support for his collaboration with gelato cafe Monarchs & Milkweed. If you'd like to try the treats for yourself, check out Joanne's Instagram post for instructions on how to pre-order.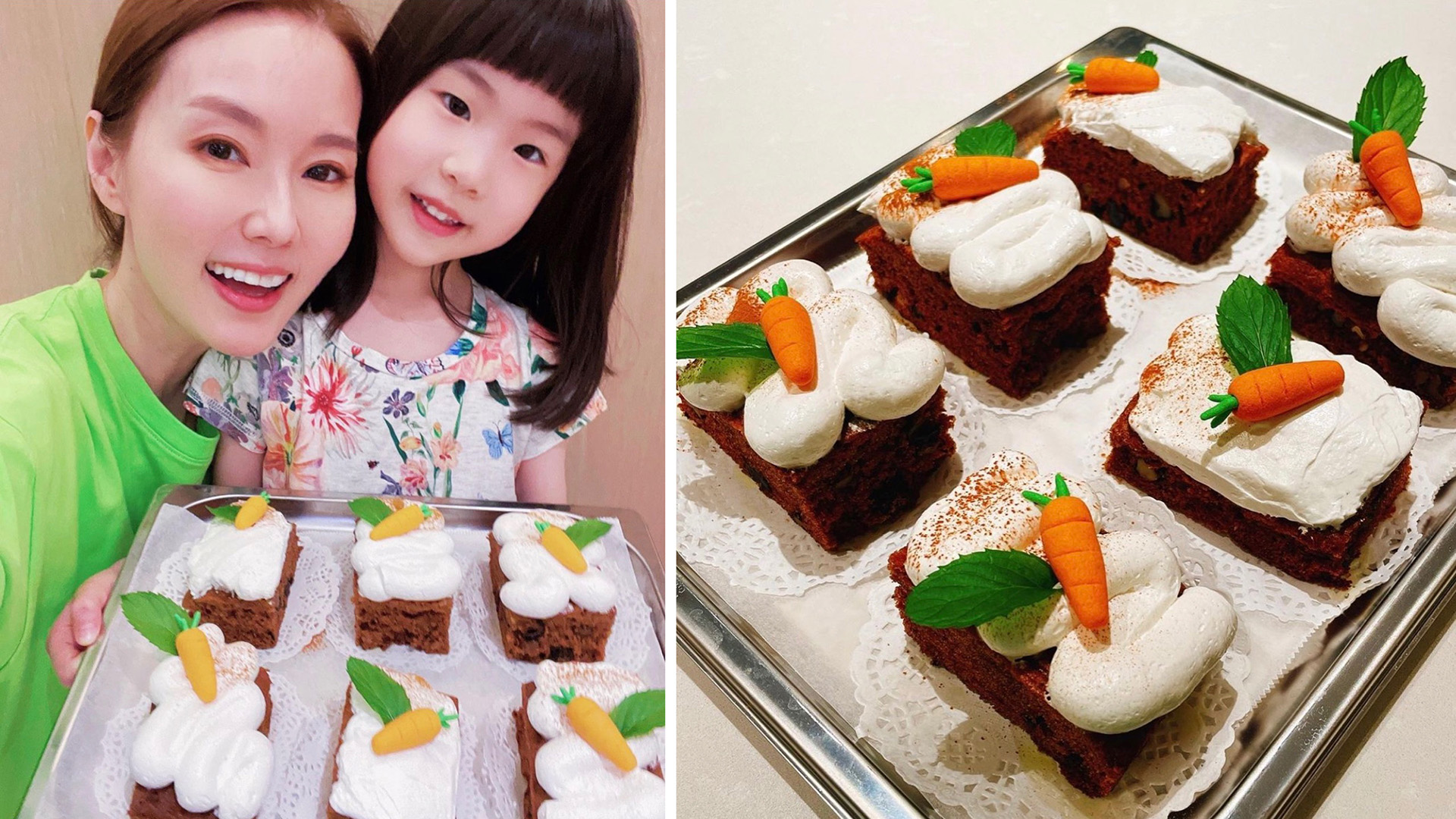 Yvonne Lim
What she ate: Durian-centric bakes
Yummy factor: Creamy mao shan wang was the star ingredient for Yvonne's homemade bakes this week. Not only did she bake a whole cake with whipped cream and fluffy sponge layers for a friend, she also made choux pastries filled with the king of fruits.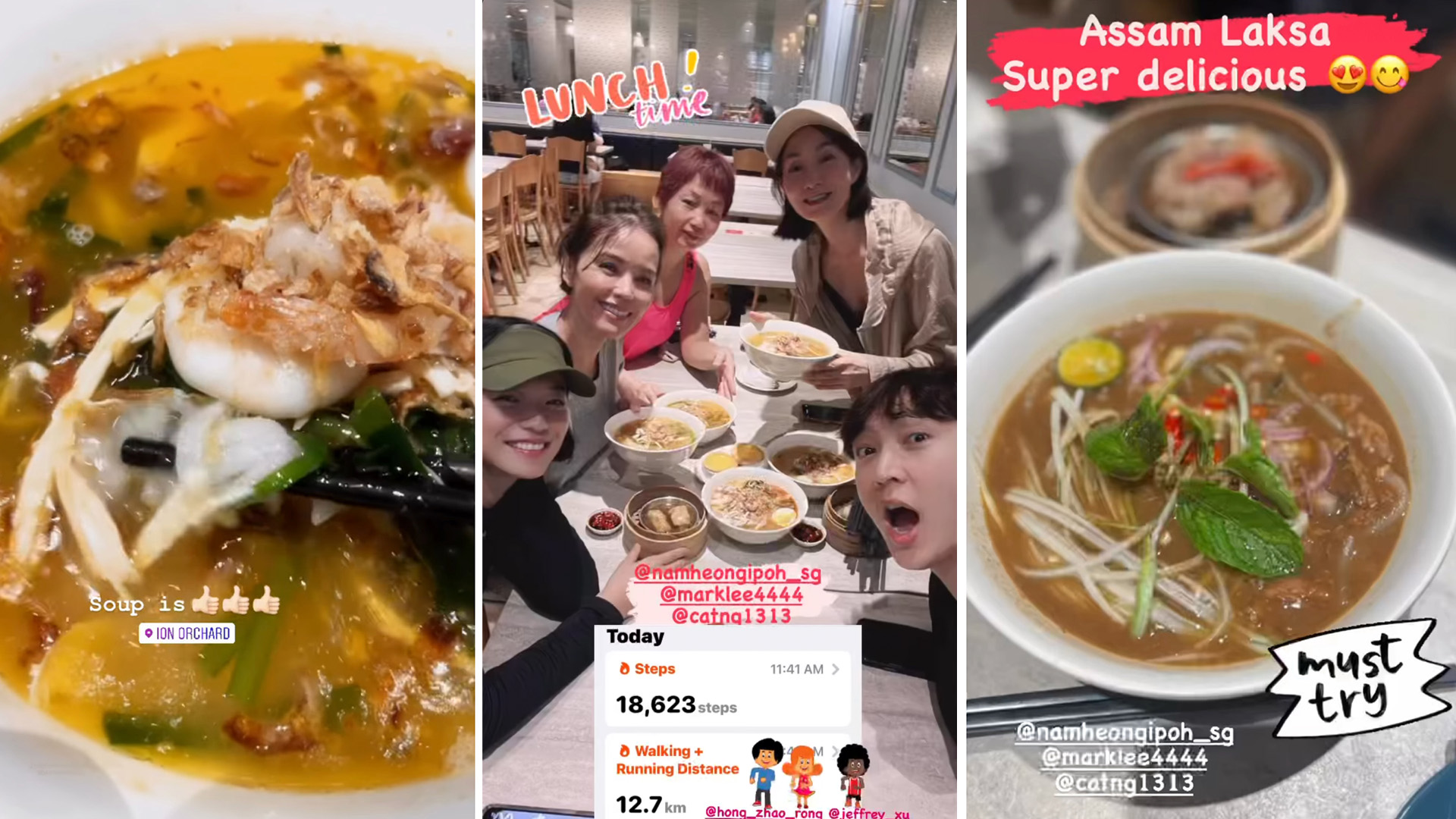 Jeffrey Xu, Felicia Chin, Jin Yinji, Pan Lingling and Zoe Tay
What they ate: Hawker fare
Yummy factor: Zoe, along with her hiking pals Felicia Chin, Jeffrey Xu, Jin Yinji, and Pan Lingling, cooled down from their tiring 8.5km hike with chilled aiyu jelly, and refuelled with satisfying bowls of fishball noodles. As for Jeffrey, it appears that he opted for xiao wan mian instead.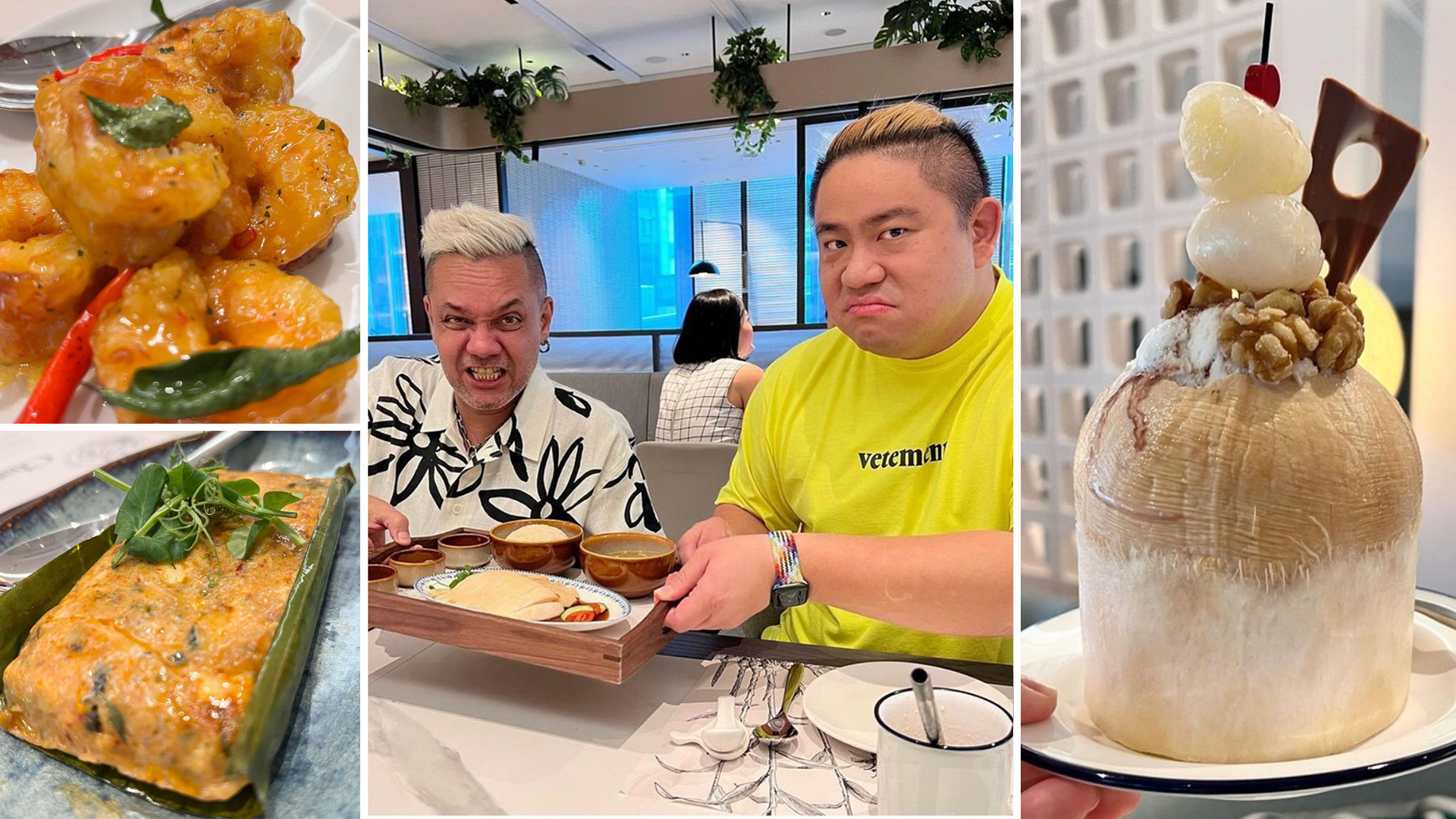 Justin Ang and Vernon A
What they ate: Old and new favourites
Yummy factor: Now that the famed Chatterbox restaurant has reopened at Hilton Singapore Orchard hotel, it was probably a matter of time before Justin and Vernon got their hands on their famous chicken rice and popular coconut ice cream. And while they were there for a taste of nostalgia, they also tried new menu items like crab otak and butter prawns made fragrant with laksa leaves and a touch of chilli padi.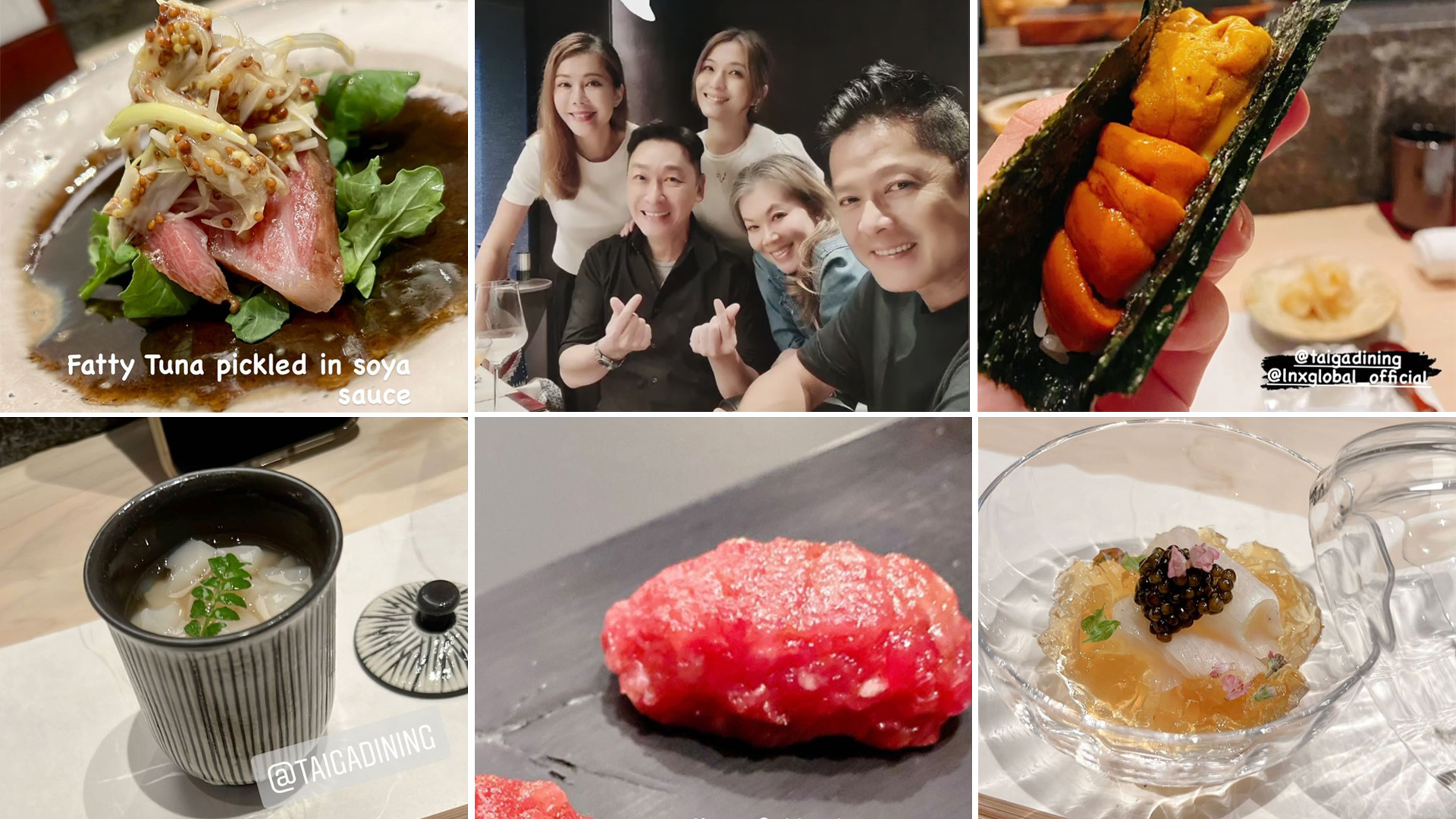 Constance Song, Rayson Tan, Vivian Lai, and Li Nanxing
What they ate: Omakase bites
Yummy factor: The celeb pals' omakase dinner at Japanese restaurant Taiga Dining was an exquisite affair, with delectable items like a trio of uni handroll, fatty tuna picked in soy sauce, yellowtail with pomelo and caviar, and more. We've got our eye on that roll of medium fatty tuna.
Fann Wong
What she ate: Latest offering from Fanntasy Bakes
Yummy factor: Fann's all ready to dig in to her latest creation — Saitama Yuzu Dream — and it's as refreshing as it gets with ingredients like zesty yuzu from Japan's Saitama prefecture, and natural honeycomb bits encased in delicate almond sponge. Yum.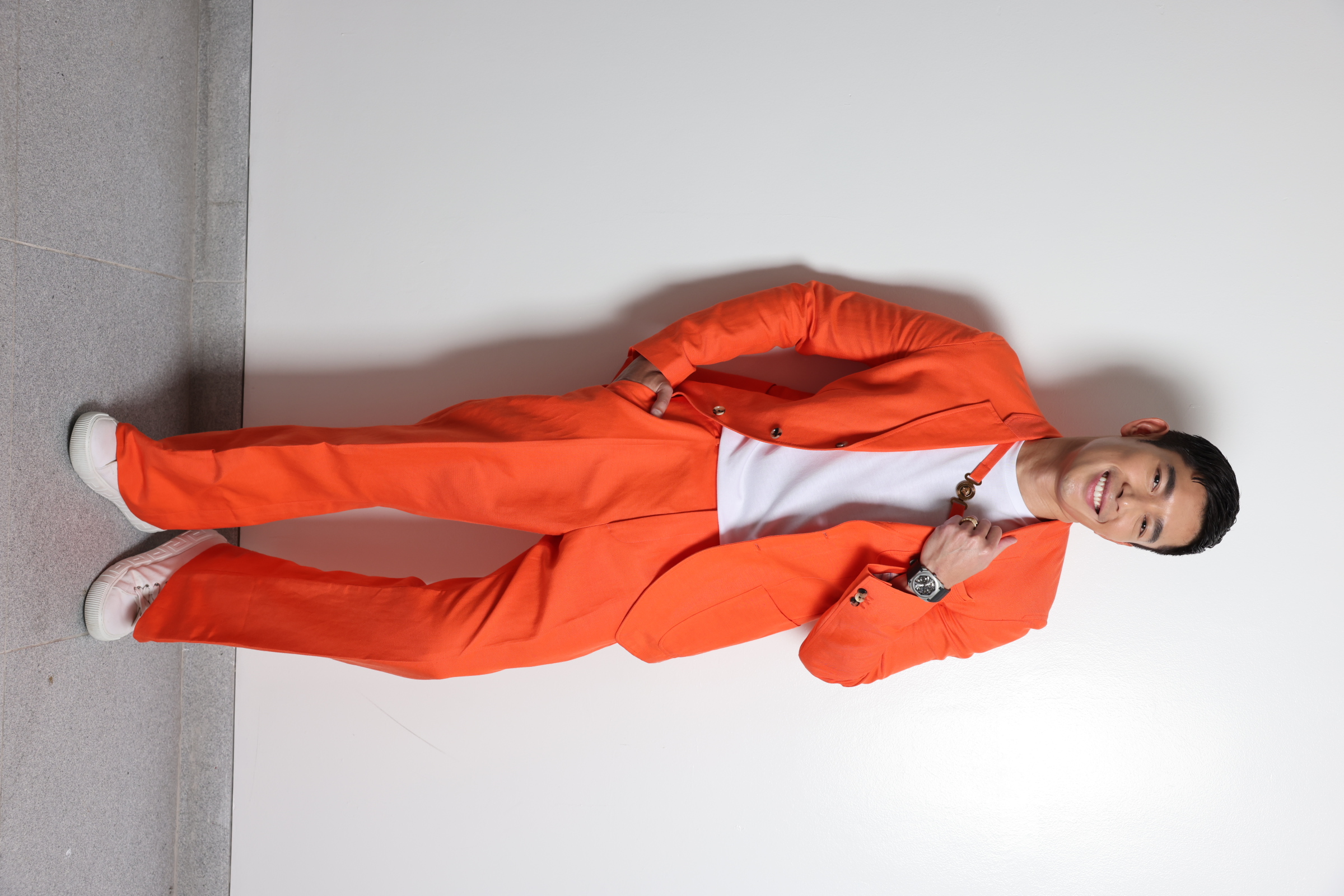 Elvin Ng
What he ate: Snacks and more
Yummy factor: Elvin sure was prepared for his eight-hour long journey on the Glacier Express in Switzerland. Not only did he stock up on snacks like chips and chocolate, he also got himself a coffee and hot meal. And never mind that he's not a fan of carrots — at least the meat and rice look pretty decent.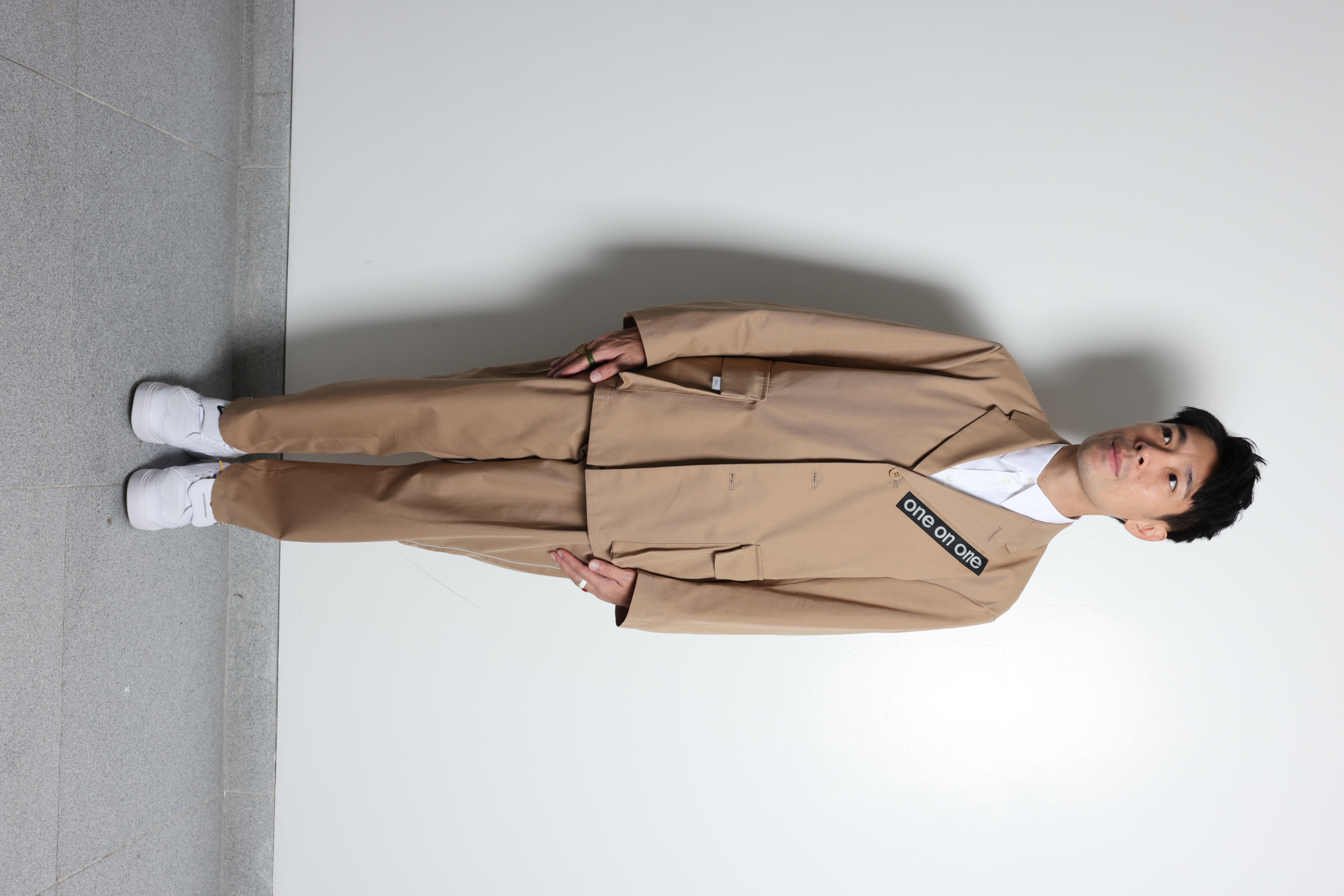 Ben Yeo
What he ate: Curry png at Loo's Hainanese Curry Rice.
Yummy factor: While it may not be Ben's first time enjoying Hainanese curry rice with sides like a fried chicken bites, curry vegetables, kailan and brinjal with XO sauce, it's definitely a first for him to have "cultivated meat" derived from a new process that grows real meat from chicken cells. And judging by the smile on his face, it tastes as good as the real deal.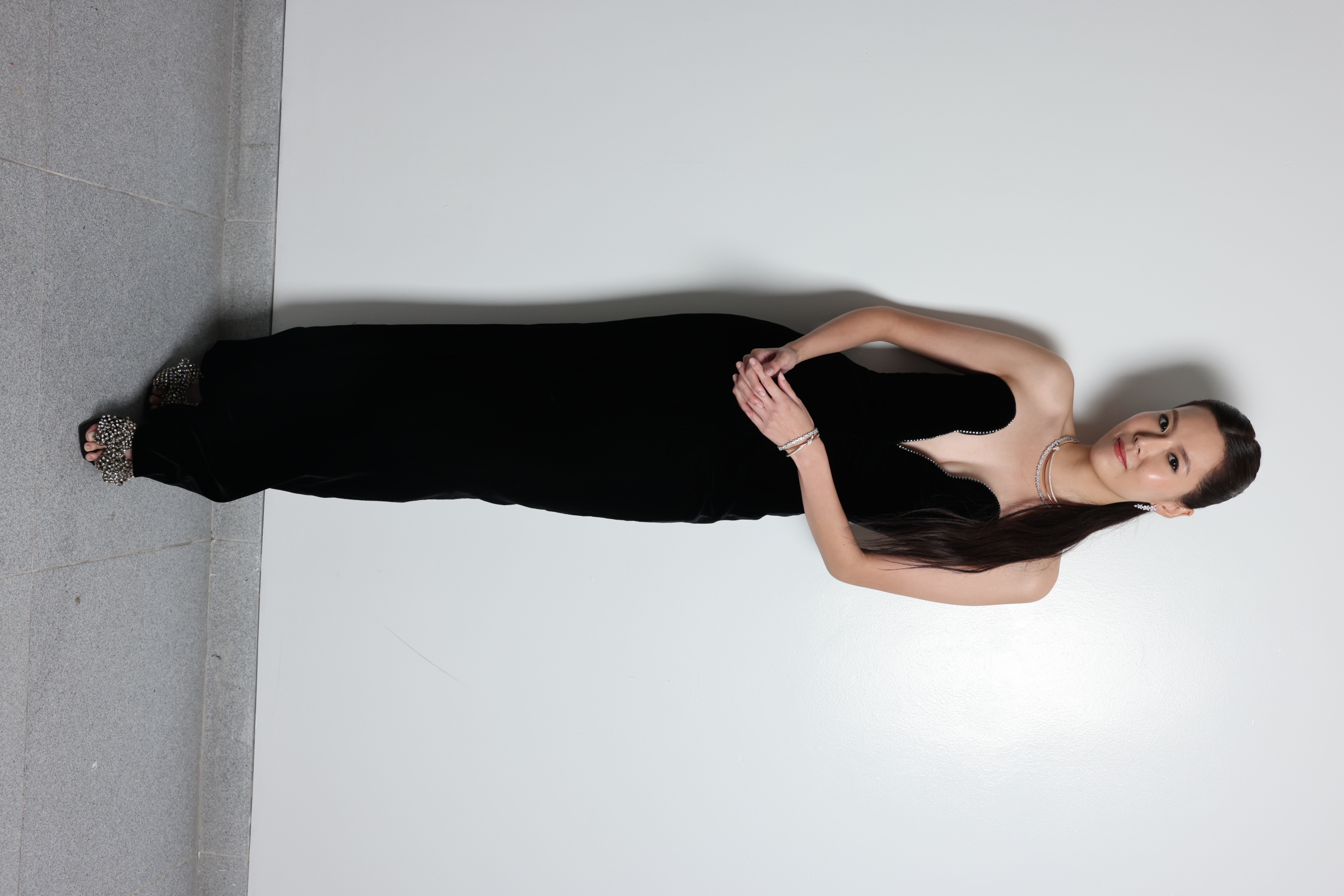 Carrie Wong
What she ate: Parisian brekkie
Yummy factor: Earlier in the week, we spotted a chic-looking Carrie indulging in a quintessential French breakfast at the famous Les Deux Magots cafe in Paris. She enjoyed a warm black coffee, a pain au chocolat, hearty sunny side up eggs and ham, and a whole lot of people watching.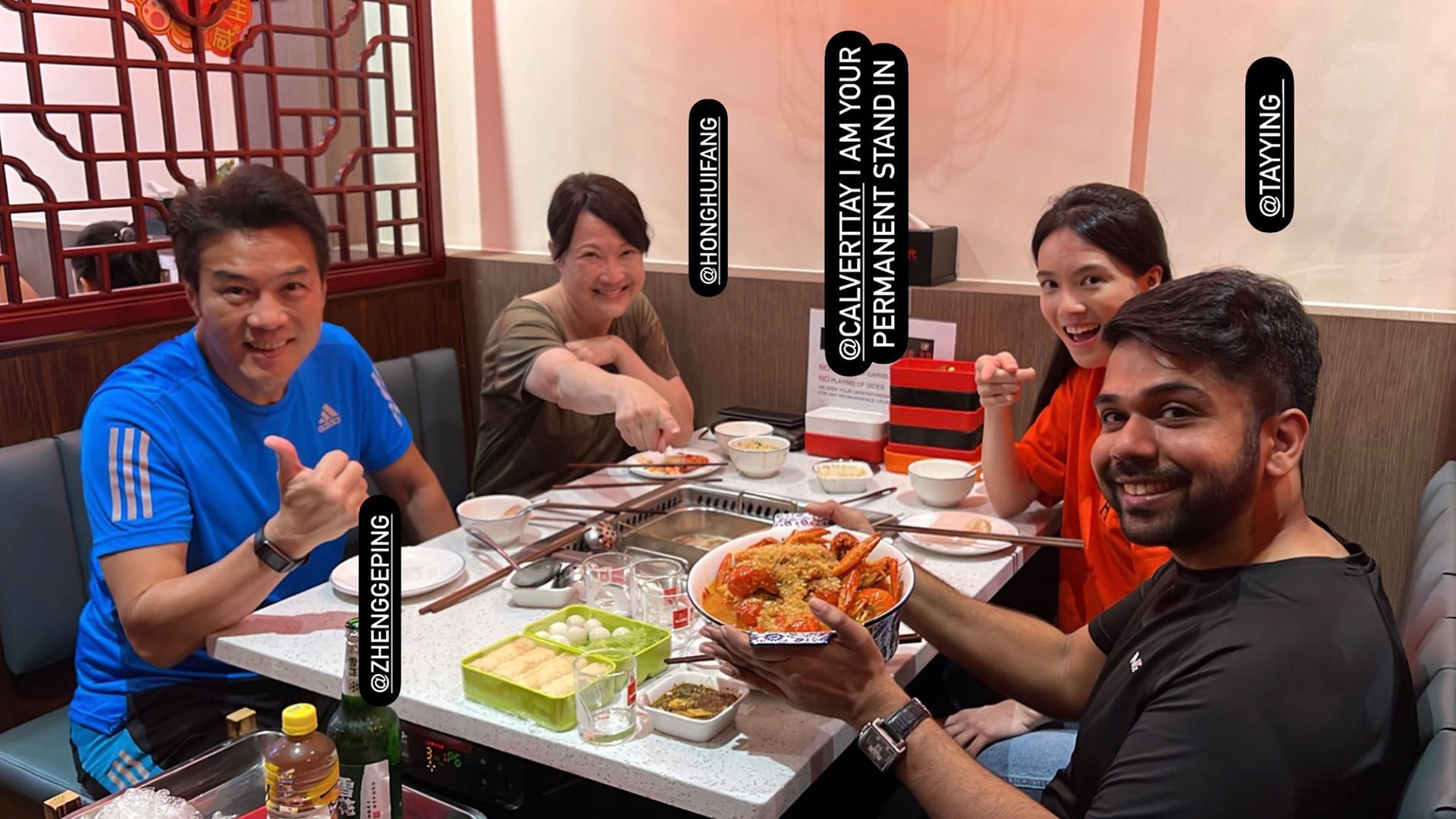 Zheng Geping, Hong Huifang, Tay Ying, and Das DD
What they ate: Hotpot
Yummy factor: Remember when Das quipped that he had replaced Calvert? Well, this time the YouTuber has jokingly established himself as a "permanent" stand-in, joining the Tay family for a shiok hotpot sesh and what looks like xiao long xia, or crawfish, at Chuan Shi Dai.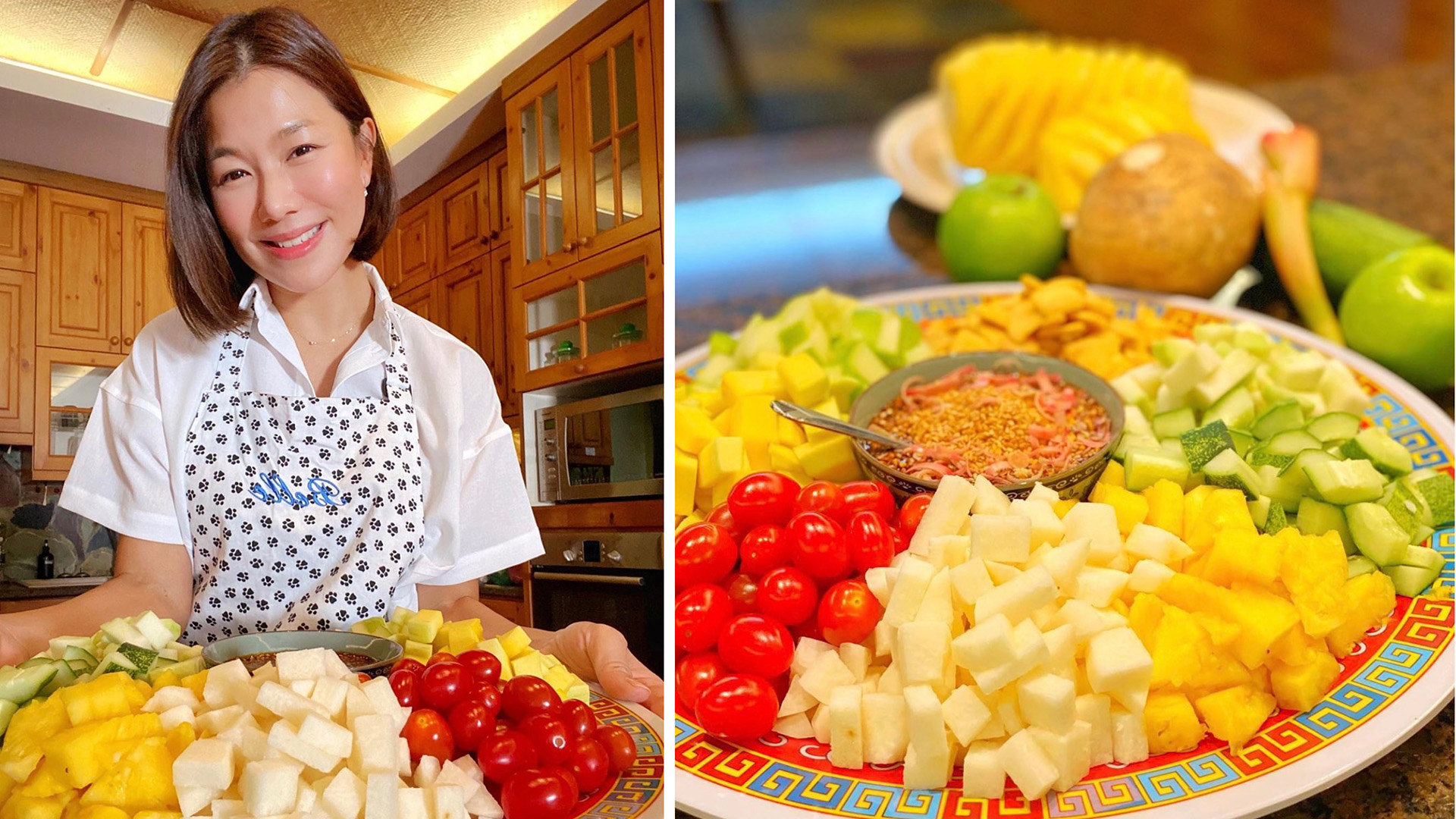 Belinda Lee
What she ate: Homemade meringues
Yummy factor: Some of the best things in life are topped with fresh fruits, a touch of mint and icing sugar. On a side note, Belinda's festive-looking raspberry hazelnut meringues are so artfully presented, we wouldn't be surprised if you thought they were store-bought.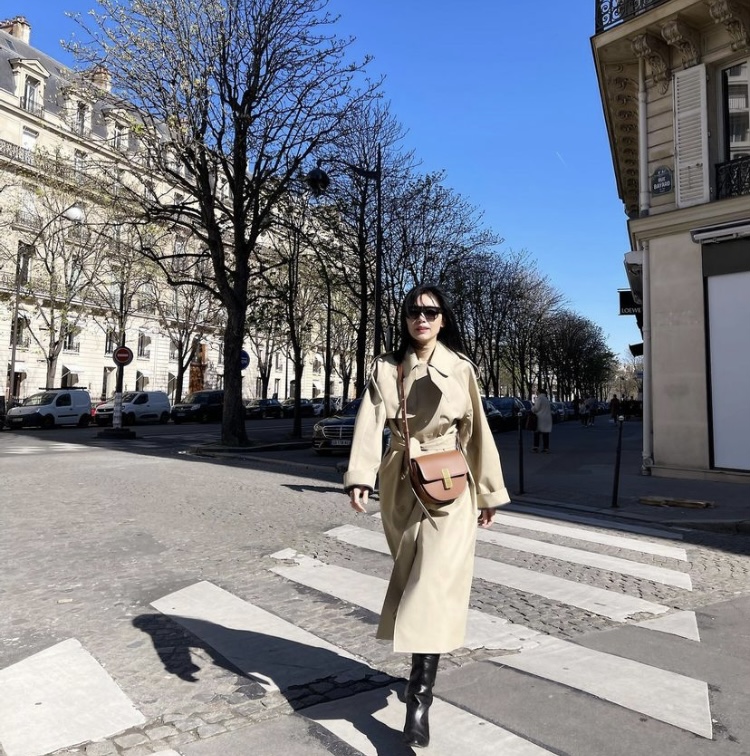 Sharon Au
What she ate: Dior-rific bites
Yummy factor: A trip to the fashion house's new restaurant in Paris — Monsieur Dior — saw Sharon tucking into interesting bites like an egg encased in caviar jelly, a fish dish, as well as plenty of dainty Parisian pastries and tarts adorned with Dior's mythological star.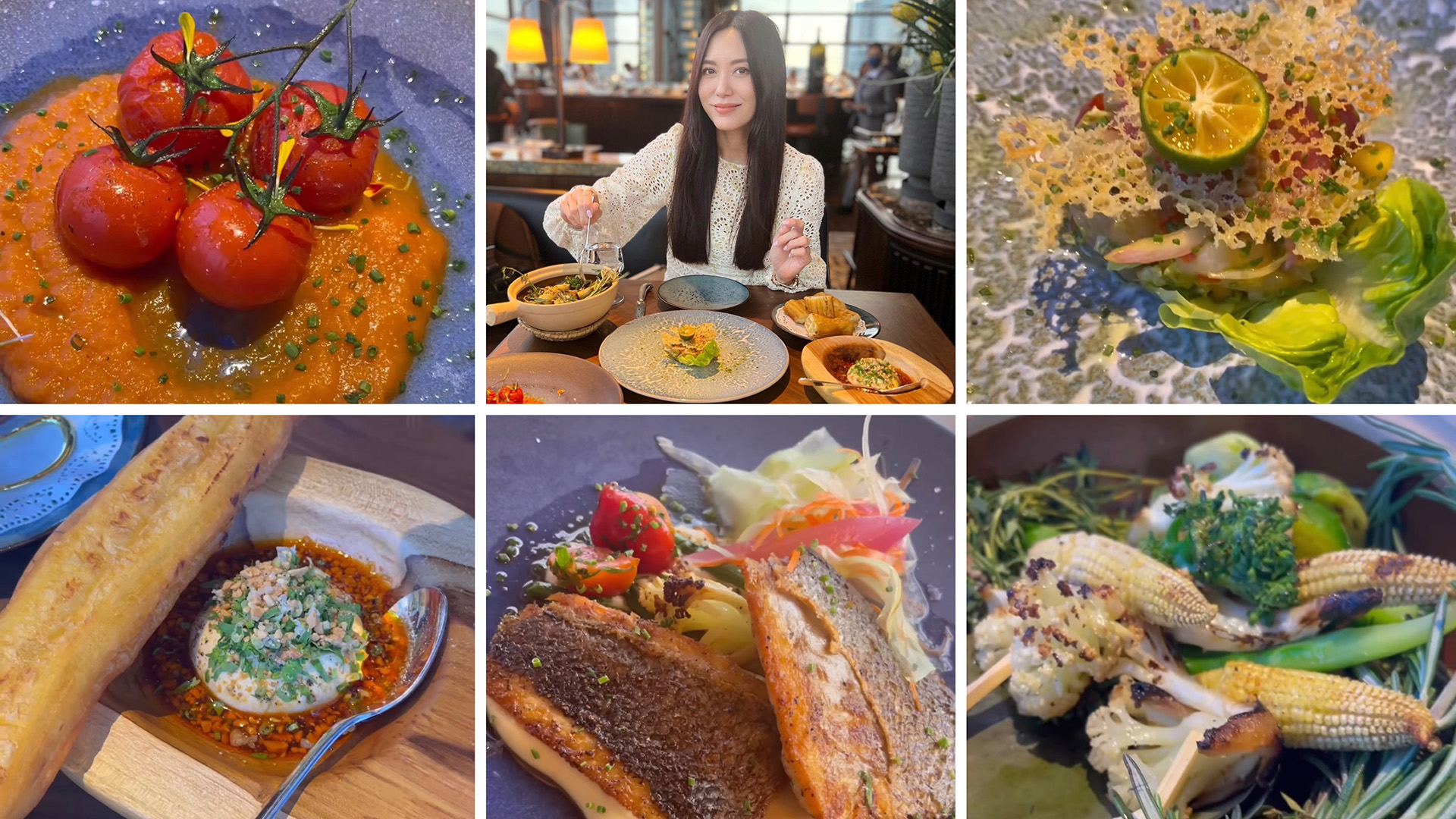 Phyllis Quek and Hong Zhao Rong
What they ate: Japanese food
Yummy factor: Famished after a long walk together, Phyllis and Zhao Rong decided to make a pit stop for Japanese noms to satiate their hunger. Between them, they shared an oishii combination of tonkotsu ramen with cha shu and ramen egg, pan-fried gyozas and California rolls.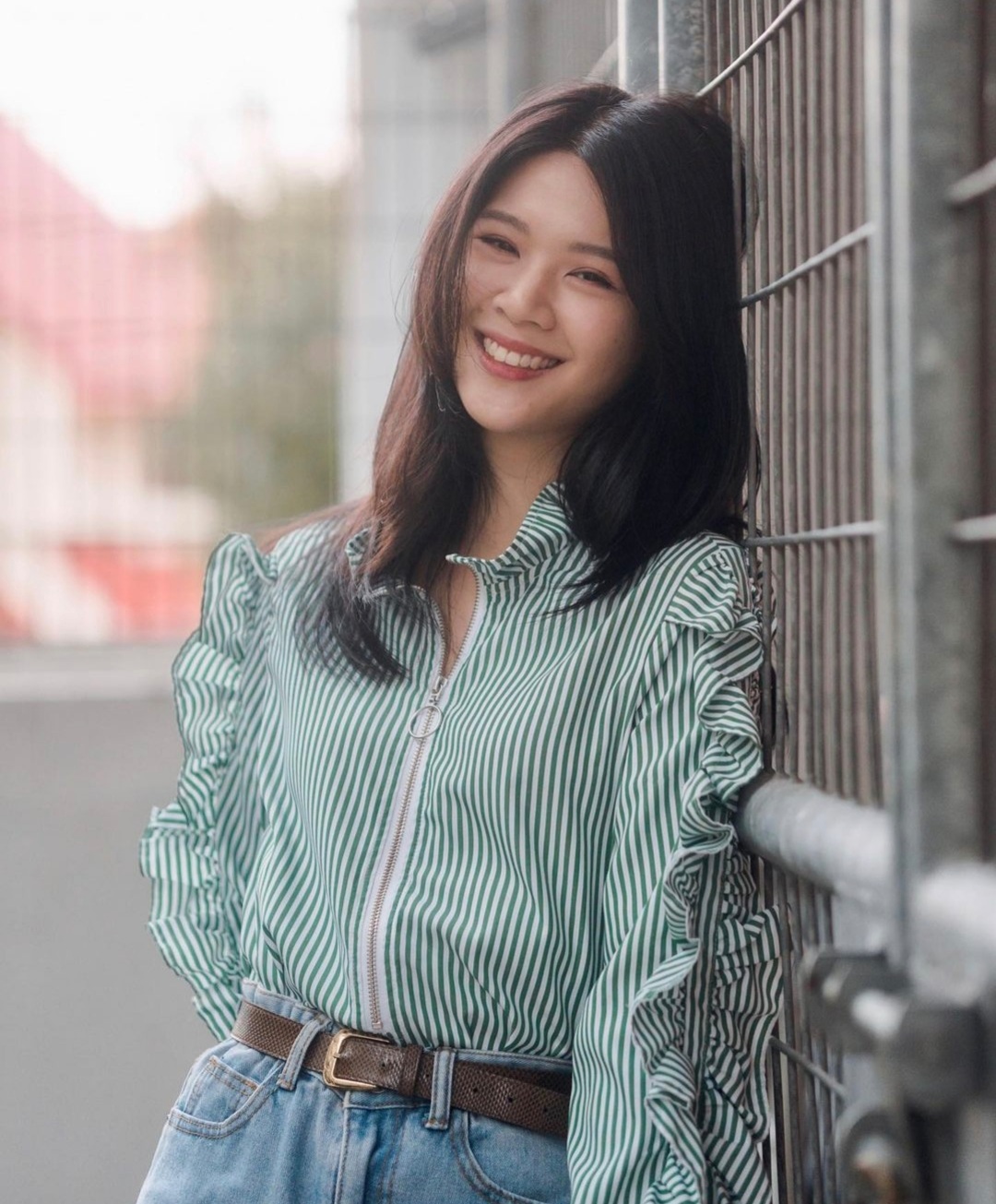 Michelle Wong
What she ate: All things My Little Pony
Yummy factor: It was all rainbows and unicorns for Michelle who checked out the My Little Pony pop-up cafe at Orchard Central. Apart from light bites like karaage with soy garlic glaze and mozzarella cheese sticks, the actress also enjoyed odd-looking mains like the blue-hued Dashing Magical Rainbow Dash Impossible Plant-Based Burger and Magic Potion Karaage Chicken With Beetroot Cream Rice.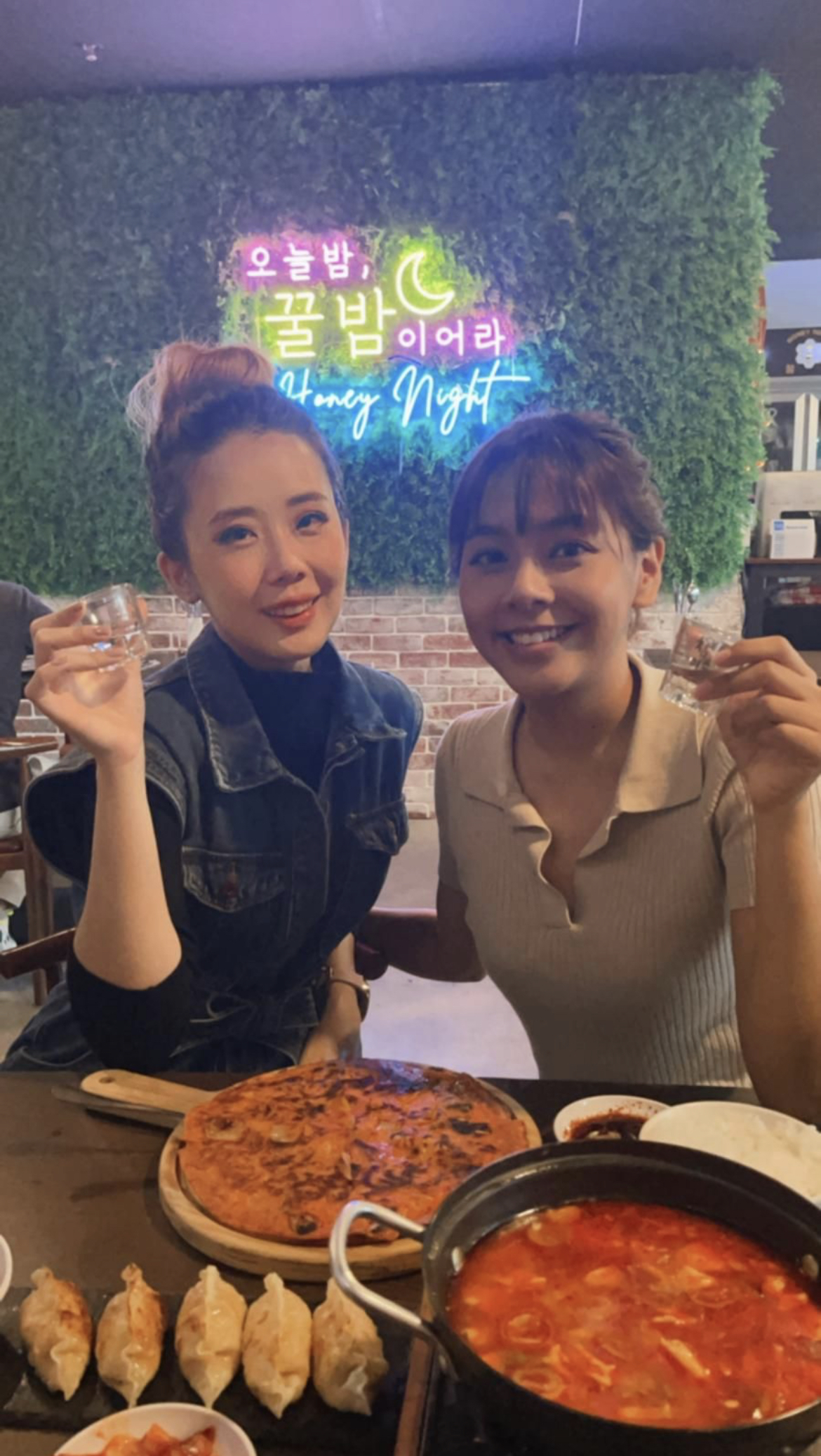 Seow Sin Nee and Jernelle Oh
What they ate: Korean cuisine
Yummy factor: Sin Nee and Jernelle's girls' night out at Korean bar and bistro Honey Night was an appetising one to say the least, with drinks and sumptuous Korean street eats like kimchi pancake, mentaiko dumplings, and bubbling pot of spicy tofu stew.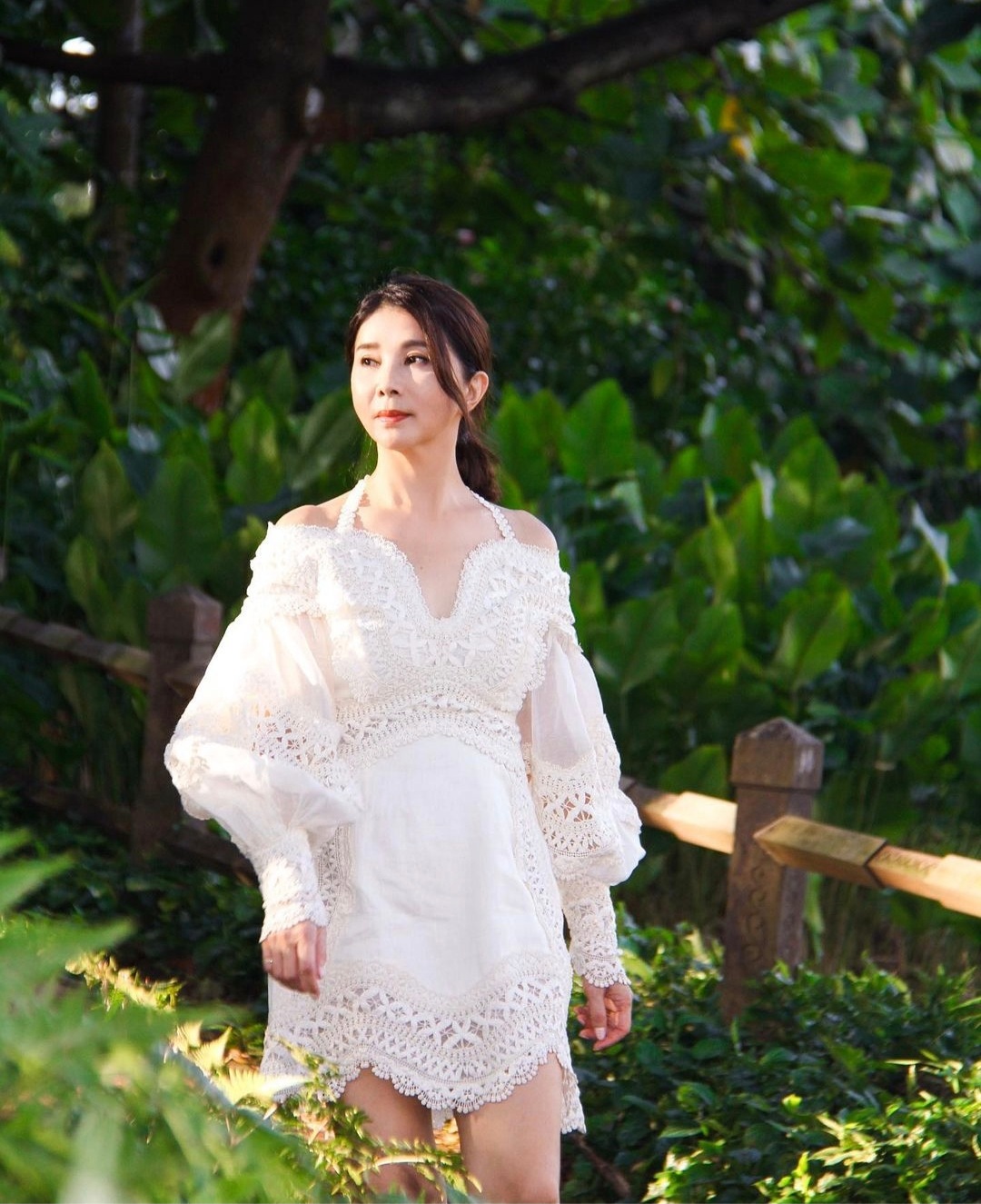 Chen Xiuhuan
What she ate: Rojak
Yummy factor: Now that Xiuhuan has fully recovered from Covid-19, she's definitely having her fill of her fave eats, like the famous rojak from Balestier Road Hoover Rojak stall. It was probably extra satisfying with the chunks of mango, turnip, and generous serving of crushed peanuts.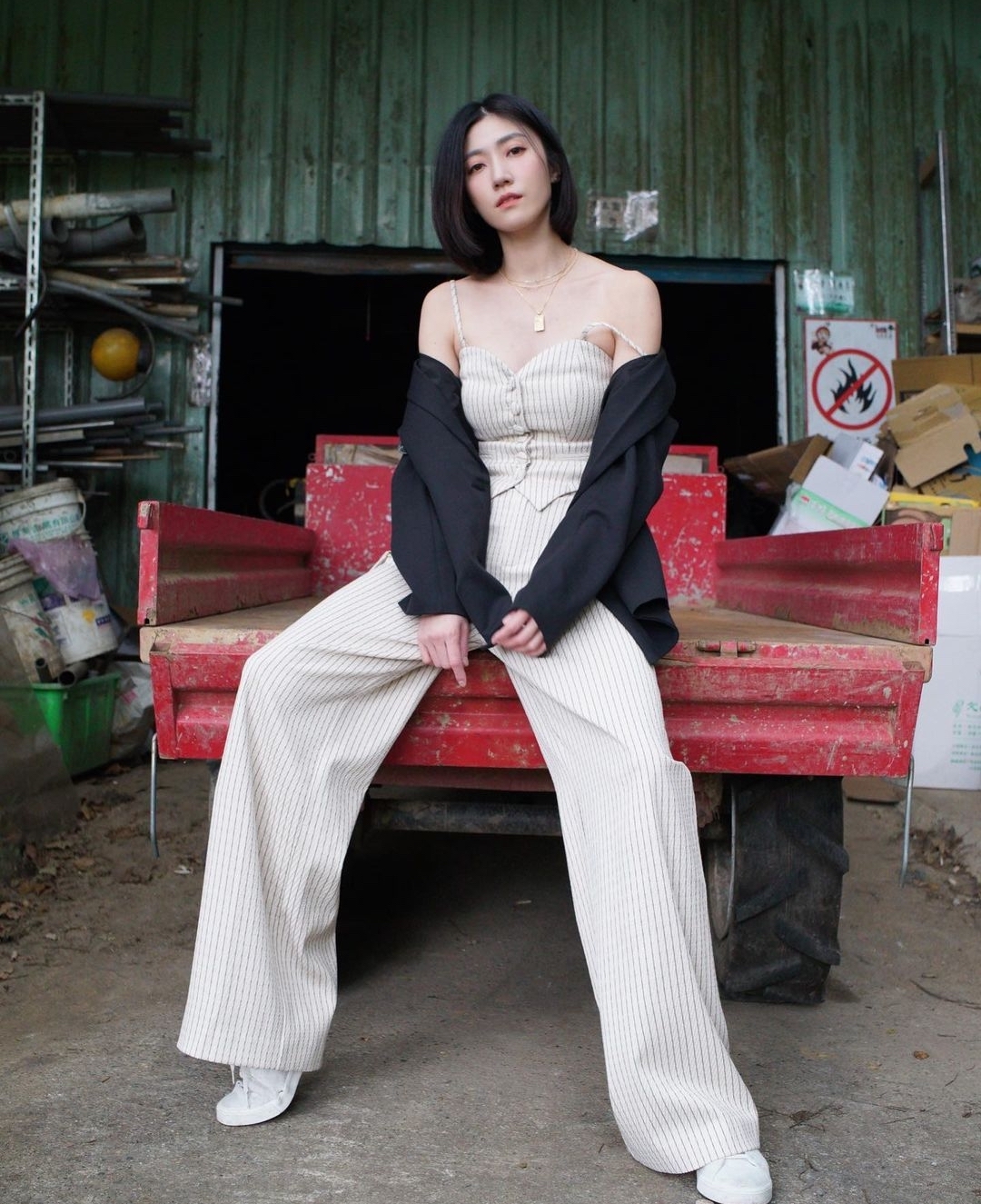 Kate Pang and Andie Chen
What they ate: Taiwanese eats
Yummy factor: A visit to Tamsui Old Street in Taipei saw Kate, Andie and their kiddos tucking into delicious street eats like a-gei, which are deep-fried tofu pockets stuffed with glass noodles and sealed with fish paste. Other local specialties they had include stinky tofu, Taiwanese-style fish cakes, sour plum drinks and more.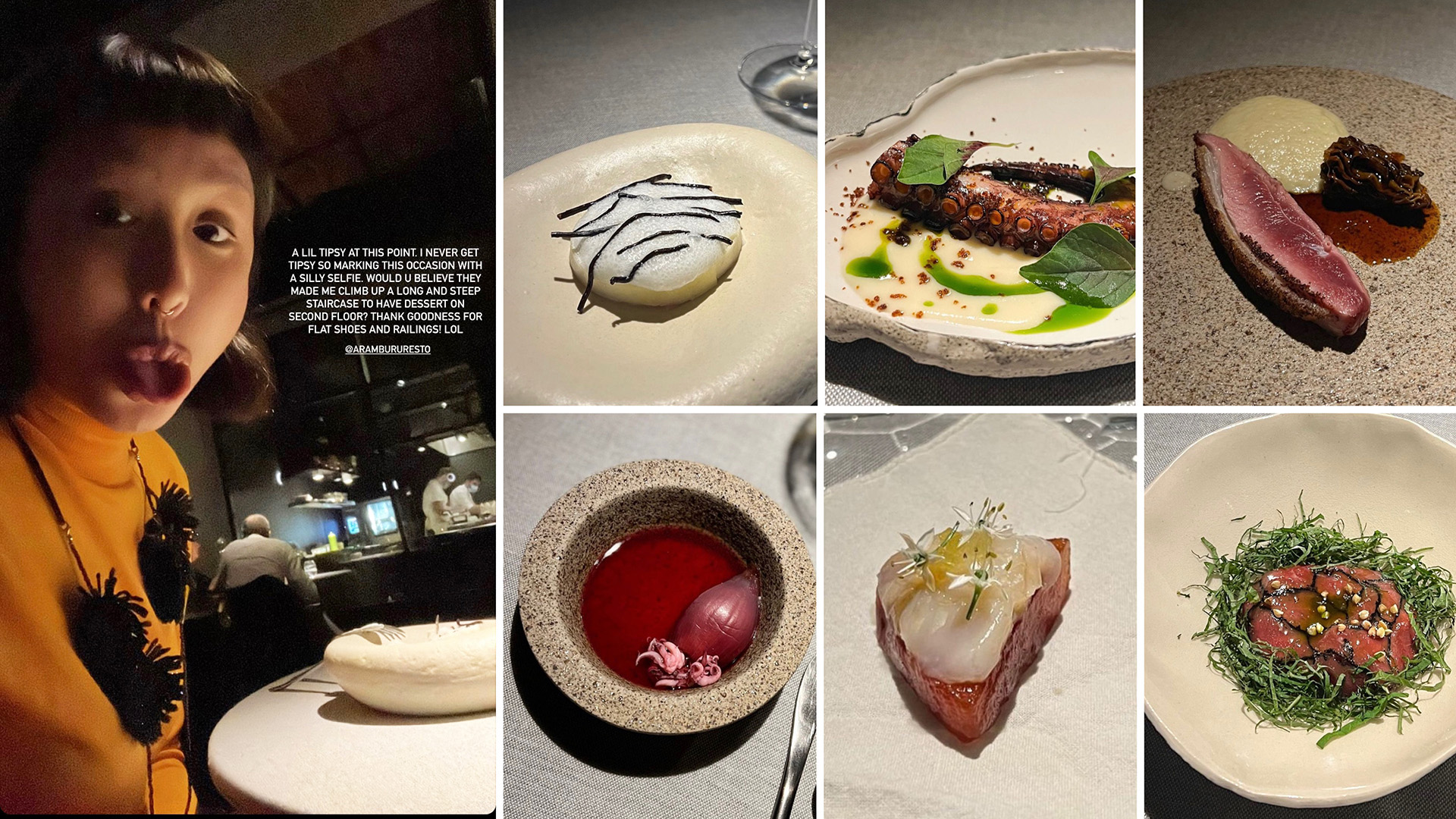 Rosalyn Lee
What she ate: 18-course meal
Yummy factor: A trip to Bueno Aires, Argentina, saw Rozz dining at Aramburu, one of Latin America's 50 best restaurants. Safe to say, her decadent dinner left her feeling impressed with spectacular dishes like tender baby squid with onion and miso-beetroot juice broth, deer tartare topped with deer carpaccio and a spicy aioli dressing, frozen compressed watermelon paired with scallop sashimi and more.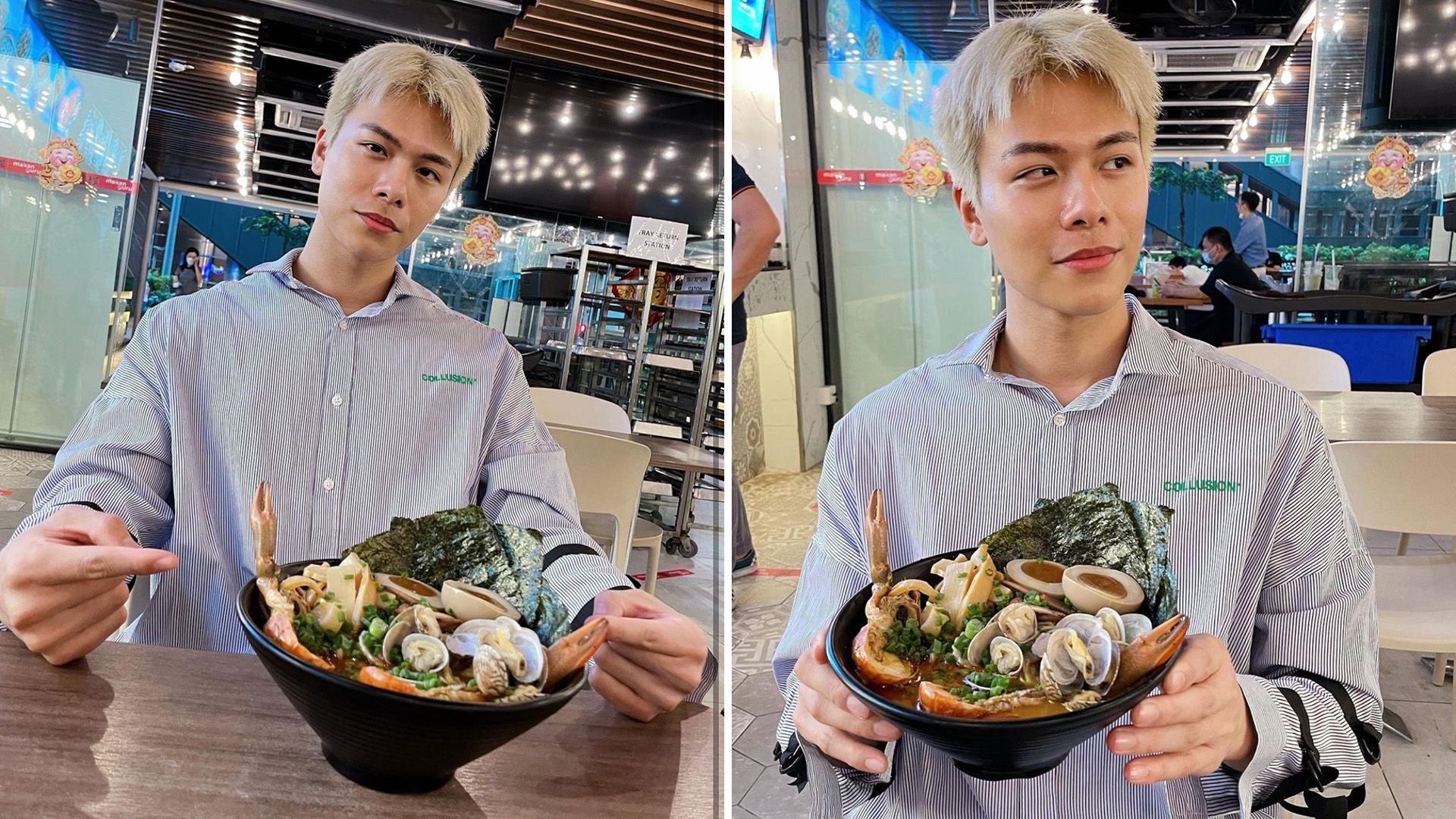 Glenn Yong
What he ate: Crawfish ramen
Yummy factor: Glenn's idea of a pre-flight meal? A power-packed bowl of ramen from SG Crawfish Ramen, stacked high with an entire crawfish, plenty of clams, an onsen egg and crisp seaweed. We can't imagine the food coma after that meal.
Denise Camillia Tan and Tay Ying
What she ate: Grilled beef
Yummy factor: With Tay Ying's 26th birthday (Mar 27) fast approaching, her brother Calvert, Denise, and Kayly Loh got together to throw her an early celebration. There was plenty of yummy grilled beef — including A5 Hokkaido wagyu — bubbly, and of course, cake and dessert tarts to end the evening on a sweet note.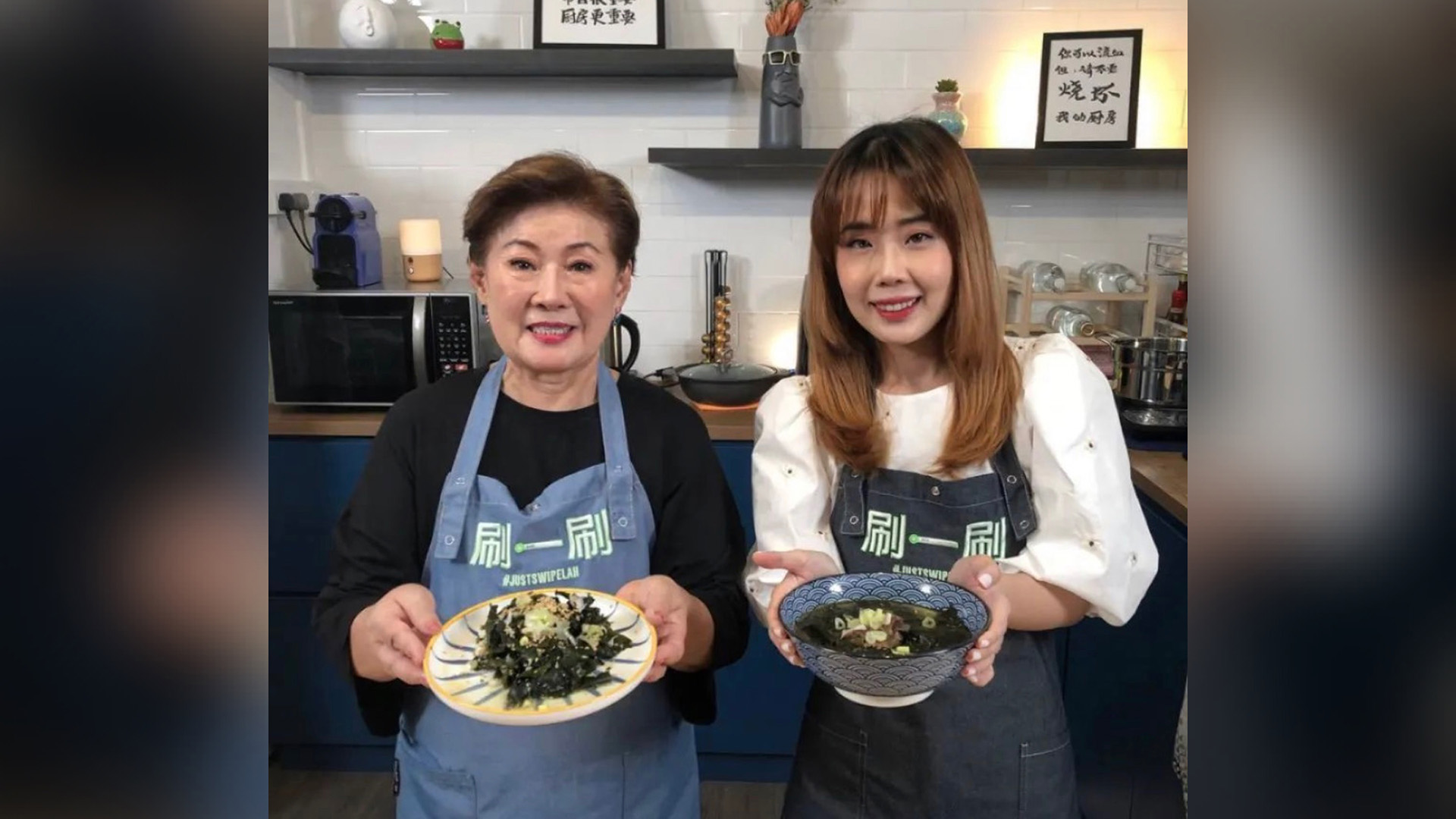 Jin Yinji and Jernelle Oh
What they ate: Seaweed dishes
Yummy factor: Thanks to Jin jie's help, Jernelle managed to whip up both a Korean-style seaweed soup with beef, as well as a refreshing seaweed salad with fruit vinegar on #JustSwipeLah. Fun fact: Seaweed soup is a must-have for Koreans on their birthday, as it reminds children of how their mothers had to drink it for an entire month during their confinement period. Get the recipes here.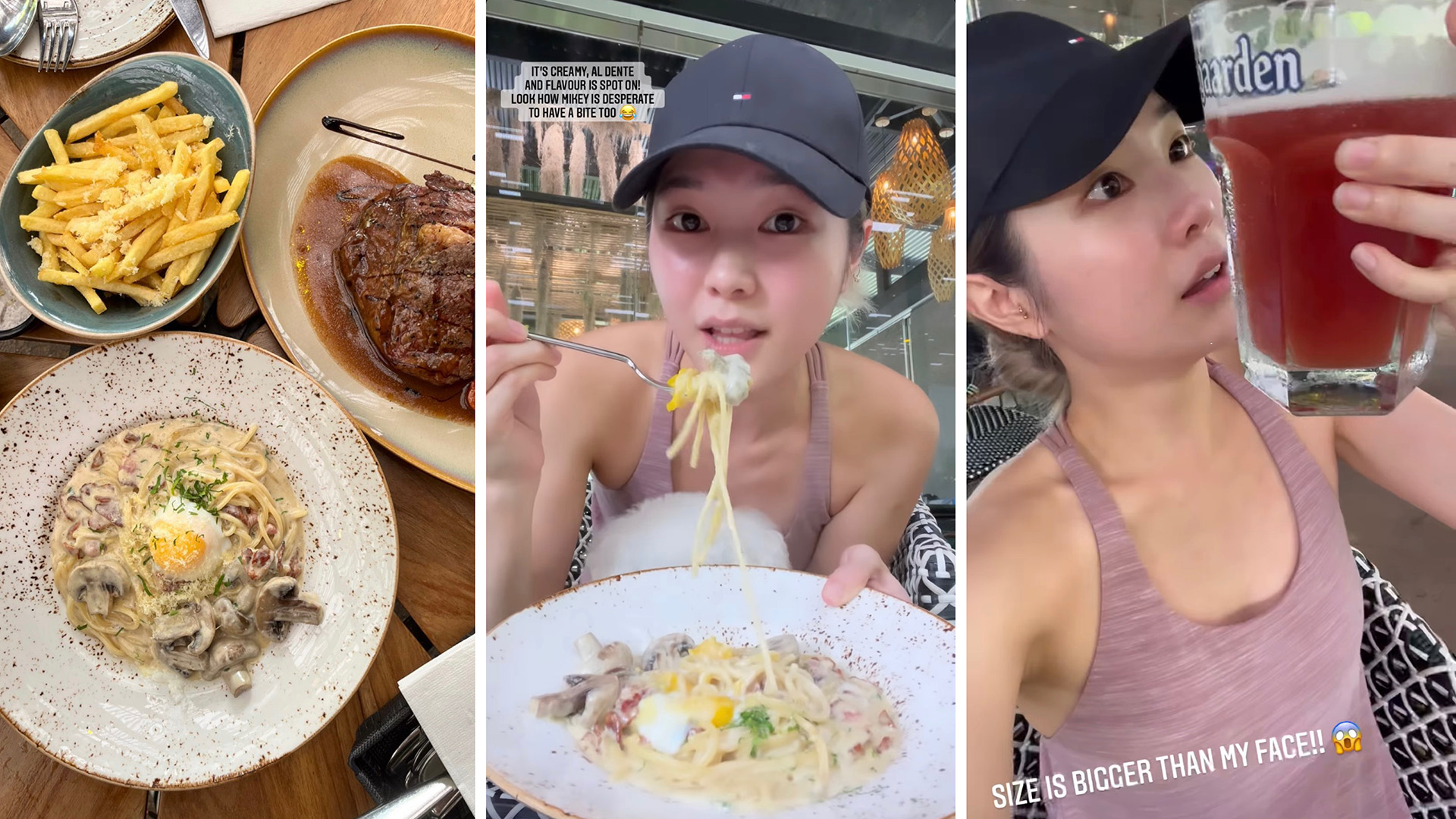 Ferlyn Wong
What she ate: Caviar and cold cuts
Yummy factor: It was cheese and cold cuts galore for Ferlyn, who had at least two platters accompanied by dried fruits, fresh grapes and crackers, before concluding her evening with exquisite caviar. How atas.