Foodie Friday: What The Stars Ate This Week (May 27 - Jun 3)
All the photos that made us hungry this week.
This week, towkay Ben Yeo rolled up his sleeves to serve durian, Pierre Png tried his hand at grilling satay, and the Muttons' Vernon A and Justin Ang found their new favourite burger. Meanwhile, lucky Zoe Tay got to savour Qi Yuwu's cooking on set. Read on to find out more.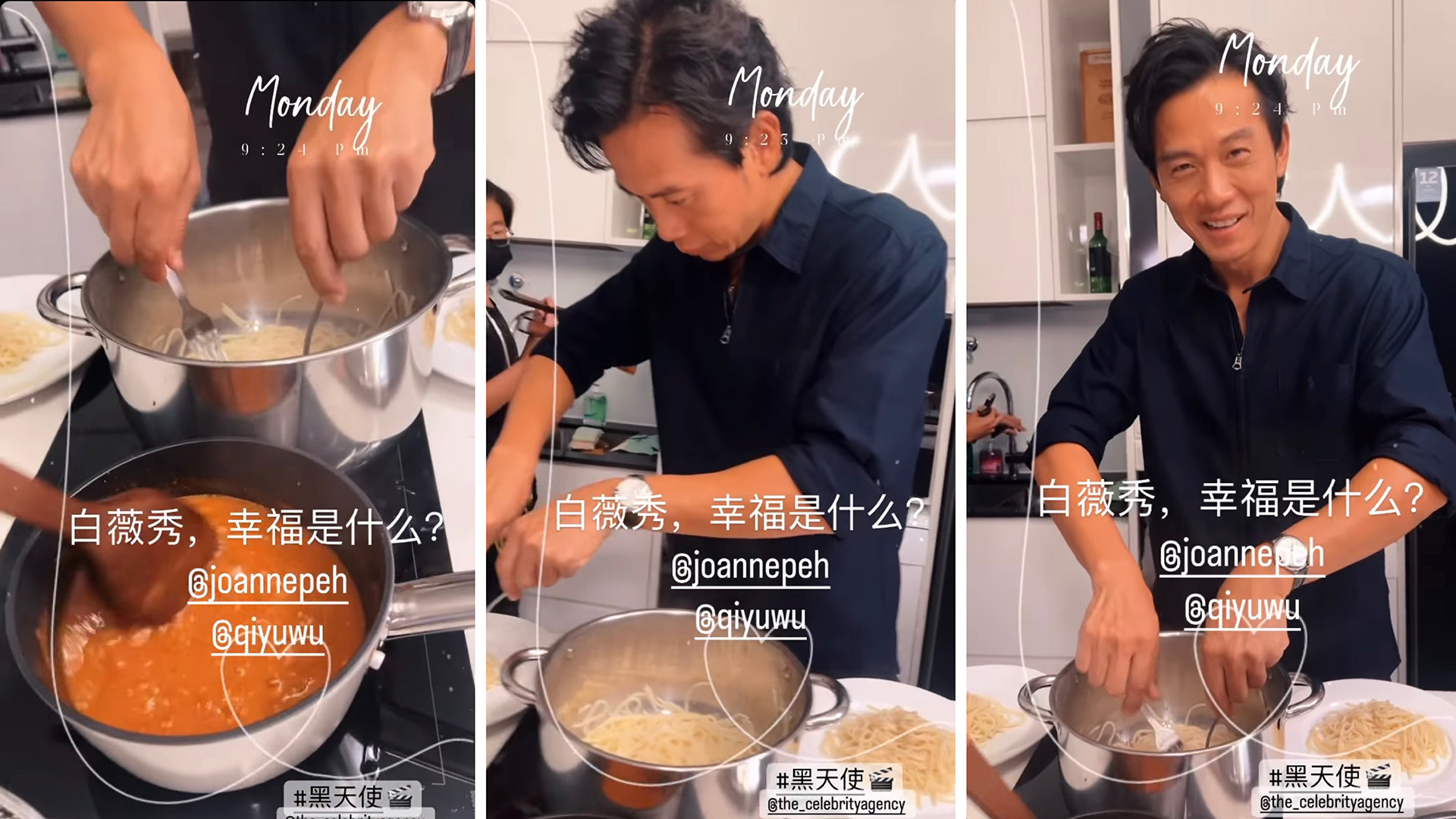 Qi Yuwu and Zoe Tay
What they ate: Pasta
Yummy factor: During a late-night filming sesh for upcoming Mediacorp drama Dark Angel, Zoe teased Yuwu by asking him what happiness meant to him, as he was whipping up what appears to be a pasta dish with a marinara sauce. You know, like what wifey Joanne Peh did over their hotpot dinner a few weeks ago. And this time, Yuwu quipped that not having to work this late at night would make him a happy man.
Cynthia Koh
What she ate: Best of Bangkok
Yummy factor: Cynthia definitely didn't hold back while vacationing in Bangkok. She was a foodie on a mission sussing out the city's aroy (Thai for delicious) eats — think street food like corn dogs and gigantic deep-fried fishballs ("crispy on the outside, soft on the inside") at the train night market, mango sticky rice at Chatuchak weekend market, and even the omelette with rice, wanton noodles and steamed chicken rice from random stalls at Soi Phetchaburi 17 were yum. No wonder she came back 1.5kg heavier.
Pierre Png
What he ate: Satay with a twist
Yummy factor: Forget your regular satay. Pierre got to taste the future of meat at Good Meat's pop-up event at zi char resto Keng Eng Kee. The satays he grilled were made from cultivated chicken meat, and he found it to be just as delish as regular poultry.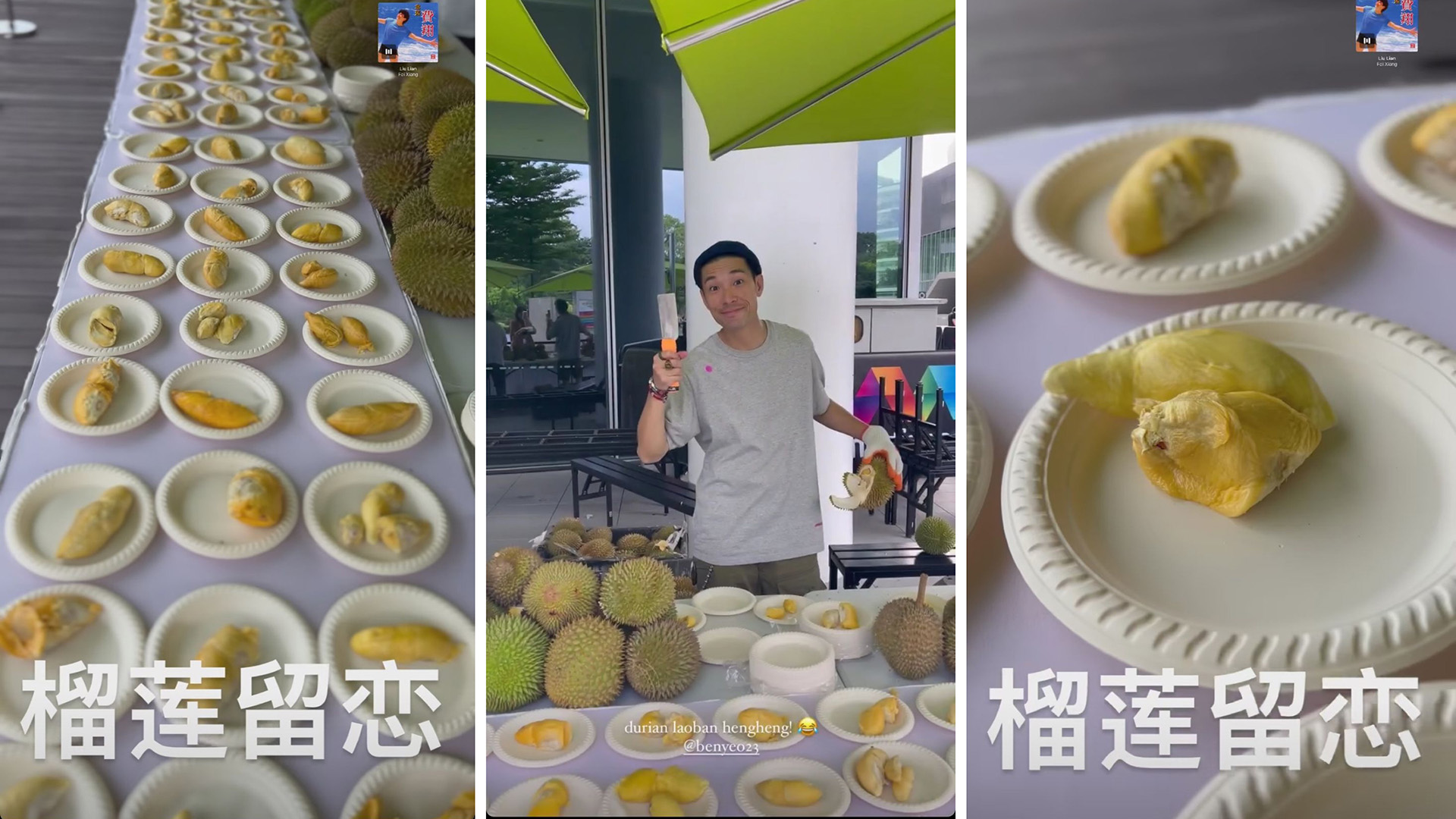 Ben Yeo
What he ate: Durian
Yummy factor: Yes, hawkerpreneur Ben sells durians too. His F&B venture — SG Mao Shan Wang — retails the bittersweet variety (as its name would suggest), and the creamy fruit proved to be a hit at a recent Mediacorp event, where the towkay was personally dehusking the prickly goodies for colleagues.
Photo: Kristy Woo/Instagram
Elvin Ng
What he ate: Yakiniku dinner
Yummy factor: Don't stop a hangry man from having his meat — especially after a long day at work.  Elvin treated himself to dinner at what looks like Japanese barbecue restaurant Gyu Kaku, where he devoured sizzling marbled beef slices, juicy scallops and buttered corn.
Hong Huifang, Chen Xiuhuan, and Sora Ma
What they ate: Fusion eats
Yummy factor: From what we can tell, the celeb pals thoroughly enjoyed their time at Italian restaurant Supply & Demand, where they had fusion eats inspired by the flavours of Japan. Think starters like deep-fried arancini (breaded Italian rice balls), toast paired with buttery uni and soft pear, as well as miso cod and a seafood-centric risotto for mains.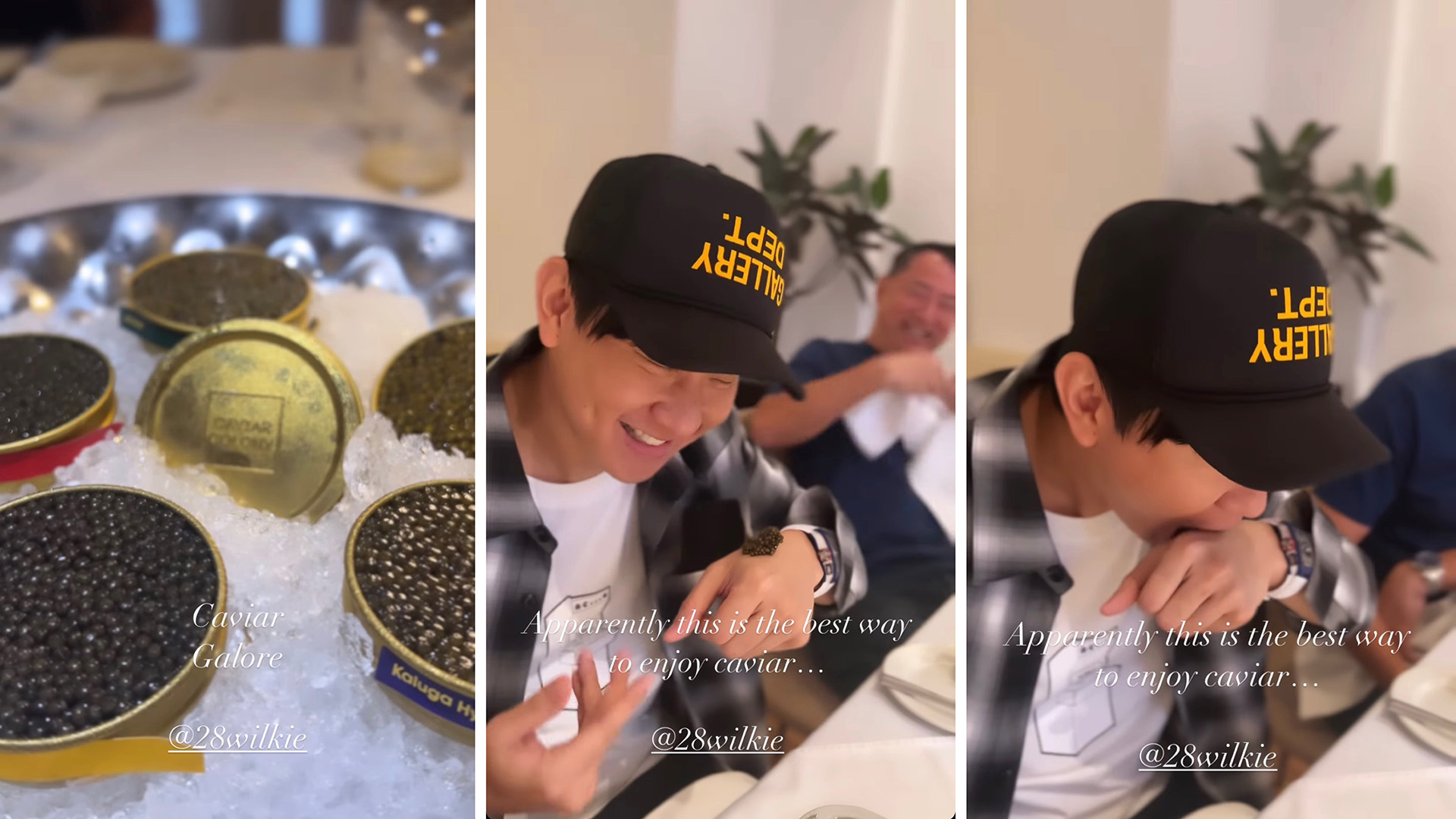 JJ Lin
What he ate: Caviar
Yummy factor: It was caviar galore at caviar bar 28 Wilkie, where JJ roe-s to the occasion and attempted to enjoy the delicacy off the back of his hand for the first time. In fact, he seemed so excited to have the treat that he almost forgot to take in the aroma of the caviar before popping it in his mouth.
Kym Ng
What she ate: Calamari
Yummy factor: Just like many of us, Kym's a creature of habit too (not that it's a bad thing). Not only does she like to dine at her usual haunts, she tends to stick to the same few menu items. And this week, the dish in question was a generous portion of fried calamari with a spritz of lemon juice — simple yet oh so satisfying.
Christopher Lee, Zed and Fann Wong
What they ate: Japanese food
Yummy factor: The June school holidays started on an exquisite note for Zed, who joined his parents Fann and Christopher for a meal at upscale Japanese restaurant Taiga Dining. And dinner was a treat for the senses that night, with menu highlights like abalone with liver sauce, crispy sakura ebi somen, and the chef's signature trio of uni hand roll enveloped in crunchy nori.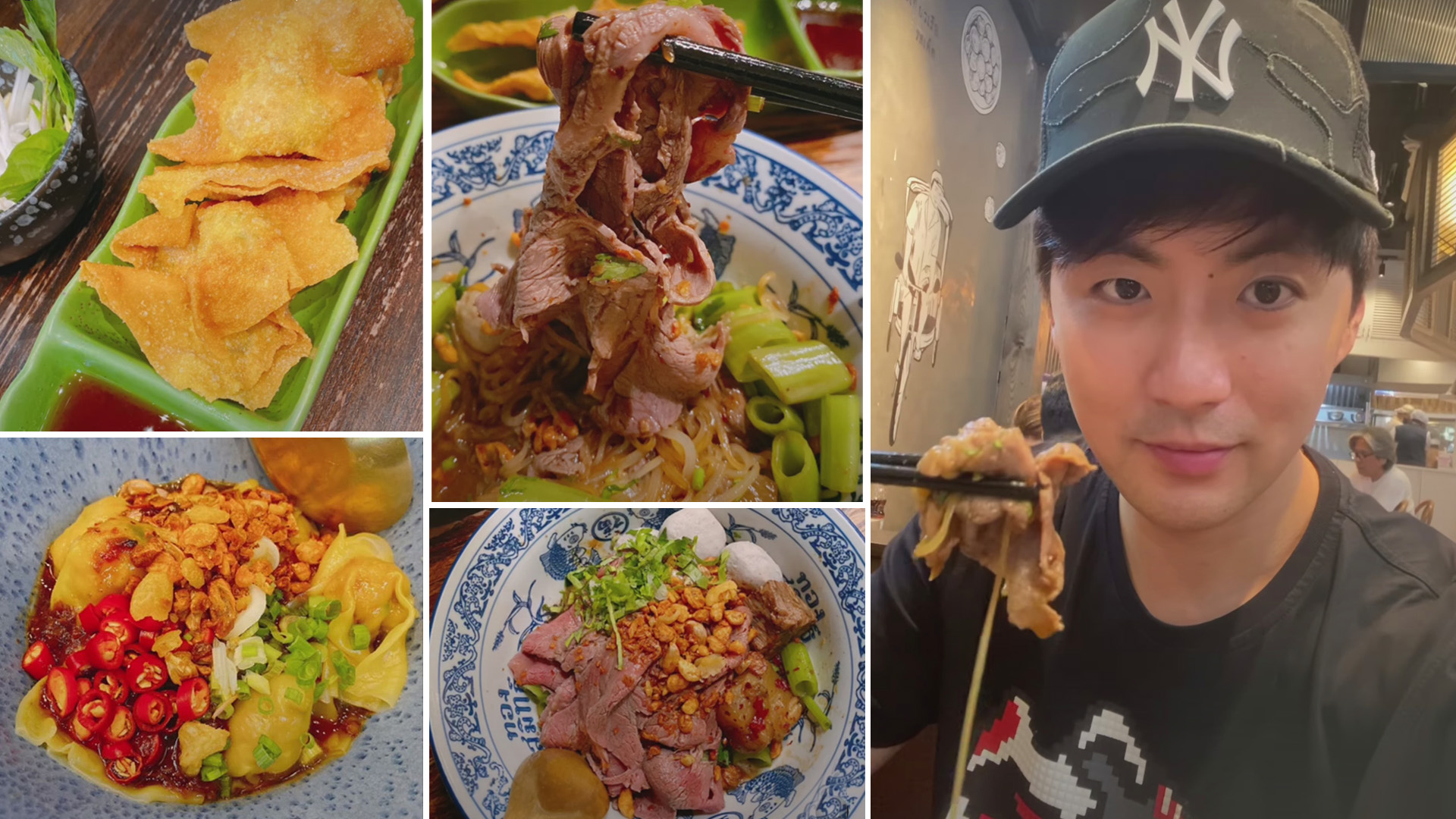 Hong Junyang
What he ate: Boat noodles
Yummy factor: Also in Bangkok this week, the towkay of The Original Boat Noodle made it a point to check out similar eateries like Thong Smith (a fave of Cynthia Koh and heiress and entrepreneur Kim Lim too) in the Thai city. And if you need recommendations, Junyang's all for D20 on the menu, an elevated version with sliced Australian wagyu ribeye, beef balls, braised shank and tendon. And it doesn't hurt to enjoy sides like steamed and fried wontons along with it, and coconut ice cream for dessert.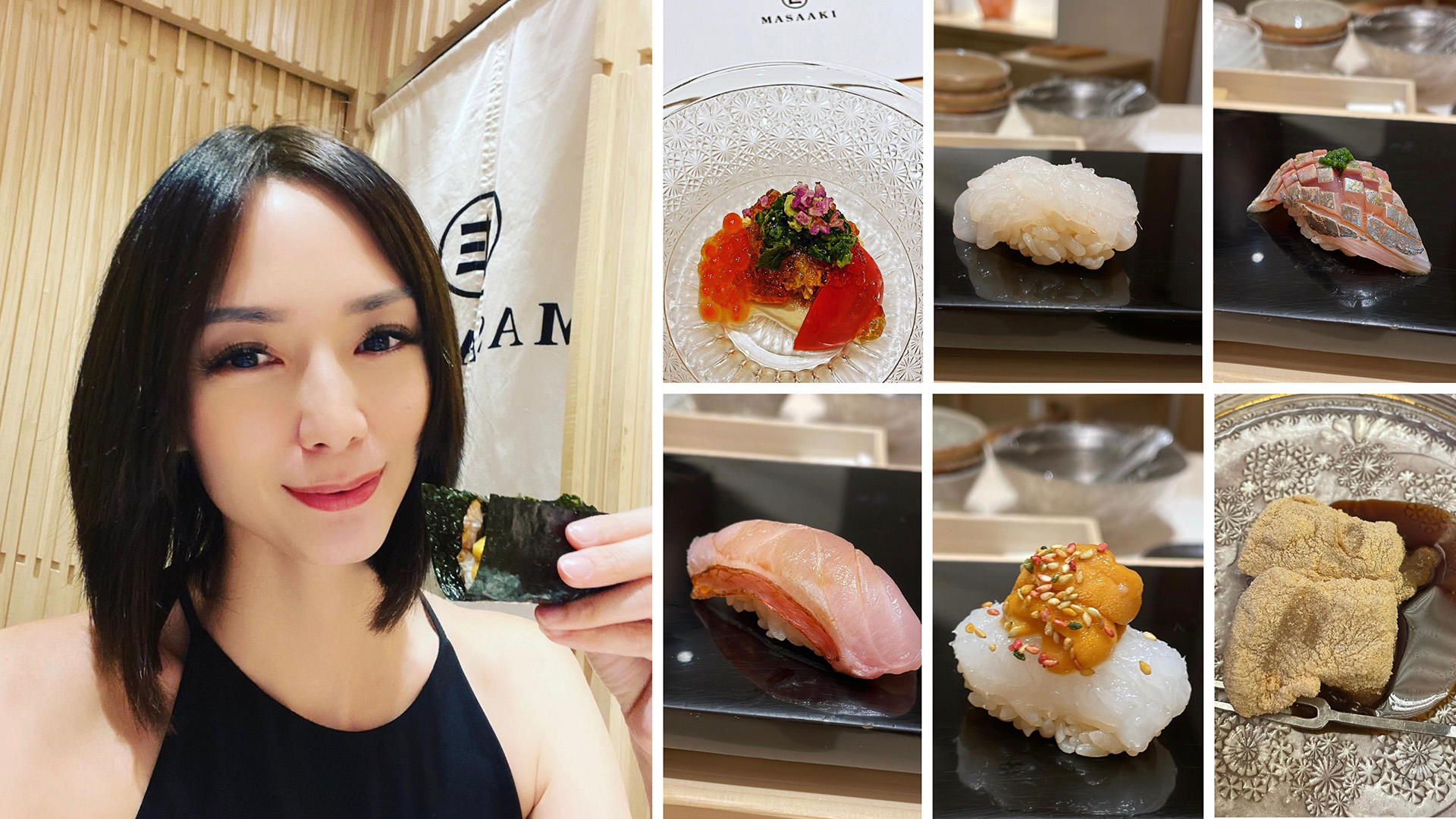 Jacelyn Tay
What she ate: Omakase dinner
Yummy factor: As impressive as dinner at Sushi Masaaki looked with the freshest seafood ingredients, one thing stole the show for Jacelyn — the sublime texture of the sushi rice and melt-in-the-mouth mochi with brown sugar. In fact, she even found herself reminiscing about her meal the day after.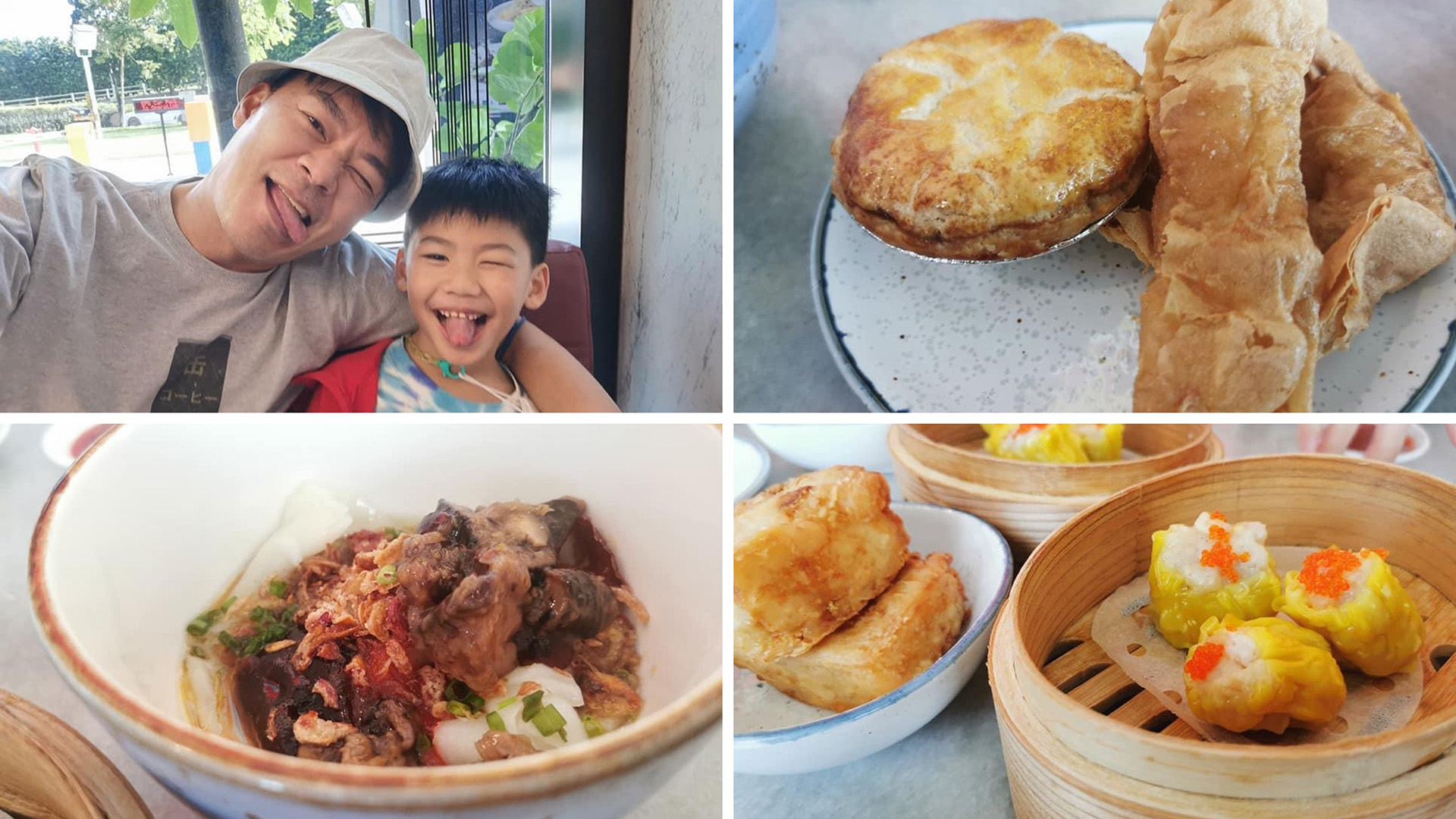 Thomas Ong
What he ate: Dim sum
Yummy factor: Dim sum is one of those things that never fails to please, so you bet Thomas was all smiles while dining at Ipoh chain Nam Heong. We spy classic dim sum items like siew mai, fried carrot cake, crispy prawn rolls, mushroom cheong fun, and more.
Vernon A and Justin Ang
What they ate: Shake Shack's latest offerings 
Yummy factor: The American burger chain's first locally-inspired menu items have arrived, and Vernon and Justin are all for it. In fact, the seasonal Sambal Mayo Burger — filled with classic nasi lemak ingredients — may just be their new favourite. The Sambal Mayo Fries, topped with crispy bacon bits and chopped scallions, was a winner in their books too.
Chen Diya
What she ate: Lor mee
Yummy factor: Famous for its namesake dish, Lor Mee 178 at Tiong Bahru Market remains as one of Diya's go-to stalls for the starchy noodles. Also, what's not to love about their signature combination of crispy shark meat nuggets, springy noodles and braised egg drenched in savoury gravy?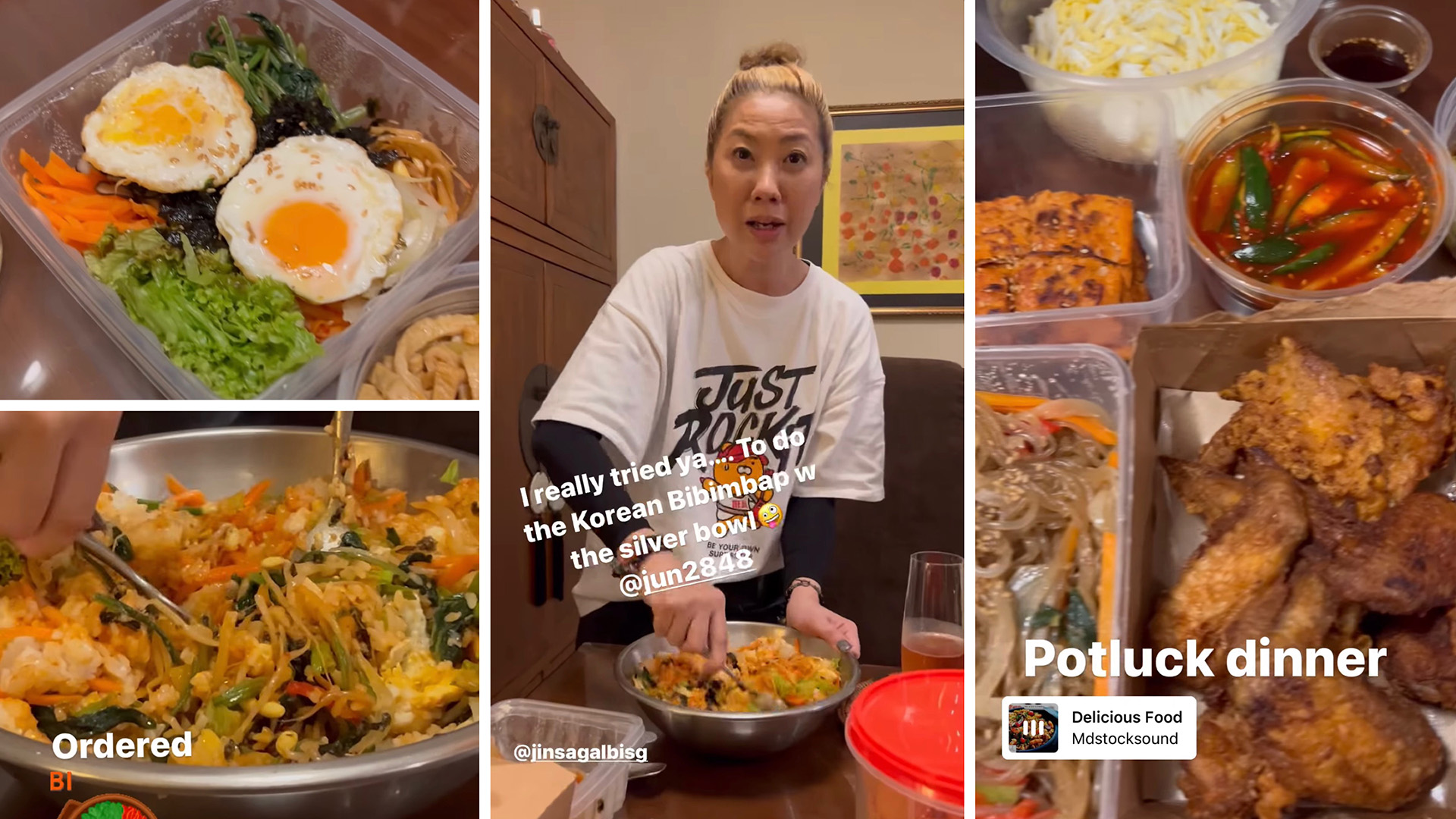 Patricia Mok
What she ate: Korean takeaway
Yummy factor: It's well-mixed or nothing for Patricia, who's very serious about her bibimbap. Korean favourites — including the rice dish, japchae, fried chicken and more — were ordered for a gathering with friends, and the foodie took it upon herself to make sure the bibimbap was mixed in a separate stainless steel bowl.
Lawrence Wong
What he ate: Cafe noms
Yummy factor: Lawrence, who is currently in Yunnan, China, took a breather from his busy schedule and spent his time relaxing at cafe Niwo. Sometimes there's just nothing quite like taking things slow and enjoying the greenery with an iced chocolate drink in hand, followed by a healthy beef steak salad.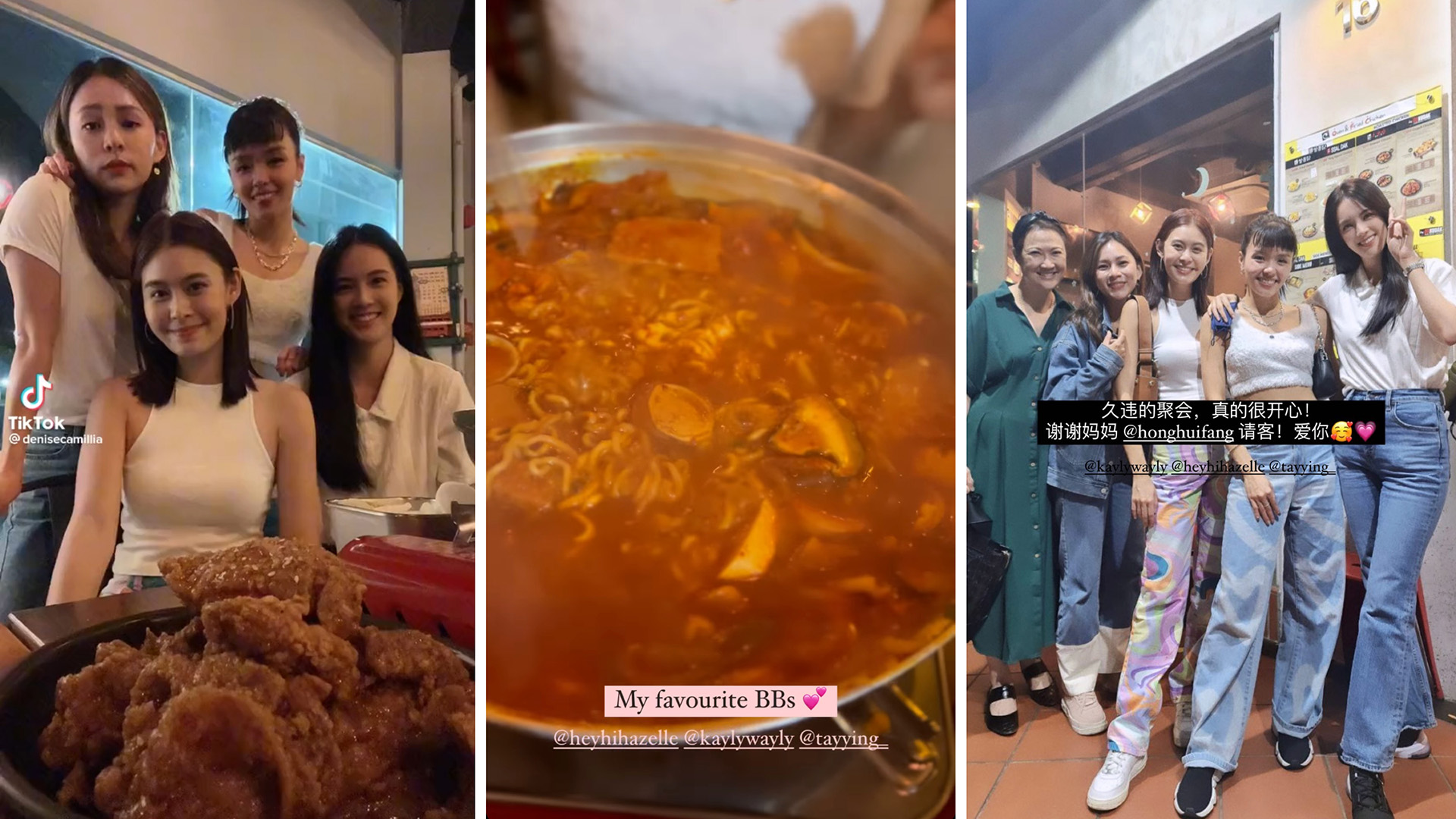 Kayly Loh, Hazelle Teo, Denise Camillia Tan, Tay Ying and Hong Huifang
What they ate: KFC (Korean fried chicken)
Yummy factor: Dinner at Korean restaurant Oven & Fried Chicken was a scrumptious affair for the dance buddies and Huifang, where the five of them indulged in generous portions of crispy fried chicken smothered in sweet soy sauce, as well as a bubbling pot of army stew.
Romeo Tan
What he ate: Holiday nosh
Yummy factor: Romeo has been living it up at the swanky Capella Ubud in Bali, and we're loving the view he gets from his balcony as he tucks into meals like nasi campur with satay and fried tempeh, as well as the classic breakfast combo of eggs, bacon and sausages.
Jae Liew
What she ate: Jajangmyeon 
Yummy factor: The 128 Circle actress' table-for-one meal at Korean restaurant Itaewon Jjajang was a pretty satisfying one that saw her slurping up a big bowl of the black bean sauce noodles with an accompanying side of tangsuyuk (K-style sweet and sour pork). Her advice? Visit with a friend — the portions are big enough for small eaters to share.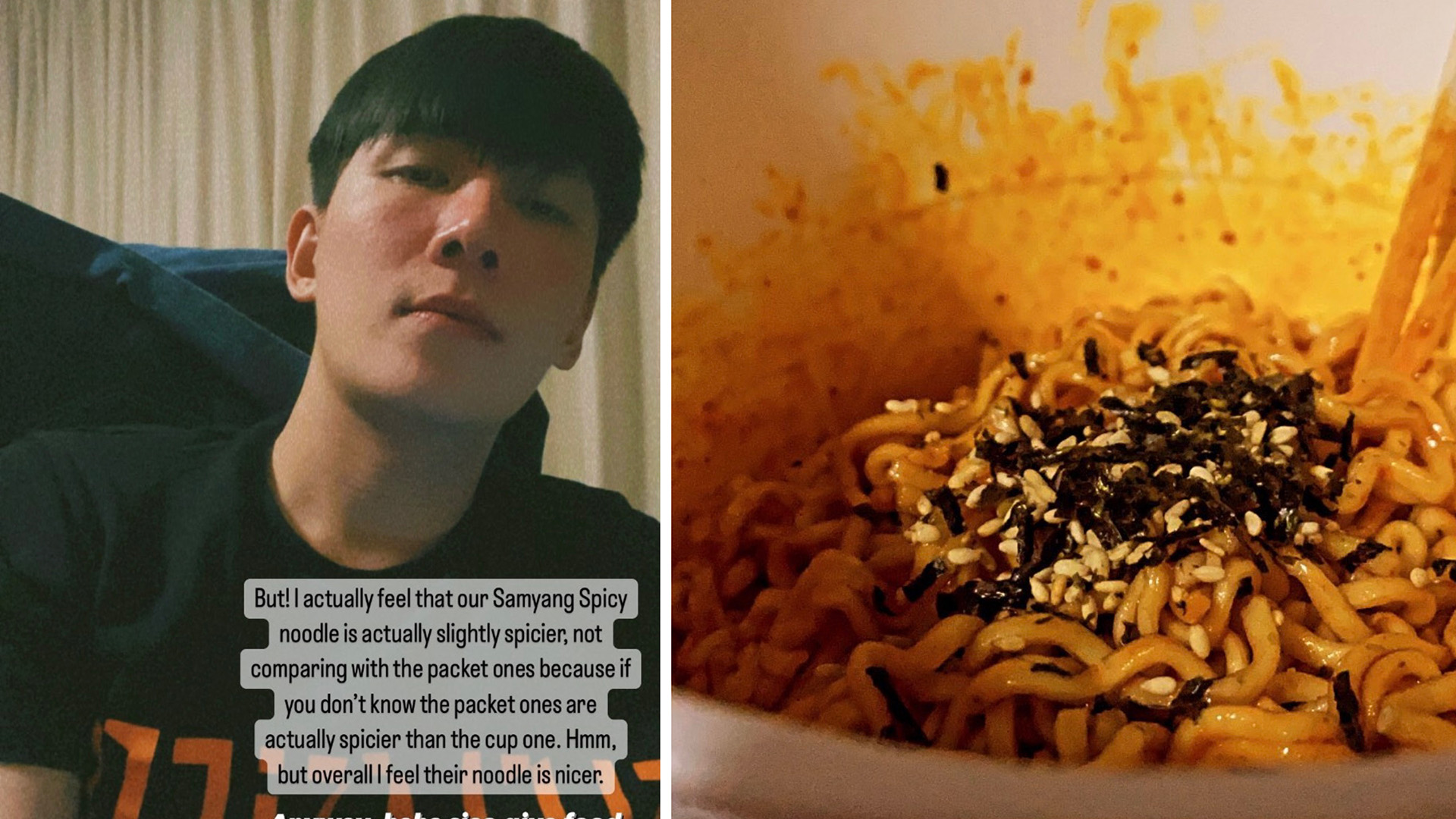 Rao Zijie
What he ate: Spicy cup noodles
Yummy factor: Is there a difference in taste between Samyang's buldak (hot chicken flavour) cup noodles found in Singapore and South Korea? Well, according to the SPOP Wave! finalist, the ones stocked locally turn up the heat a little more, and if you want your noodles even spicier, get those that come in a packet instead. In any case, he gobbled up his cup noodles in two minutes — we hope he won't regret it later whilst on the throne.