Foodie Friday: What The Stars Ate This Week (Oct 21-28)
All the photos that made us hungry this week.
It's been a week of celeb gatherings and celebrations. Fann Wong and Zed celebrated Christopher Lee's Golden Bell Best Supporting Actor win, Felicia Chin's birthday dinner turned out to be a Star Search alumni gathering of sorts, Zheng Wanling and Aileen Tan caught up over breakfast, and Justin Ang had the "best basil pork" ever. Read on for more.
Fann Wong, Christopher Lee and Zed Lee
What they ate: Luscious tarts
Yummy factor: Fann and Zed are undoubtedly Christopher's biggest cheerleaders. They celebrated Christopher's recent Best Supporting Actor win at the Golden Bell Awards with indulgent treats from Fann's online pastry shop Fanntasy Bakes — a trio of luscious tarts in festive flavours like Chestnut Mont Blanc, Brown Butter Pecan and Valrhona Chocolate. So sweet, but we can't help but LOL at Zed, who looks like he's third wheeling.
Elvin Ng, Cerlyn Neo, Aileen Tan, Jeffrey Xu, Felicia Chin, Zoe Tay and Romeo Tan
What they ate: Yunnan cuisine
Yummy factor: Check out the spread consisting of dishes like lychee prawn balls, steam pot chicken soup and beef stew. Although the celebs had gathered to celebrate Felicia's birthday (Oct 24) at Yun Nans, it turned out to be a reunion of sorts for the Star Search alumni as well. Well, except for Elvin, who joked that he was the "odd one out". He also happened to be early and the first to arrive for dinner, something that Zoe quipped was rare and worth documenting with a photo.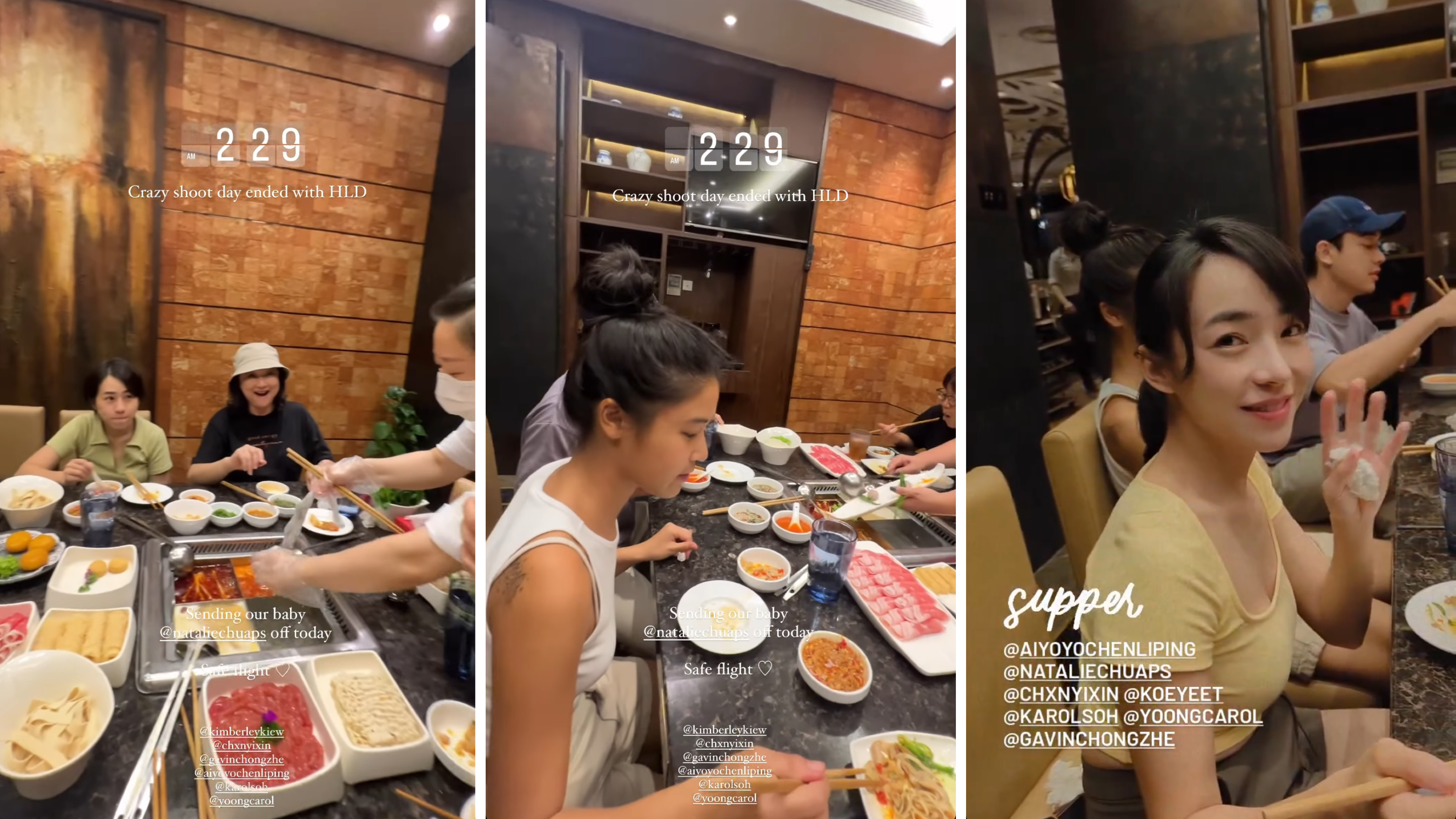 Natalie Chua, Chen Liping, Chen Yixin and Koe Yeet
What they ate: Supper
Yummy factor: The cast and crew of the second season of Mediacorp drama Titoudao work hard and play hard. Despite concluding a "crazy shoot day" in the wee hours of the morning, they headed out for supper at Haidilao for a send-off meal for fellow cast member Natalie Chua. We bet everyone was feeling ravenous and couldn't wait to get started on the meat platters and sides. Yixin's beau, Gavin Teo, made a guest appearance too.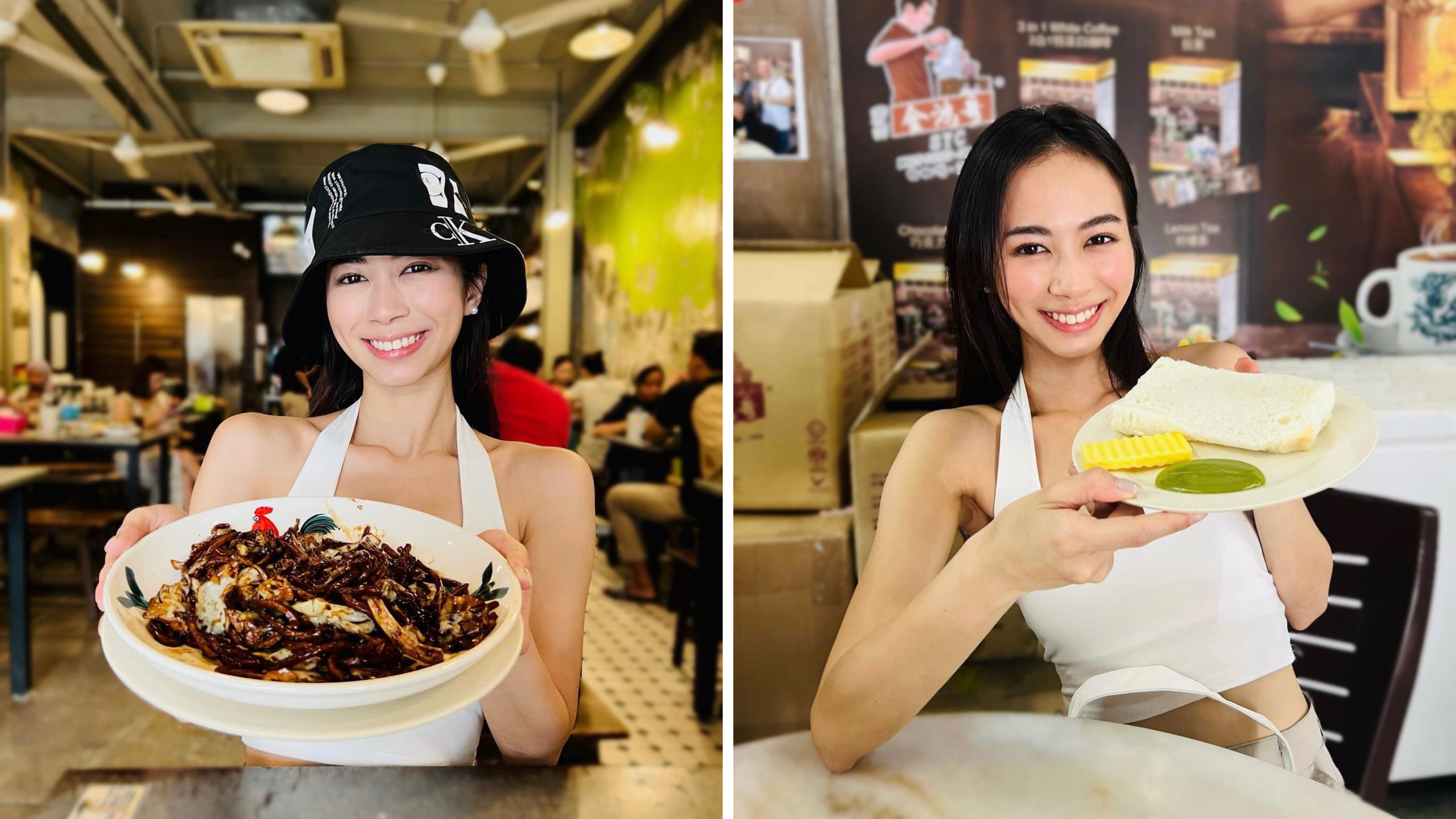 Bonnie Loo
What she ate: KL favourites
Yummy factor: A short getaway to Kuala Lumpur over the long weekend saw Bonnie letting her hair down and indulging in local favourites like KL-style Hokkien mee braised in dark soy sauce, and traditional toast with kaya and a thick slab of butter. Calories don't count on a holiday, right?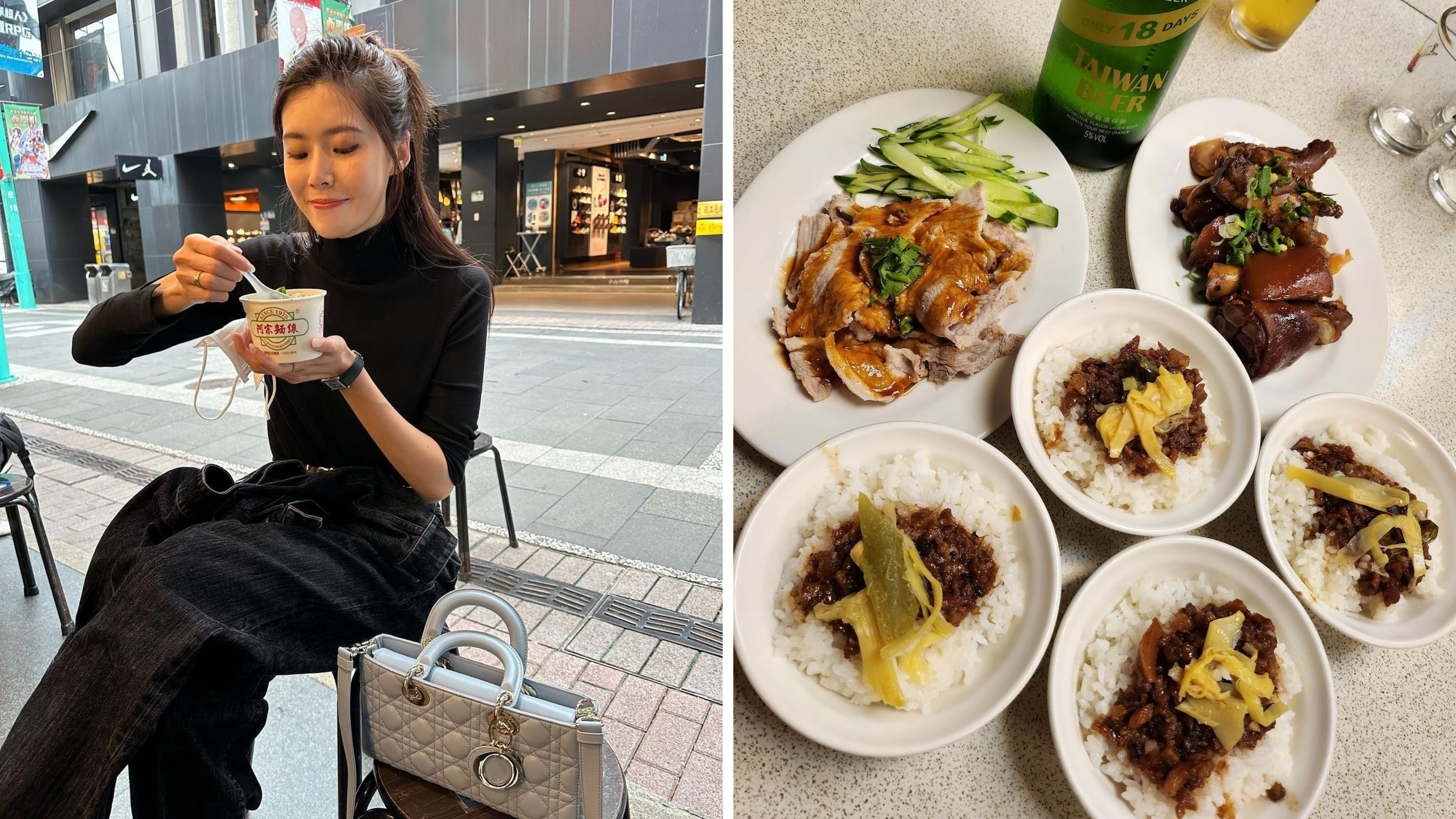 Carrie Wong
What she ate: Taiwanese street food
Yummy factor: Bonnie wasn't the only one enjoying fare while abroad. A peckish Carrie had her fill of iconic dishes like lu rou fan in Taipei, as well as silky smooth vermicelli doused in a thick bonito-infused soup from the ever-popular Ah Zong Mee Sua.
Sharon Au
What she ate: Tau sar piah
Yummy factor: Sharon (and her cat Rudon, perhaps?) couldn't contain her joy after receiving yet another surprise delivery of Loong Fatt's tau sar piah from Singapore's Ambassador to France, Ms Foo Teow Lee. After all, it was just last month when Sharon had the chance to savour the traditional mung bean pastries at the Ambassador's residence.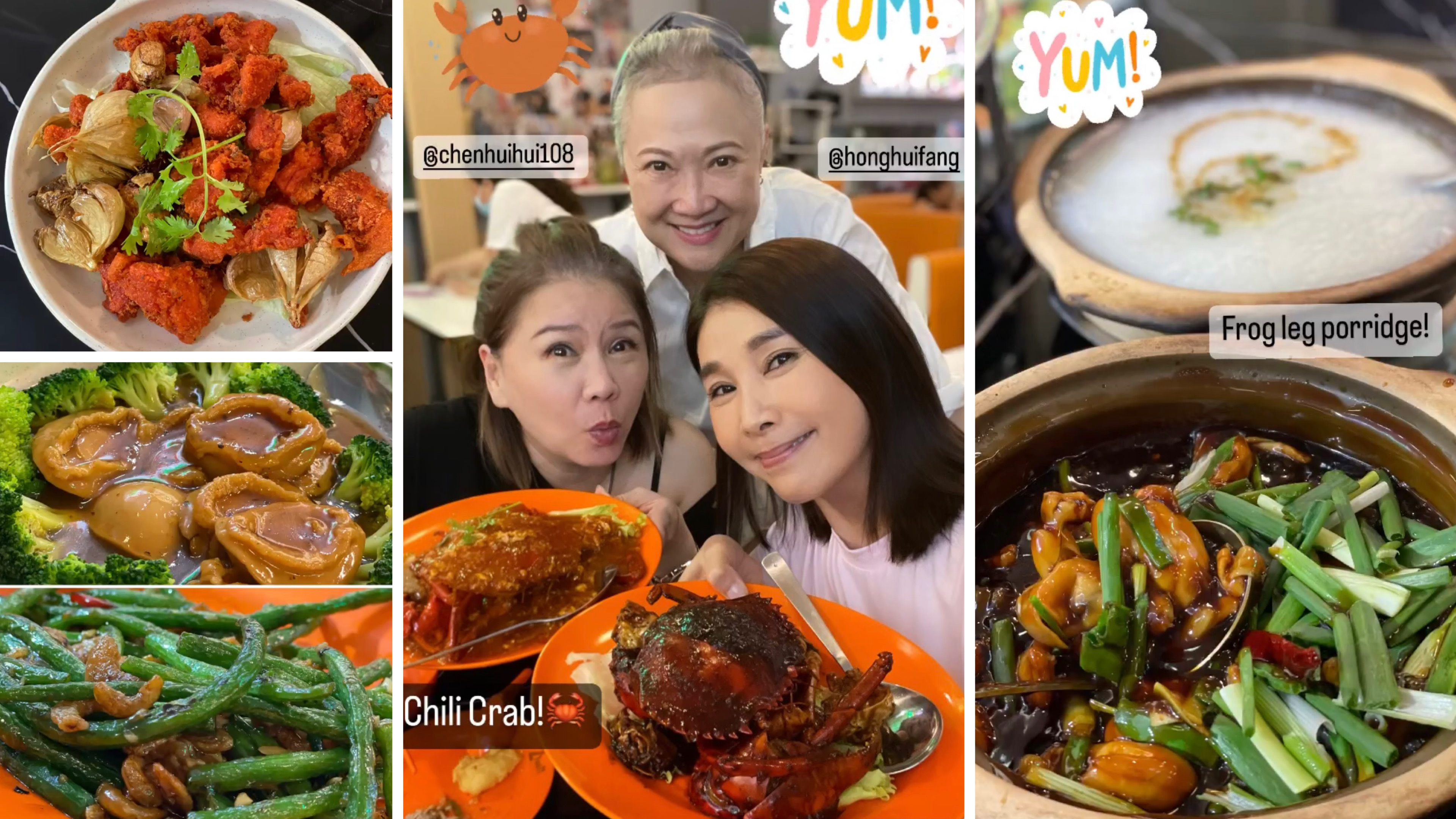 Chen Huihui, Hong Huifang and Chen Xiuhuan
What they ate: Hearty dinner
Yummy factor: Safe to say, the actresses ate to their hearts' delight at Dragoncity Claypot Frog Porridge. Sweater weather probably made their piping hot dinner even more enjoyable — think thick porridge paired with shiok dishes like claypot kung pao frog legs, fried pork belly perfumed with garlic, as well as chilli and black pepper crabs.
Joanne Peh
What she ate: Leisurely breakfast
Yummy factor: Although Joanne's family vacation in Phuket had been marred by torrential rain, she did get to enjoy some morning sunshine while having her breakfast. Well, rain or shine, nothing's stopping her from enjoying her breakfast pastry with wholesome additions like cheese, greens, fried bacon and a sunny-side-up.
Jernelle Oh, Ann Kok, Herman Keh, Sheryl Ang, Zhang Zetong, Gini Chang and Chen Hanwei
What they ate: Chiffon cakes from Cotton Chiffon
Yummy factor: A mid-day treat is always welcomed, especially when it's from your generous boss. The cast of long-form drama Healing Heroes definitely perked up after receiving boxes of chiffon cakes in flavours like rose lychee, earl grey, and pandan.
Watch the first episode of Healing Heroes here: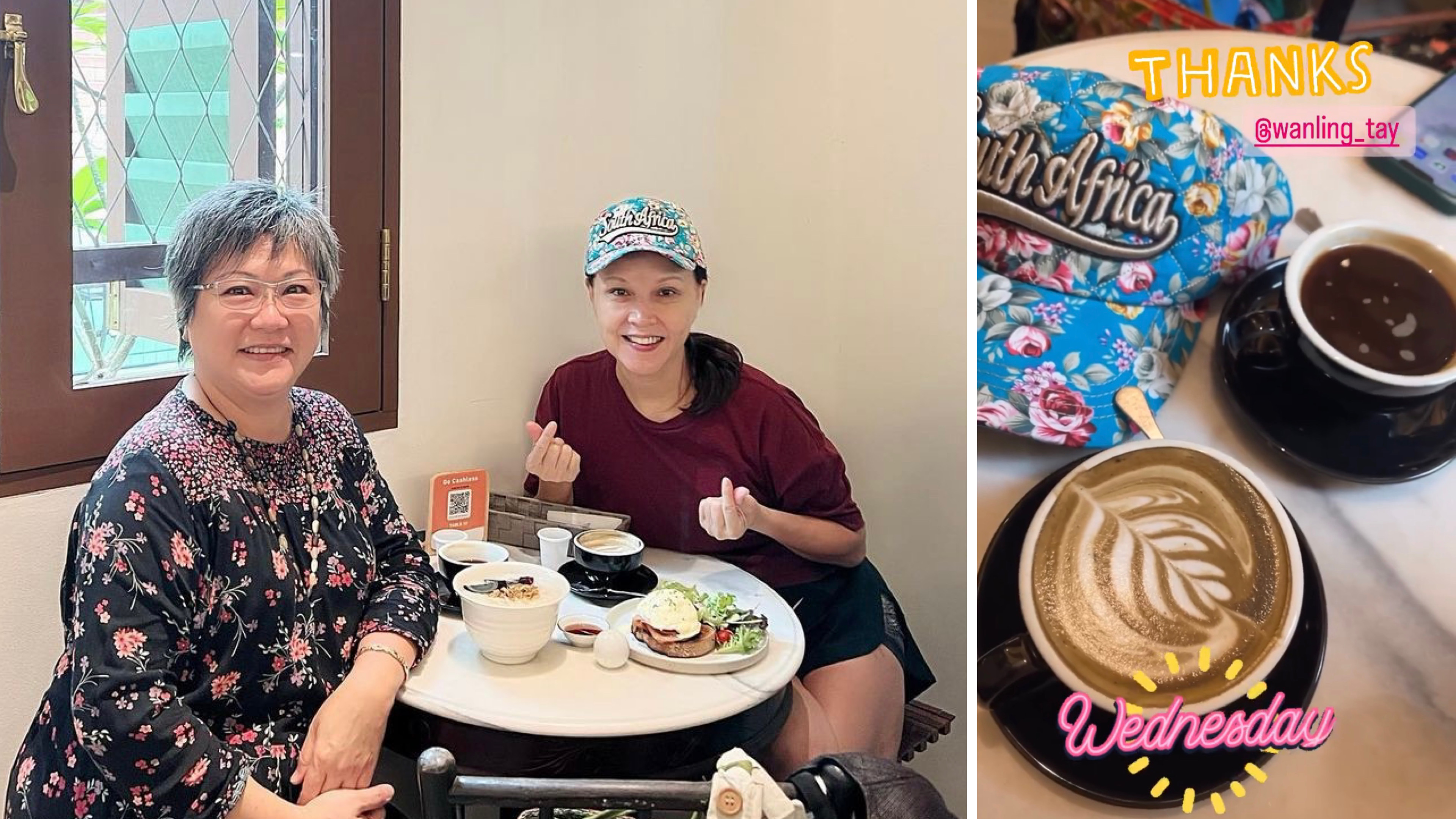 Zheng Wanling and Aileen Tan
What they ate: Breakfast
Yummy factor: The celeb pals met up bright and early for coffee and breakfast at 1932 Story Cafe, where Wanling had century egg porridge while Aileen opted for eggs on toast. And since they had met up for Aileen's belated birthday celebration (she turned 56 on Oct 18), Wanling gifted her an floral cap embroidered with "South Africa" too — a nod to her time in the country as a diplomat's wife.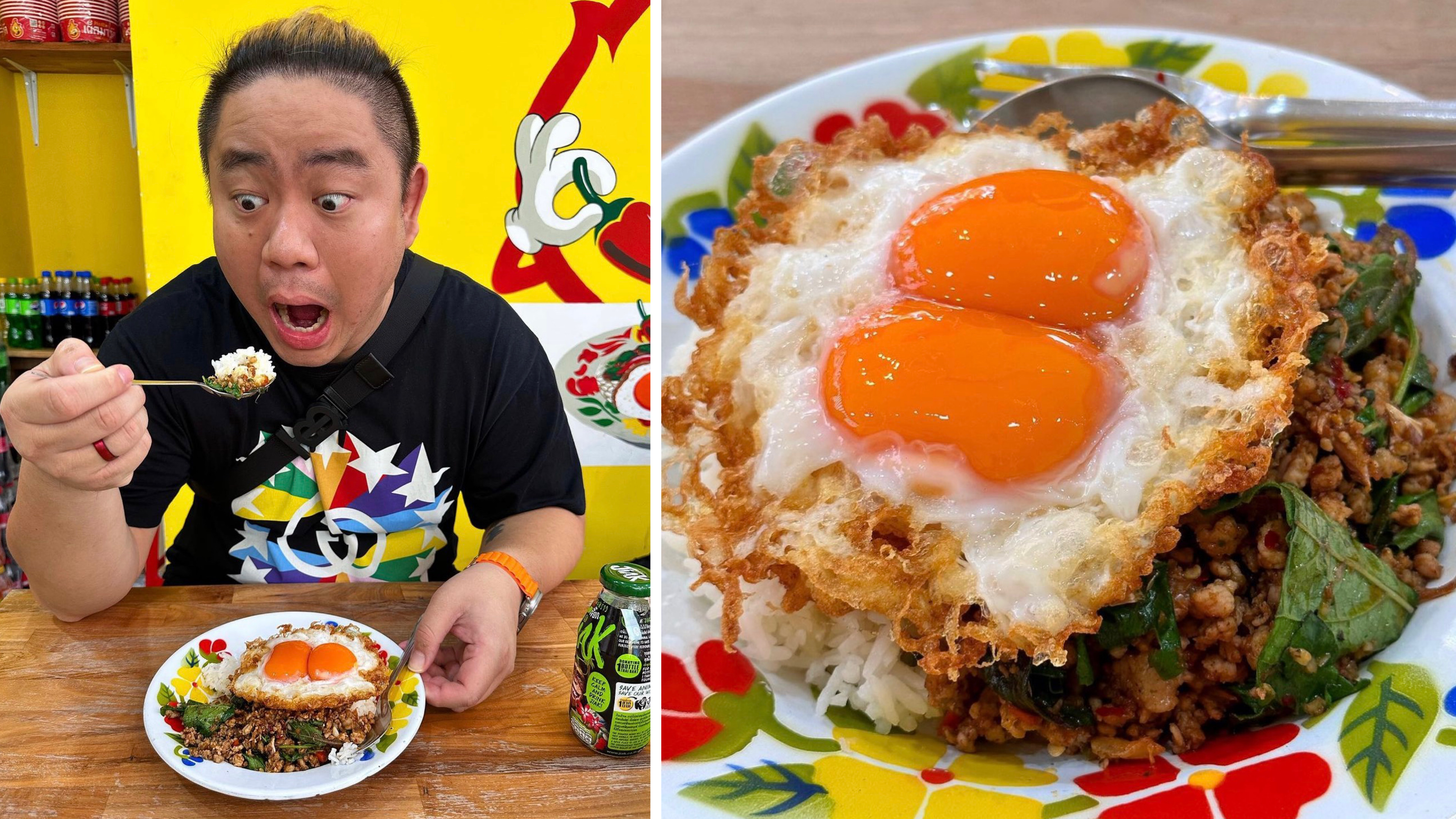 Justin Ang
What he ate: Thai basil pork rice
Yummy factor: It's official — Justin has found the best basil pork he's ever had at Phed Mark in Bangkok. Helmed by food vlogger Mark Wiens and his wife Ying, the Thai restaurant does an egg-cellent rendition of the dish, complete with fried duck eggs and beautifully runny yolks. Can't take the heat? There are five levels of spiciness to choose from (Justin went for level two). Just be prepared to wait though — the space is small and seats are limited.
Denise Camillia Tan
What she ate: Idyllic lunch
Yummy factor: Denise managed to squeeze in a brunch sesh — comprising iced coffee and squid ink aglio olio tossed with fresh seafood — at Riders Cafe before the popular establishment closes for good in early 2023 after 15 years. After all, it's not every day you get a view of equestrians tending to their horses while savouring cafe grub.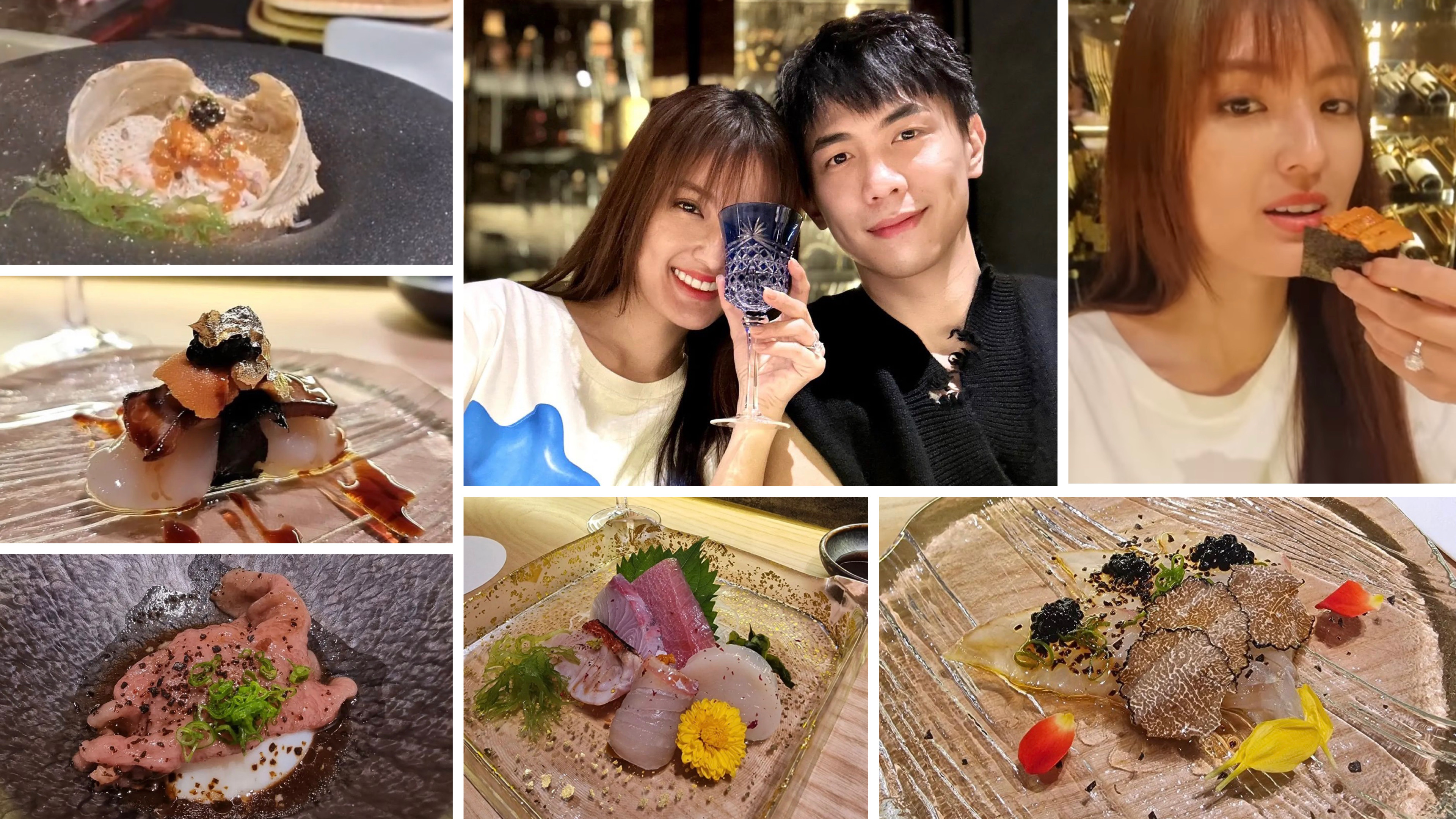 Hong Ling and Nick Teo
What they ate: Japanese omakase
Yummy factor: Hong Ling and Nick's idea of a date night? Heading to Sushi Yujo for a decadent omakase experience peppered with culinary theatrics. The engaged couple spent their evening savouring curated eats like sushi topped with uni, fresh sashimi and citrus yuzu crab sprayed liberally with edible gold dust.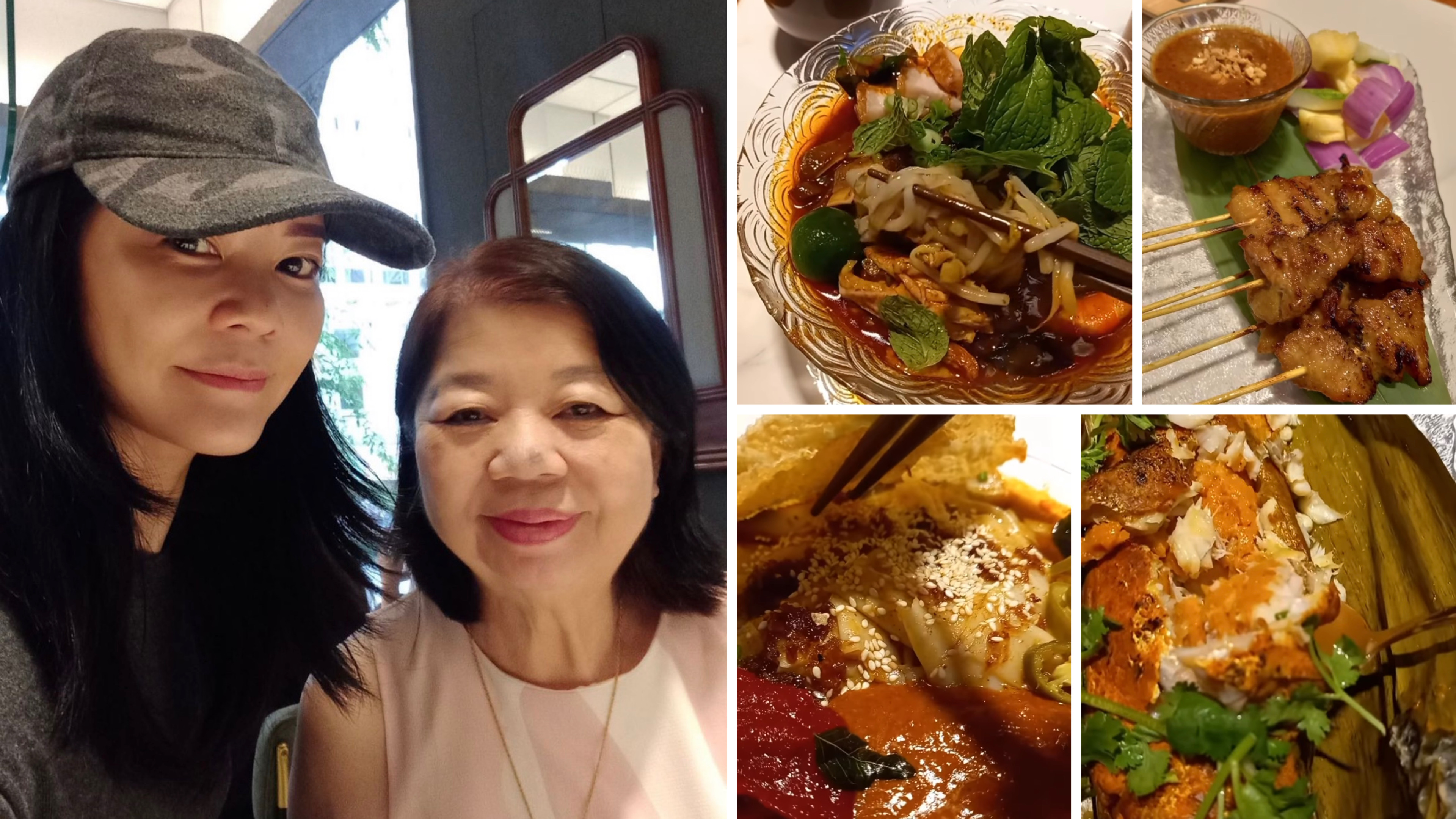 Michelle Chong
What she ate: Ipoh specialities
Yummy factor: Since Papa Chong is on vacation in Europe, Michelle made time for a mum and daughter date at Small Tables, a newly-opened cafe serving jazzed-up Ipoh specialties. Michelle recommends getting the curry hor fun, whole fish otah, chee cheong fun paired with fried beancurd skin and curry, as well as the pork belly satay, which she says is "the bomb".
Kym Ng
What she ate: Korean grub
Yummy factor: From Korean barbecue to bibimbap and bubbling stews and soups with rice, Kym certainly made the most out of her trip to Jeonju, a foodie paradise in South Korea. And aside from Korean favourites, she also indulged in some wine and lobster pasta for a change too.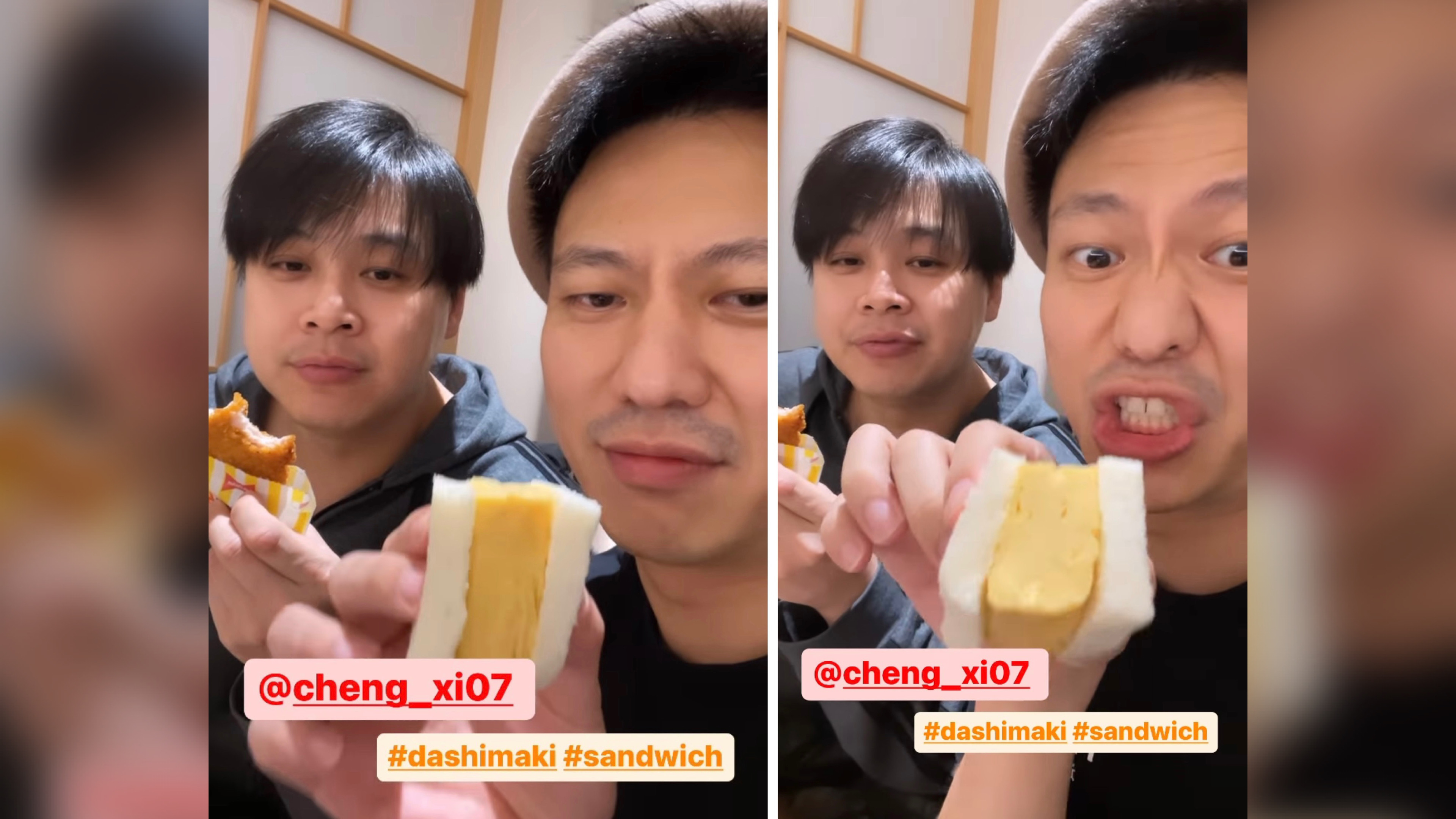 Kang Chengxi and Pornsak
What they ate: Japanese snacks
Yummy factor: As it seems, the supper buddies and live streaming partners are pretty different when it comes to their choice of snacks in Japan. Cheng Xi prefers the deep-fried Famichiki (fried chicken) from convenience store chain FamilyMart, while Pornsak can't do without his soft and moist dashimaki (rolled pan-fried eggs) sandwich.
Eelyn Kok
What she ate: Celebratory dinner #2
Yummy factor: Remember Eelyn's "celebratory dinner #1" for her 12th wedding anniversary earlier in the month? Well, here's part two may and it may just be her fave yet — especially with culinary creations like caviar and uni atop seared foie gras, Japanese-style garlic steak and sashimi. Wonder if there is gonna be a third celebration.
Evelyn Tan
What she ate: Late dinner
Yummy factor: After a long work day, Evelyn couldn't be happier that her husband had brought her to supper haunt Sin Chie Toke Huan for dinner (albeit a late one). At 11pm, she found herself digging into comforting minced meat porridge, as well as a satisfying bowl of chendol topped with grass jelly, red beans and pandan jelly to end her meal on a sweet note.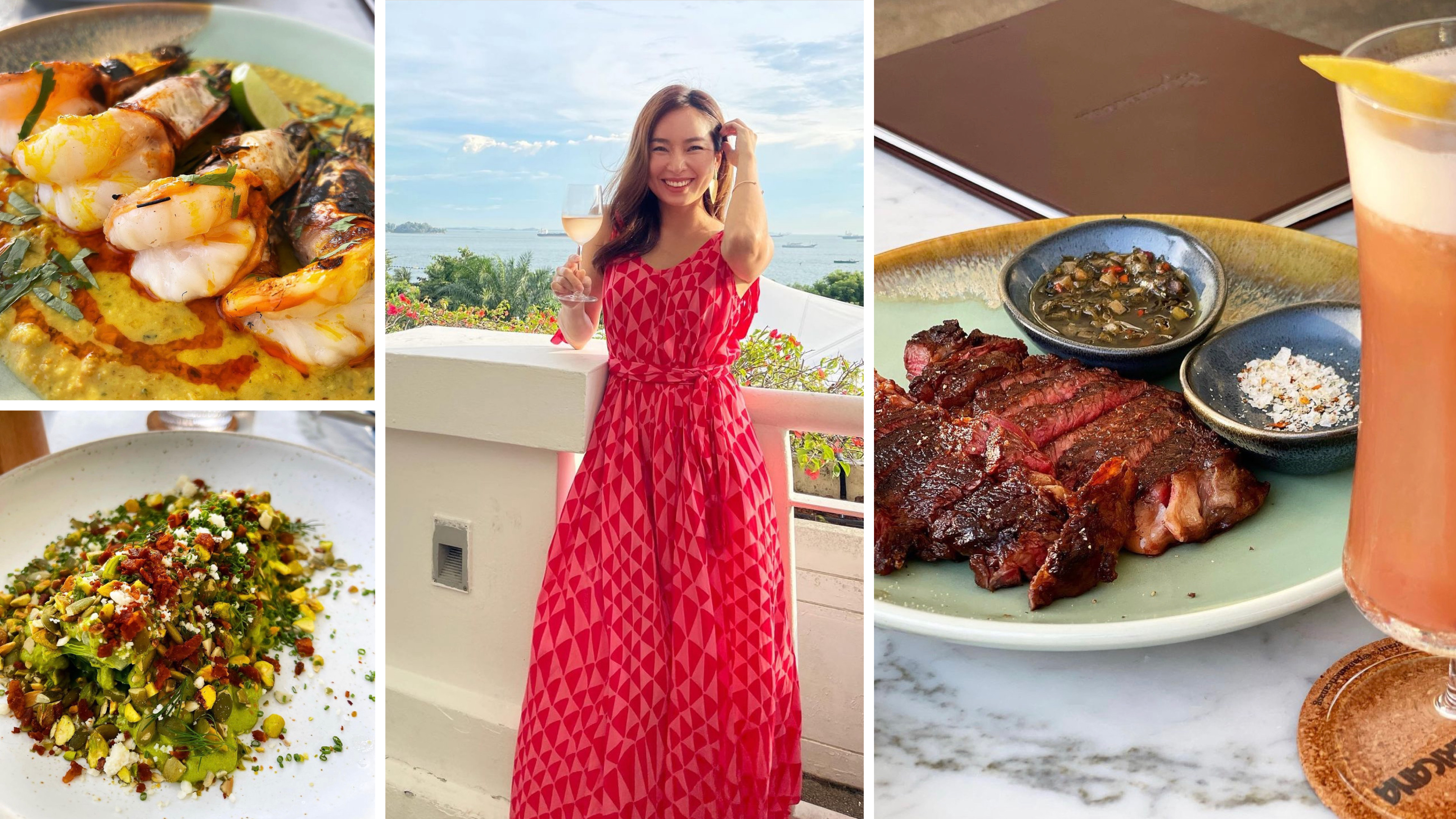 You Yi
What she ate: Al fresco dinner
Yummy factor: You Yi lived her best life at casual bar and grill resto Panamericana, where she got to enjoy the sunset while sipping on cocktails and enjoying nibbles like grilled prawns and steak. Even the salad — topped with crushed pistachios and crispy bacon bits — looked delish.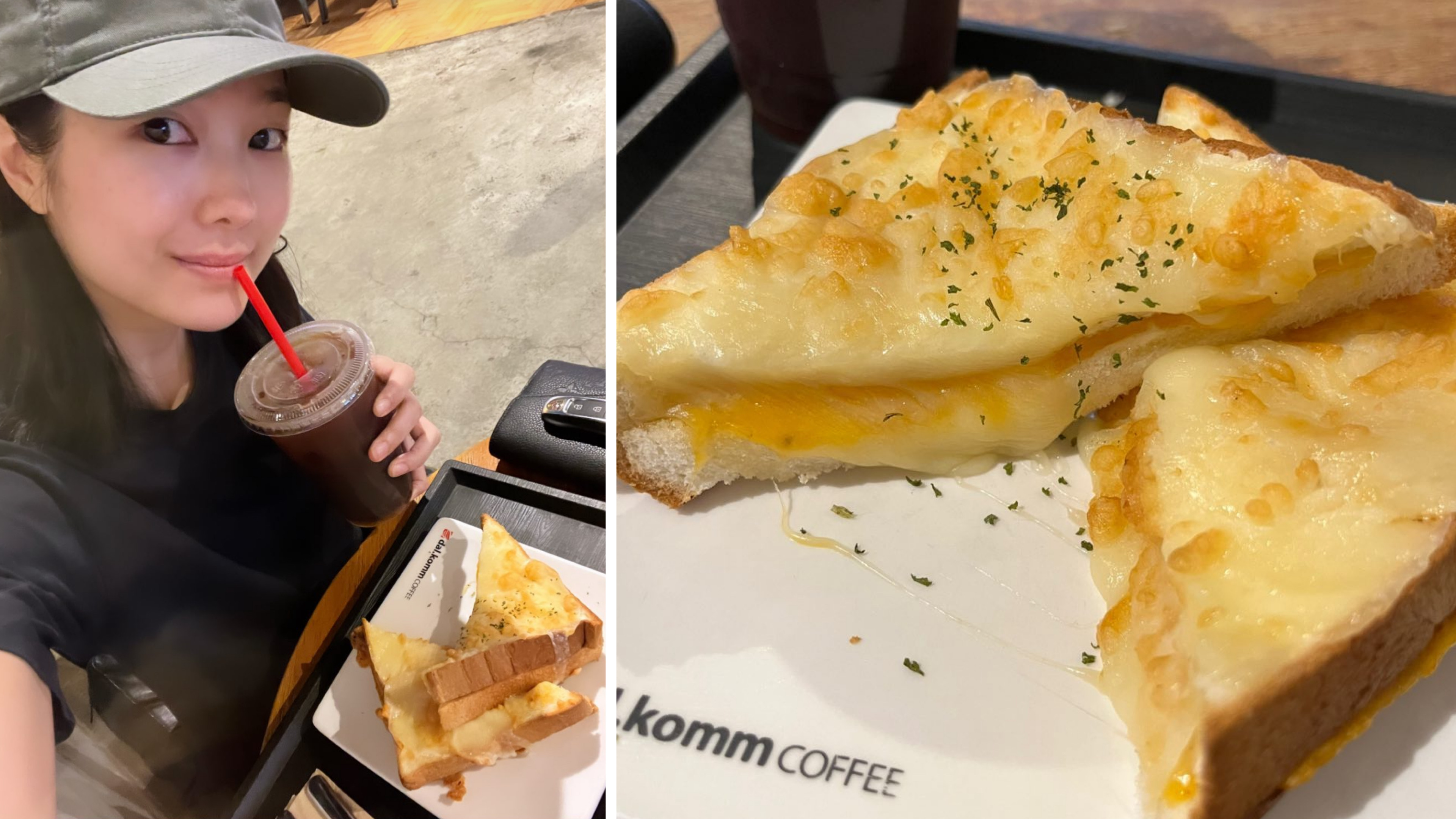 Ferlyn Wong
What she ate: Cheese toast
Yummy factor: Ferlyn spent some me-time earlier on Wednesday at Korean coffee chain Dal.komm Coffee, where she ordered herself an iced Americano and a garlic cheese sandwich - she just couldn't resist the sight of gooey melted cheese.