Foodie Friday: What The Stars Ate This Week (Sep 23-30)
All the photos that made us hungry this week.
This week, JJ Lin whipped up a couple of brews at his cafe, Class 95 DJs Vernon A and Justin Ang helped create a Singapore-exclusive crazy shake for American diner Black Tap, and Sora Ma, Yvonne Lim, Chen Xiuhuan and Hong Huifang had plenty to celebrate over dinner. And if you're a fan of nostalgic nosh, Kym Ng has an old-school mee siam stall to recommend. Read on for more.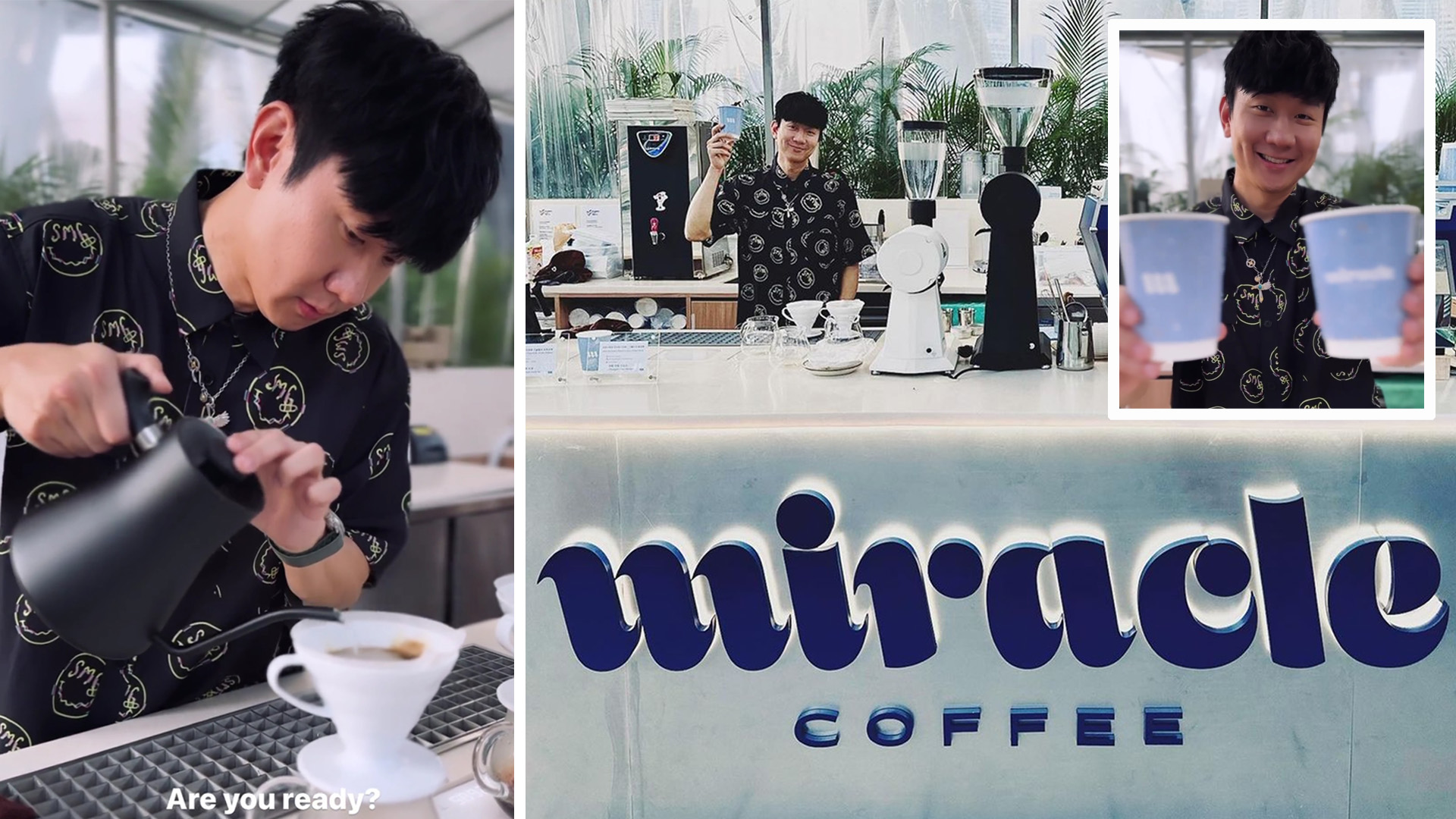 JJ Lin
What he drank: Hand-dripped coffee
Yummy factor: Not only can JJ sing, he can brew a good cuppa too. The towkay unleashed his inner barista, whipping up a couple of pour overs before the opening of the pop-up for his café Miracle Coffee today (Sep 30). Fingers crossed we can snag a cup of his hand-dripped coffee.
Jacelyn Tay
What she ate: Curry chicken
Yummy factor: Who knew chowing down a bowl of rich curry chicken could potentially reap so many health benefits when eaten in moderation? Jacelyn showed off her shiok meal while extolling the virtues of it; spicy foods can help with pain management, and curry often contains turmeric, which has anti-inflammatory properties. Time to enjoy some gravy with rice, perhaps?
Vernon A and Justin Ang
What they ate: Locally-inspired milkshake
Yummy factor: If you've been hoping for a locally-inspired flavour from American diner Black Tap's repertoire of CrazyShakes, your wish may have just been granted. Together with founders Julie and Christopher Barish, the Muttons got creative and tried out all sorts of flavours, from milo shake to Wang Zai milkshake to create a Singapore-exclusive shake. Eventually, the winning combination was a pandan and milo dinosaur version, complete with a slice of Singapore's national cake, pandan chiffon cake. Who's looking forward to a refreshed menu?
Shane Pow
What he ate: Chicken omu rice
Yummy factor: For his cheat meal this week, Shane relished a generous serving of omu rice with Japanese curry and tender grilled chicken leg from Hoshino Coffee. Although in all honesty, it wasn't all that sinful, especially with the decent amount of greens on the side.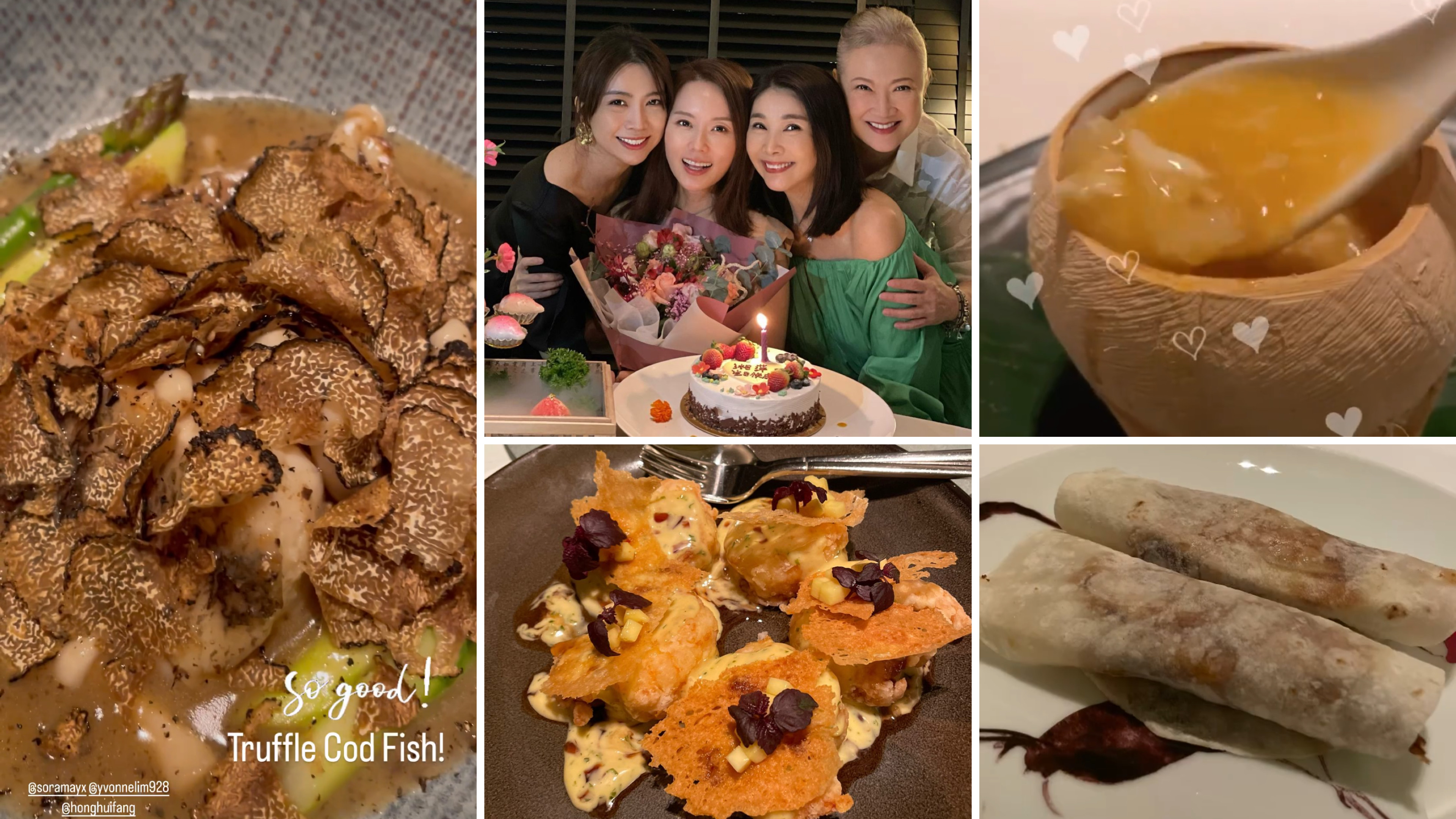 Sora Ma, Yvonne Lim, Chen Xiuhuan and Hong Huifang
What they ate: Celebratory spread
Yummy factor: It was twice the happiness for the quartet as they dined at Madame Fan's to celebrate both Yvonne's birthday (Sep 28) and Huifang's Best Actress nomination at the Golden Horse Awards for her role in upcoming film Ajoomma. The spread sure looked worthy of the festive mood too, with dishes like truffle cod fish, peking duck, wasabi prawns, and crab meat soup.
Kym Ng
What she ate: Mee siam
Yummy factor: In search of nostalgic flavours for Mediacorp variety show Old Taste Detective 4, Kym checked out Jia Xiang, an old-school mee siam stall at Redhill Food Centre, and slurped up a delightful bowl of tangy and spicy goodness in the name of work. The best part? That hearty bowl of noodles only cost $3.50.
Catch the first episode of Old Taste Detective 3 below: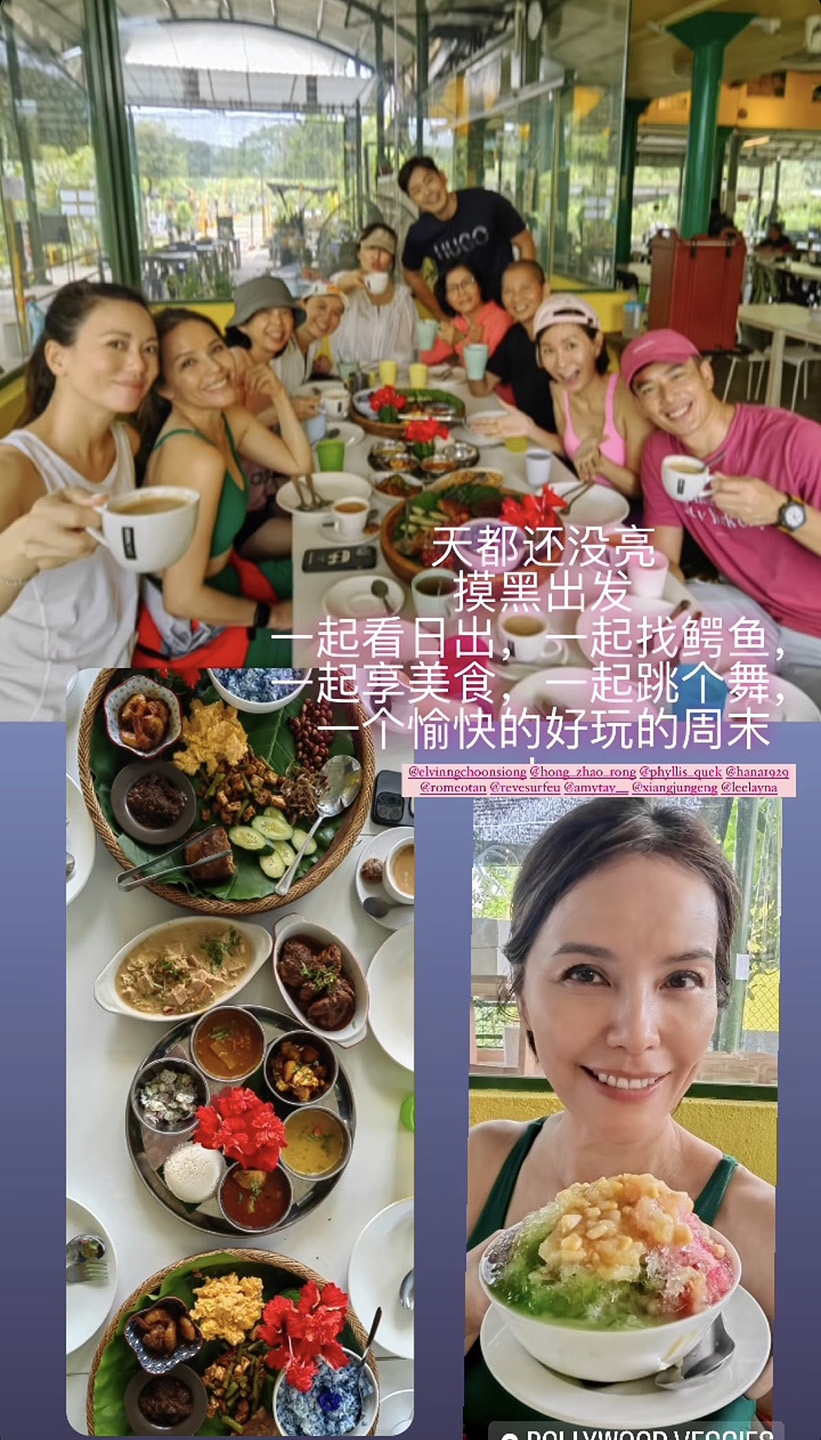 Phyllis Quek, Zoe Tay, Romeo Tan, Hong Zhaorong, and Elvin Ng
What they ate: Fancy nasi lemak
Yummy factor: The stars' post-hike meals never fail to disappoint, and this week was no exception. After an exceptional morning catching the sunrise together, they headed to Bollywood Veggies for delicious platters of nasi lemak comprising blue pea coconut-infused rice and rich sides like rendang and sambal goreng. As for Zoe, she got herself an ice kacang for dessert as well to beat the heat.
Joanne Peh
What she ate: Filipino cheese bread
Yummy factor: A hungry Joanne was greeted with the sight of steaming hot bread after filming the final episode of Streamers Go Live. Topped with melted cheese, Joanne was initially unimpressed at how messy it looked after being microwaved. However, despite its unassuming appearance, the snack tasted like a savoury cupcake and proved to be a delish supper. 
YES 933 DJs 

Lim Pin Juen, Gao Mei Gui and Siau Jia Hui
What they ate: Claypot delights
Yummy factor: The YES 933 DJs had a steaming hot time at Lau Wang Claypot Delights, where they pampered their taste buds with the restaurant chain's signature claypot dishes like sliced fish and pig offals stir-fried with ginger, onion and housemade black sauce. Coupled with other items like fried ngoh hiang, chap chye and herbal soup, the trio probably had a food coma after.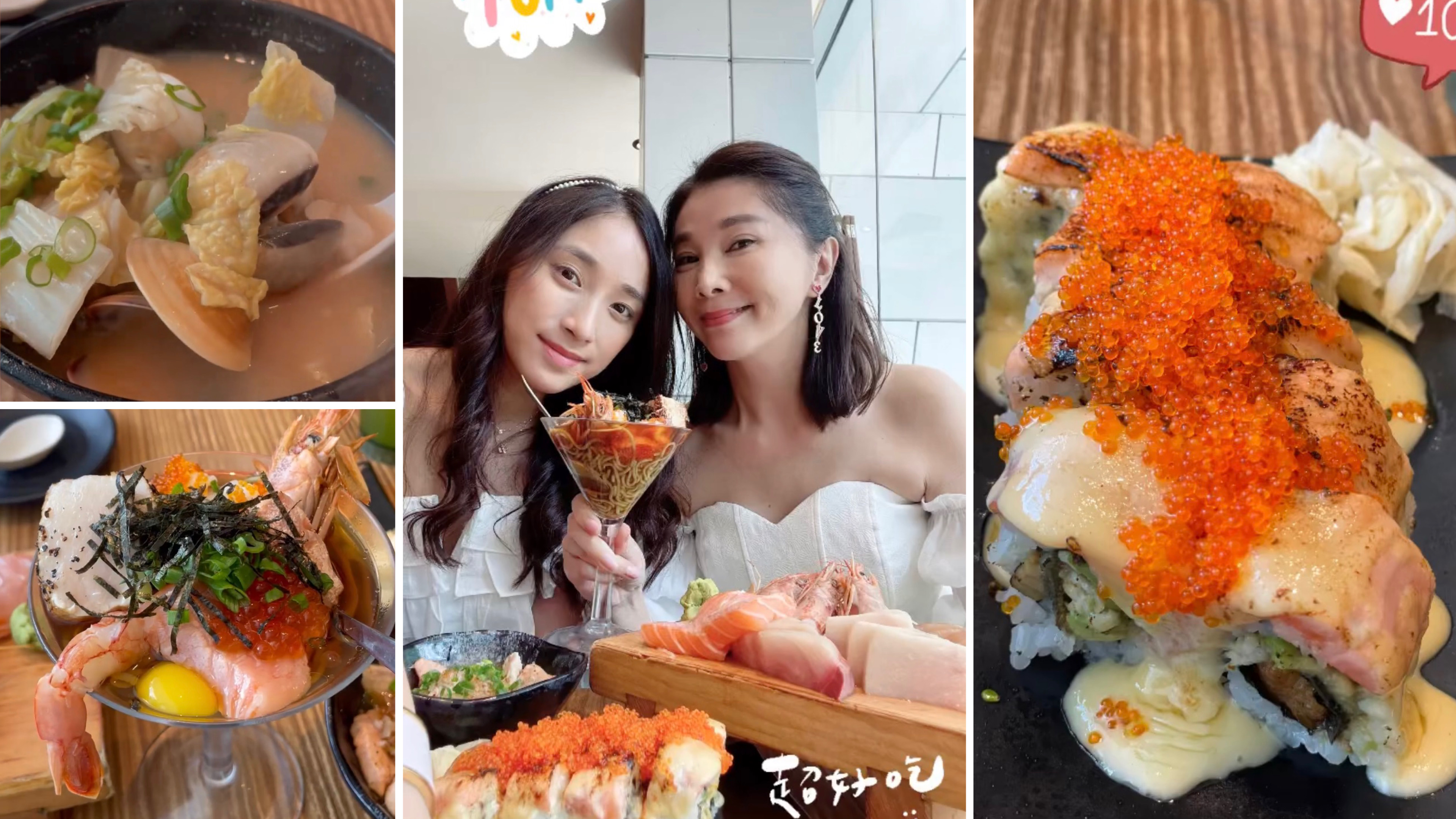 Chen Xiuhuan
What she ate: Japanese eats
Yummy factor: Xiuhuan and her daughter Shalynn Tsai's lunch at Koh Grill & Sushi Bar was a sumptuous affair to say the least — think fresh sashimi, savoury clam soup, soba served in a cocktail glass with seafood and more. And for Xiuhuan, the restaurant's signature Shiok Maki rolls topped with aburi salmon slices, luscious shrimp roe and cheesy sauce are a must to try.
Sharon Au 
What she ate: Tau sar piah 
Yummy factor: A tasty surprise awaited Sharon earlier this week, thanks to Singapore's Ambassador to France, Ms Foo Teow Lee. The Ambassador's husband had just returned from Singapore with Loong Fatt's tau sar piah, and it was promptly served that very afternoon to her fellow Singaporean guests, including Sharon and Paris-based designer Andrew Gn. For the former Mediacorp host, it was a walk down memory lane as she used to pop by the bakery's Balestier outlet to get a box or two of the piping hot pastries while she was still working at Caldecott Hill.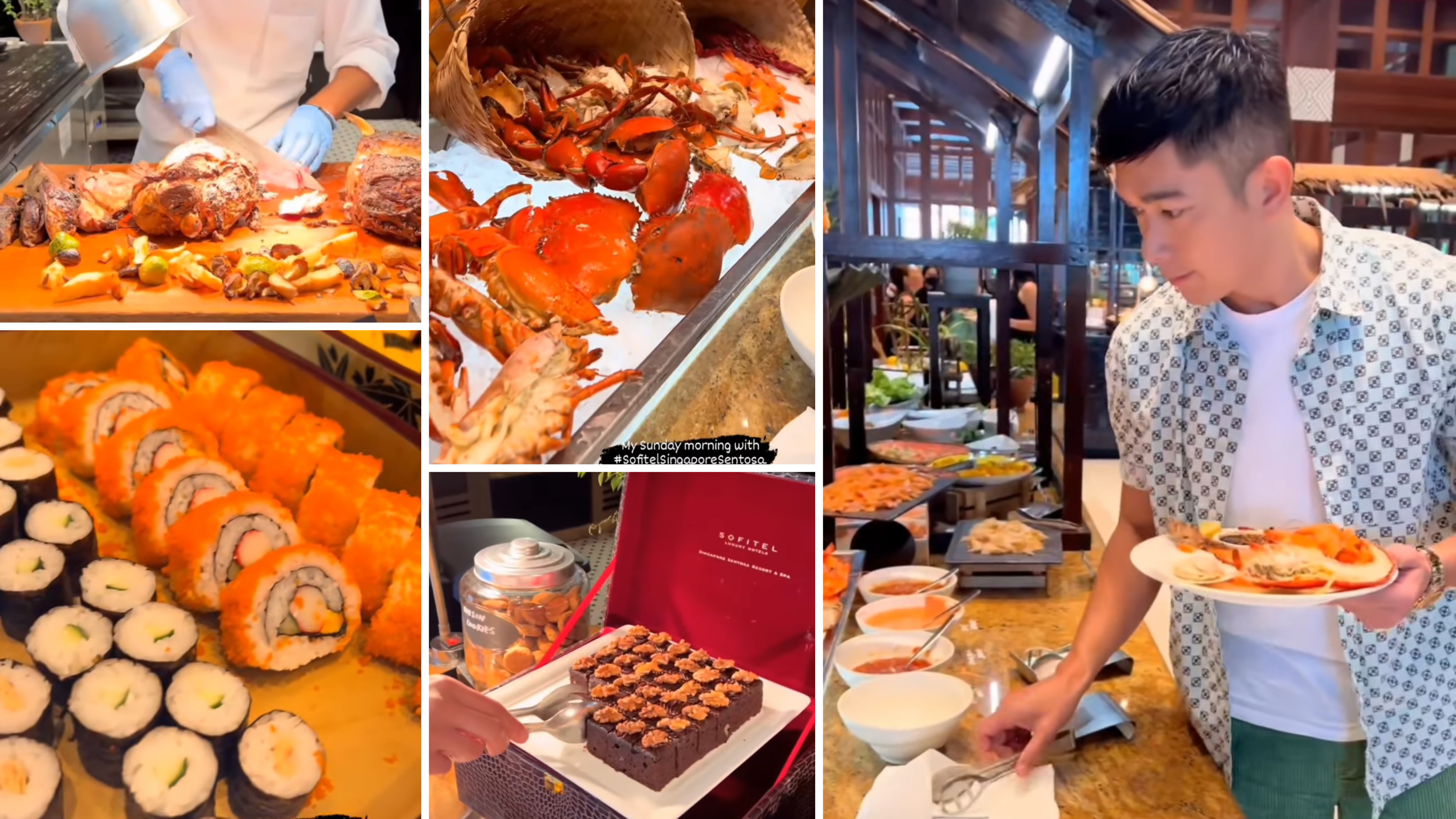 Elvin Ng
What he ate: Brunch buffet
Yummy factor: Elvin spent his Sunday morning in the best way possible — by eating to his heart's content at Sofitel Singapore Sentosa's brunch buffet. There, he savoured everything from roasted lamb leg and sushi rolls to lobsters and crabs. And of course he had to indulge his sweet tooth with a brownie or two.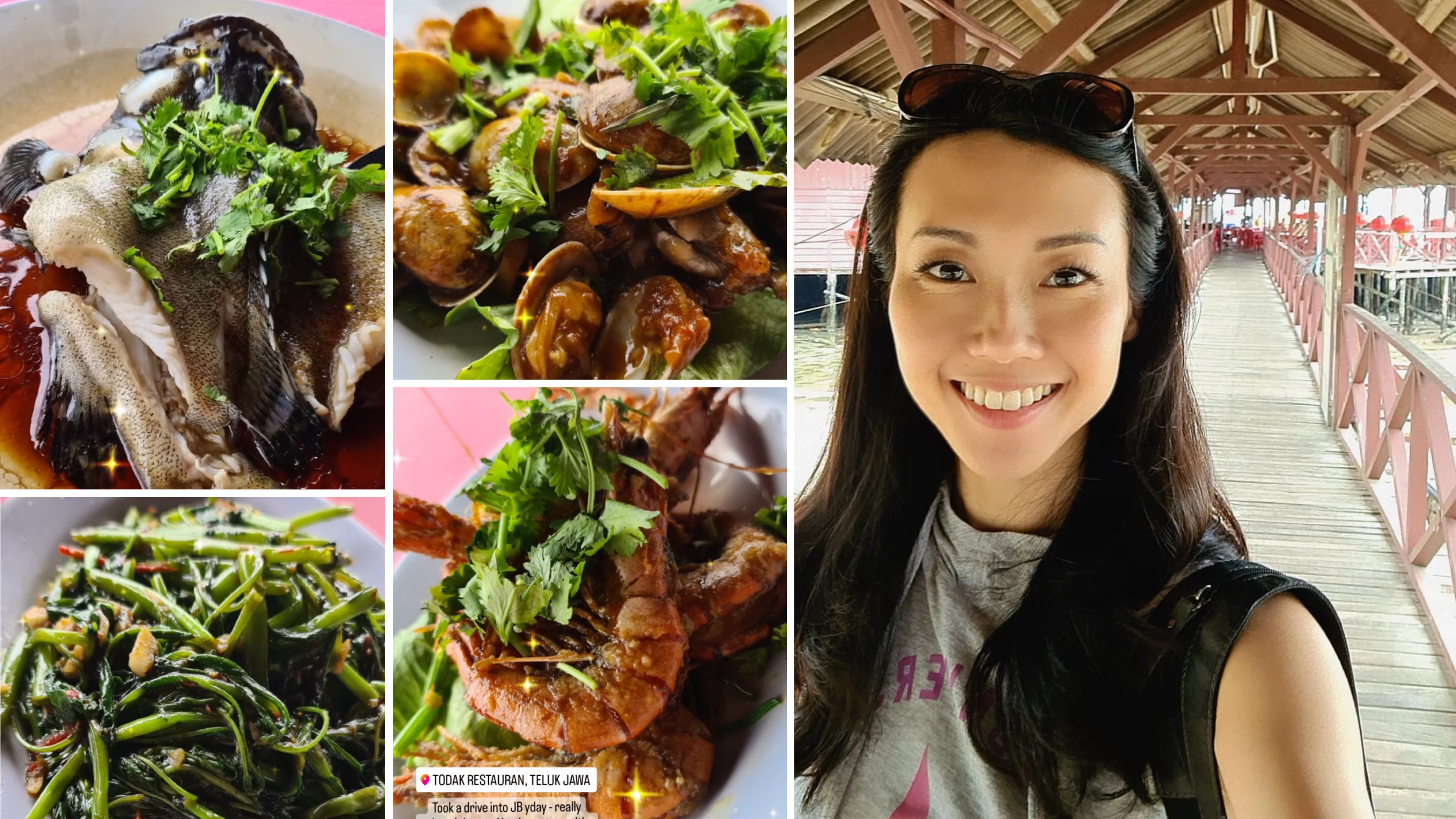 Jaime Teo
What she ate: Freshest catch from the sea
Yummy factor: This week, Jaime journeyed across the Causeway to check out Restoran Todak, a popular seafood restaurant by the waters in Johor Bahru. It was well worth the effort for the foodie to get her fix of fresh seafood picks like a whole steamed fish, stir-fried clams and jumbo prawns — even if it meant experiencing gastritis towards the end of her trip and having to experience a 90-minute jam on her way back to Singapore. 
Cynthia Koh 
What she ate: Japanese fare 
Yummy factor: A birthday treat for Cynthia's friend at Japanese restaurant Jinjo turned out to be more challenging than she expected as the latter can be picky about food. Nonetheless, Cynthia managed to pick out yummy eats like grilled miso cod, grilled chicken wings, pork jowl with garlic, and truffle don, that suited both their palates.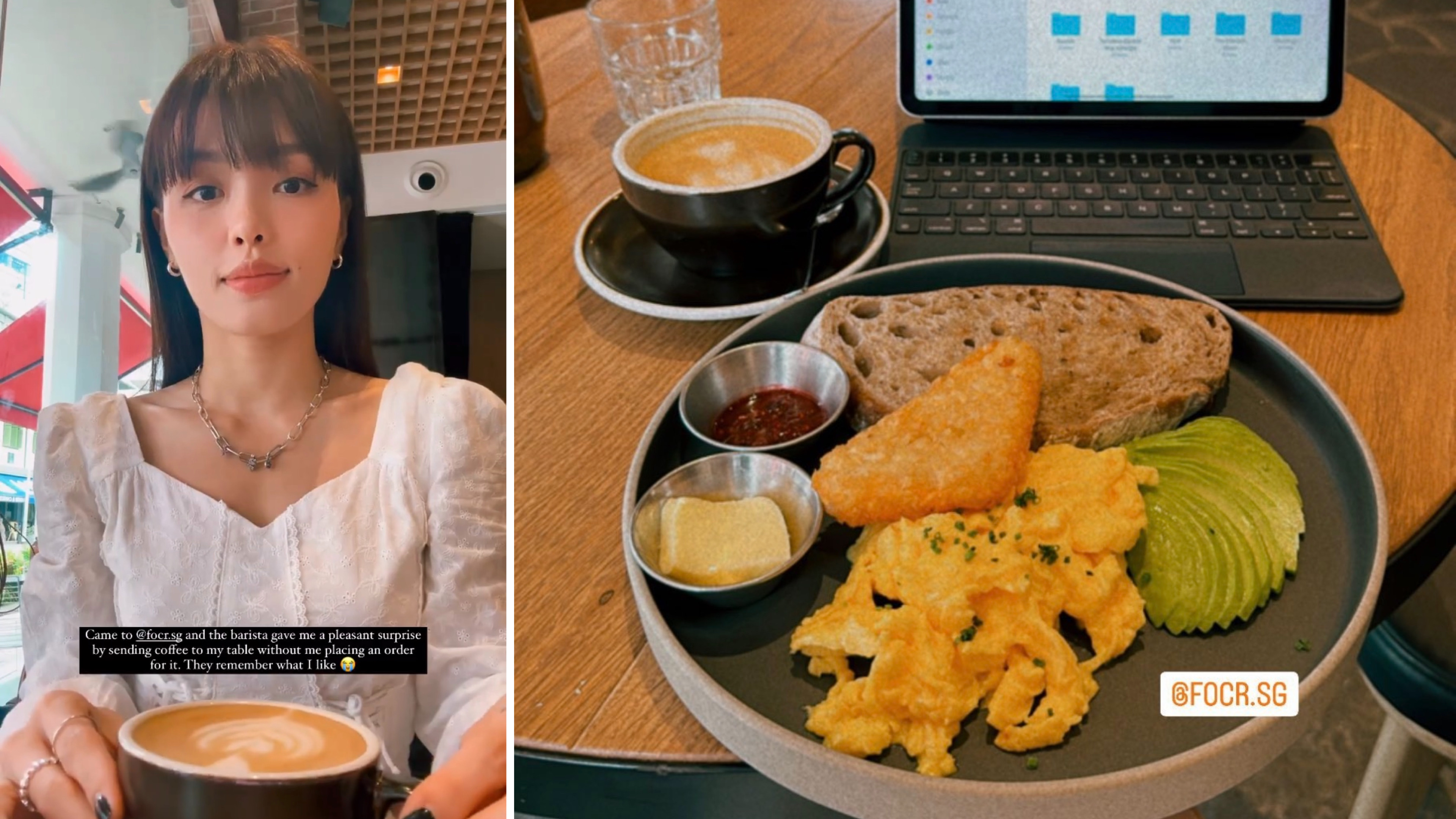 Hazelle Teo
What she ate: Hearty breakfast
Yummy factor: Hazelle began her day bright and early at Five Oars Coffee Roasters with a wholesome breakfast platter comprising toast, scrambled eggs and avo with hashbrown. And it made her day when the cafe served her usual coffee order without prompting. Perks of being a regular at the establishment.
Jade Seah
What she ate: Korean fish cakes
Yummy factor: Jade's all smiles and it's not surprising. After all, what better way for her to keep warm in Seoul's chilly evening weather than with comforting dishes like odeng skewers (Korean fish cakes) in a pot of savoury broth? And of course, some beer to go with the meal is a must.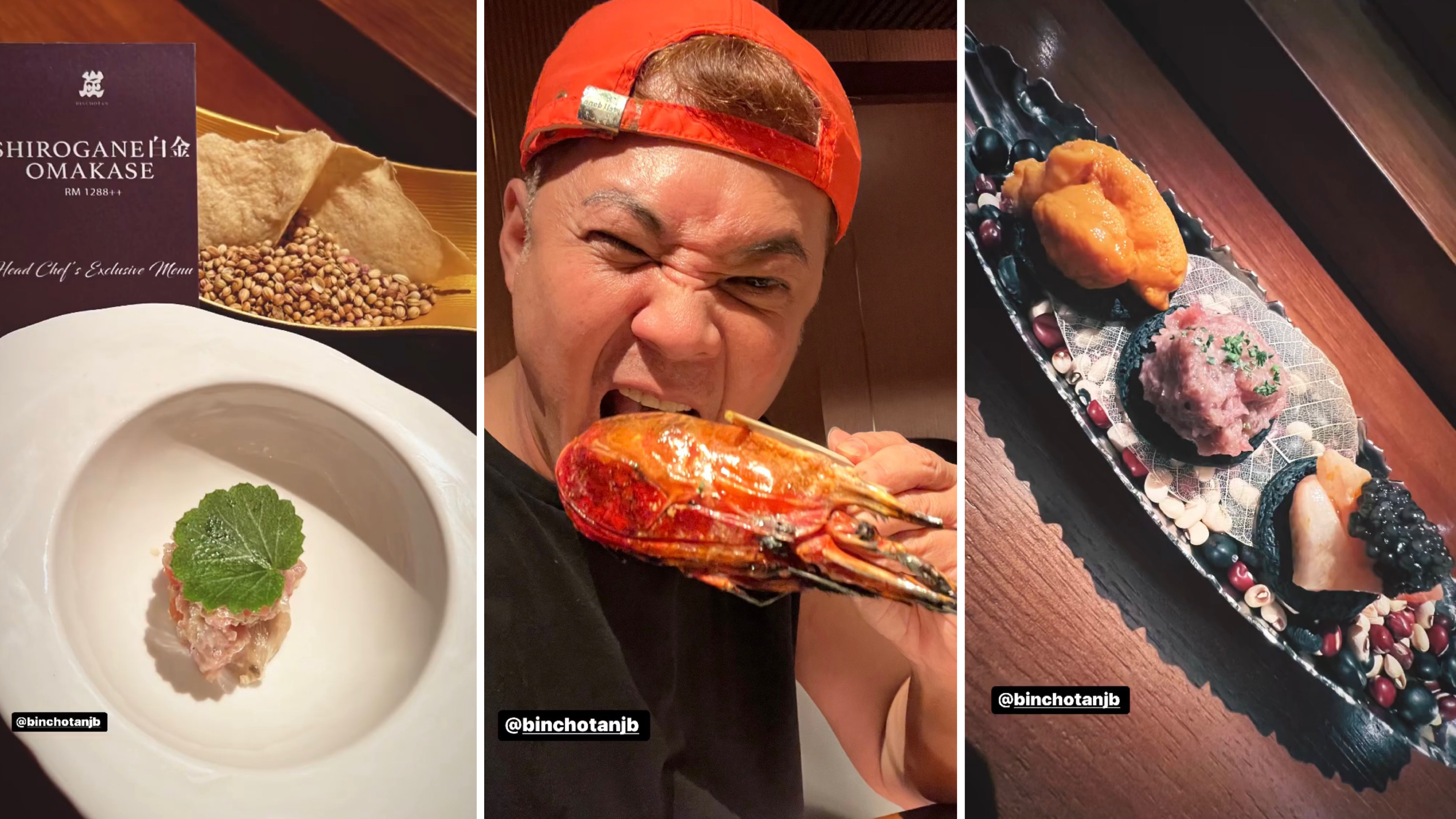 Terence Cao
What he ate: Japanese omakase
Yummy factor: Yet another celeb crossed the Causeway in search of scrumptious eats this week. For Terence, it was the irresistible allure of omakase creations at Japanese restaurant Binchotan. Menu highlights include caberino shrimps, creamy uni and caviar on charcoal crackers, as well as fresh toro (tuna) with a touch of anchovy sauce and tomato salsa.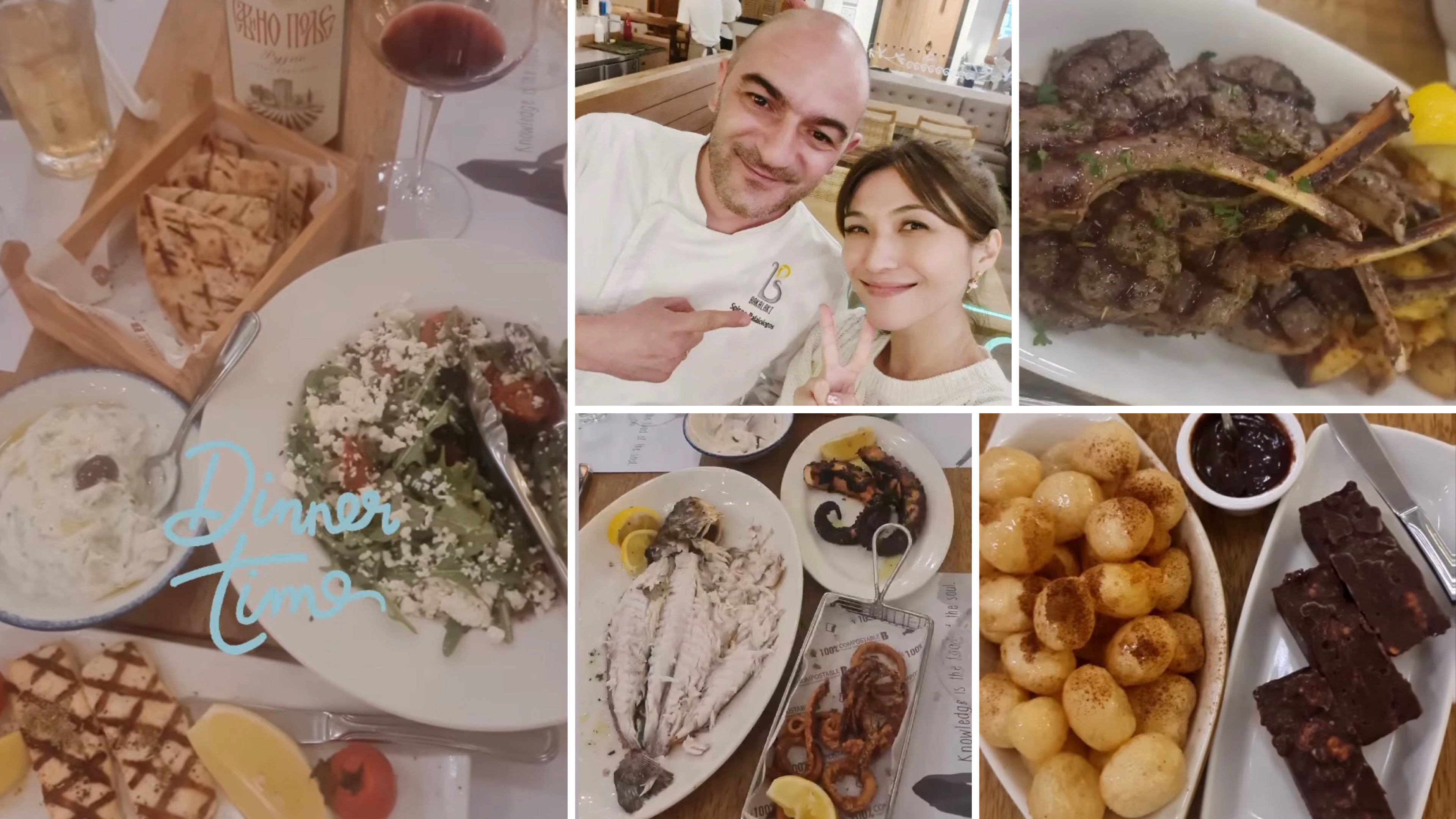 Vivian Lai
What she ate: Greek cuisine
Yummy factor: Vivian had a decadent feast at Bakalaki Greek Taverna to say the least. Executive Chef Spiros Palaiologos (pictured with Vivian) made sure she was well taken care of with the likes of pita bread and dips, char-grilled steak and succulent seafood. The fried doughnut balls coated in cinnamon and honey looked like they would go well with the chocolate sauce too.
You Yi
What she ate: Bar bites
Yummy factor: The best parties keep their guests well-fed. And You Yi was a picture of happiness at rooftop bar Lady Wu, sipping on whisky on the rocks while munching on savoury Asian-inspired tapas like fiery la zi ji and smashed cucumber and jellyfish salad. There were even games to keep her entertained.
Pan Lingling
What she ate: Wine pairing menu
Yummy factor: While vacationing Down Under, Lingling popped by Margaret River winery Cape Mentelle in Western Australia, where she had a fab time trying various wines with complementary bite-sized cheeses, smoked meats and cold cuts during a wine pairing session. Yum.
Michelle Wong
What she ate: Lunch with a view
Yummy factor: Michelle soaked in the balmy weather and sublime views of Marina Bay Golf Course as she tucked into her shoyu don with crispy prawn tempura at Canopy Cafe. And since she was feeling peckish, she also ordered a serving of Penang fried kway teow to share. Well, why not right?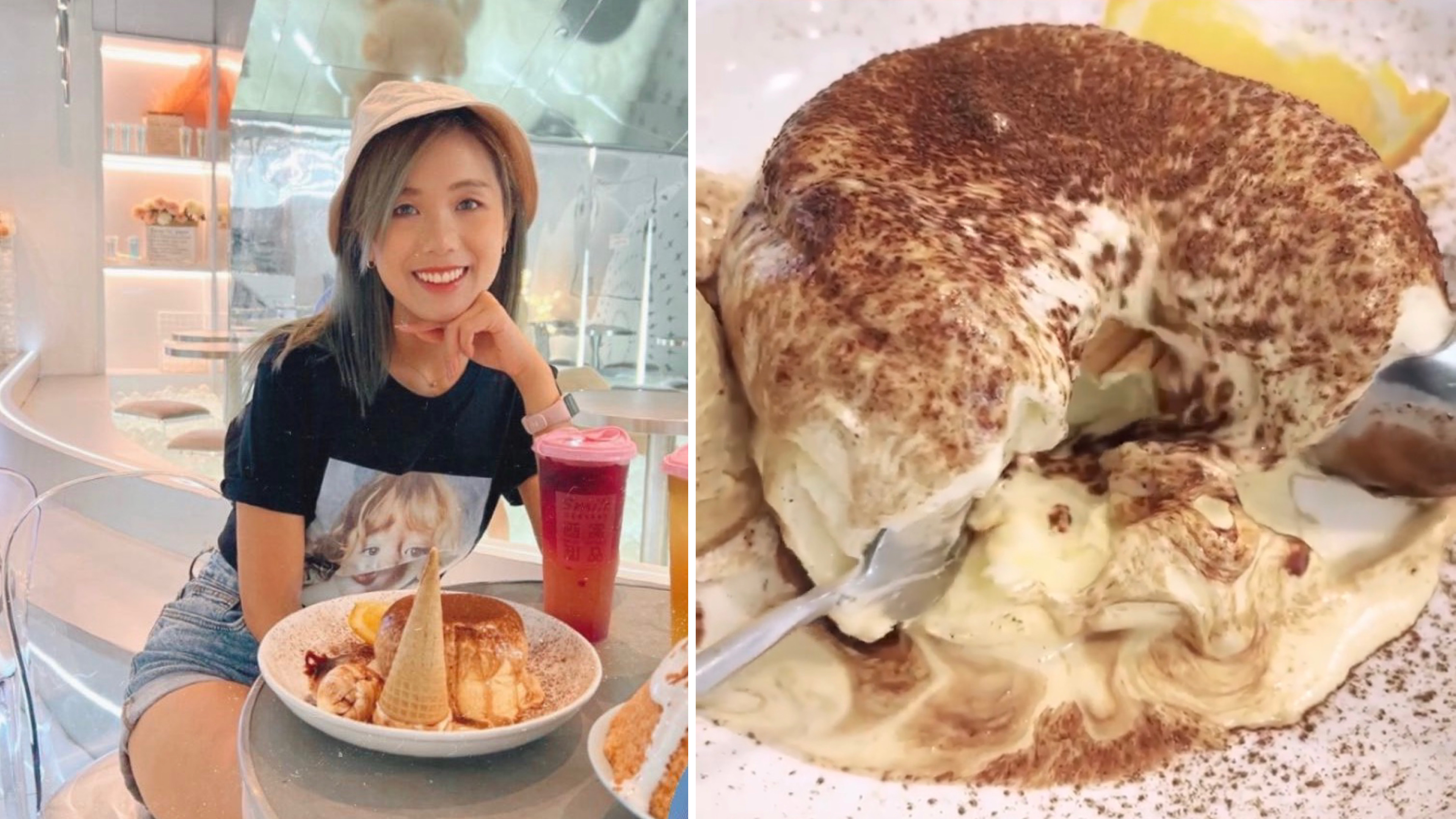 Evelyn Tan
What she ate: Desserts
Yummy factor: Safe to say, Evelyn started her work week on a sweet note at dessert cafe Smile Dessert. It was her first time trying souffle pancakes, and the tiramisu-flavoured one she got was a wobbly mess of creamy deliciousness. And it didn't hurt that it came with an inverted vanilla ice cream cone on the side.