Four-Seat Eatery Serves Hip Heng Hwa Noodles Inspired By "Nai Nai's" CNY Recipe
The ex-hotel manager serves a mod version of her granny's beloved mee sua in a cute little eatery.
Growing up, Andrea Tang's favourite meal was her nai nai (paternal grandmother)'s Heng Hwa-inspired mee sua – a noodle dish from China's Fujian Province that's loaded with ingredients like prawn, shiitake mushroom and egg (one popular example is restaurant chain Putien's version). Due to labour-intensive prep required for the individual toppings, her grandma would only make it during Chinese New Year. "I've been overseas for almost eight years, so I haven't gotten to eat this dish for a really long time, but it's always been close to my heart," she shares.
The 31-year-old had been working in Los Angeles for four years when she decided to move back to Singapore in 2020 to spend more time with her family. Sadly, Andrea's nai nai passed away from old age before her return in December 2020. Two months ago, Andrea opened Nai Nai's Newyear Noodles at CT Hub 2 in Lavender as an homage to her late grandma and her signature dish. "It's a regret [not to have spent more time with her]. This is my way of remembering her." She learned how to cook the dish from her uncle and aunt upon her return.
All photos cannot be reproduced without permission from 8days.sg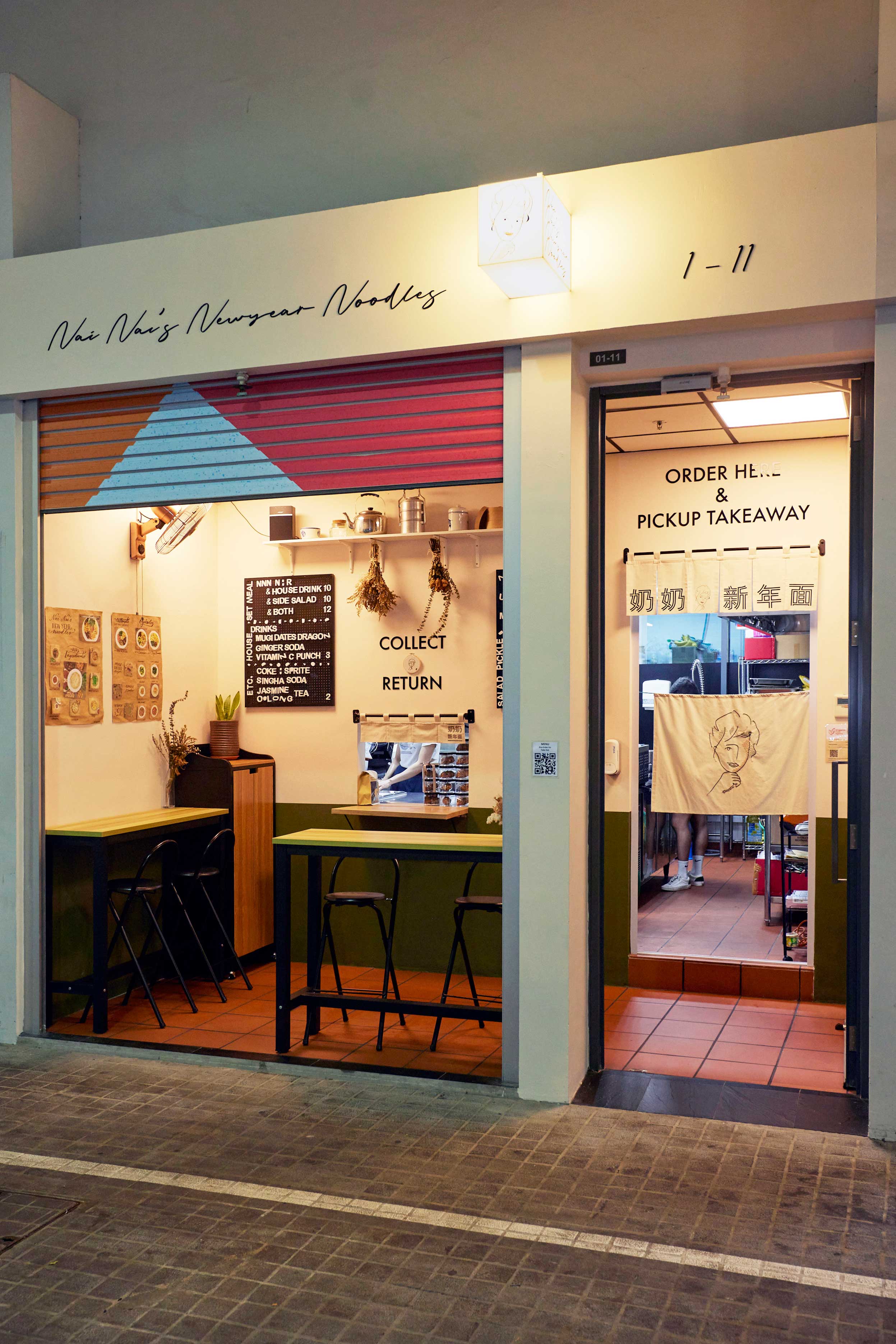 Heart-warming little haven
The tiny four-seater has an inviting, communal feel and a simple design. A lovely, minimalist sketch of Andrea's nai nai, created by a friend, shows up on the shop's logo, and is also embroidered onto curtains at the kitchen entrance. Due to its limited space, most customers order food for takeaway or via delivery, and there are two wooden tables for those who prefer to dine in.
She was on track to become a hotel GM
From 2014 to 2015, Andrea was part of Hilton's general manager training programme – an opportunity that brought her to places like Hong Kong and the Maldives. Upon completing the programme, she was posted to Hilton Tokyo, where she managed the all-day dining restaurant and executive lounge.
Her college sweetheart, Shaun Lee (right), who works in finance, was transferred to Los Angeles in 2017. "At that point, we had been apart for a very long time. I tried to get a transfer to LA but it was difficult. It was time to work on the relationship. I decided to quit my job and join him in LA." The couple got married the same year.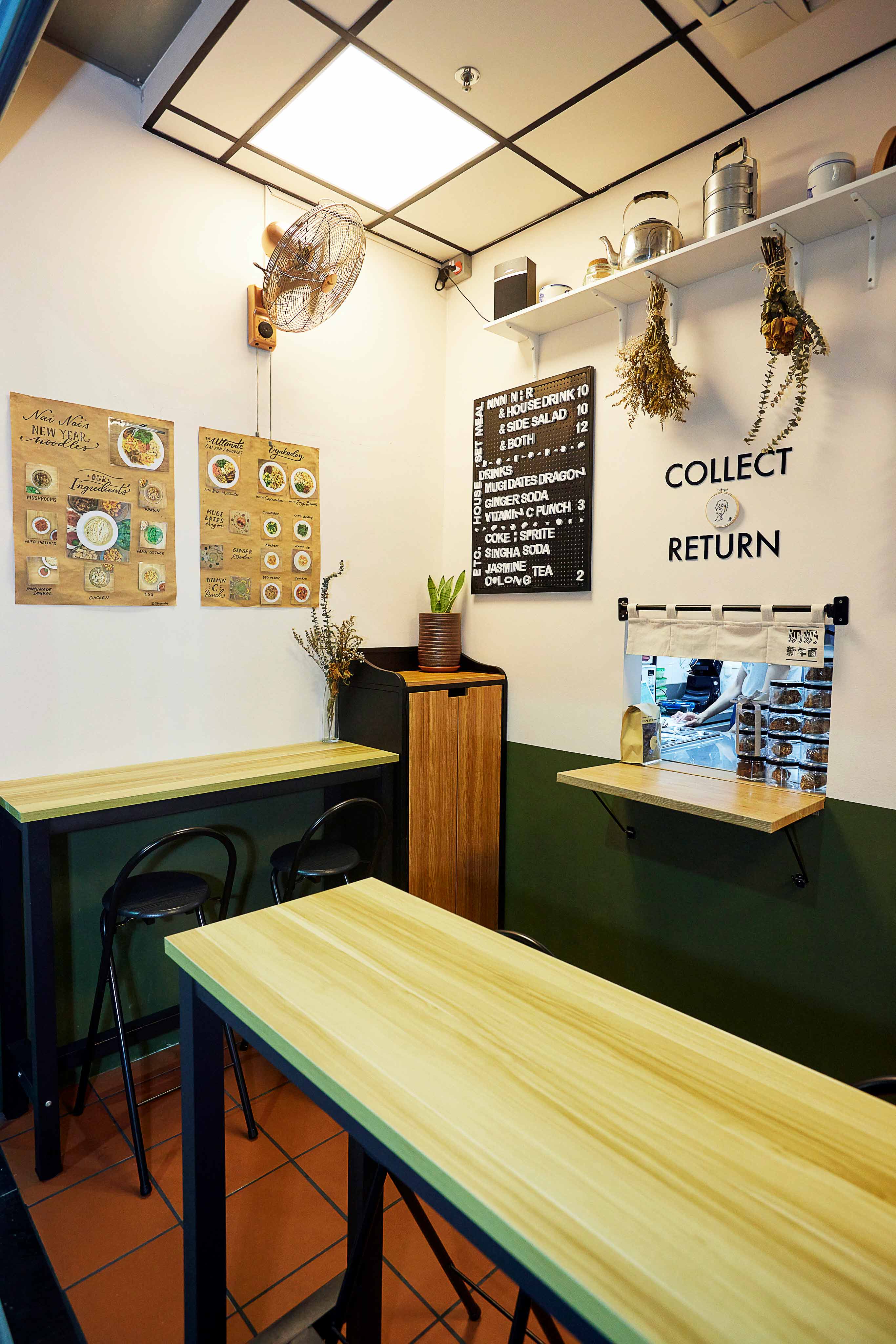 Hubby's bakes available too
Andrea tells us she sees the eatery as a place for Shaun to pursue his passions as well. Turns out, the 33-year-old is an avid baker and potter. He enthusiastically shows us some of the ceramic bowls that he's made for the shop. "Andrea's quite picky, so they must pass her test first before they are used here," he quips. A selection of Shaun's bakes, including banana bread and a tasty, crispy biscotti flecked with homemade grapefruit and orange rind, is available for pre-orders here.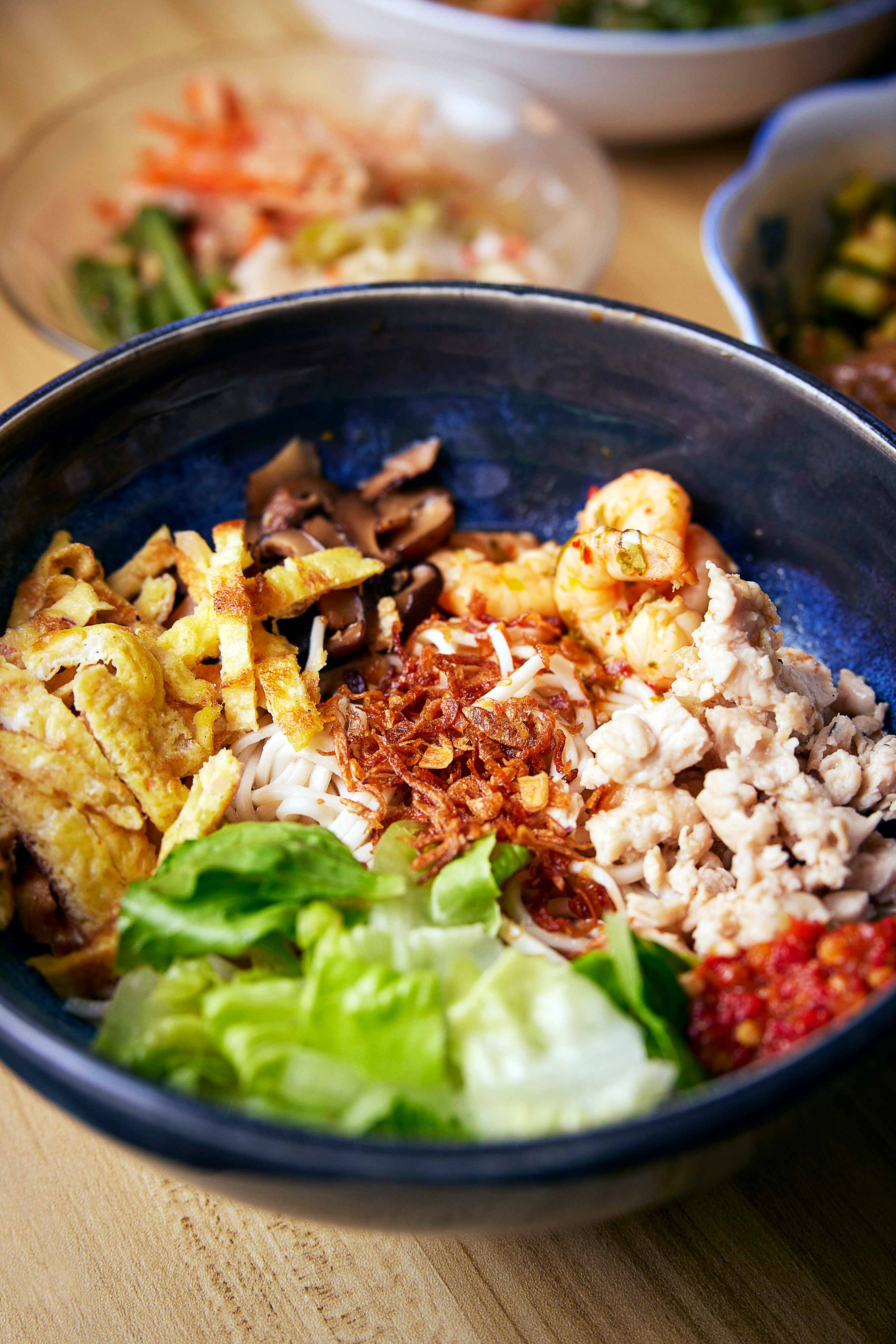 What's in the noodles?
The festive-sounding 'new year noodles' is a spin-off of Heng Hwa mee sua though Andrea is reluctant to label it as such. "My grandfather's family is Heng Hwa, but my grandma was Teochew, so even her dish is not strictly Heng Hwa. Every family has their own version, I cannot promise that mine will be the same as what you expect," she explains.
Andrea does, however, use traditional handmade Heng Hwa mee sua imported from a Malaysian supplier. The wheat noodles are a little thicker and have a firmer bite than the typical mee sua. Due to its long, thin appearance, the noodles are also called shou mian or 'longevity noodles', and are traditionally eaten during festivities such as Lunar New Year and birthdays.
Toppings for the noodle dish vary according to each family's preference. Putien's version has more seafood like prawn, dried scallop and clam, and the ingredients are simmered together with the noodles in a wok – unlike Andrea's impeccably arranged grain-bowl-style blanched mee sua featuring stir-fried chicken and prawn, sauteed mushroom, shredded omelette, fried shallot and sambal. The Chinese restaurant uses a rich gravy made from superior stock, while Andrea opts for something lighter using just veggies.
"My grandma used to make the broth from different bones like pork and chicken. My soup base is vegan as I want more people to be able to enjoy it," she says. She adds a small scoop of the soup over the plated bowl before serving.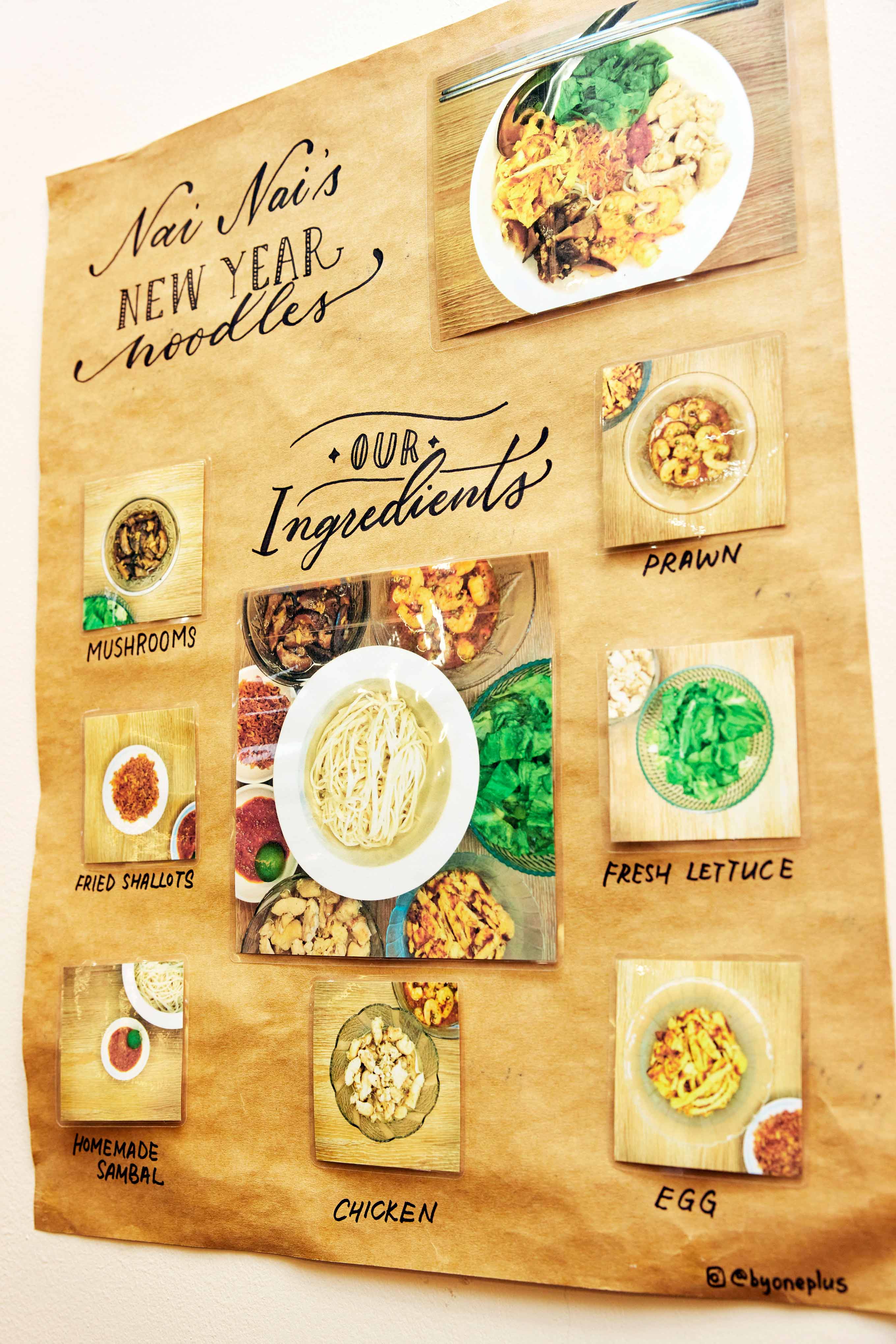 "Party packs" from $27
You can order the noodles in "party packs" for upcoming gatherings – each ingredient is packed separately so you can assemble your own bowl. Prices start from $27 for a package that feeds three to four.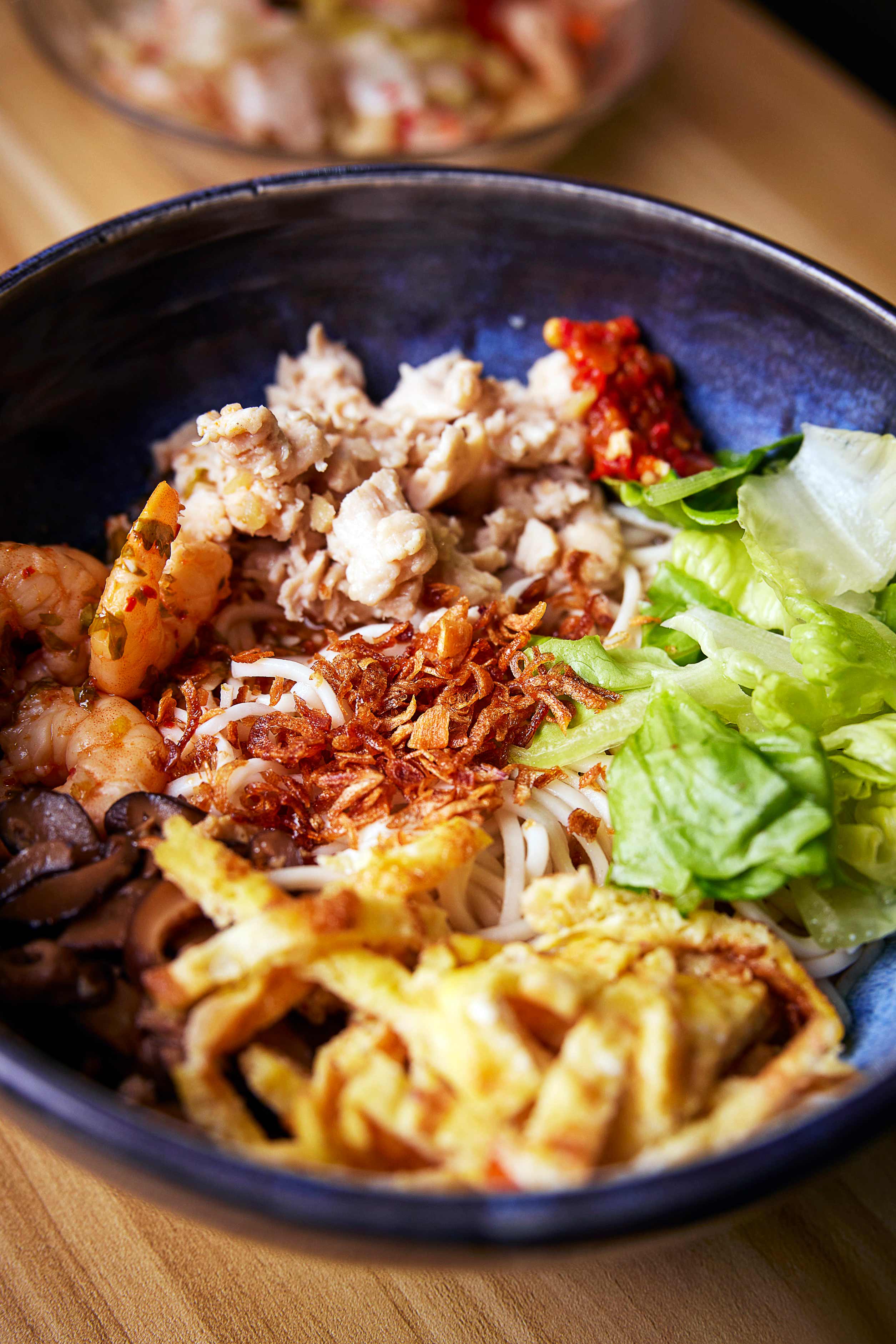 Nai Nai's New Year Noodles, $8 (8 DAYS Pick!)
Perfectly springy, toothsome blanched noodles are the highlight of this comforting bowl. The stir-fried toppings are lightly seasoned yet quite satisfying: tender chicken that's been marinated overnight, prawns punched up with chilli and honey, shiitake mushrooms and shredded omelette. If you've only tasted Putien restaurant's Heng Hwa wok-simmered mee sua, this dryish version may seem much blander and subdued in contrast. However, we enjoyed the soothing, clean notes of the dish – the vegetable stock, poured sparingly atop the noodles, adds to the refreshing flavours, but what truly pulls it together is the fiery housemade sambal and aromatic fried shallots.
The Ultimate Cai Mian, $5
A vegetarian variation of the signature noodles. We like the sambal-infused eggplant and the tangy ponzu tomato, which add a kick to the otherwise light flavours of the dish. Other toppings include garlicky shiitake, pickled long bean and shredded egg.
Matsu's Oyakodon, $5
When Andrea was managing the buffet restaurant at Hilton Tokyo, it was challenging to take meal breaks. "Everyone tried to feed me, but Matsushita-san [one of the chefs] would take it that extra mile," she says. "Oyakodon was special because it wasn't on the buffet line. He was the only one who would take the trouble to cook it for me if he could spare a minute."
Grateful for his kindness, Andrea named her rendition of the Japanese classic after him. She uses the chicken and omelette strips featured in her "New Year Noodles" here. While we found it closer to a hipster grain bowl due to the absence of luscious egg gravy, the flavours of the soy-marinated chicken, caramelised onion and shredded egg paired well with short-grain rice. You also get a choice of cucumber salad or long bean pickle – we went with the former, which adds a lovely tangy crunch to the rice.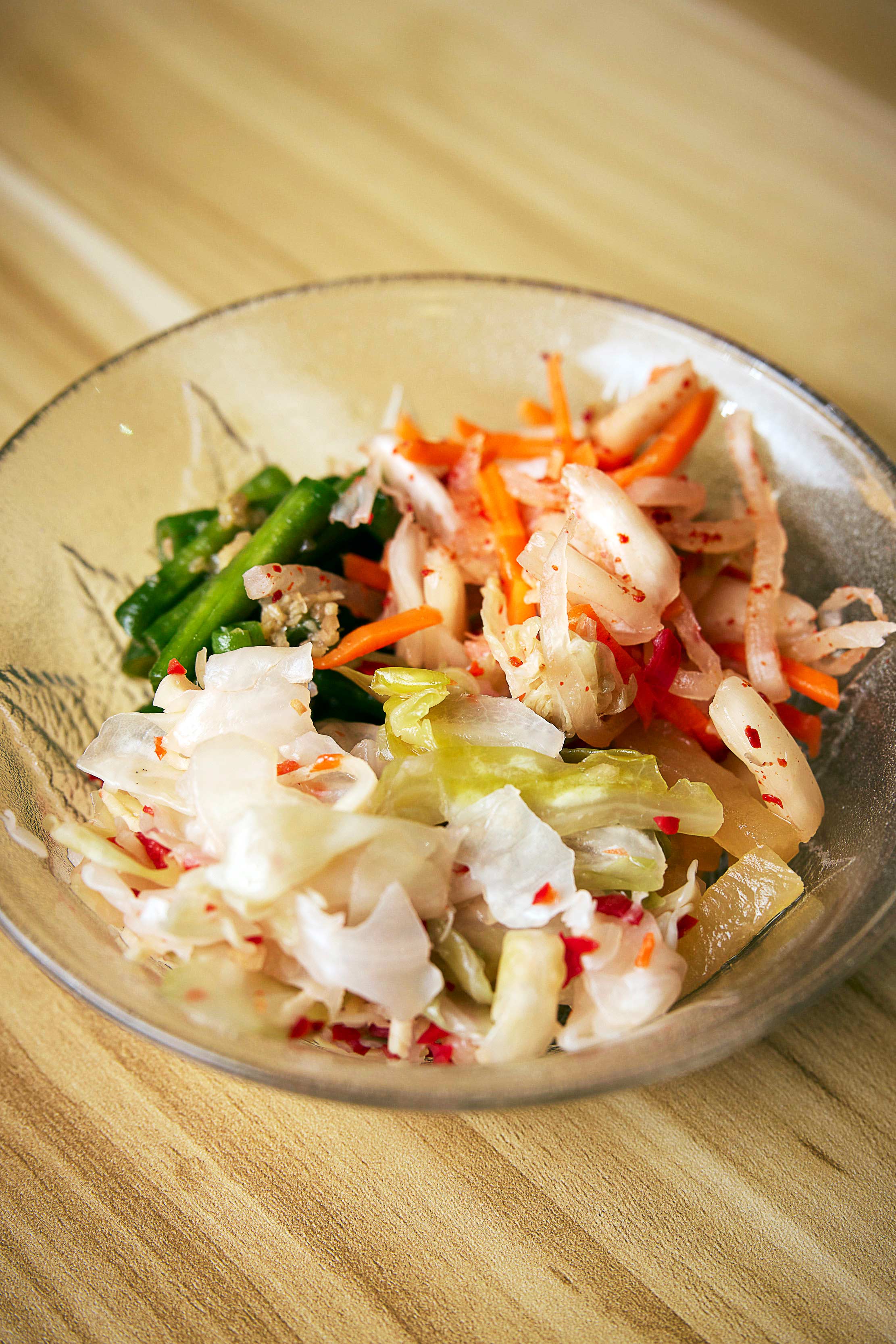 Pickle platter, $4.50
Out of the trio, our favourite is the unique lettuce pickle, which boasts warm notes of ginger and chilli. The sweet and sour cabbage, daikon and carrot mix is equally appetising, while the long bean tossed in garlic, ginger and soy was a little too salty for our liking.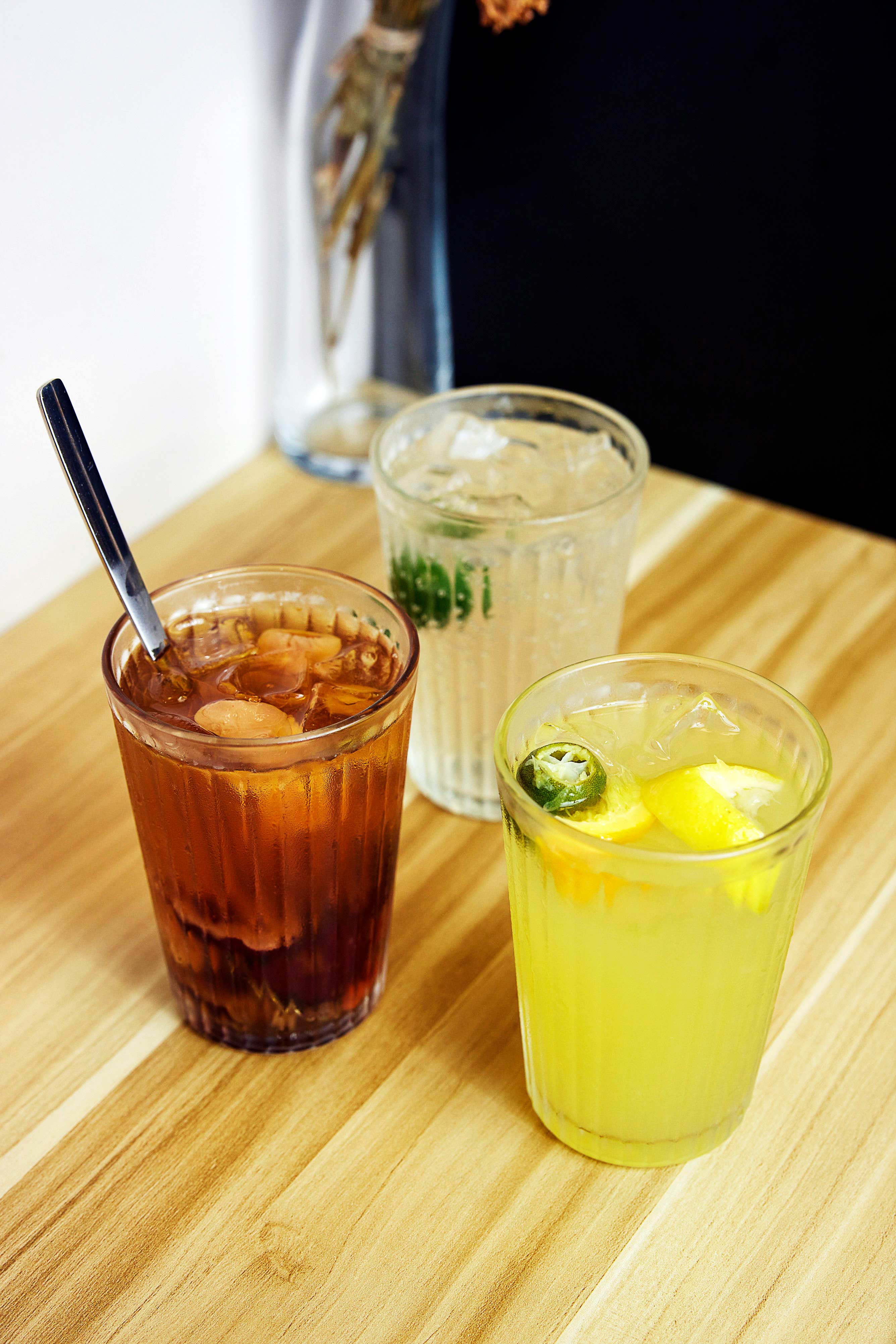 Homemade drinks, $3 each
We enjoyed the Ginger Soda (top in pic) best – the fab, fizzy drink with a welcome zing from house-made ginger syrup and fresh calamansi juice, topped with Singha soda. The Mugi Dates Dragon (left) is a nourishing, not-too-sweet concoction that comes with roasted barley tea and red dates, longan and goji berries, and you can't go wrong with the Vitamin C Punch (right) made with freshly squeezed lemon, orange and calamansi.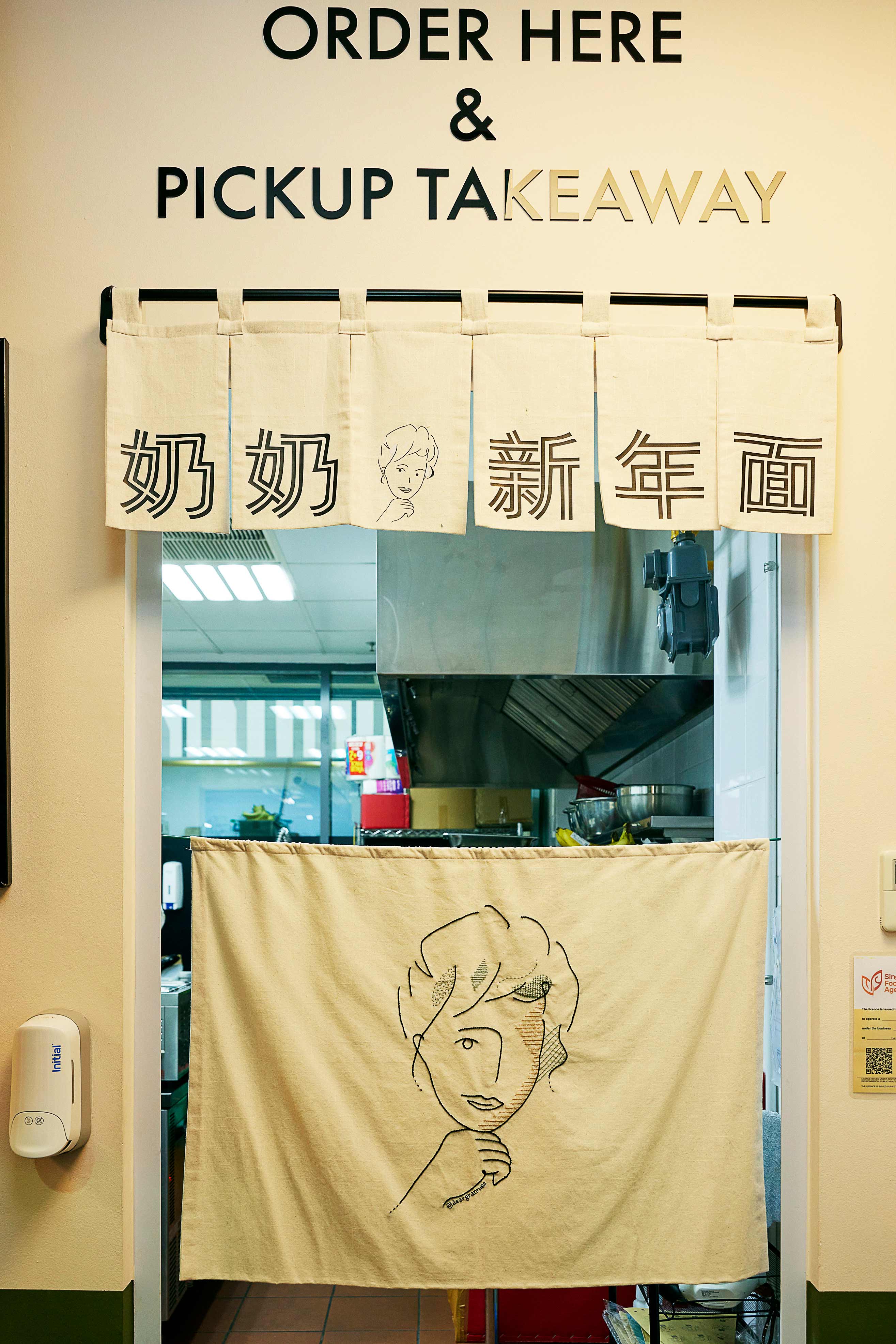 Bottom line
A modern, lighter take on Heng Hwa-style mee sua that will appeal more to the younger, health-conscious grain bowl-loving crowd versus traditionalists who may prefer a richer, seafood-driven flavour. Think of this as a Chinese noodle salad of sorts. The mee sua is plated prettily and comes with a lovely story about family ties – it's a pity the tiny space can only accommodate four customers at a time. Nai nai's "build your own bowl" party packs are a fun idea for Chinese New Year gatherings if you want a break from all that rich-tasting food.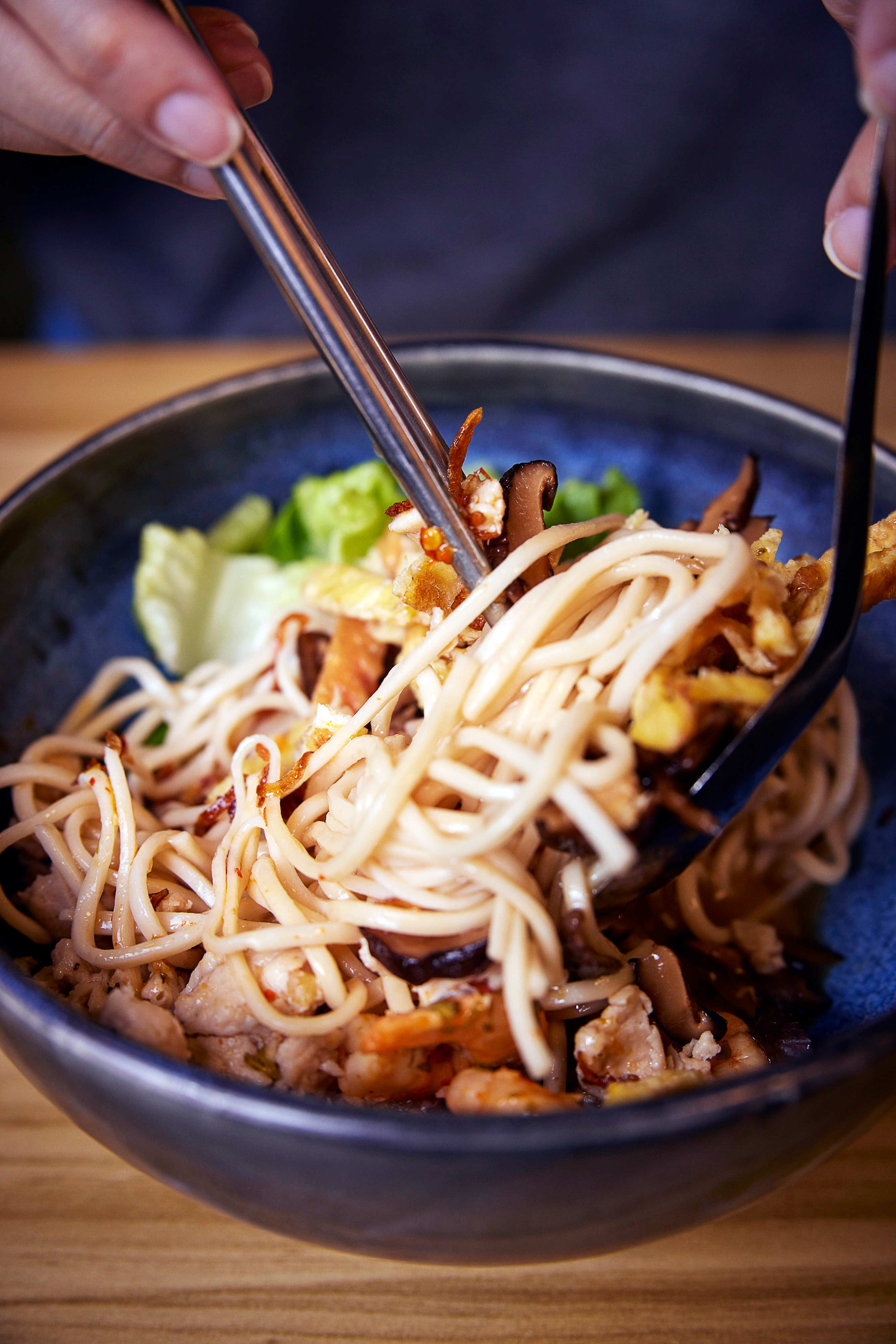 The details
Nai Nai's Newyear Noodles is at #01-11 CT Hub 2, 114 Lavender St, S338729. Open daily except Sun, 11am to 2pm. Delivery available here. Find them on Facebook & Instagram.
Photos: Kelvin Chia
All photos cannot be reproduced without permission from 8days.sg
Inspired by restaurateur ex-boss to start her own biz

In 2018, Andrea started working for Vivian Ku, chef-owner of popular Taiwanese restaurants Pine & Crane and Joy in Los Angeles. She started as a server and worked her way up to a managerial role the following year. "I've never really thought of doing my own thing until I met my boss," says Andrea. "Seeing how she honoured her family and shared her culture through food inspired me."

"Before Covid hit, I already had intentions to come back. I wanted to spend more time with my family and I wanted to do something centred around this [noodle] dish. But it got really hard to come back once Covid happened and it made me want to be closer to my family."

Eventually, Andrea and Shaun decided to move back to Singapore permanently. In December 2020, Andrea flew home and by March 2021, she had launched Nai Nai's New Year Noodles as a home-based business. "This is a dish that's very precious to our family. We always looked forward to eating her noodles every Chinese New Year. It had so much meaning to me that I had to do it [opening a shop]." Andrea does all the cooking here. Shaun returned in August last year, and has been helping out at the eatery when he's not busy at his full-time finance job.