Free-Flow Geylang Lor 29 Charcoal Fried Hokkien Mee At Shangri-La's Hawker Buffet Pop-Up
The local-themed spread at The Line restaurant also includes other popular hawkers like Kway Guan Huat Joo Chiat Popiah, Habib's Rojak and Tiong Bahru Tau Suan.
Free-flow
Geylang Lor 29 Charcoal Fried Hokkien Mee
sounds like a dream, and that's what
Shangri-La
hotel's The Line buffet restaurant is offering for Singapore's 57th birthday. As part of a special hawker-themed spread for the occasion, the popular East Coast Road hokkien mee stall will be serving up its famed charcoal-kissed noodles, freshly fried on-site, from now until Aug 21.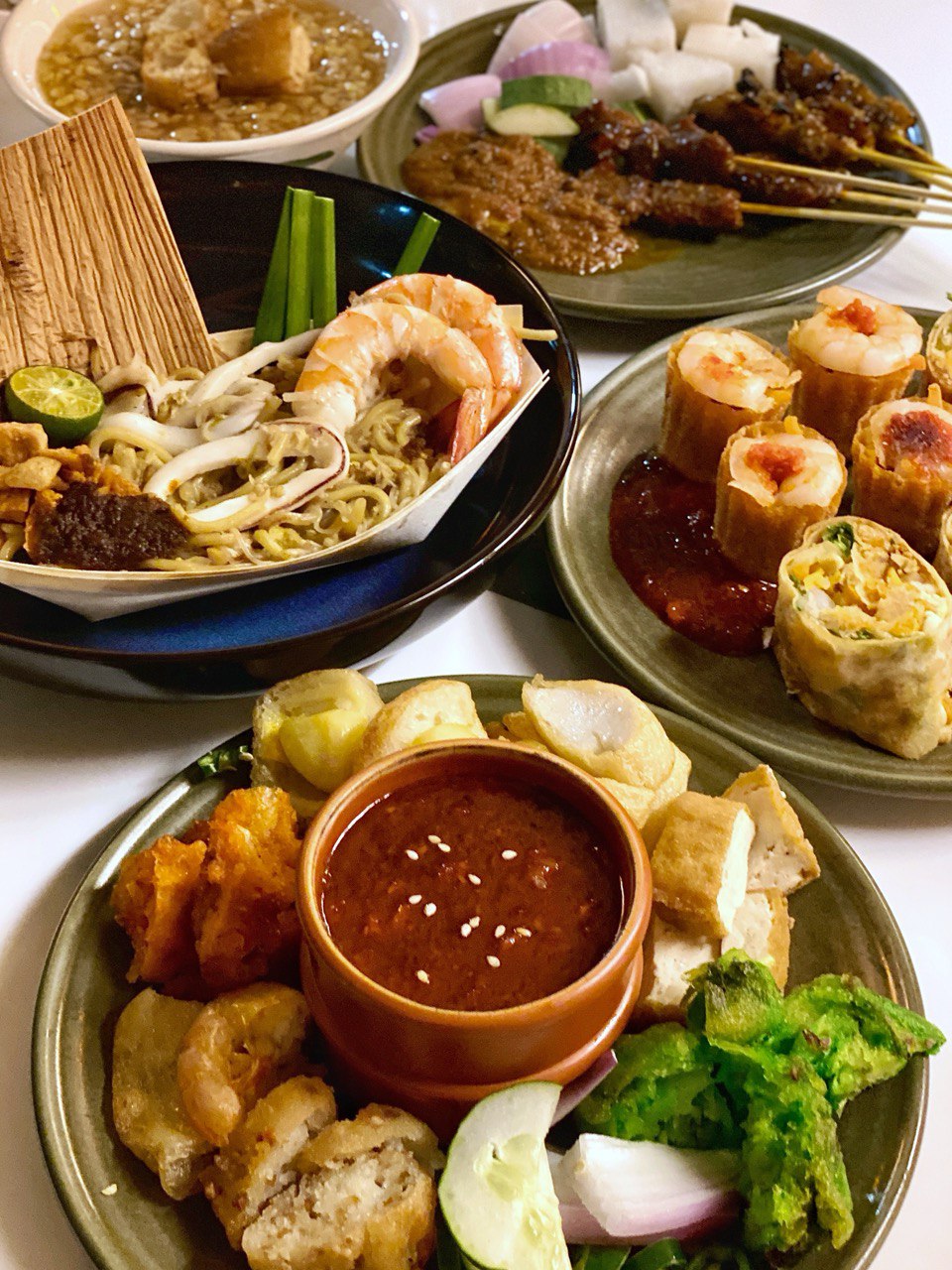 Prices for the buffet start from S$68 per pax for lunch and S$88 per pax for dinner. Aside from hokkien mee, you can also load up on unlimited helpings from three other well-known hawkers -
Kway Guan Huat Joo Chiat Popiah
,
Habib's Rojak
and
Tiong Bahru Tau Suan
- under one roof in air-conditioned, carpeted comfort at the 400-seat restaurant.
Other than hawker delights, there are also 16 live theatre kitchens for dishes like fresh seafood, sashimi, sushi, roasts and Peranakan food.
Hokkien mee personally fried by second-gen hawker
Geylang Lor 29 Hokkien Mee's noodles are personally fried by the stall's second-gen owner Qin Sheng, 28, for the buffet. The business was originally started by his father-in-law Alex See, 72, who has since handed over the reins to his daughter, Penny See, and Qin Sheng. Husband-and-wife now cook at the stall.
For the uninitiated, Geylang Lor 29 Hokkien Mee is also related to the famous Swee Guan Hokkien Mee at the actual Geylang Lor 29. The latter was started by Alex's father and is now run by his brother Hock Siong.

Meanwhile, another of Alex's daughters had also opened her own hokkien mee stall at East Coast Lagoon Food Village under the same Geylang Lor 29 name (in case you're wondering, the family members all get along fine and just prefer doing their own thing).

Qin Sheng tells us that he will be stationed at The Line restaurant until Aug 14 (dinner service only), where he will whip up hokkien mee on a charcoal-fired stove.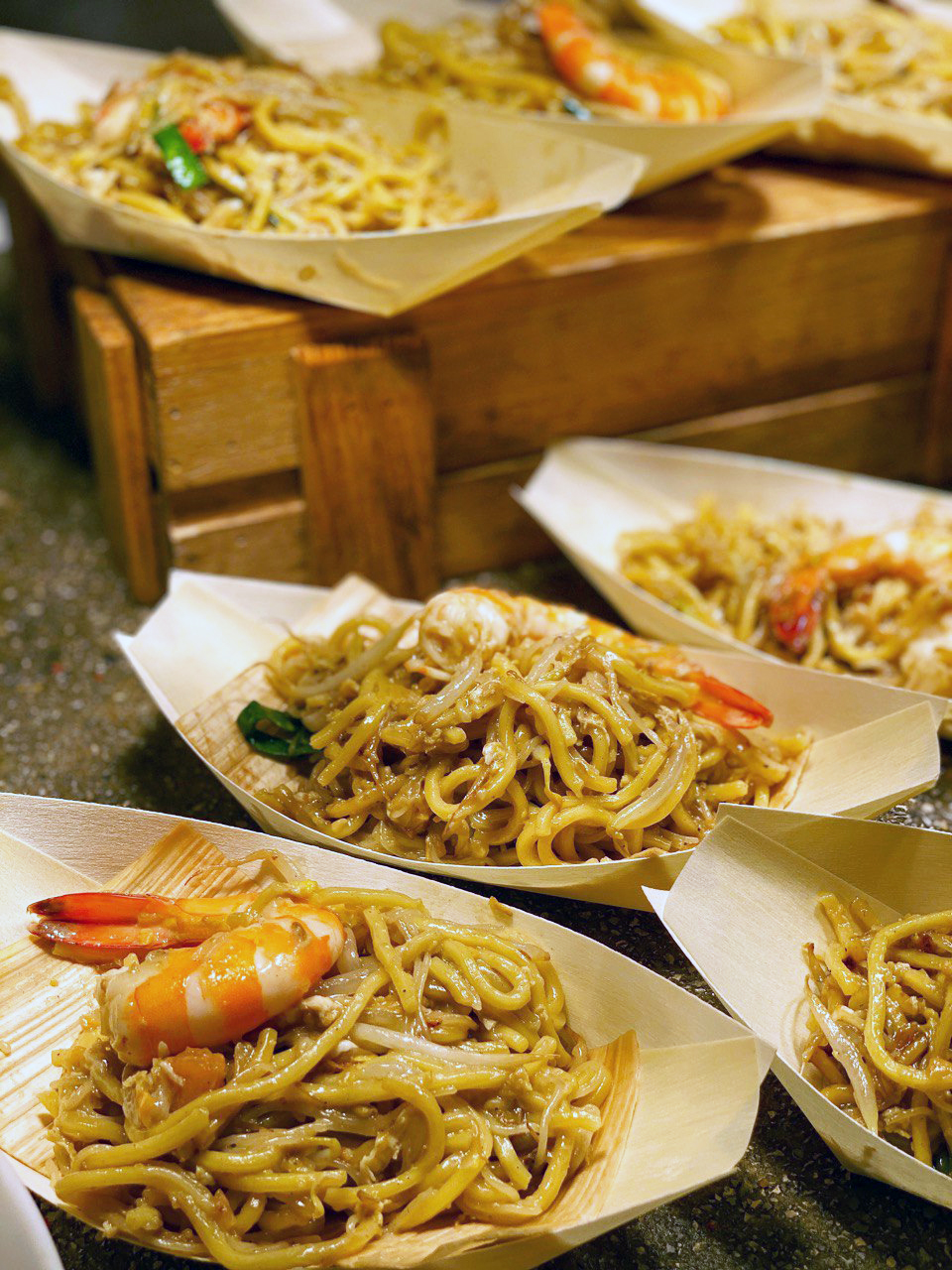 Free-flow HKM
The hokkien mee - fried dry rather than wet - is served in little opeh leaf boats, and you can help yourself to as many servings as you want (each portion is about one-third of a regular plate from the hawker stall). Yes, self-service buffets are back. Yay.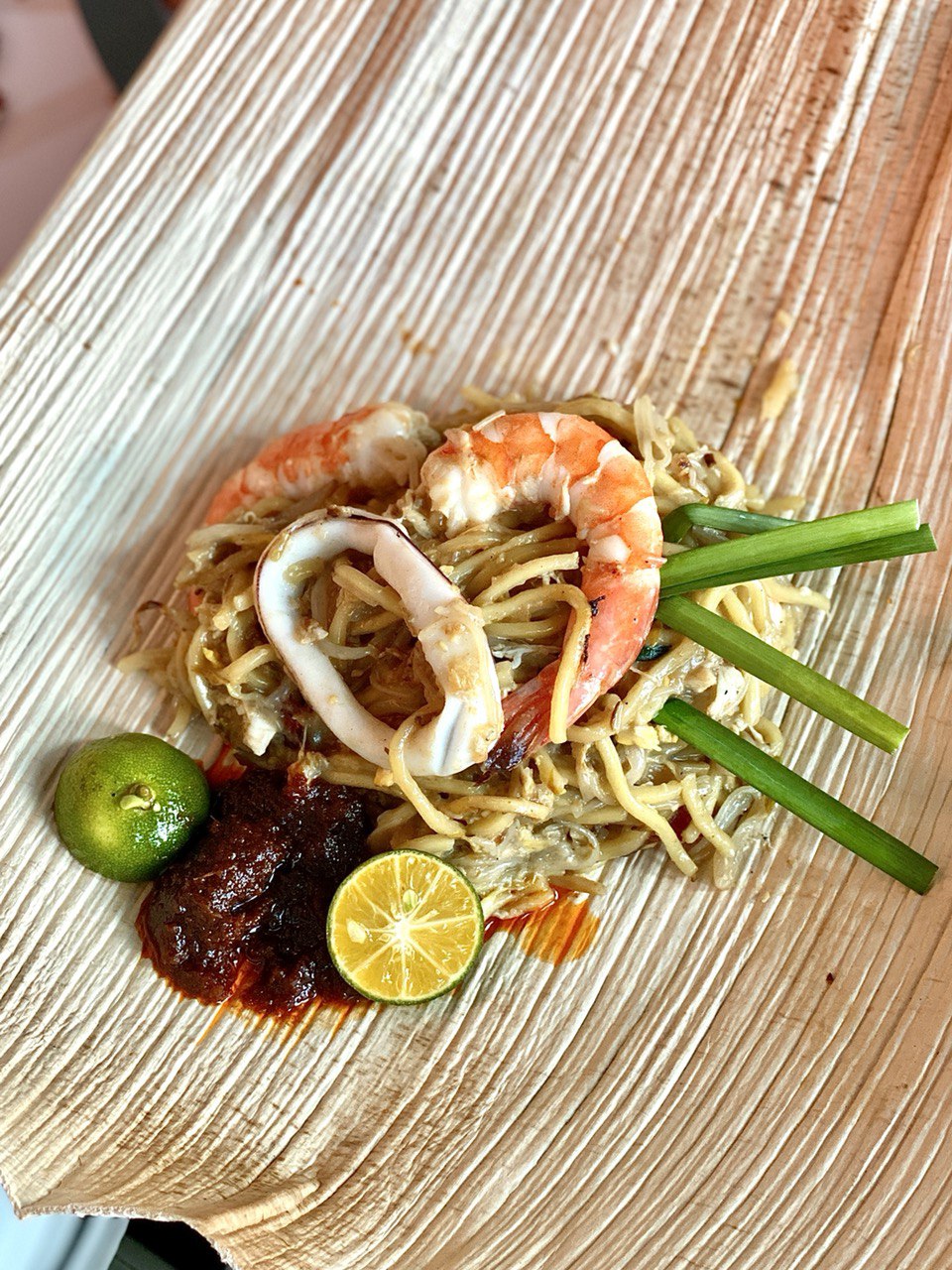 Each portion comes with a whole (fresh, not frozen) springy prawn and squid rings (we made off with a slightly bigger 'display' portion pictured above). Although it's not cooked and served from the original stall, the prawn stock-drenched hokkien mee here is still very good, imbued with the robust
wok hei
that Geylang Lor 29 is famous for.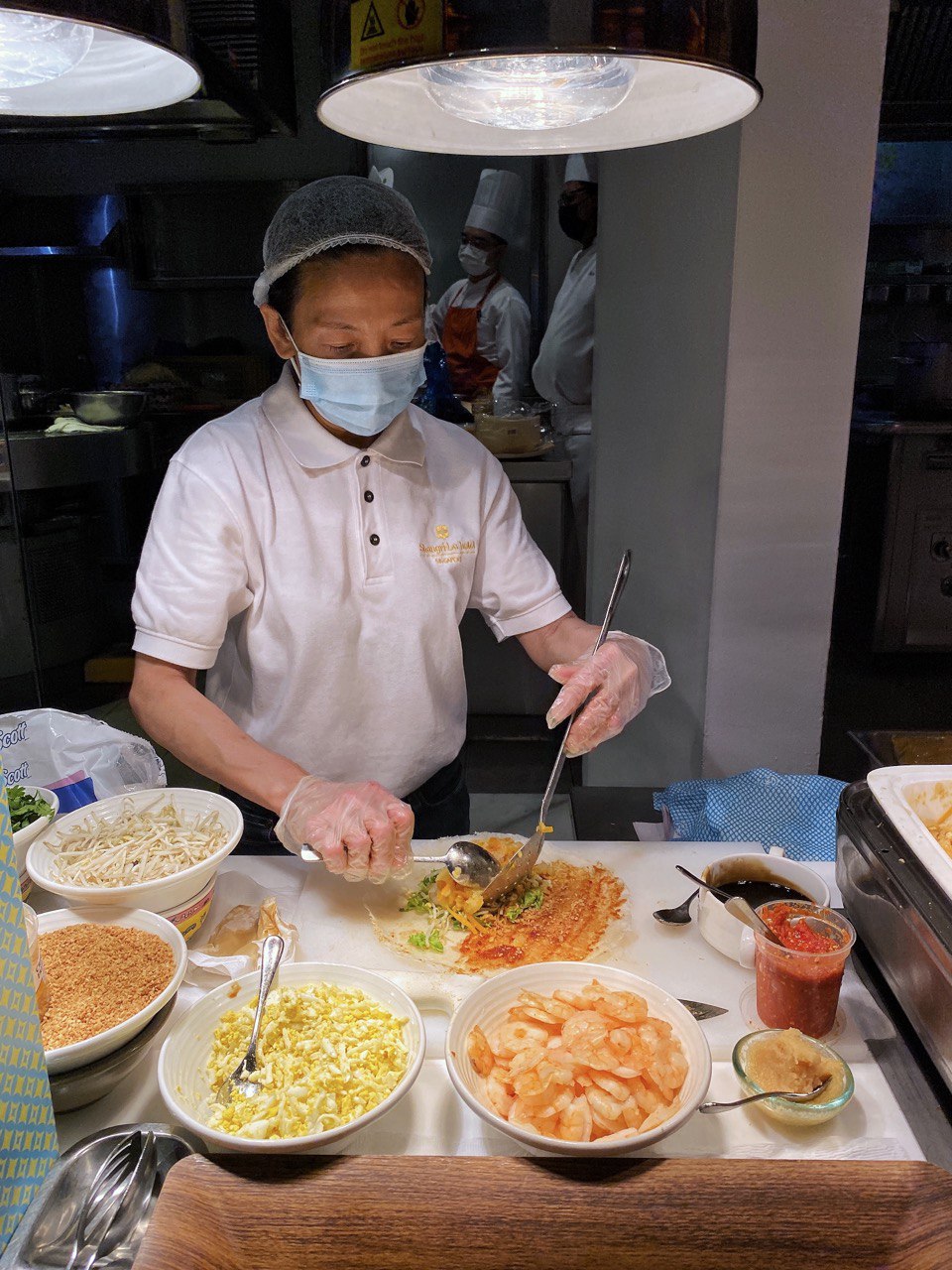 Kway Guan Huat Joo Chiat Popiah
We also stuff ourselves with the third-generation-run Kway Guan Huat's fat Popiahs, which are made on-site and bursting with juicy turnips, hard-boiled eggs and prawns and served in slices at the buffet line. Prior to its Shangri-La pop-up, Kway Guan Huat did a hawker pop-up at Fullerton Hotel's Town Restaurant in 2017.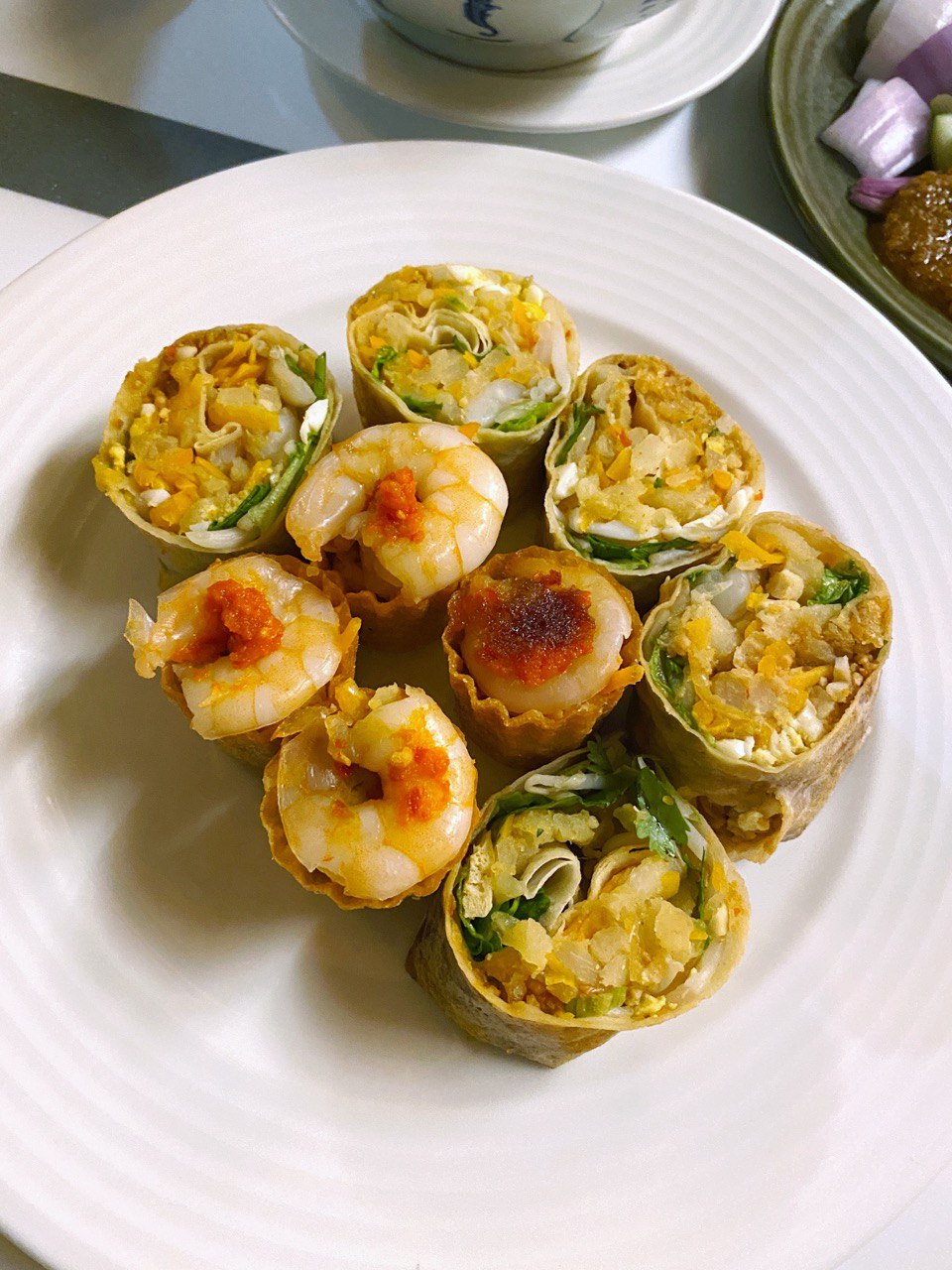 There's the brand's famously good Kueh Pie Tees too, each topped with a prawn and a dash of chilli (we recommend eating the kueh pie tees immediately after taking 'em, 'cos their shells get soggy quickly).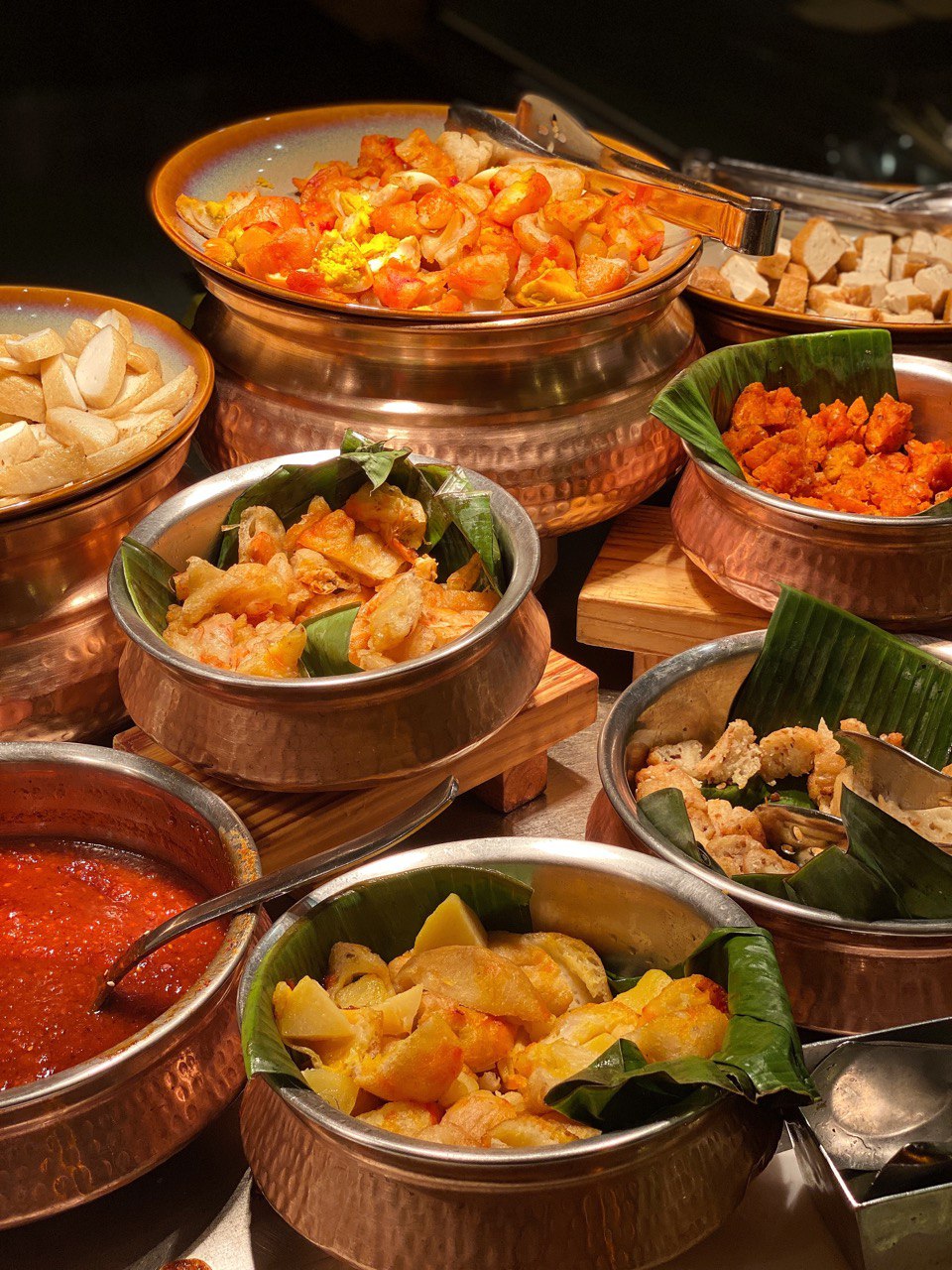 Habib's Rojak
Habib's Rojak is an Indian rojak stall at Ayer Rajah Food Centre. It is now run by its eponymous second-gen owner Habib Mohamed, whose father opened the stall soon after Habib was born and named it after him. It's also not the first time that Habib is doing a pop-up at The Line; he was part of a hawker-themed lineup at the restaurant in 2013.
Rojak ingredients like five types of fritters, fish cake and tau pok are offered, along with the stall's house-made red rojak sauce. Get a head start on this rojak early; that's when the fried fritters are fresh and crispy and there's a good selection to choose from.
Tiong Bahru Tau Suan
Tiong Bahru Tau Suan at Tiong Bahru Market is well-known for its affordable desserts like tau suan, pulut hitam and bubur terigu. We find the version served at the buffet sadly undercooked, with too-hard mung beans and soggy youtiao.
The Pulut Hitam is seriously shiok, though. We wish we had more tummy space to put away more helpings of the lusciously thick black glutinous rice drizzled with as much coconut milk as we desired.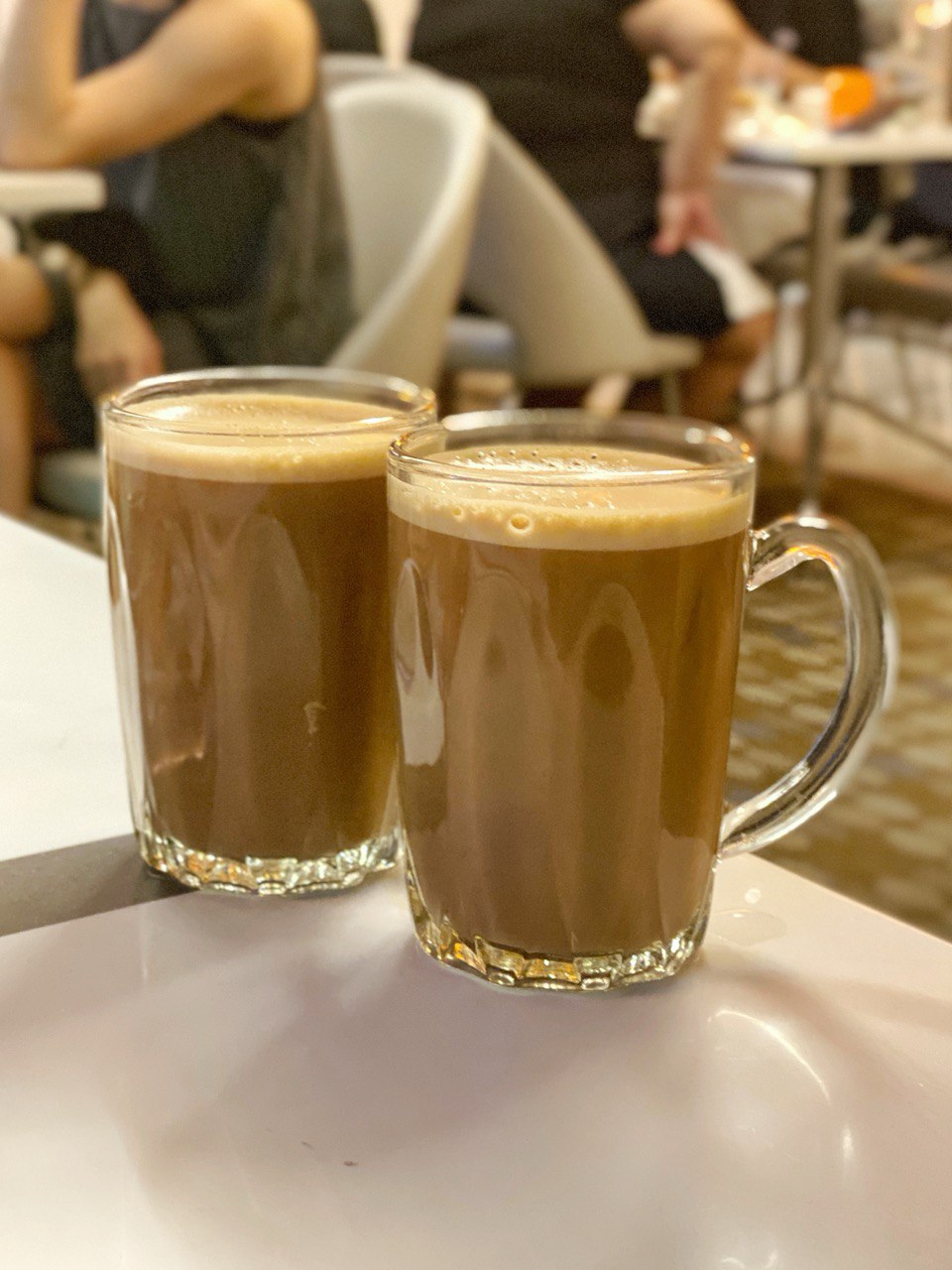 Free-flow teh tarik
While it's a regular The Line menu item and not part of the hawker pop-ups, we also enjoy the restaurant's cute free-flow teh tarik service. Just flag down a server to order the pulled tea, which is super gao, piping hot and a great way to wash down all that hawker food.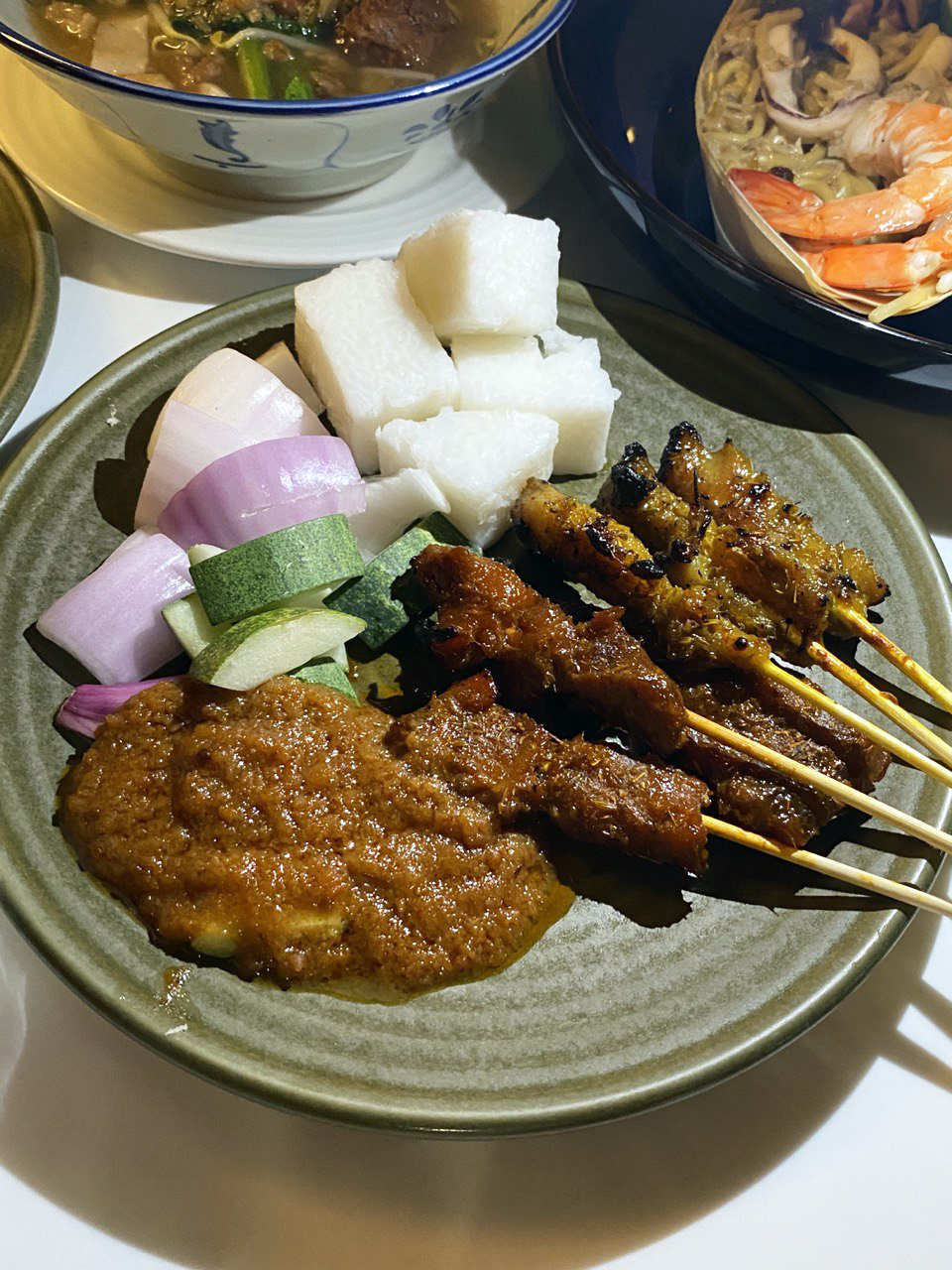 Also save some space for the Satay station — the chicken and beef skewers are nicely grilled and extra succulent when dipped in the accompanying chunky peanut sauce.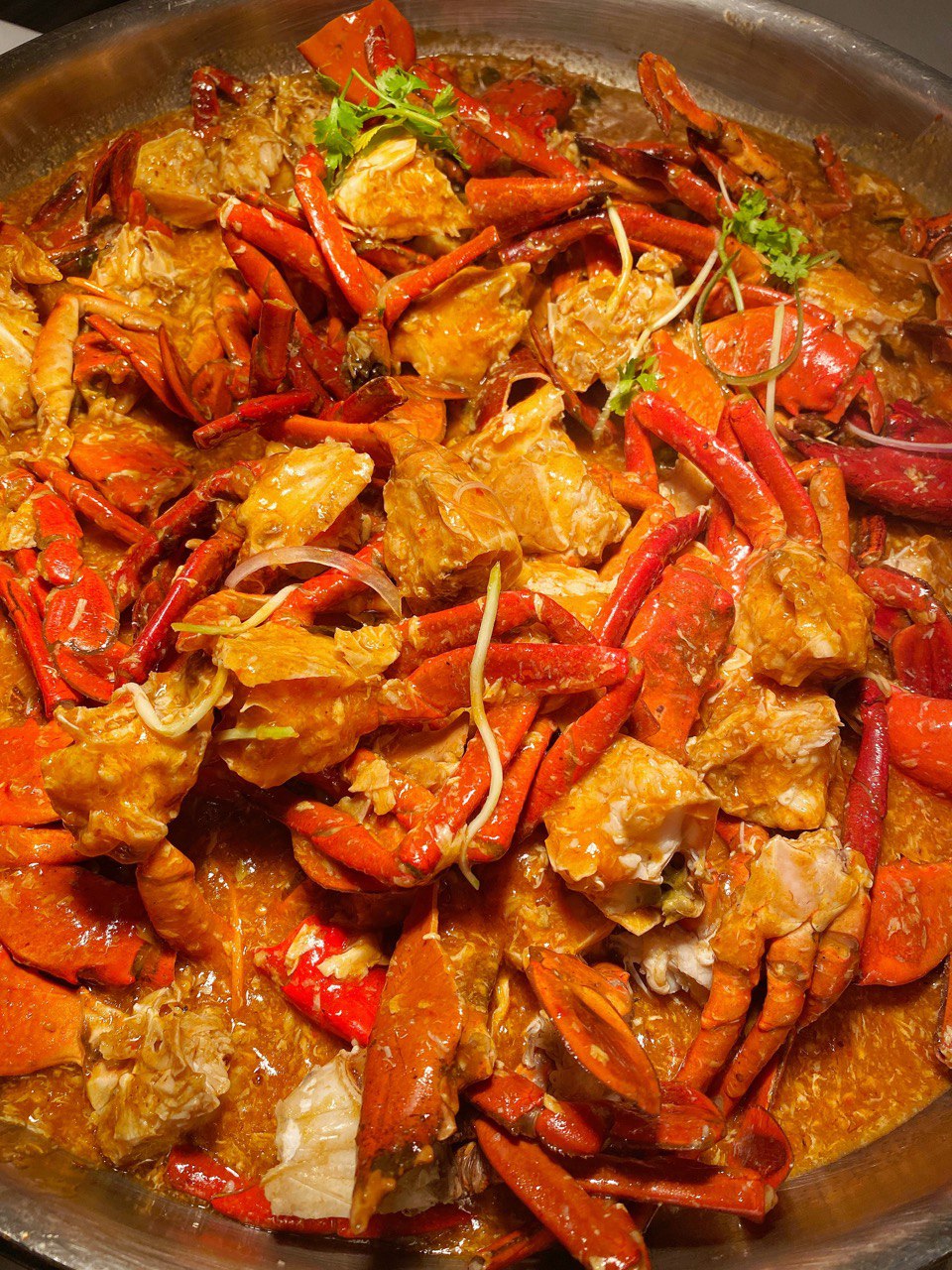 There's chilli crab at the Asian station too.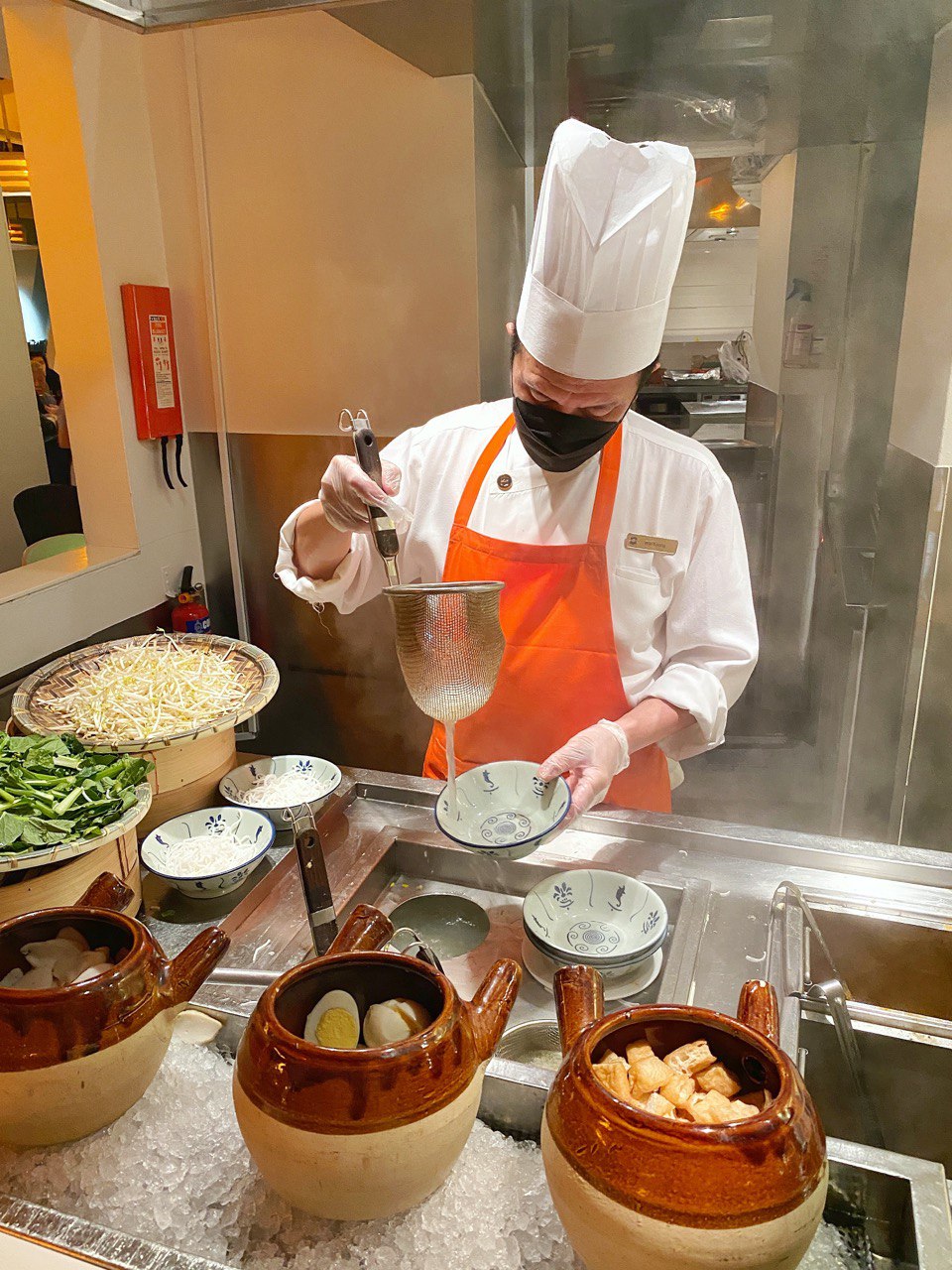 The Line also has an ongoing collaboration with Hainanese beef noodle specialist Wah Eng Beef Noodle.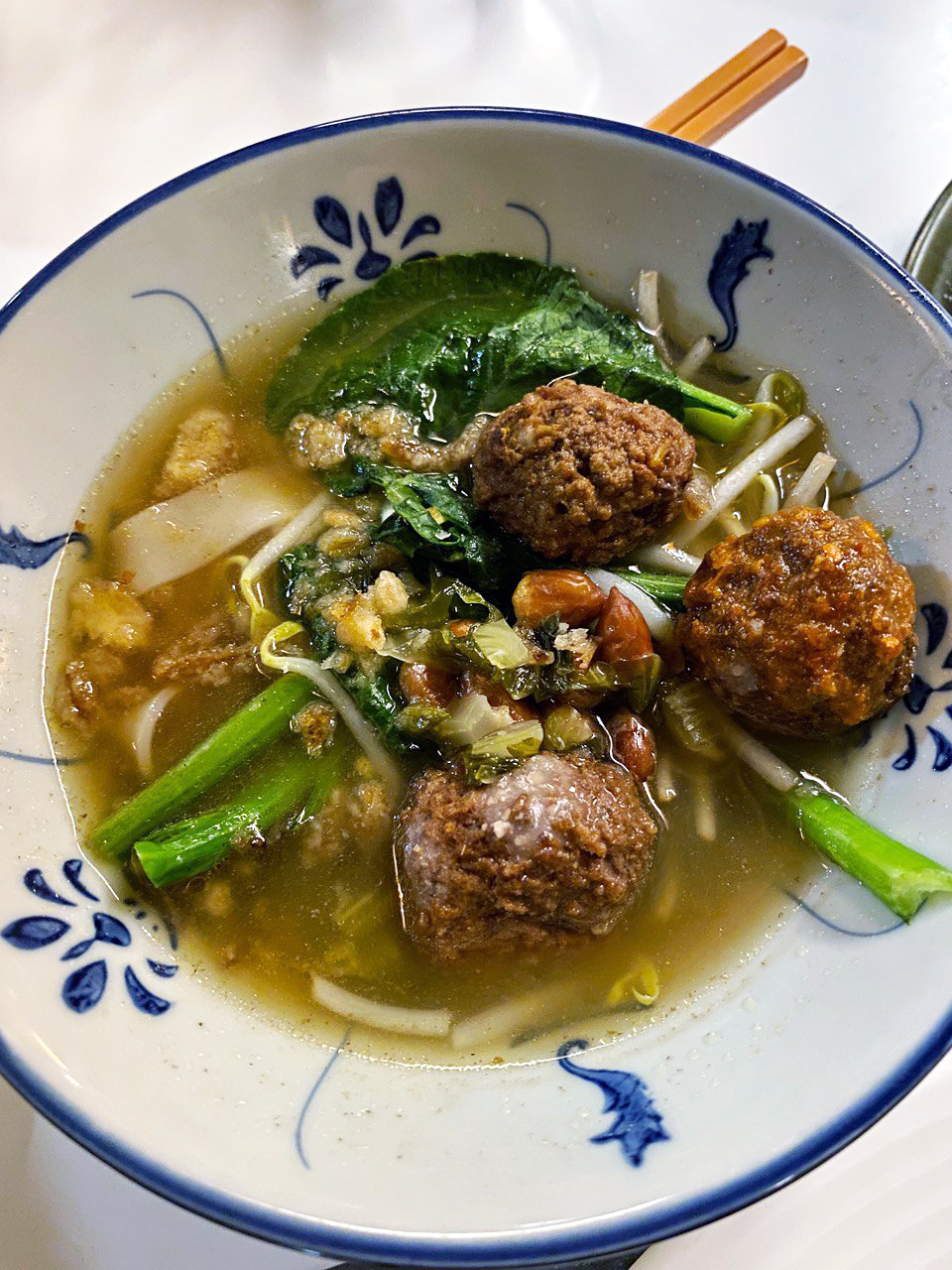 Each soupy bowl, cooked by a line cook, comes with three beef balls and your choice of yellow noodles, kway teow or thick beehoon.
The dessert station offers a tempting array of cakes.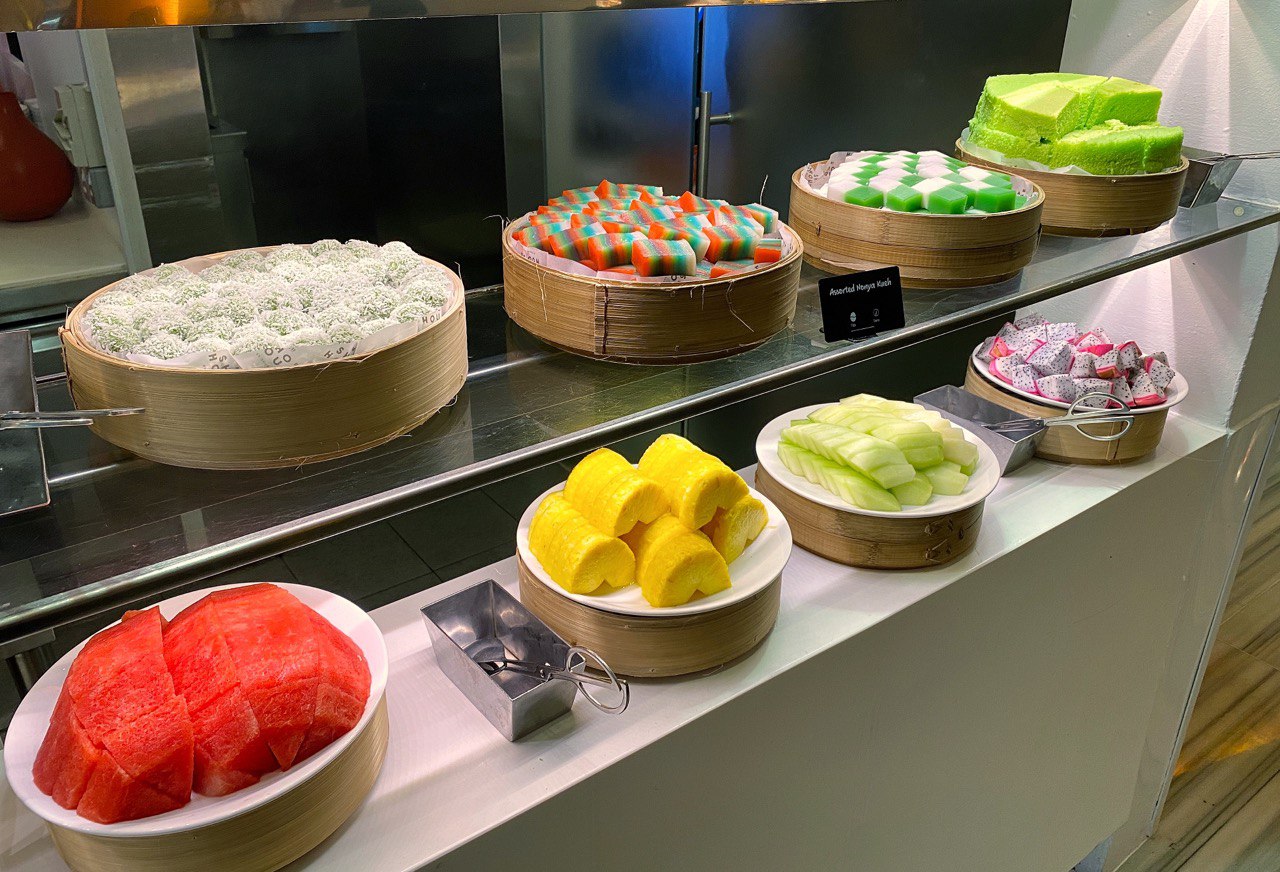 But we find the kueh selection middling; the exposed kuehs on display like Kueh Lapis dry up after a while and turn rubbery, while the last two pieces of ondeh ondeh we snatched were unfortunately hard (learn from our mistake and whack the kueh station early too, we say). The soft, pillowy pandan chiffon cake is decent though.
We say save your calories for a slice of the buffet's signature Durian Coconut Cake, loaded with a respectable amount of durian purée.

The Line is at Tower Wing, Lower Lobby at the Shangri-La Singapore, 22 Orange Grove Rd,  S258350. Buffet service only from Thurs-Sun, eve of PH & PH, 12.30pm-2.30pm (lunch) and 6pm-9.30pm (dinner). Call 6213-4398 for reservations or e-mail dining.sls [at] shangri-la.com. More info here.