Freshly baked S$2 croissant and S$2.80 kouign amann found at hawker stall in Bukit Timah
The French pastries are made onsite by a baker-turned-hawker and cost about 50 percent less than those from fancier bakeries. Humbler heartland-style treats are also sold here.
Juz Bake, a no-frills hawker stall on the second floor of Bukit Timah Market & Food Centre, is often abuzz with activity in the wee hours of the morning. Soft-spoken owner and baker Johan Tan, 30, begins his day at 1am, where he can be seen scuttling about the stall's tight quarters. At first glance, his display cases exhibit goods typical of a heartland bakery's shelves: soft cheese buns, curry buns, marble cake. But look again and you'll notice some atas French viennoiserie, like kouign amann (pronounced kween-ah-mon) and croissants, sold here at roughly half the price of those you get at more upmarket bakeries and cafes (for instance, Tiong Bahru Bakery's croissant and KA cost $4 and $5.50 respectively). The stall opens at 6am and closes by 3pm, sometimes earlier if biz is good.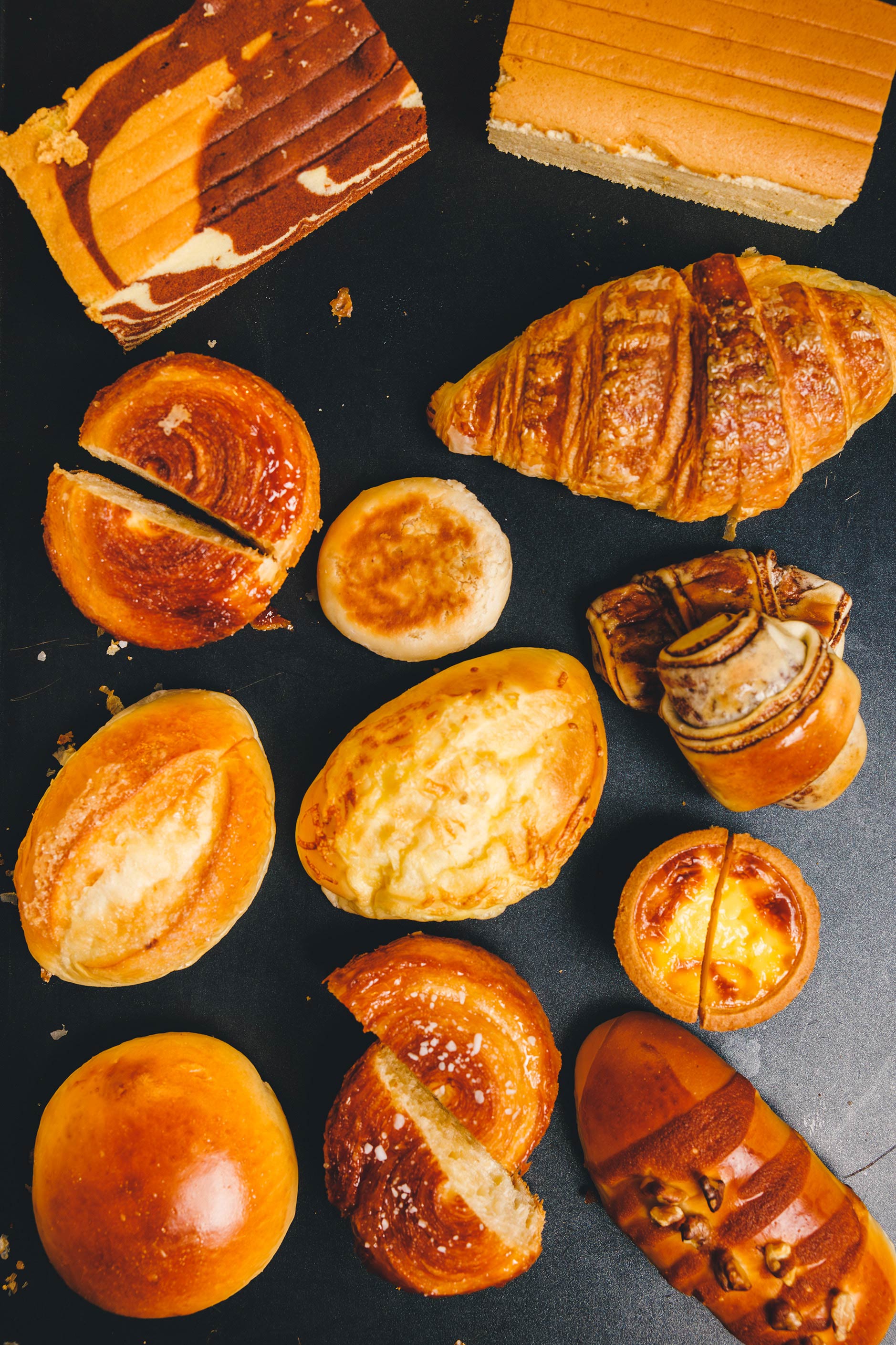 "It's not every day people can enjoy these bakes at wallet-friendly price points," Johan tells 8days.sg.
No part of this story or photos can be reproduced without permission from 8days.sg.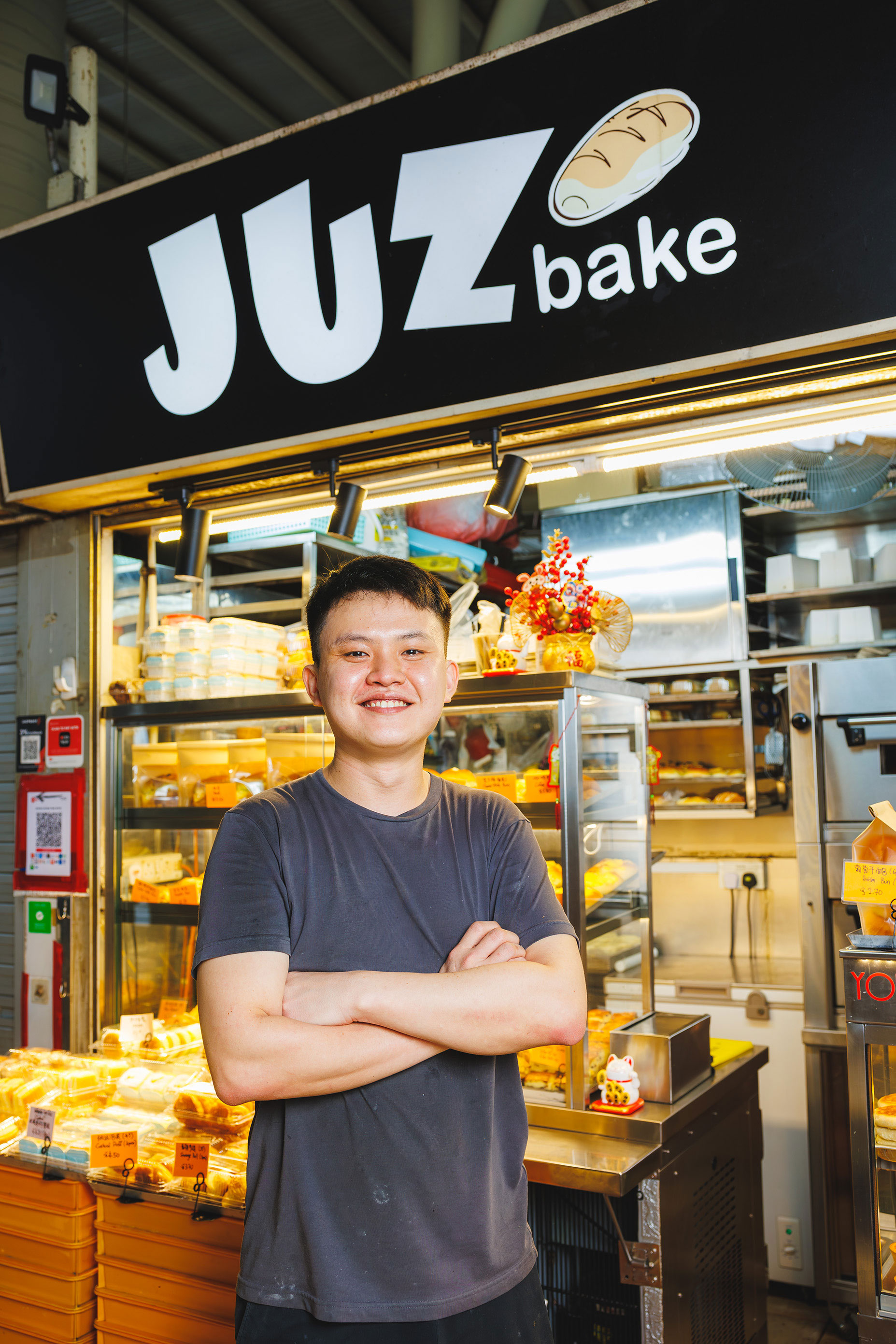 Experience baking at mod River Valley cafe & heartland bakeries
This eclectic menu came about because the Malaysian-born Singapore PR hawker used to work in several heartland bakeries before becoming a baker for a year at LR Boulangerie, a modern bakery-cafe at Valley Point mall in River Valley. This was where he learned how to bake croissants and kouign amann.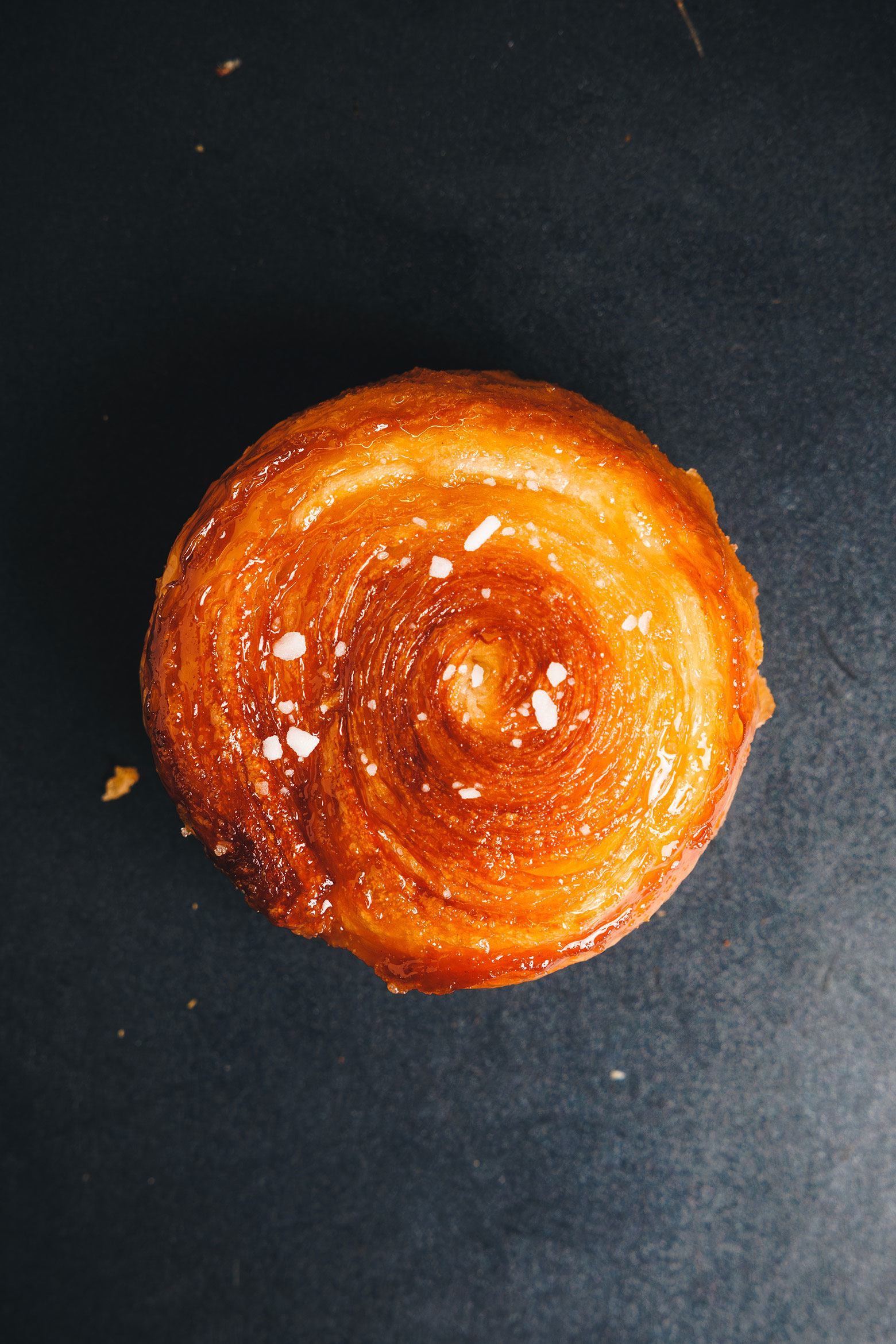 Kougin amann ("butter cake" in Breton) is sometimes regarded as the croissant's denser, richer and more sugary cousin; it resembles a deeply crevassed crown saturated in syrup. "I started learning how to bake kouign amann because my wife loves them," adds Johan, sheepishly. 
The two met while working at LR Boulangerie — his wife was a barista there. "I managed to hone my craft at the cafe and eventually got to making kouign amann by trial and error." Some days, his missus, who is a homemaker, would pop by his stall to help. But often, he manages the entire ops — from baking to serving customers — on his own. This means after closing shop in the late afternoon, Johan has precious little downtime before he goes to bed at 6pm and wakes up by midnight almost daily. 
Started working aged 14
Johan carries himself with a certain diffidence. He rarely smiles and is almost always hidden behind the display case doing prep work or fumbling with his phone. 
But he eventually reveals that he isn't quite the person he is today 16 years ago. "I was very mischievous in school," Johan says. "I would skip school, get into fights and do pretty much everything rebellious."
Expelled from school twice
Johan, who was studying in Batu Pahat, Malaysia then, confesses that he was expelled from secondary school twice: first, when he was 13 (but soon re-enrolled when his parents begged the school for a second chance) for vandalism; second, when he was 14 for defiance. On his rebellious childhood, he says matter-of-factly: "I think I deserved [to be expelled]."
As a school dropout, Johan, the youngest of three siblings, soon found himself working at a baking factory following his cousin's recommendation. "I never did get to bake there. All I did was wash baking equipment. It was tough at first but maybe it's because I was younger, I adapted to working at an early age pretty quickly." 
Relocated to Singapore at 17 to work in heartland bakeries
When he turned 17, he relocated to Singapore to seek better prospects. He ended up at a neighbourhood bakery in Bedok, where he finally learnt how to bake assorted breads like buns and baguettes. In the following years, he hopped from one heartland bakery to another, refining his baking chops and eventually landed a stint at LR Boulangerie. 
In February 2022, he set up Juz Bake. "I found this vacant stall, which used to also be a bakery, by chance, and decided to invest some savings into it and become a hawker."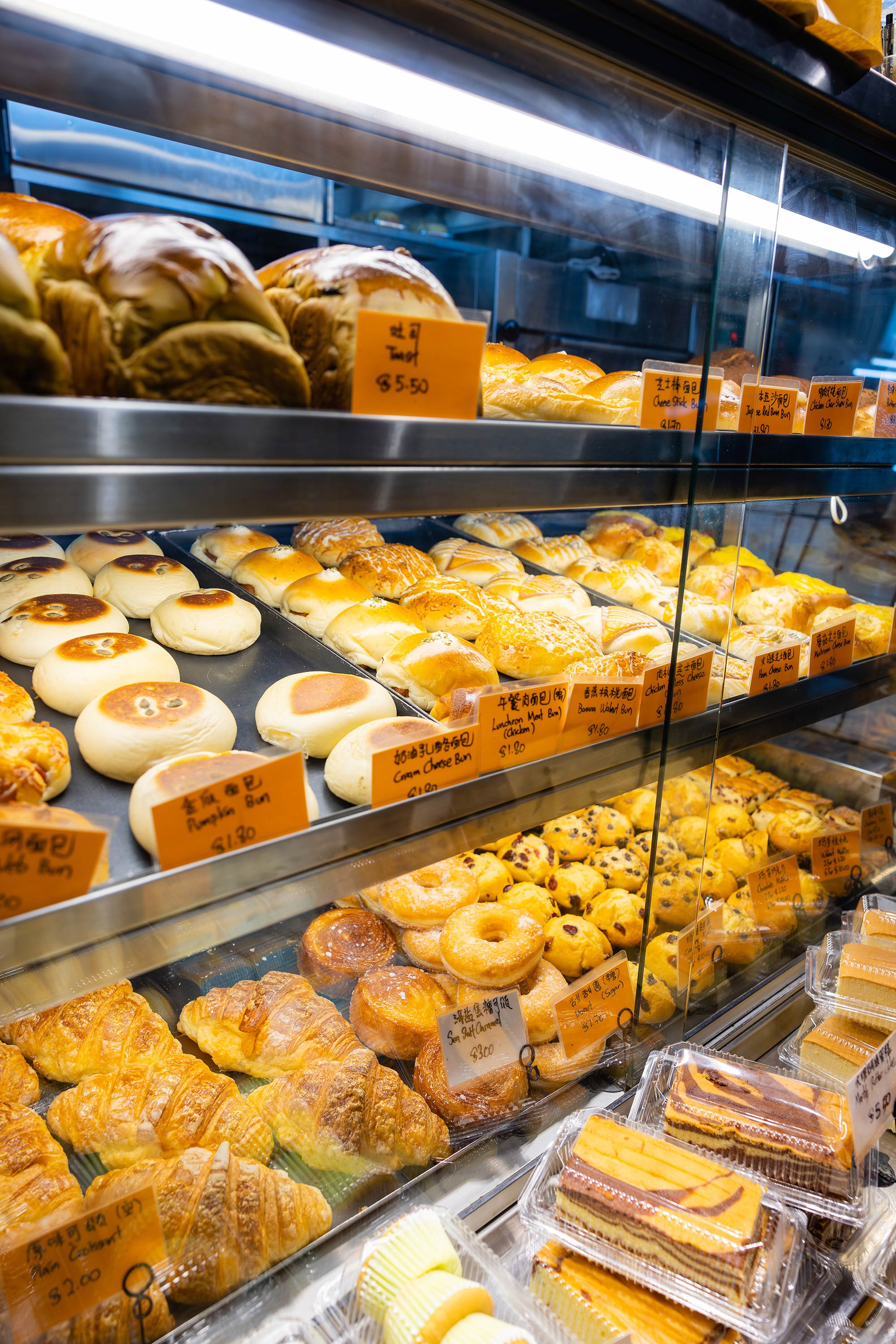 "I wasn't used to the small space here at first," he explains. The hawker bakery, which houses a two-tiered electric oven, only has enough space for "one person to wriggle around." Johan plans to offer more European pastries like Danish later next year, when Bukit Timah Market & Food Centre relocates to a new building nearby and his stall can accommodate better baking equipment.
But what irks Johan the most is when customers accuse him of buying and reselling bread and pastries from wholesalers. "I bake everything in this little kitchen by myself, so it's quite disappointing when people say that," remarks a perplexed Johan. 
The menu 
The hawker bakery's menu is both expansive and random — there were over 20 items during our visit. Besides kouign amann and croissants, there are also salty tau sar piah, egg tarts, scones and Japanese-style cheesecake. All of which, amazingly, are made in-house by Johan alone. 
He also offers many heartland bakes, including assorted buns and old-school marble cake. "Heartland bakes are nostalgic," Johan muses. "People, young and old, like them, so it makes sense to just offer them here." Prices start from $1.70 per item.
The most popular bakes are the kouign amann, croissants and Japanese cheesecake, he shares.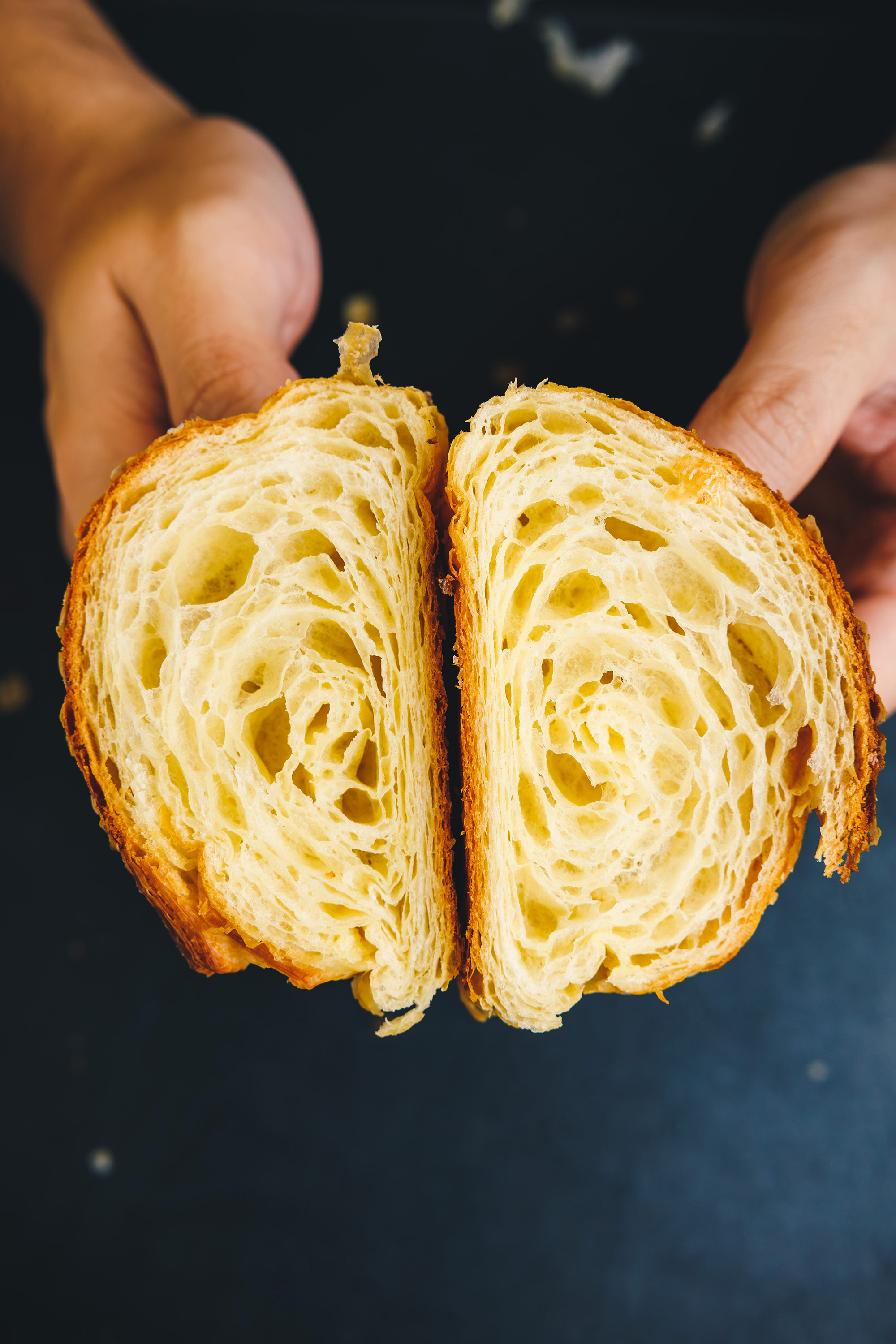 How does he bake delicate French pastries at a humid hawker centre?
Our first thought when we saw croissants on sale at the humid hawker stall: how does Johan bake these famously finicky pastries that require laminating layers of dough with countless sheets of butter that must not melt before going into the oven? 
The answer is in lamination butter sheets made using New Zealand pasteurised cream, he says. This butter is manufactured specifically to be used in warmer settings, he explains. 
Johan bakes a total of 30 wallet-friendly croissants daily. He does so in batches on-site, the first lot ready by 7am, with all croissants often sold out by 11am.
Croissant, $2 (8 DAYS Pick!)
This is not the prettiest croissant around — its slightly mottled exterior could do with a smoother and glossier finish. However, the crescent-shaped pastry is aptly crusty on the outside, flaking nicely as we bite into its delicately sweet, feathery and honeycombed interior. All it needs? A slightly heavier dose of butter. Still, at this price, it's an enjoyable treat.
"There are some limits to the oven I'm using, I think I could do a better job if I had the space to upgrade my oven," he says, acknowledging that the croissant's dull, craggy appearance may look uninviting at first sight. 
Kouign Amann, $2.80 (8 DAYS Pick!)
Johan's kouign amann is a lot prettier. The pastry's golden, crisp exterior features an arresting swirly top with a thin layer of caramelised sugar. Beneath it lies a soft, slightly sweet centre that's more buttery than the croissant. Delicious and somewhat comparable in looks and taste as kouign amann from some fancier bakeries — albeit a little thicker and breadier than most.
On average, he sells about 30 kouign amann daily, with the first batch hitting the shelves at 7.30am. Like the croissant, it often sells out by 11am.  
Sea Salt Caramel Kouign Amann, $3.00 
This is the weaker kouign amann of the two. While there's a nice coat of decadent caramel on its surface and buttery notes within, it needs more salt. Still quite lovely with a cup of tea. 
Marble Butter Cake, $5.50 (8 DAYS Pick!)
Our fave offering among the heartland bakes here because it's fluffy, not too sweet yet satisfyingly rich. Each mouthful boasts buttery notes interspersed with deep hits of cocoa. Good value too as this large slab feeds about four to five people.
Chocolate Roll, $3 for four pcs (8 DAYS Pick!)
The layers of this petite, chubby Japanese-inspired bread roll tear apart quite easily. The bittersweet chocolatey bread in this Four Leaves' bakery lookalike takes centrestage here. Fragrant, sweet and soft, it has the right amount of butter and a pleasantly chewy mouthfeel.
Egg Tart, from $1.70 
Dry and thick crust aside, the egg custard, while silky, was a little bland. Skip.
Japanese Light Cheesecake, $7 (8 DAYS Pick!)
Not to be confused with the American variant, which is denser and richer, the Japanese light cheesecakes are known for their "fuwa fuwa" (Japanese for "fluffy, fluffy") texture. Made using Australian cream cheese, Johan's version is indeed cottony, moist and very easy to eat. "The Japanese cheesecake takes the longest time to make and is the first item I bake every morning," says Johan.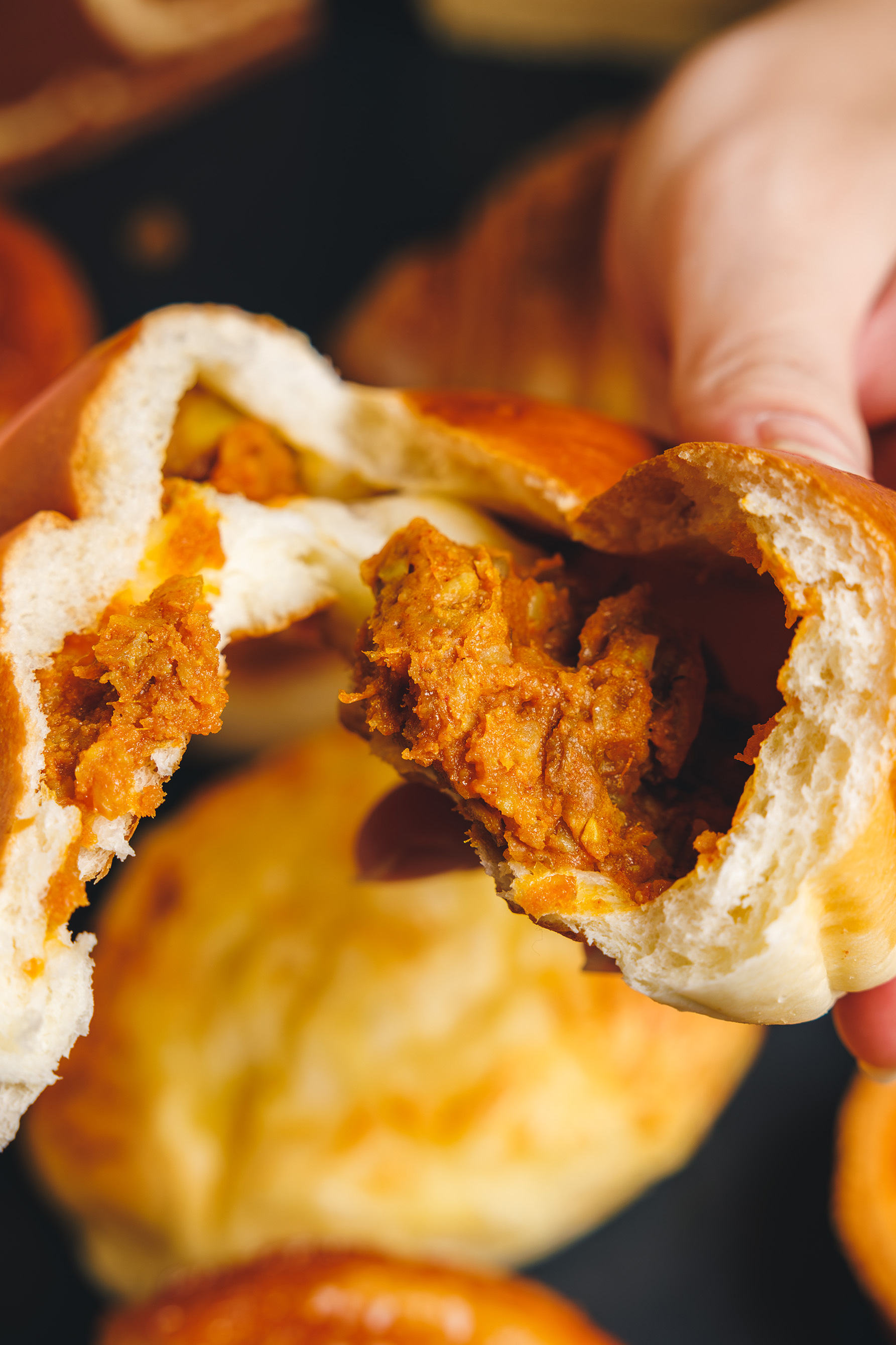 Curry Potato Bun, $1.70 
While a bit under seasoned and not the best we've had, the soft bun and comforting filling of curried potatoes still manage to deliver some local charm.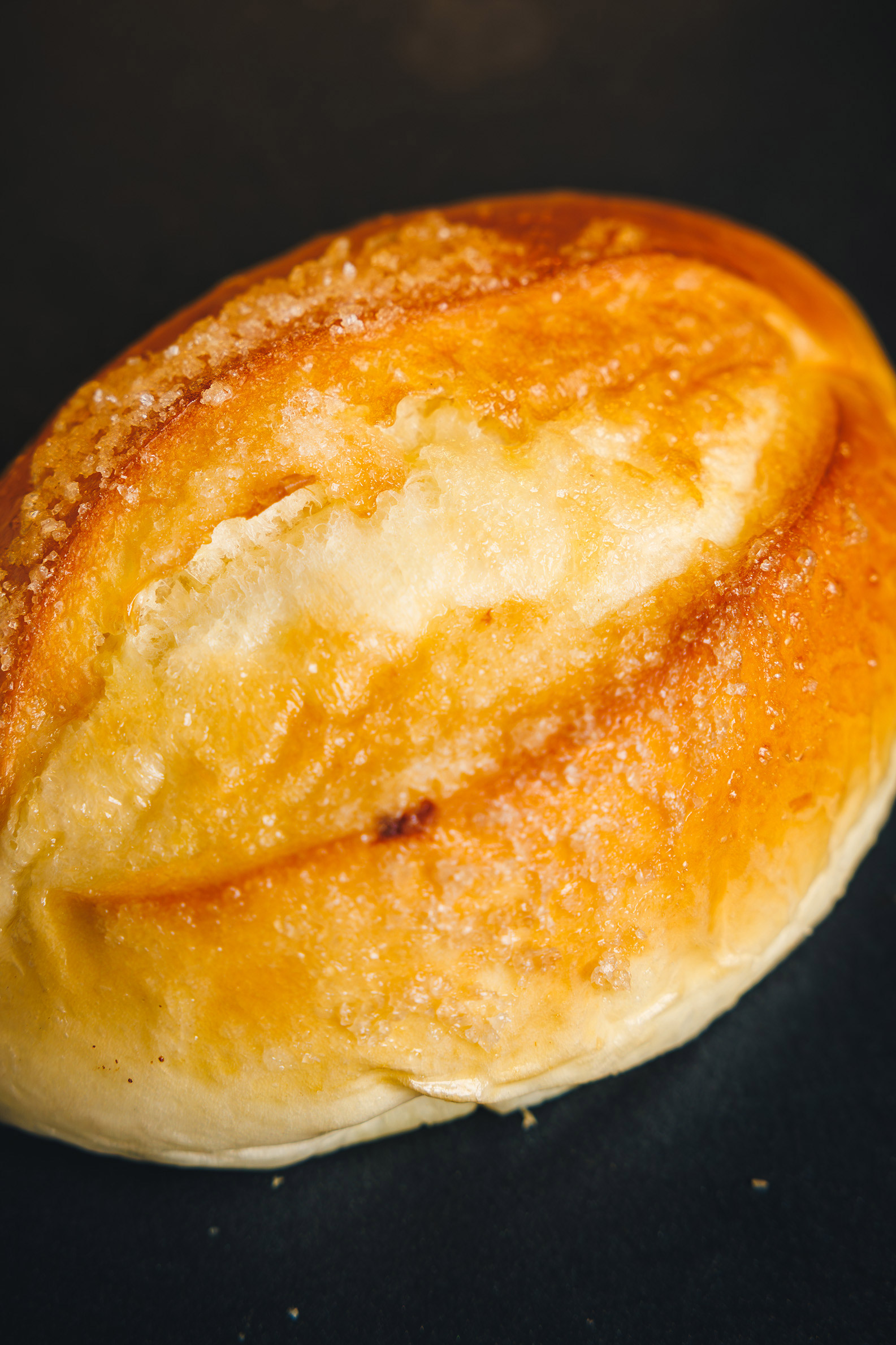 Butter Sugar Bun, $1.70 
Another popular retro fixture at neighbourhood bakeries. While the buns are soft, we found them too skint with the butter.
Bottom line
We're charmed that Juz Bakes sells humble and comforting heartland-style bakes alongside atas French viennoiserie at wallet-friendly prices. Here, the normally bougie kouign amann and croissant (we prefer the KA) are accessible treats to pair with your kopi gao. While the other bakes are hit or miss, there's still plenty to like — such as the pillowy Japanese cheesecake, soft chocolate rolls and nostalgic marble cake. We think the young hawker should streamline his enormous menu and focus on perfecting his specialities. 
The details

 
Juz Bake is at #02-149 Bukit Timah Market & Food Centre, 51 Upp Bukit Timah Rd, S588215. Open daily except Mon, 6am-3pm (or till sold out).
Photos: Alvin Teo
No part of this story or photos can be reproduced without permission from 8days.sg.
8days.sg is now on #tiktok! Follow us on www.tiktok.com/@8dayseat.