Golden Mile Complex Eateries Prepared To Move Out After Building's En Bloc Sale
"It feels like starting all over from scratch," says the owner of popular Thai pancake stall Baan Kanom Thai, who had opened his shop just over two months ago.
One of Singapore's most popular late-night makan spots is set to be shaken up after an announcement of a S$700 million en bloc sale. Golden Mile Complex was recently sold to a consortium - made up of Perennial Holdings, Far East Organization and Sino Land - after over 80 per cent of the strata-titled building's owners agreed to the sale.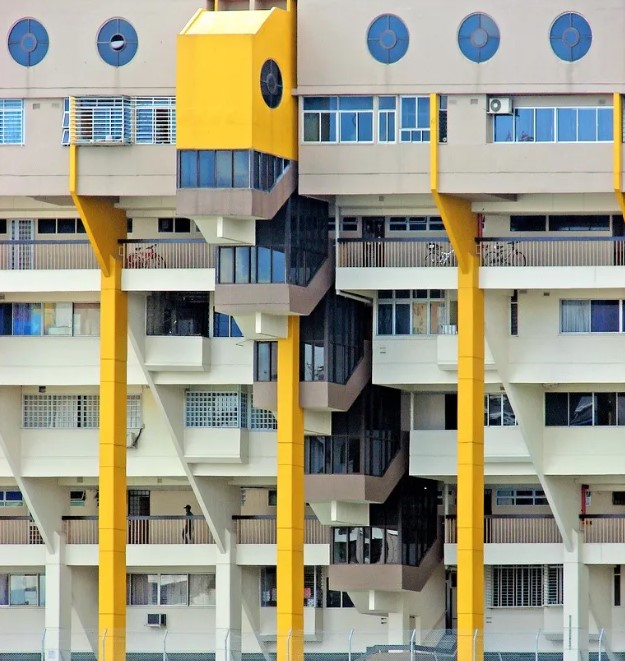 Photo: Golden Mile Complex
Due to its unique terraced Brutalist architecture, Golden Mile Complex was gazetted as a conserved building last year. CNA reports that the consortium intends to "sensitively restore" the 16-storey complex, with plans to transform it into a mixed-used development with retail, residential and office units.

Which begs the question: What will happen to the building's well-loved eateries?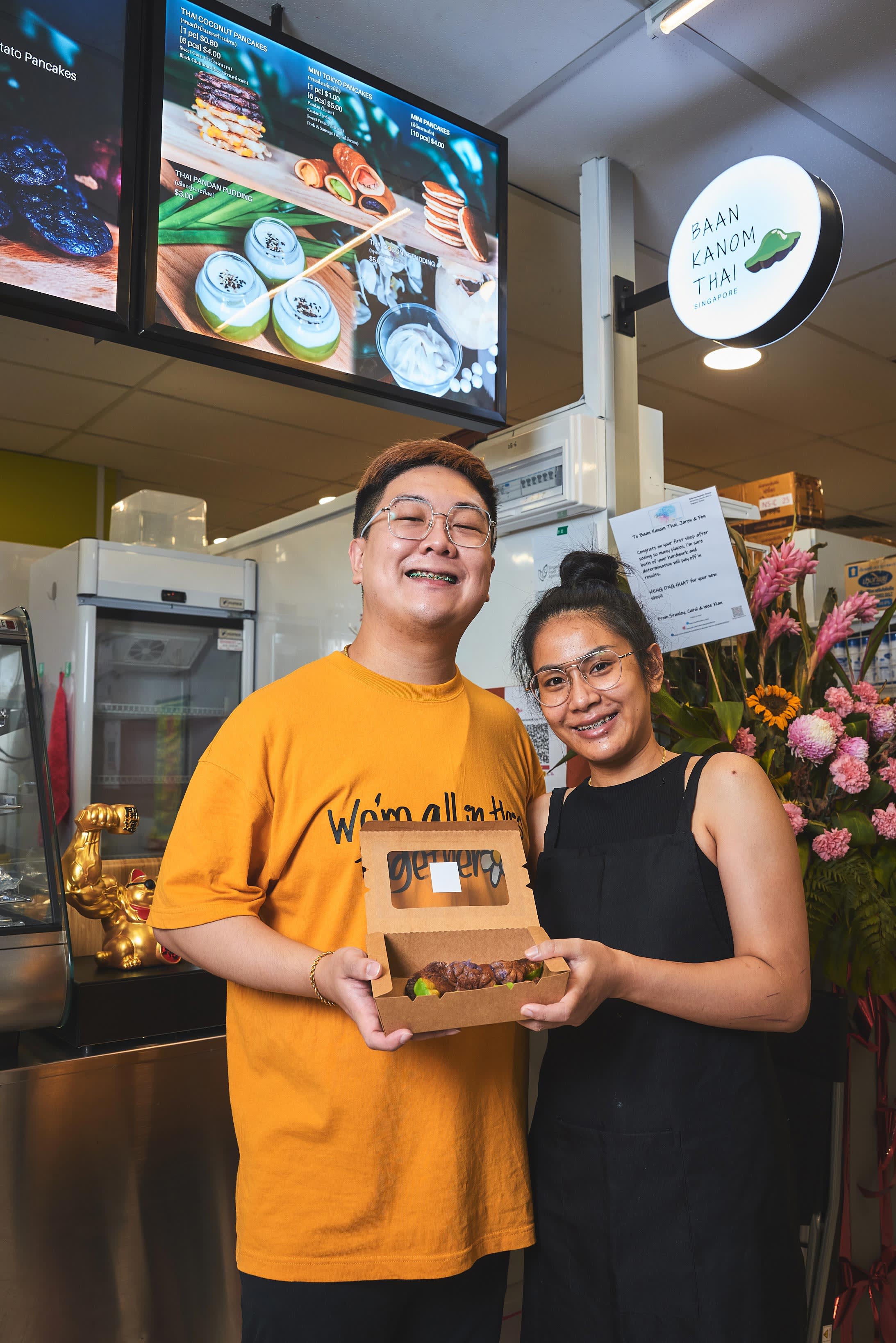 Singaporean Jaren Choong and his Thai-born wife Fon C opened their Thai dessert stall Baan Kanom Thai just in March this year.
F&B owners prepared to move out
At press time, some of Golden Mile Complex's F&B owners tell 8days.sg that they are still unsure of what is to come. A staff member at the famous Diandin Leluk Thai Restaurant, which has been operating there since 1985, declined to comment on the matter as "it's handled by our office."

"For now the building management and landlords have not revealed anything to us tenants," says Jaren Choong, 28, the owner of Thai pancake kiosk Baan Kanom Thai. He had set up shop within the building's Thai Supermarket with his wife Fon C, 26, just in March this year.

Fon, who's originally from Thailand, had quickly gained a sizable following for her freshly-made desserts like anom krok bai toey (pandan pancake). "We heard - but we're not sure if it's true - that everyone will have to move out by July 2023," Jaren shares. "Whether [the management is] going to keep it as 'Little Thailand' or not, we're still unsure. But if the rent is maintained at a reasonable price, we don't mind staying and continuing our operations."
"It's sad to know that we all have to go our separate ways"
However, Jaren says he's planning to look for another shop space "around the central area" if he has to move out. "I feel it's rather saddening as we had just opened our shop not long ago, and one year later we have to search for a new place again," he reveals.

He and Fon had also "started to build friendships with other neighbouring stalls", which makes it extra hard for the couple to leave the complex's convivial kampong spirit behind. "It's sad to know that we all have to go our separate ways next year," Jaren says.
Other than sentimentality, he points out that it's also "time-consuming and costly" to hunt for a new location. "We have to try to reach out to all our customers about our new location, but as some of them don't use social media, they won't be updated," he notes. "It pretty much feels like starting all over again from scratch."
However, he observes that it's a "50-50" situation for him, as moving to a new spot might bring more foot traffic to his business. "We are currently hidden inside the supermarket, and lots of customers complained that they had a hard time locating us," he laughs. "So I'm just hoping that I'm able to find a good location that can also meet my budget."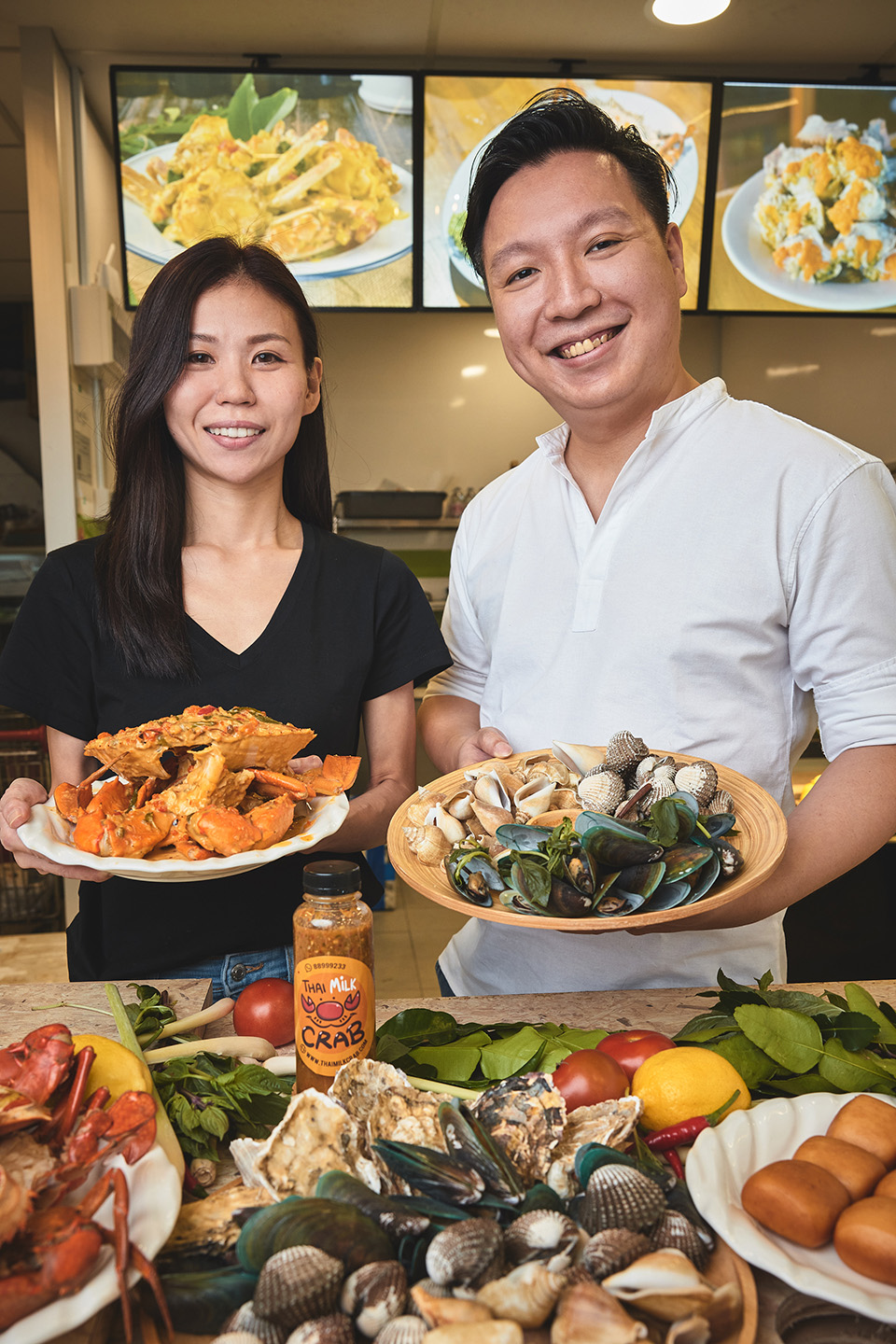 Biz partners Ng Su Shan and Kenny Ong recently renovated their Thai Milk Crab stall.
Newly-renovated Thai milk crab stall "hit hard"
Kenny Ong co-owns takeaway seafood stall Thai Milk Crab, which has been selling milk-steamed mud crabs and other types of boiled seafood, also within Thai Supermarket. "We are being hit hard at the wrong timing — we just expanded and invested a bit of money to renovate the place," the 36-year-old tells 8days.sg candidly.

He had opened his stall last year with his childhood friend Ng Su Shan, 36, without even a signboard as they were "too busy". According to Kenny, his landlord has confirmed that he will have to move out eventually. "We are considering moving to Golden Mile Tower [next door]," he says.

Kenny expects to incur extra costs for the shift. Upon our enquiry, he reckons that he will not receive any compensation as an F&B tenant. "I think it's just how things work. Can't blame the landlord too," he opines.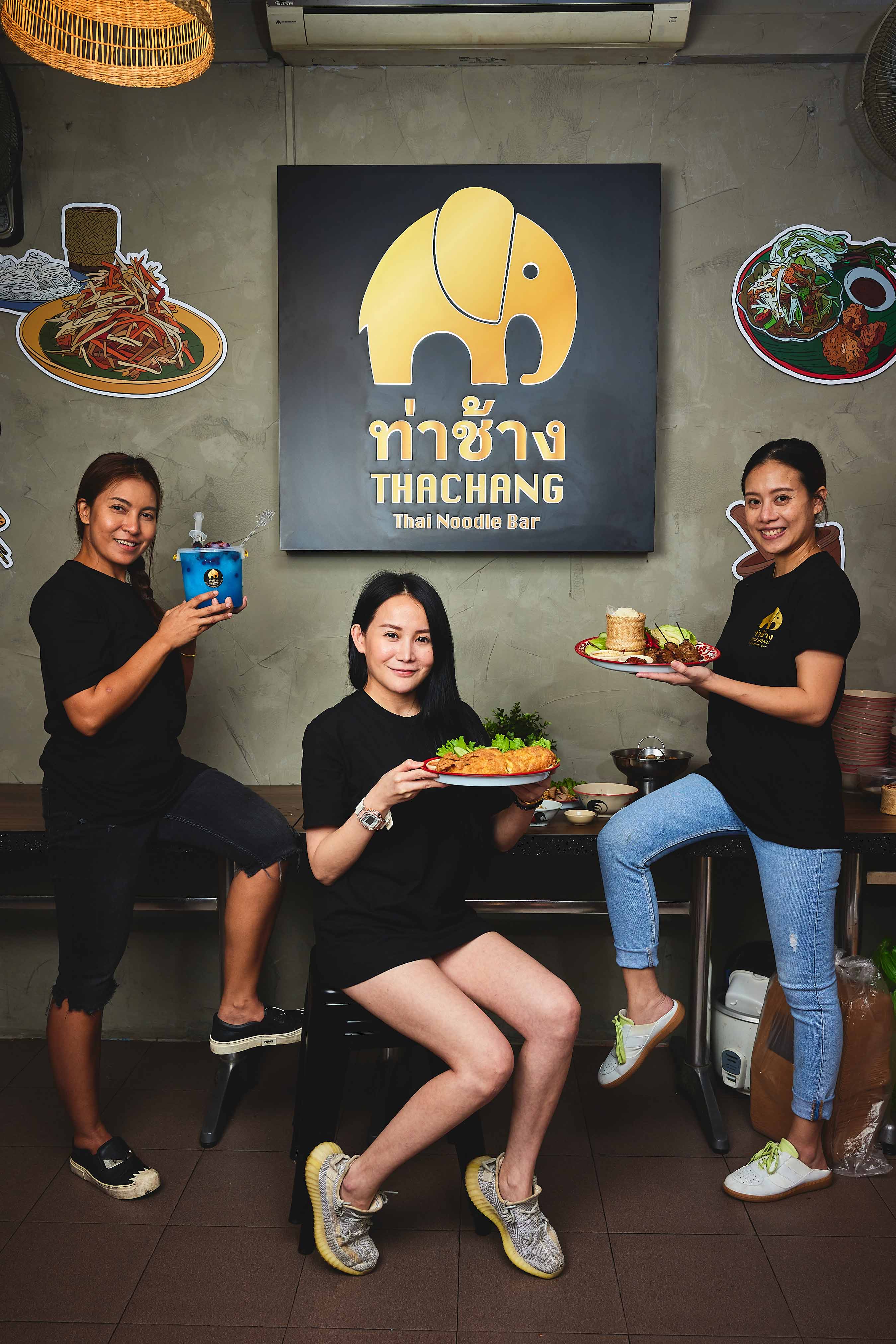 "Don't know if we are cursed or what"
Boat noodle joint Tha Chang Noodle Bar opened last April and was almost immediately hit by Phase 2 Heightened Alert dine-in restrictions, which tanked 40 per cent of their business volume.

The eatery is co-owned by three Thai lady bosses (pictured): Maysa D, 36, Jess S, 39, and Anna S, 32. Anna's Singaporean husband Shawn Chio, 39, helps out with manning delivery orders. Since P2HA, their business has been gradually recovering. "We almost expanded and took over the shop beside us, but it was put on hold when we heard there was a high chance of en bloc two to three months back," he says. "We're now unsure whether to stay or find a new place."

Shawn acknowledges the almost comedic string of challenges he had to tackle just to keep his business afloat. "We just started about one year ago and got hit by the two-pax dining rule, all sorts of scenarios you can think of (laughs). Now it's like a restart again. Don't know if we are cursed or what," he quips. "[The new building owners] will most likely change up all the tenants as it's done by big developers, and the rent will go up exponentially as well." 
 
Despite the current uncertainty, Shawn has started looking for a new location to reopen. "Most likely we have to move out, but we haven't found something that we like yet," he says. Like Thai pancake stall owner Jaren, he's attracted to the quaint charm of Golden Mile Complex.

"I used to hate it. I thought it was so dirty and old, which it still is, but there are a lot of stories behind it. I even went to explore the offices on top," he shares. He's also reluctant to leave as he and Anna "love the Thai culture and vibe there — my wife bonded with a lot of friends and it's like a hangout place for them."
Photo: foursquare.com/ Grace
Branching into new outlets
Meanwhile, some Golden Mile F&B owners have preemptively opened new outlets. The complex's famous New Udon Mookata, which has been there since 2007, is setting up its first branch outside of Golden Mile next week at Foch Road in Jalan Besar.

"We're expected to move [out of Golden Mile] around May or June next year," its second-gen owner Goh Jin Na, 21, tells us. "We already have plans [to open] in other places — Jurong West and Greenwood Avenue at Bukit Timah. We considered opening in the east side, but we don't have any plans yet. It will most likely be in Paya Lebar."

She hopes that the new outlets will attract more new customers. "It will definitely be hard, but we still hope that we maintain [our customer base]," she says.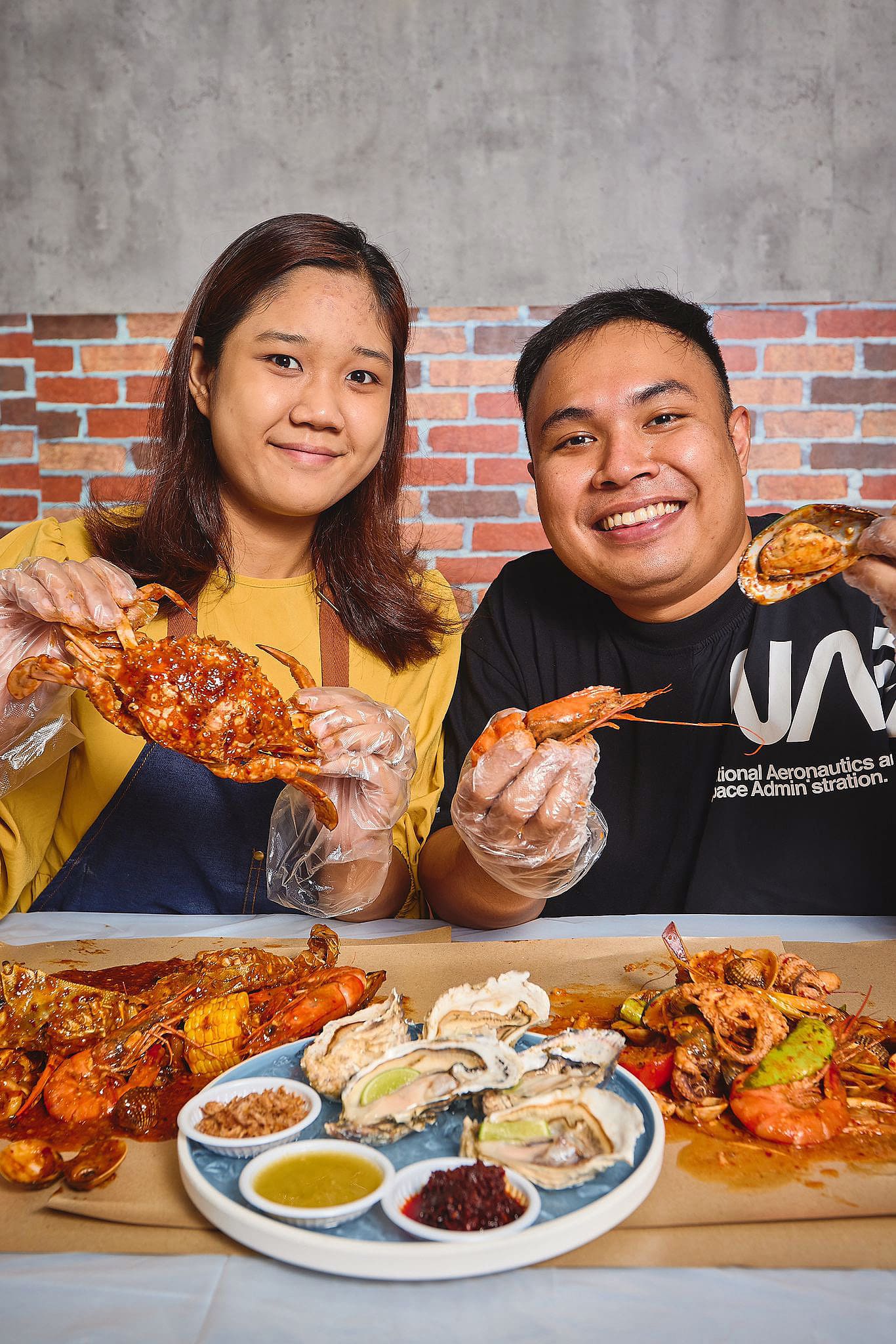 Thai-born Foo Yiling, 26, runs Seafood Bucket, a Rod Fai Night Market-style eatery serving Thai seafood boil. She opened her Muslim-friendly restaurant with her husband Hykel Jumari, 26, last year at Golden Mile Complex, and the duo will set up a second outlet at Peninsula Shopping Centre at the end of this month (May).

Yiling shares: "We will definitely have to vacate [Golden Mile Complex], but as of now we still have to wait for confirmation from URA on whether the [management's] proposal plan to revamp is approved."