Great Pulled Pork Kimbap, Cutlet By Ex-Meatsmith Chef At Korean Café & Butcher's Shop
UNDERCOVER RESTAURANT REVIEW: The Butcher's Dining is the casually cool mod Korean diner that Singapore needs.
Waitaminute — did we magically land in Seoul despite not having the stomach for travelling during the pandemic? Did we miraculously bypass the mandatory assault on our nasal passages and stumble upon a breezily stylish eatery-cum-butcher's store and gourmet grocer in Baum-Dong or one of the city's more affluent neighbourhoods? Nay, we're very much in Singapore, on Havelock Road, beside Ya Hua Bak Kut Teh.
But we can fantasise, as we wander past the sleek glass doors of The Butcher's Dining. The month-old establishment is an oasis of contemporary Korean charm amid the sea of greasy K-barbecue joints, teenybopper cafes and unmemorable mom-and-pop places common in Singapore.
For all Singaporeans' love for Korean pop culture, our country only boasts a handful of fab and cool K-establishments, usually fancier fine-diners like the exceptional Nae:um, Meta, and to a lesser extent, Anju.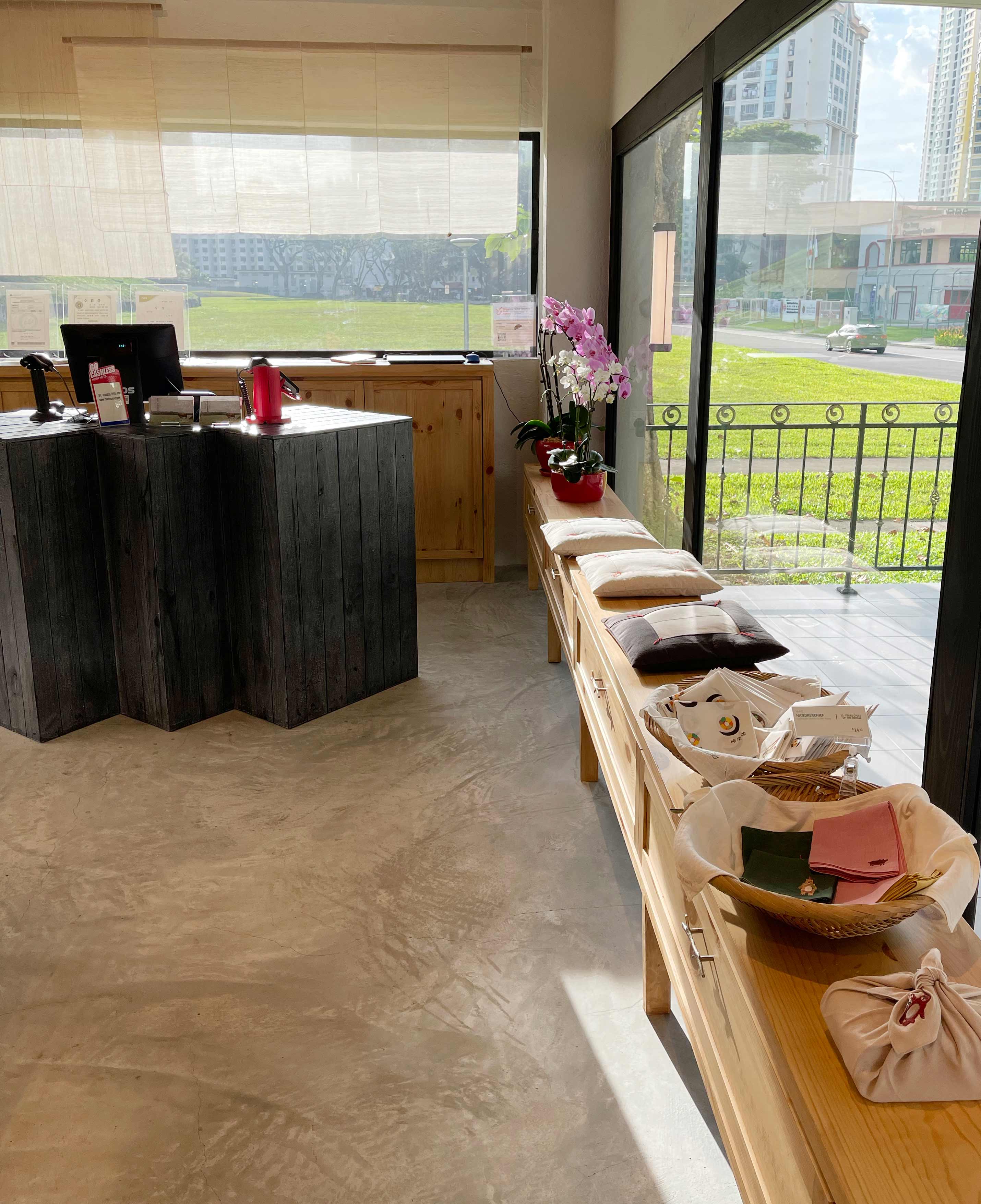 Stylo-Milo Korean butcher's shop, grocery store, café
An upmarket butcher's shop-cum-grocery store bathed in natural light is the first thing that we encounter here. It's effortlessly chic and spacious in a way that says its owners care little about maximising every inch of real estate — creating a clean aesthetic is more important, thank you. Speaking of the people behind this venture — it's a fashionable Korean couple who used to own the now-defunct fine Japanese kushikatsu restaurant Han at Odeon Towers, and also other casual Korean and Italian joints in malls.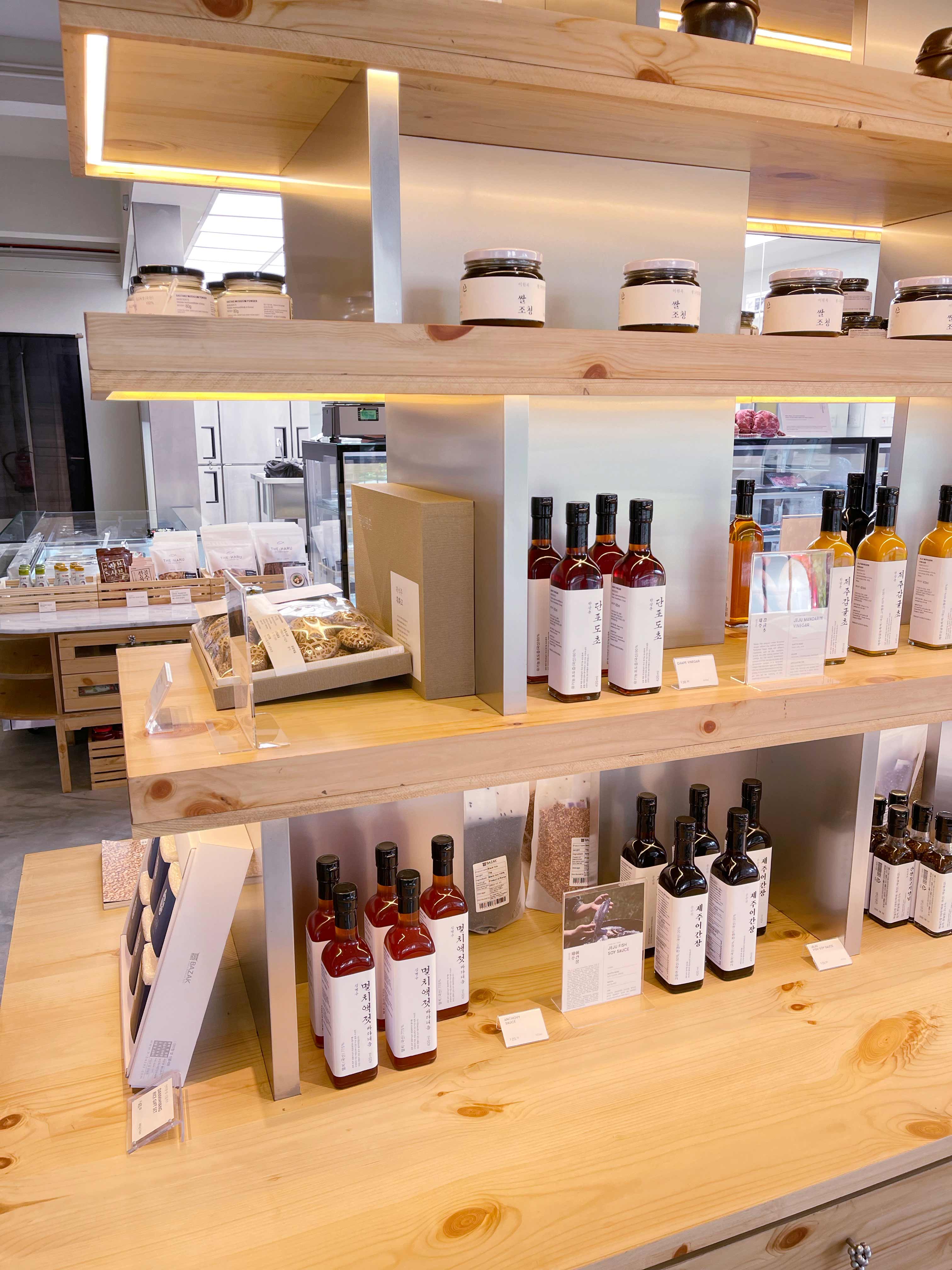 Not your average K-mart
Our eyes longingly sweep across the wooden shelves lined with artisanal Korea-imported produce ranging from more affordable stuff like anchovy sauce ($23.70) to deluxe $91 sesame oil. Some items come with a romantic write-up about its provenance, much like exhibits at an art museum.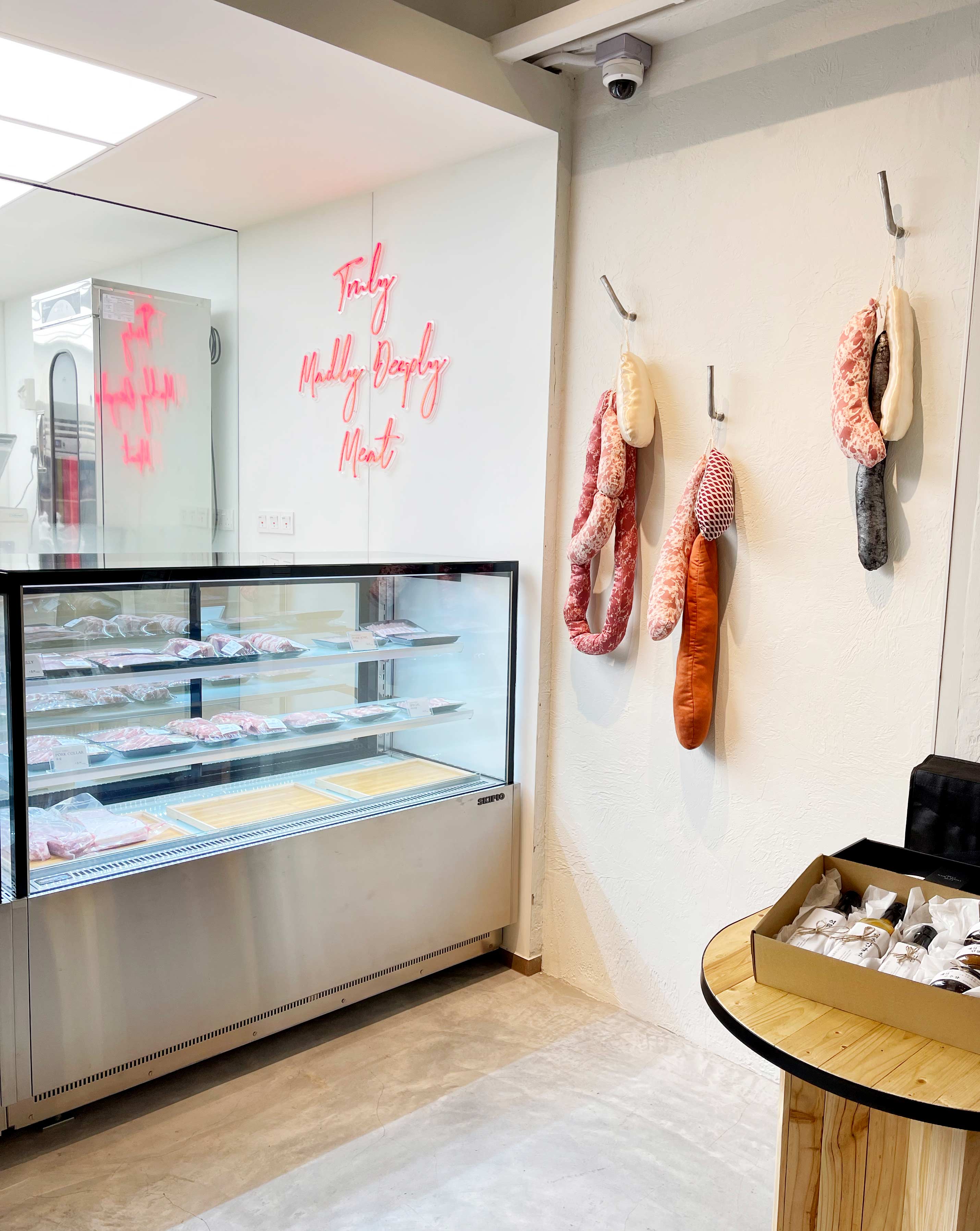 Meat and greet
But we are momentarily distracted by the chillers neatly stocked with beef — to our disappointment, none of our favourite Hanwoo here as the prized Korean breed of cattle is only modestly supplied overseas — mostly from the USA and Australia, along with premium pork. The meat counter, decorated quirkily with hilarious salami-shaped cushions, is manned by an inscrutable, scruffy-hip Korean butcher.
Contemporary Korean café
A far warmer welcome awaits us at the connecting café: two chirpy Korean lasses outfitted in shirts splashed with adorable cartoon steaks greet us enthusiastically. The dining space is a little less bare and polished than the shop area, but still tasteful with a steel counter, blocky wooden chairs with royal blue upholstery and a good-looking nook for washing your hands.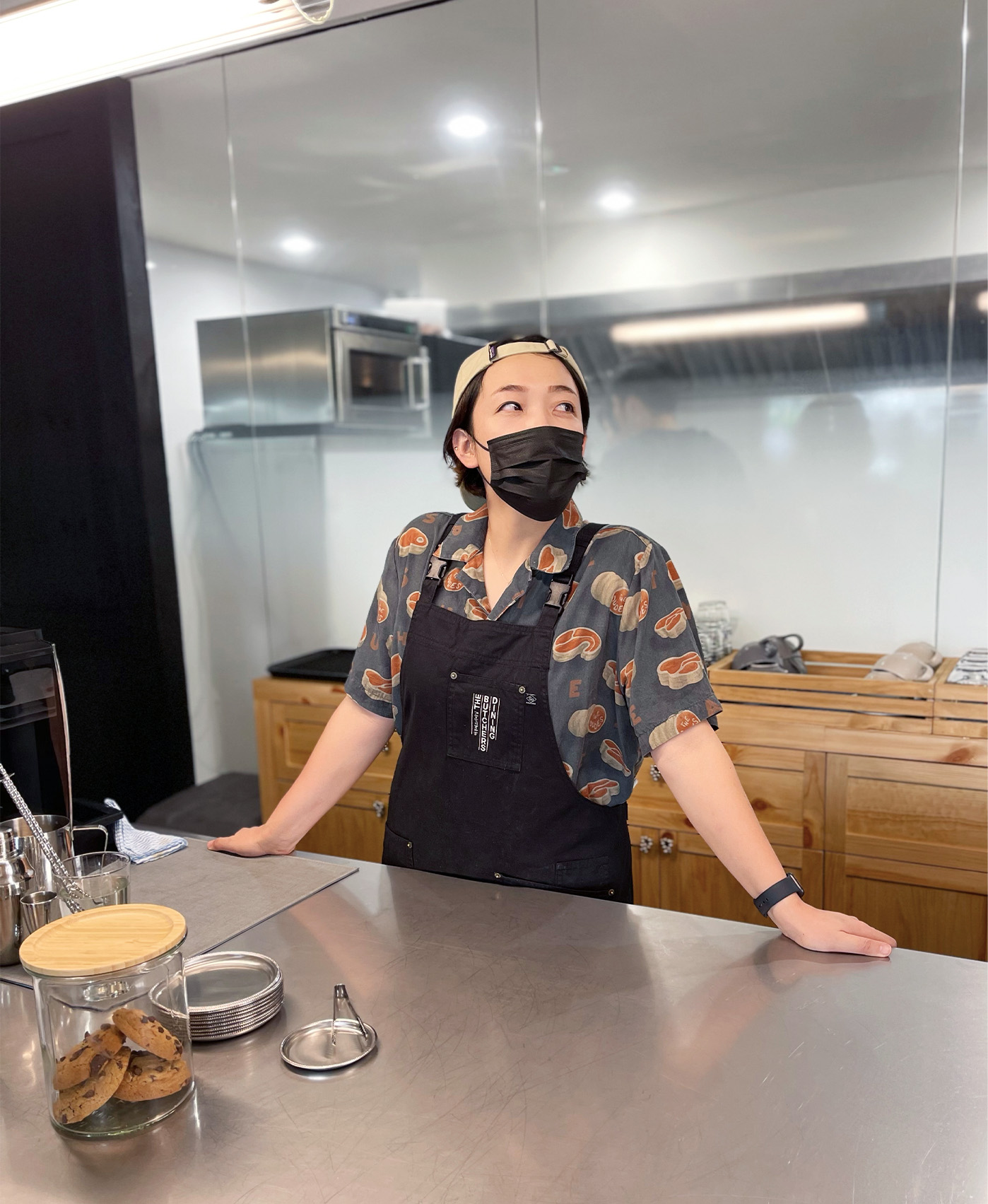 Korean head chef who worked at DB Bistro MBS, Meatsmith
The ladies oscillate between the glass-walled kitchen as well as front of the house. They're friendly, articulate, and as it turns out, pedigreed chefs. Heba (pictured), a Busan native who has been in Singapore for 11 years, has cooked at DB Bistro & Oyster Bar by Daniel Boulud at Marina Bay Sands and also more recently at popular American barbecue restaurant, Meatsmith. Burgers are the highlight at both establishments, which explains why there are two options on the menu here.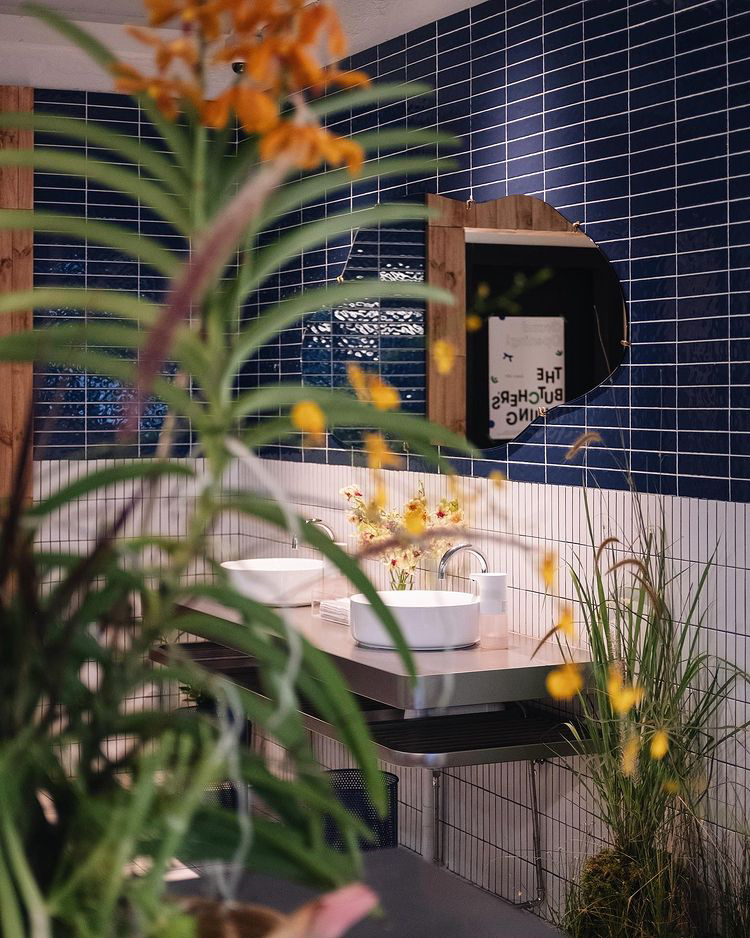 The vibe
We went undercover in the early days before TBD's official opening, and enjoyed its chill vibes best on a random afternoon when we were the only guests there. But another time, we sat beside a bunch of boozing office workers (clearly not WFH) who had long finished their soju, but remained mask-free over an hour, yakking loudly. One even snoozed midway through the gossip session — unmasked.
Photo: The Butcher's Dining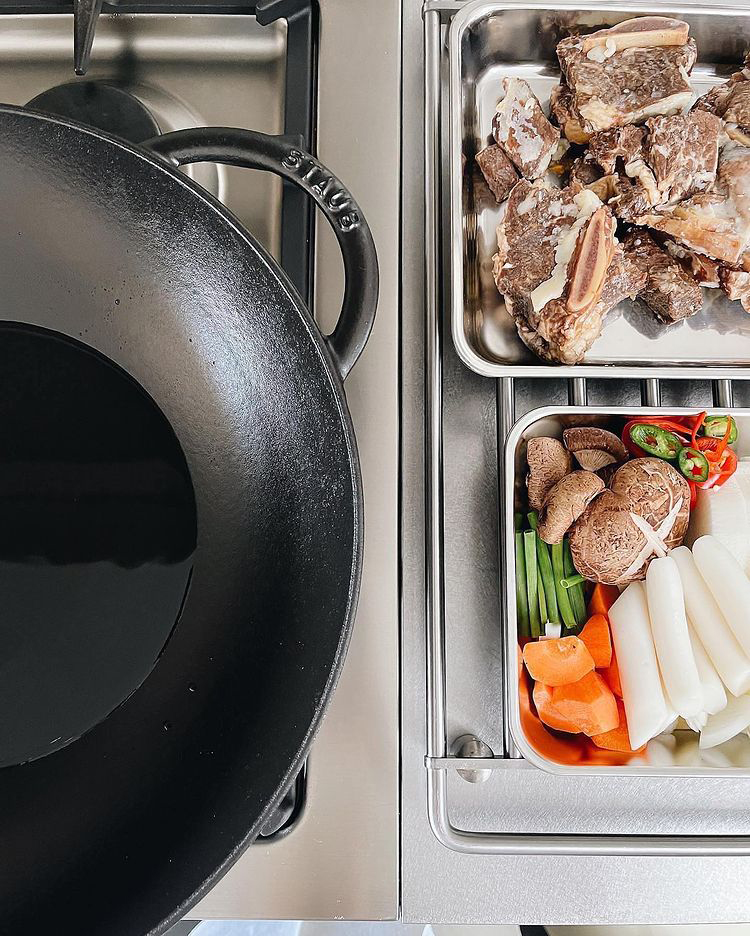 The dine-in menu
The Korean/Western menu is tightly curated and features products from the butcher and grocery store. There's a pork cutlet, beef burger, spicy pulled pork burger, and rice with meat like bulgogi. Desserts are an orange cake and a chocolate chip cookie.

Photo: The Butcher's Dining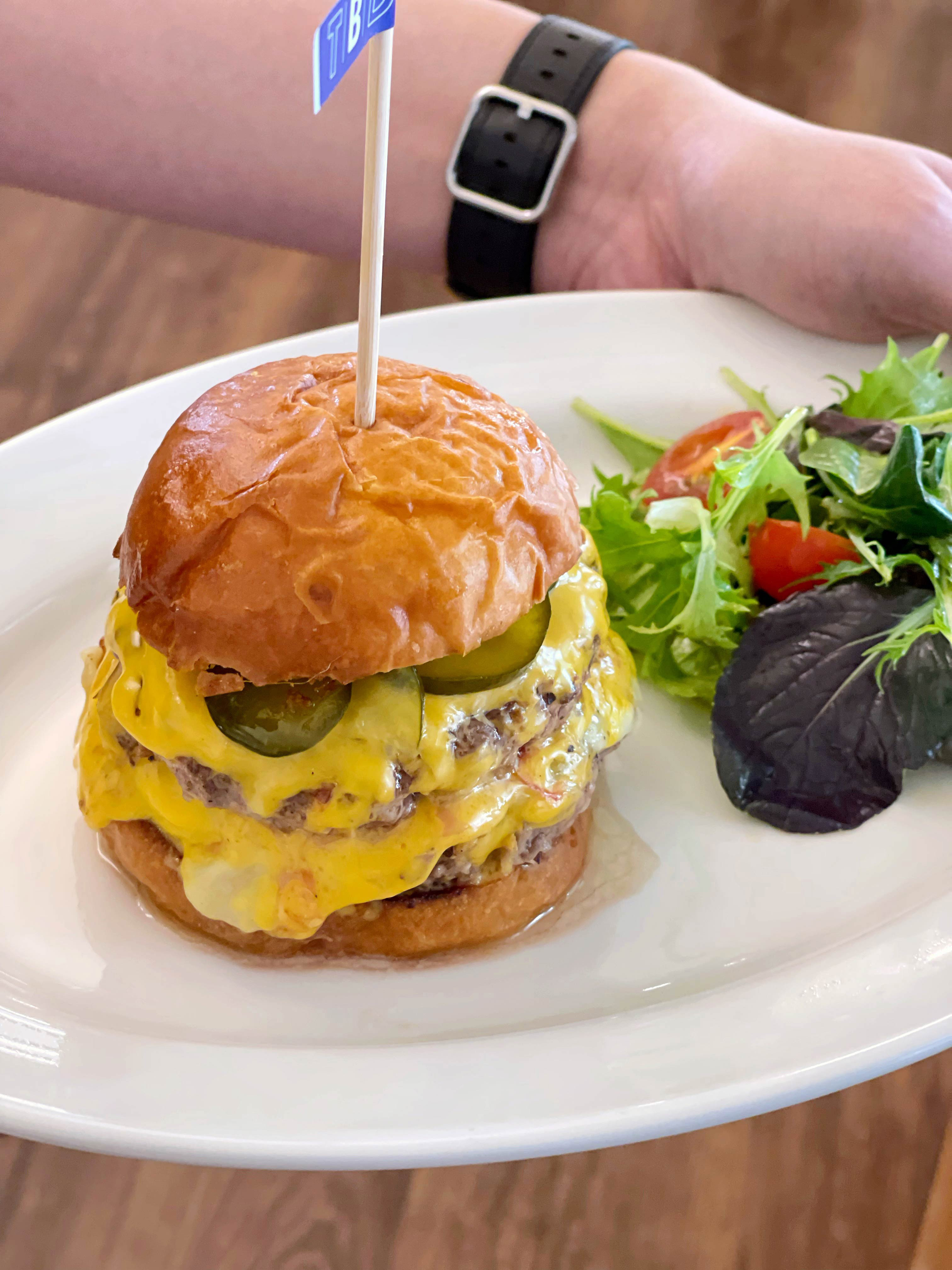 TBD Cheese Burger, $18.90
We can't visit a cafe helmed by a former Meatsmith chef without sampling its burger, can we? Ironically, this was not the best dish on the menu. The double patties, comprising raw minced beef with smoked meat (similar to Meatsmith's version) have a passable sear and are extremely succulent, unleashing juices that drip relentlessly down our fingers. We like that bit. What we didn't like so much: our beef has a hint of gaminess — we're later told the patties are a blend of chuck or whatever cut is left over from the previous day at the butchery. Less wastage, but inconsistent flavour, perhaps? Moreover, the buns, procured from Burnt Ends Bakery (like at Meatsmith) seem to have been left out a little too long and are a touch dry. It comes with your choice of fries or greens. We chose the latter and got a serviceable mesclun salad – kimchi or coleslaw would've added some welcome brightness.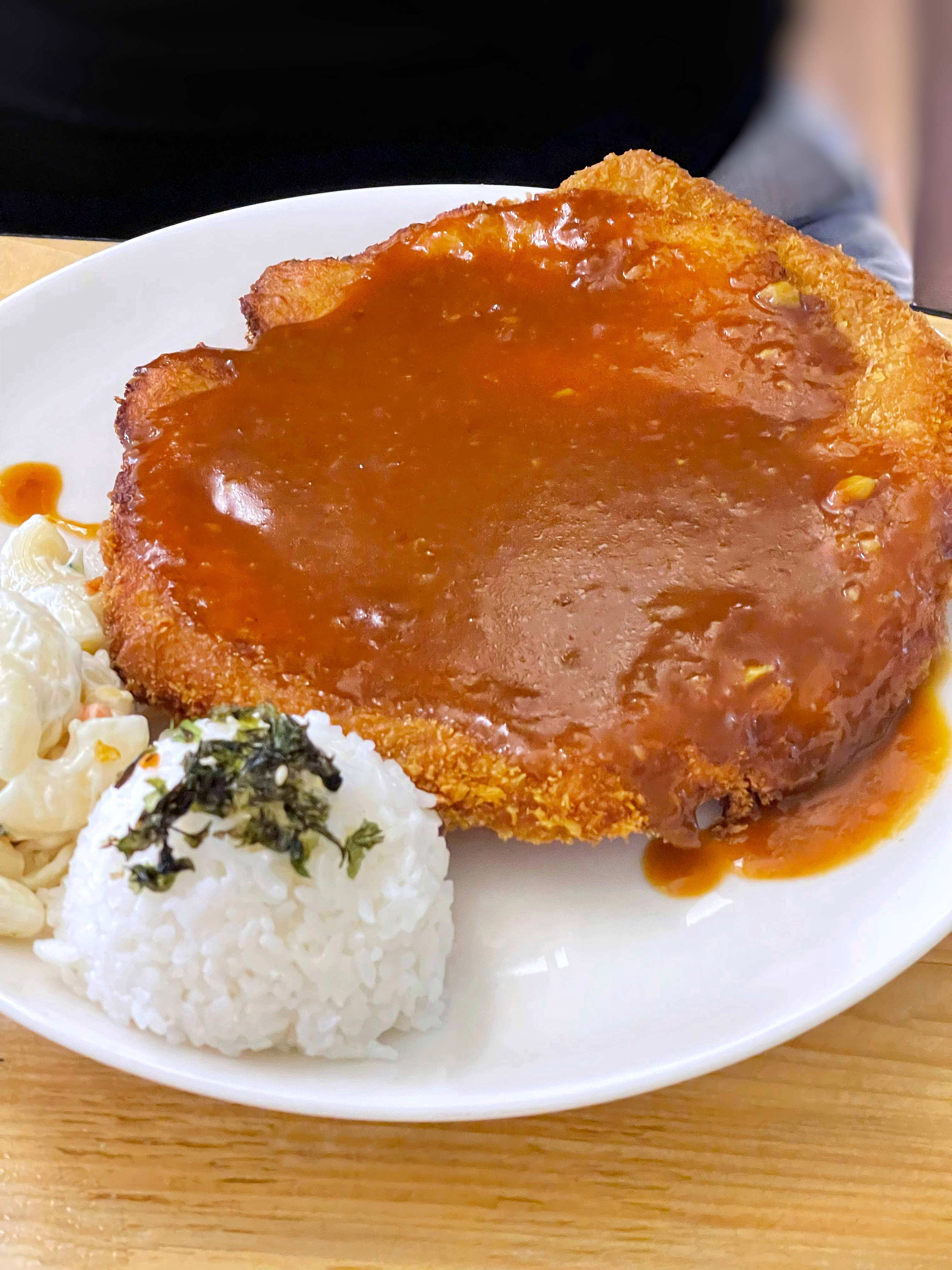 Old-School Duroc Pork Cutlet, $25.80 (8 DAYS Pick!)
Now, this is excellent. "It's an old-fashioned Korean dish," shares Heba of the pork collar cutlet. It's usually served with macaroni and rice in old-style cafes in Korea and we often eat it during the holidays. It's quite hard to find now". Intriguing. Think tonkatsu, but not quite. Our serving is enormous — larger than our face — and enticingly cloaked in golden-brown panko crumbs. A slight cavity in the middle cradles a ladleful of yummy gravy that tastes like the milder lovechild of tonkatsu sauce and Hainanese pork chop tomato gravy. The Duroc pork (a premium American breed) is soft and ringed with melting, flavourful fat, while its crust is evenly crunchy with no hint of grease. Exceedingly appetising with the accompanying sweet-sour gravy and chewy rice, though we barely touched the slightly bland macaroni. Some sort of pickled veg like kimchi to cut the richness would've made this dish flawless, but we suppose one can always wash the decadent slab down with some refreshing beer, soju or bubbly.
No wonder the Korean mum, dad, kids and grandparents sitting nearby (at separate tables) each ordered a plate of this bad boy. So irresistible.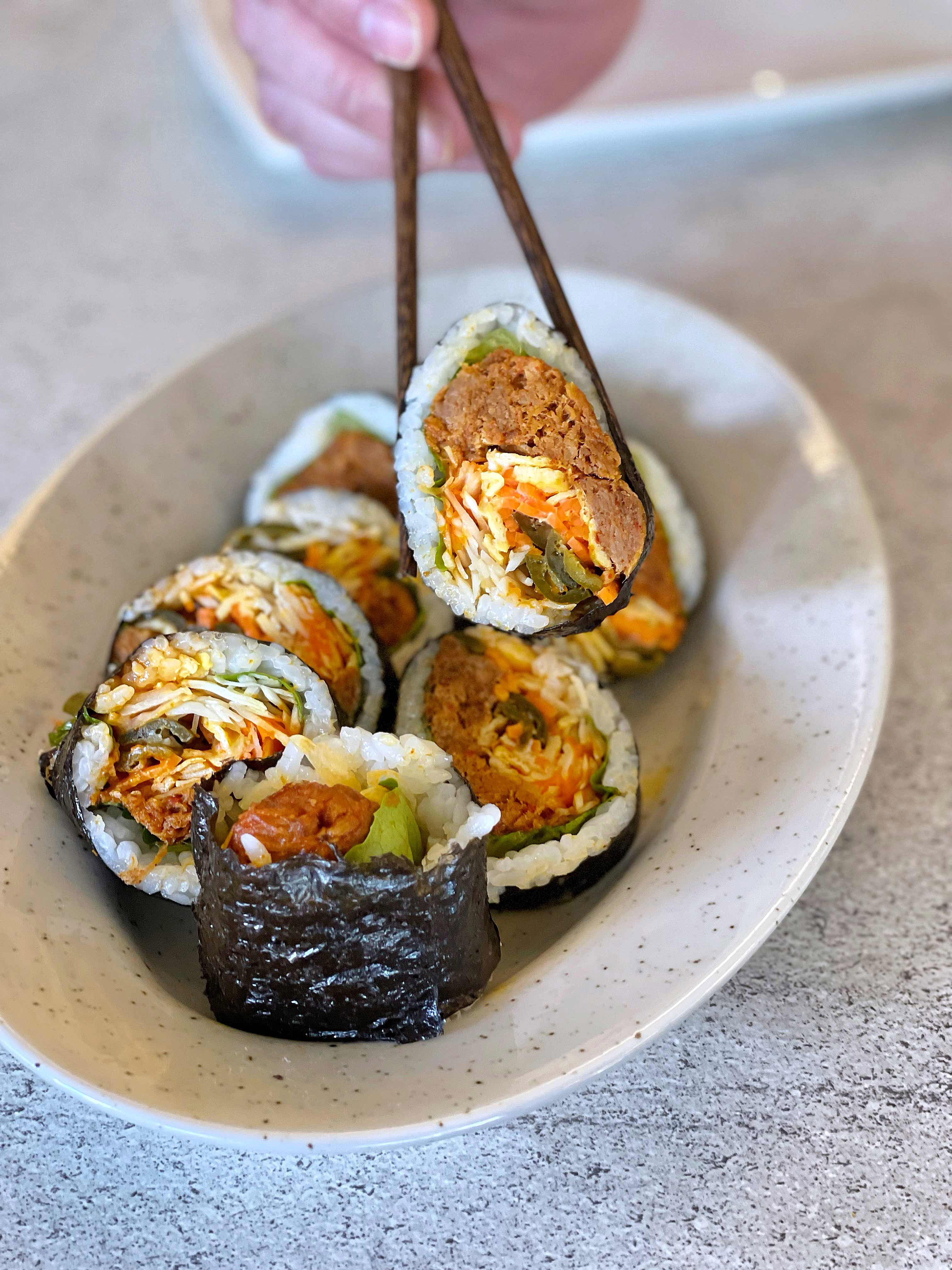 Spicy Pulled Pork Kimbap, $12.90 (8 DAYS Pick!)
The good news: this affordably-priced kimbap is delicious. The bad news, it was temporarily taken off the menu right after this review was written. Fret not — chef assures us that it'll likely make a comeback after Chinese New Year. Till then, you'll have to be content with our description of it. This is elevated, modern kimbap that are many levels above the ajumma-made ones we had at Gwangjang Market in Seoul. Plump, glistening rice bundled generously with juicy pulled pork (also available in a burger — likely inspired by Meatsmith's version but Korean-ised) marinated in piquant Korean spices, omelette, crunchy carrots and fiery house-pickled Korean-style green chillies. The grains are perfumed with intensely nutty, fragrant sesame oil, which costs a whopping $91 per 200ml (see below). "I added just a few drops," says chef of the posh oil — but it makes a world of difference to this Korean classic (please don't call it sushi as the rice isn't vinegared). Super flavourful, supremely satisfying. We could eat this every week.
MIMC Jeju Tangerine Pound Cake, $5.90
This rustic cube of cake sounds exotic as it's baked with Jeju tangerine vinegar. In reality, it tastes like a good old orange cake, not extremely citrusy but tasty enough, if a little too crumbly. Order this over the mediocre chocolate chip cookie ($3).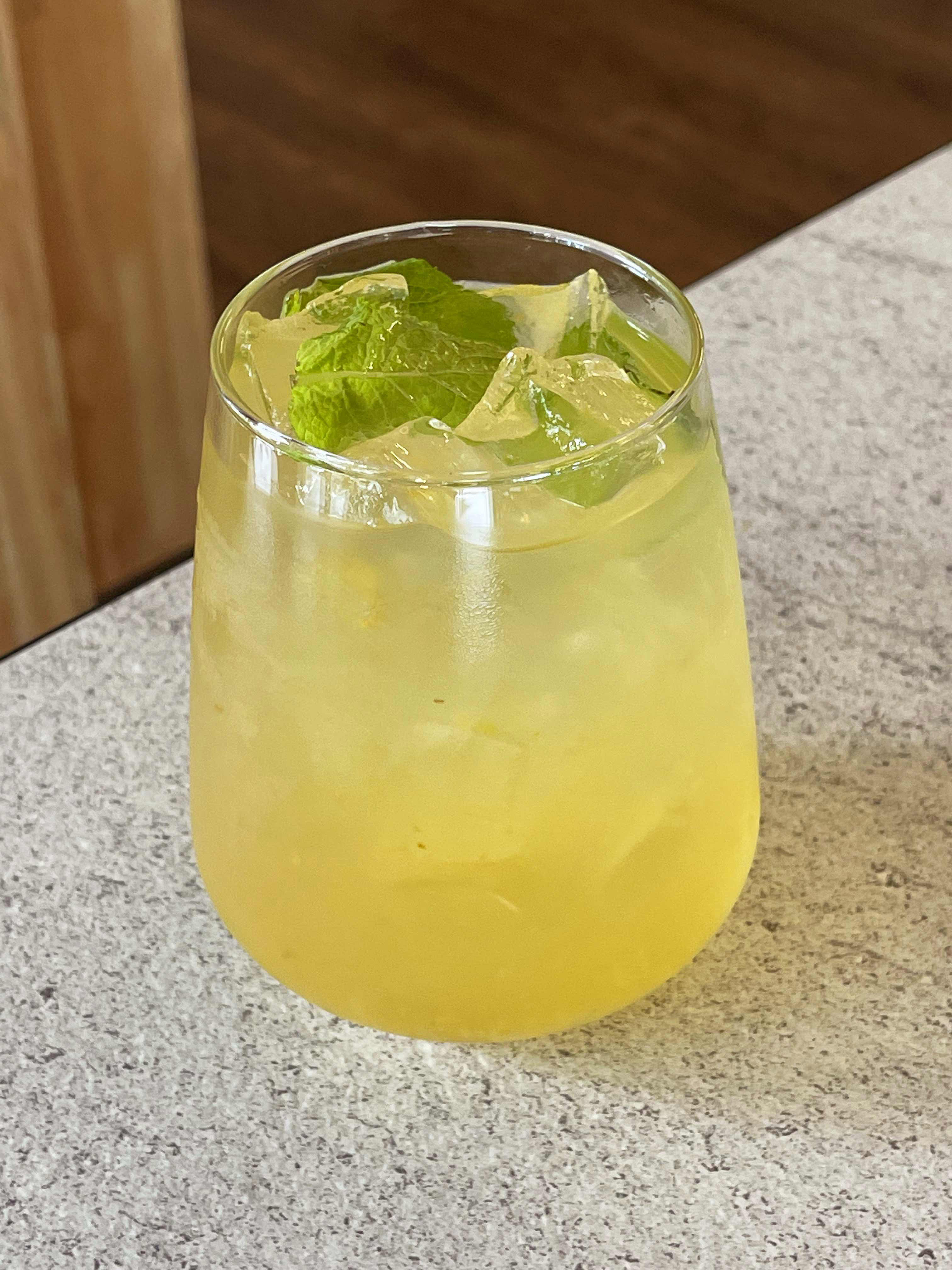 MIMC Iced Korean Yuja & Mint Tea, $7.50
A subtly flavoured, not-too-sweet and pleasant drink with notes of Korean citrus peel and fresh mint.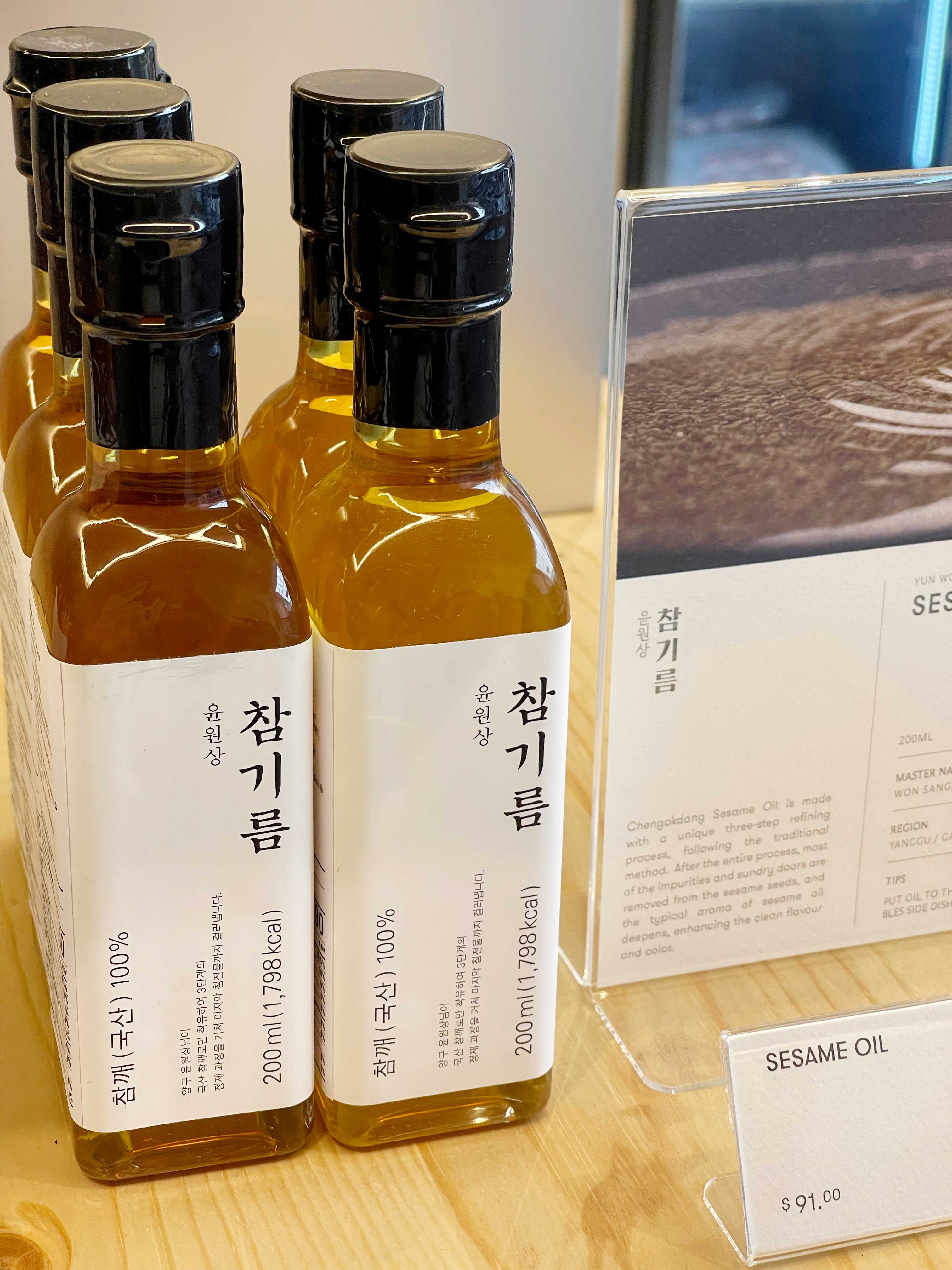 Sesame Oil, $91/200ml
Why is this petite bottle of Korean sesame oil so expensive? Because it underwent a three-step refining process which results in ultra pure oil with a super concentrated toasty, nutty depth. A little goes a long way in dishes like barbecued beef, jap chae, and yes, kimbap. We still haven't decided if we'll use it enough at home for it to be worth the splurge, since we can savour it in the $12.90 kimbap at the cafe (hur hur). But meanwhile, we happily bought the...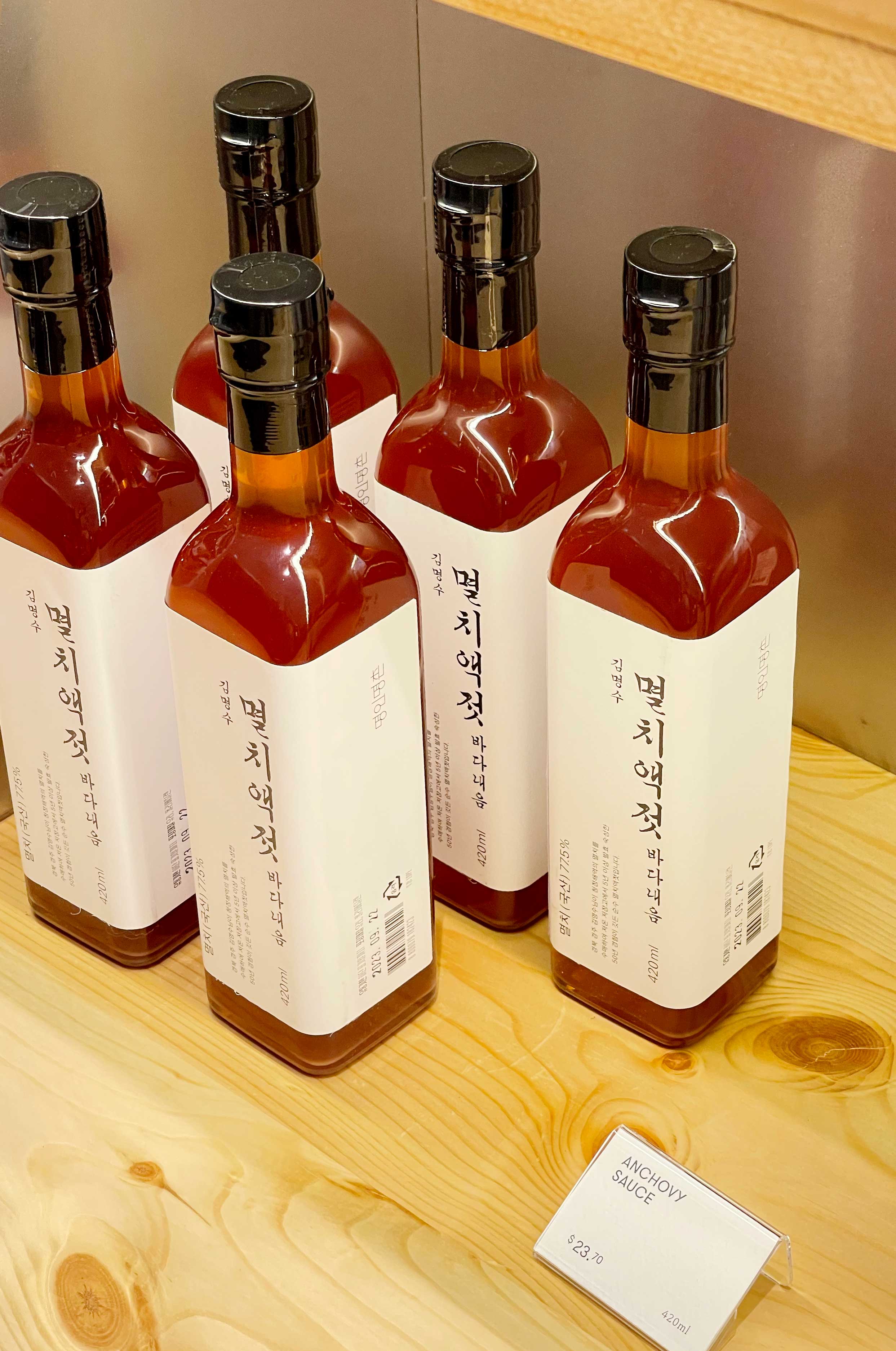 Anchovy Sauce, $23.70/420ml
"This is what my mum uses to make kimchi," shares chef Heba helpfully. And we're going to do just that, too.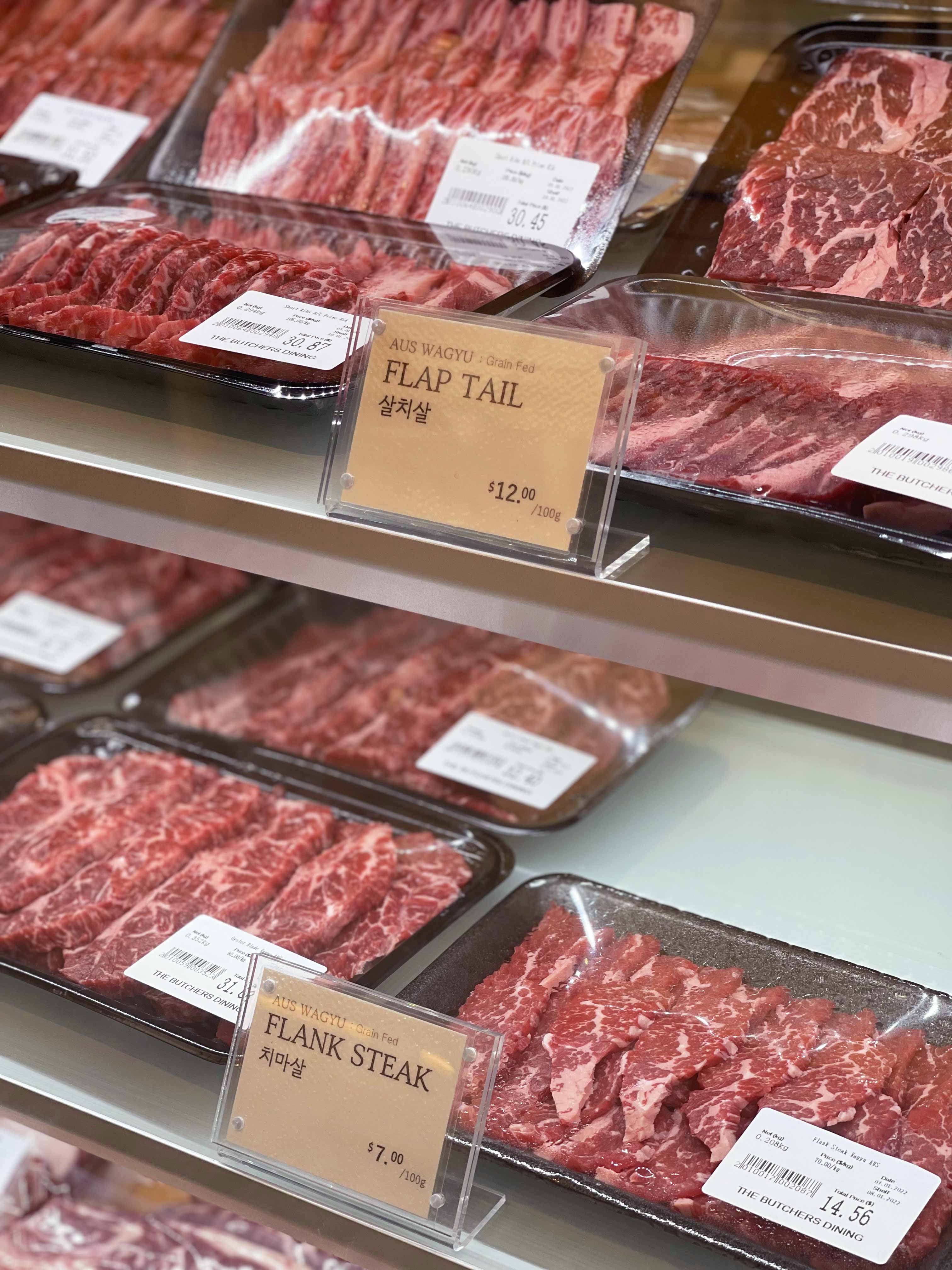 Assorted Australian & American Beef
Pictured: Aussie wagyu flank steak at $7 per 100g. Conveniently packed bulgogi and hotpot sets with various meats, veg and sauces are also available for idiot-proof meals at home.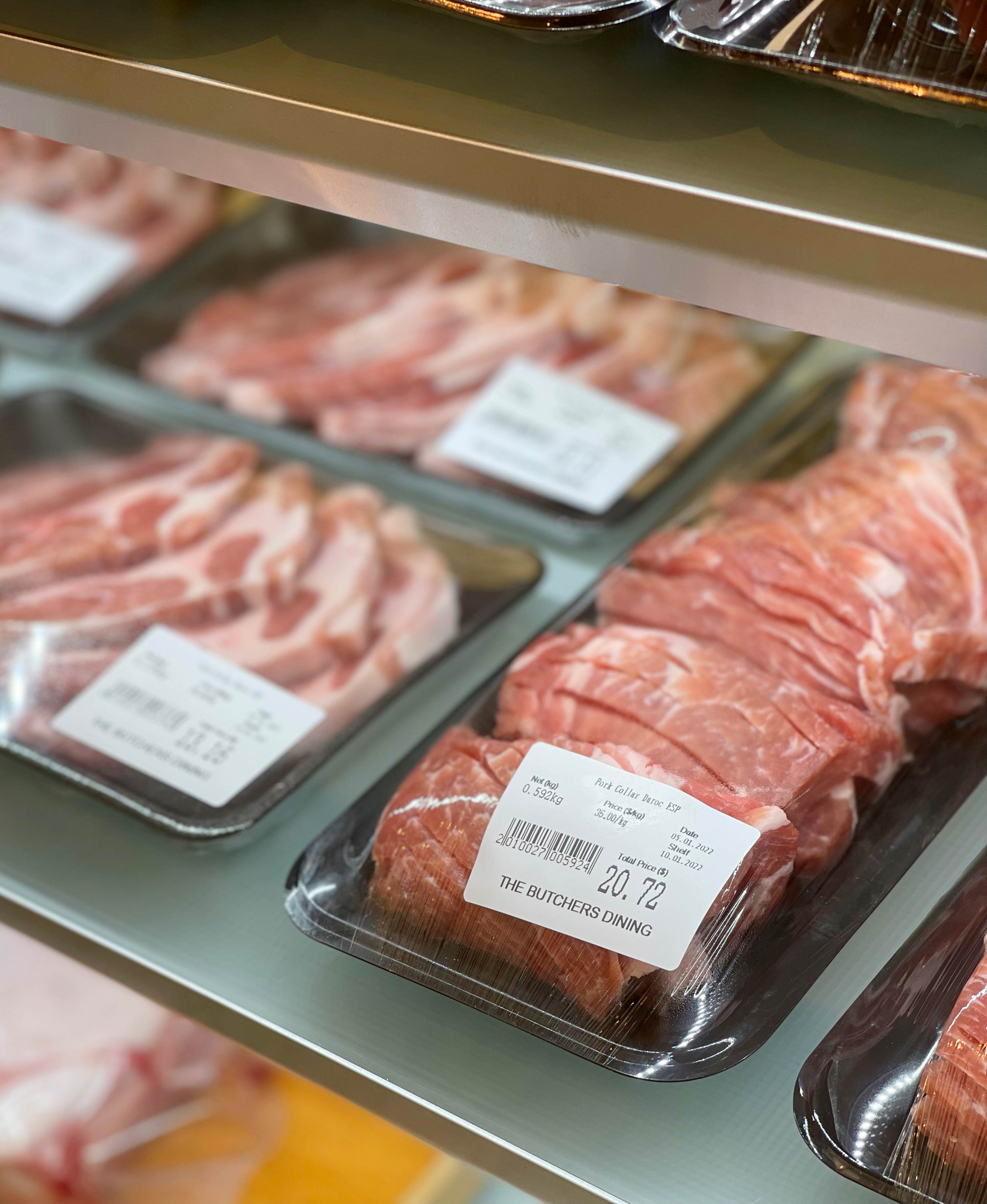 Duroc Pork, $35/kg
You can buy home raw slabs of this tender American pork to cook your own cutlet, too.
Jeju Mandarin Vinegar, $37.50/420ml
Additive-free, red clay pot-fermented Jeju island mandarin orange-infused vinegar that can be used in salad dressings, as a drink, drizzled into yogurt or baked in cakes.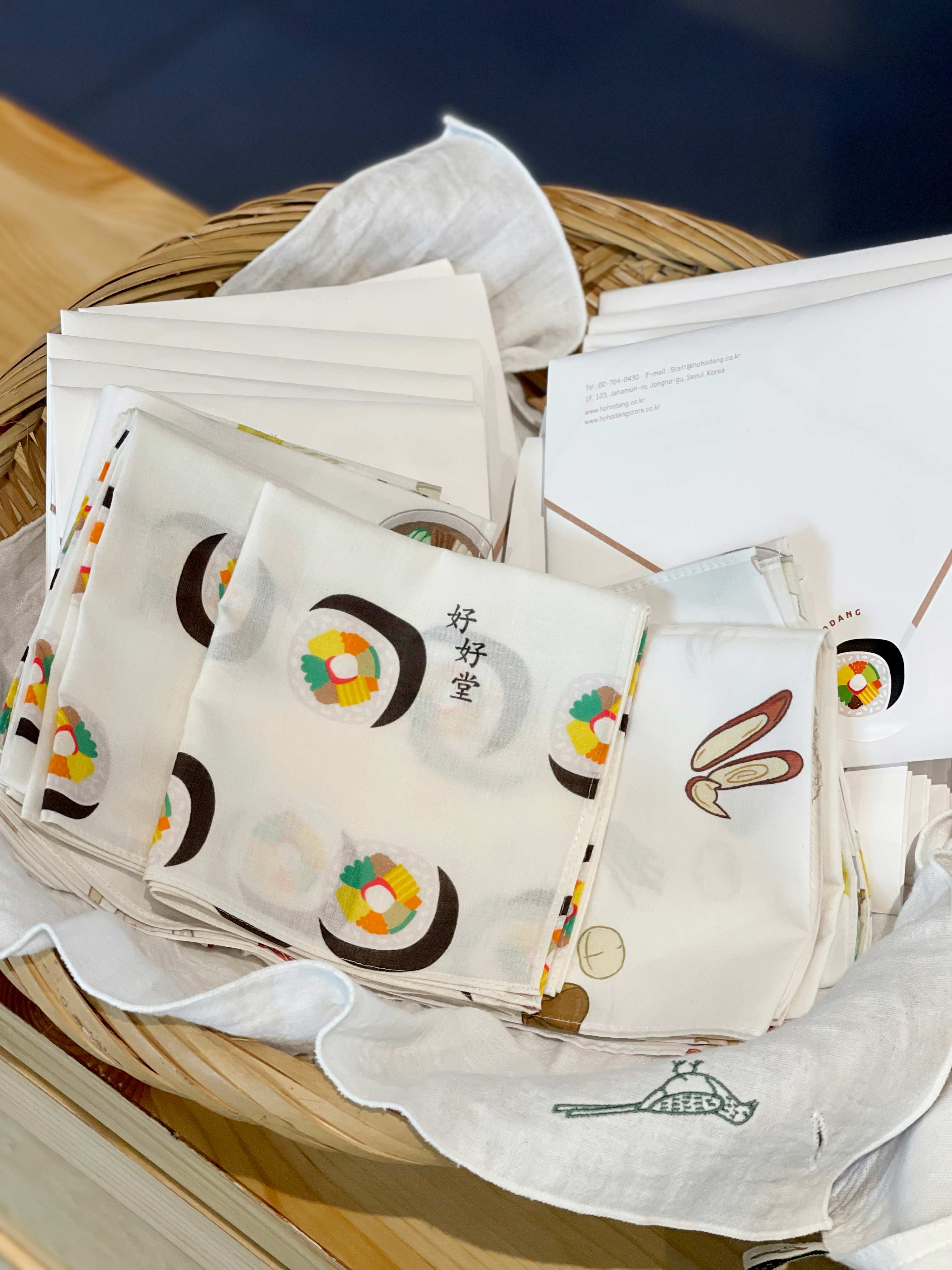 Kimbap Handkerchief, $14.90
Kyoot. To daintily dab your lips with after polishing off some kimbap.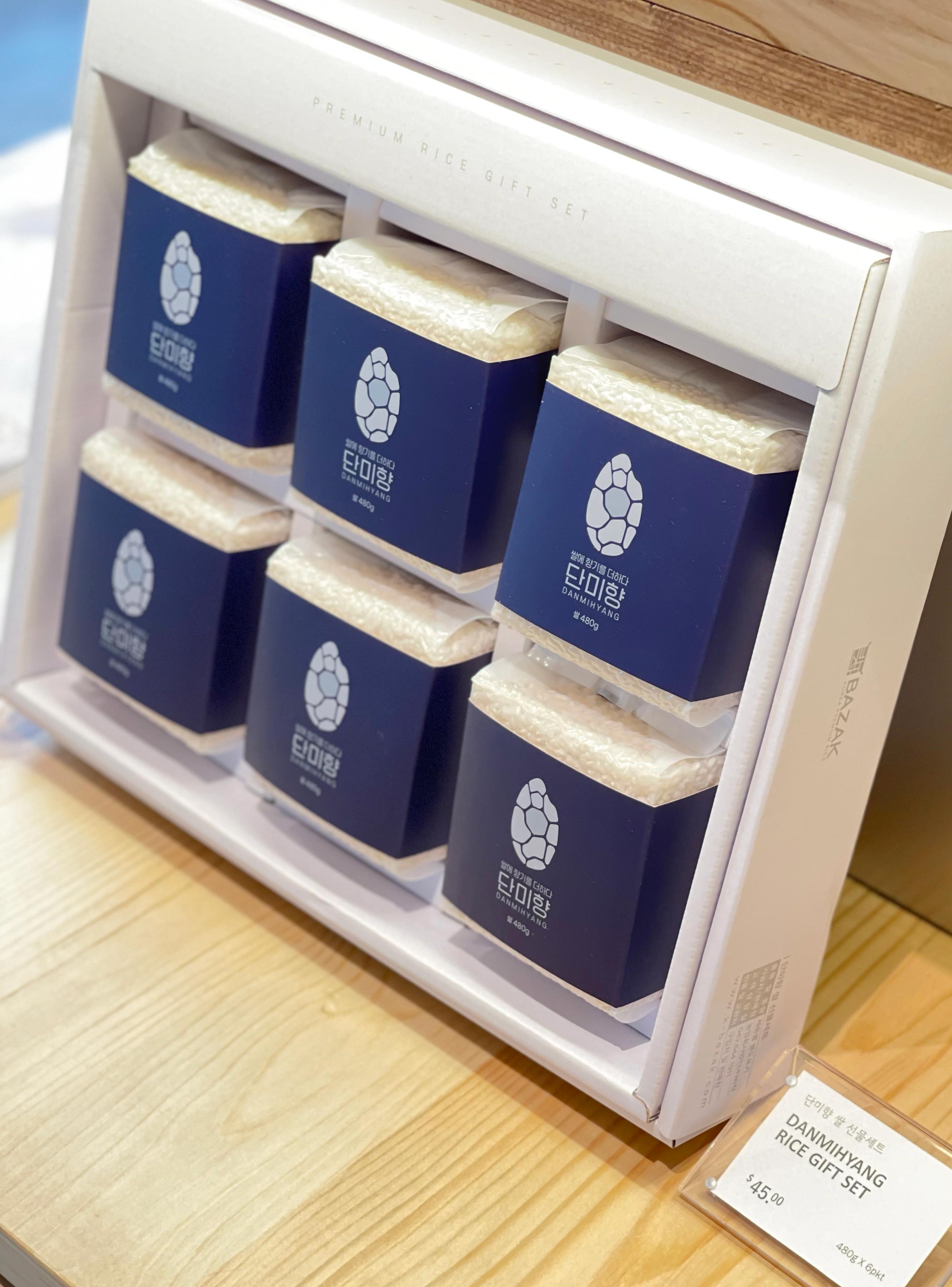 Rice Gift Set, $45
Consider bringing fancy Korean rice instead of bak kwa when you visit your K-drama-crazy relatives this Chinese New Year.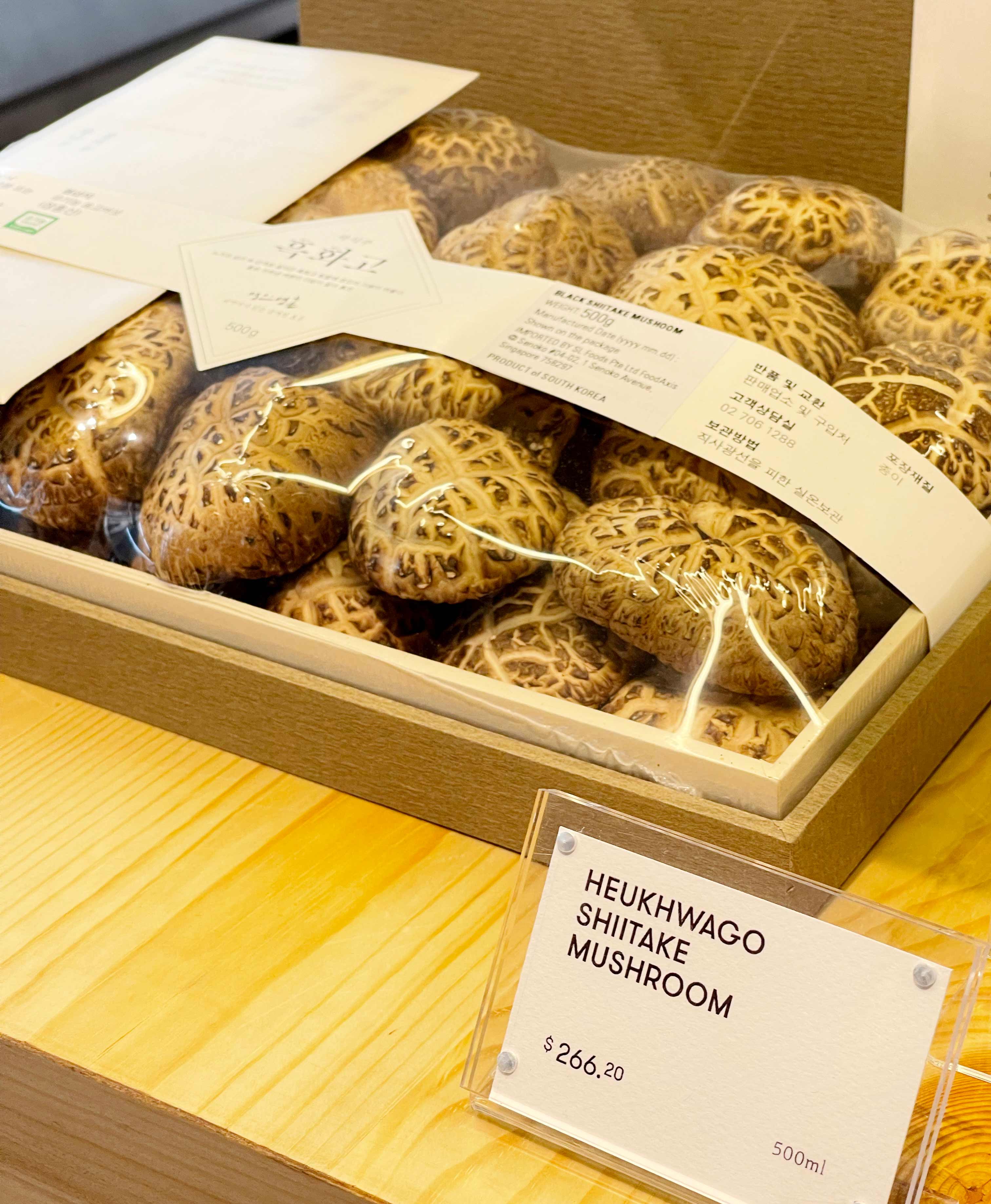 Heukhwago Shiitake Mushrooms, $266.20
Up the atas ante by gifting your mother-in-law or future MIL this luxe box of fat Korean shrooms.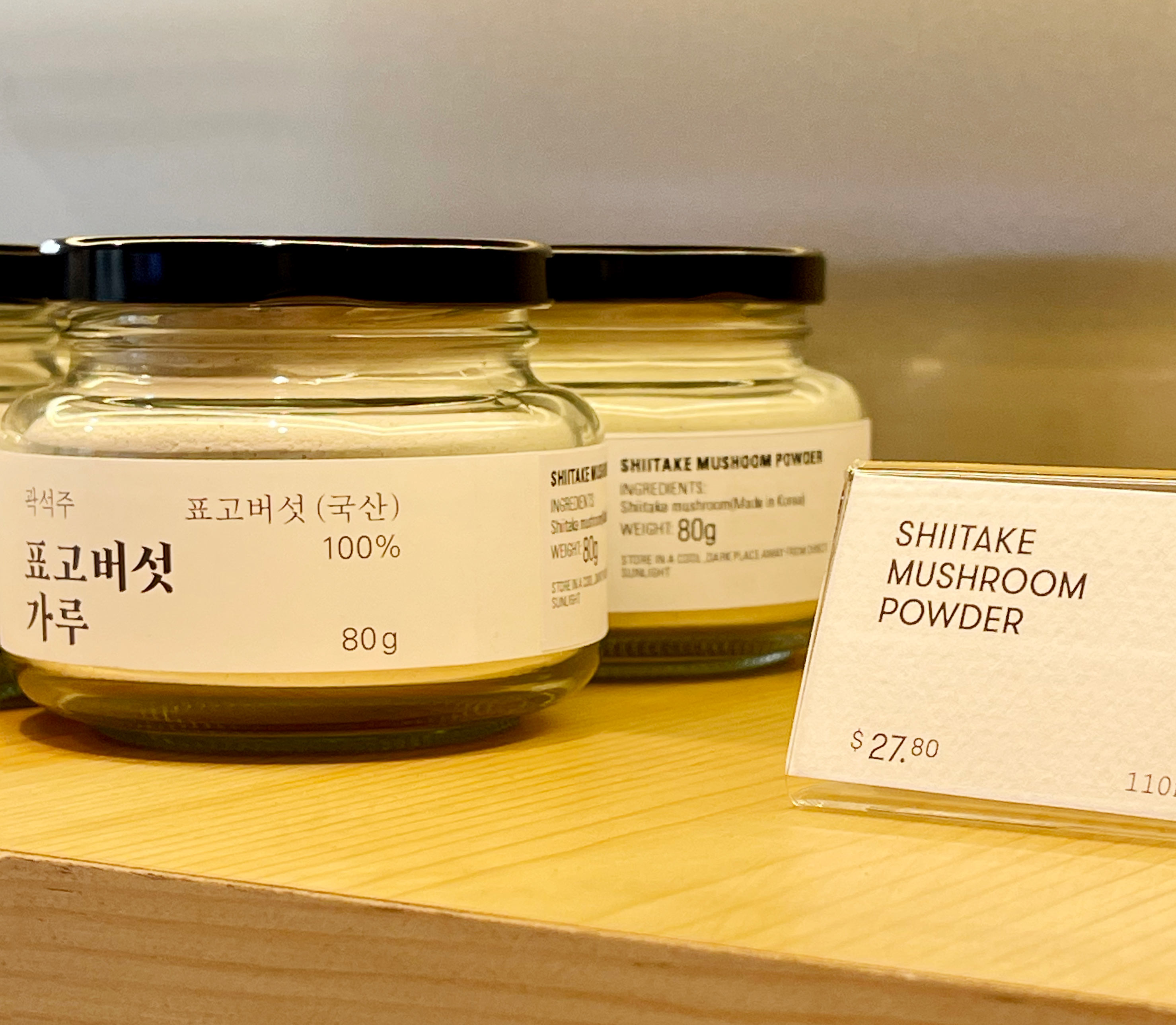 Shiitake Mushroom Powder, $27.80
Or, you could buy this cheaper shiitake powder if you're feeling skint. Chef Heba asserts that it adds instant umami to lots of dishes, including soups and stews.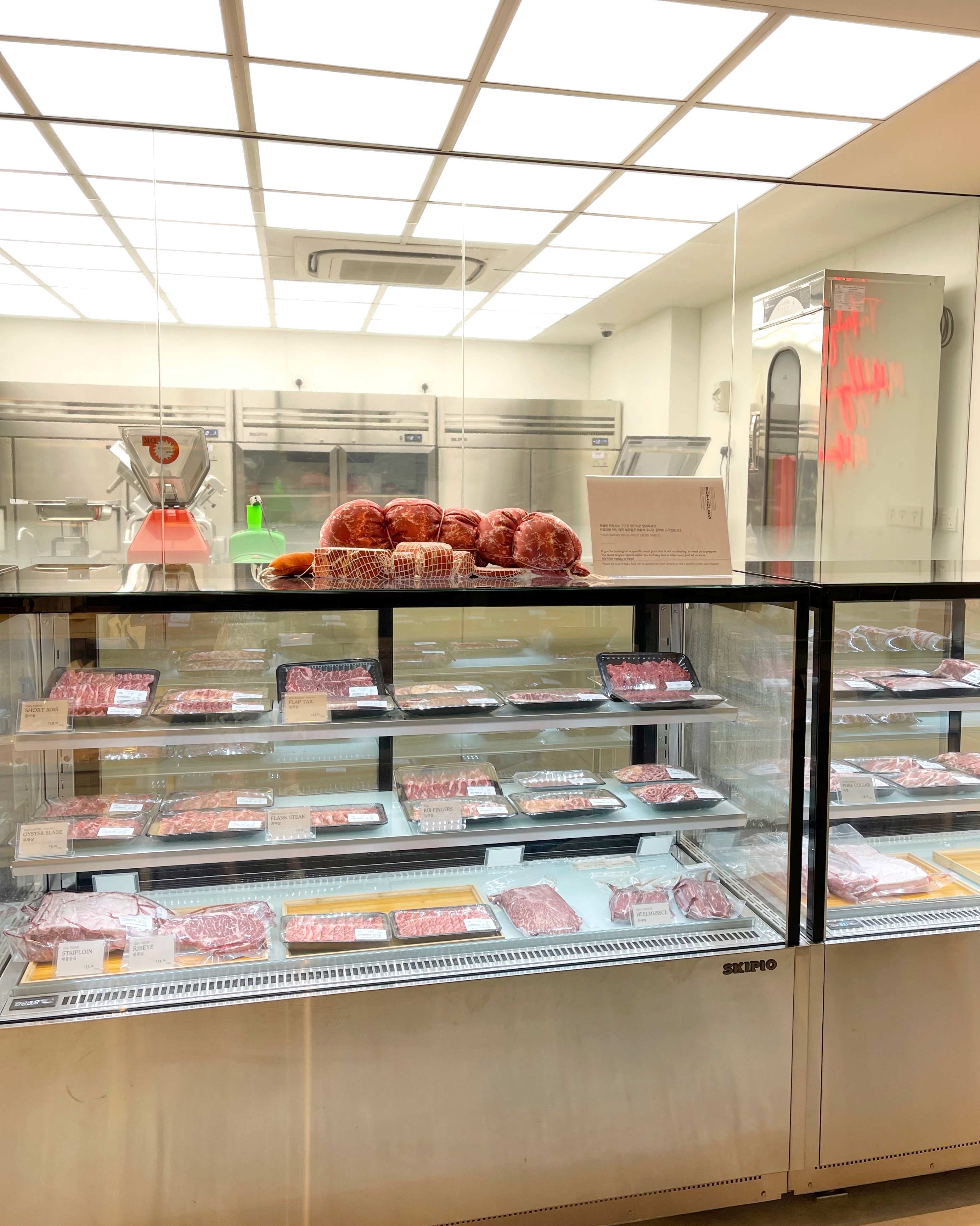 Verdict
The Butcher's Dining is reminiscent of the casually chic, contemporary Korean diners streaked with gourmet flourishes we've visited in the hipper enclaves of Seoul. We're glad there's now this affordably-priced gourmet option amid the sea of tackier/nondescript K-establishments common in Singapore (the handful of excellent but upmarket mod Korean fine-diners like Nae:um and Meta don't quite count). It's nice that the compact menu here offers both traditional Korean dishes as well as Western ones inflected with K-ingredients — Korean food isn't just about BBQ or army stew, okay? Do treat yo' self to the splendid pork cutlet — but give the burger a miss for now as it shows promise, but still needs work. Then pray that they bring back that dreamy kimbap ASAP as you impulse buy Kinfolk-worthy K-produce next door.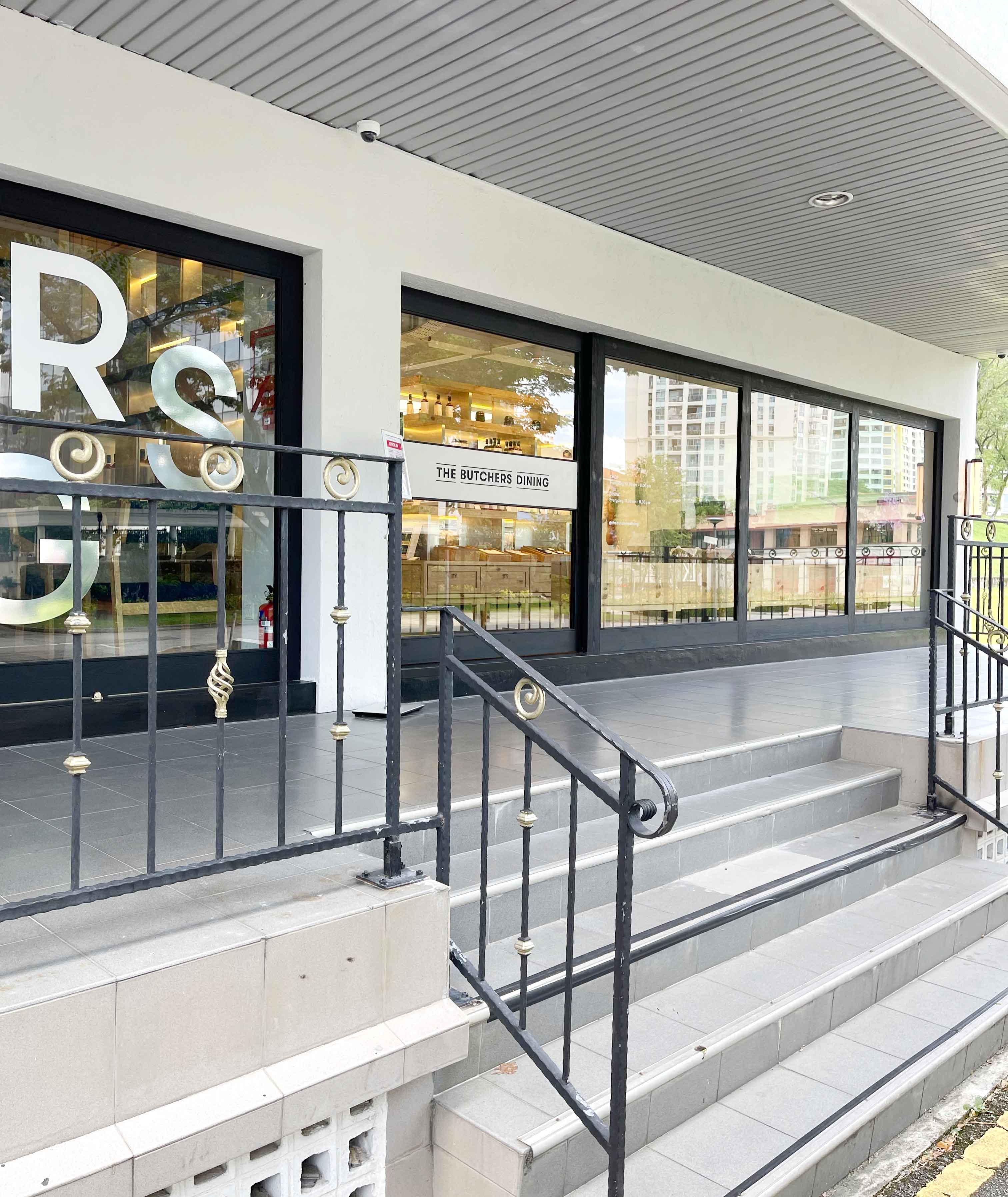 The details
The Butcher's Dining is at #01-03, 593 Havelock Rd, S169641. Open daily 10.30am-8pm (café dining available from 11.30am). Only open for lunch Jan 31, closed Feb 1 & 2. Tel: 6970-3898. Find them on Facebook & Instagram.
8days.sg paid for its meal here.
Photos: Florence Fong
Casus Grill, $20

This sexy-looking disposable charcoal grill sure beats the usual hideous aluminium foil one for fuss-free K-BBQ nights.