Gurmit Singh Was "Ready To Migrate" After Hearing That The Government Was Not Happy With The Liberal Use Of Singlish In Phua Chu Kang In 1999
Don't play play, okay? Gurmit, who reunited with the rest of the cast of Phua Chu Kang Pte Ltd on CNA recently, says he was very scared at that point in time.
Phua Chu Kang is a Singapore icon. And there's no beating around that bush of curly hair about this.

After all, the Mediacorp sitcom Phua Chu Kang Pte Ltd where the yellow-booted contractor, played by Gurmit Singh, 56, who is the best in Singapore and JB, and some say Batam, had an extremely successful eight-season run from 1997 to 2007.
Even now, some 15 years after its finale, PCK remains firmly rooted in the minds of Singaporeans, along with a number of signature catchphrases like "Don't play play" and "Abuden".
On a recent episode of the CNA's On The Red Dot, the cast of Phua Chu Kang Pte Ltd had a reunion, where they reminisced about the show's humble start and glory days.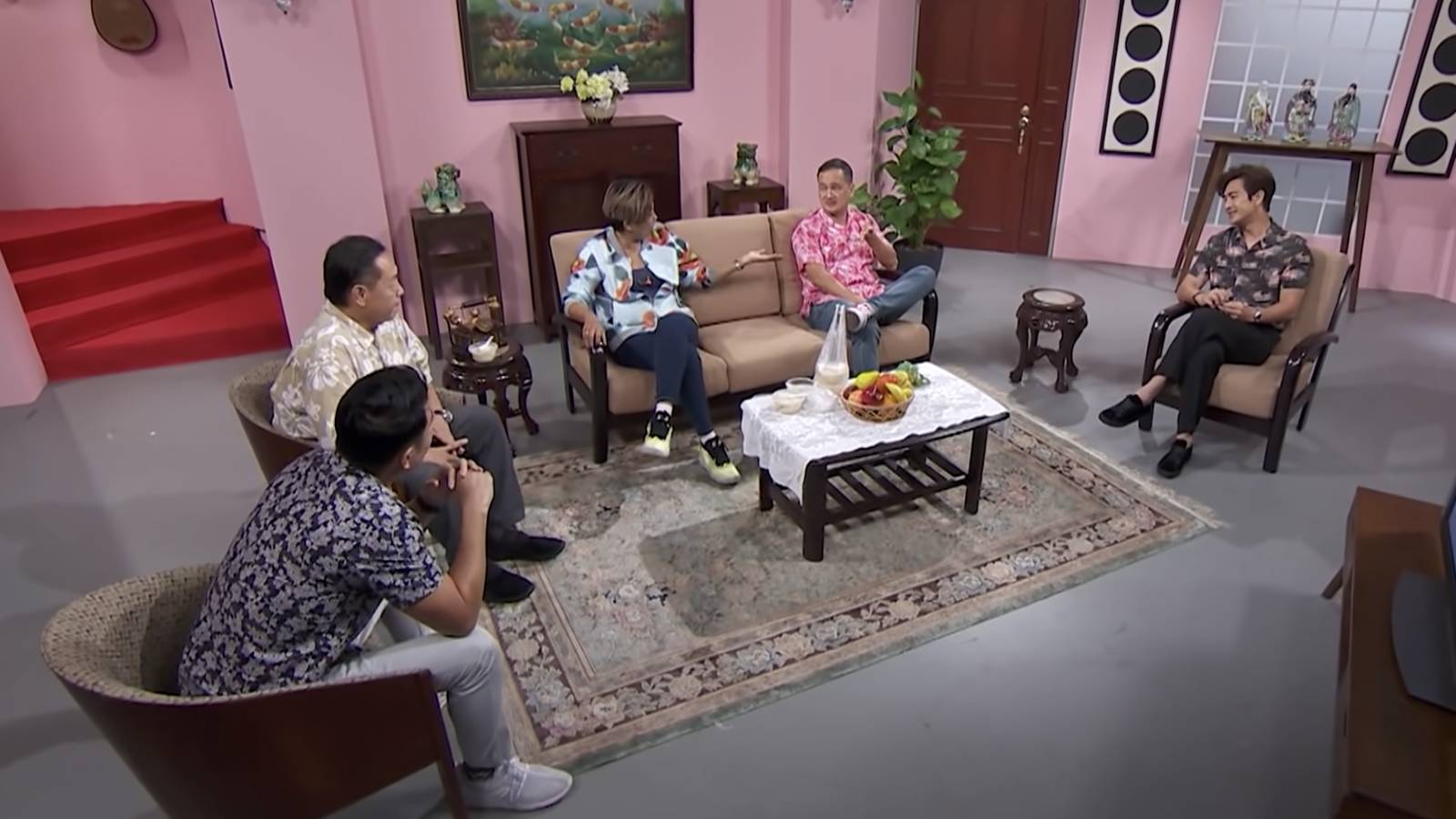 They even recreated the iconic living room
And of course, the controversy that arose over their liberal use of Singlish.
"The show became so popular that a lot of [people], especially young children, began using our phrases, like 'Don't play play', 'Abuden'", Gurmit said.
Irene Ang, 52, who played Phua Chu Kang's wife, Rosie, then chimed in, adding that she loved adding in words like "hor, huh, oi" at the end of her sentences.

Irene laughed that she got away with inserting these Singlish words into her lines 'cos she would reason with the writers that they were "just sounds", and not actual words.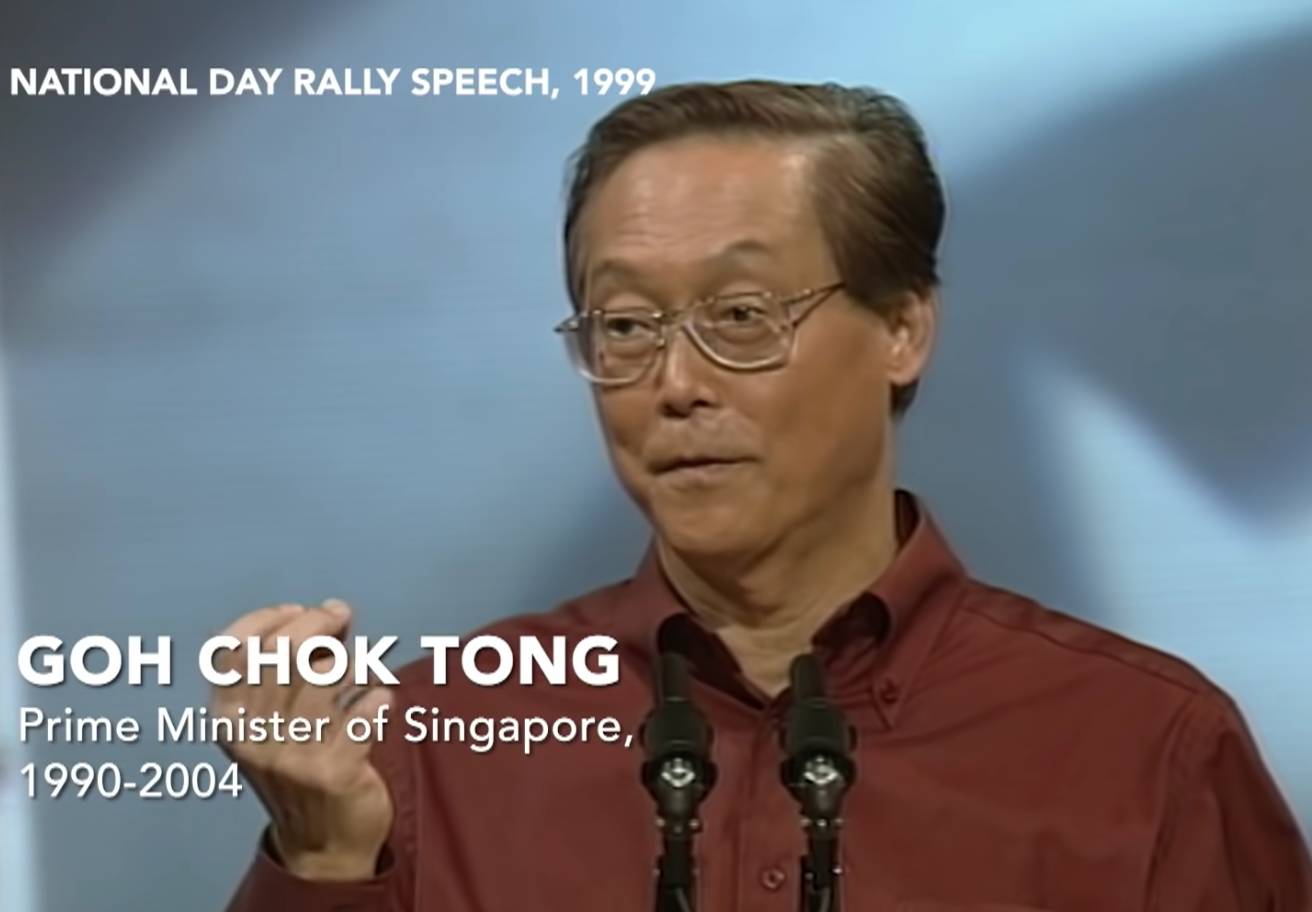 Goh Chok Tong addressing the nation during the 1999 National Day Rally
However, things got a little complicated in 1999, specifically, during the National Day Rally that year.
Goh Chok Tong, who was the prime minister of Singapore then, brought up the topic of Singlish during the rally, citing Phua Chu Kang as an example.
"Gurmit Singh can speak many languages, but Phua Chua Kang speaks only Singlish. If our children learn Singlish from Phua Chu Kang, they will not become as talented as Gurmit Singh," he remarked in his address.
Can you imagine Phua Chu Kang speaking proper English, though?
Gurmit, who said he had received prior notice that the government wasn't too happy with the use of Singlish in the show, revealed that he was actually really afraid then.
"My mind frame was that I am ready to migrate [right now]. That was how scared I was," he confessed.
"I just wanted to have fun and make people laugh, and now suddenly I'm like a terrorist or something," he went on to say.As a result of the National Day Rally, the show's writers went on to change "Ahbuden" to "Ah, but then", and even had PCK complete an English course as part of the show in the third season.
Phua Chu Kang gets an upgrade
Pierre Png, 48, who played Phua Chu Kang's younger brother, architect Phua Chu Beng, shared his thoughts on the decision to limit the use of Singlish in the show.
"Actually, Singlish is the only thing that connects us with people from all walks of life. It's our language," he said.
Agreeing with Pierre, Gurmit added: "Exactly, whether you're highly educated, [or] speak twenty different languages, if you're Singaporean and you speak Singlish, you can pretty much communicate with anyone."
Netizens were in full agreement with the cast.
"This was not just a regular sitcom for all of us, it gave us the identity we need as our Singlish was what made us Uniquely Singapore. This was something we're all proud of! Thank you PCK!" one netizen wrote.
You can also rewatch all seasons of Phua Chu Kang Pte Ltd on meWATCH here.
Photos: CNA Insider/YouTube