Hanoi-Born Jurong Hawker Now A Restaurant Owner Serving Hearty Value-For-Money Claypot Rice Sets
Nguyen The Tuan became a heartland hawker to gain F&B experience to open his own restaurant. In July this year, he set up Uncle Tuan's Claypot Rice in Tanjong Pagar to showcase the rustic Vietnamese dish.
When we first met Nguyen The Tuan in 2020, he was a hawker running his own stall called
Hanoi Cuisine
at a food court in Jurong East MRT station. The Vietnam-born, 48, had left his comfortable HR manager job in Hanoi to move to Singapore in 2007, where he pursued an MBA at James Cook University.
As his mother ran her own eatery back home, Tuan was always interested in setting up an F&B business. "But I lacked experience in this line, and after I did my analysis I didn't want to risk opening a restaurant," he says.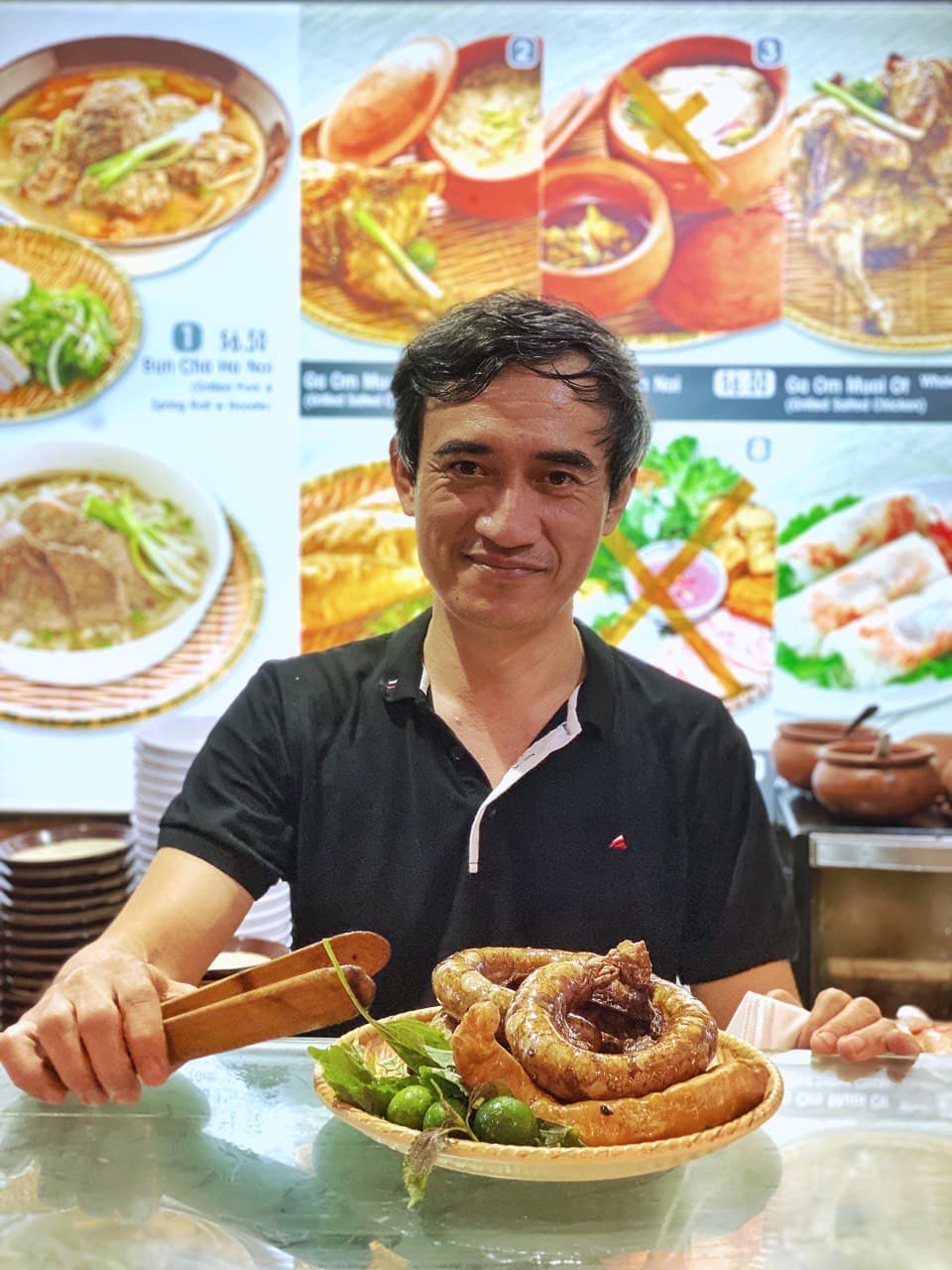 He decided to ease himself into the industry by opening a low-cost hawker stall, which became popular for his authentic, tasty hometown dishes like pho, bun cha and banh mi. "In Vietnam, I was doing okay as a HR manager. But coming here, I had to adapt," says Tuan, who relocated here not knowing how to speak English.
He has since become fluent, and got his PR citizenship a year after his move. His wife and two daughters - who now speak with a Singaporean accent - later joined him here. "My daughters all sing 'Majulah Singapura' already," he laughs. The couple also opened a laundromat and tuition centre, where Tuan's wife now works as a maths teacher.
Last year, Tuan moved out of his Jurong East stall as the food court had to close to make way for a revamp. He shifted to a coffeeshop at Bishan St 11 for a year before a restaurant space fortuitously opened up along a quiet side road in Tanjong Pagar.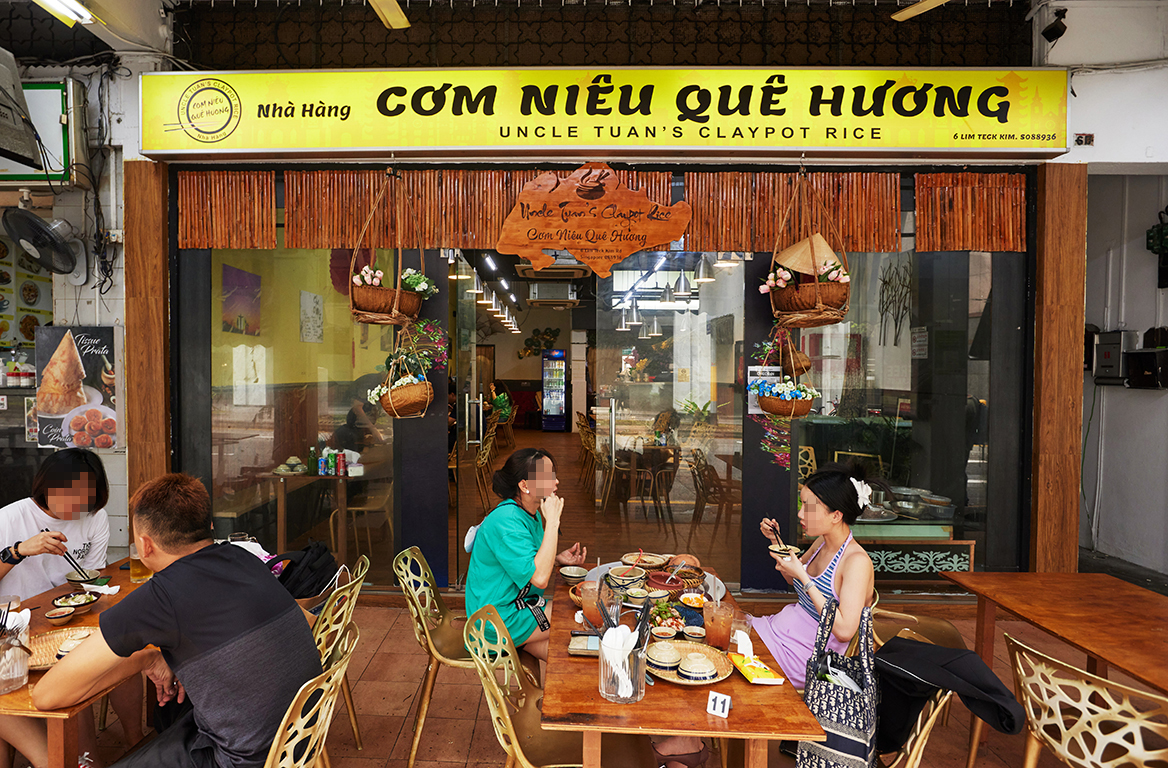 In July this year, Tuan finally achieved his goal of opening his own restaurant, the 52-seat Uncle Tuan's Claypot Rice. He shares: "You work as a hawker for three years, you learn many lessons already (laughs). I went through three years of ups and downs 'cos of Covid. It's not easy — rent is high, manpower is a headache and sometimes I feel like quitting."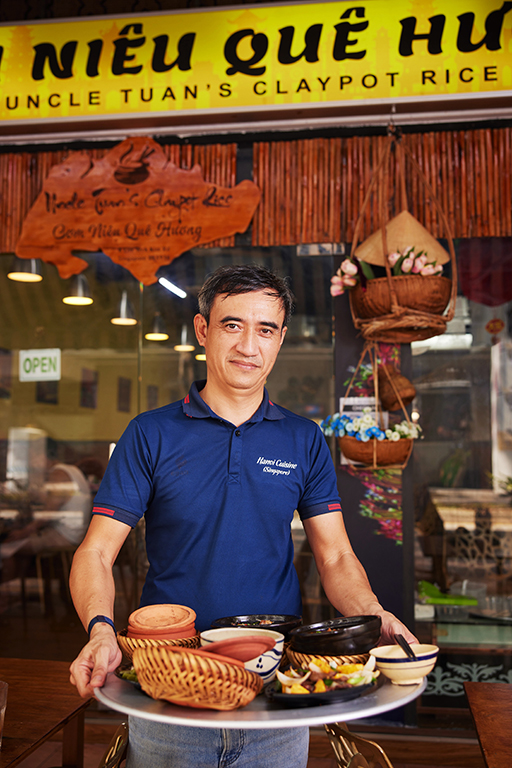 But he persevered, as he reckons: "The first thing is to want to try, the second is daring to do it." He wanted to upgrade to a bigger space as his hawker stall was too small for him to sell what he had always wanted to offer: Hard-to-find
com nieu,
aka Vietnamese claypot rice (
com
means 'rice' while
nieu
means 'pot').
"I want to sell something special for everybody, and it must be filling and feel homely," he explains. "Every Vietnamese knows
com nieu
, but it's
rarely cooked at home because it's very hard to cook."
Rice cooked in terracotta pots
Com nieu is traditionally served in covered terracotta pots, which Tuan imports from Vietnam in various sizes. The long grains are poured into the pot with water and "a bit of coconut and salt" for flavour before being cooked in a commercial oven at 300 degrees Celsius for 45 minutes.

"In the Vietnamese countryside, people cook it by burning charcoal or stalks of rice left over from the harvesting season," shares Tuan, who travelled to Ho Chi Minh City to learn how to make com nieu from a "master" there.
He lets customers choose if they want "crispy or soft rice." The crispy rice is similar to Korean-style
dolsot
rice, cooked long enough for the grains to turn golden and crusty at the bottom. The claypot rice is served with a variety of pork, beef, chicken and fish side dishes, which Tuan sells in sets instead of a la carte due to a lack of manpower.
Pricing for the sets is pretty straightforward: There's
Claypot Rice for 1 Pax ($10)
, which comes with rice, a meat or fish dish, and a "soup of the day" like
la giang
(Vietnamese sour soup with river leaves).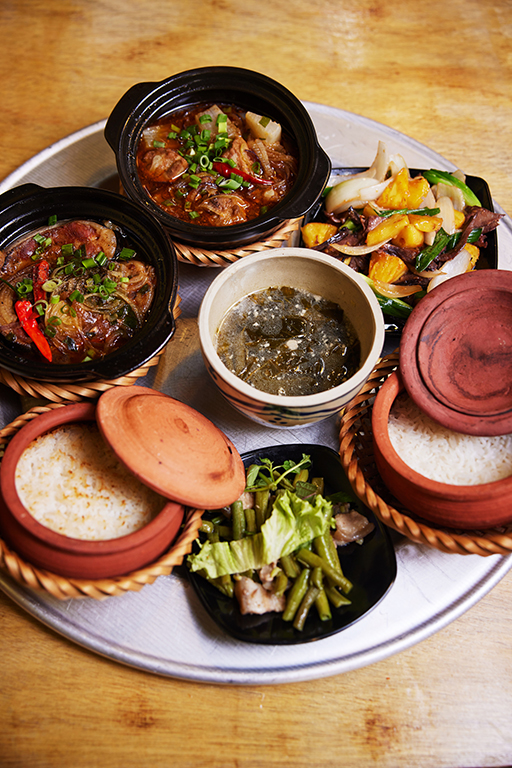 Claypot Rice For 2 Pax, $30
Bigger groups just have to size up accordingly for sets ranging from a flat $30 for two pax (four sides) to $50 for three to four pax (six sides). "Nothing more to pay," grins Tuan. But you can top up for an extra Grilled Duck ($25 for half; $40 for whole) or Grilled Spicy Chicken ($10 for a whole bird). Each set comes with free-flow rice and iced jasmine tea (the delicate house brew is exceptionally aromatic and refreshing).

While there are fixed sets which you can order by number like Set 1 or Set 2, Tuan allows some flexibility in mixing and matching dishes (for instance, you can swap out a pork dish if you don't fancy pork).

But our claypot rice set (a Set #4 called Com Nieu Que Huong) comes with very good Braised Pork Belly, Sweet & Sour Fish and Stir-Fried Beef with sweet pineapples, onions and chives.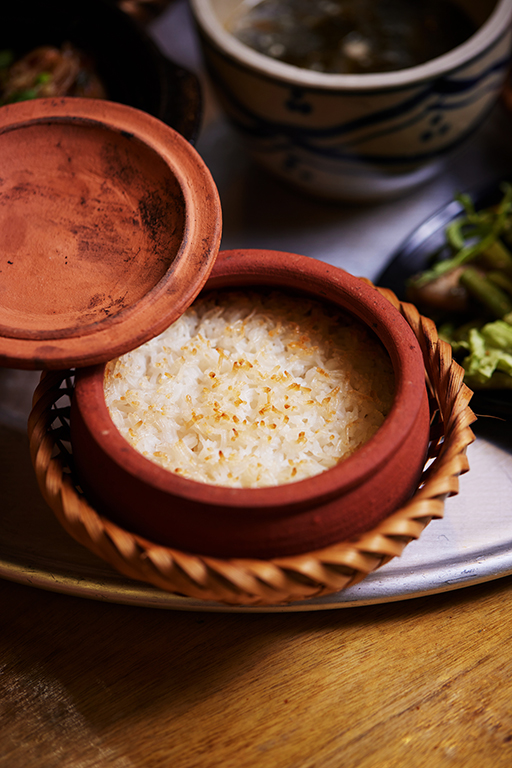 They go very well with the fluffy coconut-infused claypot rice, which is not so coconutty that it's like nasi lemak, but fragrant enough so you know you're not just eating plain rice. The toasty, rice cracker-like crust at the top and bottom of the pot is a fab addition. Although it's meant for two diners, this set could easily feed three to four smaller eaters.
Tuan serves his food on an iconic large metal tray called a
mam
in Vietnam. "Everyone recognises this in Vietnam. My mum in Hanoi cooks like that every day," he explains. "When Vietnamese people come to my shop they say, 'Eh, this looks like what my mum cooks'. The feeling I want to give is like what your mum or sister will cook for you."
Cha lua (Vietnamese ham)
Tuan is also very proud of his house-made cha lua, Vietnamese ham made with pork loin, fish sauce and potato starch wrapped in banana leaves. The pale-coloured ham, which came with our set, is not aggressively meaty and has the texture of slightly bouncy fish cake. It makes for a moreish appetiser, especially with its accompanying chilli and fish sauce dip.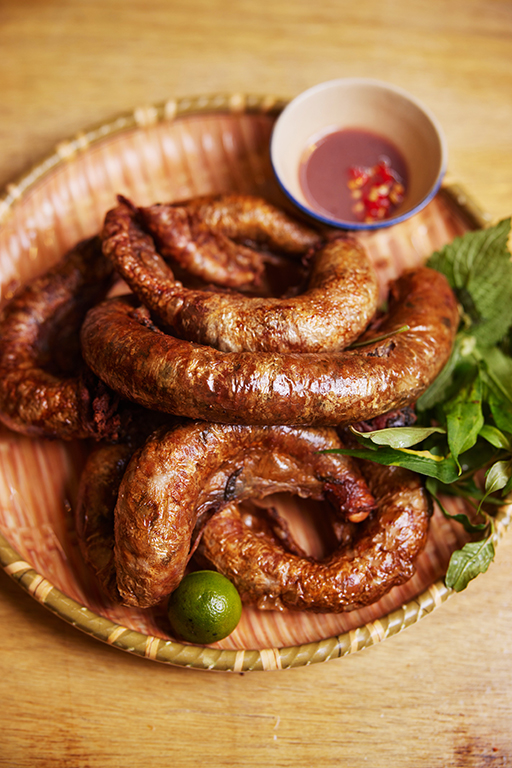 Vietnamese 'hotdog'
At his hawker stall, Tuan also served Bun Doi Truong Long Heo ($8), which he simplifies on his menu as "Viet hotdog with shrimp paste." It's more like thick ropes of sausages stuffed with pork, shrimp paste and vermicelli and served with a fermented dip. We find this an acquired taste though; it's much too porky for our liking, and the shrimp paste is overwhelming.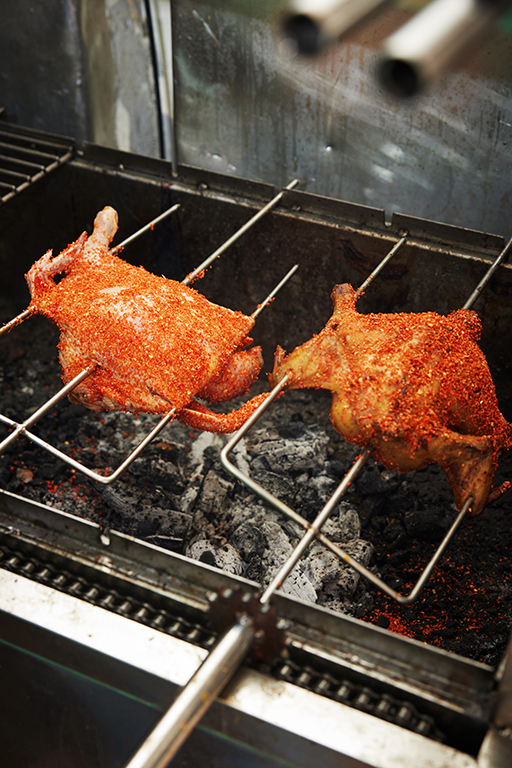 Grilled Spicy Chicken, $10 (feeds 2 to 4 pax)
In Tuan's kitchen is an automated barbecue pit where ducks and chickens grill on spits over charcoal. Our spicy chicken is rubbed with chilli flakes thrice, and rotated gently for about one and a half hours to get a smoky finish. 
The result is tender flesh with light crackly skin subtly perfumed with its spice rub (the chilli, as Tuan explains, is for flavouring and not flaming hot). Each bird is served with garnishes like fresh limes, chilli padi, mint and a wedge of pineapple. $10 is a very good deal for this delish whole grilled chicken in a restaurant, we say. 
Other than claypot rice, Tuan has kept his hawker favourites like
Beef Pho ($8)
and
Bun Cha ($8)
on the menu. The dishes' prices are now about a dollar more to account for higher operational costs. "I try to balance between restaurant and hawker prices," he shares. The good thing about being armed with an MBA, Tuan reckons, is that he "has the knowledge to prepare and do my homework; I can calculate how long I can survive and prepare for my next step."
Vietnamese 'chee cheong fun'
There's also a curious sight at the front of Tuan's restaurant: A Vietnamese lady assiduously making fresh Banh Cuon ($7), which Tuan accurately describes as "Vietnamese chee cheong fun." It's showy enough that anyone passing by would stop to take a second look (a great marketing tactic).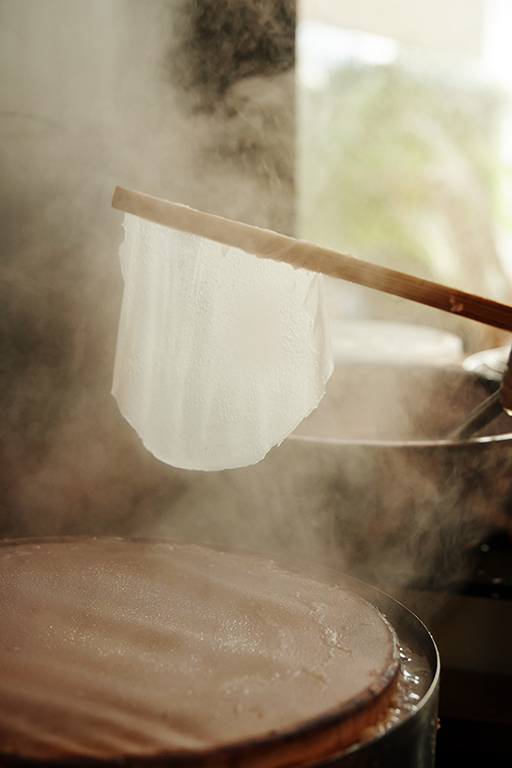 The silky rice wrap is made on the spot in a steamer placed at the side. We watch in fascination as the lady performs her repertoire of spreading a very thin batter on hot muslin cloth in the steamer, waiting for a few seconds before lifting the diaphanous layer with a long stick.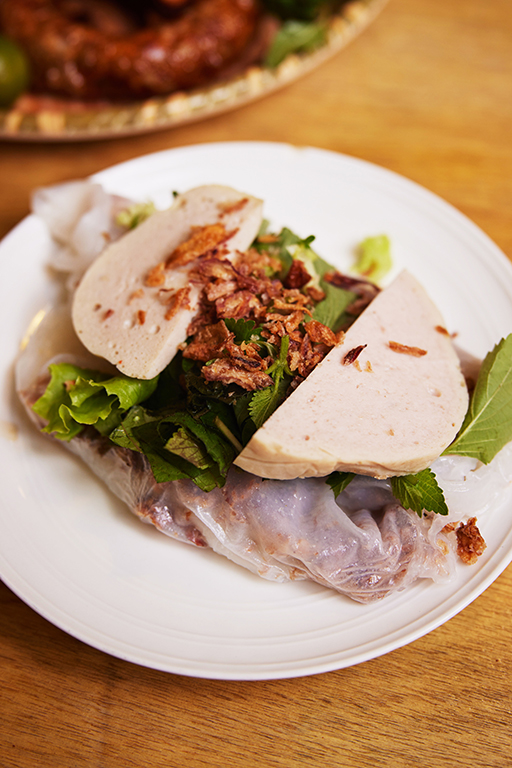 The process is different from Chinese chee cheong fun, which steams the filling together with the wrap before scraping everything into a roll. Our dexterous cheong fun lady slaps the freshly-steamed wrap on a
mam
before loading a traditional filling of peppery minced pork and wood ear mushrooms on it. It's then carefully wrapped and topped with fried shallots,
cha lua
and fresh herbs.
While chee cheong fun is usually refined and clean-tasting, banh cuon is more rustic with its riotous toppings and flavours. We like the crunchiness of the wood ear mushrooms and shallots in this — it makes for a nice breakfast or tea-time snack with strong Vietnamese coffee, which Tuan's restaurant serves along with
Nuoc Da Me (pictured, $3)
, a popular Vietnamese iced tamarind beverage with peanuts.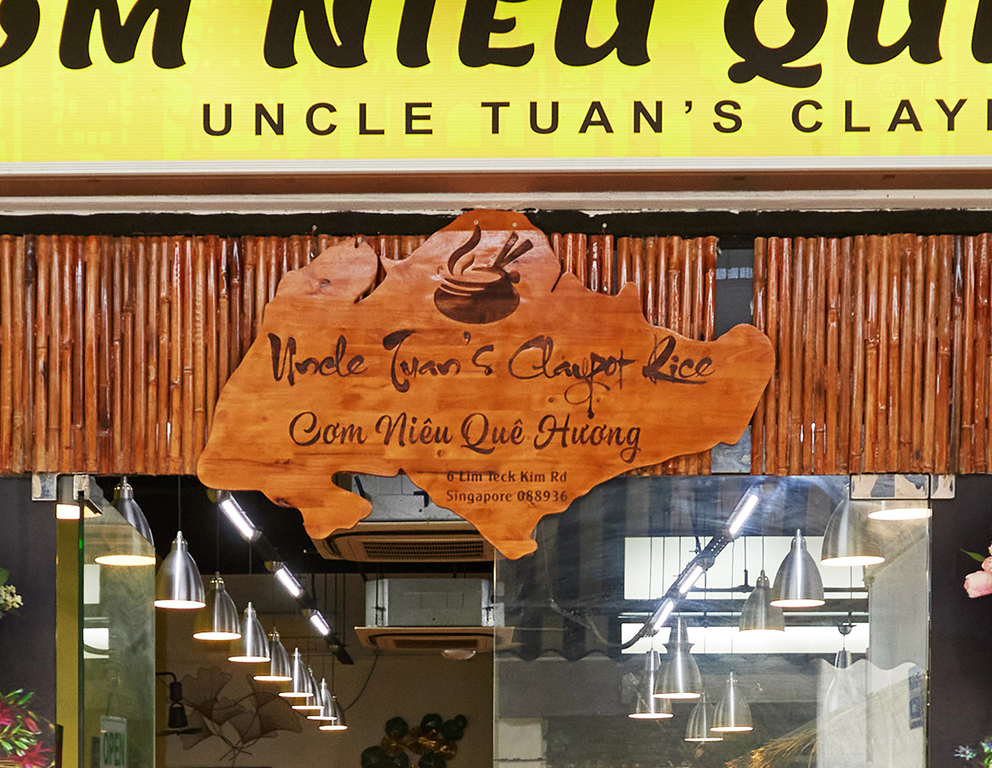 'Singapore' signboard on a Vietnamese restaurant
Tuan - who has also recently invested in a Punggol prawning farm and plans to open a seafood restaurant there - says he hopes to become a Singaporean in the future. While his eatery showcases his native Vietnam's food, he has placed a wooden signboard in the shape of Singapore at the shopfront. "My kids, my home, my business and my knowledge are all in Singapore," he shares. "I hope more customers will know about this red dot that's not small; it's an enduring and united nation with an open heart for all races and religions."
6 Lim Teck Kim Rd, S088936. Tel: 8668-8468. Open daily 10am-10pm. Facebook.
Photos: Kelvin Chia