Hard-To-Find Nasi Ulam With Spiced Chicken At Hip Hawker Stall In Amoy St Food Centre
The digital marketer-turned-hawker offers a refreshing take on the herbed rice dish at Muslim-friendly The Little Red Hen.
Nasi ulam is a traditional dish with Malay, Peranakan and Indonesian influences. It involves mixing rice with finely-chopped fresh herbs like kaffir lime leaves, laksa leaves and lemongrass ('ulam' is the generic Malay term for indigenous plants) and served with raw or blanched vegetables like winged beans, as well as sambal belacan. The Peranakan version often includes flaked fish stirred in the rice too. It's a notoriously time-consuming dish to prepare.

Hawker stall The Little Red Hen, which opened last August at Amoy Street Food Centre, offers the Malay variant of nasi ulam, complete with traditional sides like ayam percik (grilled chicken with spiced coconut sauce), beef rendang and not-so-traditional ones like Mediterranean-style grilled veggies. According to owner Redha Faikah Binte Abdul Wahid, 41, the Malay version of the already hard-to-find dish is even rarer to find at eateries in Singapore. "I only know some Peranakan places that sell nasi ulam (such as Chendol Melaka in Upp East Coast Rd). Part of why I chose it as my signature dish is because it's too laborious to make and I know not many people offer it," she says. Dressed in athletic leggings and a T-shirt, the sporty hawker who is single fits right in at her hip-looking stall, which boasts a cute name (more on that later) and modern signboard with a whimsical illustration of a chook.

No part of this story or photos can be reproduced without permission from 8days.sg.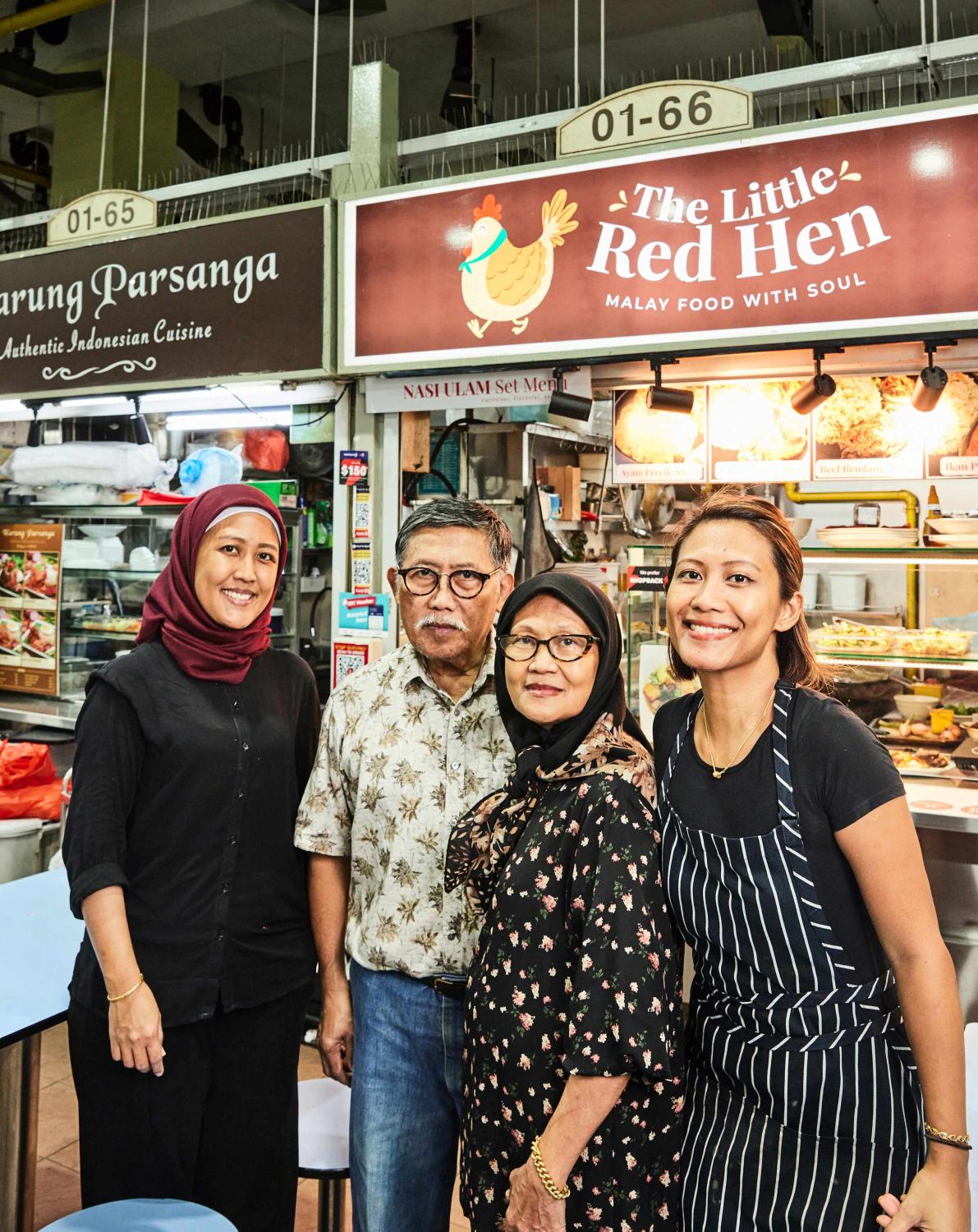 From right: 
Redha with her fellow hawker parents Zaharah Kamaludin, Abdul Wahid & sister Nur Syakirah.
Family of veteran hawkers
Before opening her stall, Redha was a digital marketer for an AI start-up. "I was servicing clients from Russia, North America and Asia. Sometimes I'd be working 18 hours, six or seven days a week. I thought, why not put all that time and effort into my own biz?"

While leaving a cushy corporate job to become a hawker may be life-changing for some, Redha compares it to "joining a family business". As it turns out, her family runs two Malay food stalls in the same hawker centre – her parents, Abdul Wahid ("my quality controller," she quips) and Zaharah Kamaludin have been running their nasi padang stall for 17 years, while her younger sister Nur Syakirah serves dishes like nasi lemak and ayam bakar at her five-year-old joint. Both stalls are named Warung Parsanga.

"I love to cook, but I was always hesitant about making it my job. I decided to [take the plunge] when the stall next to my sister's became available. It's really fun to work beside her," she shares. Even her stall name has a family connection. "It's an ode to my dad who used to read it [The Little Red Hen is a children's book] to us. Just nice that I sell chicken also lah," she quips.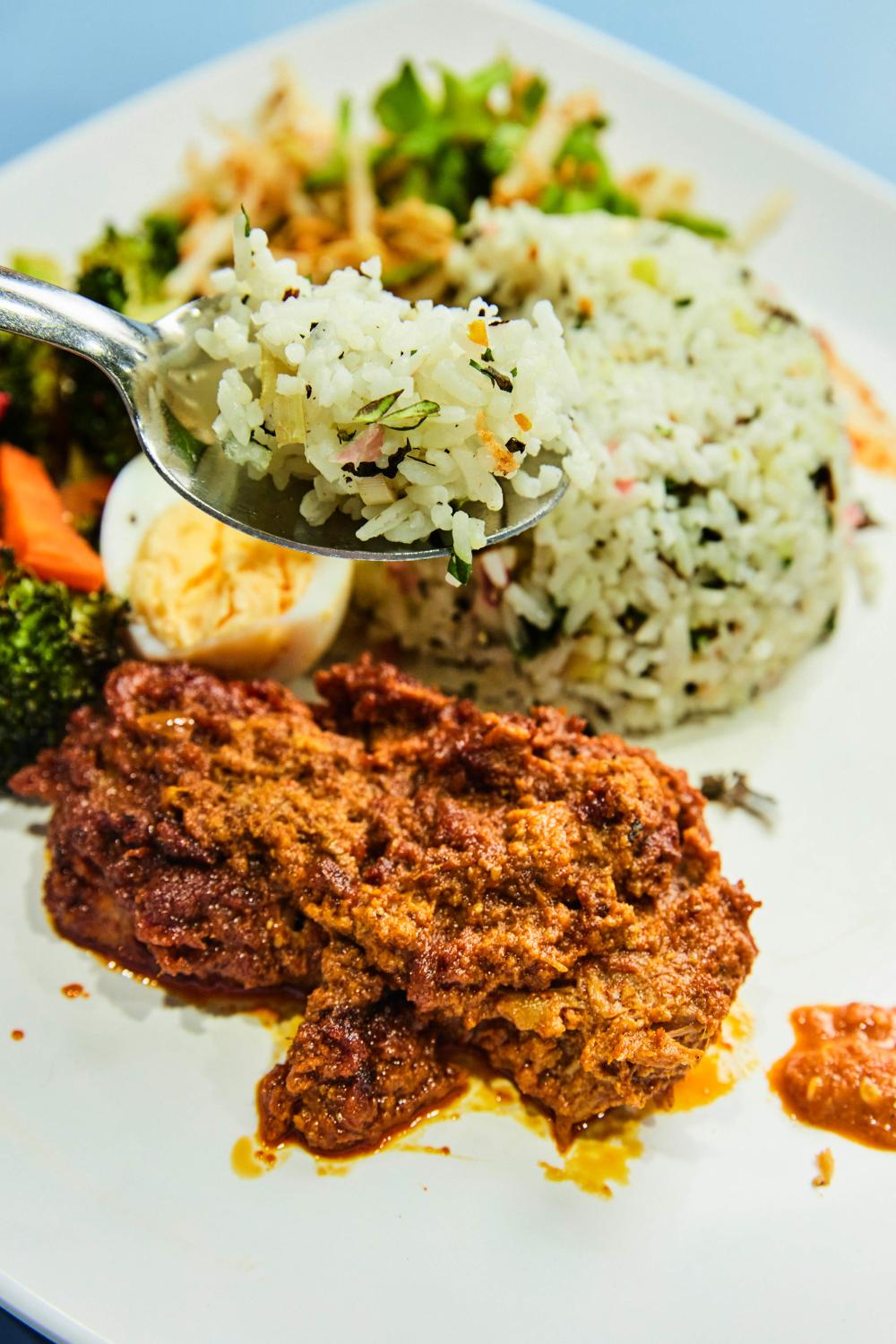 Malay food "made with a lot of love"
"I love Malay food, but I can't have it every day as it's too greasy and heavy for me. I work out a lot so I like food that's tasty yet nutritious and that's the kind of food I want to sell too," explains Redha. She elaborates further: "Nasi ulam is [perfect as] my signature dish as I love herbs and the nutritional value of the dish. Nothing is greasy. It's made with a lot of love and I think that is translated into its taste as well."

Labour of love, indeed. Redha has to visit four different wet markets, including Tekka and Golden Mile, to buy "up to 15 different fresh herbs" to make nasi ulam daily. These include kaffir lime leaves, laksa leaves, torched ginger flower and betel leaves. Each herb also has to be painstakingly fine-chopped by hand – the hawker says it takes about an hour and a half to prepare the nasi ulam from scratch based on a secret recipe that she developed on her own based on "travels to Indonesia and Google".

The hawker helms the stall on her own and does most of the cooking here. "I spent about 16 hours working at the stall daily when I first started as it took me much longer to prepare all the ingredients for the rice and to cook all the dishes," she shares.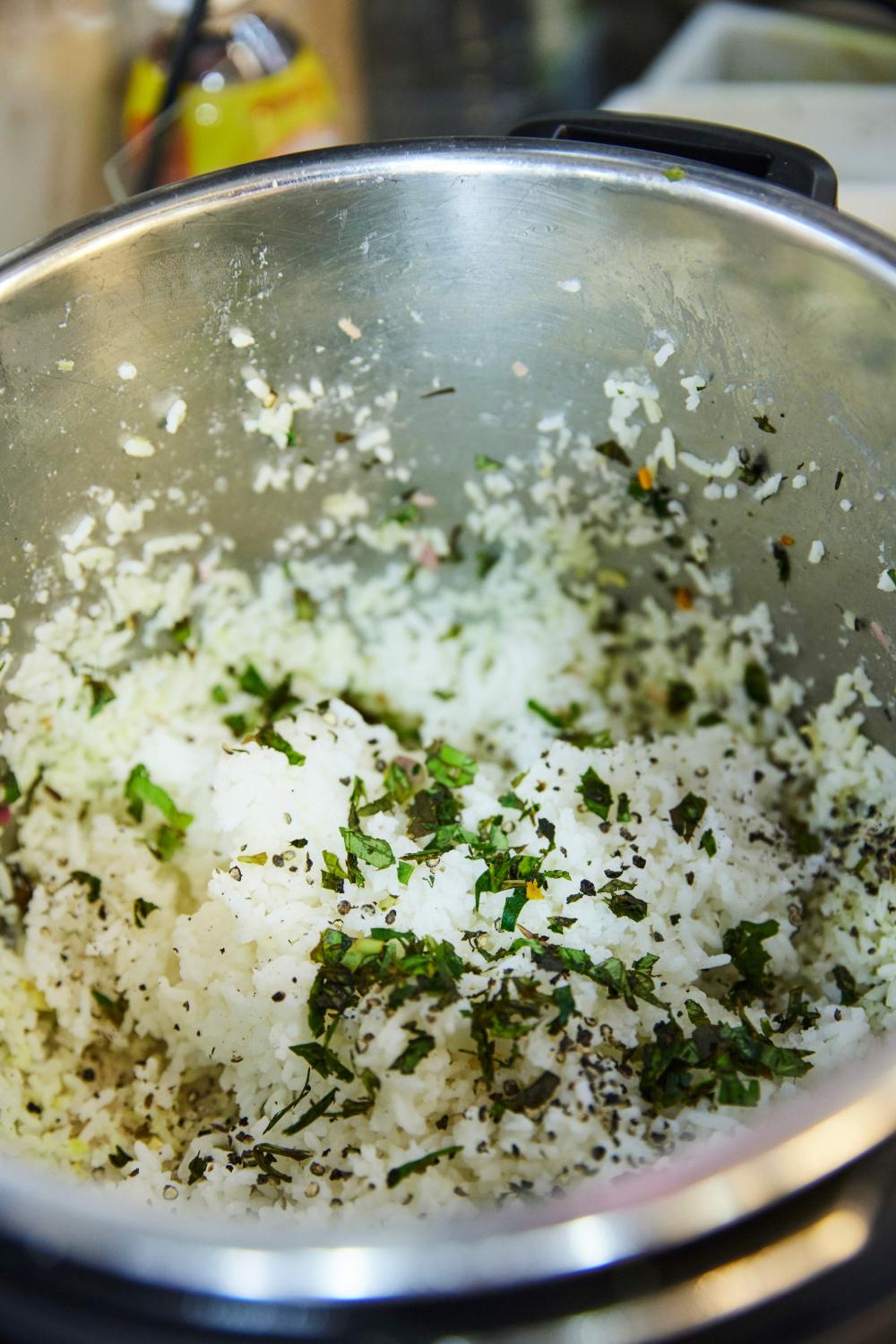 Most of her customers have not tried nasi ulam before
Most of Redha's customers have not had the dish before – which is why the savvy ex-marketer displays a detailed description of nasi ulam on her stall's counter. "The ones who have heard of the dish are usually Peranakan. I get more non-Malay customers in general," she shares. The Muslim-friendly stall [it's not halal-certified] sells about 50 portions daily, with ayam percik being the most popular set. 

As for future plans, Redha is taking it "one step at a time for now". "In the past, I've thought of opening a family-run restaurant. Now my parents are getting old so I just want them to retire. Maybe I'll start something with my sister, if she wants to!"
The menu
The menu is compact – there are four nasi ulam sets served with ayam percik, udang kunyit (turmeric prawn), beef rendang or ikan pepes (steamed fish in banana leaf). All sets include a veggie side, half a boiled egg and house-made sambal belacan. You can also order the meat and seafood sides a la carte.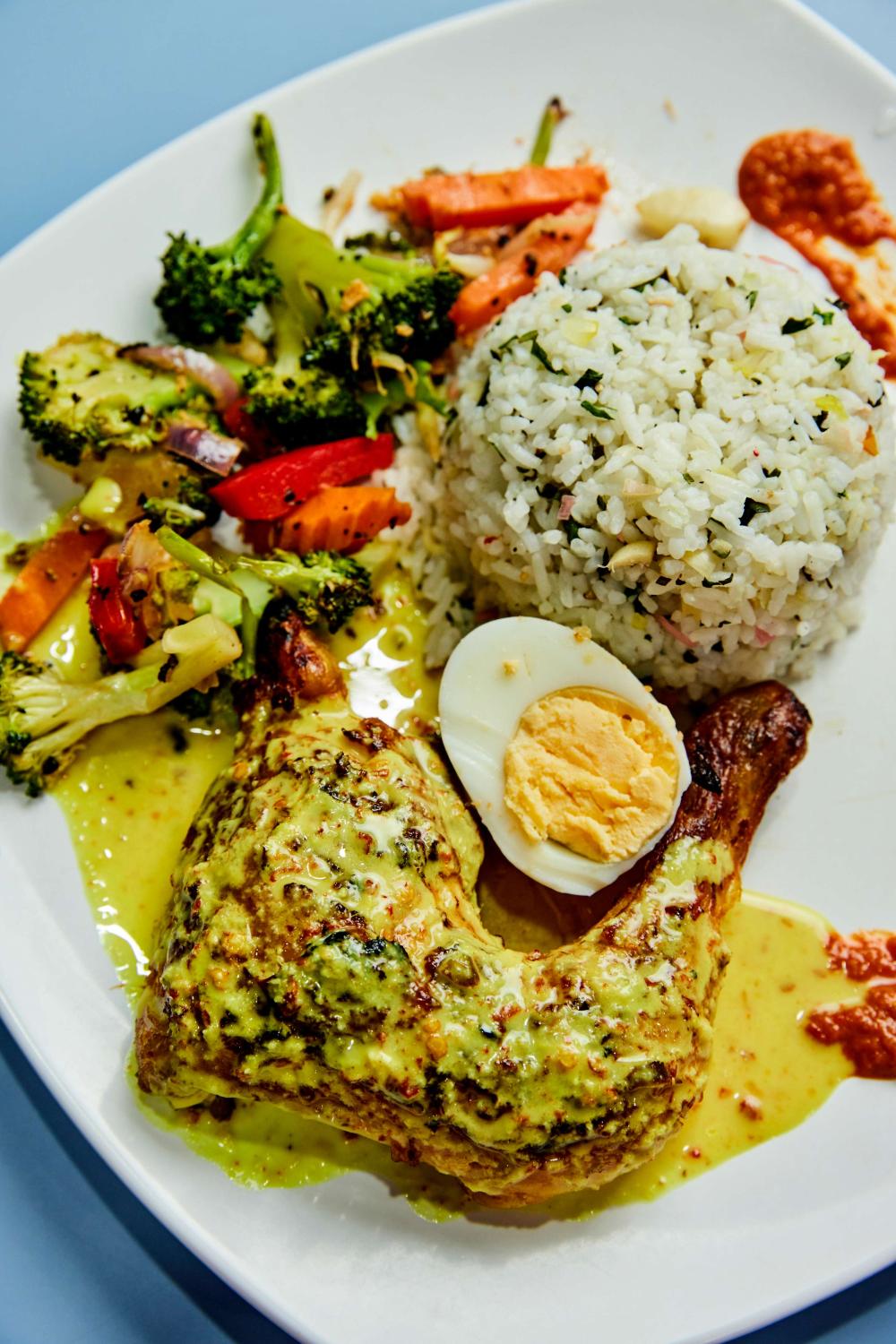 Nasi Ulam With Ayam Percik, $8.50 (8 Days Pick!)
Don't be alarmed that the rice is served at room temperature (compared to the steaming grains we expect from most local dishes) – this is deliberate as the cooler temperature is meant to preserve the delicate flavours of the fresh herbs in this rice salad and not turn them bitter. The herbed jasmine rice is fluffy and fragrant – we picked up on some citrusy notes from the kaffir lime leaves and torched ginger flower, and a stronger kick from shallot and black pepper. Dried krill can be added upon request (at no extra charge) — definitely get this for a punch of umami. Lightly seasoned with salt, the nasi ulam is light, refreshing and tasty on its own.

For a heartier accompaniment, the turmeric and lemongrass-rich grilled chicken is succulent and well-complemented by the creamy and slightly sweet turmeric-spiced coconut milk-based gravy. Our Mediterranean-style veggie side, which features grilled broccoli, red pepper and carrot, is well-seasoned and cooked just right. The house-made sambal belacan is lovely too – bright, savoury and packed with just the requisite amount of heat. A satisfying, well-balanced meal.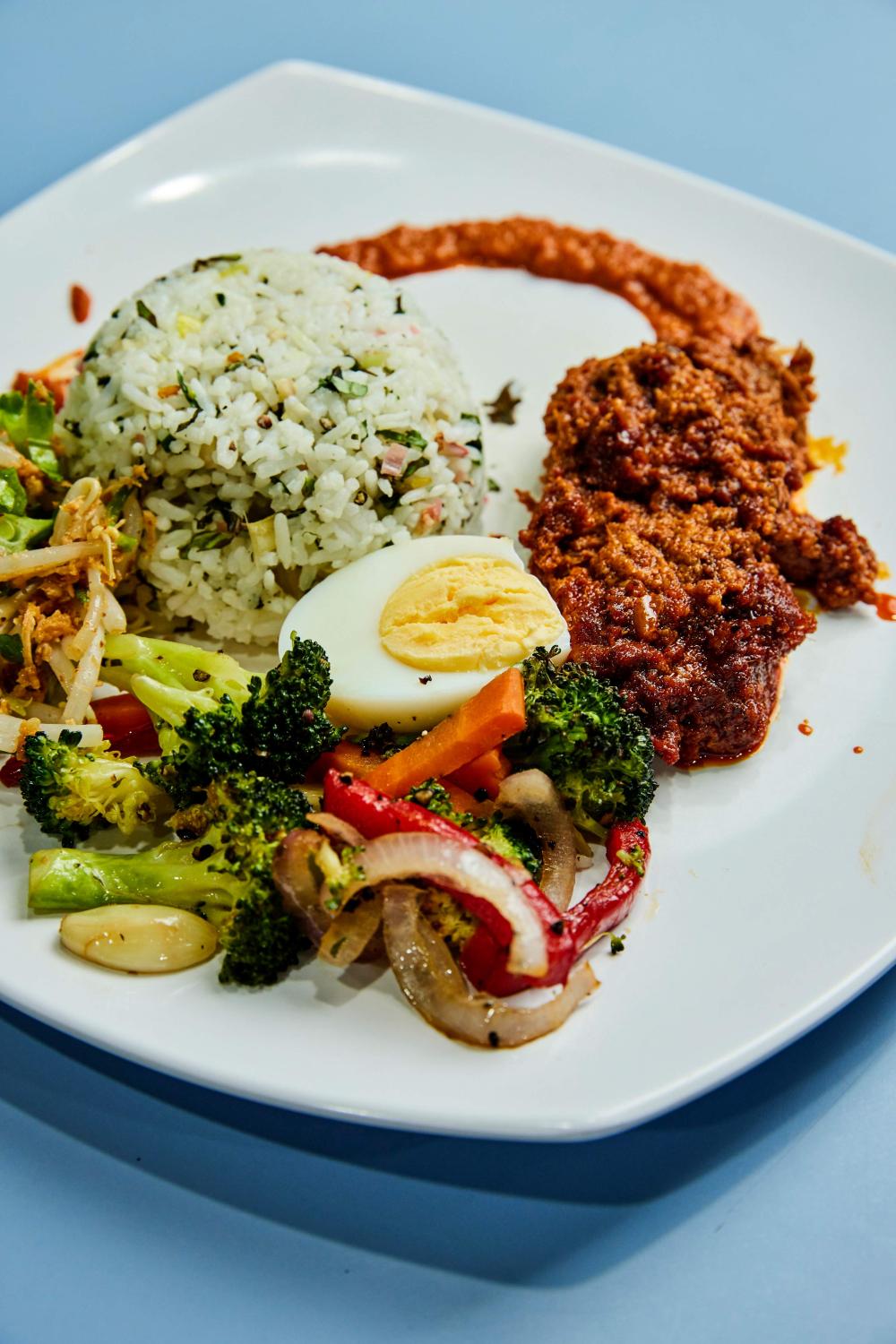 Nasi Ulam With Beef Rendang, $8.50; extra veggie side $1
The beef rendang is supplied by Redha's parents' stall and is tender and flavourful. It's also not too spicy and does not overpower the milder flavours of the nasi ulam. We added urap (Indonesian salad with spiced grated coconut) as our second veggie side – a vibrant mix of cooked bean sprouts, galangal and aromatic grated coconut. The raw winged beans added a lovely verdant flavour and refreshing crunch to the plate.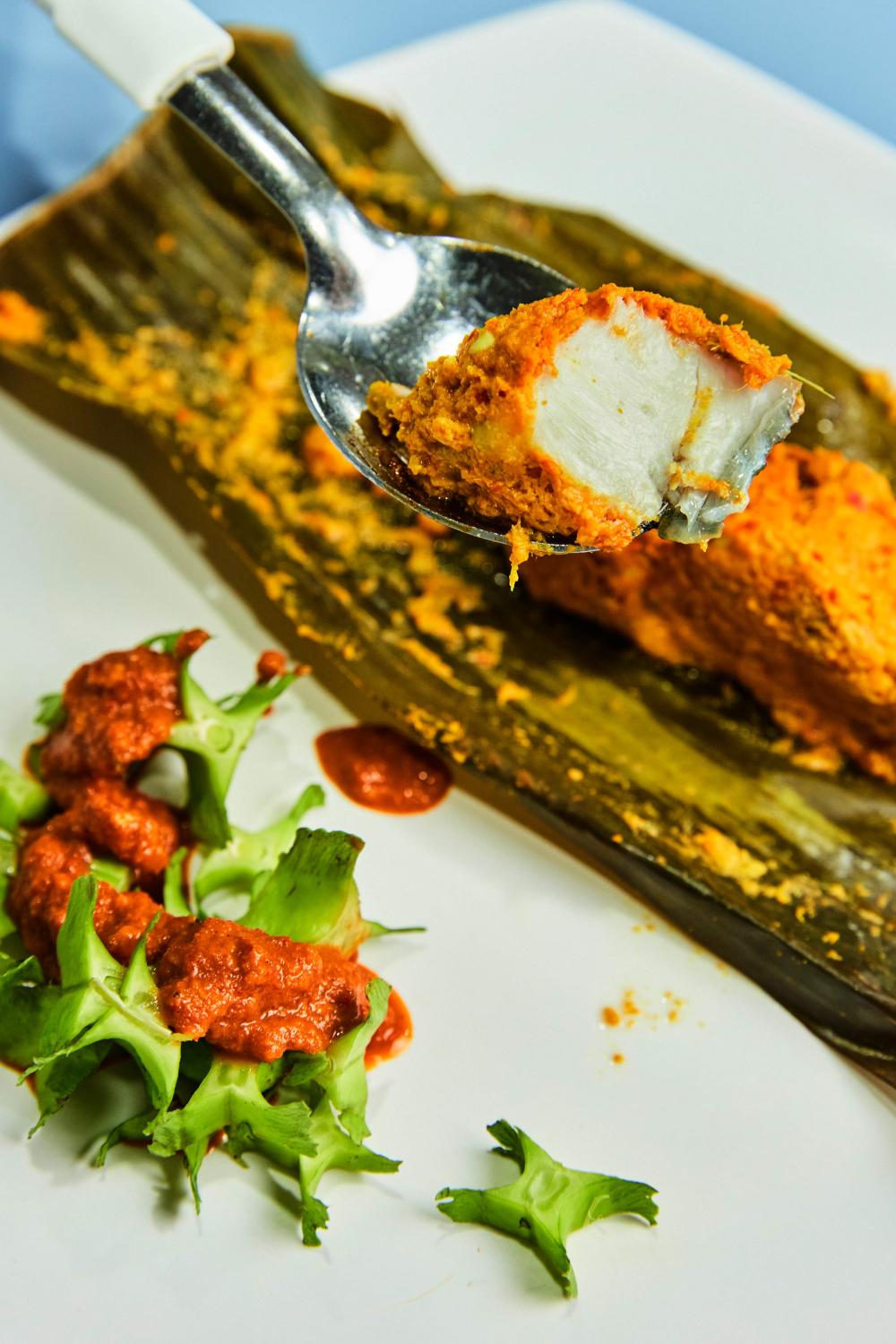 Ikan Pepes, $6
To prepare this dish, Redha smothers a thick slab of mackerel in a lemak, curry-based rempah and steams the banana-leaf-wrapped fish. "I used to grill it after steaming, but stopped doing it as some customers said it made the fish dry," she shares. A shame, as we missed the alluring smokiness of a good ikan pepes. This side dish comes with raw winged beans and more of that shiok sambal.
Bottom line
We enjoyed the finesse of flavours in this wholesome and refreshing nasi ulam, which is further accentuated with robustly seasoned side dishes. The aromatic grilled chicken, in particular, was our fave. Though prices here aren't exactly hawker-friendly, we found them to be fair considering the laborious work required to make the tasty herbed rice salad that's a rare find these days. Worth a try.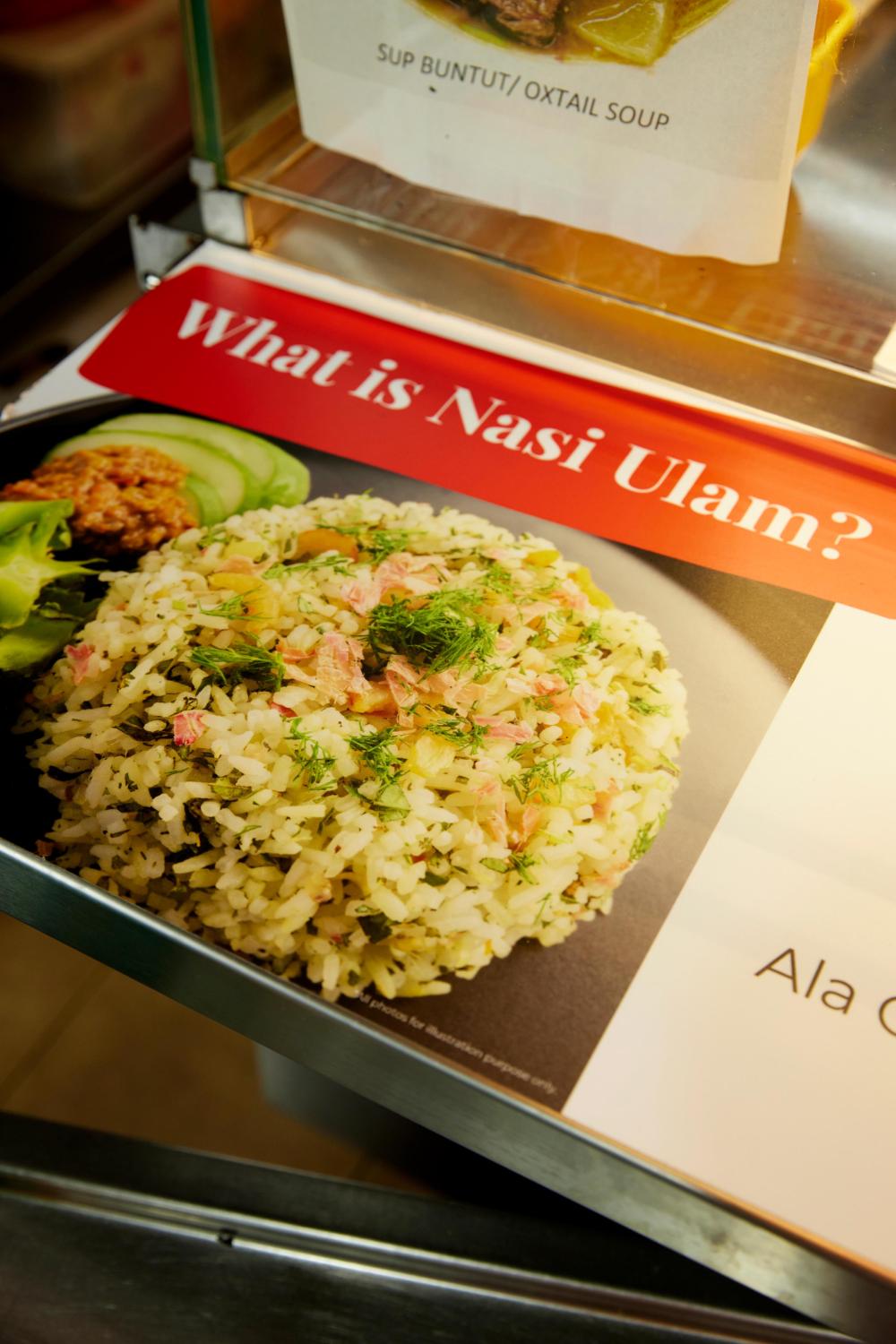 The details
The Little Red Hen is at #01-66 Amoy Street Food Centre, 7 Maxwell Rd, S069111. Open daily except Sun 12pm-7pm. More info via Facebook & Instagram.
Photos: Aik Chen

8days is now on #tiktok! Follow us on www.tiktok.com/@8dayseat
No part of this story or photos can be reproduced without permission from 8days.sg.