Hawker Couple Who Has Never Tried Truffles Launches Truffle Fishball Noodles To "Attract Younger People"
The hawkers behind Zhuang Ji Fishball Noodle didn't taste their mod noodles before putting it on their menu as "[they] don't really like the smell of truffle".
We have seen truffle paired with hawker fare like siew mai, carrot cake and even chicken rice, so it's no surprise that someone would eventually try marrying the funky fungus with… fishball noodles.
What's surprising, however, is who we find selling this fusion dish. Not a bright-eyed young hawker hoping to make their mark by gussying up traditional grub, but 54-year-old veteran hawker Cheng Lai Seng, who spent around two decades working as a stall assistant at various fishball noodle joints.

Four months ago, he became his own boss by opening Zhuang Ji Fishball Noodle in an Ang Mo Kio Ave 5 kopitiam. His wife, Karine Na, 51, who was previously a homemaker, is now helping him run the stall.
The youthful-looking couple mostly offer no-frills hawker picks like fishball noodles and laksa from $3.50 a bowl. But what's most intriguing is their Truffle Fishball Noodle, an off-kilter pairing that, at $6, costs almost double of a bowl of his regular fishball noodles.
No part of this story or photos can be reproduced without permission from 8days.sg.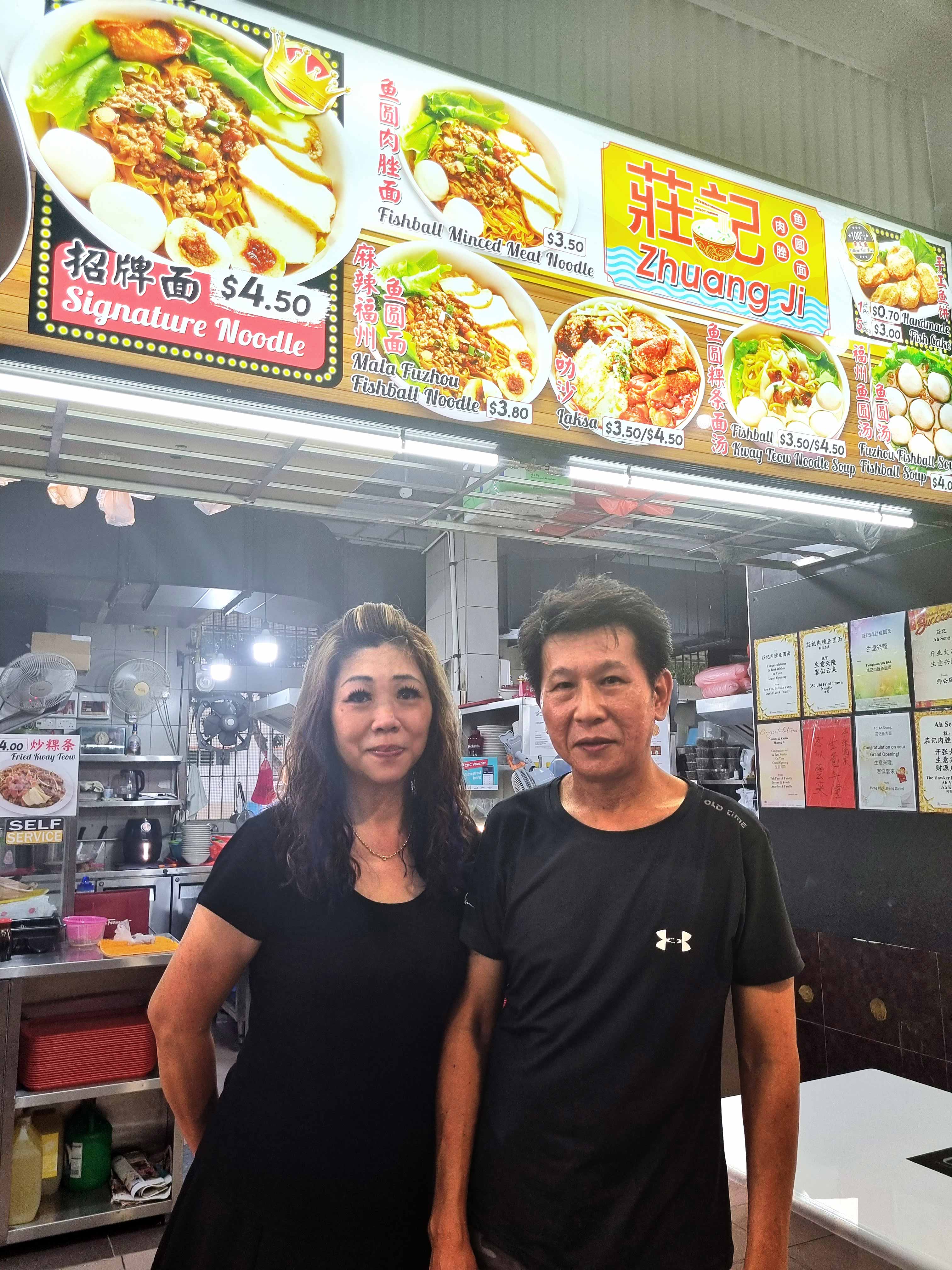 The hawkers have yet to try their own creation
Most quinquagenarians we know aren't all that wild about truffles (it is, ostensibly, a 'young people's thing' especially when paired with old-school hawker food). Naturally, we ask Lai Seng: how did he come up with the dish? He chuckles, and looks to his missus, who shares candidly that a business-minded family friend had suggested adding truffle oil to their fishball noodles as a way to drum up extra sales at the stall's ulu coffeeshop.
The kopitiam – despite housing famous stalls like the family-run Chelabela Korean hawker stall which had shifted over from Marsiling and zi char joint The Blacky Seafood, named for its viral Mandarin-speaking Indian head chef – "is very quiet," says Karine. She adds: "The customers here are all older folks [who live nearby], so we wanted to attract some younger people to visit and try our food."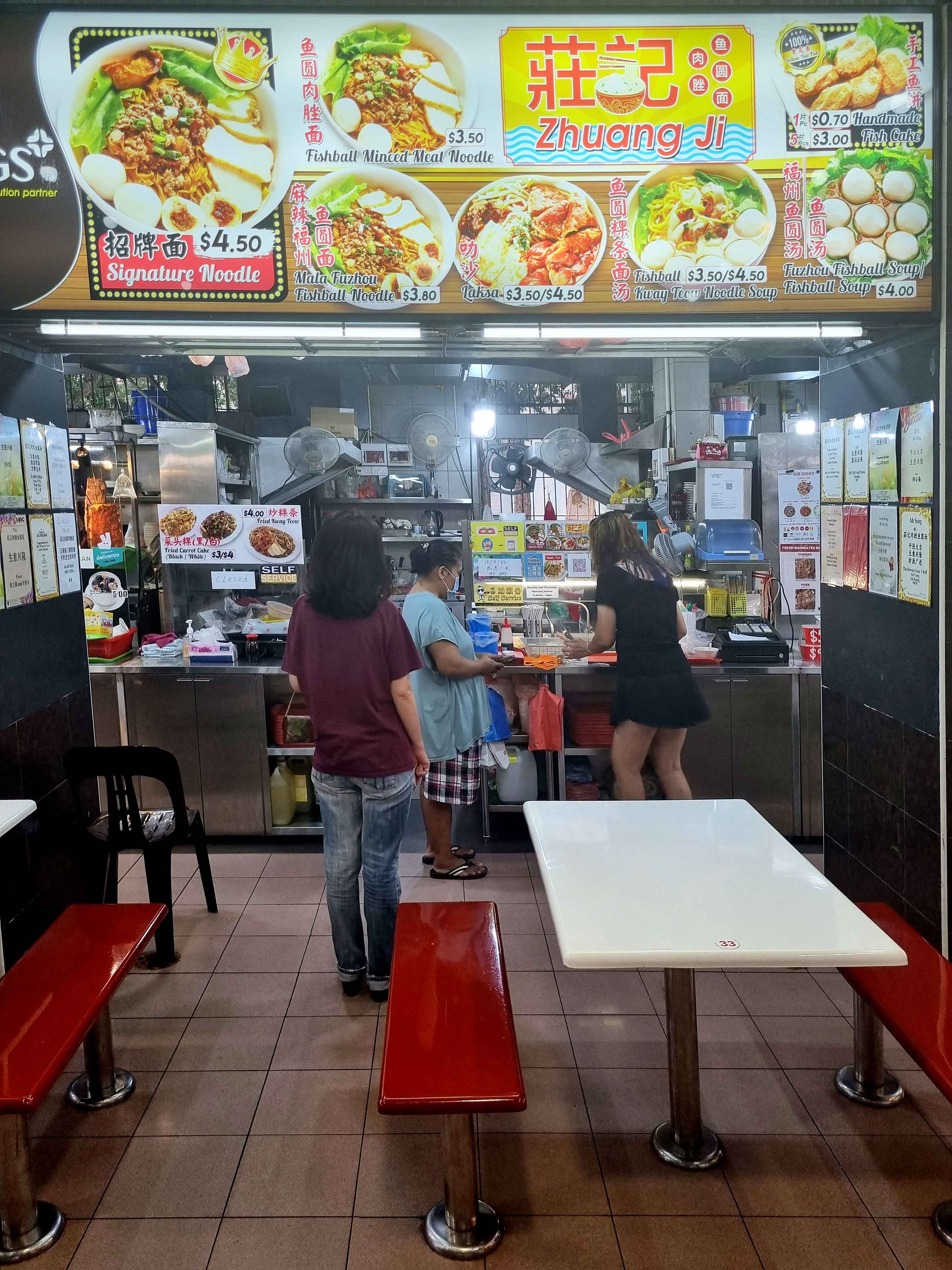 But the hawkers are quite hip too, okay?
The ever straight-talking Karine also tells us frankly that both she and her husband had never tried truffle prior to coming up with truffle oil-infused noodles. In fact, they had not even tasted their own fusion pairing before putting it on the menu.
Karine explains: "Truffle's aroma and flavour is something for younger people. We don't really like the smell of truffle, so we haven't tasted it." But she did enlist the help of more discerning tasters – the couple's 17-year-old daughter and her Zoomer friends, who tried the dish that was created with them in mind and gave their stamp of approval.
Despite not getting the appeal of trendy truffle-everything, Karine also appears pretty hip herself. Even on a regular weekday working at the stall, she donned dramatic false eyelashes, bleached hair highlights and a miniskirt.
No truffle shavings here
Obviously, you won't find any actual truffle shavings crowning your bowl of kopitiam fishball noodles in a kopitiam. The noodles are drizzled with truffle oil (again, don't expect the finest top-grade oil here – it's a wallet-friendly hawker stall after all).
Spot the sign
But the truffle fishball noodles isn't boldly advertised on the main menu. The only thing clueing you in to its existence is a smallish sign pasted on Zhuang Ji's stall front, scarcely larger than a QR code for digital payments.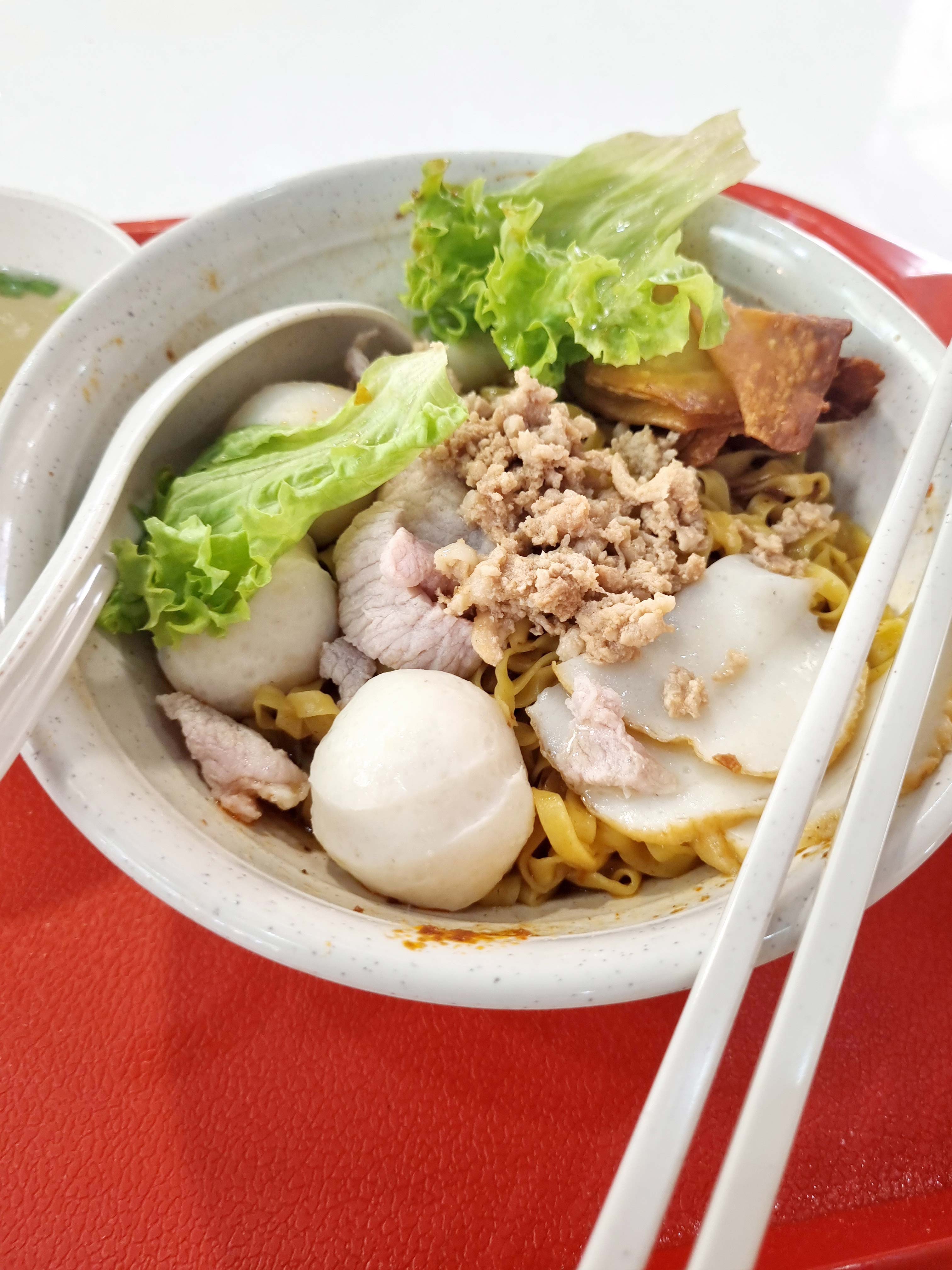 Truffle Fishball Noodle, $6
We tried the truffle fishball noodles as an anonymous customer to see if it passes muster. Lai Seng prepares our bowl with a practiced hand, before adding the extra fancy ingredient to our bowl of mee pok: four spritzes of truffle oil, such that we can smell its heady scent even through our face mask. It dissipates rather quickly though, as it becomes quite faint by the time we brought the bowl to our table and snapped a couple of photos.  
Unfortunately, the earthy pungency of the condiment is almost non-existent too. What little funk we could taste doesn't gel well with the hae bee and belacan chilli mix that was tossed with the noodles, which was nicely springy but a tad too alkaline.
For $6, you also get more ingredients for your fishball noodles besides truffle oil –

upsized portions of minced and lean sliced pork, fishcake, two fishballs and a mala Fuzhou fishball.

The latter is probably our favourite part of the bowl –

it has a good bite

with a manageable spicy-numbing heat that doesn't overpower everything else.
Mala Fuzhou fishball noodles
Other than truffle fishball noodles, the hawkers also serve another trendy fusion dish: mee pok with mala-flavoured minced chicken Fuzhou fishballs. Each bowl is priced from $3.80. Our verdict? Skip the gimmicky, pricier truffle mee and just indulge in a bowl of fishball noodles with the shiok mala Fuzhou fishballs here instead.
Zhuang Ji Fishball Noodle is at 603 Ang Mo Kio Ave 5, S560603. Tel: 9118-8443. Open daily 6.30am – 3pm; closes 2pm on Mon & Thurs, and every alternate Tuesday. More info via Facebook. Delivery via Foodpanda.
No part of this story or photos can be reproduced without permission from 8days.sg.