Hearty Mutton Biryani, Roti Jala At Muslim-Friendly Stall By Personal Assistant & Manager Turned Hawkers
The sedap biryani from Lagita's Kitchen is made using one of the hawker's family recipes — his dad used to own a biryani restaurant in Brunei.
"We don't have children, so there's no burden at all. We live a simple life – no stress, and we can take a break anytime we want to," declares Indonesia-born Lagita Suminta, 50, on why she and her Singaporean Malay husband, Soedirman Daud, 53, decided to quit their jobs – as an assistant manager at Goodwood Park Hotel's housekeeping department and personal assistant in facility management respectively – to become hawkers. 
The couple, recently married last December, opened Lagita's Kitchen early this April at Hong Lim Market & Food Centre. Although the stall is named after her, Lagita tells 8days.sg that it's her hubby who does all the cooking. "His passion is for food – but he named the stall after me because I'm the love of his life," she chirps, leaning against the sheepish Soedirman. He reaches the stall at about 6.30am daily to prepare biryani – using a recipe from his ex-restaurateur dad – alongside samosas and wraps.
All photos cannot be reproduced without permission from 8days.sg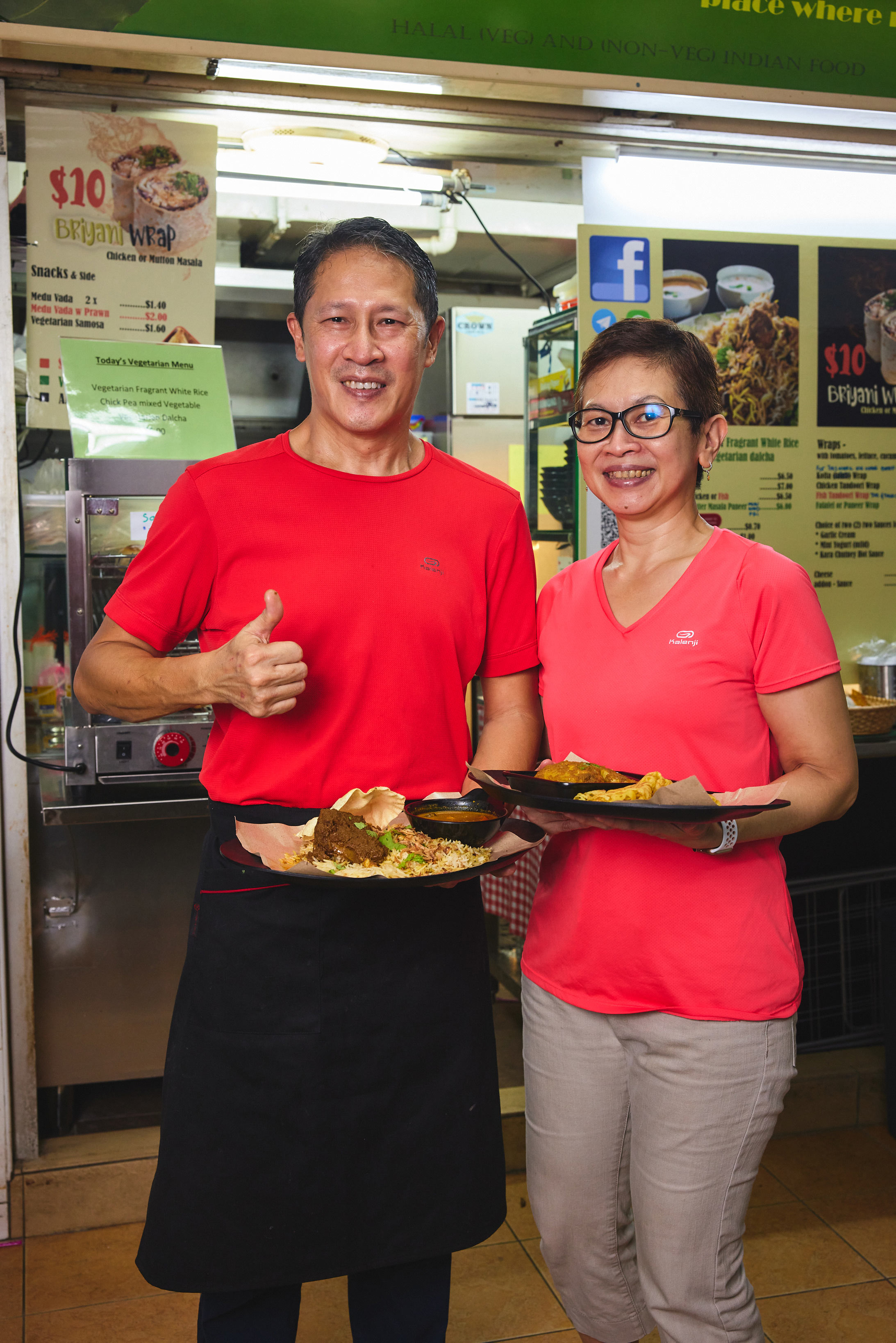 Parents were restaurateurs in Brunei
Soedirman never had any formal culinary training. Instead, he got his culinary foundation in Brunei when his family relocated there during his childhood years. There, his parents ran a restaurant specialising in Bruneian cuisine before opening another one serving biryani – Soedirman was too young to be involved, but says he learnt a lot about cooking just by being around his family. "Cooking is actually quite simple – it's mainly about learning how to balance flavours. And maybe it's in the blood [since my parents ran restaurants]," he chuckles.
After returning to Singapore for national service, he worked at various service industry jobs before opening a Mediterranean restaurant with other partners on Beach Road. The restaurant ran from 2007 to 2014, closing for good when the building was redeveloped into City Gate.
Soedirman then returned to working at a nine-to-five job. Though he's reluctant to go into details about his time as a personal assistant, he tells us: "It's a very stable job, there's nothing much to say. I was just organising meetings, taking care of [my boss' needs]. So it's kind of the same thing every day."
"All I can say is [as you get older] and you don't work in a job you're passionate about, it creates stress and it's quite frustrating," he adds.
Being hawkers key to having "freedom to do what we want" in golden years
Lagita agrees. "Actually, I was the one that convinced him to pursue his passion. We were both very tired of our jobs – even after work [hours], we'll be at home answering emails and phone calls," she says.
For her, switching to the hawker life meant a release from the daily stresses of a "fun, but very challenging" job in the hotel industry. "When you're working in the hotel line, and you're at an executive level, you must be prepared to stand by for 24-hour calls," she says. "Life is a lot more relaxed now. There's no stress from superiors, targets, or staff [to worry about]. We just have to take care of our business. The only 'boss' is our customers."
She continues: "What we want in our golden years is to do the things we've always dreamt about. Having our own business, having the freedom to do what we want and most importantly, we can take as many holidays as we want (laughs). We don't need anything fancy in our lives. We are free from loans, and our income is enough to settle our daily needs, plus save up for simple vacations." 
When we mention that their choice of semi-retirement gig is what some would consider tough, she replies: "Define a tough job? When you work with [something you're passionate about], the tough job becomes easy to handle." After a pause, she adds with a laugh, "If you say being a hawker is a tough job physically, compare that to cleaning 20 rooms per day, plus [management duties] after that," referring to her previous hotel job.
According to Soerdirman, the stall's set-up cost them just around $15K – the best bit about being a hawker for him is the freedom to "cook whatever [he] wants with his own ingredients". "There are no limitations or approvals that I need to seek," he explains simply.
Want to be known as "

the

biryani at Hong Lim"
The hawkers decided to focus on fusion Indian cuisine – mainly 'cos Indian food was the stipulated cuisine for their stall at Hong Lim Market & Food Centre, which they secured before deciding on a proper concept. That might be why they've already changed their extensive menu twice in the span of two months. Explains Soedirman: "There are a lot of younger people [from nearby offices], who are more adventurous. We're still trying to find out what the customer wants," he admits.
Since Lagita has no F&B experience, her husband only trusts her with "cutting vegetables" and plating dishes. "My husband is very strict with the presentation. He used to scold me a lot when we just started, but nowadays I think I'm improving (laughs)," she whispers cheekily. "We'll always discuss what went wrong and right at the end of the work day. But we both know that it's work, so [any arguments] stay within the hawker stall," she adds.
The hawkers have high hopes for their biz. Lagita gestures at the popular Hiong Kee Dumplings adjacent to their stall. "When people mention 'dumplings at Hong Lim', they're referring to this. We hope that when people talk about the biryani at Hong Lim, they'll think about us," she says.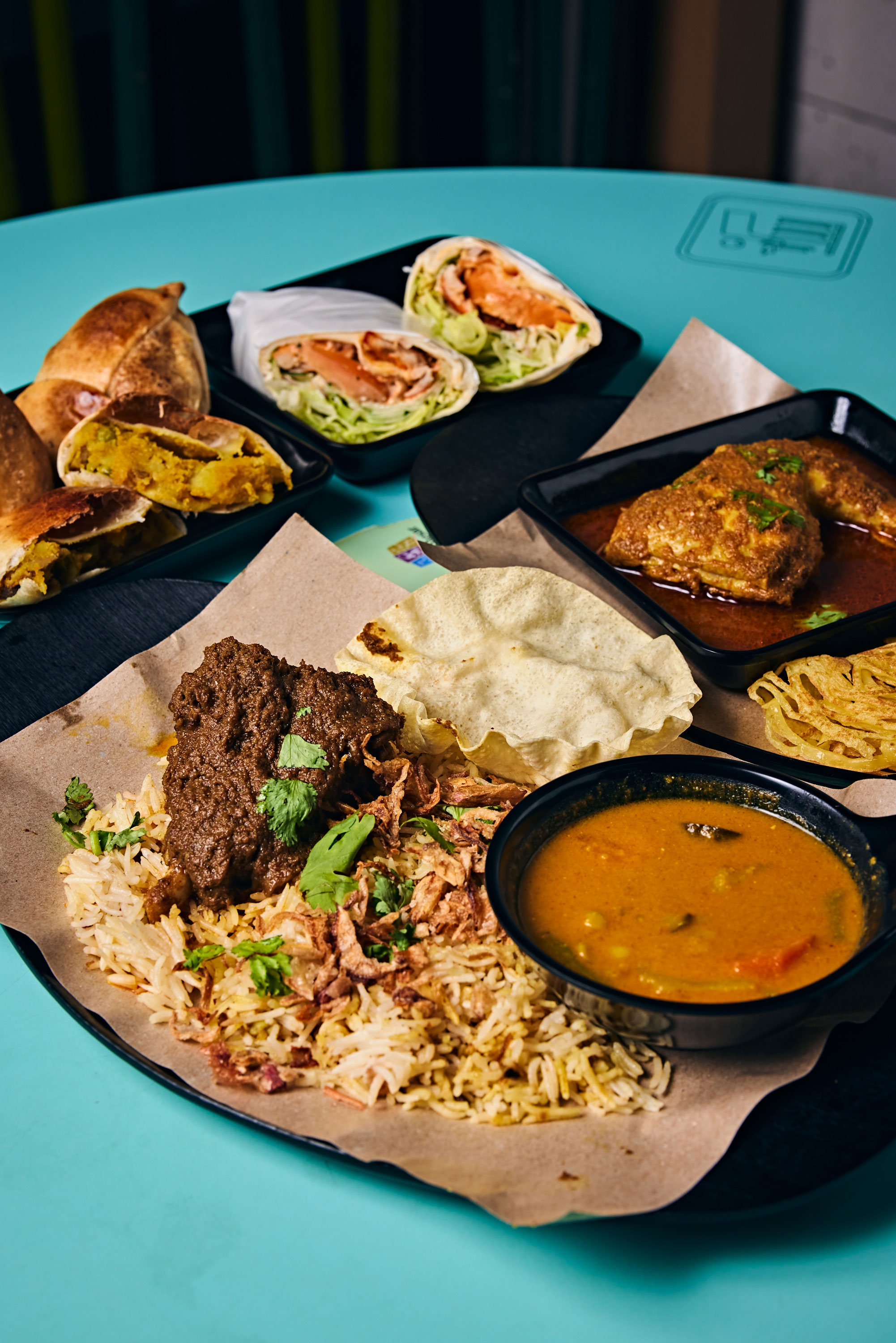 The menu
Apart from biryani (from $6.50), Lagita's Kitchen also sells shakshuka (eggs poached in tomato sauce popular in Middle Eastern cuisine; $5), naan ($1.20) and samosas ($1.60). They're still adding new dishes too, like roti jala (net bread, the snack is popular in the Malay community here, though it's believed to have roots in India). While the stall is not halal-certified, the food here is sourced from halal suppliers and is Muslim-friendly.
Mutton Masala Biryani, $7 (8 DAYS Pick!) 
Soedirman calls his family's recipe 'layered' biryani. While it sounds fancy, it simply means he layers fried onions, cashew nuts, raisins and spices like fenugreek and mace onto the basmati grains. You can't really see the layers either. As for the rice and meat, they're cooked separately before being combined on your plate – an effort-saving shortcut common among local hawkers, as opposed to the traditional dum-style biryani that sees rice and meat cooked together in a sealed receptacle.
Still, we find the yellow basmati grains disparate and fluffy, with a good aromatic whiff from the turmeric, fried onions, cloves and cardamom. The grains aren't overly greasy and we like the sweet and nutty contrast from the raisins and cashews.
The slab of mutton is yummy too – it's slow-cooked for three hours until fork-tender in a full-bodied masala (spice mix) that enhances rather than masks the meaty flavours. The biryani is served with papadum and lentil-rich dalcha, which comes generously laden with veg like brinjal, long beans and carrots, on the side. A satisfying plate.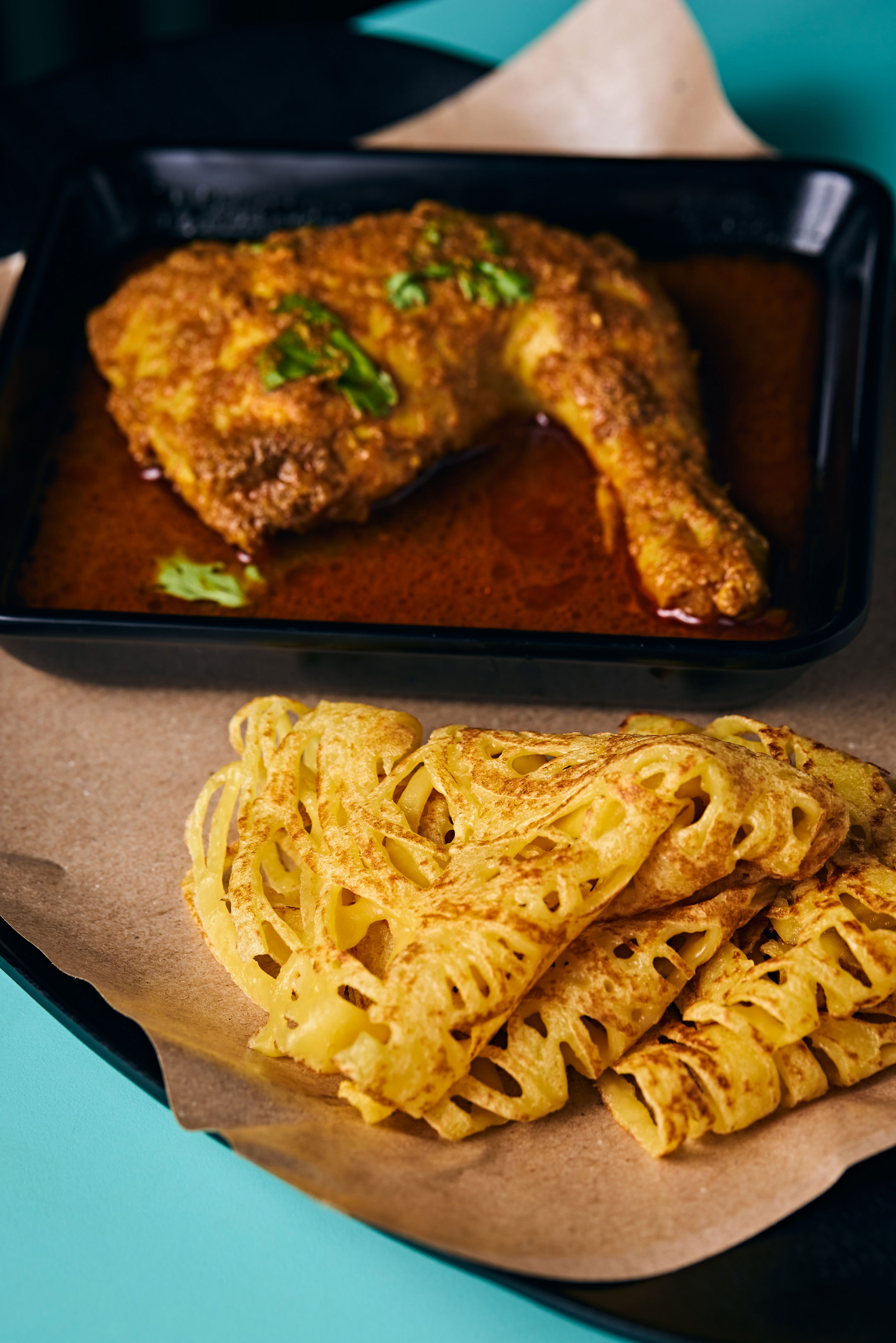 Roti Jala with Chicken Curry, $5
Soerdirman creates the roti jala's characteristic net-like design by squeezing the turmeric and coconut milk-laden batter out of a multi-nozzle bottle onto an oiled pan, before folding it into neat, springy triangles.
Lightly browned on the surface, the hawkers' slightly overcooked net crepes are a little homelier in presentation compared to the pristine all-yellow roti jala you'd find in Bussorah Street (Kampong Glam Cafe's version comes to mind). Still, more than decent dipped into their fragrant, nicely spicy curry chicken gravy. While our serving came with a whole thigh and drumstick, Lagita informs us that they've since switched to offering tandoori chicken chunks in curry instead.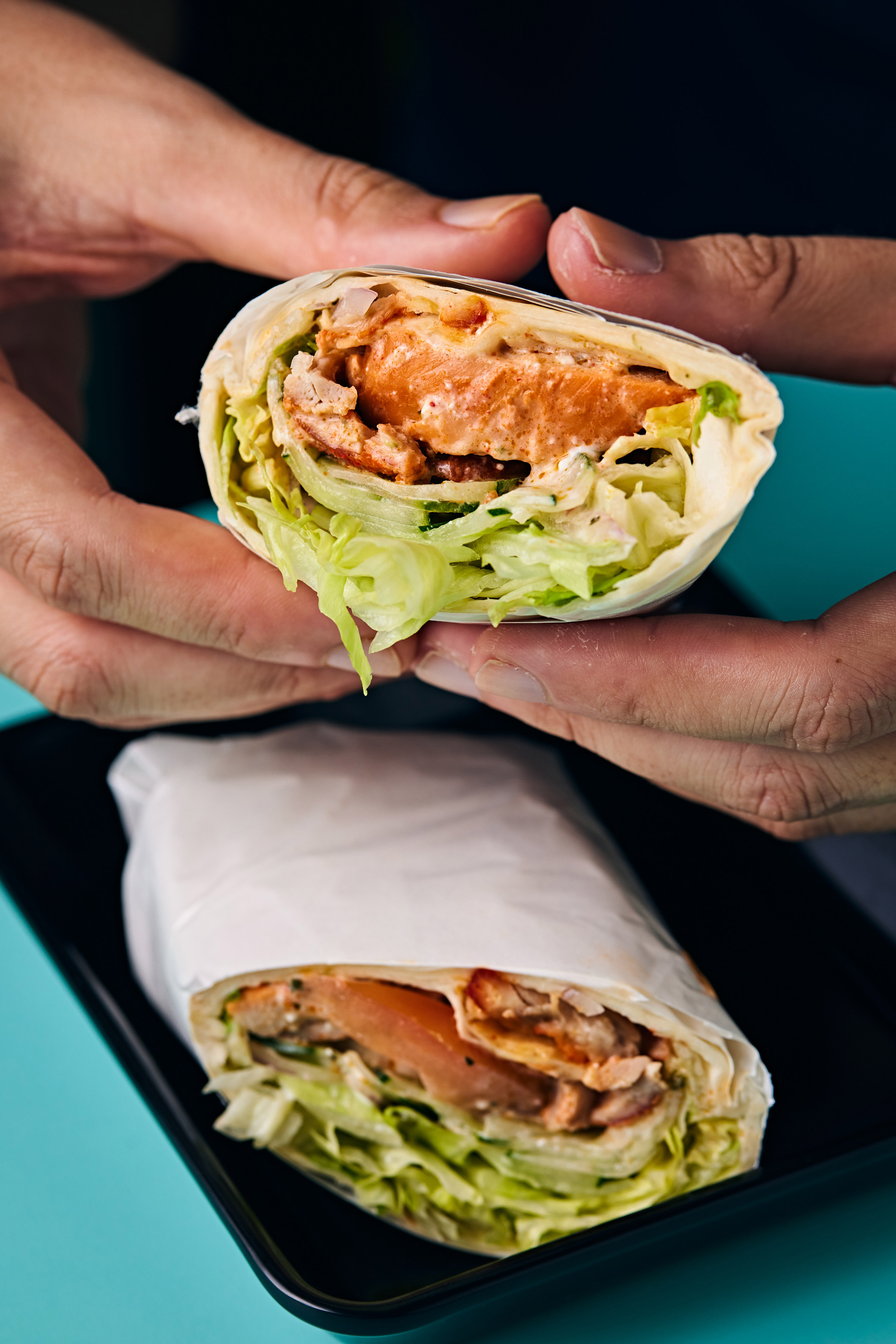 Chicken Tandoori Wrap, $6.50
We didn't enjoy the hawkers' fusion grub as much, though. Slices of oven-baked chicken breast – vibrant red, thanks to a marinade of Kashmiri chilli powder among other spices – are paired with cut veggies and house-made sauces like mint yogurt and Kara chutney hot sauce (a spicy blend of roasted chilli peppers) in a 12-inch wrap and toasted.
Unfortunately, the chicken is dry and lacks smoky char; the sauces are also too mild to contrast with the wrap. For the price, we'd rather go for a plate of their scrumptious biryani instead.
Soedirman later hands us a Chicken Biryani wrap ($9.50) to try as well. It's pretty much the same dish, but with more carbs from biryani rice (sort of like a biryani burrito) and sliced curry chicken breast instead of tandoori chicken. Again, not our favourite – perhaps it'd be more interesting if they swapped out the sauces for curry instead.
Samosas, $1.60
Lagita shares that the samosas are one of their more popular items, especially for afternoon tea. They sell three versions – the standard deep-fried samosa with a vegetarian-friendly stuffing of potato and peas, as well as two baked variations with minced chicken and mutton. Why baked? "Healthier choice," she explains simply.
That said, it is the crispier deep-fried samosa that we enjoy most; the skin of the baked version is a tad doughy and lacks that moreish crunch. We also appreciate the herbaceous pungency from the ajwain (carom seeds) incorporated into the skin of the samosas. Fillings-wise, the meat samosas come with more spicy potato than minced meat. We prefer the lamb version, as it has a more robust flavour. 
The hawkers inform us after our visit that they've since switched to baking all of their samosas instead. Pity.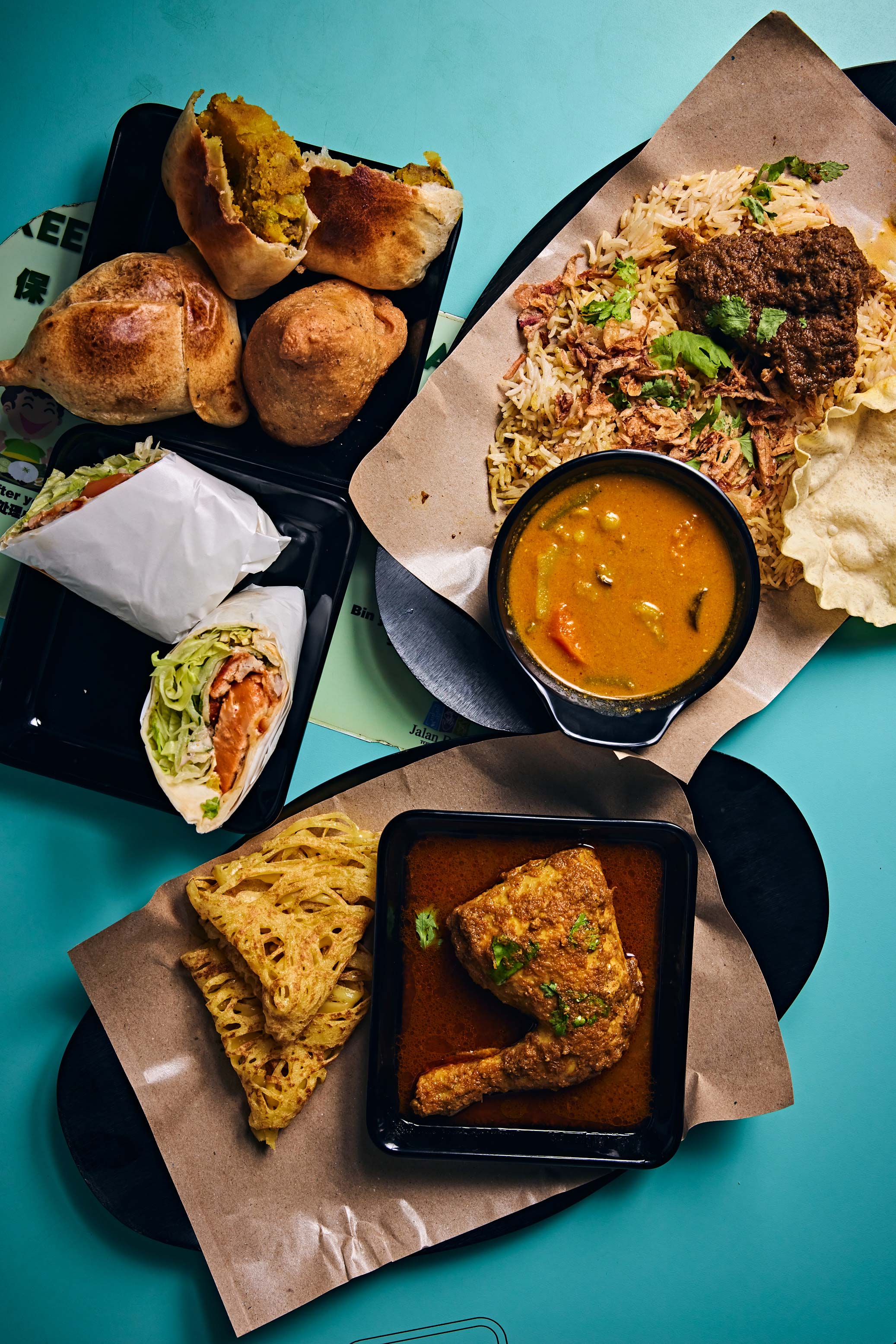 Bottom line
Skip the so-so fusion wraps at Lagita's Kitchen and zero in on the flavour-packed, satisfying mutton masala biryani. The homely roti jala is worth a try, too.
The details
Lagita's Kitchen is at #01-44 Hong Lim Market & Food Centre, 531A Upp Cross St, S051531. Tel: 8851-1606. Open weekdays 8am – 6pm; Sat 8am – 4pm. More info via Facebook.
Photos: Alvin Teo
All photos cannot be reproduced without permission from 8days.sg