Hebe Tien Accused Of Supporting Nancy Pelosi's Visit To Taiwan After Posting Pictures Of Herself Eating Pasta
'Cos spaghetti is Italian and so is Nancy. 
Tensions between China and Taiwan heightened again after it was announced that US House Speaker Nancy Pelosi, would be visiting Taiwan.

Nancy is second in line to the US presidency after Vice-President Kamala Harris, and her visit has rankled China, who views it as a sign of US support for Taiwan.
Earlier today, Nancy formally met with Taiwan President Tsai Ing-wen.
And now, as a result of the heightened tensions, it seems like Chinese netizens have latched on to S.H.E member Hebe Tien, as a way of expressing their anger.
Yesterday (Aug 2), the 39-year-old posted two pictures of her eating spaghetti, which is also known as 'Italian noodles' in Chinese, on her IG Story.

What initially was an innocuous way for Hebe to update her fans about her daily life somehow became a politically-charged post.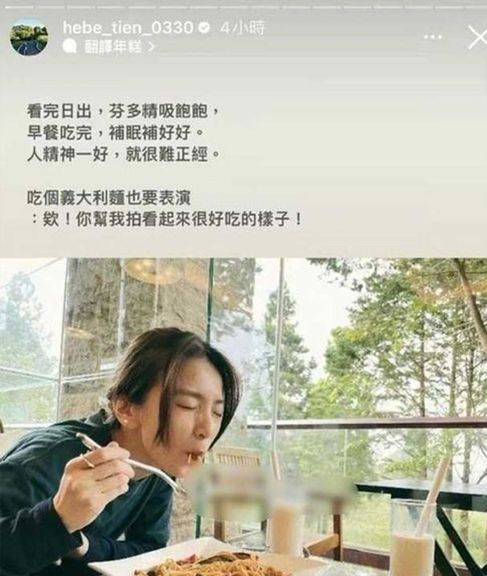 Much ado over noodles.
You see, Chinese netizens took Hebe's post as a sign that she's in favour of Nancy's visit to Taiwan 'cos Nancy is of Italian descent.

They then went on to declare that this means Hebe "supports Taiwan's independence from China".
Incensed, these netizens then took to leaving heated comments on Hebe's social media, demanding that the singer-actress explain herself.
As of press time, Hebe has not addressed this issue.
Hebe's latest Instagram post, which documented a recent hike she took, was flooded with netizens mocking Hebe for "deleting her post". IG Stories are an Instagram feature, with all content disappearing after 24 hours.
There are also many comments in support of Hebe.

One netizen wrote: "Getting scolded just 'cos [she] ate spaghetti. Is there no one selling spaghetti in the Mainland then?"
Photos: Hebe Tien/Instagram, Apple Daily