Hey Gorgeous 2013 Winner Alfred Low Is Now A Cheese Restaurant Boss
The Mediacorp talent-scouting competition produced showbiz stars like Carrie Wong, Richie Koh, Hong Ling and He Ying Ying, but 2013 winner Alfred Low took a different path after winning. He tells 8days.sg what he has been up to.
Before celebs like Carrie Wong, Richie Koh, Hong Ling and He Ying Ying became household names, there was Hey Gorgeous, the Ch U talent-scouting show that set them on the path to stardom. But instead of going into showbiz like his fellow contestants, 2013's winner Alfred Low simply went back to his studies.
When he joined the competition, the 1.85m-tall, classically good-looking Alfred was an industrial design student at Nanyang Polytechnic. He went on to study product design at the prestigious Central Saint Martins in London.
"I didn't think I had a chance in showbiz or would ever excel in it. I looked down on myself (
laughs
). At that time, I was quite committed to studying design," Alfred, now 31, tells
8days.sg
. "I would say it was a great opportunity, but I didn't fit in the industry."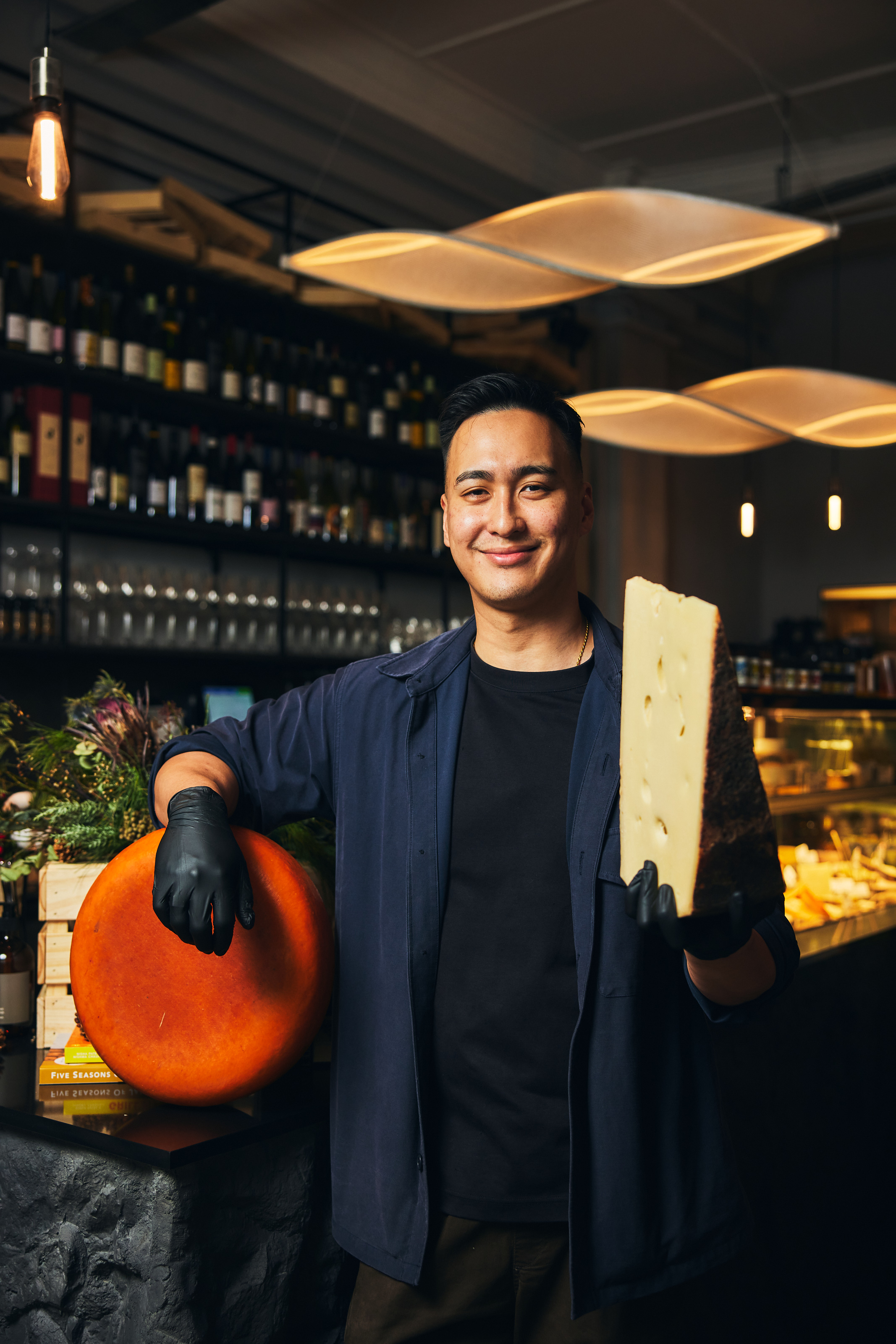 A wedding led to him starting his own business
After graduating from his four-year degree course, Alfred had plans to stay on in London to work. In 2020, he travelled home to Singapore to attend the wedding of his childhood friend Leonard Teng, 32. But the worsening Covid-19 pandemic unexpectedly thwarted Alfred's return to the UK.

"I tried to find a job here in Singapore, but it was very hard. I wanted a full-time job, but I also wanted to do my own things on the side. I was too ambitious," he laughs. One of his side projects was Cheeselads, a cheeseboard business that he started in 2020 with Leonard and Leonard's wife Chloe Lee, 31. Back then, the latter were both working in "sales at a bank".
Lucrative cheese
Cheese platters made a good business, Chloe shares, as their timing coincided with the Circuit Breaker lockdown when most folks were stuck at home. "We started small at first; we made cheese platters for pickup and delivery when everyone was sending care packages," she says. Alfred adds: "We also had corporate companies sending our cheese platters to their clients because it's something that looks good and tastes good."

The pals worked out of a central kitchen in Kovan. Meanwhile Alfred was offered a position as design lead to manage his own team at a design firm, though he eventually did not take it up. "I was doing Cheeselads on the side, and the company didn't like that," he recalls.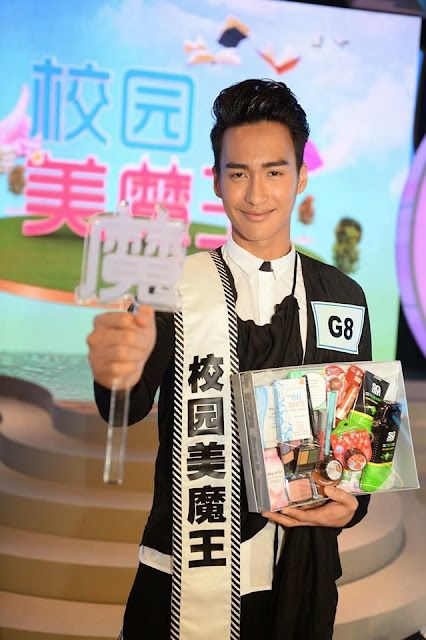 Alfred crowned as the winner of Hey Gorgeous in 2013. (
Photo credit
)
"I didn't want to take the normal route"
Having his plate full is the norm for Alfred, who avers that he "didn't want to take the normal route." He explains: "If I can do more than one thing, I will do that. It is curiosity [that drives me]."

This includes taking on after-school activities in London like tutoring other students and working as a waiter at Sambal Shiok, a "laksa bar" founded by Malaysian ex-lawyer and cookbook author Mandy Yin.

Alfred recounts: "My boss was very good and I learnt from her how to serve customers, even how to serve wines. So along the way, without me knowing, people contributed [knowledge] to me and allowed me to have real-life experiences."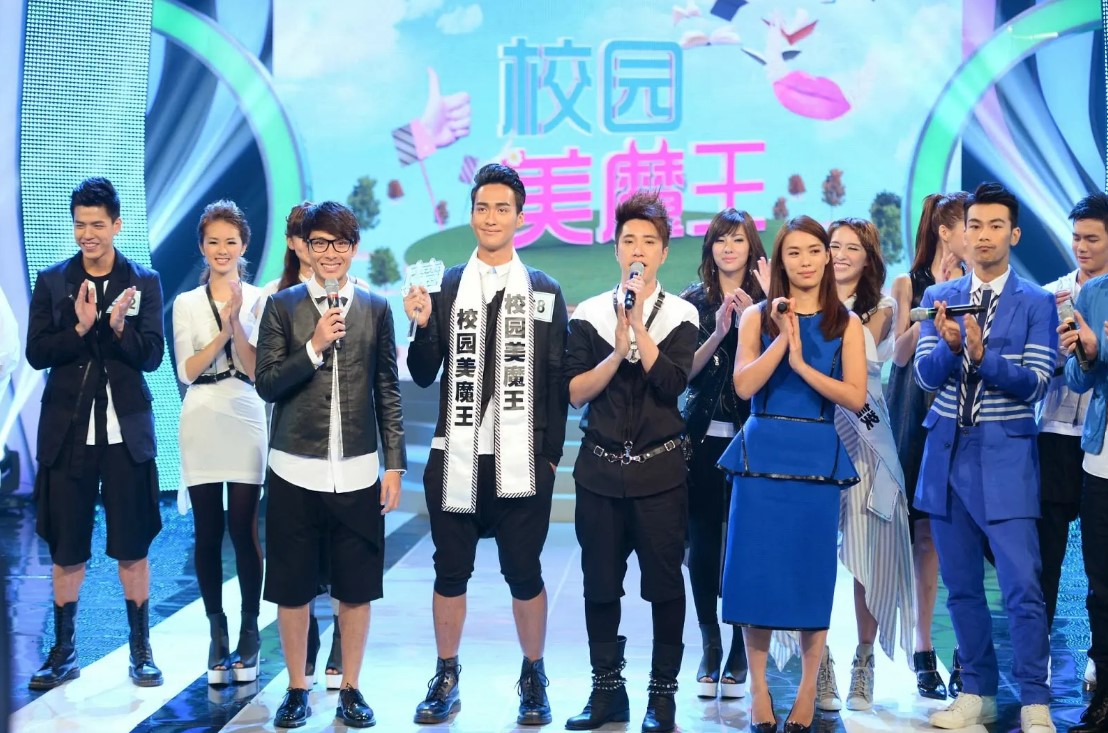 (
Photo credit
)
As someone who prefers working behind the scenes, Alfred confesses that "in front of the camera, I felt very uneasy." After being scouted in 2013, he agreed to join Hey Gorgeous to get over his fear of crowds.
"I used to be fat and I was bullied, so I had that insecurity," he shares. Alfred's crowd phobia was severe enough that he recalls "perspiring so much on the MRT that I had to alight at a station to recover before I continued."
Nonetheless, he joined a contest where he had to "learn dancing in three days" and perform in front of a live audience. "I couldn't afford a psychiatrist, so I treated myself in a very blunt way," he says. "If I can conquer this, it means I can go further in life. Sometimes, you can't refuse to do something just because you think you cannot do it."
Till today, Alfred says he has no idea why he won. "But I met a lot of talented people whom I'm still in touch with. That show brought me new friends like Chloe [Choo], Vester [Ng], Derrick [Lee]... If they had been very competitive [on Hey Gorgeous], it wouldn't have been fun," he muses.
Their 2013 alum group is still close-knit. "We gather quite often, whenever we have time. We talk about what's going on in our lives, and help each other through good and bad times. " shares Alfred. "I'm really grateful lah, for all my friends and the memories. I can talk to anyone now, and I feel like I have lived life after trying things I never thought of trying."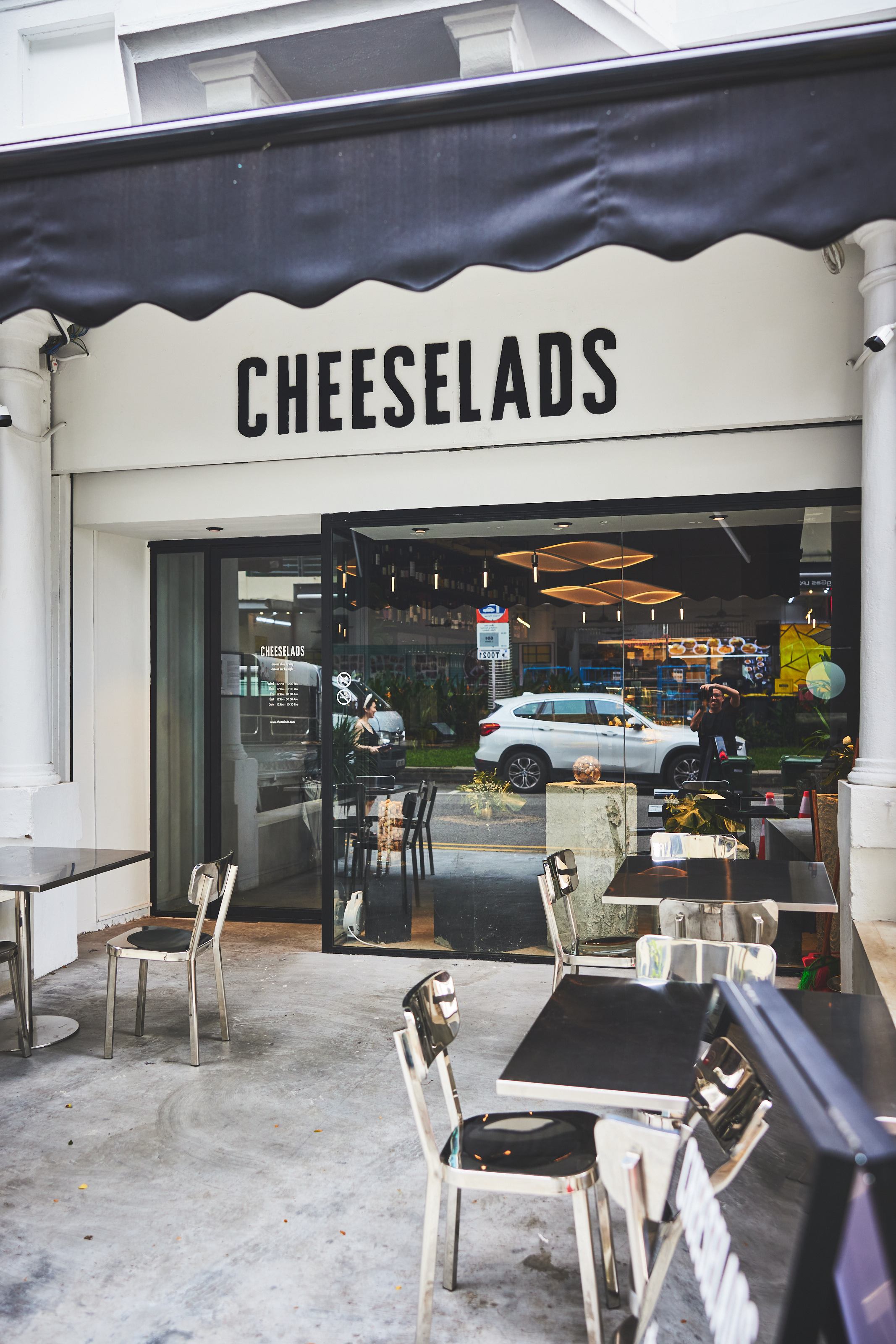 In June this year, Alfred and his business partners closed their Kovan kitchen for Cheeselads and upgraded to a dine-in restaurant in Jalan Besar. The
30-seater
, which occupies a two-storey shophouse, also functions as a central kitchen for online orders.
The restaurant serves cheese tasting platters with wines and a selection of hot food. Customers can also sign up for cheese and wine appreciation classes or book the space for private events. "Next year we will also be opening up the second floor for events," Alfred says.
Getting to know cheeses
Alfred, who considers himself a moderate cheese eater before he relocated to London, was exposed to the serious cheese culture while living there. In Singapore, gourmet cheeses are not as popular, with some perceiving the various artisanal cheeses as being intimidatingly atas.

"Before we started this business, we didn't know what we like or what to buy when we go into a cheese shop. Now we guide people who come into our restaurant and help them find out which cheeses suit their tastes," shares Chloe. According to Leonard, the trio learnt everything on the job by "liaising with cheesemongers who taught us a lot."
But these millennial bosses aren't officially cheesemongers… yet. "You need to take a whole course and get certification to be a cheesemonger," says Alfred, who's in the midst of doing that and plans to conduct wine and cheese tasting sessions himself in the future.
The over 170 types of cheeses here are mainly imported from France, Germany, Switzerland and the US. Some are aged in-house in a dedicated chilled room. "We could try up to 30 varieties of cheese a day. I grew fat. Sometimes even when we don't eat lunch, we still gain weight," Alfred laughs.
Cheeselads' signature truffle brie is also house-made. Head chef Muhammad Arif Maula, 30, formerly a commis chef at three-Michelin-starred French restaurant Odette, whips up the hot food menu here which includes risotto, raclette and steak.
On F&B and product design
Despite being trained in product design, he notes that running a restaurant is still tangentially relevant to his field. "F&B is related to product design. We do market research and identify what's missing and what we can provide. All businesses require a bit of design knowledge. Like what cheeses go with — that's product design," says Alfred, who also came up with the restaurant's packaging.
House-Select Cheeseboard, $38 (feeds two pax)
Cheeselads' online platters are festooned with frills like fruits, cold cuts, pretzels, nuts and herbs for gifting. The restaurant's platters are served in a simpler way for tasting, with only the requisite nuts, dried fruits and house-made nougat accompanying five types of cheeses (25g per portion).

You can either tell the restaurant staff your preferences and have them pick the cheeses for you, or choose your own Pick & Cheese Platter ($45) from 18 types of good, well-stored cheeses like Smoked Gouda, Aged Comte and Blue Stilton. You can also add on more cheeses at $9/ 50g and sides like a delicious house-made herby berry Signature Jam ($4) and Sourdough ($5).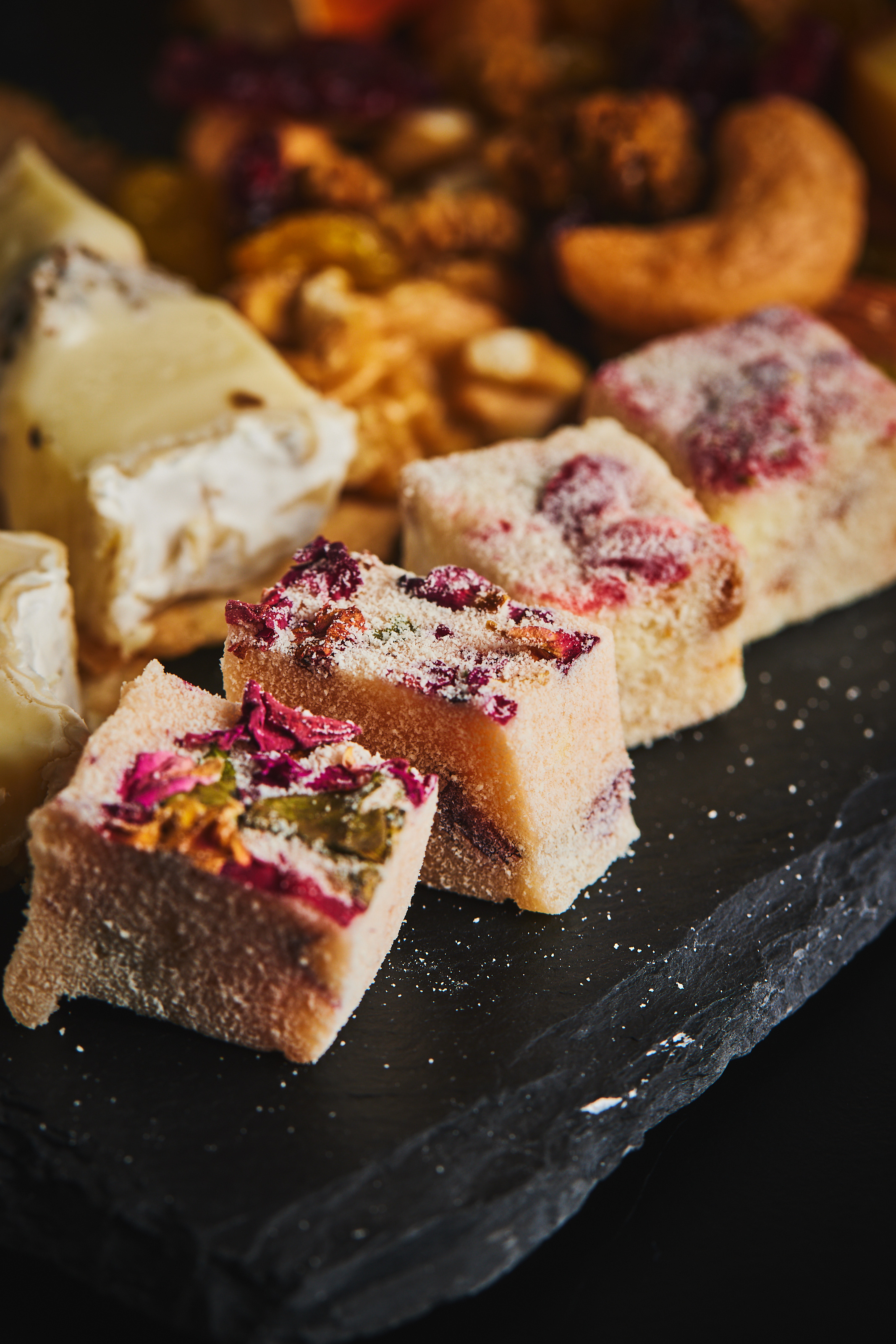 But we are most impressed by the house-made nougat, in flavours like berries, rose and a festive Christmas candy cane. The decadent, lusciously soft and chewy morsels are also sold in individual packs (from $8 for 100g), and make for a great hostess gift.
It's all tasty and fun, but also
fancy
(imported cheeses don't come cheap). Your wallet weeps while your tastebuds party. We don't foresee the bak chor mee-guzzling folks who throng the kopitiam across the road having any interest in meticulously-plated cheeseboards.
But this place makes for a good date night spot, or somewhere to hang out with your ang moh friends. Or it might benefit from a location shift to the hipster enclave of Telok Ayer, where there are more affluent customers who would splurge on cheese.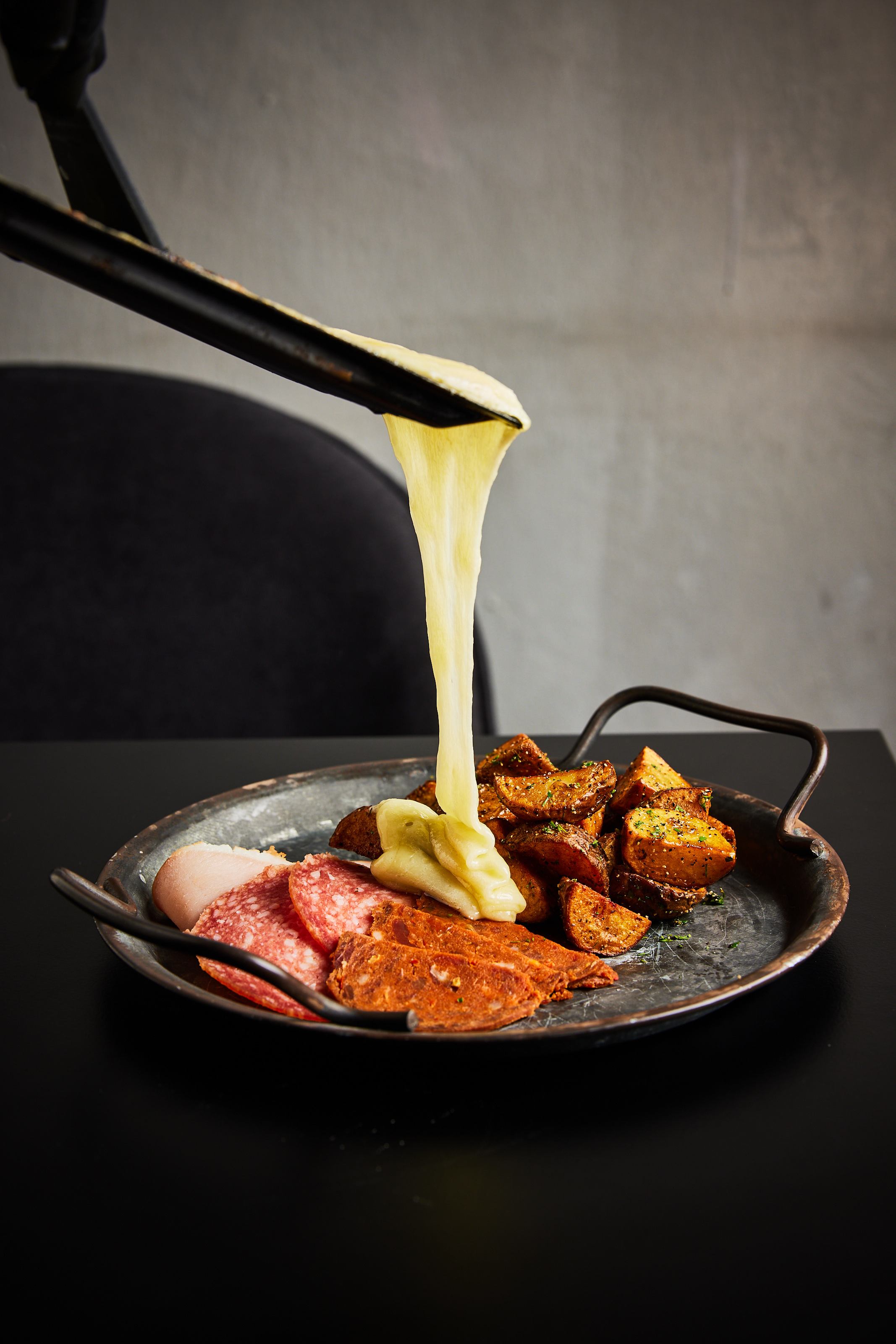 Raclette, $12 (8 Days Pick!)
The classic Swiss dish is also served here, with a popular type of Swiss raw milk cheese called St Niklaus and roasted baby potatoes tossed with herbs. The cheese is melted a la minute in a pan and scraped right onto your plate like a blanket. The good quality ingredients make this very enjoyable, and it's worth topping up $5 for a trio of cold cuts (we got ham, chorizo and salami) to go with the cheese.
Signature Truffle Brie, $28 (8 Days Pick!)
A wedge of creamy, milky brie is sliced in half and sandwiched with a layer of truffle-blended cream. It's served with an oozy chunk of earthy Tasmanian leatherwood honeycomb to even out the rich creaminess. A bougie treat to enjoy after payday.
The Mac, $19 (hot food available only Wed-Sun, after 3pm)
Unsurprisingly, there's mac & cheese here. It's loaded with five types of cheeses like comte, sharp cheddar and parmesan, and sprinkled with chilli flakes, fried shallots and honey so it's not as jelak. Unfortunately, we don't quite fancy the addition of chilli (it messes with our taste buds so we can't quite taste the cheese), but people who need chilli sauce in everything would welcome this.
Crab & Camembert, $22 for two pcs
Pan-seared camembert is stuffed into a chewy deep-fried potato mochi bun and topped with fresh crab meat and tobiko. The delicate flavour of camembert is barely discernible here, but the mélange of textures make this a fun appetiser. It looks like it belongs more in a fine-diner than casual Jalan Besar restaurant, though.

Alfred, Leonard and Chloe have plans to expand their business overseas (we foresee Cheeselads' cool British-sounding name, tasteful restaurant decor and plating being a hit in a cheese-loving country). "Once my service stabilises, I will go to London," Alfred says.

Cheeselads is at 117 Tyrwhitt Rd, S207546. Tel: 8807-4851. Open daily except Tues. Mon 12pm-6.30pm; Wed, Thur & Sun 12pm-10.30pm; Fri & Sat 12pm-12am. Online orders at www.cheeselads.com. 
Photos: Alvin Teo