Hip Hawker Stall In Balestier Serves Nasi Lemak That Looks A Lot Like The Coconut Club's
New hawker stall Wild Coco's nasi lemak may appear similar to the Michelin Bib Gourmand restaurant's, but does it taste as good?
Elegantly plated nasi lemak that at first glance, appears almost like a replica of the one from Michelin Bib Gourmand restaurant Coconut Club — but served in a kopitiam? For real. One-month-old Wild Coco, which offers "value for money, good quality Malaysian-style nasi lemak" is tucked within a modern coffeeshop on McNair Road in Balestier. Photos of its rather atas-looking plates of coconut rice, fried chicken, egg and more have been circulating among foodie groups on Facebook, so we headed down to find out if the food tasted as good as it looked.
All photos cannot be reproduced without permission from 8days.sg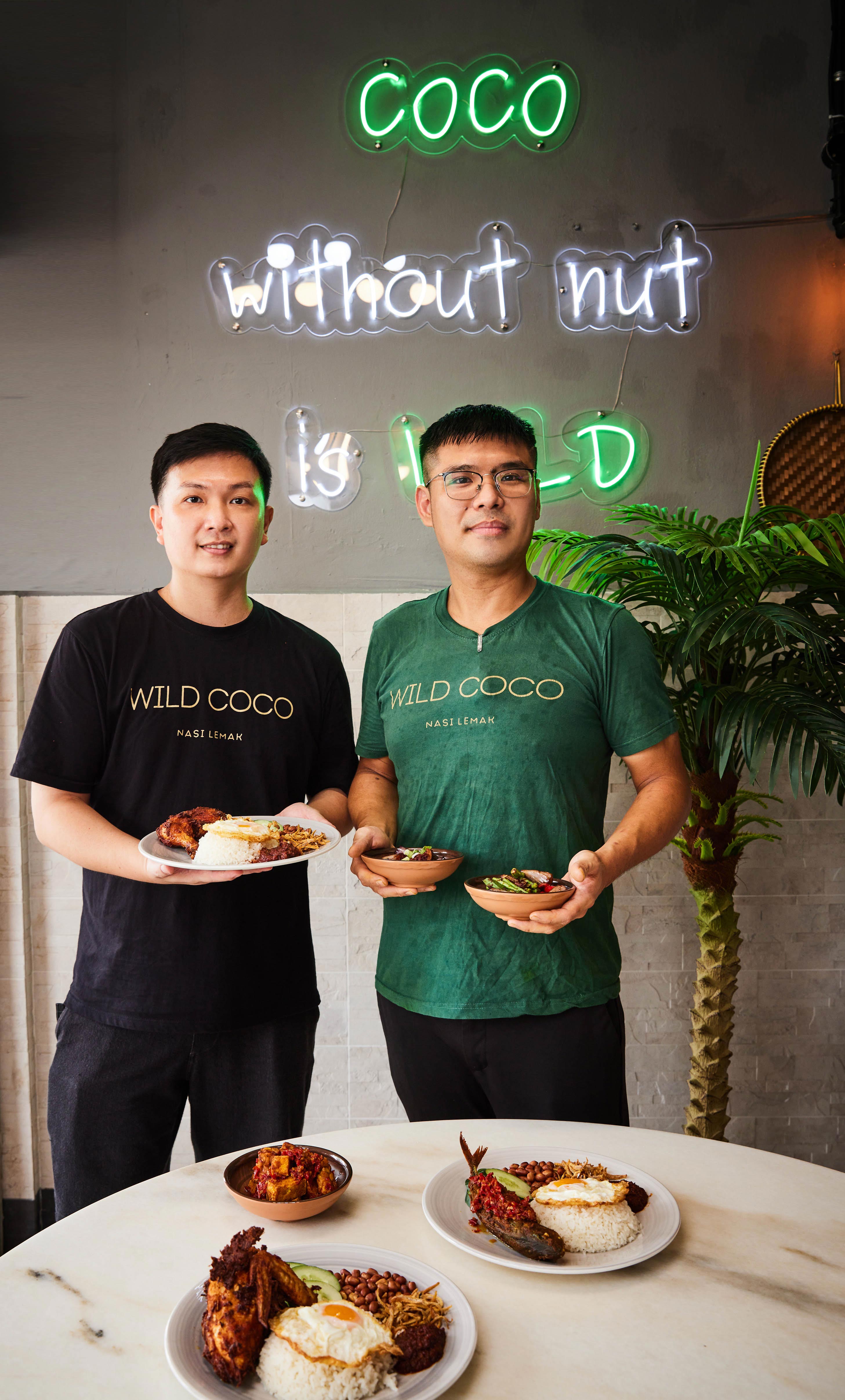 The folks behind it
Wild Coco is owned by Wayne Tan, 42 (left), who previously ran a home-based business delivering bento boxes, and prior to that was on the founding team of a local food delivery company (he declines to name the company on record). His biz partner Kah King (right), 33, is also the cook here. The Malaysian has worked in a variety of F&B businesses in both Singapore and Malaysia. He rattles off his past positions: a line cook in a few hotel kitchens (he declines to name which ones) and Chinese restaurants, some bartending, even making coffee in kopitiams.
The two met through mutual friends, and decided to go into the food business together. Why nasi lemak, though? "Because we both really love nasi lemak," says Wayne. A pretty standard PR answer? Perhaps, but it turns out they're quite earnest about it, especially Kah King, who says that as a Malaysian, he's always struggled to find great, affordably priced nasi lemak in Singapore.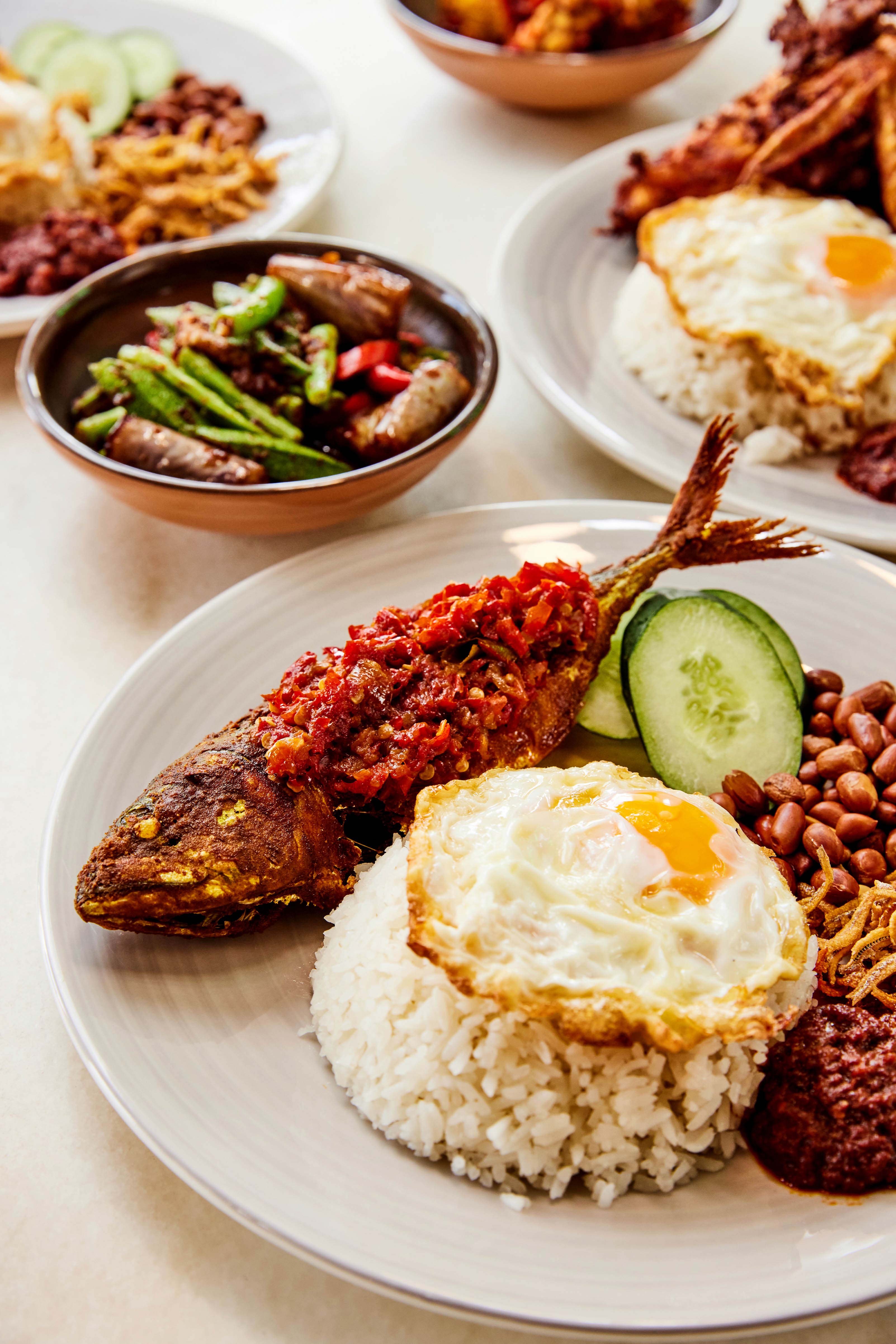 "Malaysian-style" nasi lemak
The two offer "Malaysian style" nasi lemak here, which according to the hawkers, is about prepping the obligatory components like coconut rice, crispy ikan bilis and sambal, in specific ways. "At a lot of places, either the rice is good but the chicken is not so good, or the chilli is somehow not there, so we wanted to do everything well".
For example, "the sambal must be gao ("thick" in Hokkien)" says Kah King, adding that many local versions are quite runny in comparison to Malaysian sambal, "and ours is not too sweet". On top of that, instead of plain fried chicken, they offer fragrant ayam goreng berempah (fried chicken rubbed in a spice blend including turmeric, lemongrass, ginger, and chilli). There's also an option to top your rice with fried kembong (Indian mackerel), as well as chicken rendang (sadly not available when we visit). Other sides here include wok-fried vegetables kissed with various house-made sambals.
Customers compare them to The Coconut Club restaurant
It's hard not to compare the offerings here to the restaurant The Coconut Club, which serves gourmet Malaysian-style nasi lemak plated in a somewhat similar fashion. We ask them if their menu was inspired by Coconut Club. Wayne demurs, though he adds that he was a fan of the restaurant when it first opened years ago, and is pleased that their offerings have been compared to "one of the best nasi lemaks in Singapore".
And yet, Wild Coco's dishes do appear quite similarly prepped — from the spiced-rubbed chicken leg and sambal fish, to the tofu-tempeh and eggplant. Even the tasteful plates in neutral tones look rather alike.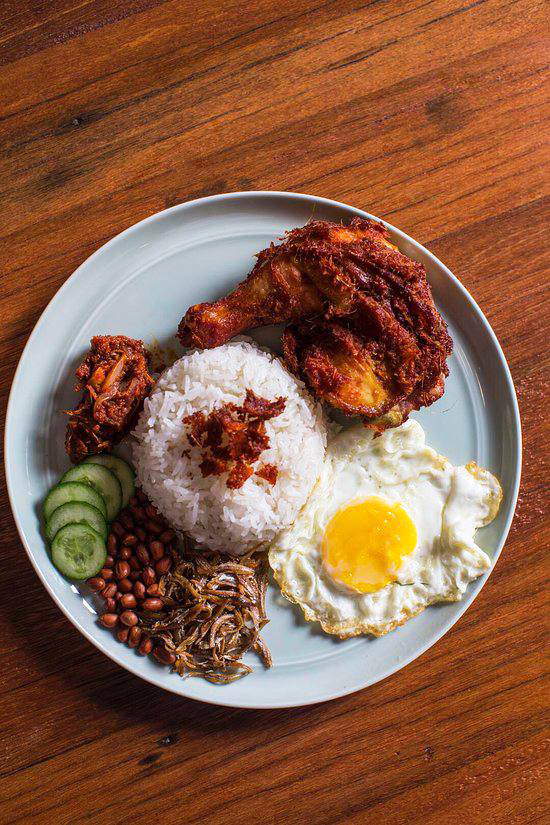 A plate of nasi lemak from The Coconut Club
Wayne says that many of his customers have also made the comparison. "About 80 percent of them compare us to The Coconut Club (pictured)," he admits, adding with a laugh: "and some say ours is better". A bold claim. But more on that later.
Prices at this mod kopitiam joint are friendlier though by no means cheap, starting at $9.80 for a plate of nasi lemak with a fried chicken leg. According to The Coconut Club's website (the restaurant is in the midst of relocating and will reopen at larger premises in May, though delivery is still available from its Frankel Avenue outlet), a similar plate there costs $18.80. Wayne attributes this to his lower overheads at the coffee shop, though we also think it's also because Coconut Club shells out for more premium ingredients like organic French chicken and a proprietary blend of cold-pressed coconut milk. Still, the folks at Wild Coco take pride in the quality of their ingredients in their own way: the rice is cooked with freshly squeezed Malaysian coconut milk that's delivered daily, and the locally-sourced chicken comes fresh to them daily as well.
The hawkers don't currently have plans to open a new joint, and are both working here full-time, with Kah King leading a small kitchen with a few assistants, and Wayne taking care of service.
Photo: Tripadvisor/Chian Lin C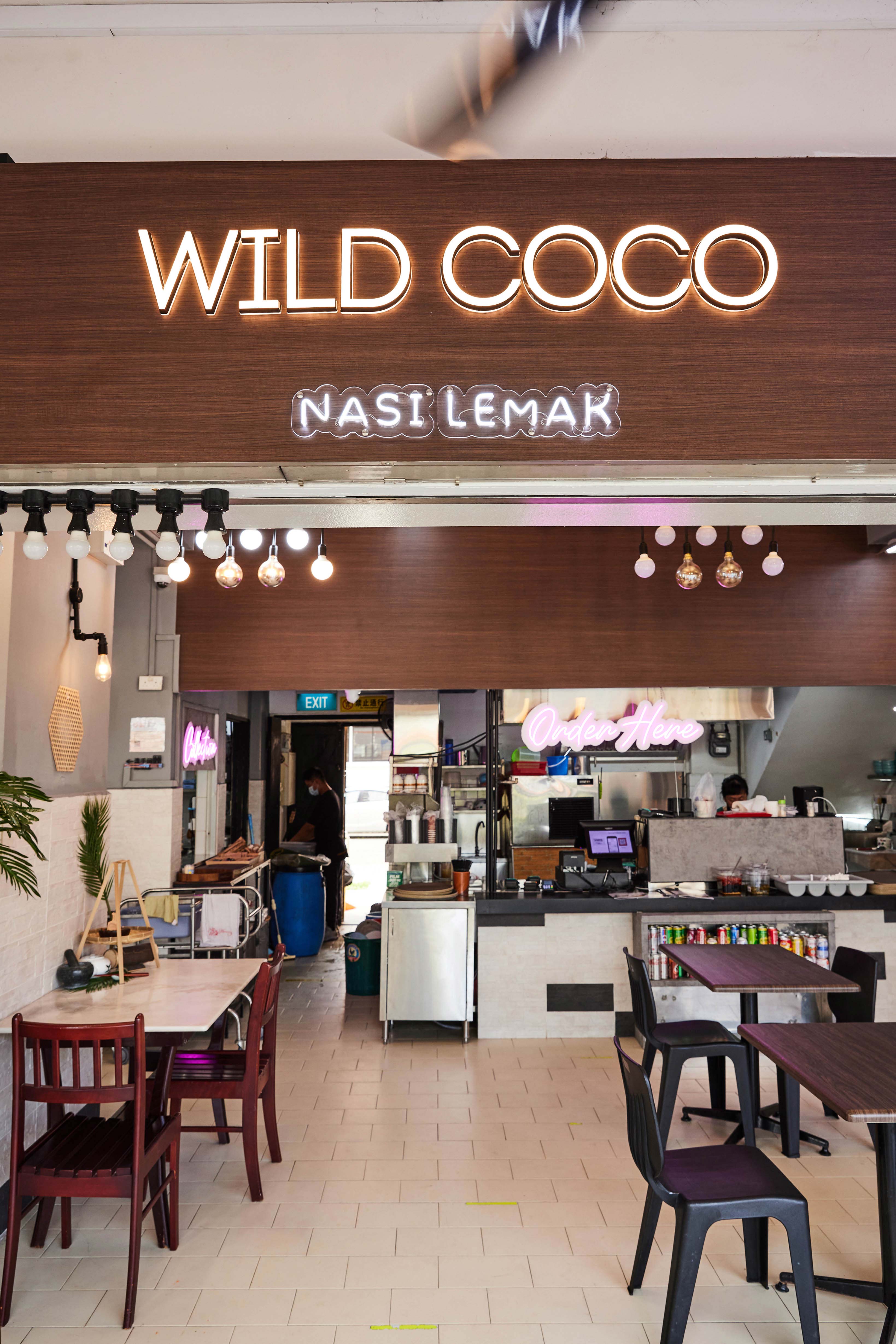 The look
Wild Coco shares the kopitiam with branches of Hei Kee Wanton Mee and Xin Yuan Ji Fish Soup stalls, though they have their own kitchen. It's quiet when we visit in the afternoon post-lunch hour, which may be the best time to visit because we're told it gets quite packed at peak meal times with people from nearby offices.
The decor at this Balestier kopitiam beneath a HDB flat is decidedly hipster: it's done up with neon lights, modern wood panels, and an industrial vibe. The only thing missing? Air-conditioning.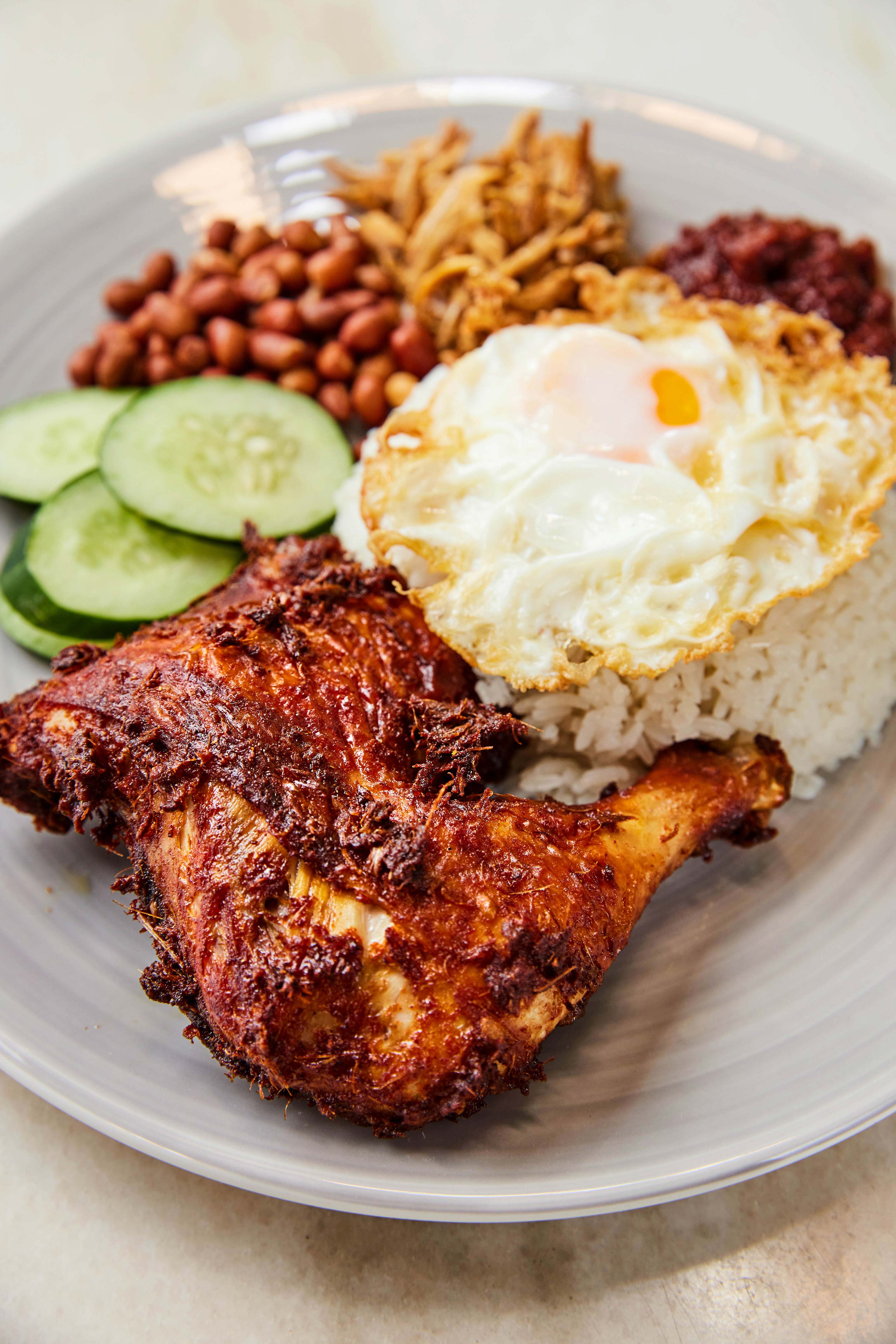 The Nasi Lemak Ayam Berempah, $9.80, (8 DAYS Pick!)
Visually, it's almost a dead ringer for the gourmet plates at Coconut Club, but how does it hold up taste-wise? The jasmine rice is light, fluffy, and subtly perfumed with an aromatic hit of coconut and pandan. It's rich without being cloying, and not greasy. The sambal, which is indeed thicker and less runny than local versions, is very spicy, complex, and barely sweet. Together with the super crispy ikan bilis, crunchy peanuts, and gorgeously crisp-edged fried egg, the nasi lemak comes together in a burst of complementary flavours and textures. Our Malaysian photographer nods approvingly as he eats, and comments that it's quite "power," particularly the rice which he feels has a really good coconut flavour.
The chicken, though, steals the show for us. It's incredibly juicy, and perfectly marinated down to the bone with zingy flavours of lemongrass and ginger. The fried spiced bits from the chook dot the pillowy rice with crunchy, tasty pops of flavour. You get to pick between a generously-sized leg or breast portion, both for the same price. Even the breast meat here is impressively succulent.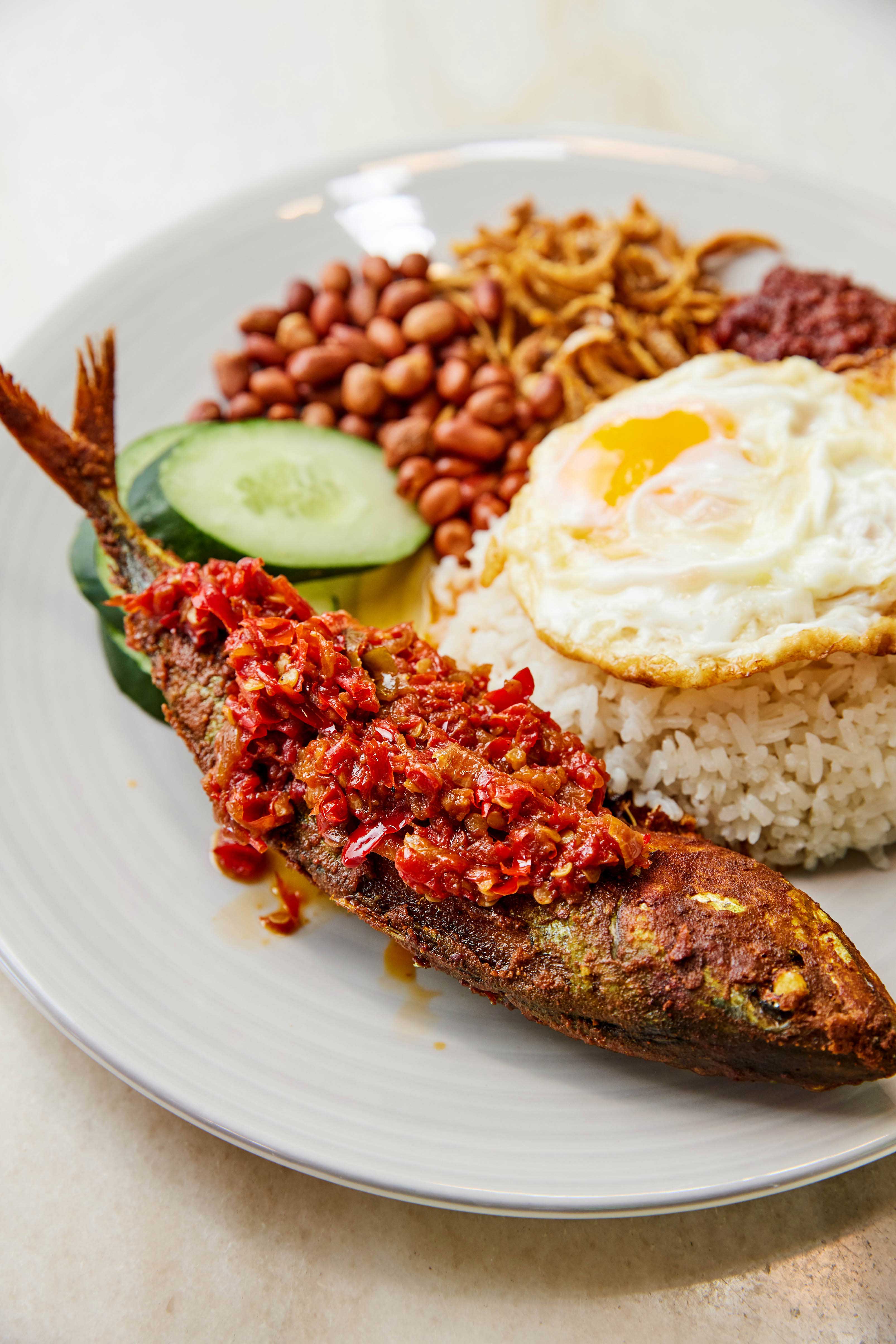 The Nasi Lemak Sambal Fried Fish, $10.80 (8 DAYS Pick!)
A whole kembong fish, sourced daily from local markets, is deep-fried and topped with a zesty sambal made with fresh chilli and spices. We've been burned by skinny, sharp-boned, and less than fresh fish in nasi lemak before, so we were a little wary. But this Indian mackerel boasts sweet, firm flesh which slides easily off the bone. It's got a nicely crispy skin as well, and the sambal is zippy and a little tangy. A lighter, slightly more refined option than the chicken.
The Nyonya Assam Eggplant, $7.80
Pieces of eggplant are tossed in a spicy rempah-based sauce amped up with tamarind. The eggplant is tender and creamy, with some bite to the skin, though the sauce isn't as tart as we'd hoped. Still, this makes for quite a yummy vegetable side dish.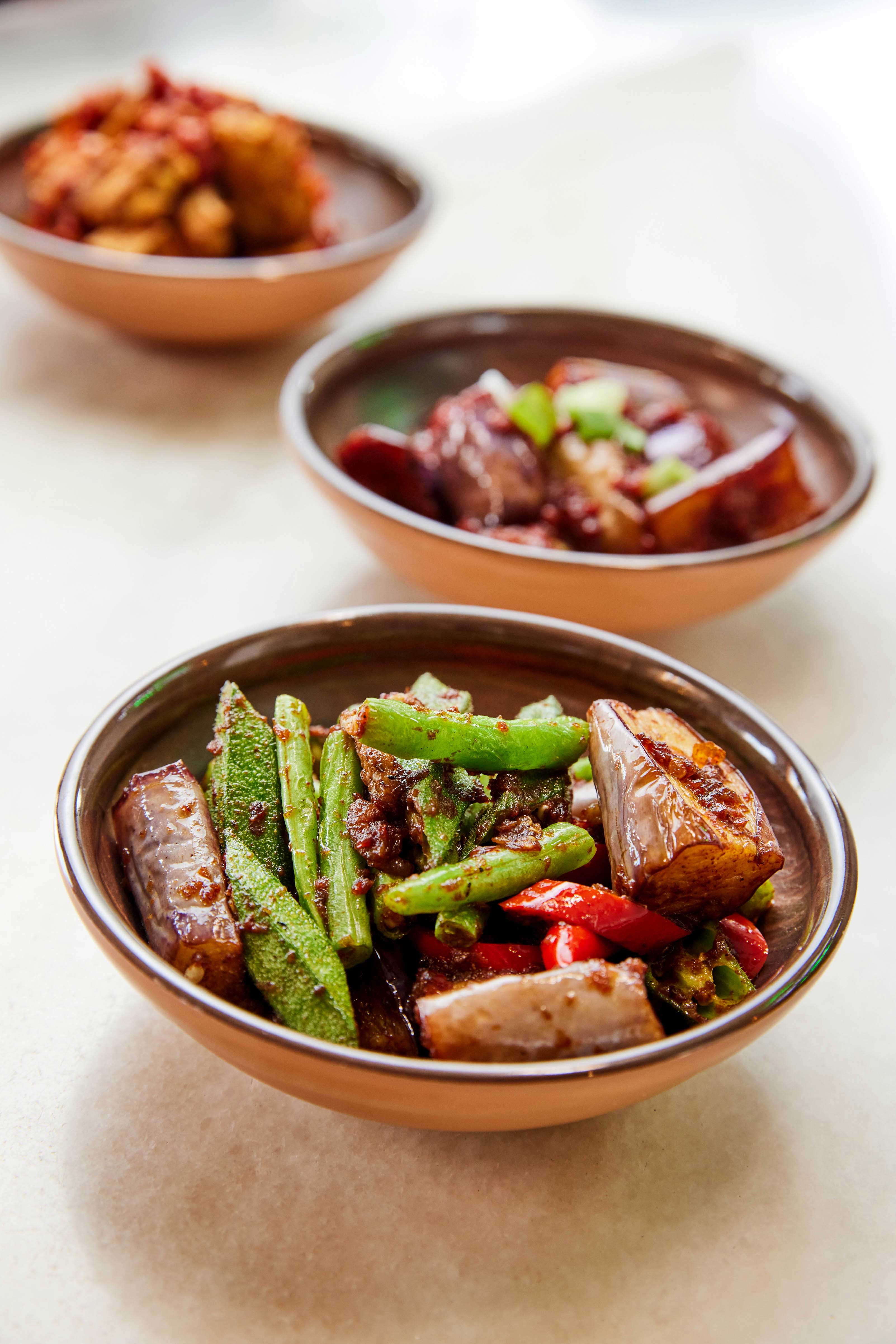 The Stir Fried Three Heavenly Kings, $9.80
Lady's finger, eggplant, and green beans stir-fried in a dry sambal made primarily with dried chillies and lashings of prawn paste. The vegetables retain their texture, and there's a nice smokiness, but we find the prawn paste flavour a little too heavy in this.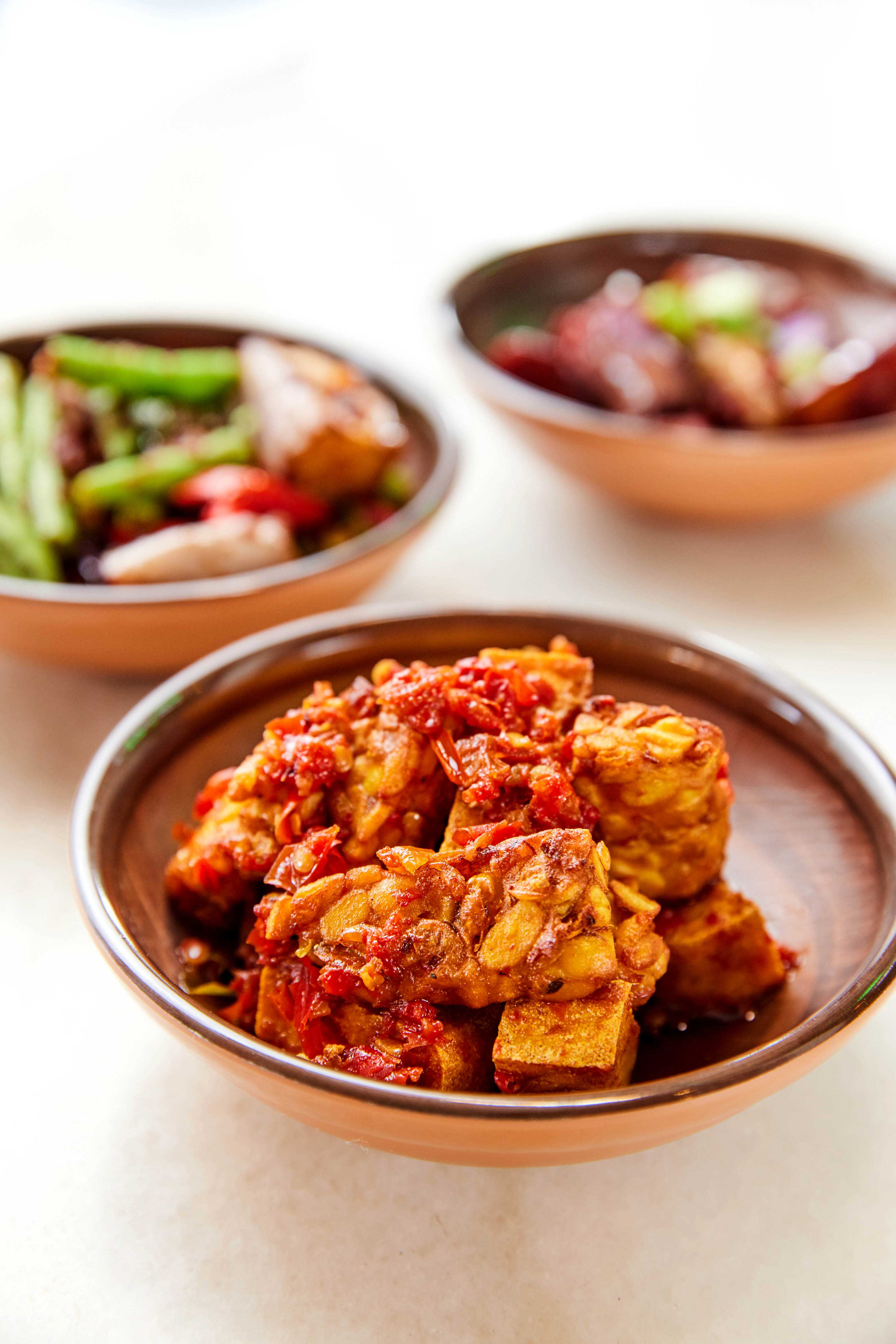 The Fried Tempeh Tofu, $6
Cubes of fried tofu and chunky tempeh are tossed in fresh sambal. We like this the best among the side dishes. The tempeh has a wonderful, chewy meatiness, and the sambal has a fiery but sweet kick.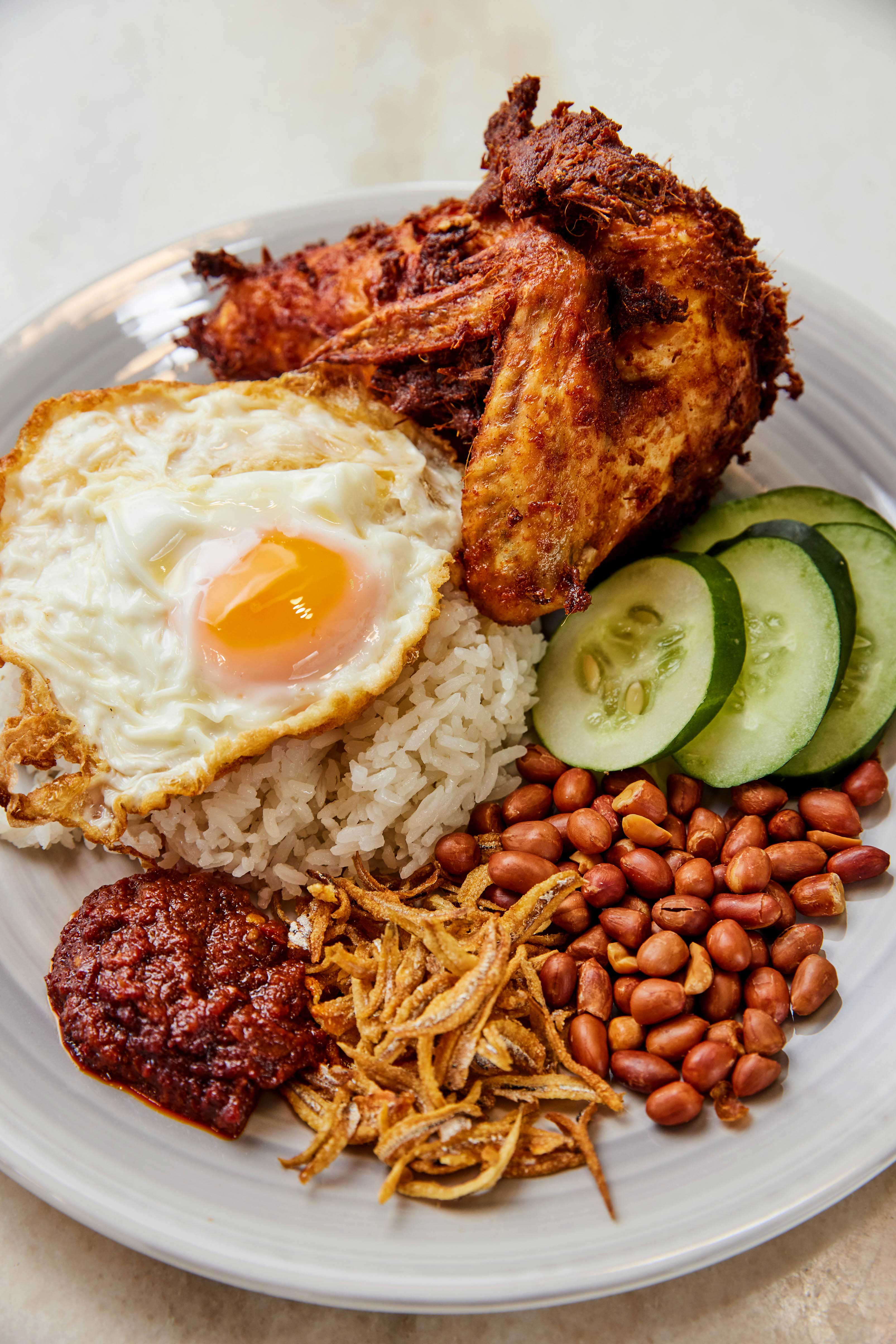 Bottom line
Elevated nasi lemak in a modern kopitiam setting, so don't expect to pay $4 for a set here — an entry level dish of Wild Coco's nasi lemak without any meat costs $5.80 and goes up to $10.80 for the fish version. It's not cheap by coffee shop standards (albeit a prettier-than-usual one), but the carefully cooked and plated dish bursts with flavour, particularly the generously-sized, fragrant chicken. How does it fare against the offerings at The Coconut Club, which Wild Coco is often compared to? Well, though it doesn't boast the same premium ingredients, variety of dishes and chic setting as the Michelin bib gourmand restaurant, we find this hawker version a decent enough alternative, delivering great flavour and satisfying portions at gentler prices. We just hope that the standard of cooking remains consistent.
The details
Wild Coco is at McNair Spring,122 McNair Rd, #01-45, S320122. Tel: 9119-3822. Open daily except Sun, 10.30am-9pm.
All photos cannot be reproduced without permission from 8days.sg
Photos: Aik Chen