HK Actor Wong Wai Leung, Best Known For Playing 'Crazy Guys' In TVB Dramas, Said To Be Struggling With Mental Health Issues Since Leaving Showbiz 12 Years Ago
Apparently playing mental patients too often had affected his mental health.
Fans of TVB dramas will remember Hongkong actor Wong Wai Leung or will at least recognise his face.

Throughout the '90s and early noughties, he acted in dramas such as Taming of the Princess and Virtues of Harmony, and had a knack for playing "crazy guys" or perverts.
Wai Leung recently became a hot topic of discussion online after TVB aired a rerun of 2001 period drama Gods of Honour, in which he played Deng Jiugong.
The series starred Benny Chan, Chin Kar Lok, and Irene Wan, however, unlike his more famous co-stars, little is known about Wai Leung since he left acting 12 years ago.

His last role was in 2010's fantasy drama Pillow Case of Mystery II, where he played a eunuch
Wai Leung and Benny in Gods of Honour
Curious about what he's been up to, some netizens set up a fan page for Wai Leung on Facebook. 
Turns out there have been quite a few sightings of Wai Leung in the past decade.
One netizen claimed to have seen the actor with a shaved head and wearing a monk's robe at a mall 10 years ago.

Another spotted him working at a hair salon in Yau Tong.
There were also rumours that Wai Leung was suffering from mental health issues four years ago and was often seen on the streets talking to himself.
According to netizens, playing "crazy guys" too many times had taken a toll on Wai Leung's mental health.
Wai Leung appeared fine when he was spotted four years ago
Wai Leung acted in more than 60 dramas and films in his three-decade-long showbiz career. 
He is best known as one of the "Four Perverted Heroes" in 1993 Stephen Chow comedy Flirting Scholar. His turn as one of the "Five Tigers" of Changlefang in 1997 period drama Taming of the Princess also left a deep impression on viewers.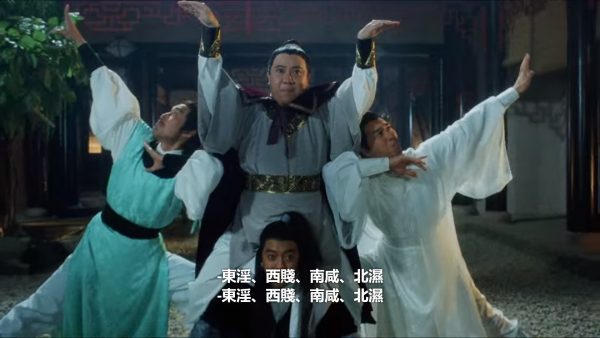 Wai Leung (right) as one of the "Four Perverted Heroes" in Flirting Scholar
Photos: Sinchew Daily