HK Butcher, Who Became An Internet Star For Looking Like Aaron Kwok When Masked, Sees Popularity Dive After Removing Mask
The influencer, who shot as many as three ads a week at his peak, is back to selling pork at the market.
In May, Hong Kong butcher Lau Song Wai, who sells pork at Tseun Wan Market, became an overnight star because of his resemblance to singer Anson Kong, or AK, from Cantopop boyband Mirror… when he wore a mask.
Dubbed "Tsuen Wan Pork Stall AK", Song Wai, 35, was also said to look like Heavenly King Aaron Kwok and former TVB actor Eric Li.
According to reports, crowds would gather at the market to catch a glimpse of the tattooed butcher and fans even started a Facebook group called "Tsuen Wan Fresh Meat Wai Wai Group" sharing updates on the, um, fresh meat.
Check out the crowd at his stall
Soon, the "auntie killer" became a popular internet star and was highly sought after by advertisers.
According to his Wikipedia page (yes, he's got one too), he received as many as three ads a week, endorsing everything from shoes to supermarkets and even cling wrap. He also started a YouTube channel to share recipes and ventured into acting.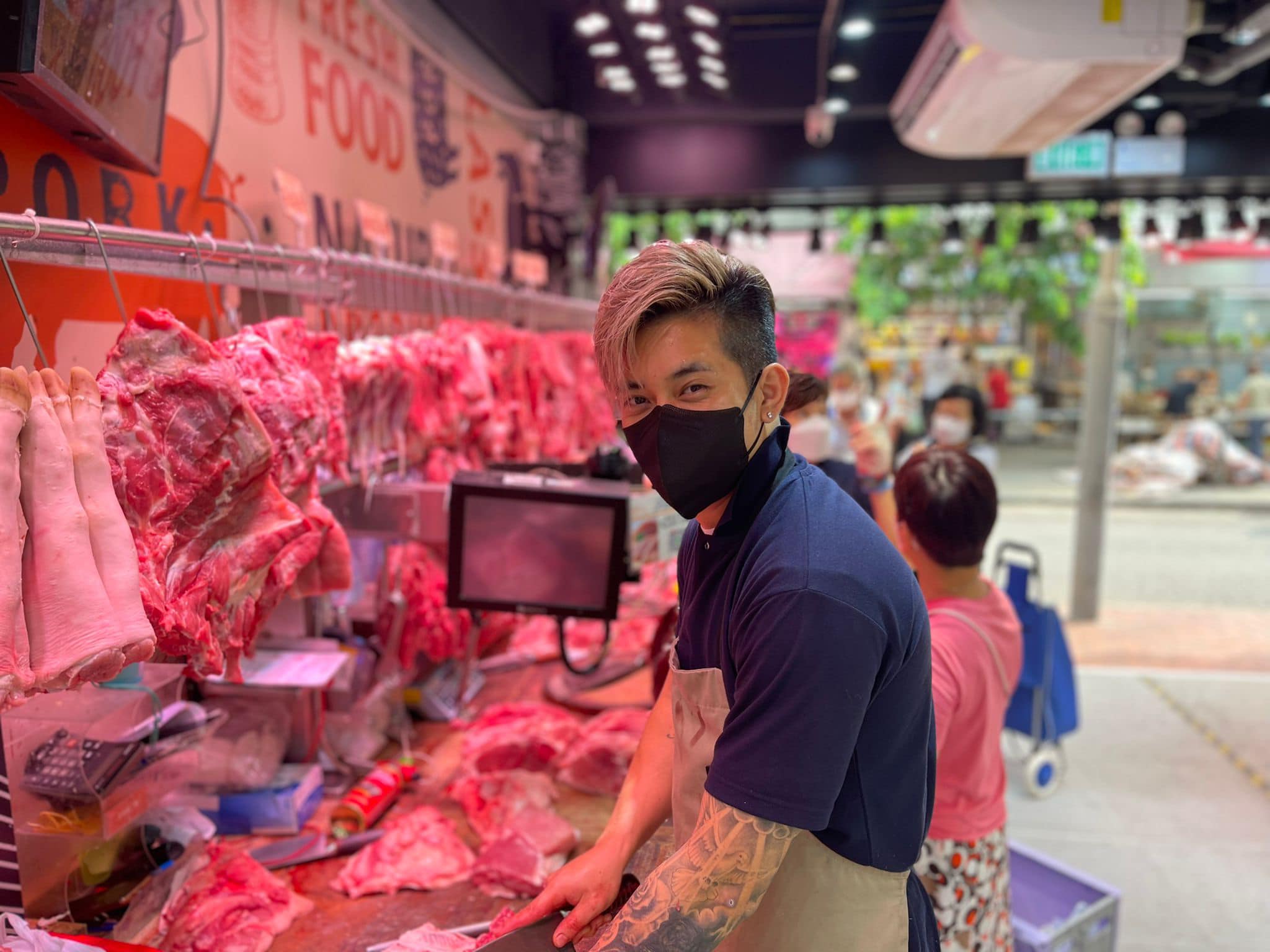 Endorsement darling
Interestingly, like a masked superhero, Song Wai was almost never seen without his face cover, even when he appeared in ads and interviews.
In hindsight, that was a good thing 'cos as soon as he removed it for a health supplement ad in July, his popularity dived. 
Fans began unfollowing him, crowds at the market thinned, and soon his Facebook page went dormant. His fame lasted all of 57 days.
The ad that led to his downfall
It didn't help that there were also scandals alleging that he was in debt and involved in triads and drug parties.
Though he posted a statement on his socials clarifying that the scandals were untrue, it did little to save his image.
A reporter who visited the Tseun Wan Market recently said the influencer was back at his old job selling meat.
When approached for an interview, he declined, saying he was "busy working".
Photos: Lau Song Wai/Facebook