Home Baker Opens Pretty Cafe With Mentaiko Brioche Bun & Cereal Prawn Croissant
Jocelyn Wijaya started Madu the Bakery as a home-based business, which will have its own upcoming dine-in space.
Jalan Besar is a hotspot for cafe-hopping, but if you have already explored most of the neighbourhood, there's another new joint to check out at nearby Race Course Road. Called Madu the Bakery, the cafe started as a home-based business in 2021 before getting its own dine-in space serving "bakes with an Asian twist".

8days.sg gets a sneak peek at the space, which is slated to open this week.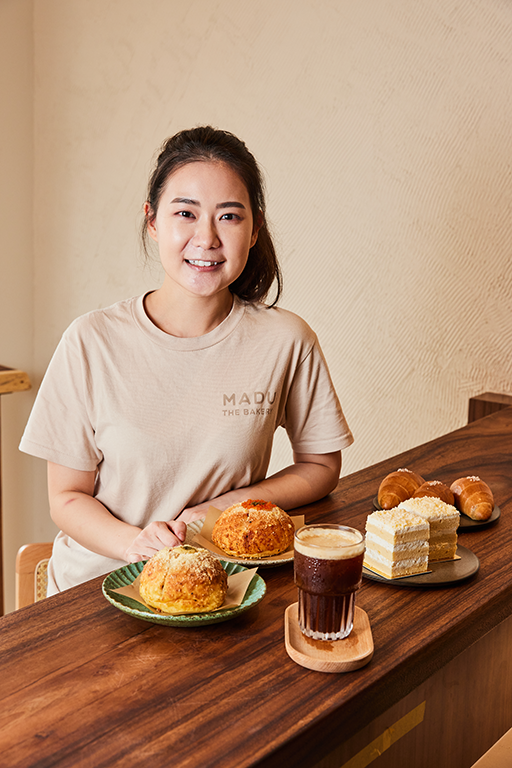 The young owners
Madu the Bakery is started by young Medan-born baker Jocelyn Wijaya, 27, who named her biz after the Bahaha Indonesia word for 'honey'. Formerly a baker at patisserie Little House of Dreams, she began selling her own version of the popular Korean garlic cheese bun from home last year. "Instead of just garlic buns, I wanted to include more variety," she says.

A trendy street snack, the garlicky bun usually comes loaded with cream cheese, and is meant to be pulled apart for the rich cheese to ooze out. But instead of the standard milk bun, Jocelyn's recipe features large, round brioche buns stuffed with three types of fillings including mentaiko cream, sautéed mushrooms and the classic garlic butter.
 
After almost eight months, the buns garnered enough demand for Jocelyn to expand her home-based biz to a cafe with her business partner Wong Jing Kai, 33, who also owns Ah Hua Kelong and its affiliated seafood restaurant Scaled.
The menu
Which explains why there are seafood-based items like a Cereal Prawn Croissant on the menu, served with fresh tiger prawns (unavailable during our preview visit). There's also a dainty Takoyaki Tartine, topped with octopus legs and bonito flakes.

Jocelyn, who's based at the cafe and does the baking there, will also offer "six to 10 seasonal bakes" that are not listed on a menu (instead, they are displayed in a glass case for customers to choose from).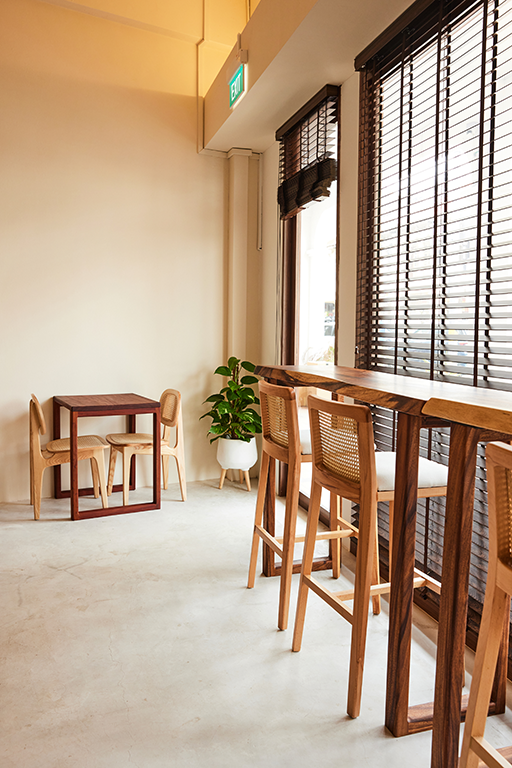 The look
We foresee the 25-seat shophouse space being crammed with Instagrammers once it opens. 
The airy, high-ceilinged unit is decked out like a hip resort with a tree stump coffee table, high seats by the window for people-watching and cosy tables for small groups.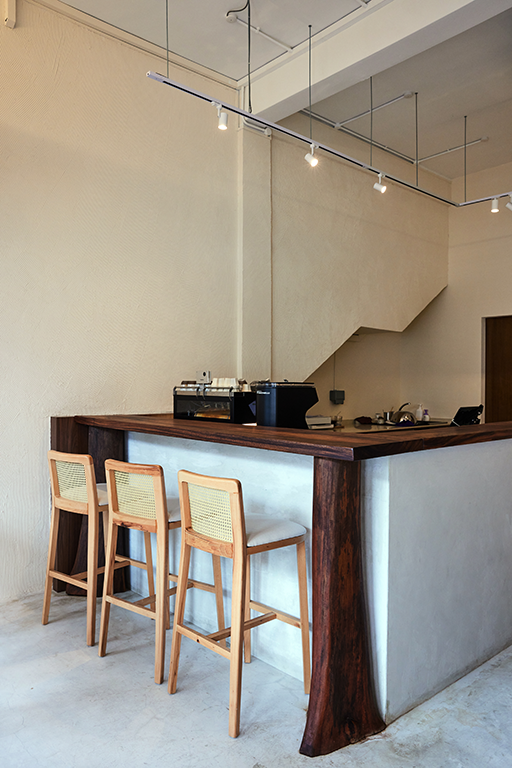 You can also grab seats by the espresso maker, which are lined along a wooden counter made from a local angsana tree.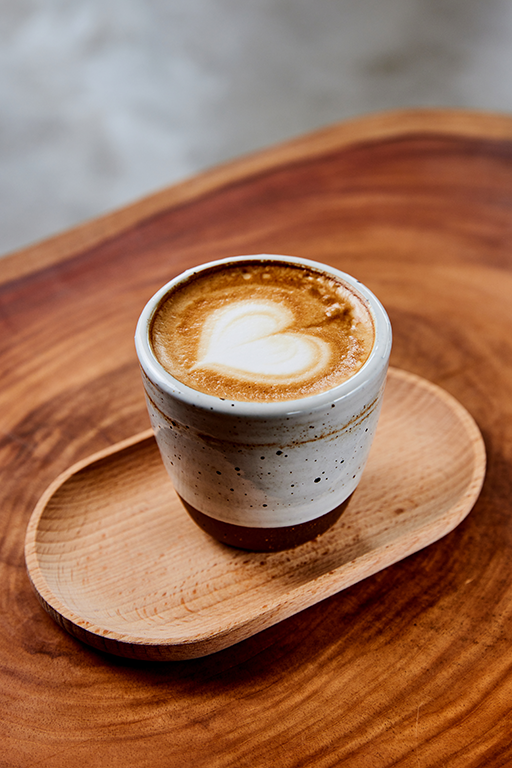 The coffee
For beverages, the cafe serves the usual repertoire like a latte, cappuccino and flat white, as well as unusual picks like a refreshing Yuzu Espresso Tonic, tonic water laced with a shot of espresso and yuzu juice that's tastier than it sounds. There's also a Coconut Caffe Latte and Aerocano, which is similar to a nitrogen-infused cold brew but aerated only with an espresso maker's steam wand. "I'm not trying to win any awards in coffee but we need it to be decent," quips Jing Kai, who shares that his retiree mum "used to run a coffeeshop at Kallang."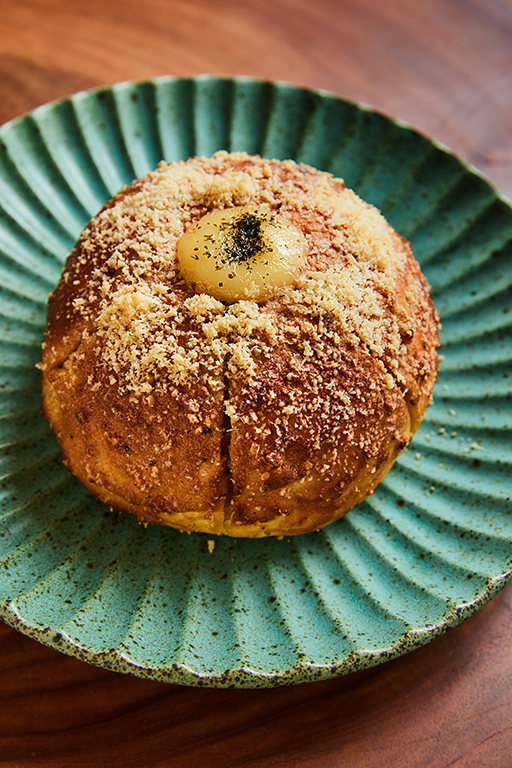 Classic Garlic Bun, $5.50
Interestingly, Madu's garlic bun has a parmesan crust that gives it a pleasing crispiness. Compared to the usual Korean garlic cheese bread, it doesn't ooze cream cheese everywhere, which disappointed us. But the sinful richness comes from the expertly-made brioche bun, which is deliciously messy and not as jelak as the original Korean version.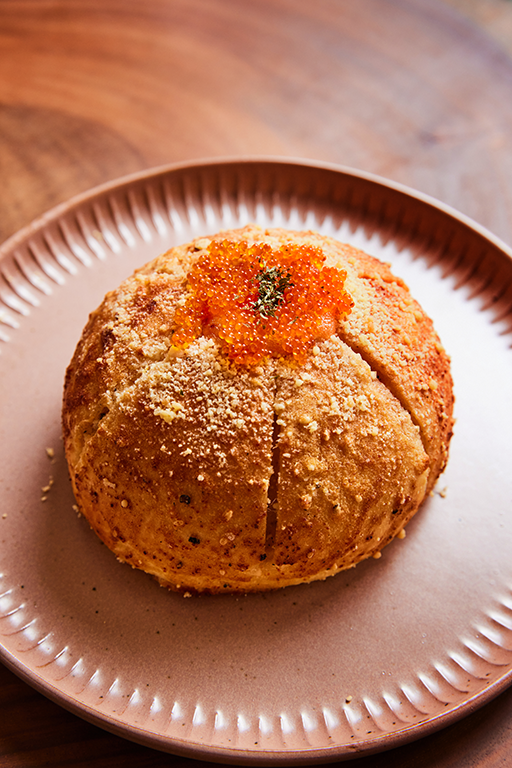 Mentaiko Bun, $6.50
The same brioche bun is piped with an overly-restrained amount of mentaiko cream, topped with a dollop of tobiko (flying fish roe).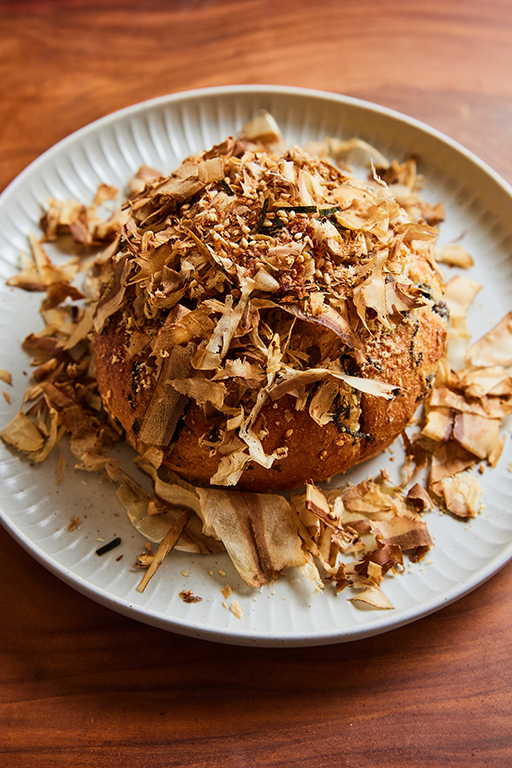 Umami Mushroom Bun, $6 (pre-order only)
This pick can make a light meal by itself; the shimeji and shiitake mushroom filling is tasty enough, though we find that the liberally-sprinkled bonito flakes don't quite go with the bun.
Nori Jambon Ciabatta (8 Days Pick!)
If you're looking for a heartier cafe meal, we say skip the signature brioche buns. Ironically, the non-brioche bun options here are the excellent ones, like this moreish sarnie with a pat of Japanese seaweed butter, smoked ham and emmental cheese wedged between house-made ciabatta.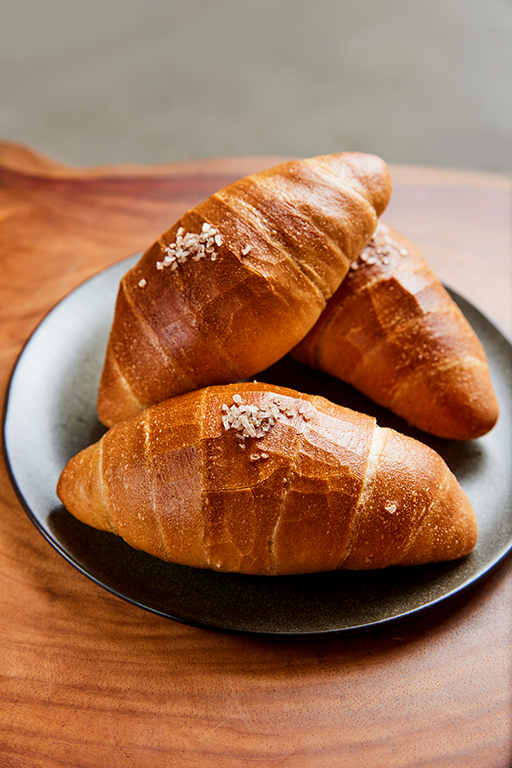 Shio Pan, $2 (8 Days Pick!)
The Japanese-inspired shio pan here is also fab — a fat, buttery little torpedo baked to a golden-brown finish with a judicious smattering of salt. At $2, it's also reasonably priced, so you can scarf down at least one with a steaming cup of coffee.
Cranberry Rose Sourdough, $14.90 a loaf
Cranberry rose sounds like a winning flavour combination for a sourdough loaf, and our tangy sourdough loaf is a super pretty shade of pale pink studded with mildly sweet dried cranberries. But its airy, holey texture reminds us more of ciabatta, which may throw off some sourdough purists.
Coffee Pistachio Cake, $9.90 (8 Days Pick!)
There are two dessert cakes here, one being this sophisticated 'tiramisu' number. We have had our share of clumsily-baked cafe cakes, but this square of Kahlua-soaked house-made sponge fingers layered with espresso mousse and pistachio paste proves irresistible.
Bolu Keju, $6
Bolu meranti, which hails from Jocelyn's home city of Medan, is Indonesia's version of the popular Swiss roll cake. A popular bolu flavour is keju (cheese), which usually has grated cheddar cheese rolled with buttercream and sponge cake into a long, slim log. Jocelyn's Bolu Keju, however, comes in a dainty atas square shape, with mod additions like vanilla whipped cream. "I made it lighter and less creamy," she shares. While this makes a fine, interesting cheese-flavoured dessert on its own, we reckon bolu keju is better enjoyed as a roll.

Madu the Bakery is at 421 Race Course Rd, S218668. Open daily 10am-8pm. www.maduthebakery.sg.