Hong Ling & Nick Teo Getting Married On Dec 15, Say They Are "Shocked" By How Expensive A Wedding Is
We hear you. The couple, who got engaged last August, also tells 8days.sg why they are keeping their wedding location a secret.
No part of this story can be reproduced without permission from 8days.sg.
After getting engaged last August, Mediacorp stars Hong Ling, 29, and Nick Teo, 34, are finally getting married this December.
Speaking to 8days.sg over the phone on Monday (Sep 18) afternoon, the couple revealed that their wedding date — Dec 15 — actually doesn't hold any special meaning for them.
Instead, it was chosen out of convenience as they initially planned to get married earlier.
"We wanted to hold the wedding during our anniversary in August. We thought we would have [enough] time to prepare, but August turned out to be too rushed, so we pushed it back to December," said Hong Ling.
So yes, 15/12 is the date the couple are getting hitched, but no, they won't be placing 4D bets on that number. But why?

"It's just a convenient date," said Nick, adding that it's simply a day that happened to work for the couple and their guests.
Speaking of that, although the couple will have "over 200 guests" at their wedding, their friends and relatives will only make up a small portion of the guestlist.
"Most of the tables will be [occupied by] our colleagues. We have received a lot of help from people in this industry, so we want them to be there as well," said Nick.
In the meantime, you can catch Hong Ling in All That Glitters on meWATCH, or in the first ep below:
The couple won't be revealing the wedding location though, only saying that it's a hotel. 
"We are afraid there will be people crowding outside the venue because a lot of our guests are in showbiz," explained Nick.
He continued: "We don't want our colleagues to be on their toes 'cos we've heard of stories where people simply walk in and sit beside them during the dinner. We didn't know such things happened. So we've decided to [keep the venue secret] so our guests can have a peace of mind."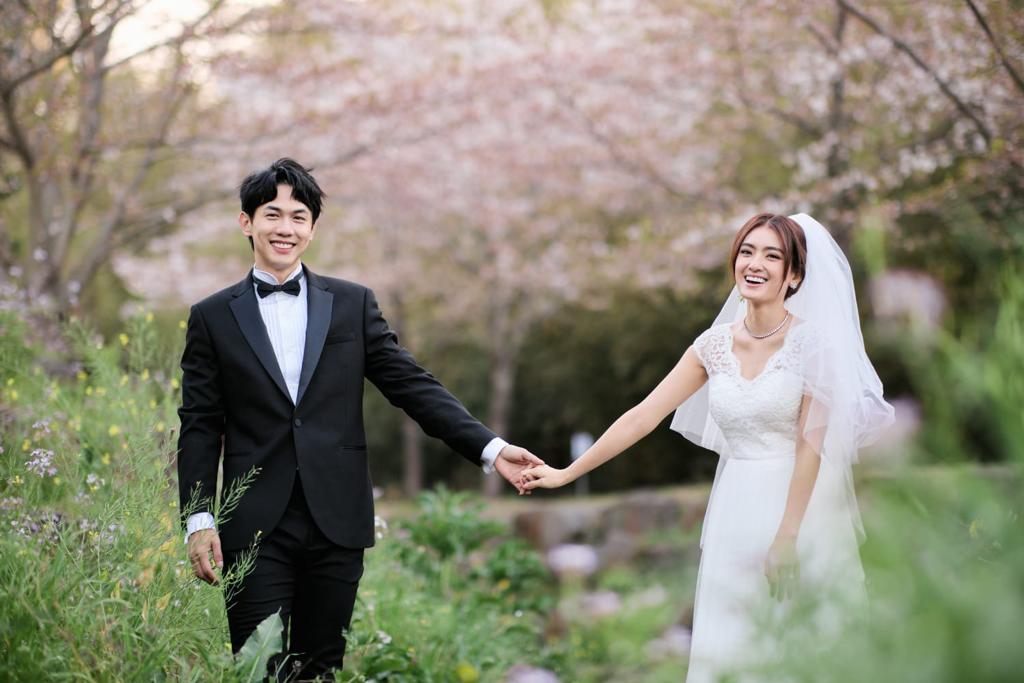 The couple had their pre-wedding pics taken in Jeju earlier this year
Although the couple are not completely sure how much they have spent on their wedding, they were "shocked" by the cost of some things.
"We got the quotation for the styling of the wedding and it costs like… wow, a few thousand," said Nick.
"We went [overseas] for our wedding shoot and I initially thought we wouldn't spend that much money there. In the end, we had to fly our team there, and the cost was a bit heavy for us," Hong Ling chimed in.
However, if there's one thing Hong Ling is insistent on, it's to keep her night as fuss-free as possible.
When we spoke to the actress earlier this year, she revealed that she only wanted to wear one wedding gown on her big night.
So has any of that changed?
"I keep telling everybody about this, but Nick insists that he wants to change [into a second outfit]!" said Hong Ling.
Nick then said with a chuckle: "It seems like I'm the bride, you know. I want to change into a second outfit, but she doesn't want to. In her line of work, she has to wear many different outfits and it's not her first time wearing a wedding gown, so she knows how troublesome it can be."
Ultimately, it seems like Hong Ling may relent. "This is the only thing I've insisted on from the start, but Nick might have found a way to change my mind," she said.
During their search for the perfect gown, Hong Ling tried on a "beautiful and grand" one that really suited her. However, it is elaborate and long, and not ideal for her "to run around in".
As it stands, the couple might have a second march in, with Hong Ling changing into something more comfortable for the rest of the night.
That aside, the couple still have some things to work out before the big day.
Speaking about the disagreements they've had during the planning process, Hong Ling, in a tone of voice that did little to mask her stress, said: "We are currently planning the seating arrangement. At first, Nick wanted our families to be seated separately, but I want everyone to be sitting together at one big table, so yah, there's a lot of things to think about."
Though stressed, the couple have been working together to plan an unforgettable night for themselves and their guests
As for those who are wondering if kids are in the foreseeable future for the soon-to-be wedded couple, the short answer is no.
"I don't think we are gonna have kids any time soon. We think it's quite a big commitment, and we're not ready for it. Hong Ling had a huge change of mind, because previously, I knew she wanted a lot of kids. After I proposed, we talked about it and she said she doesn't want to have children yet 'cos she's afraid we won't have time for them. It's something we both agree on," explained Nick.
Hong Ling added: "I also feel we are still very young, and we have enough time. For example, Rebecca [Lim] is [pregnant with her first child at] 36. I still have time, and it's not something we're stressing about."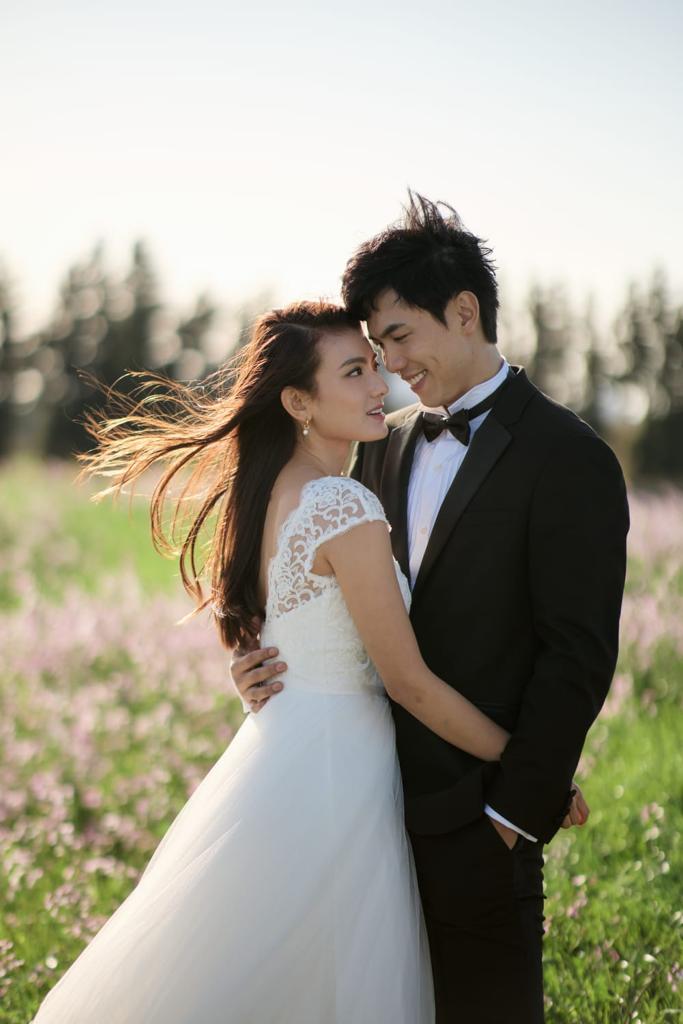 Three months to their big day
Photos provided by Nick Teo & Hong Ling