Hor Fun With Lobster & Salted Egg Chicken Cutlet By Ipoh-Born Chef At Cute Cafe
Horfun King serves an elevated version of Ipoh hor fun within a hip diner at Faber Drive.
We're fans of Ipoh hor fun – those slippery, smooth flat rice noodles that are noticeably thinner than the usual wide, rectangular sheets at local zi char stalls. Which is why we were pretty excited to check out Horfun King at Faber Drive, which exclusively uses these thinner noodles for its dishes. The new eatery, launched last month, is helmed by Ipoh-born baker-turned-chef, Choo Hang Seng (he goes by his childhood nickname Ah Wei), 33. Despite never cooking the noodles prior to working at Horfun King, Ah Wei is confident of his interpretation of this hometown dish.
In Ipoh, the popular hawker dish comes in soup and dry versions. The former is served in a chicken and prawn broth, while the latter features a soy-sauce-based gravy. Standard toppings include poached chicken, prawn and veggies.
At Horfun King, you get a luxed-up version of Ipoh hor fun, served with a richer, more flavourful gravy rendered from chicken and crustacean stock, as well as prawn oil. You can even top it up with lobster. Other non-Ipoh-influenced dishes include a stir-fried salted egg hor fun and a unique pairing of traditional suan cai yu (Sichuan fish with pickled mustard green) with crispy pan-fried hor fun.
No part of this story or photos can be reproduced without permission from 8days.sg.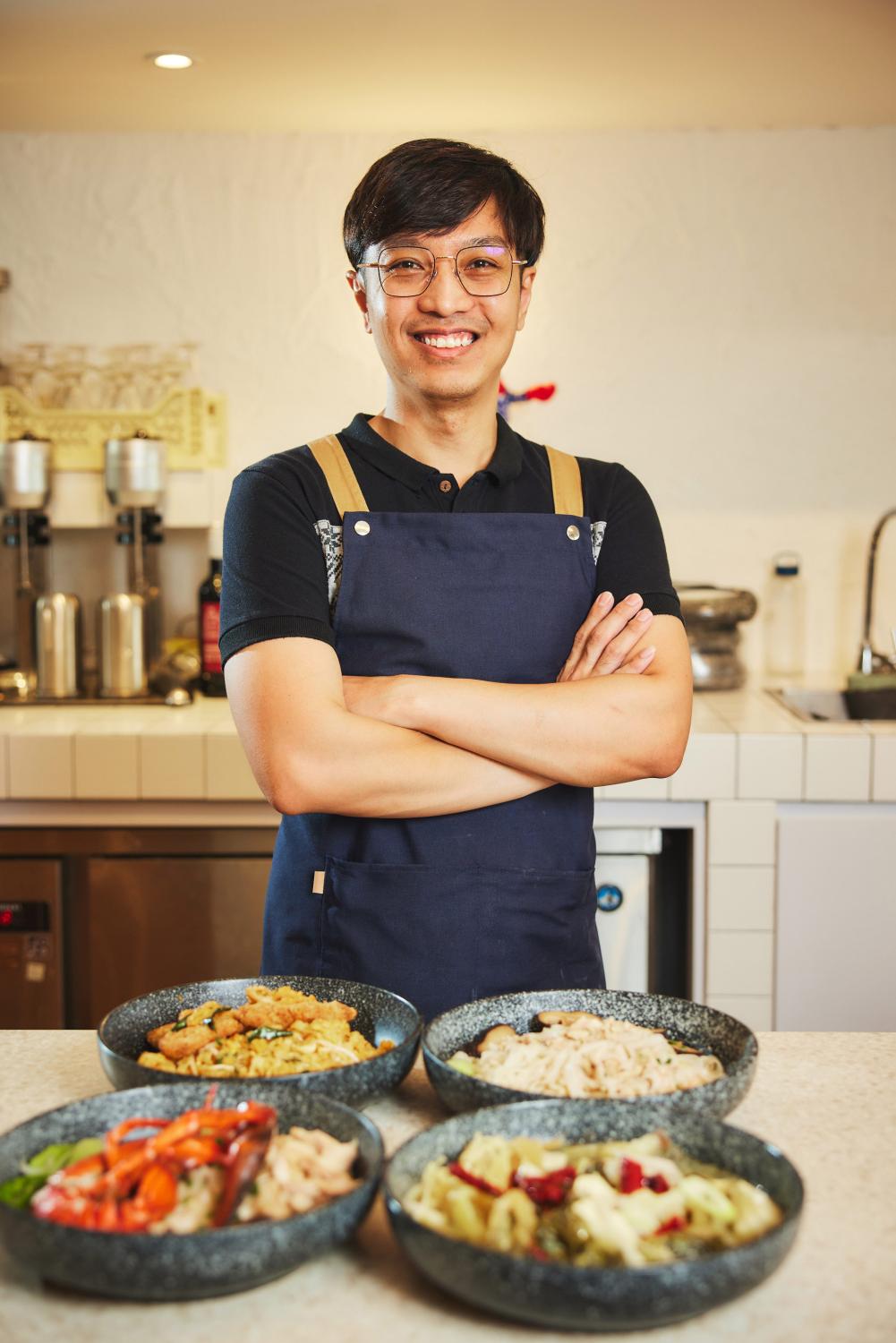 Eatery

helmed by baker-turned-chef
Interestingly, Ah Wei used to be a pastry chef. "I worked at SATS catering as a pastry chef de partie for six years and then BreadTalk HQ for about half a year," says the 33-year-old in mandarin. "After my shifts [at SATS], I'd help out at the Asian and Western kitchens for additional pay. That's where I learned how to cook more dishes."

Even though Ah Wei has never cooked his hometown staple noodle dish before this, he says it was "quite easy" to master "a dish that I've always loved" through his own research and experimentation.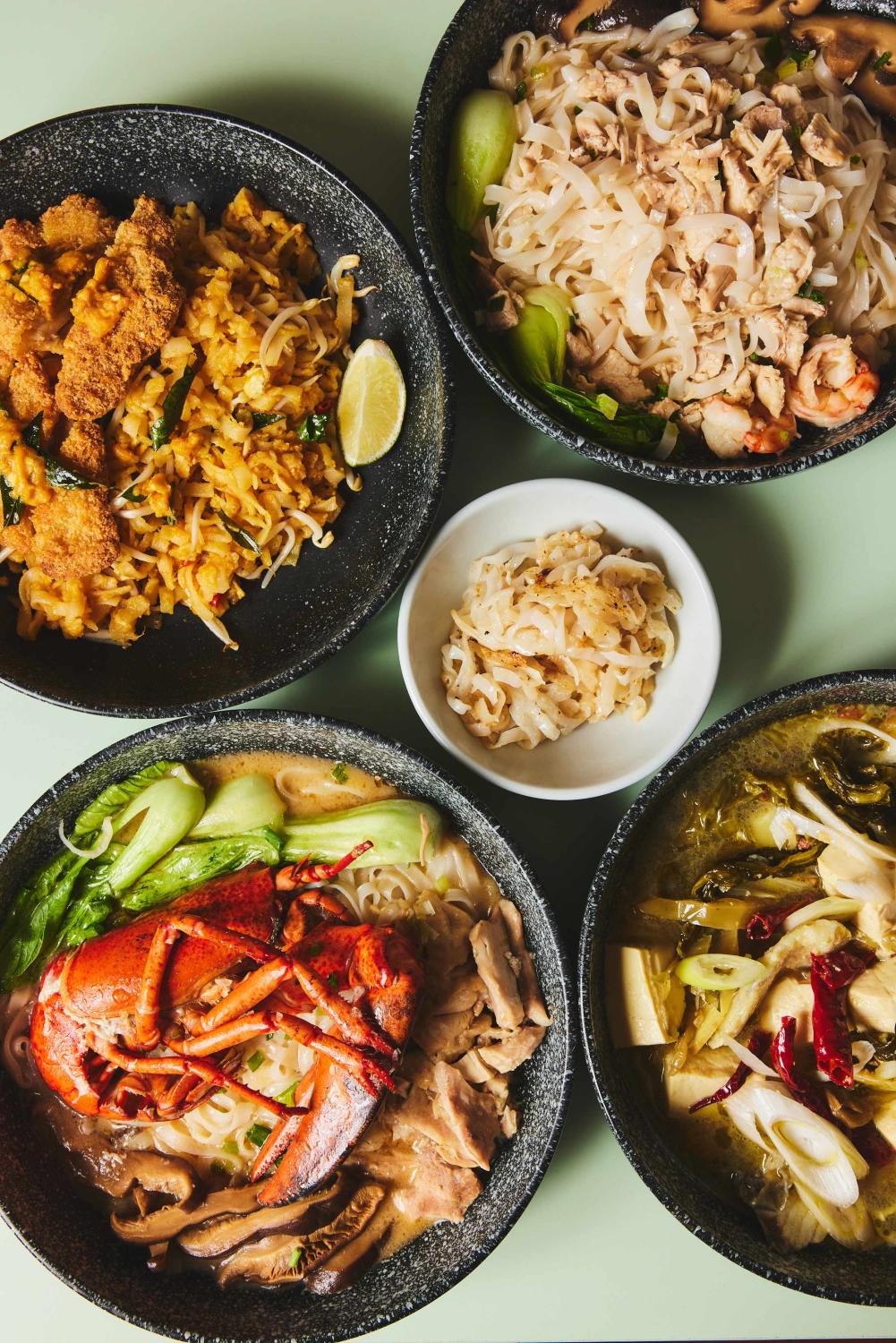 Horfun King housed in same cute cafe as ice cream and coffee joint
Horfun King shares the same space as an ice cream and coffee joint – all three concepts are housed in a spacious cafe known as Cloud Faber, which opened in a residential estate at Faber Drive near Clementi in September 2020.

"Instead of just one cafe or restaurant, I want this to be a space where we can experiment with different concepts. Our goal is to host events and pop-ups with local [F&B brands] too," says owner Christine Young, 35, who also owns a standalone gelateria called Gelatolabo at Everton Park.

Cloud Faber is her second F&B outlet and she is the sole owner of both establishments.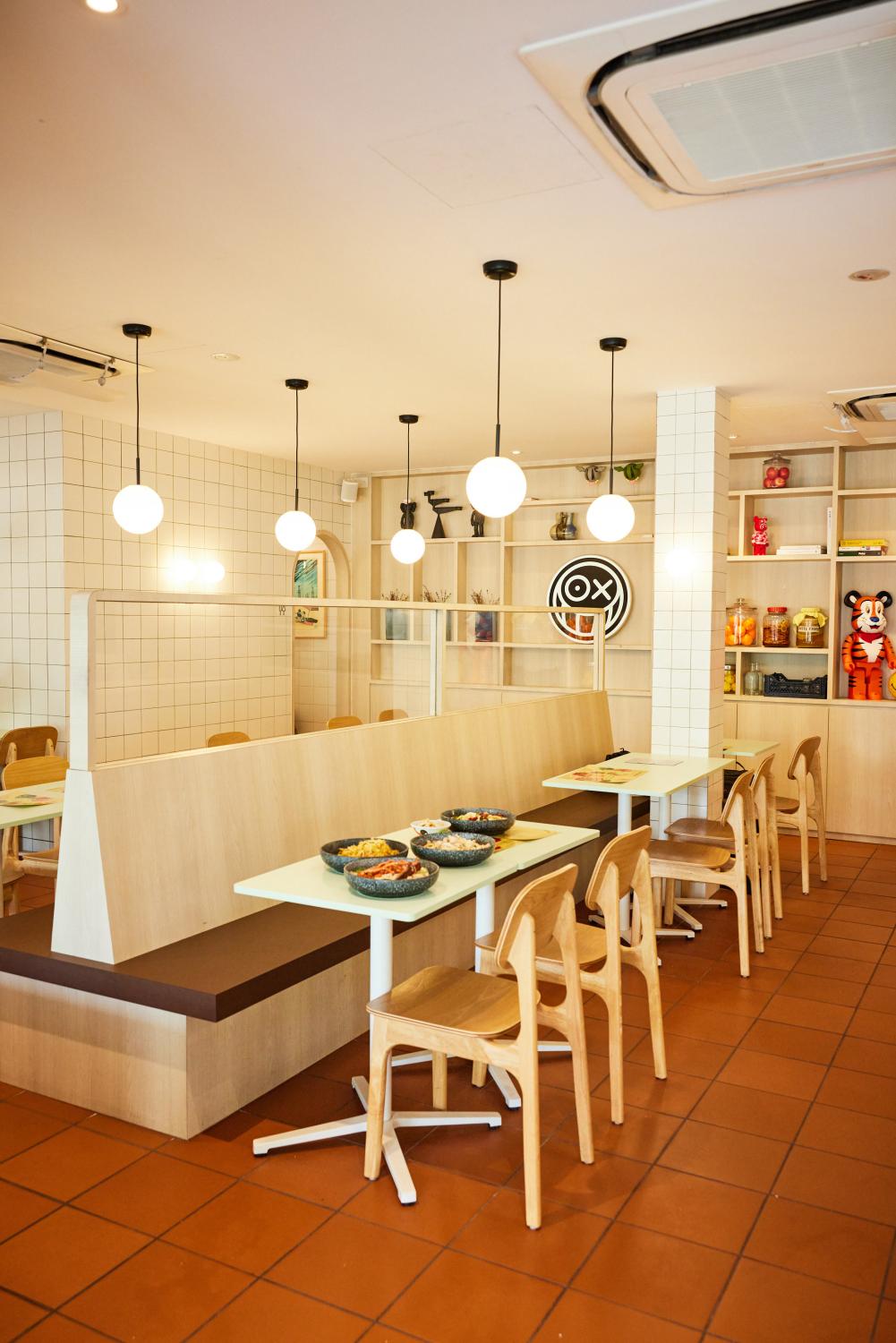 Cutesy vibe
The modern, cheery 50-seater is decked in light wood furniture and quirky knick-knacks. Coffee joint Glass Roasters occupies a cosy walled-off area with its own entrance. The indoor dining area is where you'll find Gelatolabo's outpost, as well as Horfun King (the latter does not have an official signage yet though there's a poster outside). When it's not sweltering, the al fresco area is a lovely spot to relax amid the greenery. Order your hor fun at the indoor counter (there's no service charge). 
The menu
The menu is divided into four sections – under "Lobster & Prawn Gravy", you'll find three noodle dishes inspired by the famous Ipoh dish kai si hor fun (chicken hor fun). All feature the same rich chicken and crustacean-based sauce influenced by the soup version of Ipoh's chicken and prawn hor fun. The entry-level item comes with chicken thigh, prawn and mushroom ($14.80). Premium options include scallop and lobster.

Other categories, which do not take inspiration from kai si hor fun, include "Herbal Gravy", made from a vegetarian sauce featuring angelica root and goji, and "Wokhey Dry" for stir-fried noodles. There's also a Suan Cai Fish hor fun under the "Special" section. Prices range from $14.80 to $28 and the more expensive options feature premium ingredients like lobster, abalone and sea cucumber. There's a small selection of sides such as fried chicken wings, daily greens and braised whole mushrooms.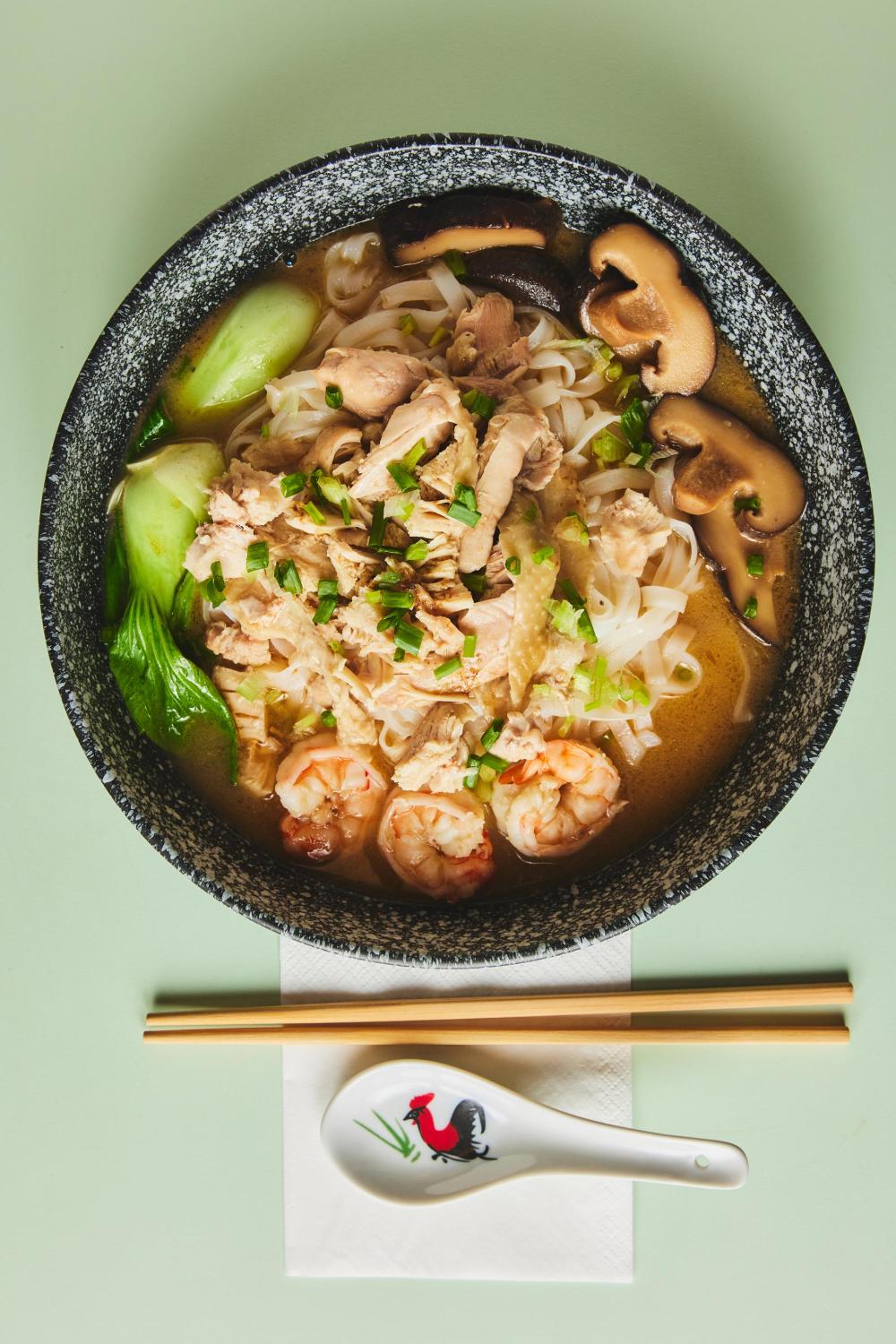 Fresh Prawn, Chicken Thigh & Mushroom Hor Fun, $14.80 (8 DAYS Pick!)
The gravy of this signature dry hor fun is made from chicken stock that's simmered for more than a day, with prawn heads and shells as well as lobster shells thrown in for more depth. Prawn oil, rendered from frying prawn heads, is added as well. The result is a flavourful, umami-slicked sauce that tastes like a more robust, concentrated version of the chicken-and-prawn-based soup hor fun we had in Ipoh.

We like that the gravy is not too starchy and you can still taste the chicken and crustacean notes of the base stock. It also pairs beautifully with the silky smooth hor fun from a local supplier. Crowned with tasty toppings like succulent poached chicken, springy tiger prawns and juicy house-braised shiitake, this is a satisfying dish that's worth its cafe price tag.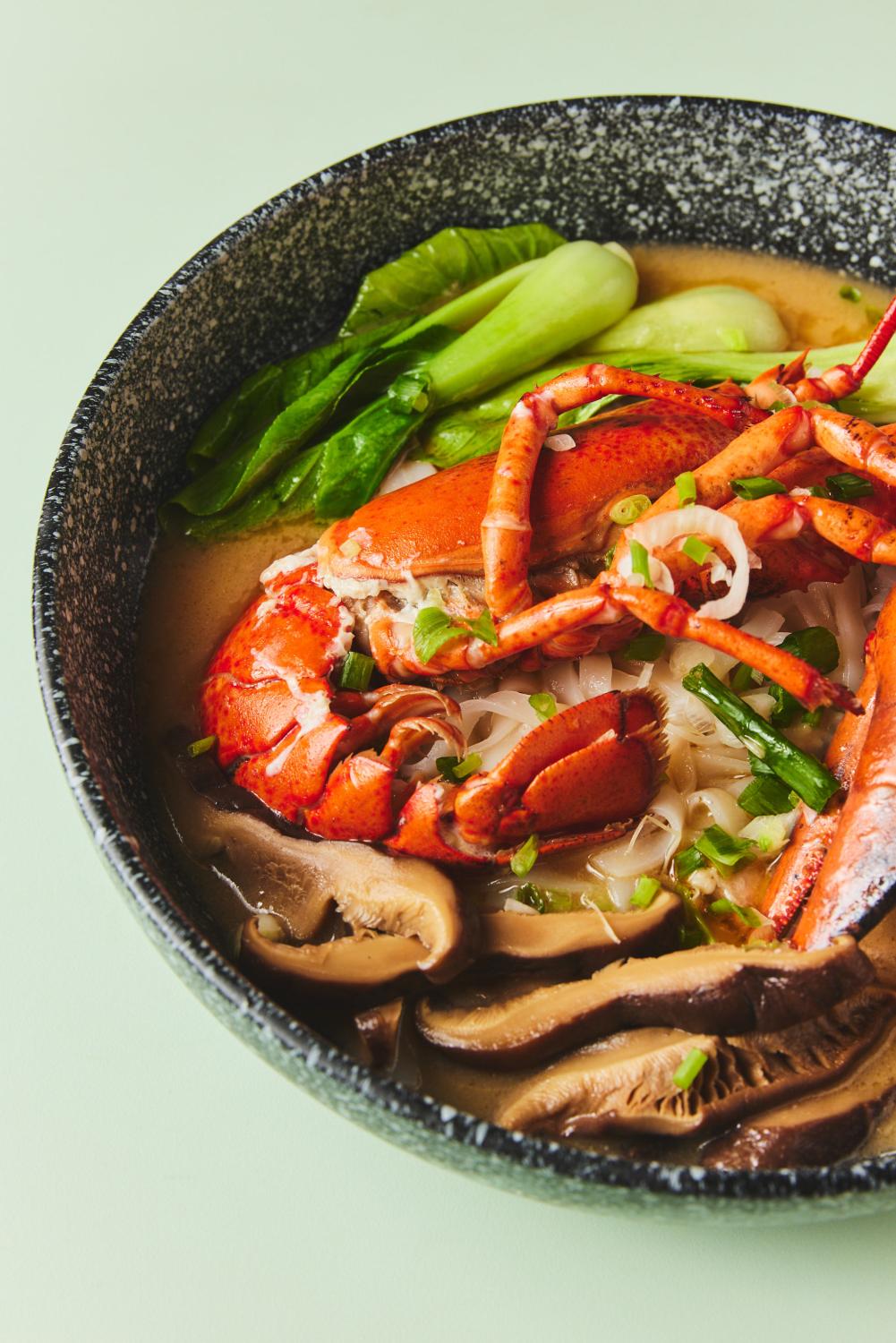 Aussie Lobster, Chicken Thigh & Mushroom Hor Fun, $28
An atas version of the above dish, with half a fresh Australian lobster (around 90g). The crustacean is reasonably sweet and tender. Flavour-wise, the lobster didn't add much to the dish, which already has a robustly umami gravy. We'd skip this for the cheaper option instead.  Visit early if you wish to try this – only about four portions are available each day. 
Salted Egg Chicken Cutlet Hor Fun, $15.80
The richness and savouriness of the house-made salted egg sauce – stir-fried with the noodles and as a dressing for the crispy chook – was a little too overwhelming for us, even after a few squirts of lime. We're also slightly disappointed by the absence of wok hei in this dish — the kitchen uses induction stoves. 
Suan Cai Fish With Vegetables & Crispy Hor Fun, $20 (8 DAYS Pick!)
A unique pairing of Sichuan fish broth (usually enjoyed with rice) and lightly-seasoned, pan-fried hor fun. Served separately, you're meant to dip the noodles into the soup. The sour-and-spicy broth packs medium heat and teems with the bold flavours of pickled mustard greens, dried chilli and Sichuan peppercorns. Fresh, springy slices of flounder, tofu, enoki and Chinese leeks complete the dish. We found the serving of hor fun, which could've been crispier, quite small compared to the much heartier portion of soup, though the latter is delicious enough to be enjoyed on its own. We also had a generous serving of fish slices, which made the slightly steep price more palatable.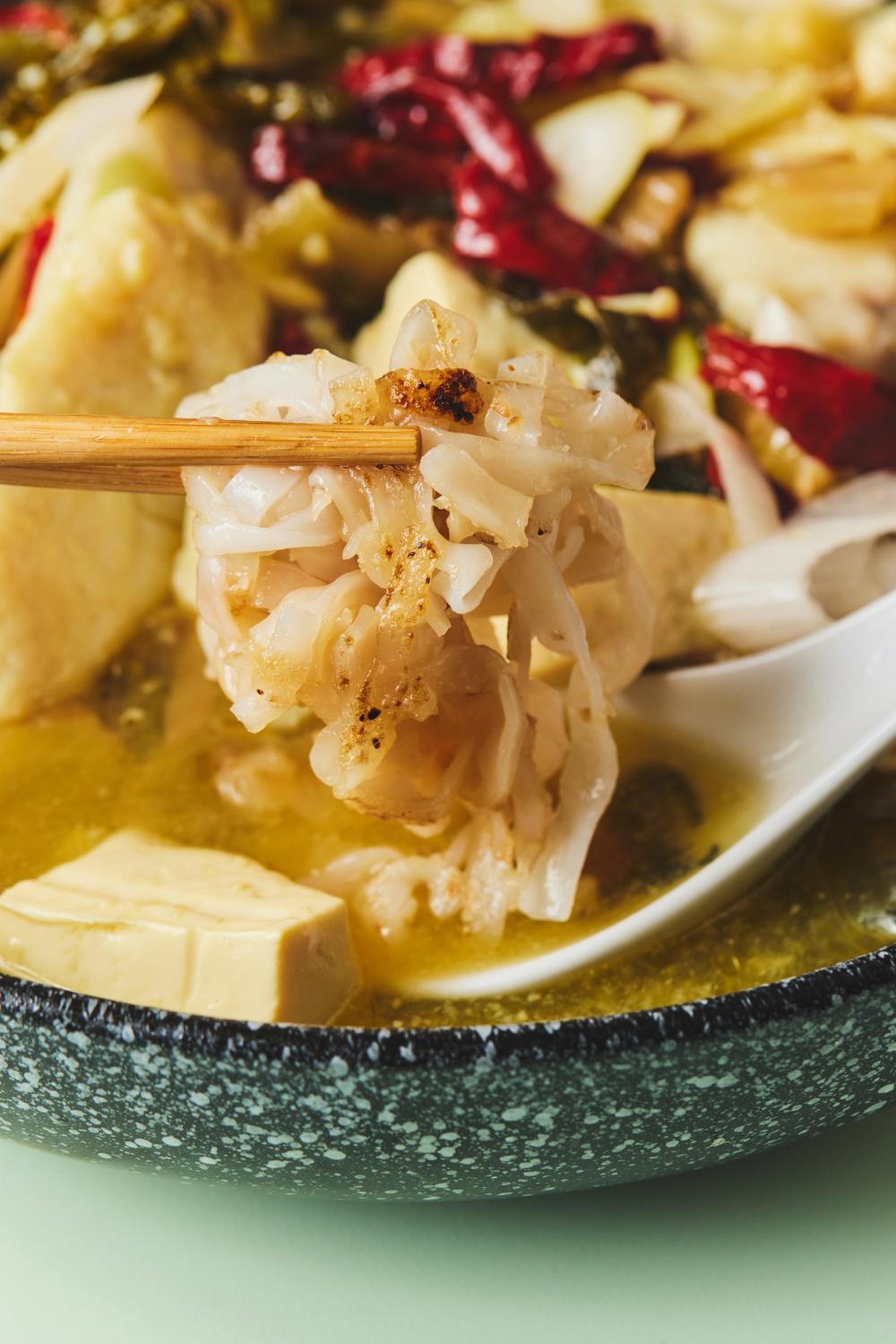 Bottom line
Horfun King's Ipoh-inspired noodles with lobster shell and prawn gravy are an elevated, yummier take on the humble hawker dish. We'd happily order the tasty and nourishing Ipoh-style chicken and prawn noodles here (but skip the pricier half lobster-topped option which doesn't add much to the dish other than being IG-worthy). As for the other modern hor fun dishes — go for the appetite-whetting suan cai yu noodles over the middling salted egg chicken hor fun.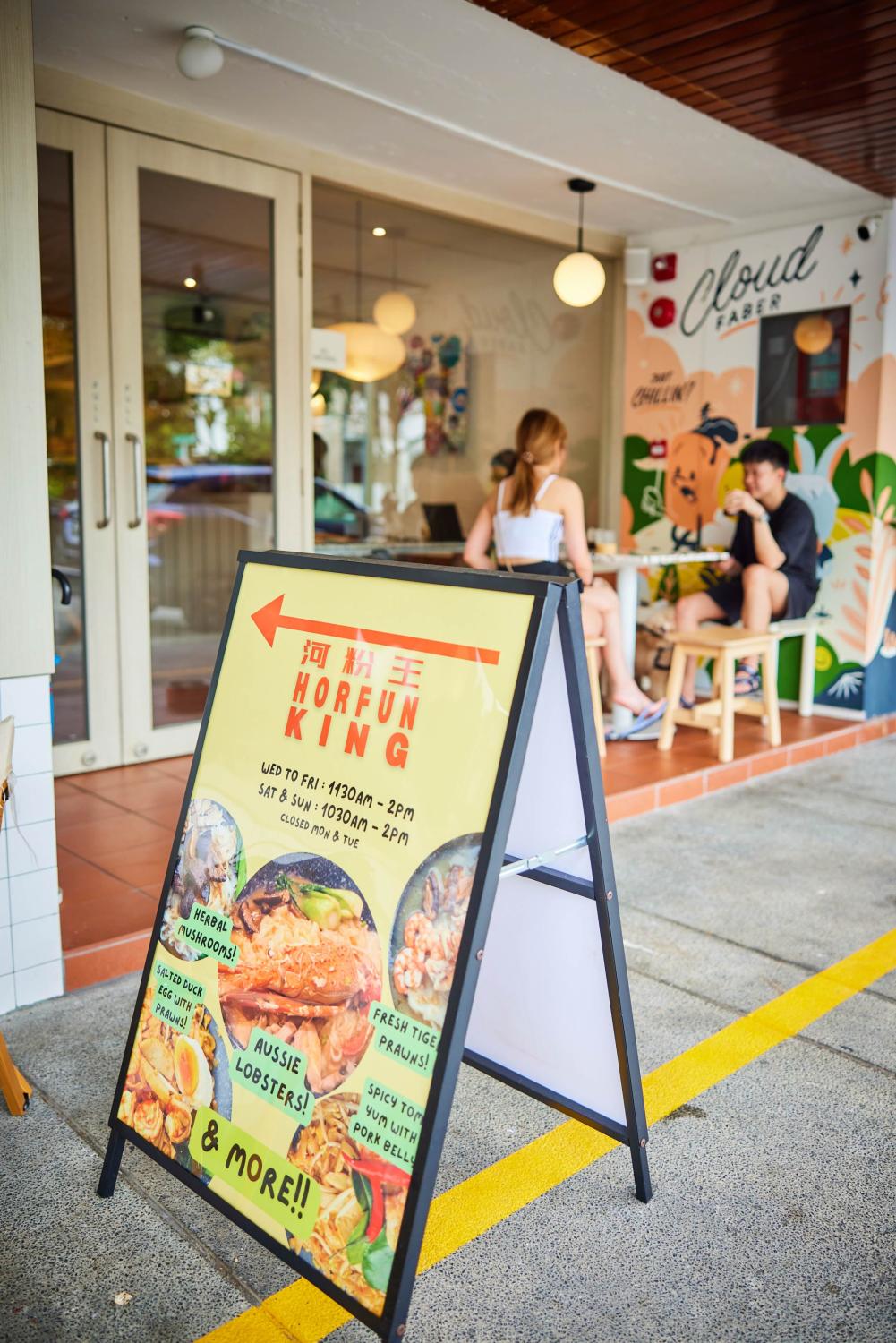 The details
Horfun King is at 108 Faber Dr, S129418. Open Wed to Fri 11.30am-2pm; Sat & Sun 10.30am-2pm. More info via Instagram.

Photos: Alvin Teo

8days is now on #tiktok! Follow us on www.tiktok.com/@8dayseat
No part of this story or photos can be reproduced without permission from 8days.sg.