Host Lin Youyi Rented This 1-Room Tanjong Pagar Condo Instead Of Living In Her 1,000 Sq Ft Apartment So That She Can Try Living With Less Stuff
The plan: leaving "60% of her things" at her parents' home and what she doesn't miss she will get rid of it after six months.
Working as a current affairs presenter and travel host has not only broadened Lin Youyi's horizons, but also changed the way she lives. After seeing firsthand climate change victims starving due to the lack of crops or fish in the water, she began to reflect on her lifestyle and excesses. 
"Travelling has taught me so much. When I was living with my parents, I took everything for granted. I had all the space I wanted, bought everything I wanted and just dumped it in the house. But when I started doing travelogues, I realised I can survive with just one suitcase. We don't really need so many things in life," the Hello Singapore host tells 8days.sg.
Over the years, Youyi, 42, has been taking baby steps towards a more sustainable, minimalist, and "meaningful" lifestyle, from decluttering her life to buying less, and more recently, downsizing to a smaller home. 
After buying her 1,000 sq ft walk-up apartment in 2019, she decided not to move in and looked for a smaller space to rent instead. While house hunting for a suitable space, the pandemic hit so she shelved her plans and continued living with her parents in their 3,000 sq ft condo in the east. She resumed her search this year and finally moved into a rented one-bedroom condo in Tanjong Pagar in May. 
She was attracted to how bright the 500 sq ft unit is as well as the energy of the neighbourhood. Being in the heart of the CBD also allows Youyi, who offers corporate training for presentations, to be near her clients.
"I need a place that is good enough for just myself and an environment that inspires me," she says. Most importantly, it needs to "spark joy", she adds.
While Youyi declined to reveal how much rent she's paying for the space, only saying it's "around market rate", a check on property sites show that average rental of one-room units in the area is going for just under $4,000 a month. 
No part of this story or photos can be reproduced without permission from 8days.sg.
Everything in this home sparks joy
If you can't already tell, Youyi is a fan of Marie Kondo. During our chat, she brings up the declutter guru's famous catchphrase several times. She is quick to clarify that she is not trying to lead a minimalist life but like the KonMari method of organisation advocates, to "spend time with the things that matter".
Downsizing to such a small space wasn't without its challenges. "I complained a lot initially 'cos I was trying to understand how much stuff I could bring over," says Youyi. Storage was an issue as the apartment doesn't have a storeroom and only a few built-in kitchen cabinets.
"I think around 60 percent of my things are still at my parents' place," she laughs. "Moving here is sort of like an experiment. I bring over things that I know I am gonna need and whatever's left behind, if I don't miss it after six months aka now, I will get rid of it."
"This is also the reason I decided [to move into a smaller space]; it forces me to be on track [to decluttering her life]. Now when friends want to get stuff for me, I tell them to get things that can be consumed. Do not put anything permanent in my home," she adds. 
Youyi's manager and family were initially skeptical when she told them about her plans to move to a much smaller home.
"My dad made a bet with my sister that I would come running home after three months ['cos there is no one to pick up after her]. They think I can't cook and hate doing laundry. The fact is, I don't hate doing housework, I just prefer doing it in an air-con environment with the music on. But I am doing well," she says.
Move in first, furnish later
Youyi also applied the KonMari method when it came to transforming the home, taking her time to get a feel of living in the space before furnishing it. As this is a rental unit, it didn't justify spending a great deal on décor. She was also limited by how much she could change.
"I only started making changes two weeks after moving in. I don't know much about interior décor, so the only way for me to find out how I want to use my space was by living in it first... And before buying any furniture, I would research carefully and visualise how it would look in the home," she explains. 
The first step was to soften the masculine look of the home. Though Youyi didn't have a particular design concept in mind, she wanted a neutral colour palette to give the home a warm and cosy feel. She watched house staging videos for inspiration and "just blindly copied".
The mirror wall in the l
iving space, which created "too much visual noise" and "made the space feel dark", was covered with beige solar film to brighten the room. The muted wall also provides a clean backdrop for Zoom meetings and filming presentations.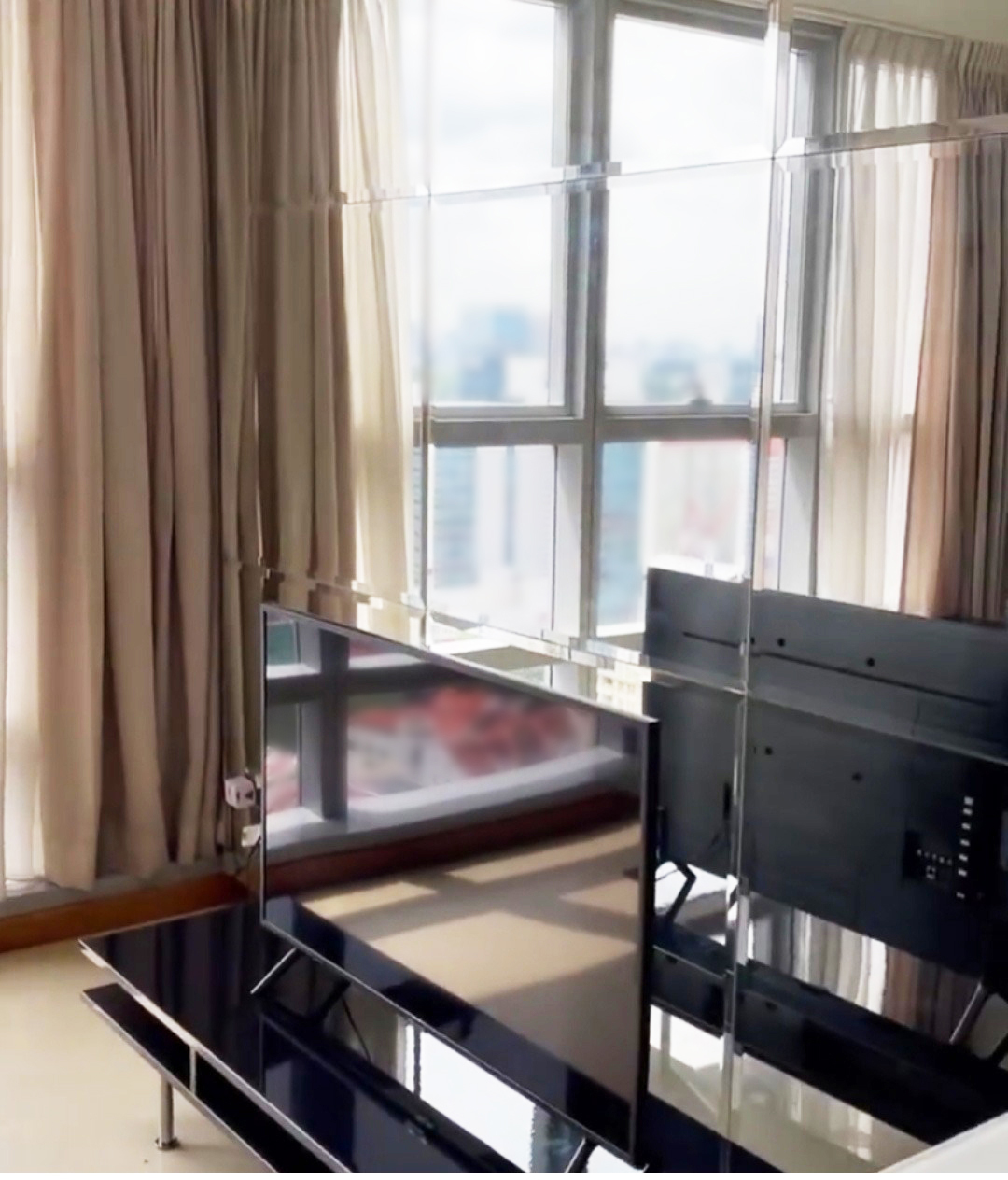 Before: The mirror wall behind the TV console was too distracting.
After: Wall has been lined with solar film for a clean finish.
The apartment also looked too much like an office with the black leather couch and roller blinds behind it, so Youyi replaced them with a white chaise sofa and wooden blinds to allow more light to flow through the spaces. She also swapped out the glass coffee table for a smaller woven pouf which doubles up as storage.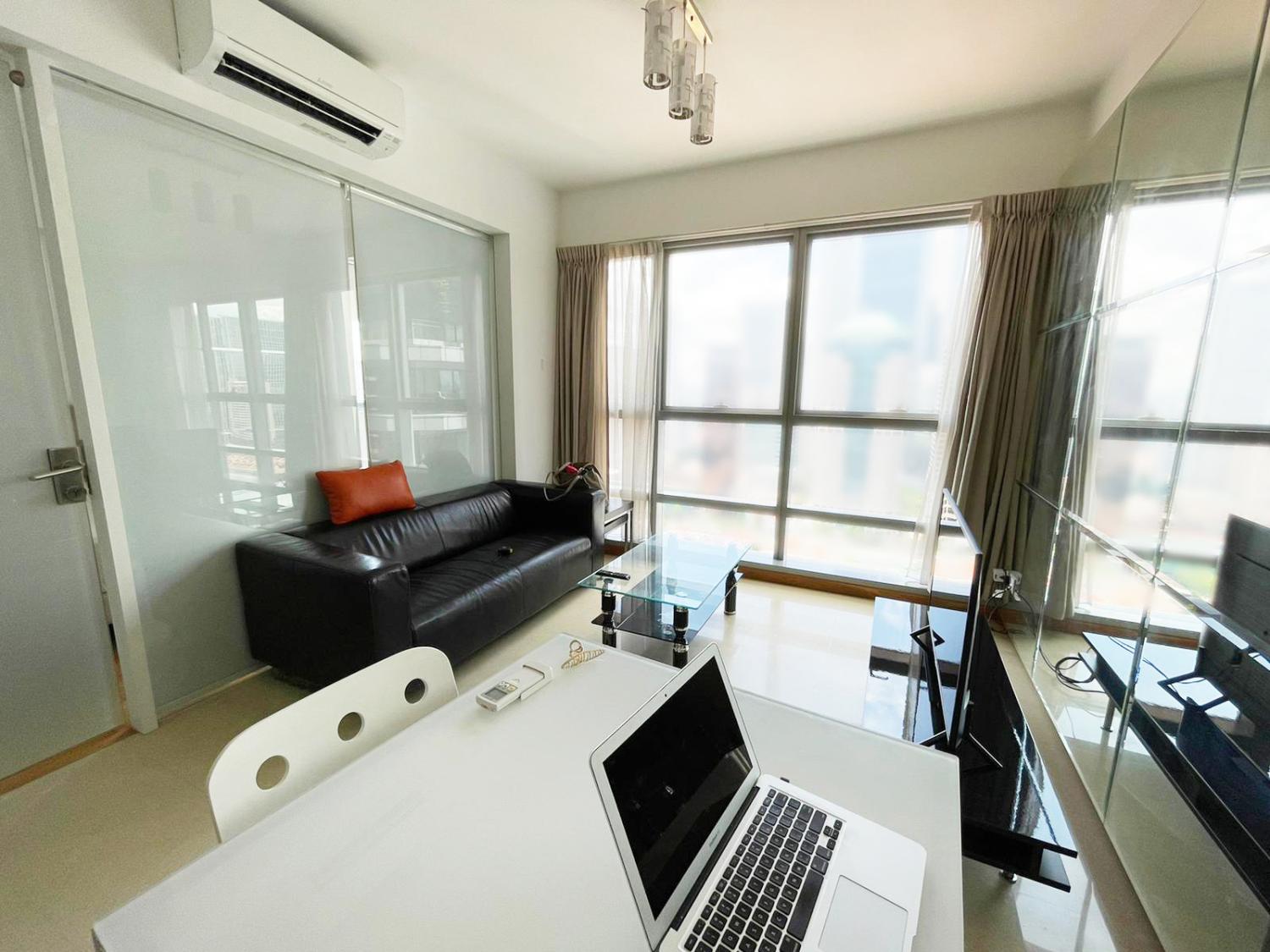 Before: The mix of dark tones, leather, and glass give off a masculine vibe.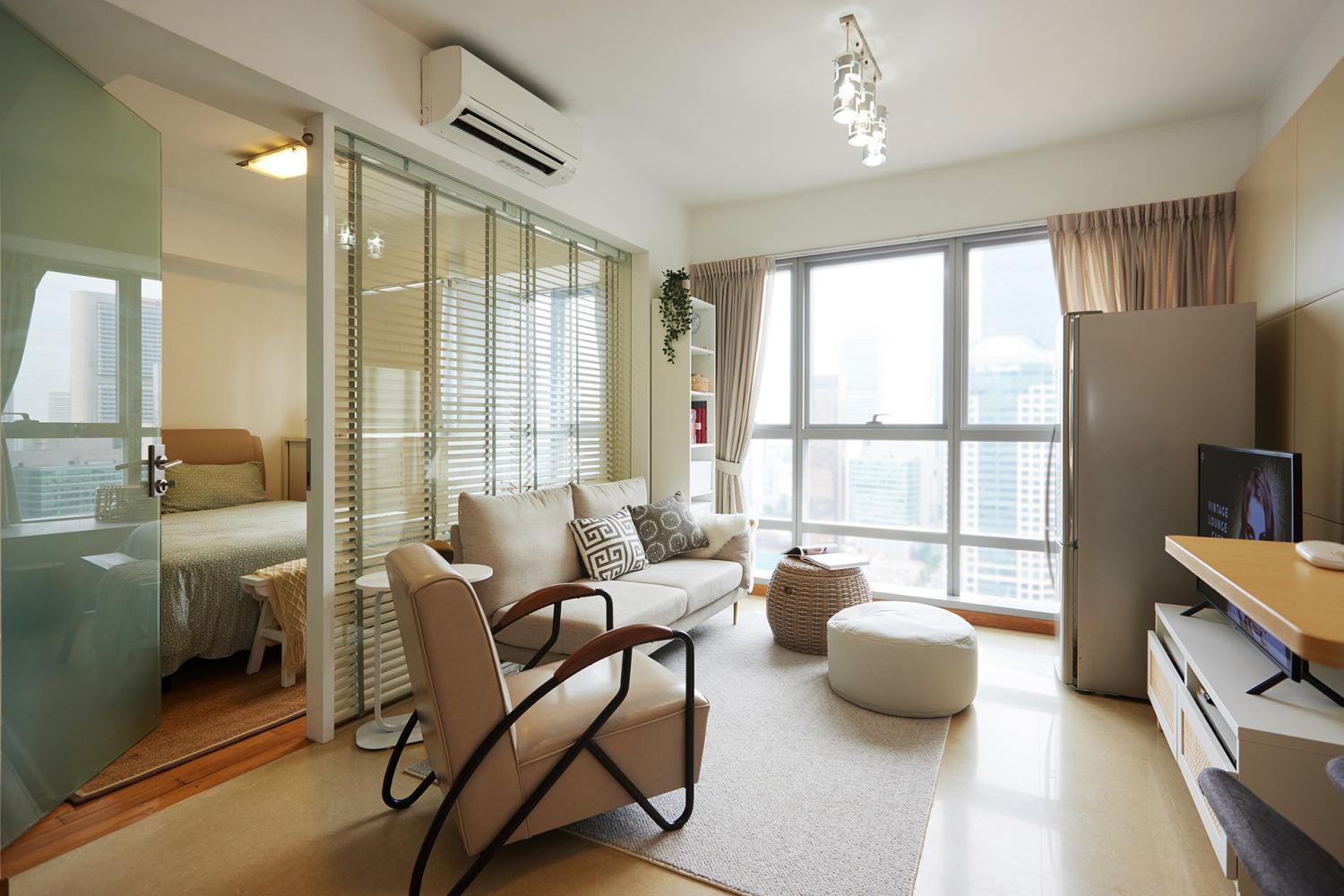 After: Laidback linen couch, fluffy rug and pouf create a welcoming vibe.
"Due to space constraints, I try to get furniture that is compact, multifunctional, and foldable. I wanted a sofa with only one arm rest so that I can put an end table on the other side. This also gives me enough space for an armchair," she shares.
Different textures
like
leather, wood, and rattan add contrast and texture to the space, while personal touches in the form of flowers, throw cushions and rugs breathe life into the room.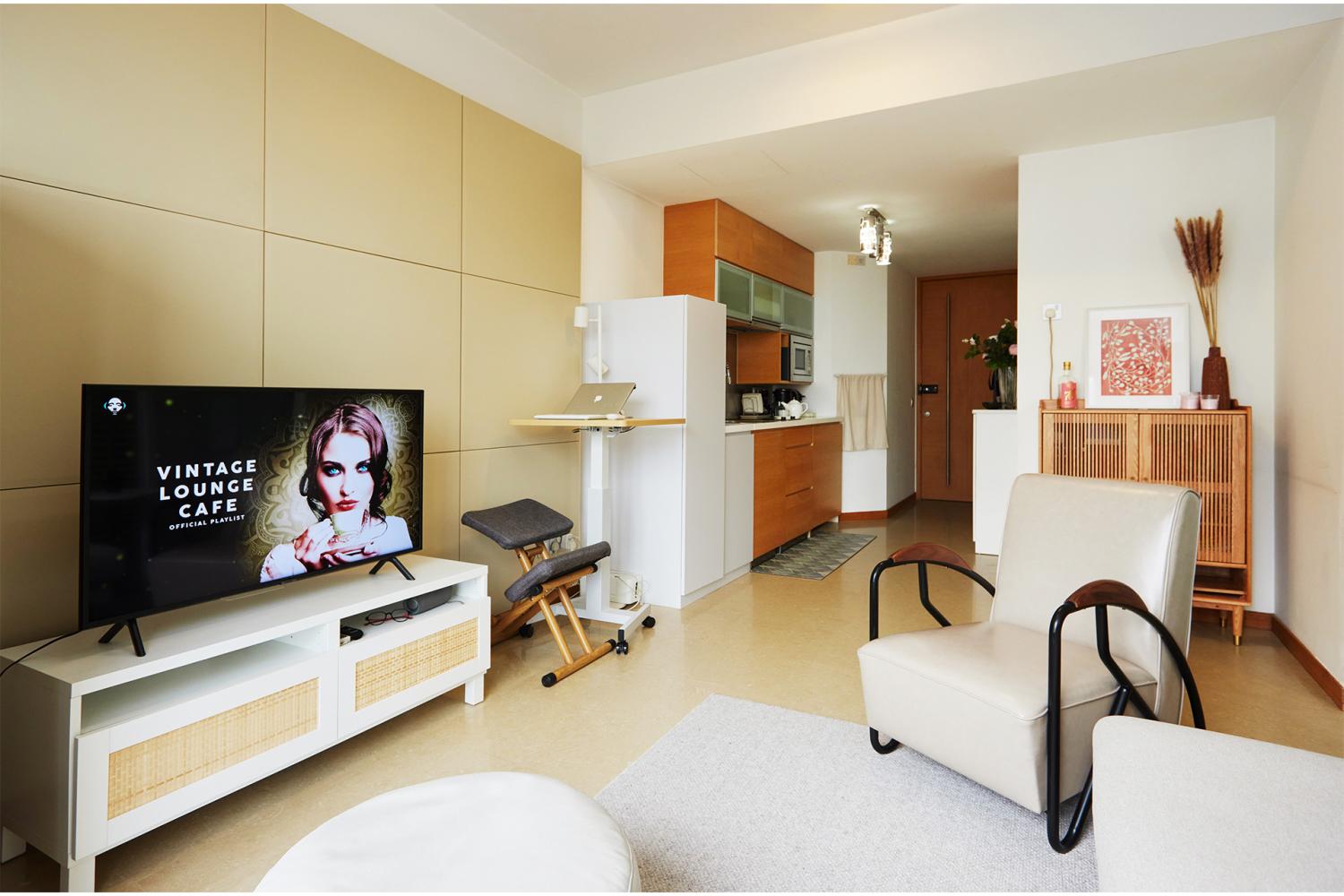 Office nook
As Youyi works from home, the dining area beside the kitchen was converted into her work corner. It took her months to find a height-adjustable mobile desk that could fit in the nook. It is also collapsible so it can be stowed away when she needs more space.
"I give presentations standing up so I wanted a small desk where I can adjust the height. I have to do it manually, but I don't mind 'cos I dislike the sight of cables. I didn't think I would be able to find an adjustable desk this small — it is only just 80cm wide. I got it from Comfort Design for around $300," she shares.
Her office chair is an uncomfortable-looking ergonomic kneeling stool, which Youyi says not only saves space, but is also good for her spine: "As my physiotherapist always says, the best position is always the next position, so you need to encourage your body to move. I can't lean with this stool so after sitting for an hour, I work standing up or walk around the house. If I really have to, I go downstairs and work at one of the cafes."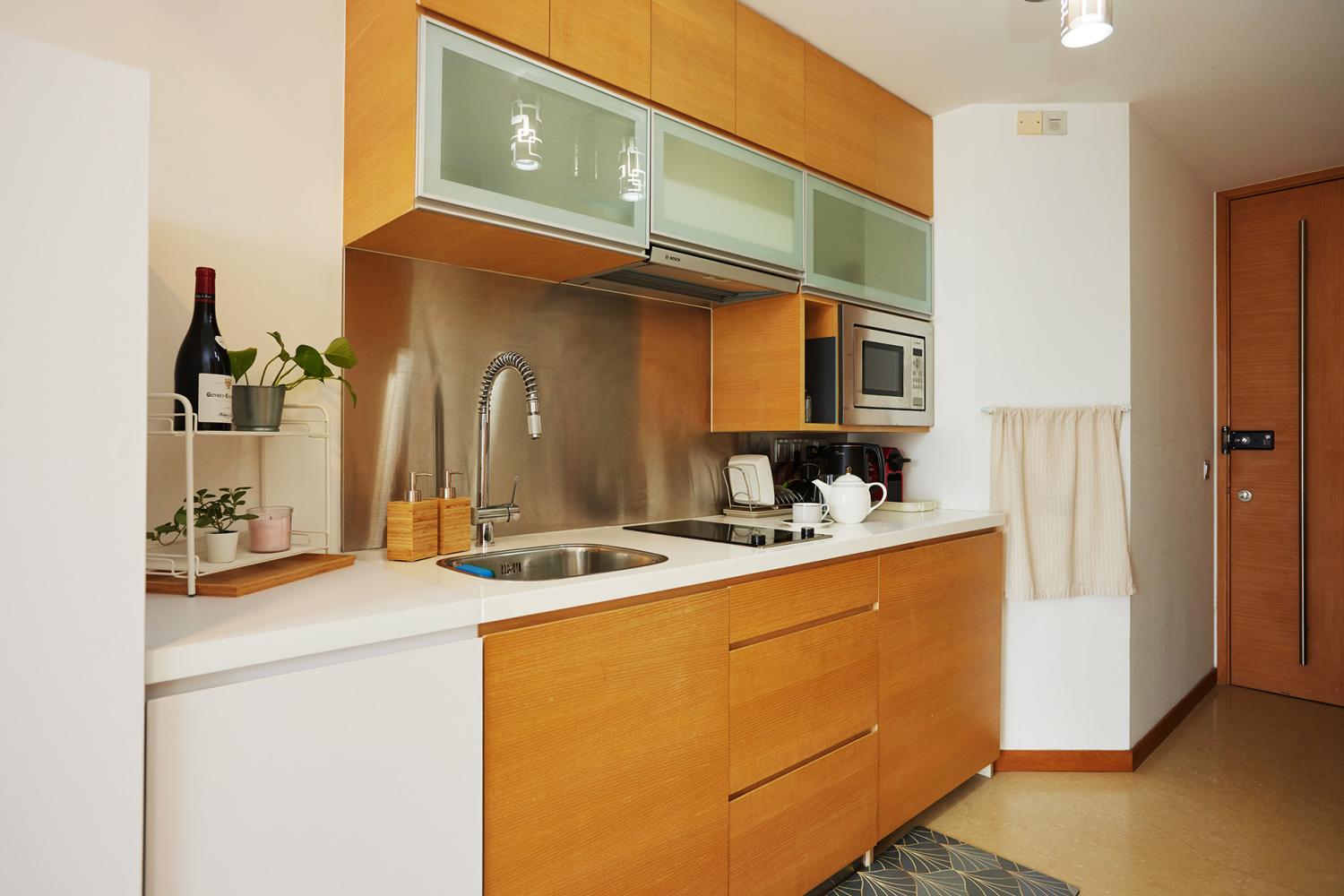 Kitchen
Youyi rarely cooks, so the tiny kitchen, which is at the entryway, is left mostly untouched. The fridge which used to be beside the sink was moved to the window and replaced with a built-in cabinet for additional counter space and storage. It also offers an additional backdrop for shoots.
While Youyi admits that it's a little odd to have the fridge away from the kitchen, she didn't really have a choice as she needed something to "block out the kitchen" during filming. Ideally, she would like to replace it with something that better matches the living room décor. "I find the grey a bit old-fashioned, so I want something in a nice colour, more compact and sleek, with a handle on the right. I will slowly find something that sparks joy," she shares.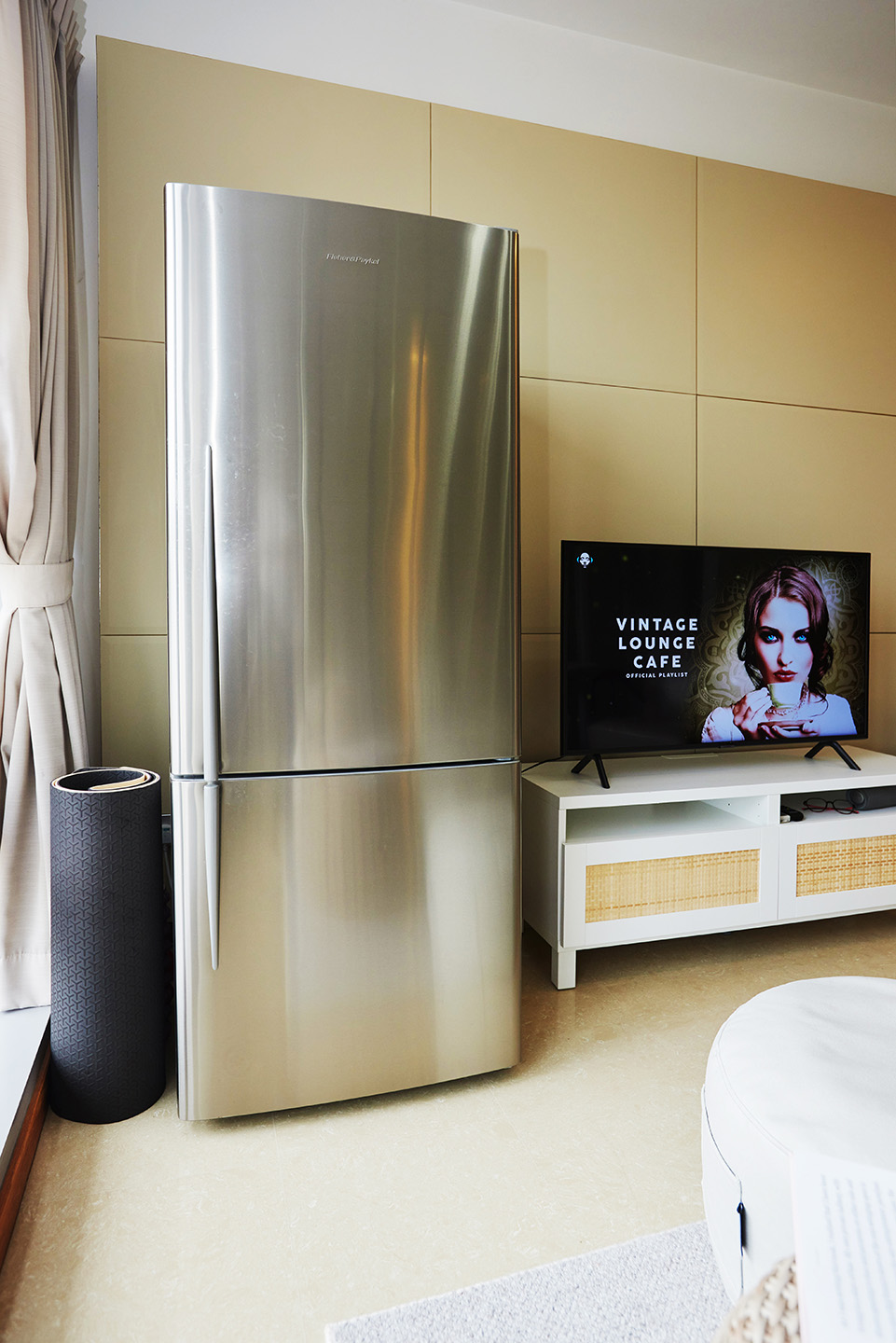 This fridge "does not spark joy" for Youyi
Bedroom
The earth tones follow through to the bedroom with woven stools, an oriental-style elm wood bench and rattan basket and lamp. 
As there is no room for a cupboard, the bomb shelter, which is accessed from the bedroom, is used as a walk-in wardrobe. It's hard to believe that this is all the clothes Youyi has lived with since moving in six months ago.
"Once you move into a smaller space you will just adapt. I have survived on this for six months, but of course, when I have to attend events or functions, I will go back to my parents' place to get my gowns," she says.
"There's a sense of freedom 'cos I am no longer held hostage by my possessions. I used to feel emotionally attached to things and would organise and spring clean before Chinese New Year, which was just a waste of time. I had so many things lying around and I didn't use them. They are of no value to me anymore."
Bathroom 
The ensuite bathroom, which is clad in marble and features a sunken bath, exudes a more contemporary style. Orange accessories and a yellow wall add punches of colour and also liven up the space. 
The yellow wall is for more than just aesthetics. Youyi found the original frosted glass "disturbing", so she pasted a yellow film over it for more privacy.
No part of this story or photos can be reproduced without permission from 8days.sg.
Photos: Kelvin Chia
Watch #JustSwipeLah for Youyi's home rental tips.