Hougang Bakery With Ex-Shangri-La "Chief Baker" Attracts French Expats With Superb Croissants
Some netizens rave that they're even better than Tiong Bahru Bakery's. Really?
We recently stumbled upon a netizen's Facebook post (see photo below) boldly claiming that the croissants from a humble bakery in Hougang were "better than Tiong Bahru Bakery's", with a couple of comments on the thread concurring and more raving about the buttery treats. Now, we don't usually check out every random claim on the internet, but this one was particularly intriguing as the hip TBB is one of the most popular bakery chains in Singapore that's famous for its croissants.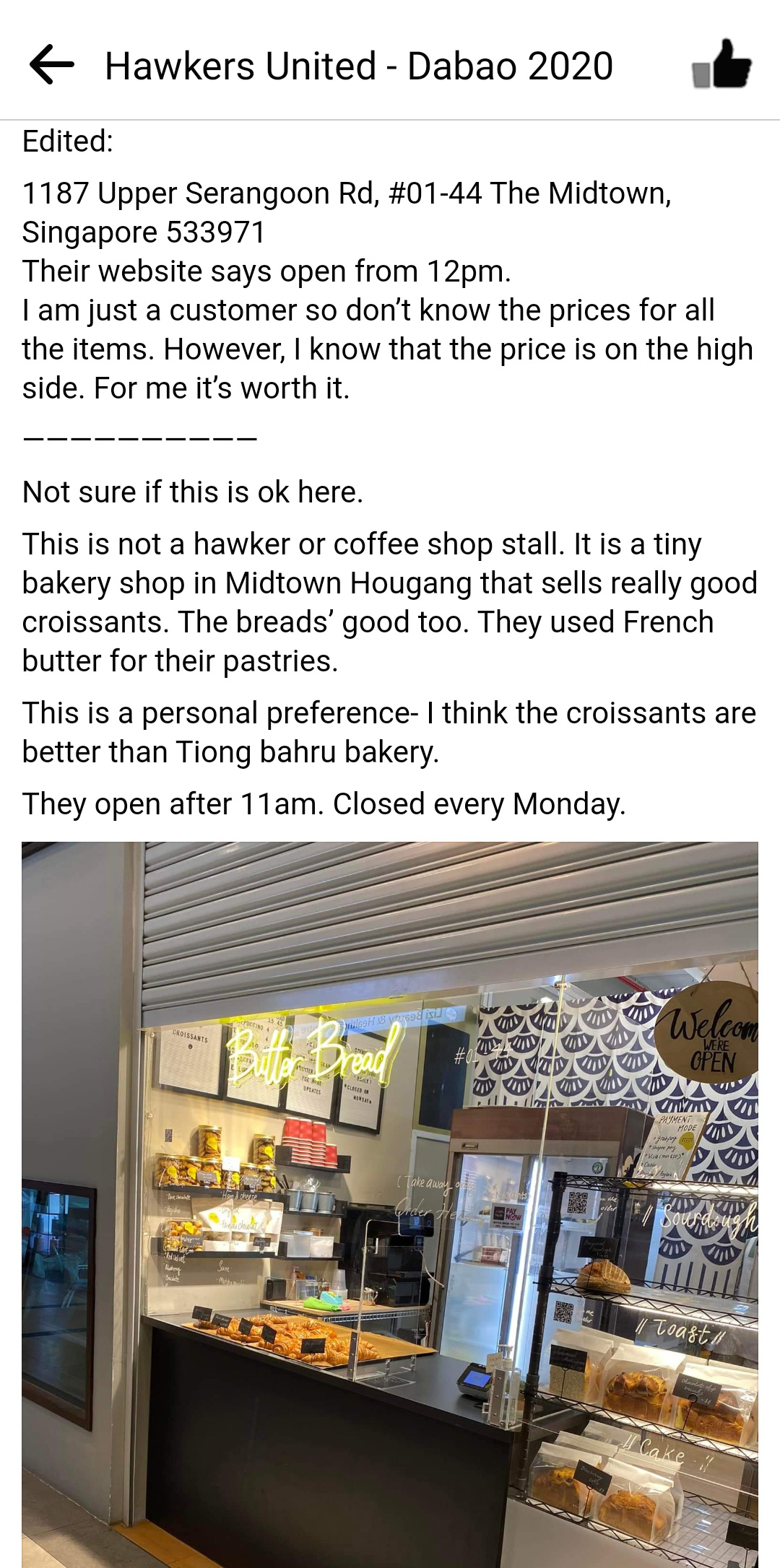 Our curiosity piqued, we head down to Upper Serangoon Road near Hougang MRT station one weekday afternoon, wandering through the ground floor retail area of a quiet condo called the Midtown. There, amidst a bunch of hair salons, Butter Bread bakery stands out with its cheery display of golden pastries and breads. During our visit, a constant stream of folks from the condo and surrounding neighbourhood stroll in to browse its offerings.
All photos cannot be reproduced without permission from 8days.sg​​​​​​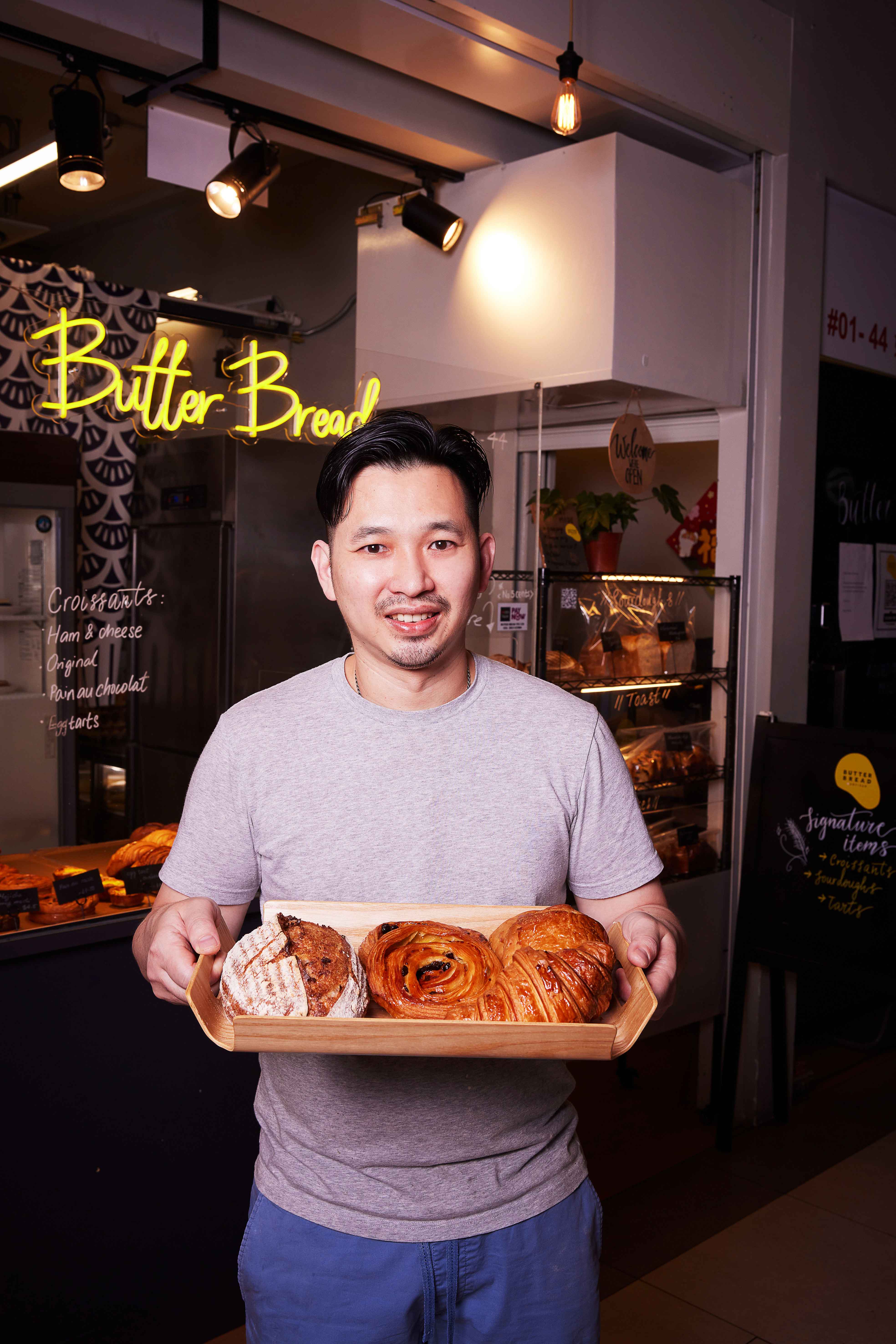 Owner used to be "chief baker" at hotels
The sole owner and baker here is boyish Andrew Loong, 41, who boasts an impressive pedigree: he was the former "chief baker" at the kitchens of hotels like the Carlton Singapore, where he worked for five years, and most recently Shangri-La, where he spent two years. He received all his training on the job, and was in the hotel line for some 20 years before leaving a couple of years ago to set up AM Bakery with a partner, located at another unit within the same mall. Last August, Andrew rebranded and relaunched his takeaway bakery at a new unit, this time without his partner, renaming the business Butter Bread, with a similar menu of French-style bakes.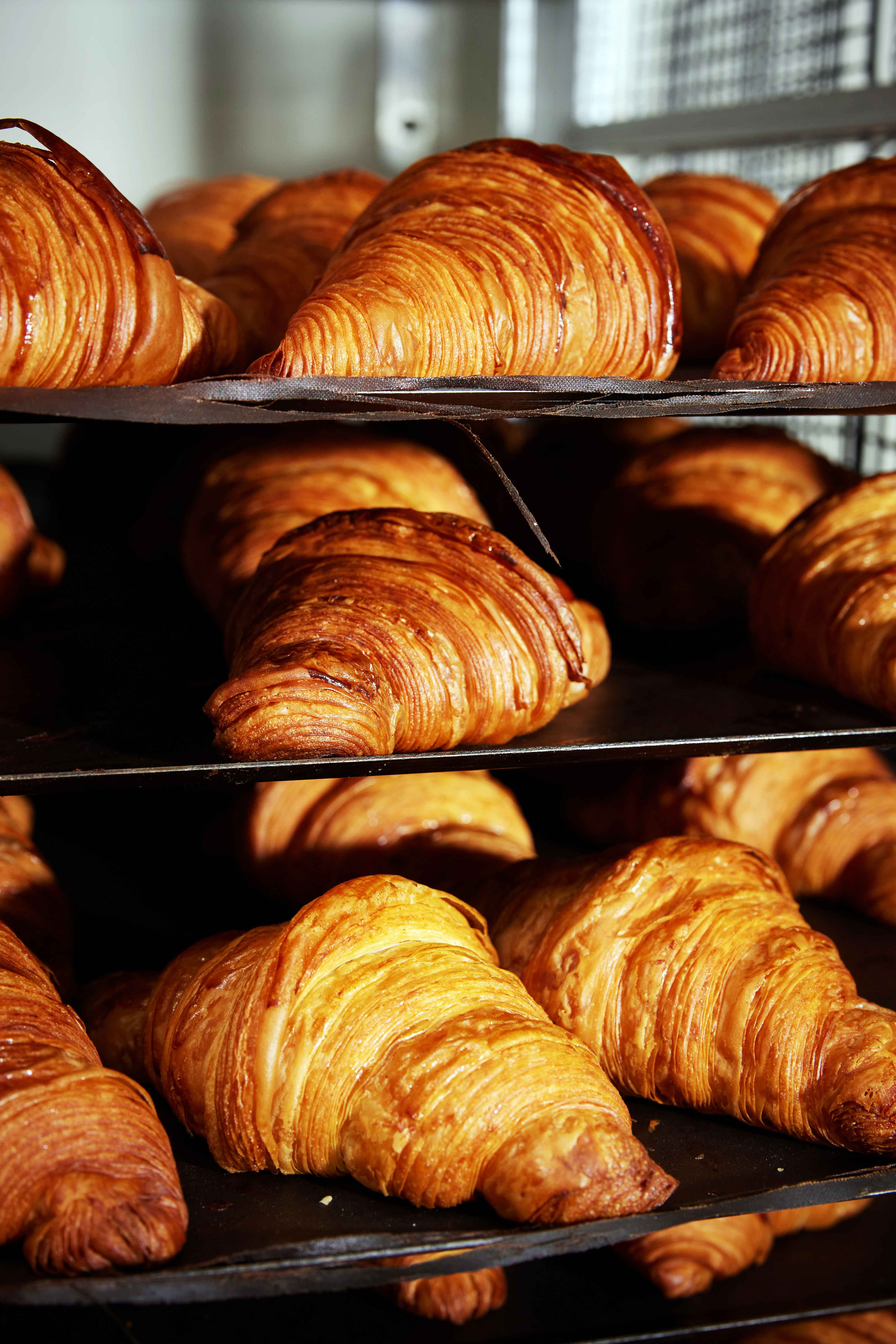 Croissants attract French expats and sell out quickly daily
Business has been going well, says the friendly, mild-mannered Malaysian PR from Perak, who's married to a Singaporean. So well that he can afford to open shop only from 1pm on weekdays and close up by 6pm. He says many of his regulars are French expats who come down specifically for his croissants, which tend to sell out within a few hours of the store's opening (he makes about 100 daily). He says he vastly prefers being his own boss to his hotel pastry days because he can be more creative. "Back then, I had to get clearance and approval whenever I wanted to try something new," he says, adding, "now I can try new things and get customers' feedback directly".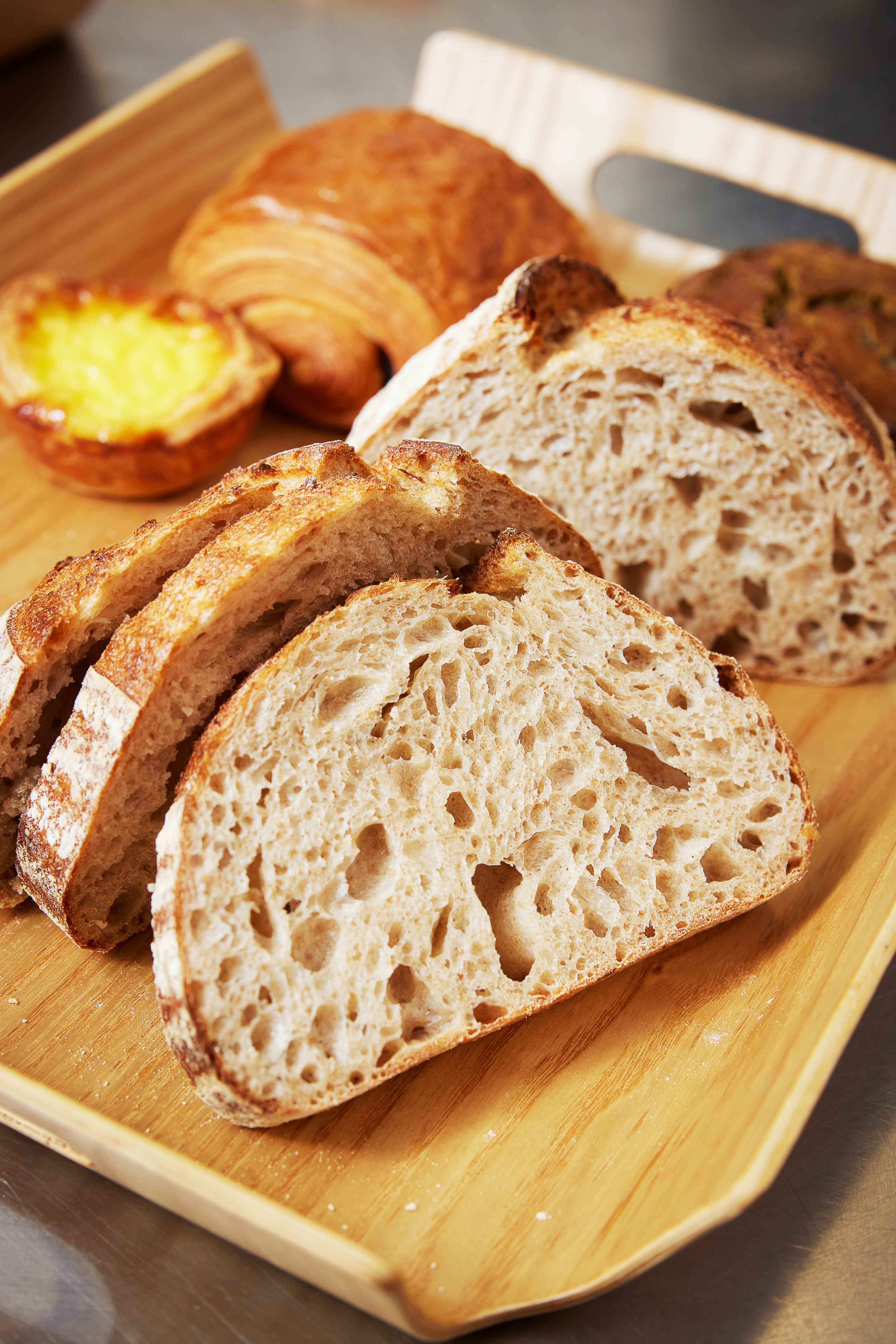 On the menu
Besides the popular croissants, Andrew offers sourdough bread, other Viennssoirie like pain au chocolat, and tea time pastries like scones. He also does his own take on Portuguese egg tarts, which are another popular favourite. What makes the pastries here distinctive, he says, is that they all feature a sourdough starter culture (organic yeast that's cultivated by bakers in a mixture of flour and water) that he's had for 20 years, one that he's been cultivating since his hotel days. "It adds a more complex flavour," he says proudly.
Long fermentation process
Most of his breads, he explains, undergo a long and slow fermentation over one to two days, which he says improves flavour and texture. Some of the bakes, like the croissants, take a whopping three days. Together with a baking assistant, he works round the clock to prepare multiple batches of dough, in a modest workspace behind the counter that's no doubt smaller than the spacious hotel kitchens he used to work at — but it's just as immaculate and well-organised.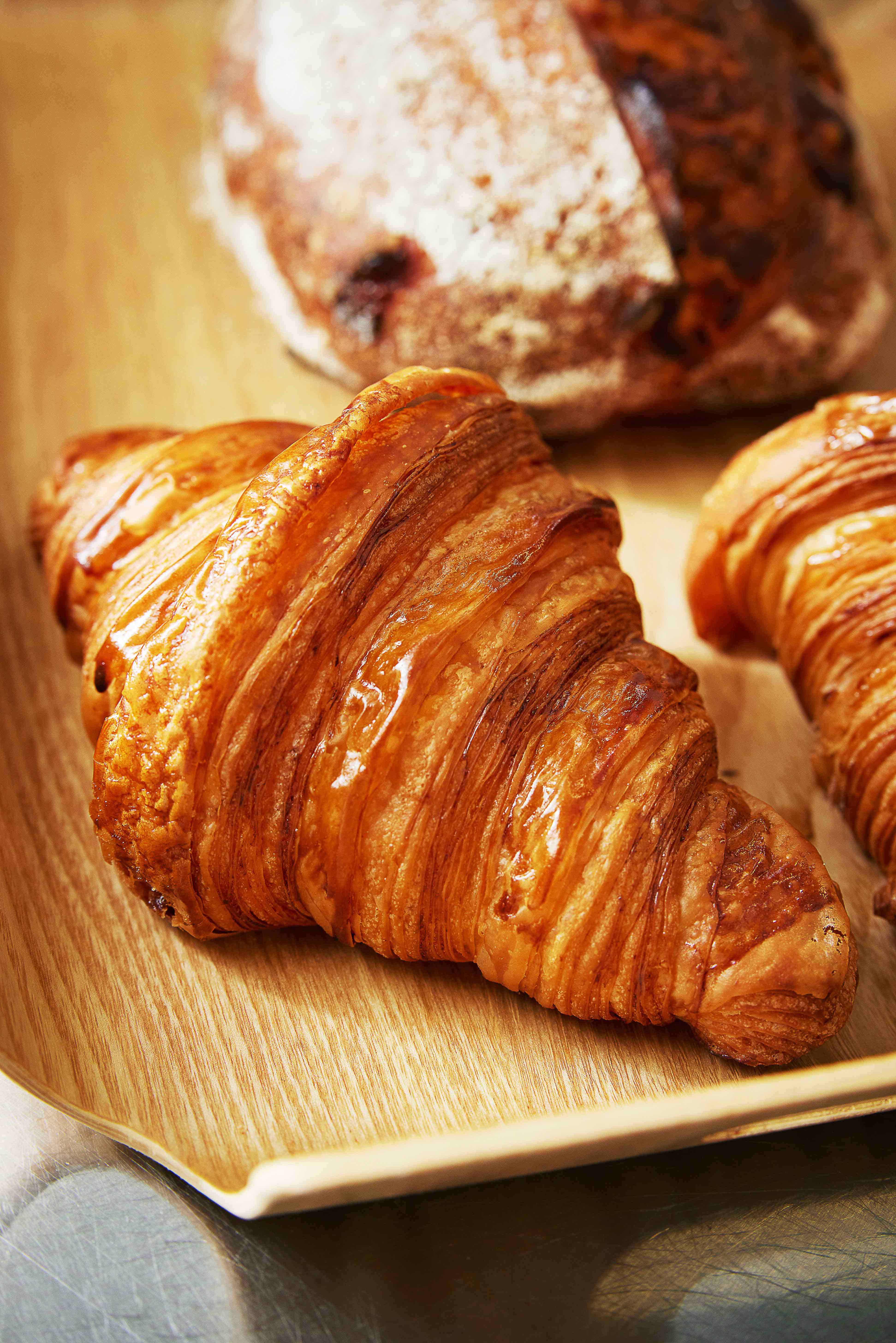 The Croissants, $4 each (8 Days Pick!)
Andrew makes these with Lescure cultured butter from France, the same brand many pastry chefs in hotels use. These croissants are pretty to look at – relatively compact, beautifully folded, and lightweight. When Andrew cuts one open, the crumb sports a gorgeous, open honeycomb structure that tells us that this pastry is going to be light, not dense and cakey.
True enough, they're delicious – a shatteringly crisp and flaky crust gives way to a feathery and toothsome crumb that's rich with a deep butteriness and a complex, slightly tangy and almost nutty flavour. We apologise for raining shards of crust down on his kitchen floor and he laughs, saying: "we used to start the day at the hotel by eating croissants to test them, and my teacher said if the floor isn't full of crumbs, it means the croissants aren't good!" Andrew says he learned how to make croissants from MOF (Meilleurs Ouvriers de France, literally "one of the best craftsmen of France," the highest honour given to chefs in France) pastry chefs during his hotel days. In short: these are very good. Eat them as soon as you can though, because they don't stay fab the whole day (the ones we brought home were slightly dry, though still tasty, by the evening).
And we agree with the FB netizens: these croissants are indeed flakier, more buttery and boast a more complex texture and flavour than Tiong Bahru Bakery's offerings. At least the ones we've tried recently from TBB's Funan outlet.
The Pain Au Chocolat, $4.50 each
This is basically a croissant with little batons of dark Swiss chocolate studded into the buttery layers. These are very good as well, shot through with bursts of rich, fruity, and deliciously dark chocolate. They're infinitely better when warmed up, as are most of these takeaway bakes, though even at room temperature have a lovely flaky texture, and the chocolate isn't too jelak.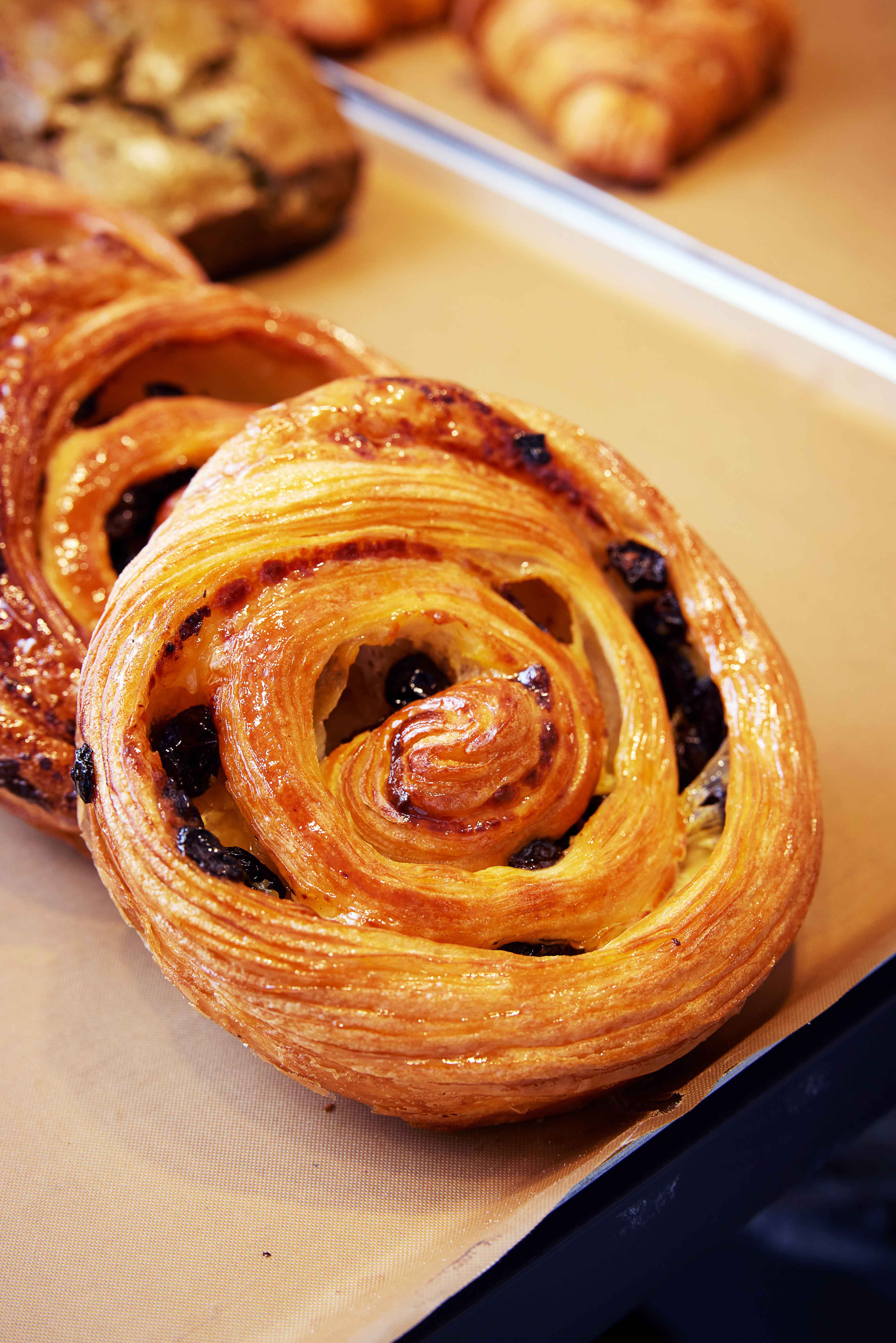 Pain Au Raisin, $4.50 each
This crusty ring, made from croissant dough, is studded with lots of sweet raisins, which add chewiness and little bursts of tart fruitiness. Yummy.
The Sourdough, $8.50 each (8 Days Pick!)
These round loaves aren't very big, only about five to six inches in diameter, and at $8.50 each are a little expensive. But compared to some other sourdough loaves out there, these have a more delicate and lighter crust, and a chewier, more tender crumb.
The bread has a really deep and complex flavour – tangy, a little savoury, and nutty, thanks to being entirely leavened with Andrew's 20-year-old starter culture. We enjoy these very much, especially the texture, which in some other sourdough loaves can be hard and leathery.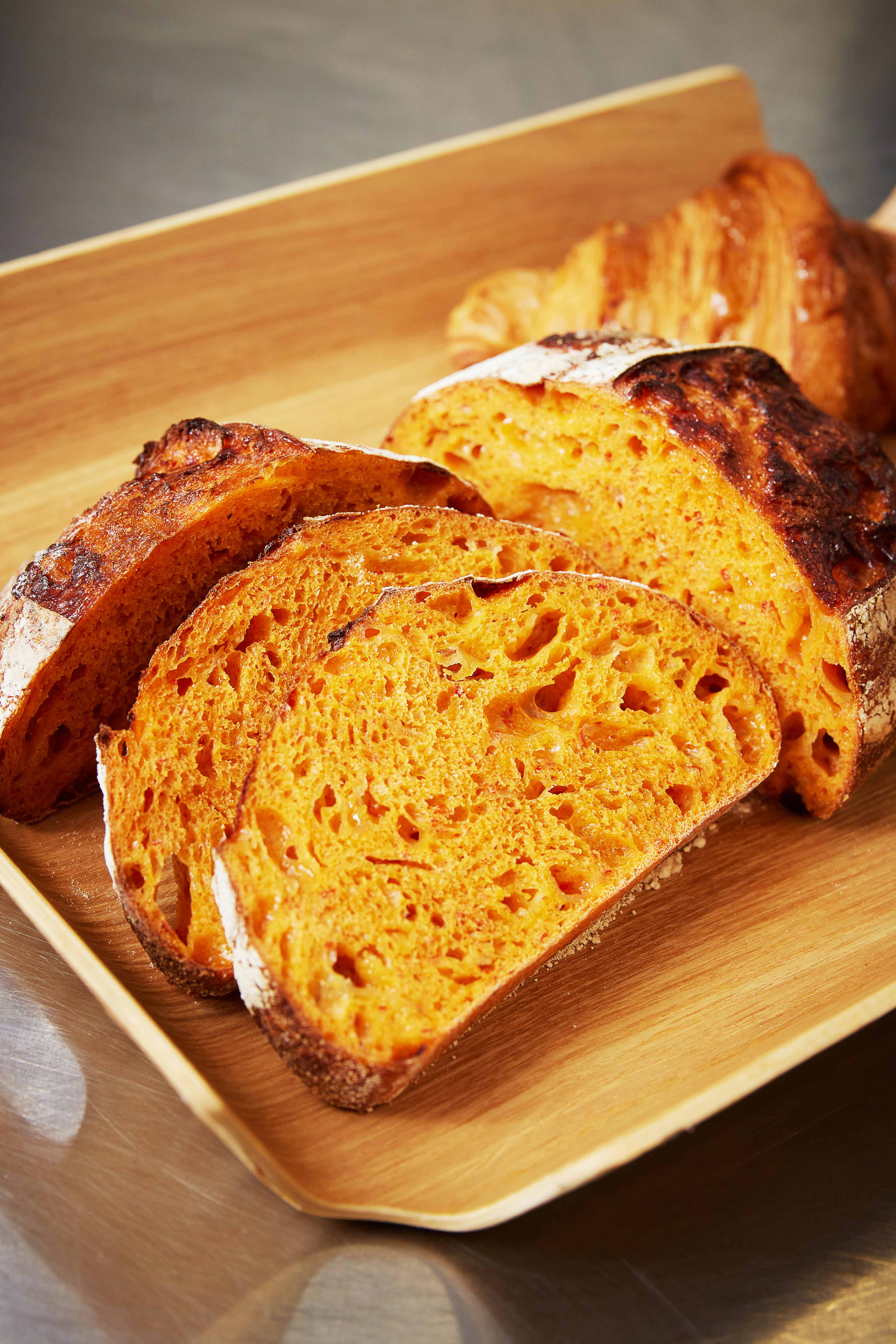 The Kimchi Sourdough, $10.50 each
This is a monthly special (next month, it's Jalapeno and Cheese), but we think Andrew should keep this lovely orange-hued loaf permanently on the menu. It's a sourdough loaf flavoured with kimchi paste and studded with chopped bits of homemade kimchi and lashings of mozzarella cheese. It's surprisingly quite spicy, and the kimchi intensifies the tartness of the sourdough. Together with the cheese, it's savoury, a little funky, and rather addictive.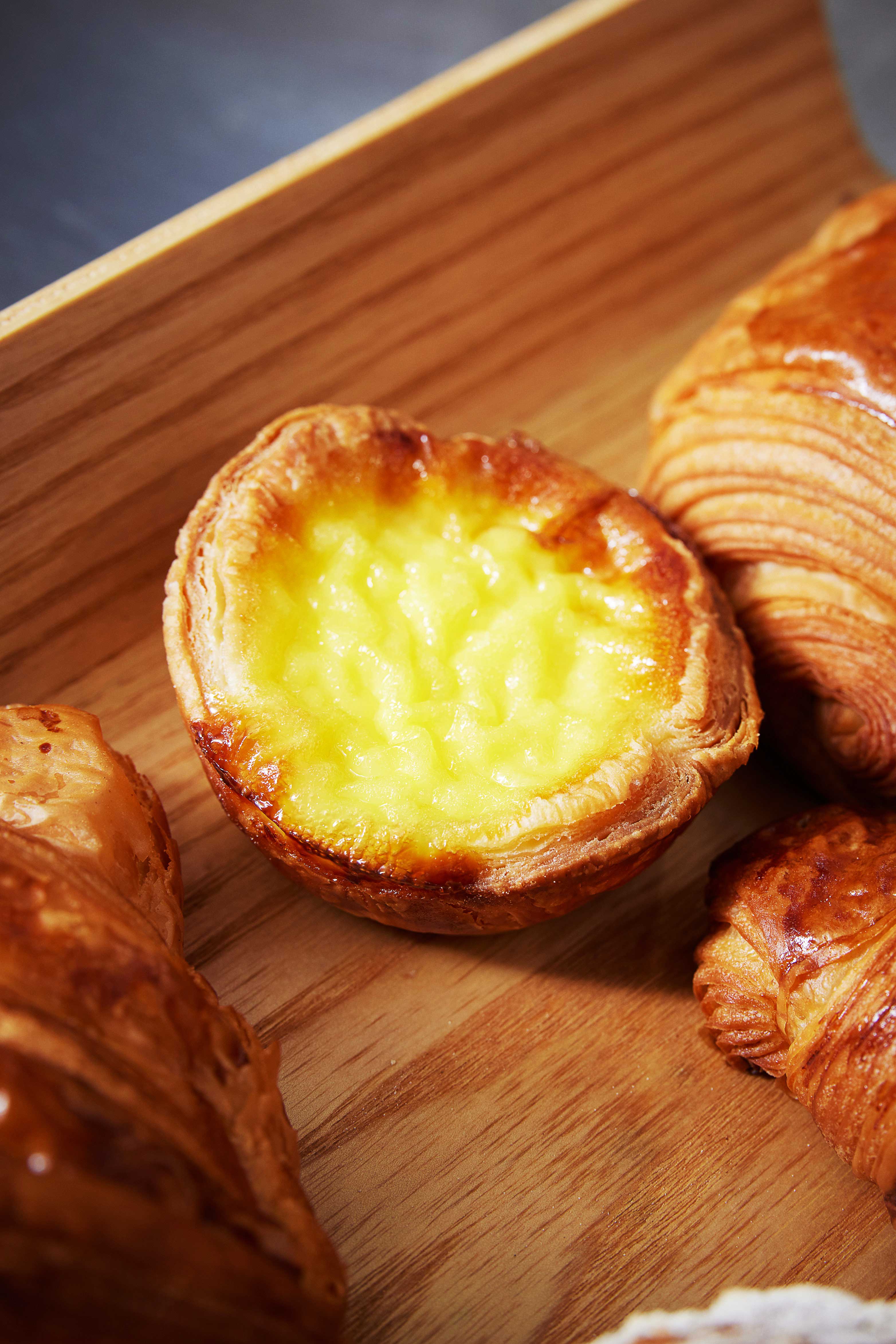 The Egg Tart Croissant, $4 each
A cross between a Portuguese egg tart, creme brulee, and croissant. The custard is made with French cream, and has a light, uniformly set texture, with a creamy mouthfeel. The crust, which unlike other egg tarts is made with either shortcrust or puff pastry, is made with croissant dough which is super flaky and chewy.
Buttery, creamy, eggy, and delicately sweet, it's a refined teatime treat, though rather expensive at $4 a petite tart. So savour it slowly.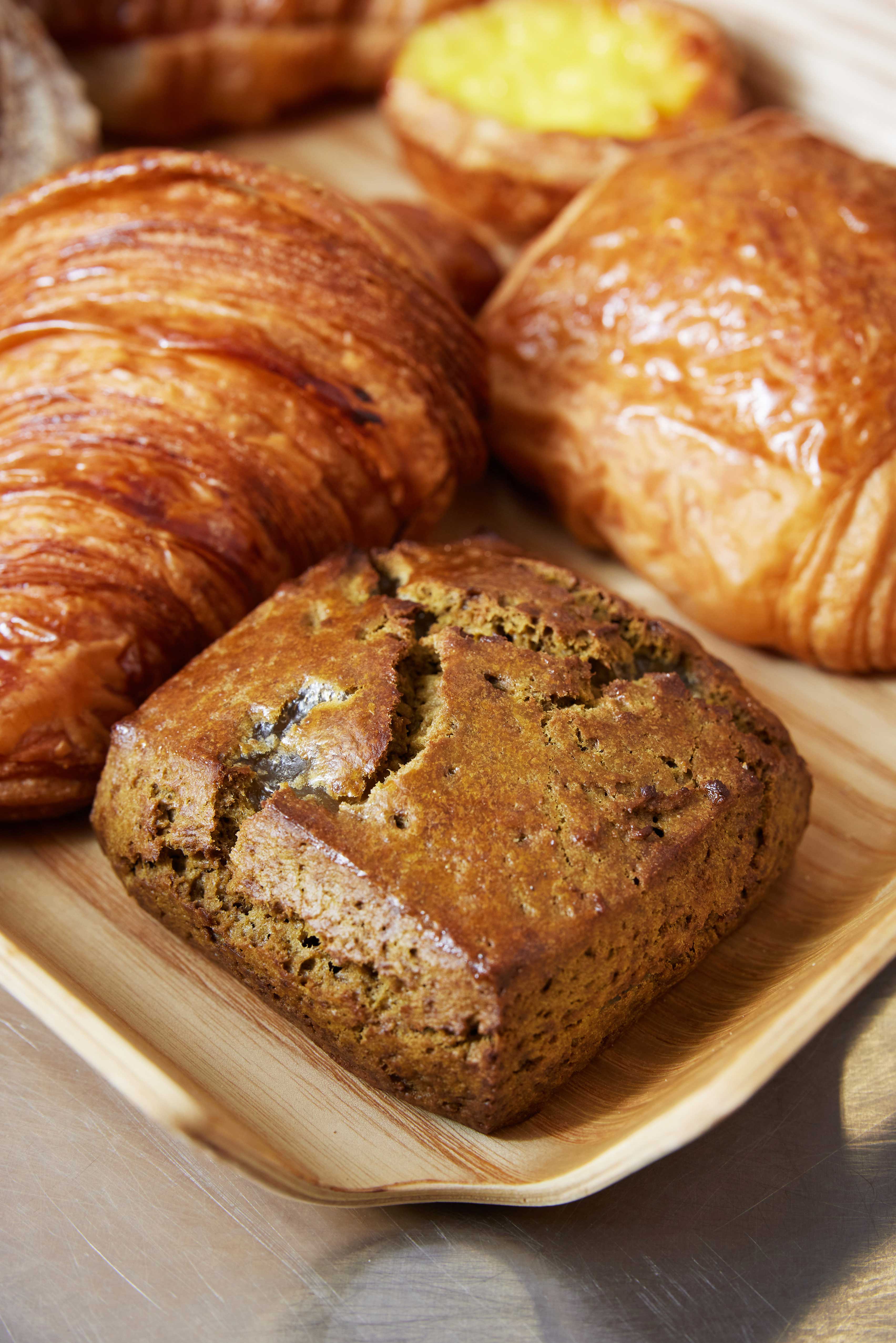 The Hojicha Honey Mochi Scone, $4.50 each (8 Days Pick!)
This isn't much to look at – like a run-of-the-mill scone. But when we bite into it, it surprises us with its layers of interesting flavours and textures. It's made with powdered hojicha (roasted Japanese green tea), which gives it a lovely earthy sweetness, and it's studded with chewy little bites of Taiwanese honey mochi that has a gummy-like texture and floral sweetness. This is a sleeper hit for us – at home, we toast it and slather it with lots of salted butter, and it's heavenly.
The prices of the pastries at this no-frills Hougang bakery are a little steep (more expensive than Tiong Bahru Bakery's, for example, whose croissants are priced at $3.80 vs the $4 ones here). But they're mostly handmade by the boss Andrew with premium ingredients and deliver on quality and flavour — especially the croissants, which rival or even surpass some from more famous bakeries in town. The stream of praises on Facebook foodie groups suggests that folks constantly return for Butter Bread's croissants, and that they're consistently good. Tip: the bakes here sell out quickly, so pre-order them via a web order form on the shop's Instagram page to avoid disappointment.
Bottom Line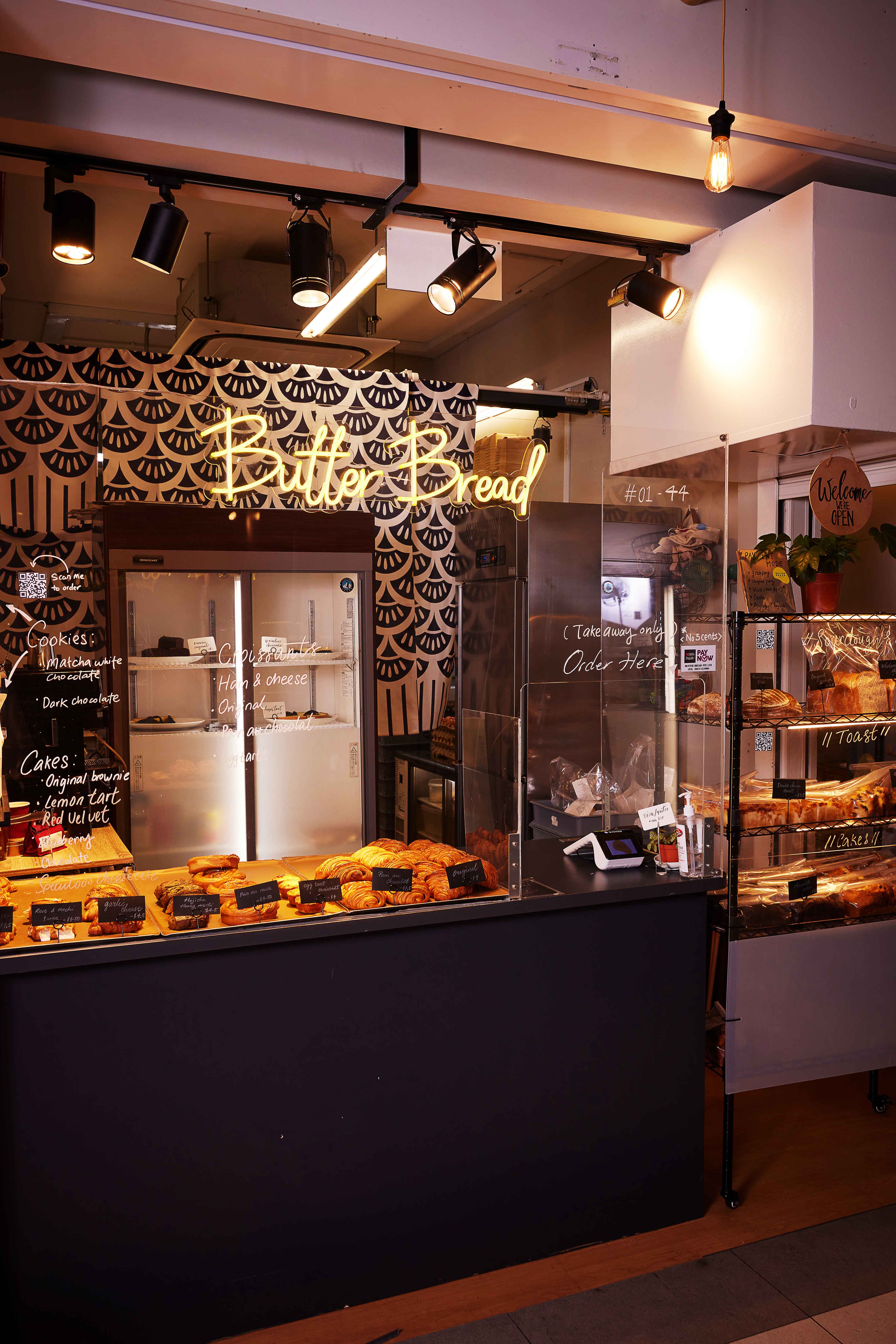 The details
Butter Bread is at The Midtown, 1187 Upp Serangoon Rd, #01-44, S533971. Open Tue-Fri 1pm-6pm; Sat-Sun 11am-6pm. Closed Mon. www.instagram.com/butter.breadsg
All photos cannot be reproduced without permission from 8days.sg
Photos: Kelvin Chia