Huat Or Not: What Local Stars Wore For Chinese New Year
Hu wore huat? Celeb style hits and misses this CNY.
This week, we saw the roar-some cheongsams the stars wore for Chinese New Year, now check out the huat-worthy (or not) outfits they donned during the festive season. This year's looks include entrance-making gowns, twinning looks, and of course, more cheongsams. Read on for more.
Zoe Tay
Zoe's deep-plunging and floor-sweeping red hot number by Andrew Gn stole the show at the Lunar New Year's Eve countdown show. We love how graceful she looked.
Huat or not?: Huat!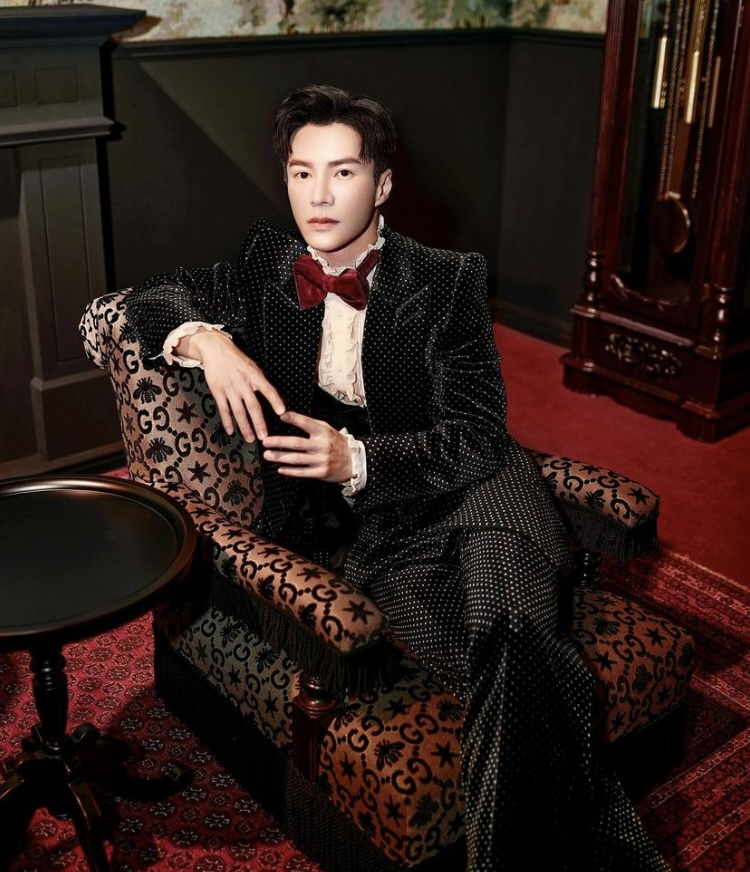 Lawrence Wong
Lawrence's Gucci ensemble consisting of a sharp velvet suit and contrasting powder blue shirt made him look like a prince in a fairytale.
Huat or not?: Huat and very stylish too.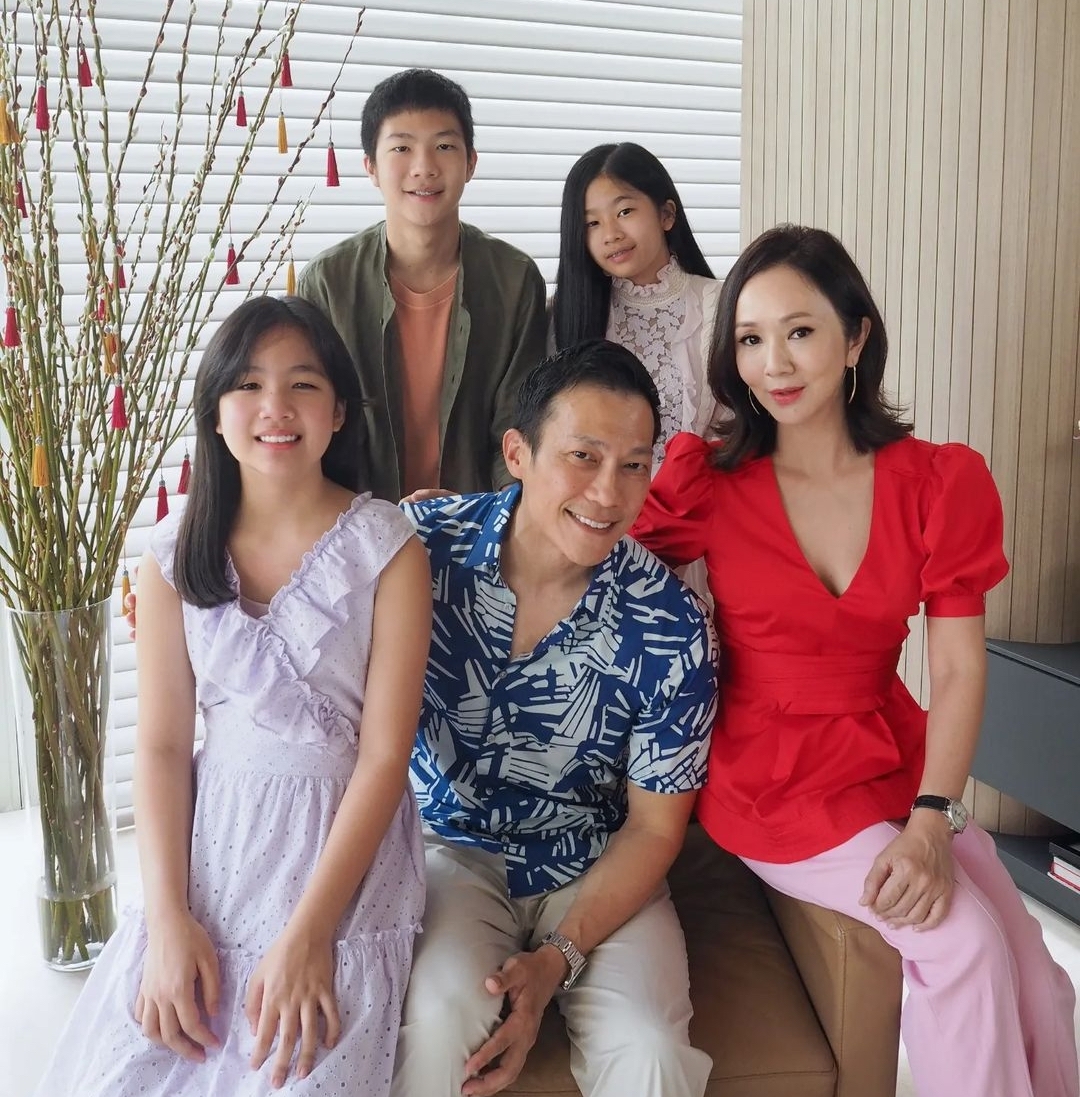 James Lye, Diana Ser, and family
The Lye family stole our hearts with their megawatt smiles and cheery outfits. Diana looked especially huat in a red puffy sleeve top and pink trousers.
Huat or not?: Huat, but we wished their outfits were a bit more colour-coordinated.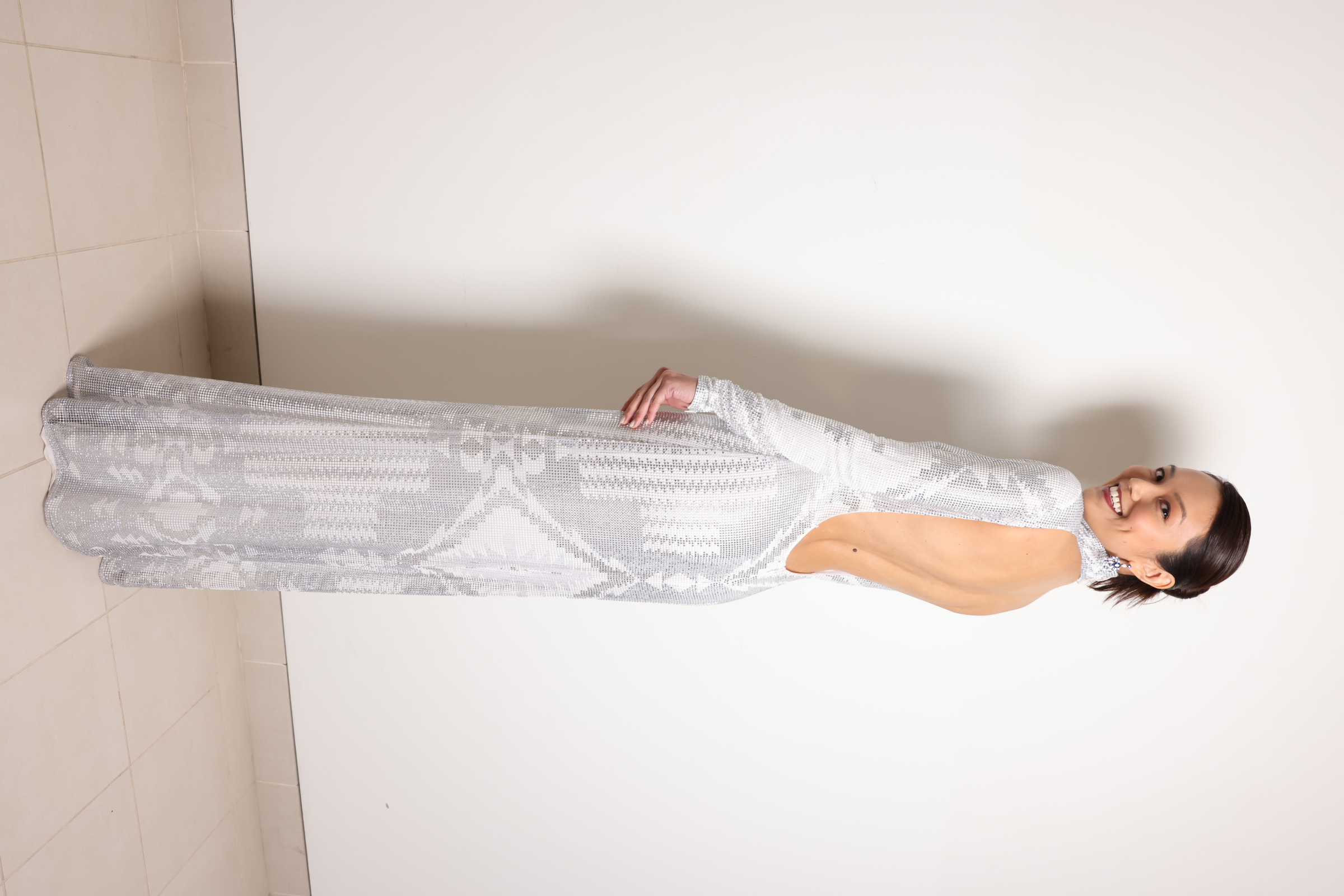 Joanne Peh
Joanne threw style rules out of the window by styling a bold orange printed frock with shiny red stilettos, a black oversized tote and multiple beaded necklaces. It's a little loud but we think she pulled it off confidently.
Huat or not?: Huat.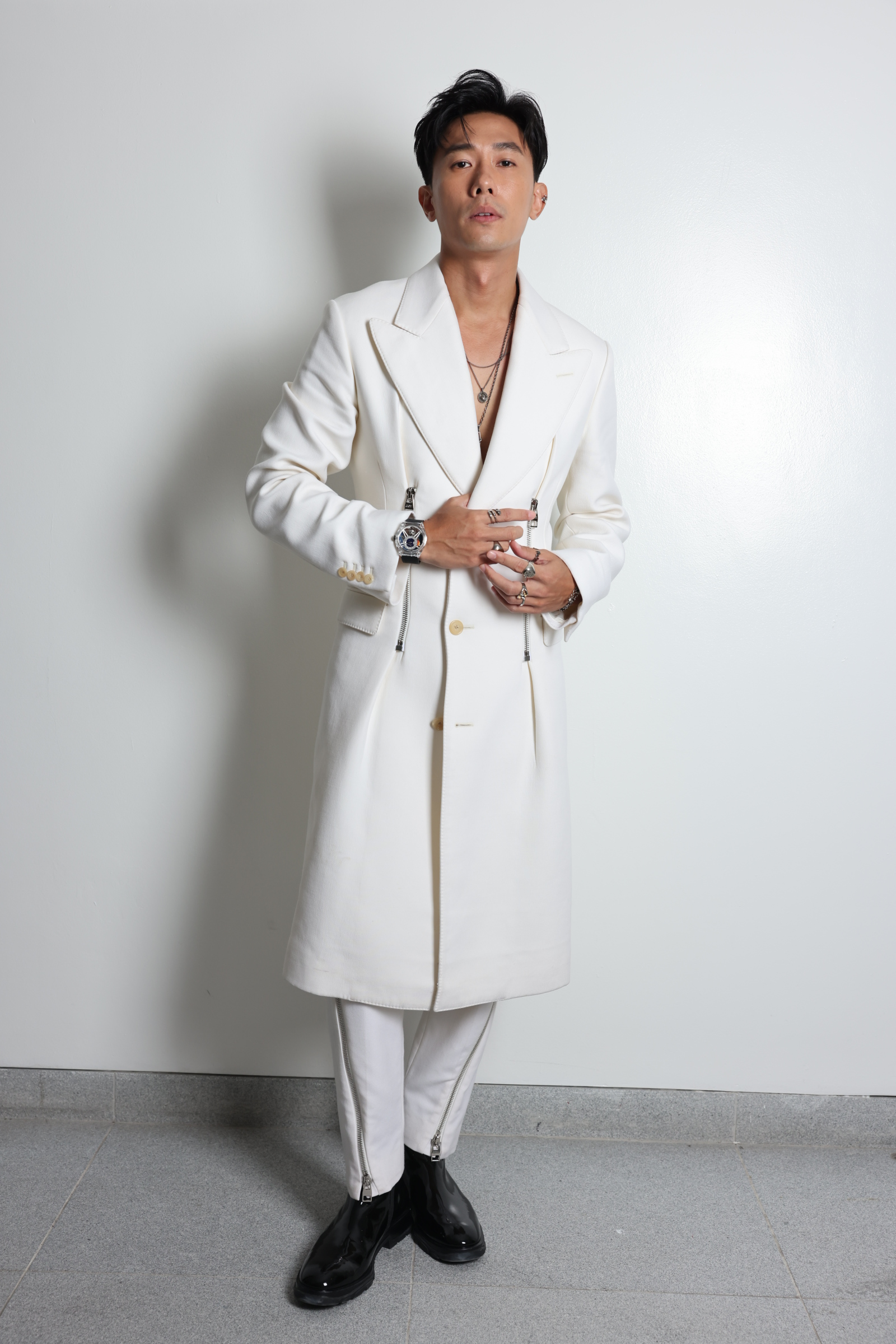 Desmond Tan
The print on Desmond's red and black cardigan by Alexander McQueen might appear abstract at first glance, but zoom in and you will see that it's a peony-like design.
Huat or not?: Understated kind of huat.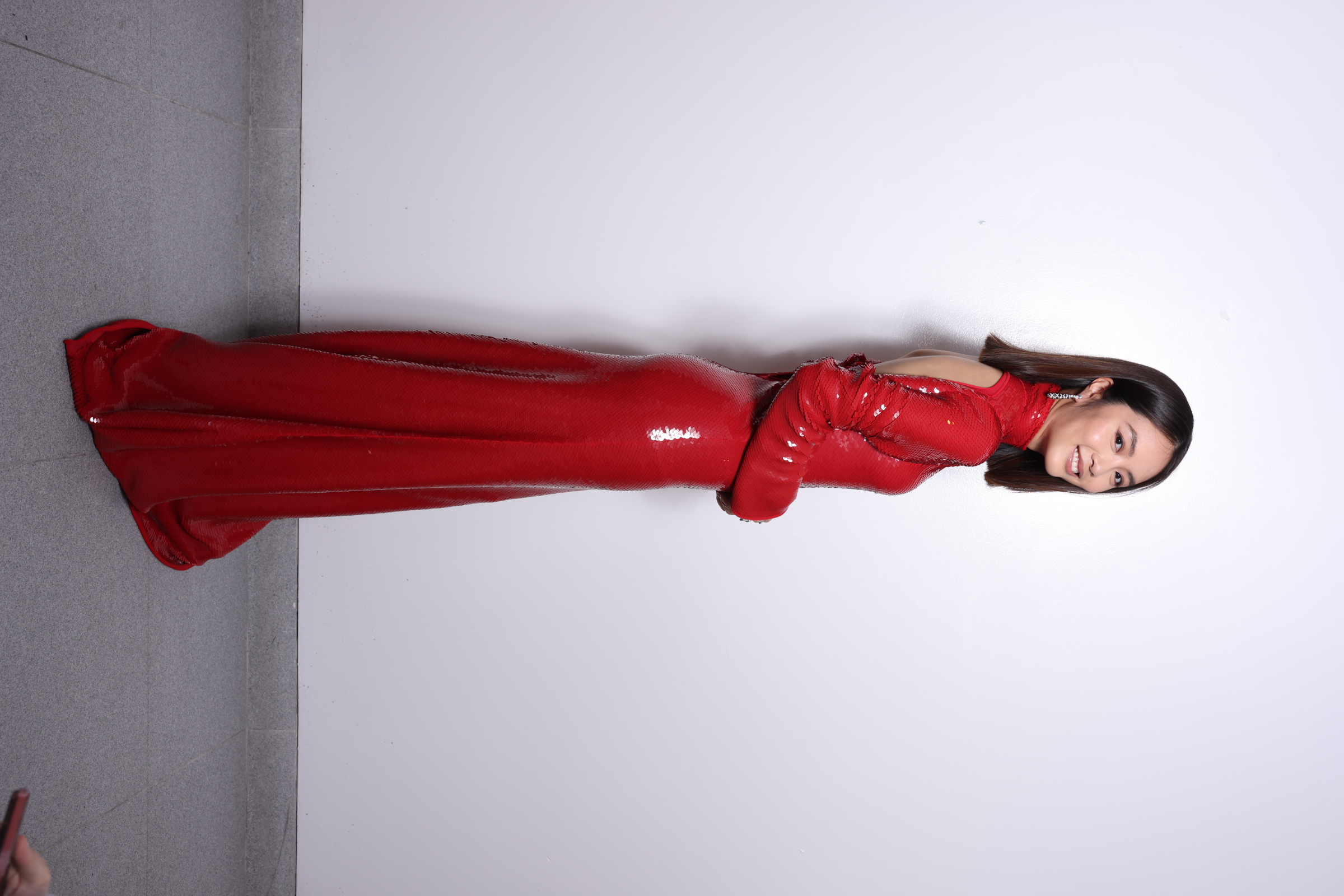 Chantalle Ng
Teaming a tiger stripe cheongsam-inspired top with black denim shorts and high knee boots, Chantalle's look says: "Hear me roar!"
Huat or not?: Huat and roar-some.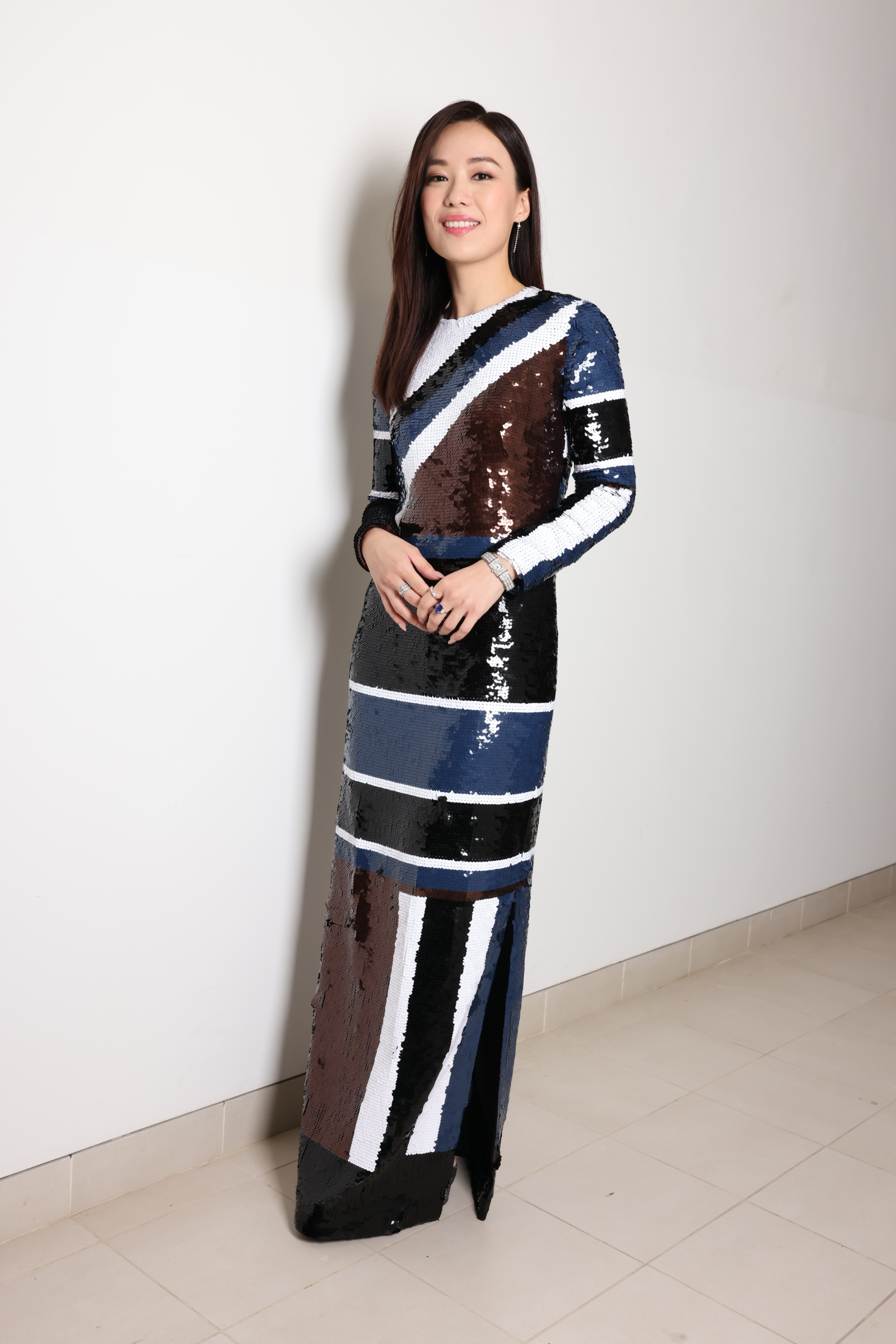 Rebecca Lim
The Dior trench coat might be too OTT for CNY visiting, but we think Becks pulled it off with aplomb. Not crazy about the beige culottes, which reminds us of policemen's shorts from days of yore.
Huat or not?: Huat for the top, not for the bottom.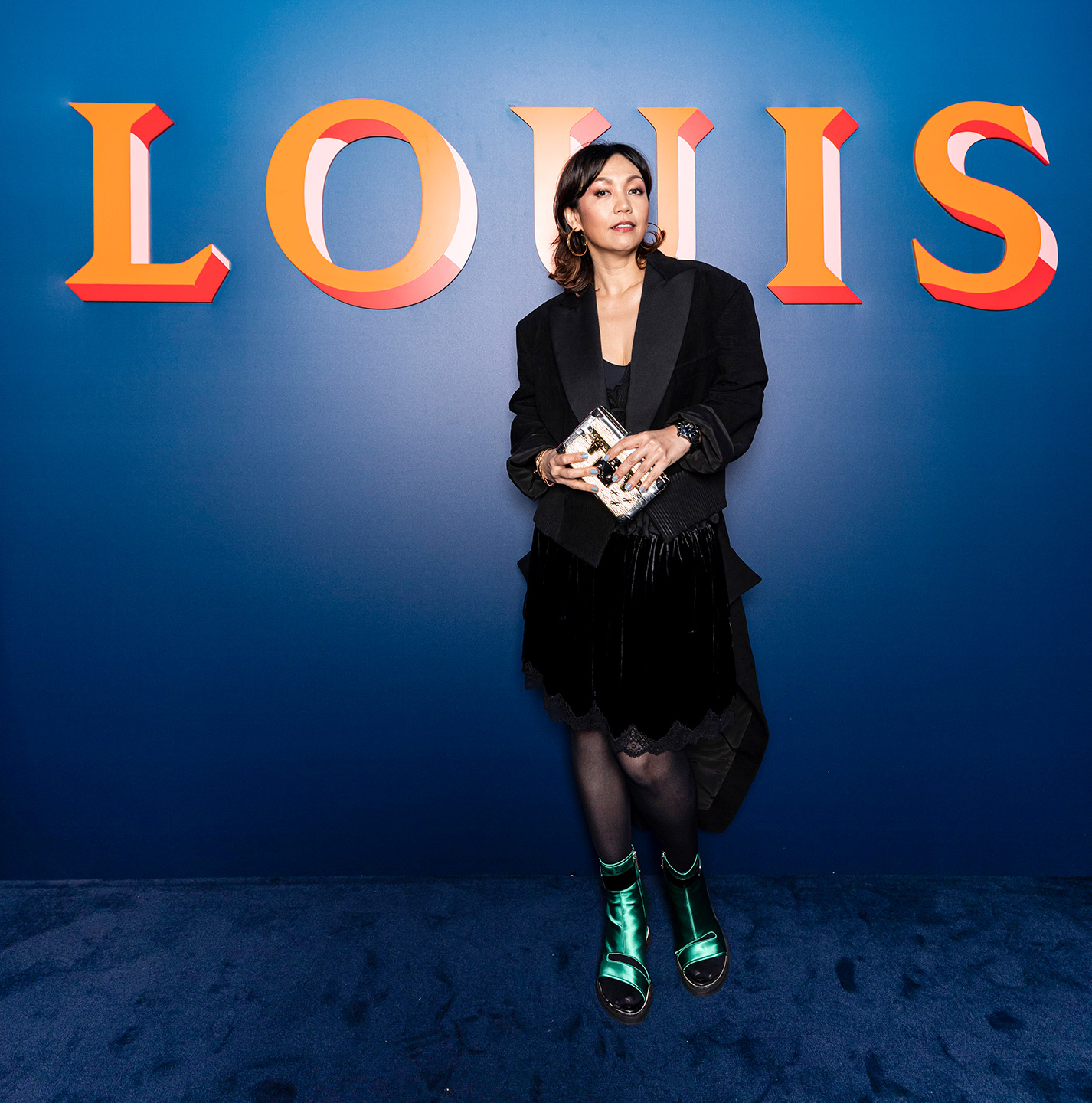 Kit Chan
Jumbo sized blooms, checked. Auspicious hues, checked. Kit's gorgeous gown by Andrew Gn took our breath away. If this isn't an entrance-making number, we don't know what is.
Huat or not?: Huat, bold and blooming beautiful!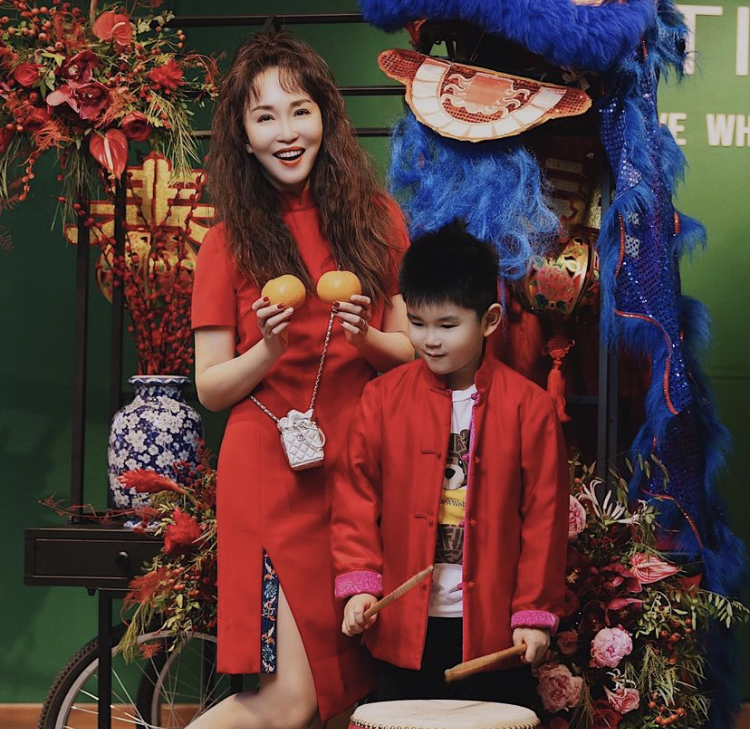 Fann Wong and Zed Lee
Opting for a fuss free and failsafe bold red cheongsam, Fann colour-coordinated her CNY look with her son Zed who looked extra adorbs in a Shanghai Tang mein lap.
Huat or not?: Double the huat!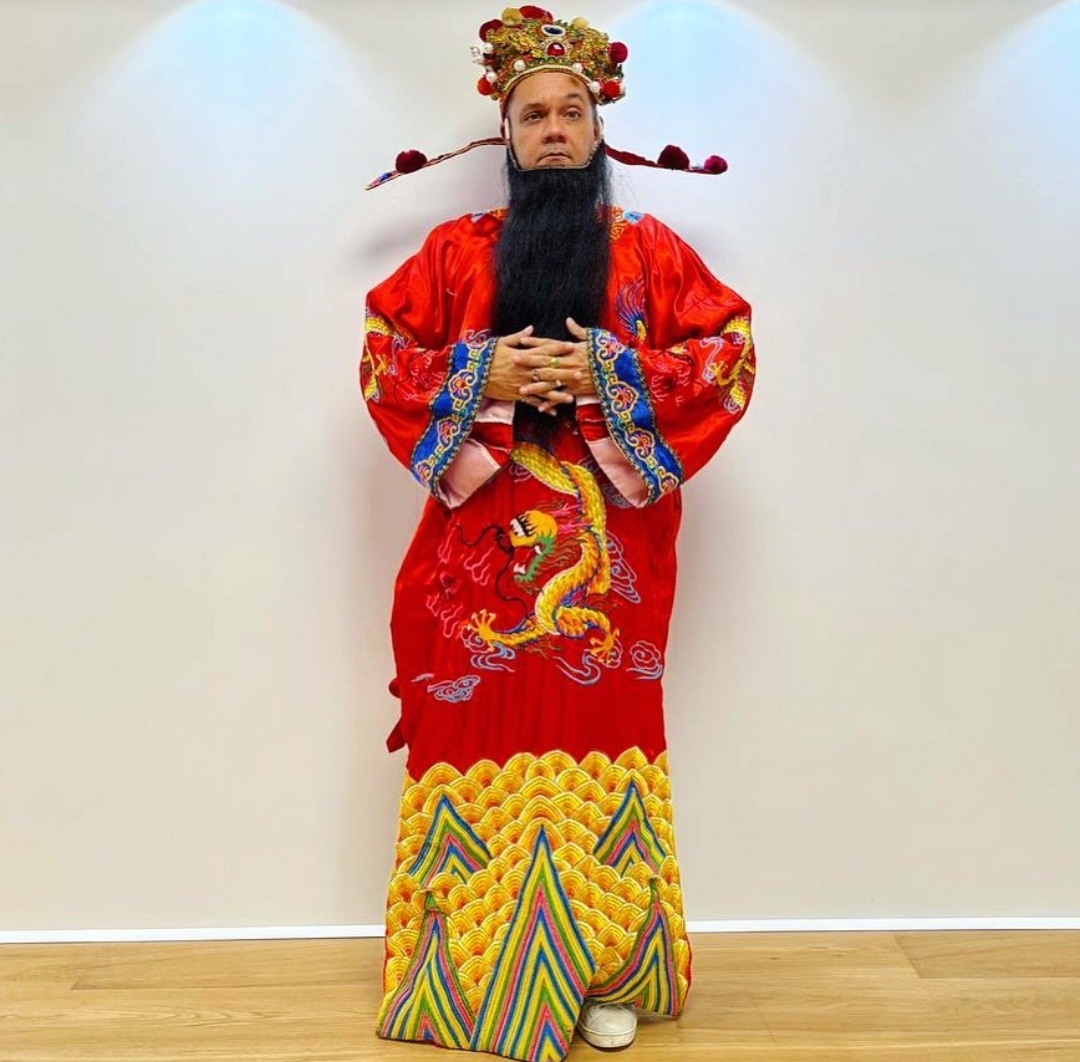 Vernon A
No prizes for guessing what Vernon dressed up as for CNY. While his God of Fortune look is pretty on point, he's missing one important accessory: ingots.
Huat or not?: Minus points, but still huat.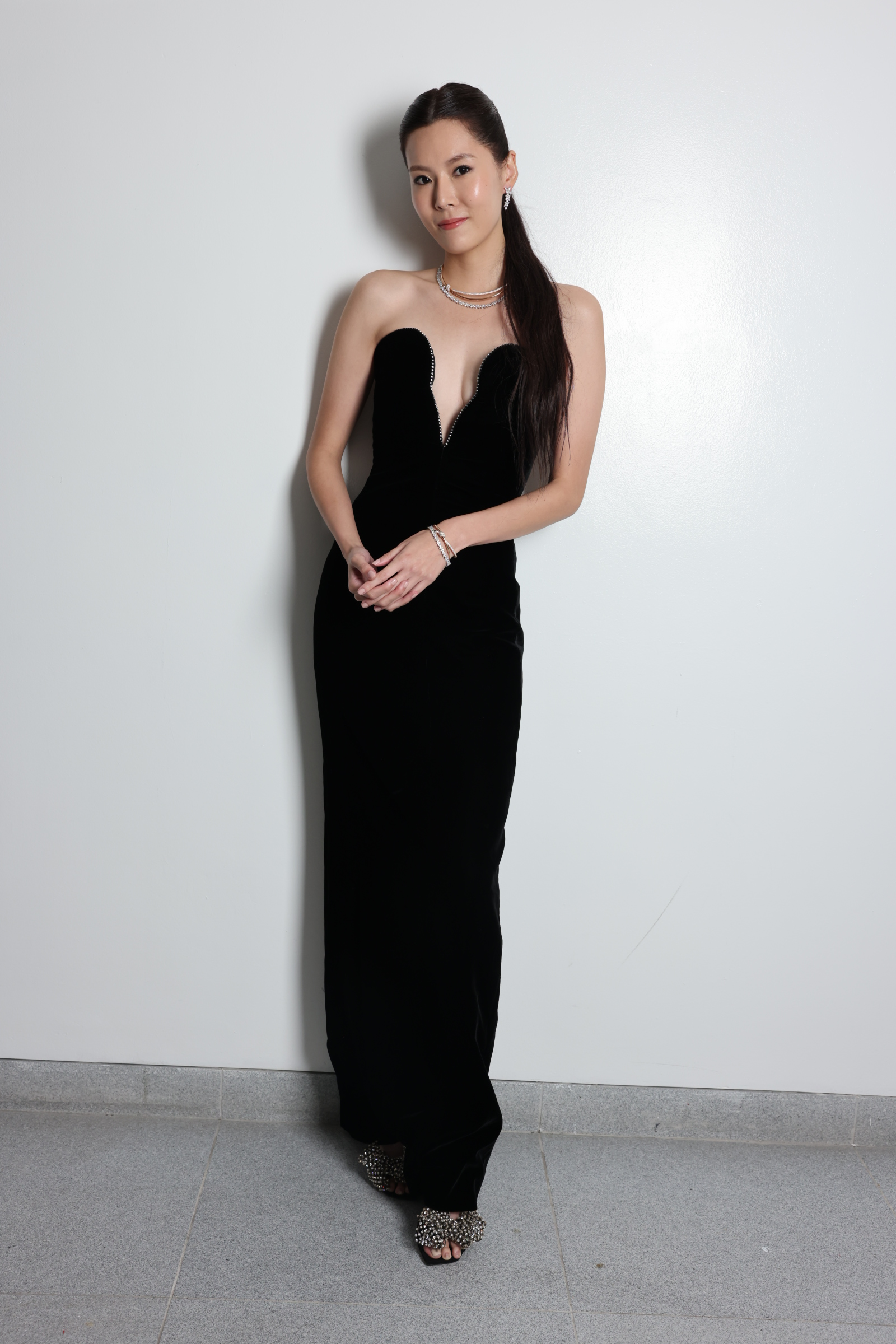 Carrie Wong
Carrie's Y2K inspired-look is very on trend and she looks stylish in it, but all we can look at is that super auntie bag.
Huat or not?: Not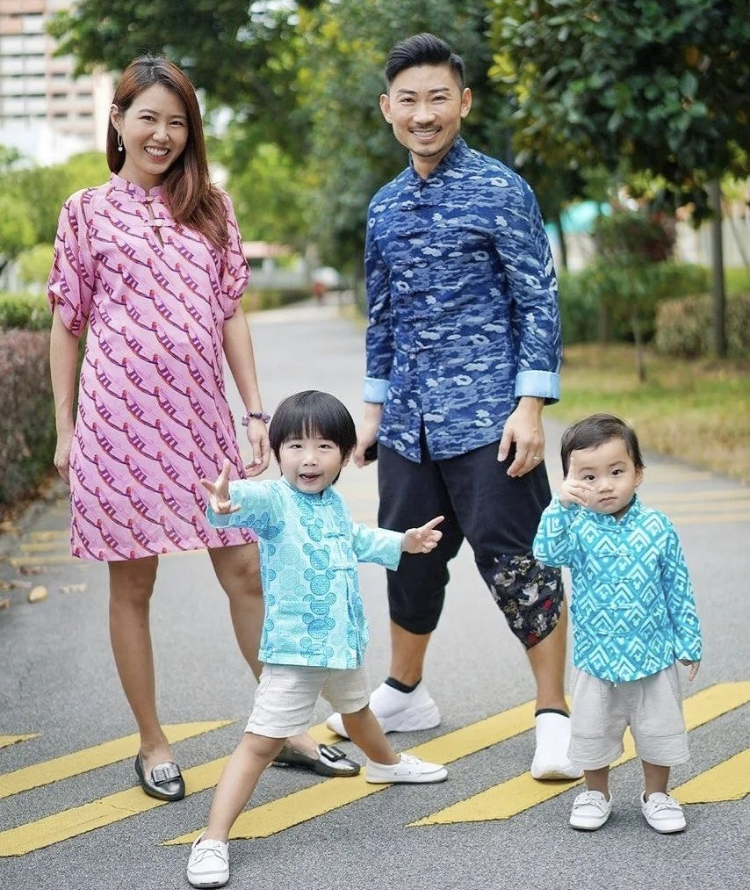 Tay Kewei, Alfred Sim, Shen Momo, and Xiao Pianpian
The Sims were decked in fun threads from Hongkong label Yi-ming and boy do they look adorable. We especially love Kewei's cheongsam which features two of Singapore's landmarks: Marina Bay Sands and the Merlion.
Huat or not?: Huat and very patriotic!
Benjamin Tan
A black tee on CNY? Even the daisy print on Benjamin's acid wash top and auspicious greetings on the wall can't huat-ify this look.
Huat or not?: Not.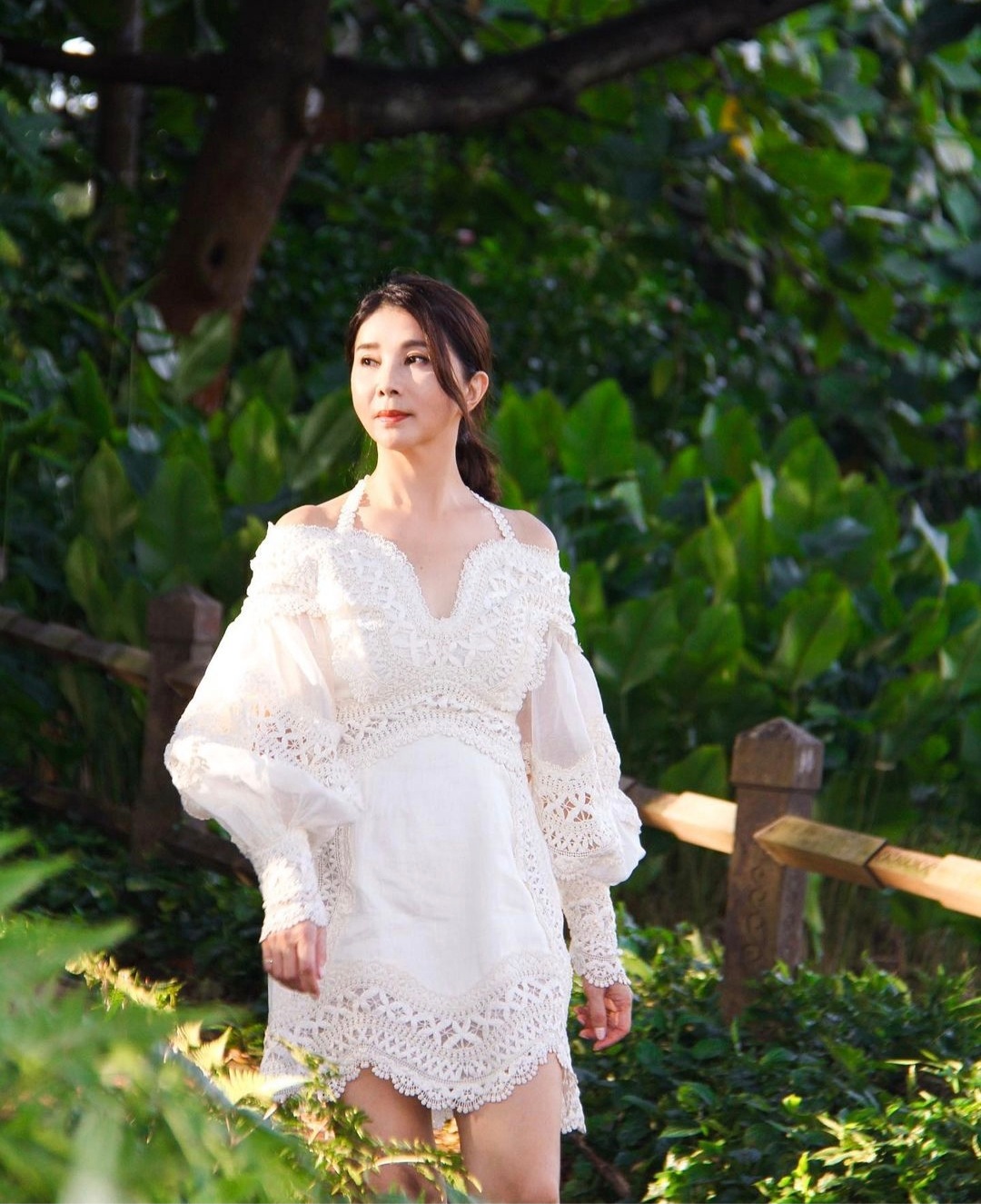 Chen Xiuhuan
Instead of wearing tiger themed pieces, Xiuhuan got creative with her CNY outfit, pairing her tweed cheongsam with a tiger shaped balloon. Cute.
Huat or not?: Huat and Insta-worthy.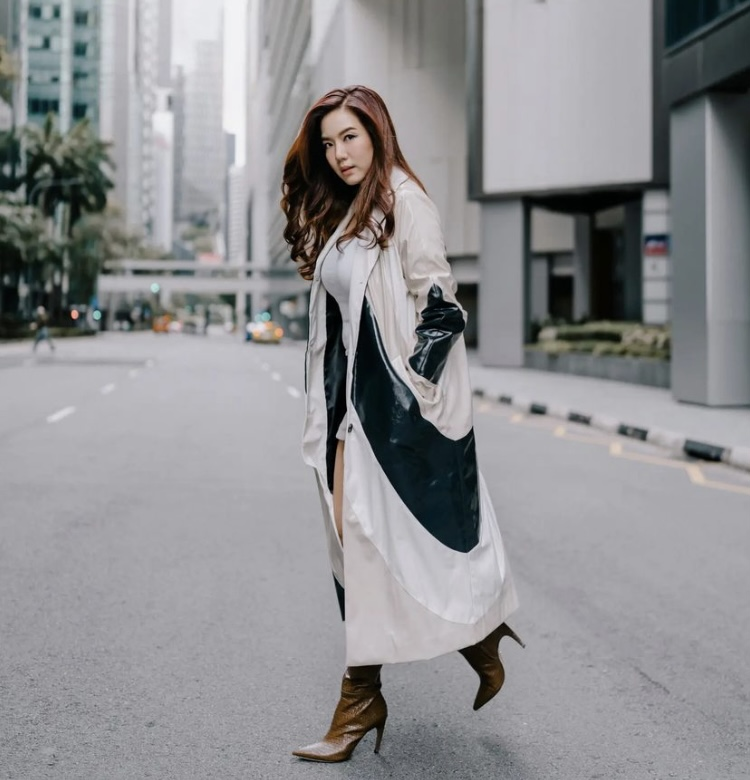 Rui En
We love everything about Rui En's frock, from the asymmetric style to the huatastic hue and corset bodice.
Huat or not?: Huat and hawt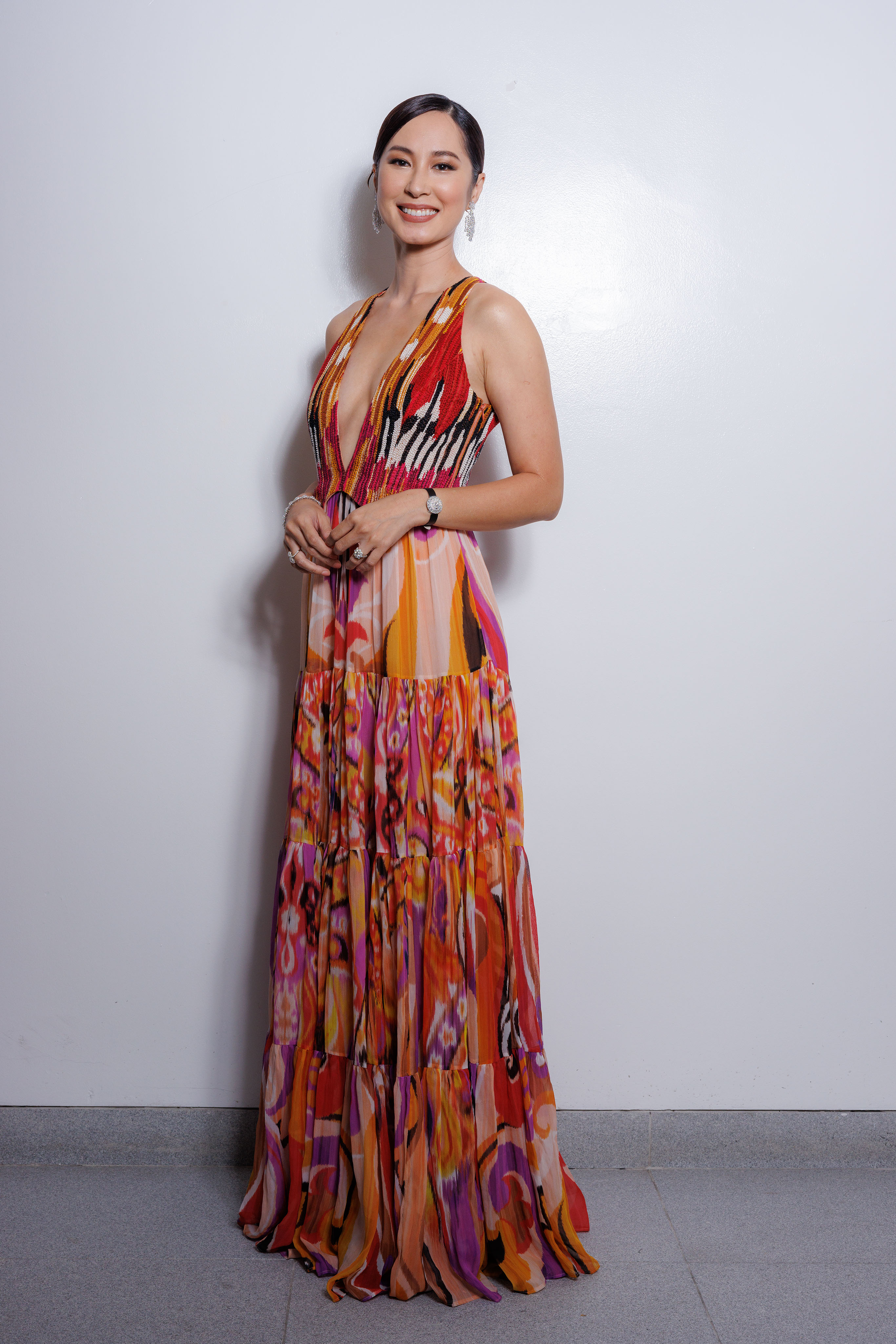 Paige Chua
Paige, who performed at Mediacorp's Lunar New Year countdown show, stood out among the stars with her romantic filly frock. We're loving the sweet, date night-worthy look.
Huat or not?: Quite huat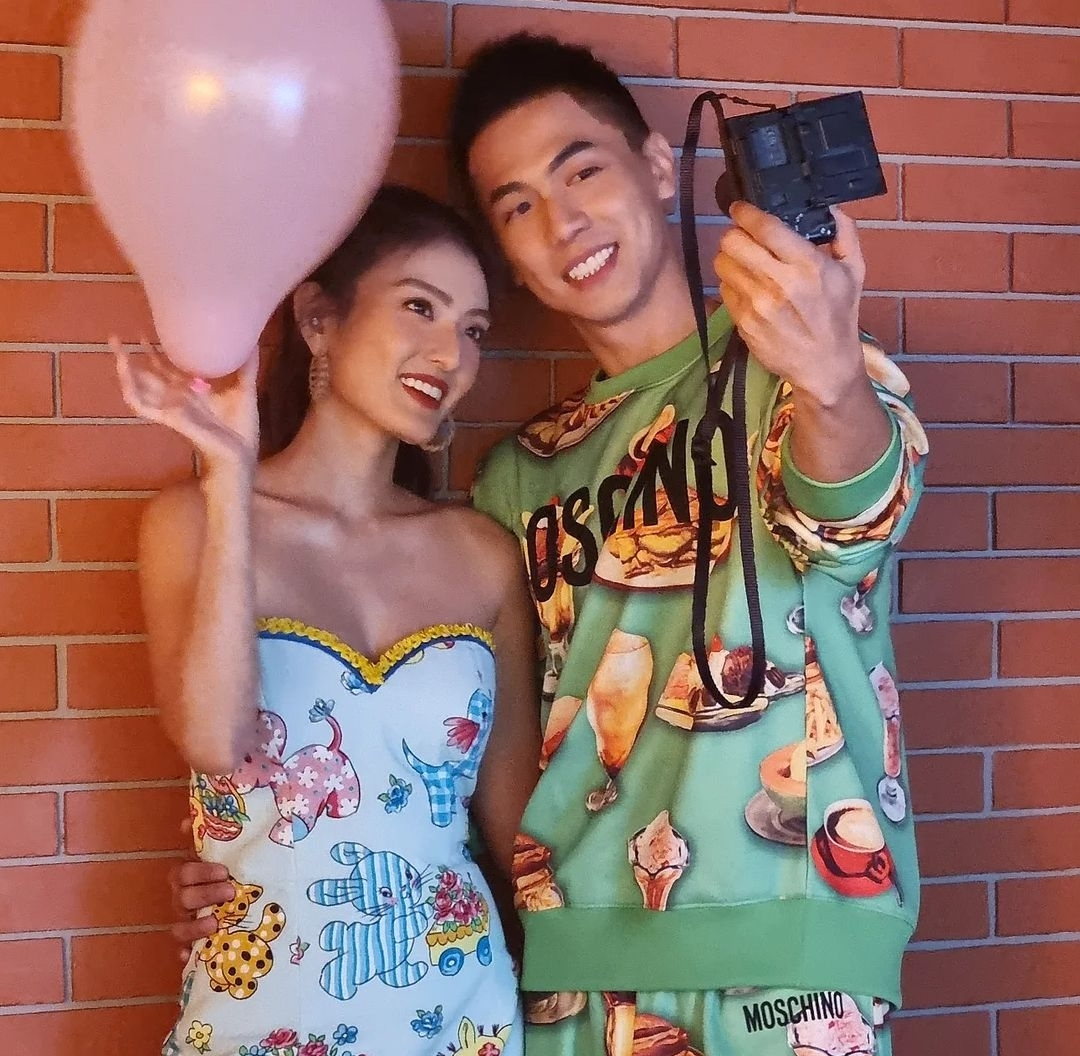 Hong Ling and Nick Teo
It's yet another qipao for cheongsam lover Hong Ling. She and boyfriend Nick even coordinated their outfits when they went visiting. Nice.
Huat or not?: Huat and very sweet.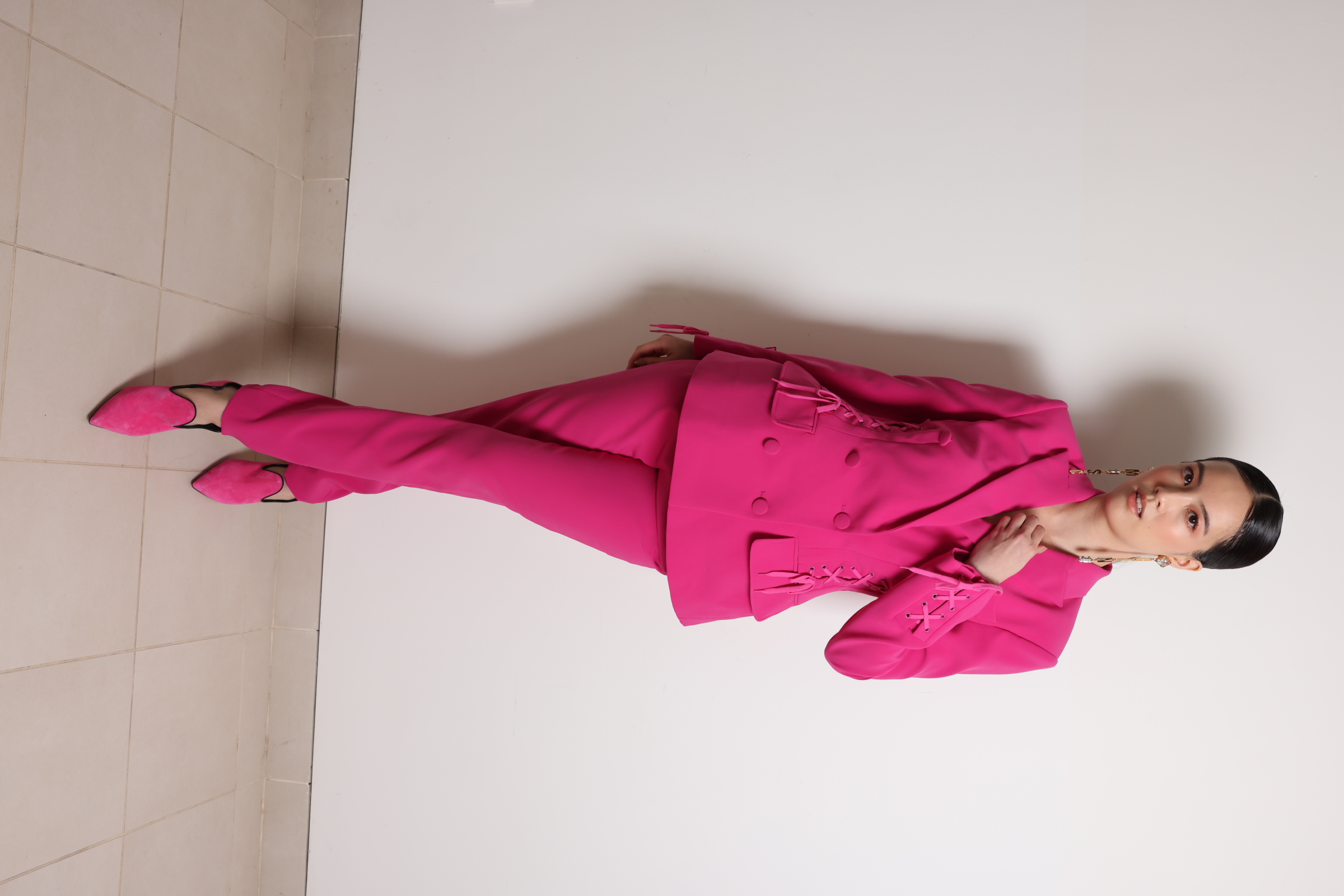 Tay Ying
We're loving how Tay Ying elevated her denim jumpsuit with a bold red beret and Hello Kitty crossbody from Kipling.
Huat or not?: Huat and kawaii.
Bonnie Loo
While her floral cheongsam-inspired two-piece is very on point, Bonnie looks a little washed out with the pale makeup. Perhaps a touch of blusher might do the trick to brighten up her look.
Huat or not?: Not.
Tong Bingyu
Bingyu nailed the Cottagecore fashion trend in this sweet confection complete with beautiful blooms and a detachable collar bib.
Huat or not?: Huat.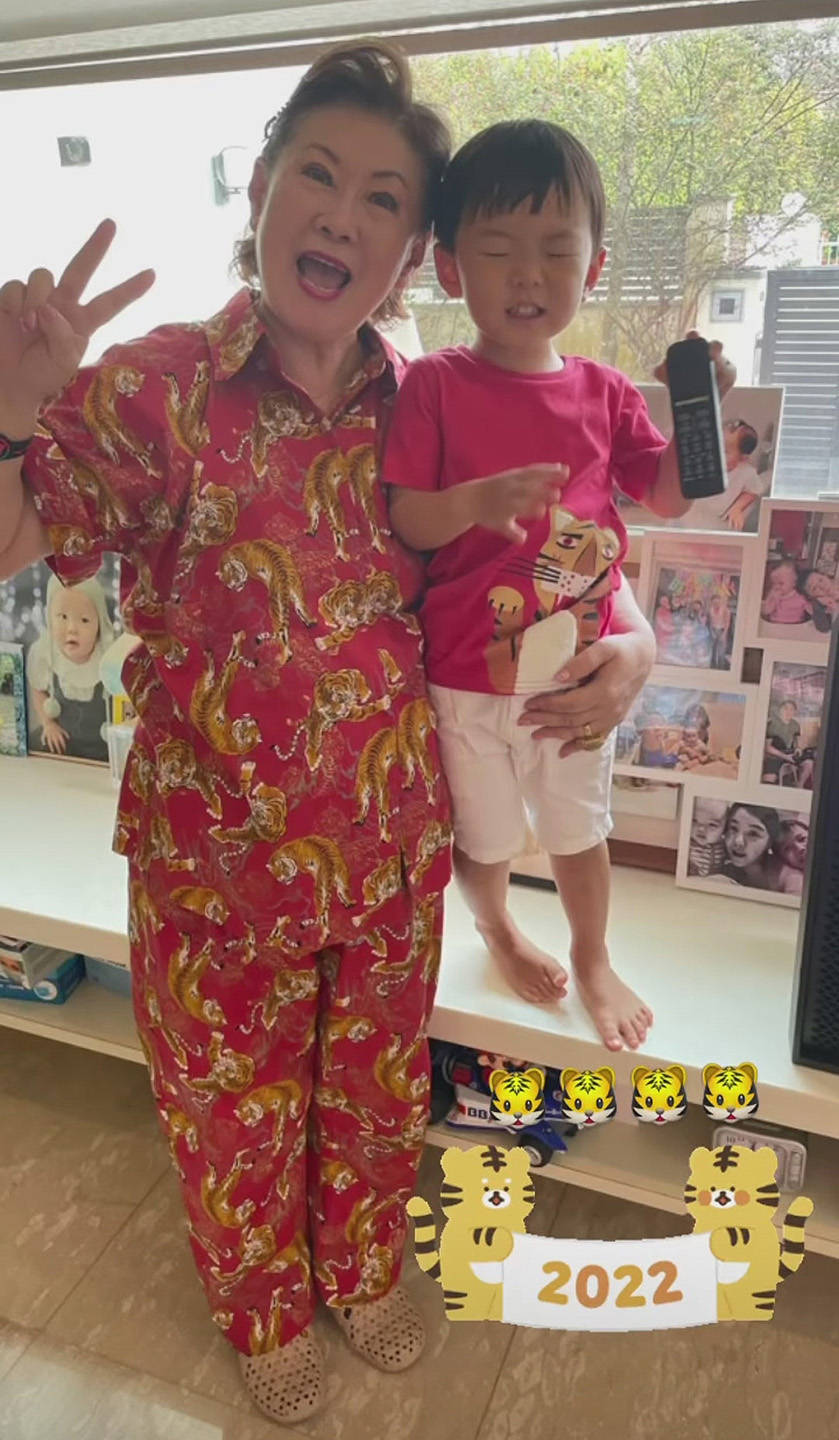 Jin Yinji
Jin jie looked radiant and tigerrific in a matching set that features overflowing tiger prints. If this attire doesn't catch your attention, nothing else will.
Huat or not?: It doesn't get more HU-at than this!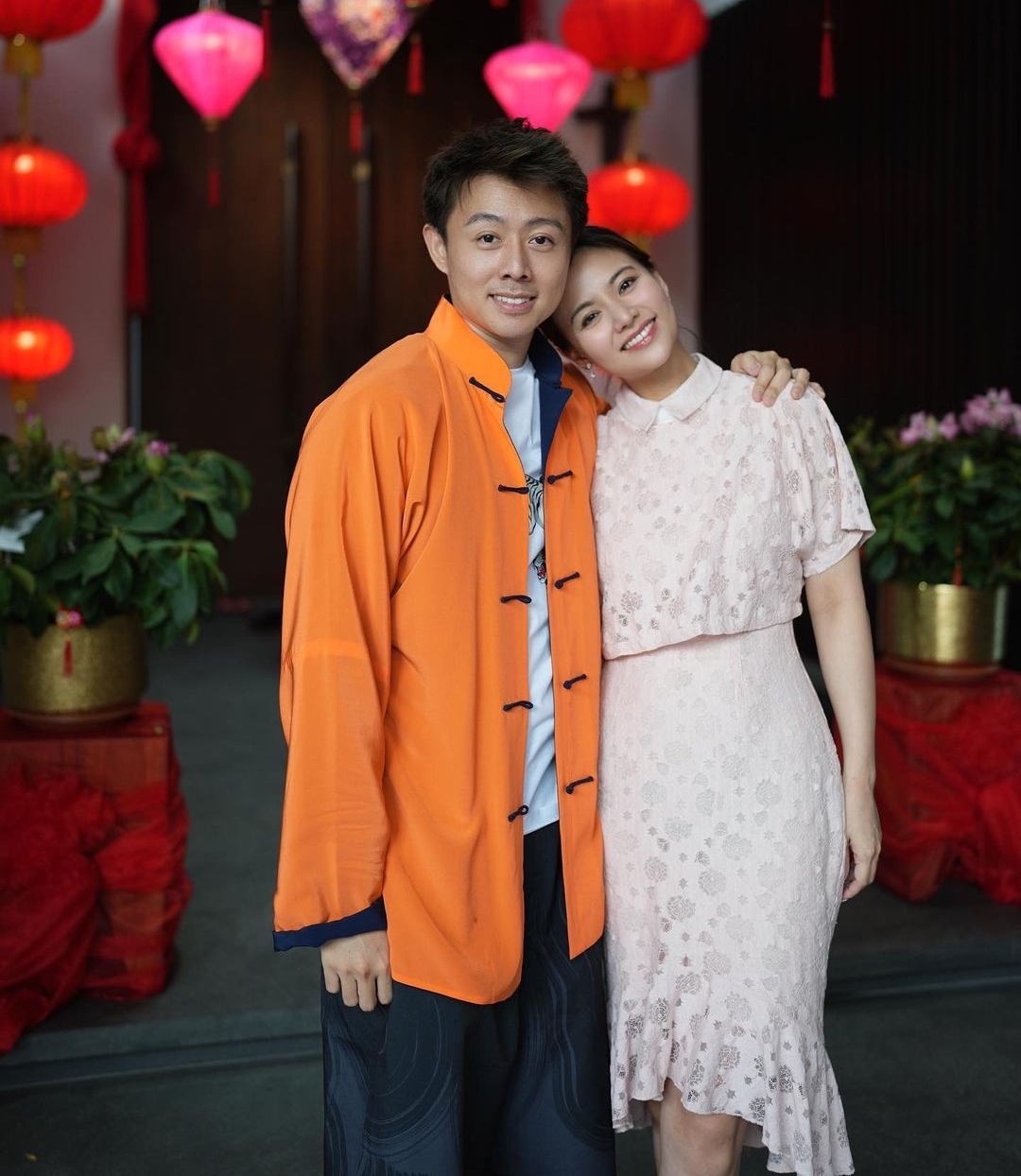 Cheryl Wee
While Cheryl's husband Roy Fong channelled oriental chic in a tang suit in mandarin orange hue, Cheryl opted for a delicate lace number that offers a modern spin on the traditional cheongsam.
Huat or not?: Huat ah!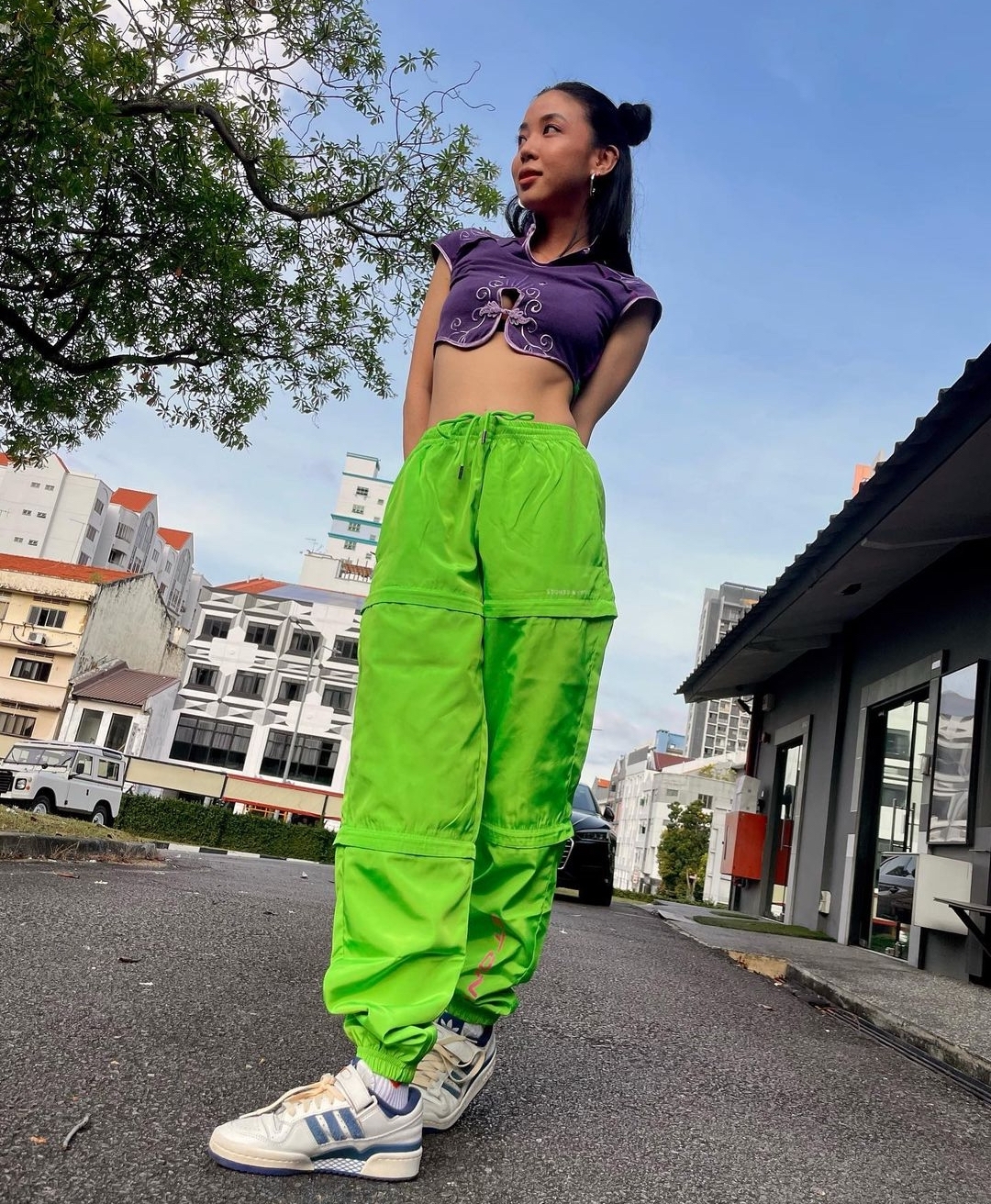 Amanda Chaang
Was Amanda attending a comic convention that we're unaware of? Cos we're getting major Chun-Li from her outfit.
Huat or not?: Not, but at least she managed to make the purple and neon green pairing look cool.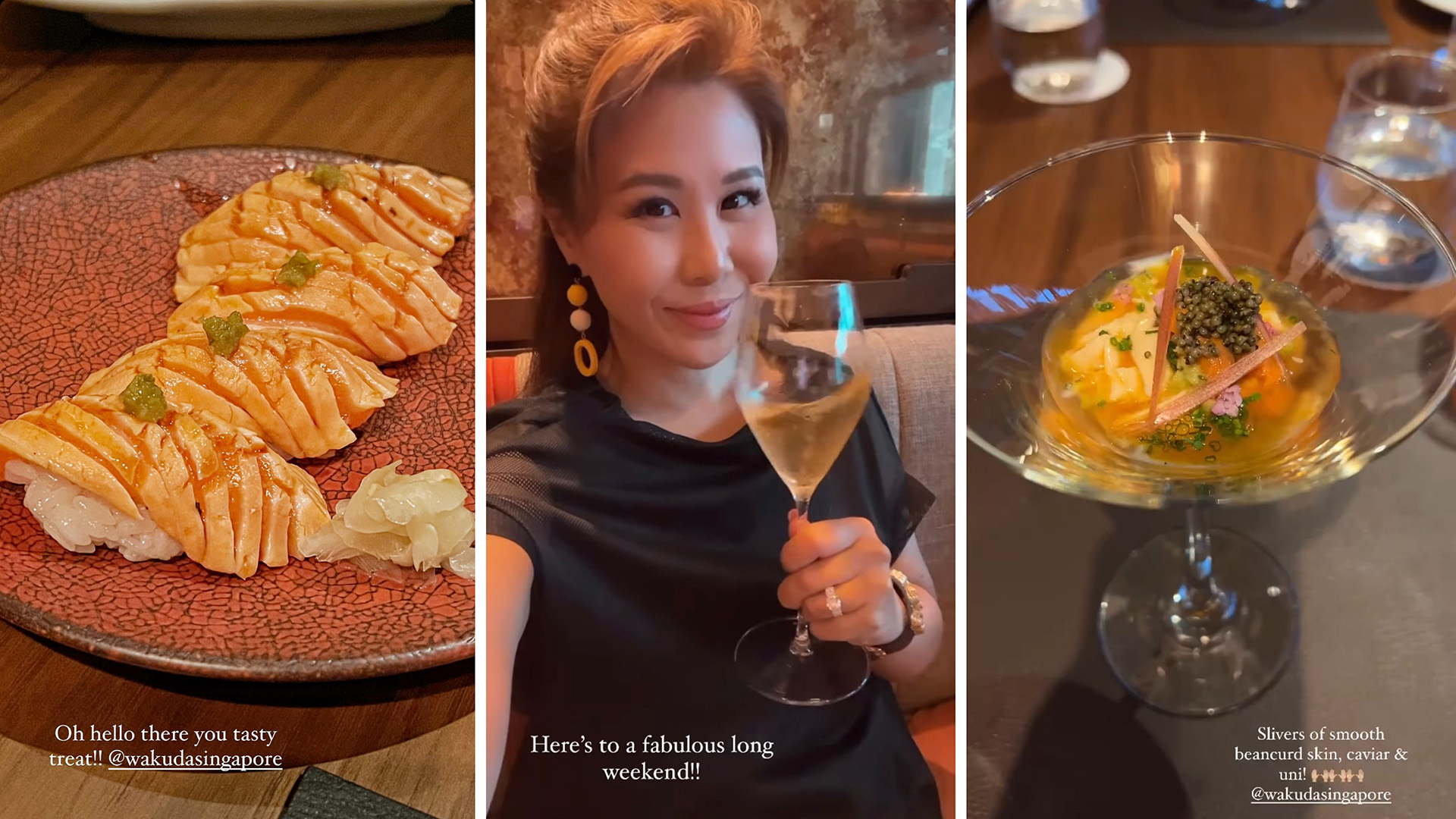 Yasminne Cheng
New Year, new clothes right? That includes PJs. Yasminne ushered in the new year in pineapple print jammies from local brand Selenightco.
Huat or not?: Definitely huat!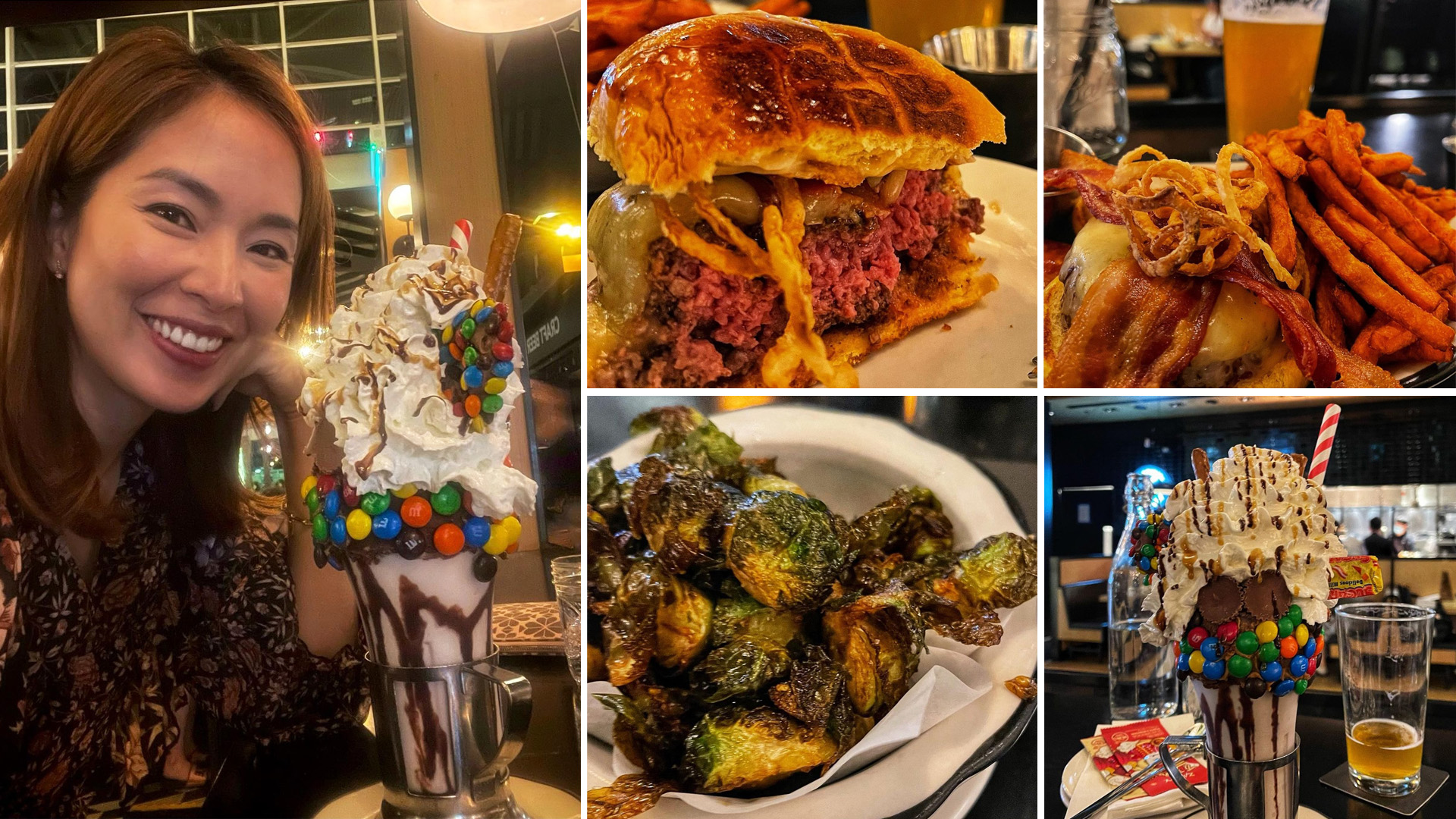 You Yi
With all the busy floral prints going on on You Yi's modern cheongsam by The Missing Piece, we're glad that she kept the rest of her look clean and minimal.
Huat or not?: Huat.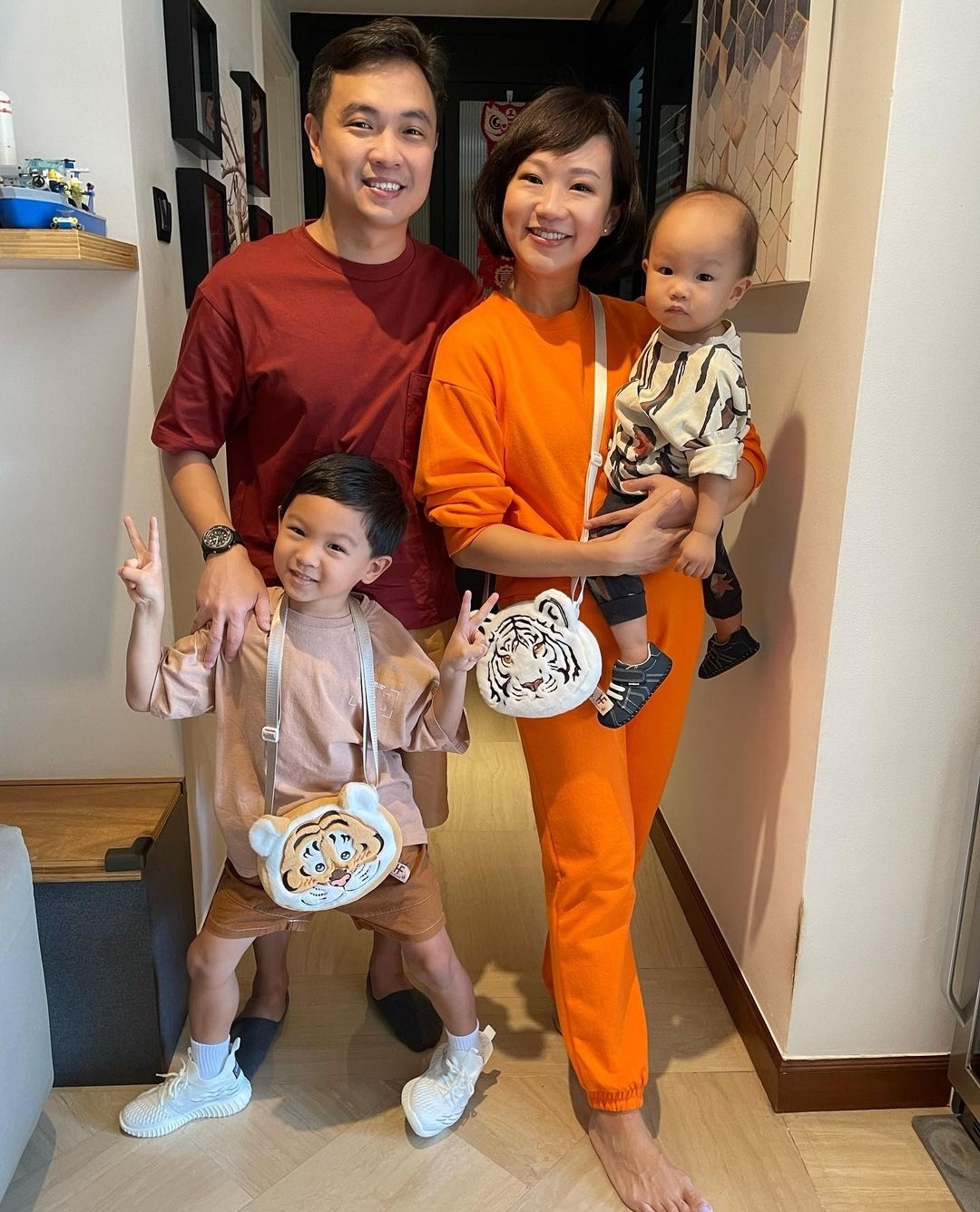 Lin Peifen
Although Peifen's son Luke joked that she looks like a carrot, we think the YES 933 DJ looks fab in her striking orange getup. Her plush tiger crossbody is the icing on the cake.
Huat or not?: Huat without going too OTT.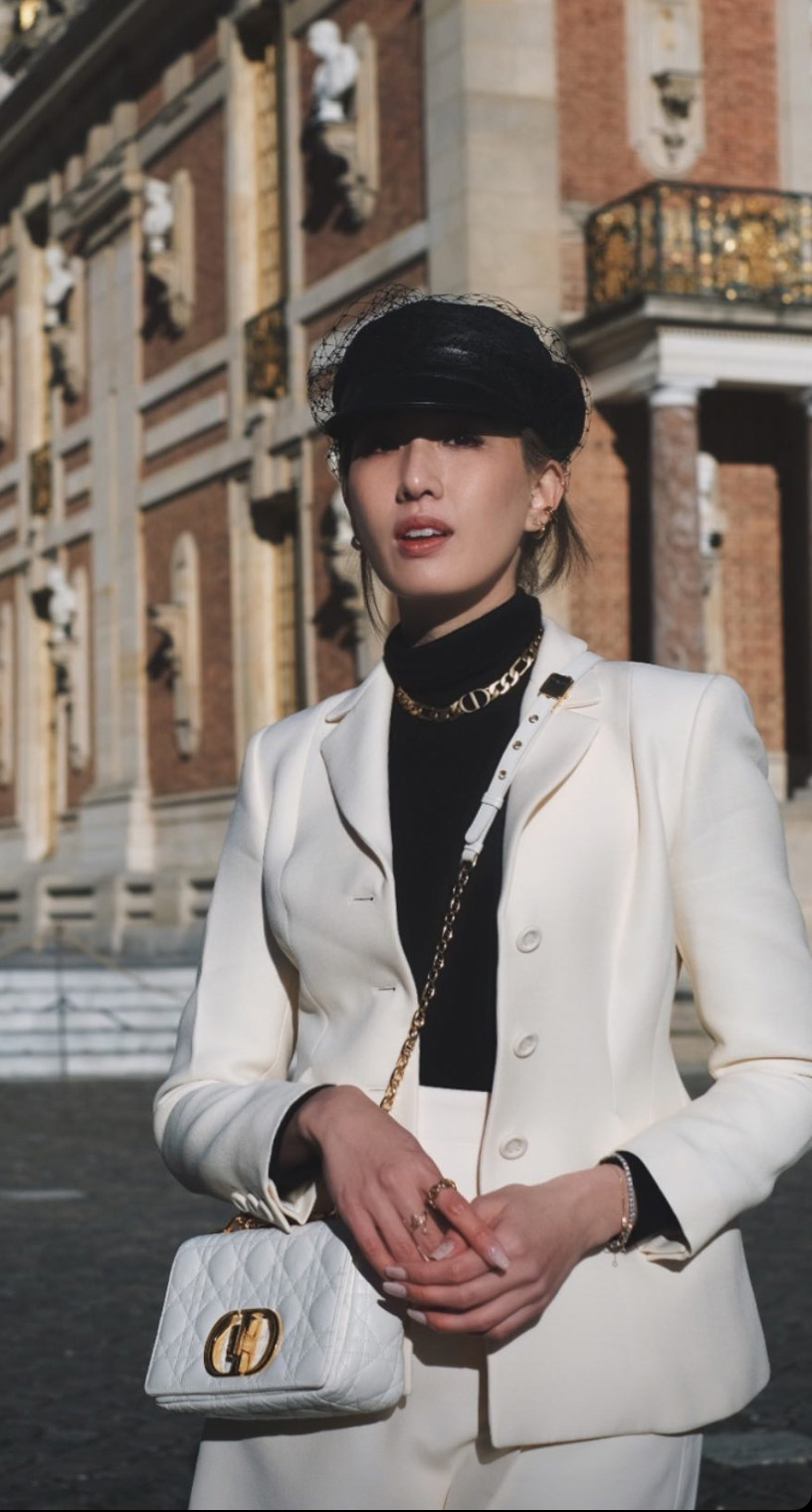 Kimberly Wang
Kimberly, who hosted the Lunar New Year countdown show, looked resplendent in this bold orange one-shoulder frock that features a trail of pretty floral embellishments.
Huat or not?: Huat. Bonus points for the creative CNY look.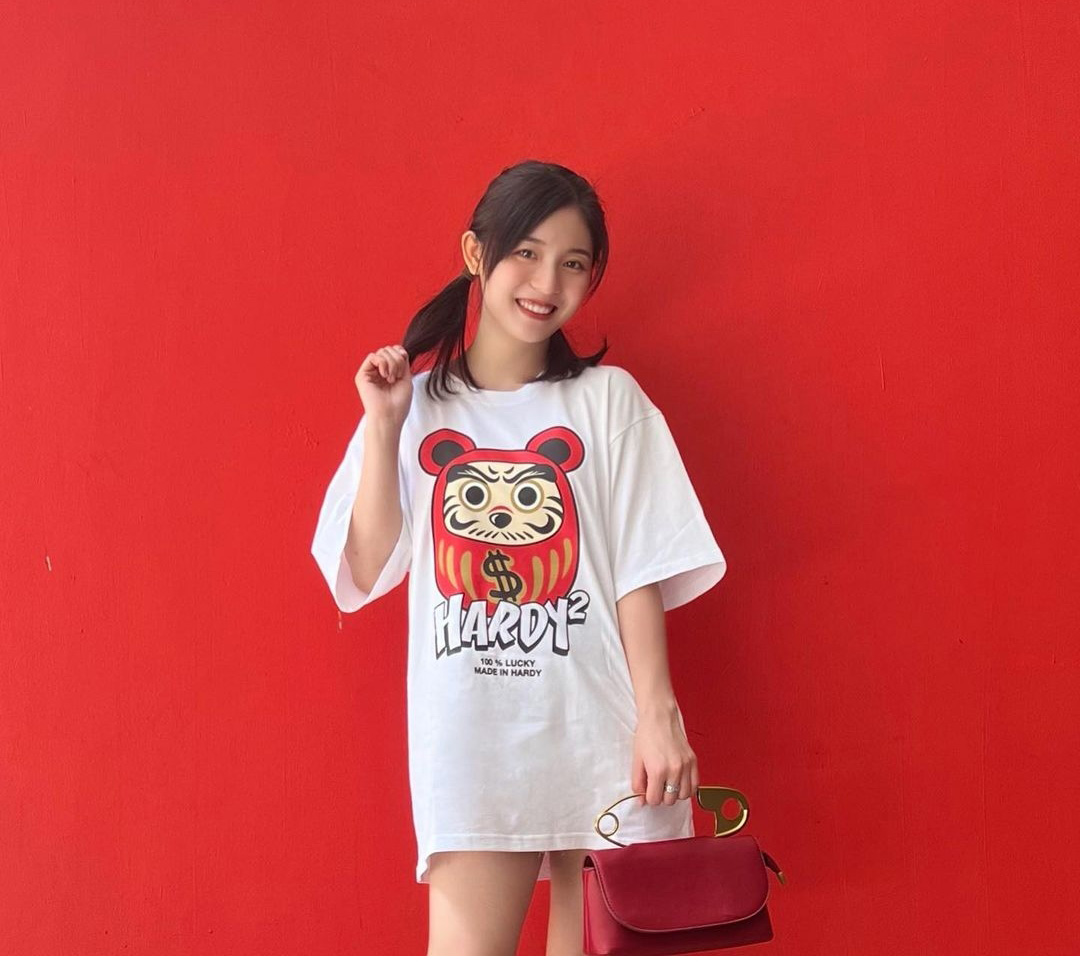 Gini Chang
Anything with a lucky charm and dollar sign is always a good look for CNY. Just wish she'd put on some pants.
Huat or not?: Huat!
Calvert Tay
We can already hear the old folks tsk tsk-ing about Calvert's dark, moody look. Also, the varying grey tones on his shirt kinda reminds us of our kitchen marble top.
Huat of not?: Not.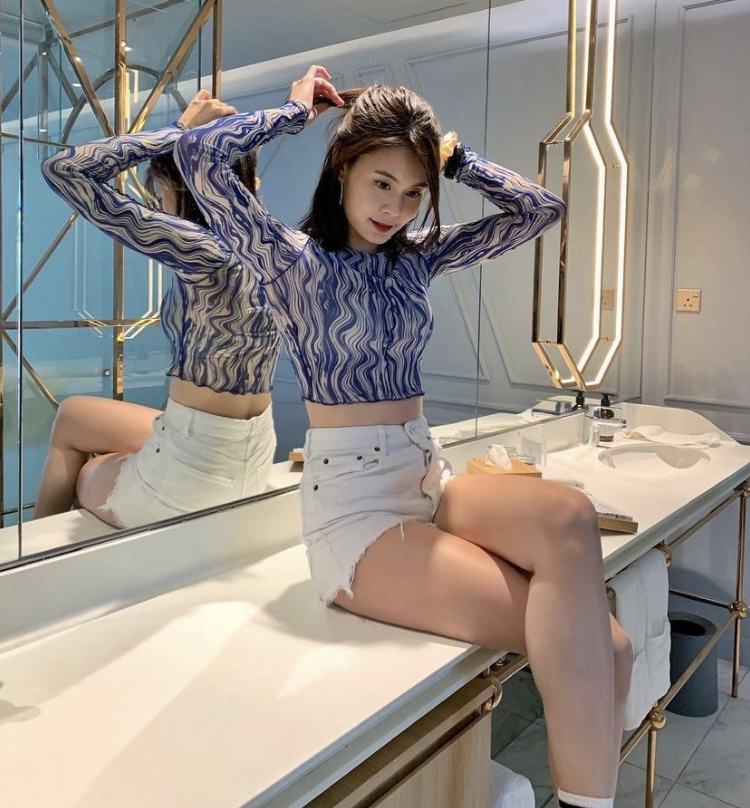 Denise Camillia Tan
Denise brought sexy back with her scarlet lace halter mini and cute mahjong tassel earrings.
Huat or not?: Huat ah!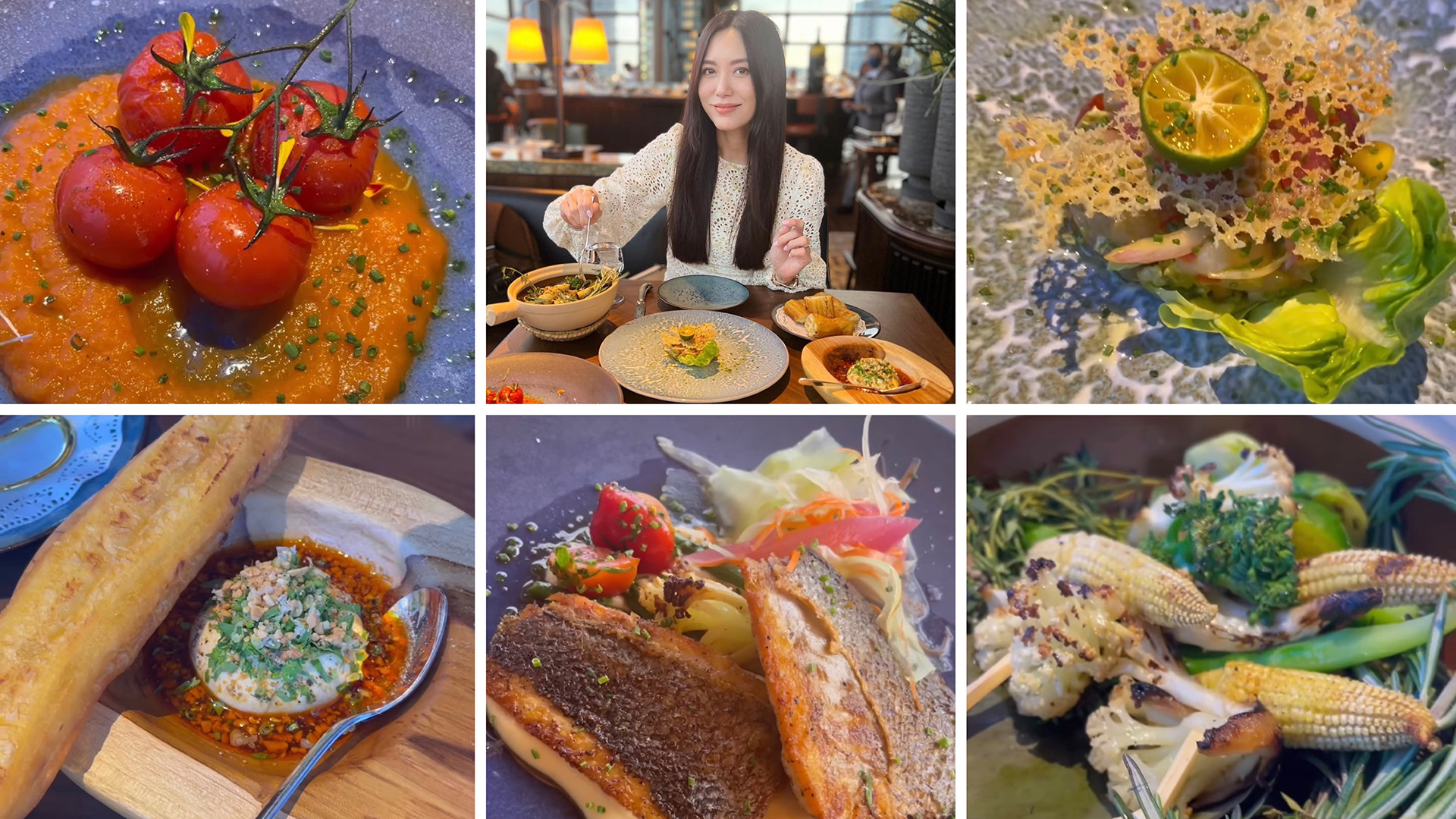 Phyllis Quek
CNY isn't over yet but Phyllis is already putting us in the mood for romance, prettying up in a fuchsia relaxed suit and looking ultra chic in it.
Huat or not?: Huat.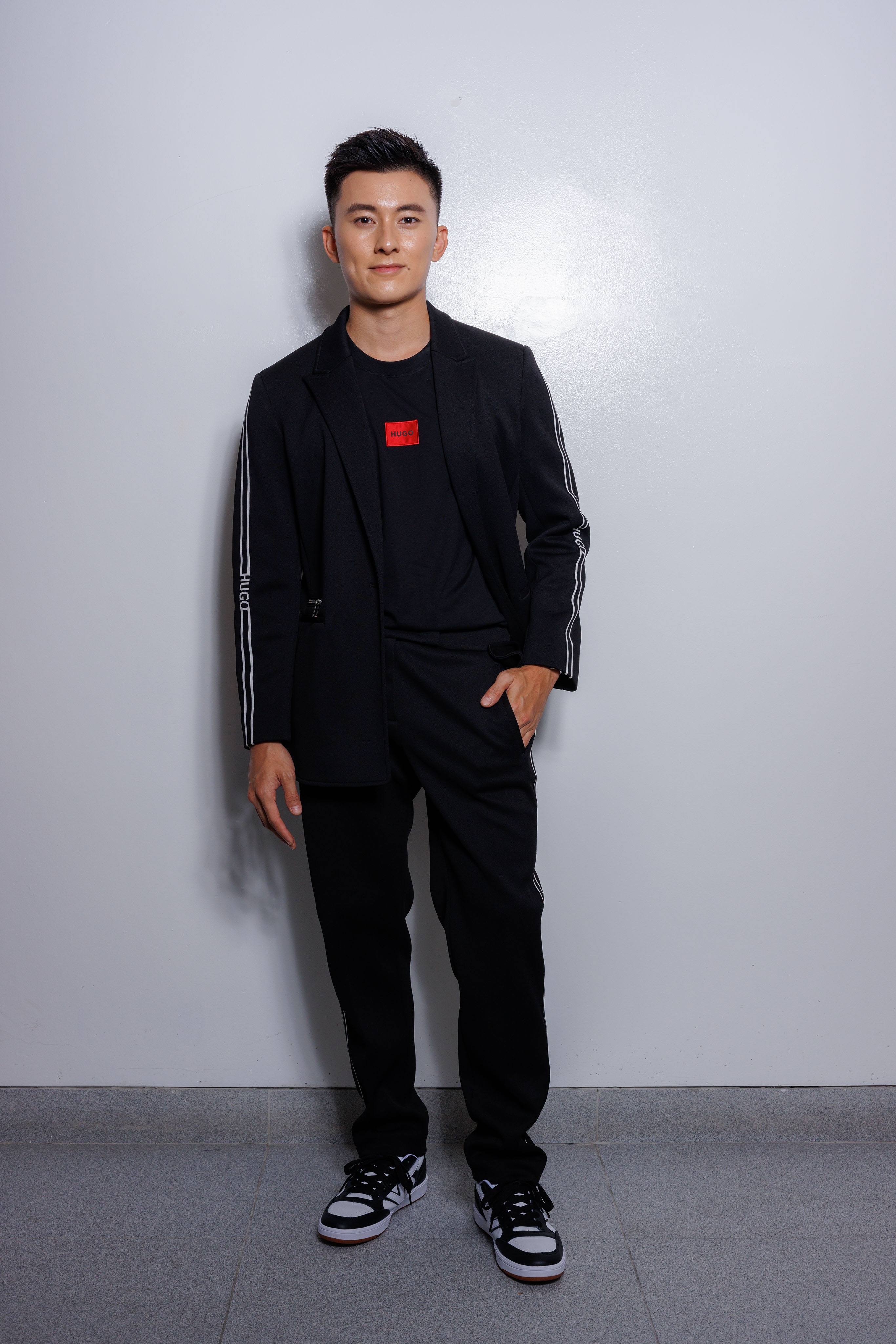 Edwin Goh
Edwin kept his look simple yet stylish in a short sleeve tang shirt and jeans when he went visiting on the second day of CNY.
Huat or not?: Huat. This traditional-meets-modern combo is easy to nail.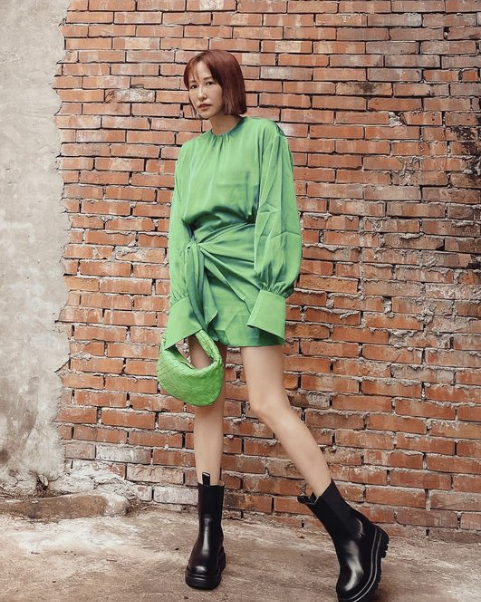 Kelly Poon
From her OOTD, we're guessing Kelly's lucky colour is green. While we love her stylish outfit, we wish she'd picked a bolder red lippy to imbue a sense of festivity to her look.
Huat or not?: Not.