"I Never Thought That Would Be Our Last Phone Call": Local Actress Tasha Low On Her Dad's Sudden Passing In 2013, And Why She Regrets Never Returning His Call
On the latest episode of Hear U Out, the 29-year-old opens up about her greatest regret while trying to make a name for herself as a K-pop idol in the early years of her career.
Before Tasha Low, 29, starred in Mediacorp dramas such as Live Your Dreams and Genie In A Cup, she was part of K-pop group Skarf.
Being a performer is in Tasha's blood. She comes from a family of ballroom dancers. Her great-grandfather, Low Poh San, is known as Singapore's Father of Ballroom Dancing and is often credited as the man who introduced ballroom dancing to Singapore.
Her late grandfather, Sunny Low, was also a famous dancer back in the '70s and '80s, and he later founded the renowned Sunny Low Dance Studio.
Tasha's parents were accomplished ballroom dancers as well.
So it comes as no surprise that in the latest episode of Mediacorp talk show Hear U Out, Tasha revealed that she started dancing when she was just "two to three years old"
However, Tasha said she passed the audition to become an idol trainee in Korea not because of her dance skills but because her then-agency saw potential in her.
Though she was happy to be one of the four girls chosen to pursue their idol dreams, Tasha's road to showbiz was not an easy one.

She went through a year of gruelling training before making her idol debut in 2012.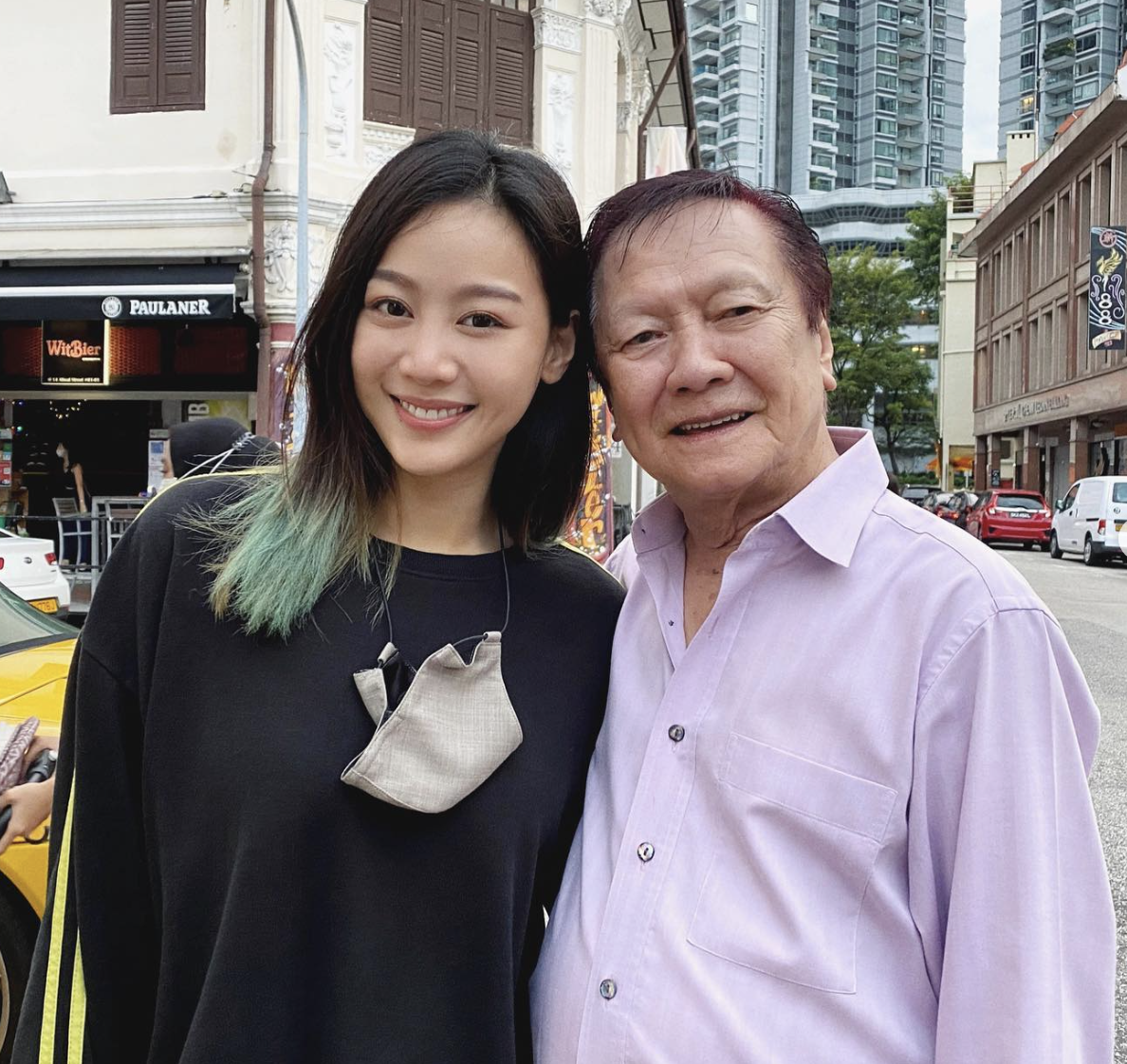 Tasha with her late grandad, Sunny Low
While she spoke about the struggles and challenges she faced while trying to make a name for herself in the infamously competitive Korean showbiz industry, host Quan Yifeng wondered if Tasha has any regrets from that period.
"My father passed away during the time I was working in Korea," revealed Tasha.
"It happened that we came back to Singapore to perform during the 2012 Countdown [show]. I still remember my dad called the hotel [I was staying at] then, but we were busy preparing for our performance so I told him that I would call him back. I never thought that would be our last phone call," continued Tasha.
After her group's performance, Tasha completely forgot about the phone call. She then returned to Korea, and her dad passed away in January of 2013.
"I remember being in a good mood that day. I don't know why, but I had made a cup of coffee and was ready to go for practice. It was then that my manager told me that my dad was in the hospital and my mum felt that it was best that I quickly returned to see him," she said.
Tasha said she was shocked by the news as her dad was "always in good health" and never had "any sickness or ailments". At that time, she didn't give it much thought and felt that it was a "good thing" that she could return to Singapore.
Tasha teared up as she talked about the time she lost with her family because of work
"When I arrived in Singapore, I was immediately brought to the hospital, [where my dad was already in the] ICU. When I entered the room, I saw many of my relatives and friends, and I found it weird because so many people were gathered there," explained Tasha, adding that she didn't get a chance to have a conversation with her dad.
"My brother then sang a song that my dad used to sing to us when we were little. After he finished singing, my dad really left us," said Tasha, who did not reveal the reason for her dad's passing.
"Your dad waited for you and your brother," said a visibly touched Yifeng.
Tasha held back her tears as she said that she was "grateful" that her dad waited for her so she could see him for the last time.
Yifeng dished out some wise advice for Tasha, and those who are currently striving for success overseas
"Is there anything you said to him?" asked Yifeng.
"Before I went to Korea, my relationship with my dad was quite good. But after going to Korea, I didn't have the time to speak to him," said Tasha.
"First, I apologised to him for not calling back to ask about how he was doing. Then of course, I was hoping that he would come to. I told him: 'Hurry and wake up, I won't stay in Korea anymore, I will come back to Singapore and we'll buy a house and live there together.' I was really hoping that he would wake up."
Tasha then revealed that she spent the next few years working hard in Korea even after her group disbanded in 2014 as she didn't want "his passing to be in vain".
"I lost a lot of time with my family because of my dreams. So I wanted to make it worth it," she said.
Yifeng, whose daughter Eleanor Lee is now in China making a name for herself as an actress, then advised Tasha: "I can tell you on behalf of all parents that you need to work hard and 'fly'. But if you find that you can't 'take flight' or you are unable to progress anymore, don't be afraid to return home."
Photos: meWATCH, Tasha Low/ Instagram
Catch the full interview with Tasha on meWATCH or watch the episode below.