"I Seldom Visited Hawker Centres," Says Manager-Turned-Hawker Who Now Runs Pizza Stall With Ex-Colleague
After her family's chemical biz shut down, Ailyn Khoo and her ex-colleague Christina Chan became pizza hawkers at Bukit Timah Food Centre. This despite Ailyn's mum insisting she "can't take the hard life and it's xim tia (heartache in Hokkien) for her to see me do this".
Nestled within the outermost row of stalls at Bukit Timah Food Centre, That's My Pizza is a one-month-old joint that serves Neapolitan-style pizzas. With lively Italian instrumental music blasting from its speakers and a large chalkboard showcasing the daily menu, the vibe here is fun and relaxed – much like the personalities of owners Christina Chan (left in pic), 40, and Ailyn Khoo (right), 46.
The first-time hawkers met in 2017 when they worked in a medium-sized chemical distribution company owned by Ailyn's family – Ailyn was a HR manager while Christina worked as an executive assistant – and quickly bonded over a shared love of food and music. Despite having no F&B experience, Christina, in particular, always toyed with the idea of having her own food biz one day. "Instead of just consuming, I also wanted to be able to create something. I love cooking for my family and friends but it was limited to an inner circle. When we start a business, we can reach out to people we don't know."
No part of this story or photos can be reproduced without permission from 8days.sg.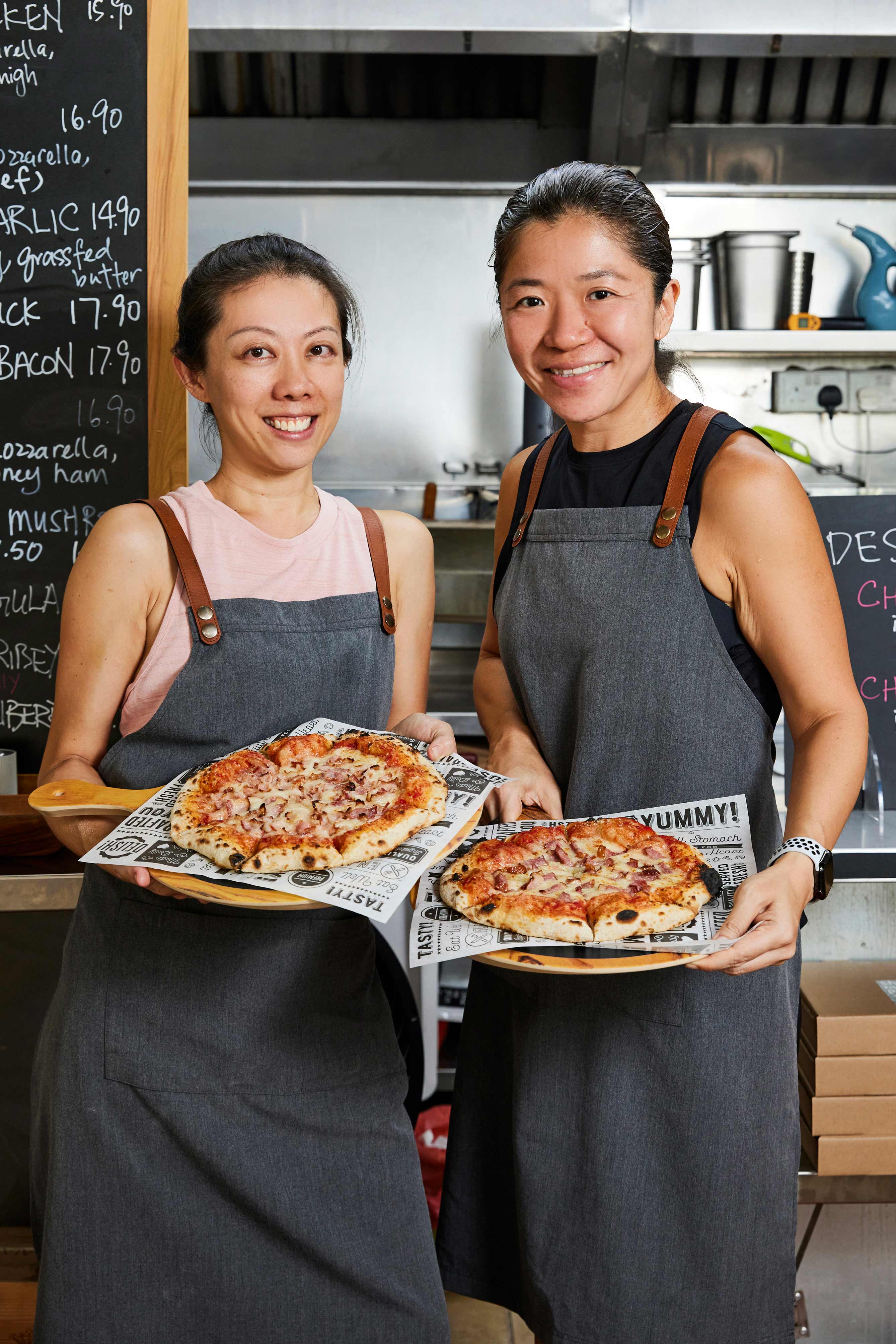 Became hawkers on a whim 
In July this year, Christina noticed a stall available for lease at Bukit Timah Food Centre and quickly decided to take the plunge. "I like this location a lot - I eat here often as it's near my house. I used to joke about opening a stall here so when I saw an empty unit, I thought maybe it was a sign."
Meanwhile, Ailyn was enjoying a permanent break from work after her family's chemical company ceased operations at the start of the pandemic (for strategic reasons, she says) when Christina roped her in to start the hawker stall. Prior to opening That's My Pizza, Ailyn says she "seldom visited hawker centres" as she prefers air-conditioned establishments. She estimates going to hawker centres about five times a year in the past. "Restaurants and cafes are my go-tos," she shares candidly. Cicheti, a popular Italian restaurant in Bugis, is one of the places she frequents for pizza.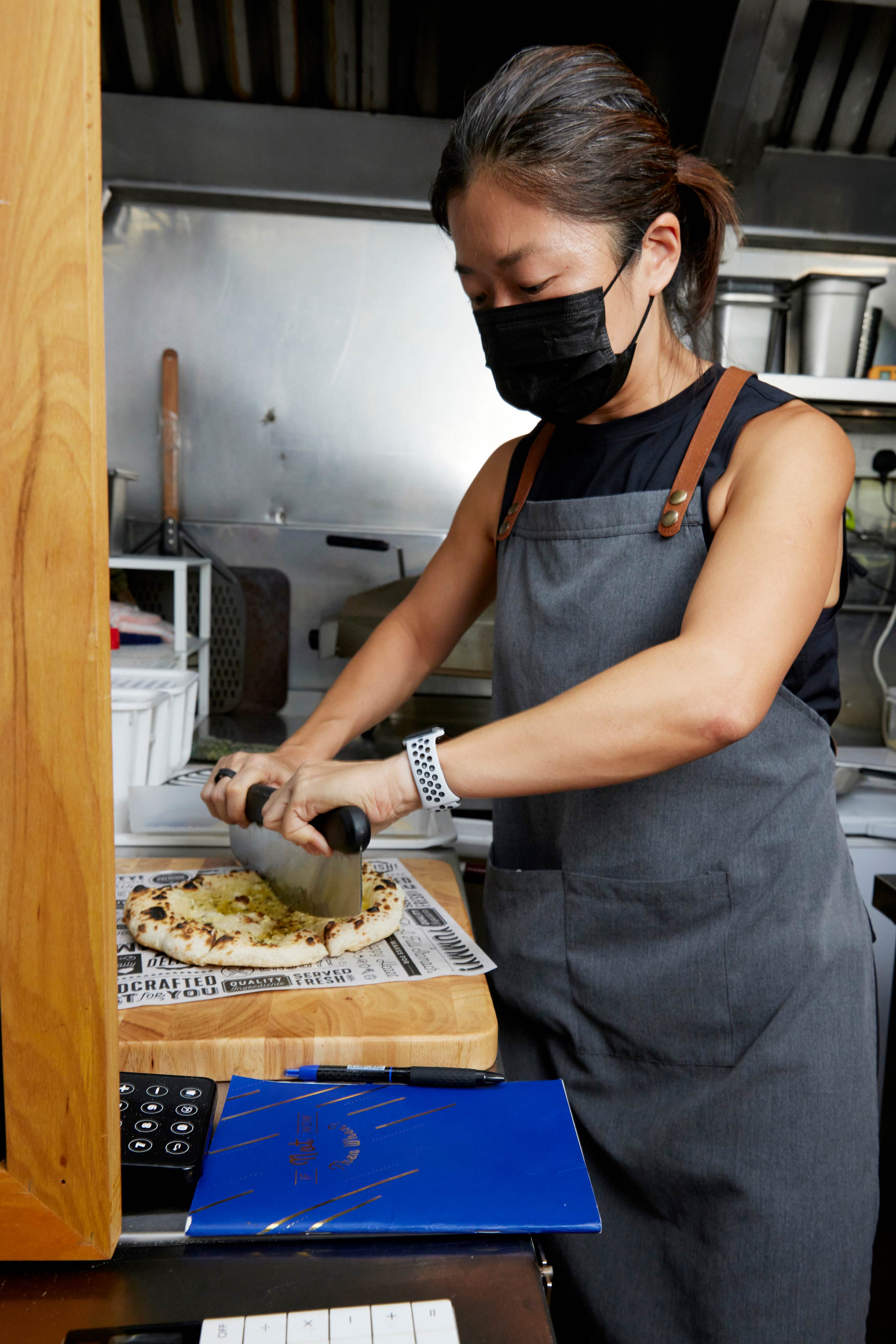 Why Ailyn became hawker despite preferring "

air-conditioned" establishments
So why become a hawker and work in a stuffy setting — especially when she doesn't need to do so for a living? Well, Ailyn did it mostly for the sake of friendship — she agreed to open the stall with Christina as she believes strongly in the latter's culinary skills. "We used to go out to eat a lot, and she'd [later] try cooking those dishes at home. Even her presentation skills are beautiful." 
Ailyn adds that although she wouldn't have chosen to become a hawker if not for her desire to support her pal in her food biz dreams, she's now enjoying the experience too. Ailyn handles customer orders and finances for the stall, while Christina focuses on pizza-making.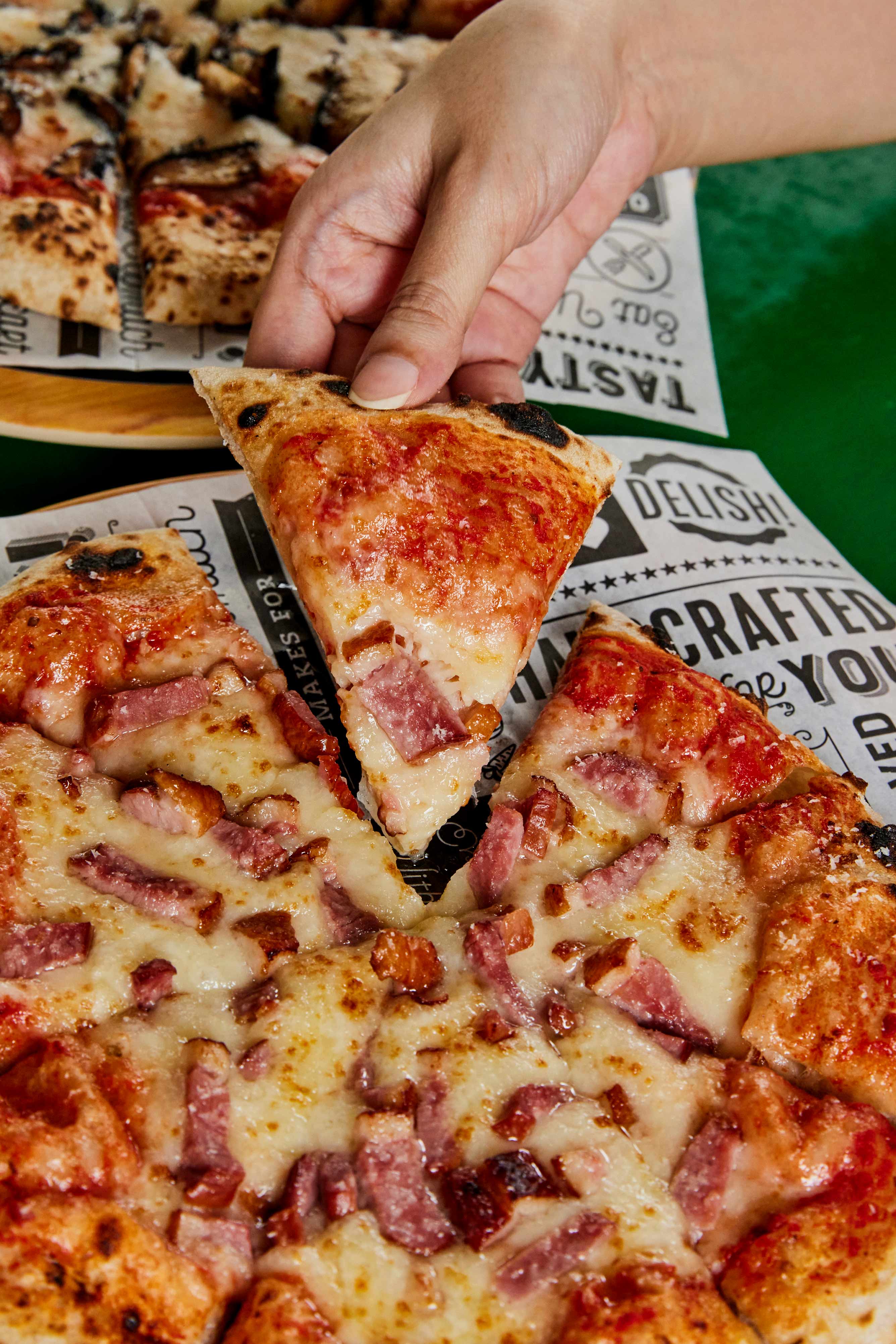 "Mum told me not to [become a hawker]"
Shares Ailyn: "My mum told me not to go ahead [with opening the stall]. She said I can't take the hard life and it's xim tia (heartache in Hokkien) for her to see me do this". The mother of two adds: "My elder daughter didn't believe I'd work in a hawker centre – she only did so after I bought the oven!"
Becoming a hawker has been a "huge lifestyle change" for Ailyn. "I went from having all the free time in the world to really appreciating my days off. I also never had to clean anything [as she has always had helpers at home] and now I have to do it after closing the stall each day," she says. Despite the hard work, Ailyn shares that it's been rewarding to receive positive feedback and have the opportunity to connect with their customers.
The pals also appear to enjoy their work, often engaging in good-natured banter at the stall. "She's the kind who will go all out, even if I tell her no, she'll just do it," shares Ailyn. "It's too hot for her, that's why I bought this," adds Christina, pointing to an industrial fan at the corner of their stall.
Opened pizza stall so Christina's kids can eat for "free"
The pair decided to sell pizzas as it's a favourite among Christina's three kids. "My [14-year-old] son loves it. So I told him I'll open a pizza stall and he can eat it for free every day," she quips. Christina settled on a Neapolitan pizza recipe as she "likes the look and taste" of the Naples-style pie, which is known to be very light and tender, with a puffy crust. She finalised the recipe in a month after consulting several online sources.
For her dough, Christina uses fine-grained doppio zero flour from Italy, which is lower in gluten and provides a pleasant chewiness to the bread. The dough also undergoes at least 48 hours of fermentation to yield a light, delicate texture. The hand-stretched 10-inch pies are baked in an $800 tabletop gas-powered stone oven that heats to over 400 degrees Celsius.
Authentic Neapolitan pizza comes in minimalist variations like margherita (tomato, fresh basil and mozzarella) or garlicky marinara. That's My Pizza is definitely not as traditionalist in this aspect – the stall offers about a dozen options ranging from portobello mushroom to curry chicken, though it tries to keep things simple by showcasing only about three ingredients per pie.
Overwhelmed by long queues
Their biggest challenge so far has been dealing with long queues. "The last two Sundays were crazy. We couldn't handle the demand and some customers had to wait for an hour for their food. Unfortunately, we lost some customers as they were turned off by the waiting time," shares Ailyn.
Christina explains that the wait was due to the fact that the stall is only equipped with one oven, which bakes one pie at a time. "Even though it only takes about two minutes [to cook] each pizza, it takes time for the pizza stone to heat up again in between. We named our oven Charlotte because we kept talking to it, saying, 'can you get hotter?'," says the good-humoured hawker.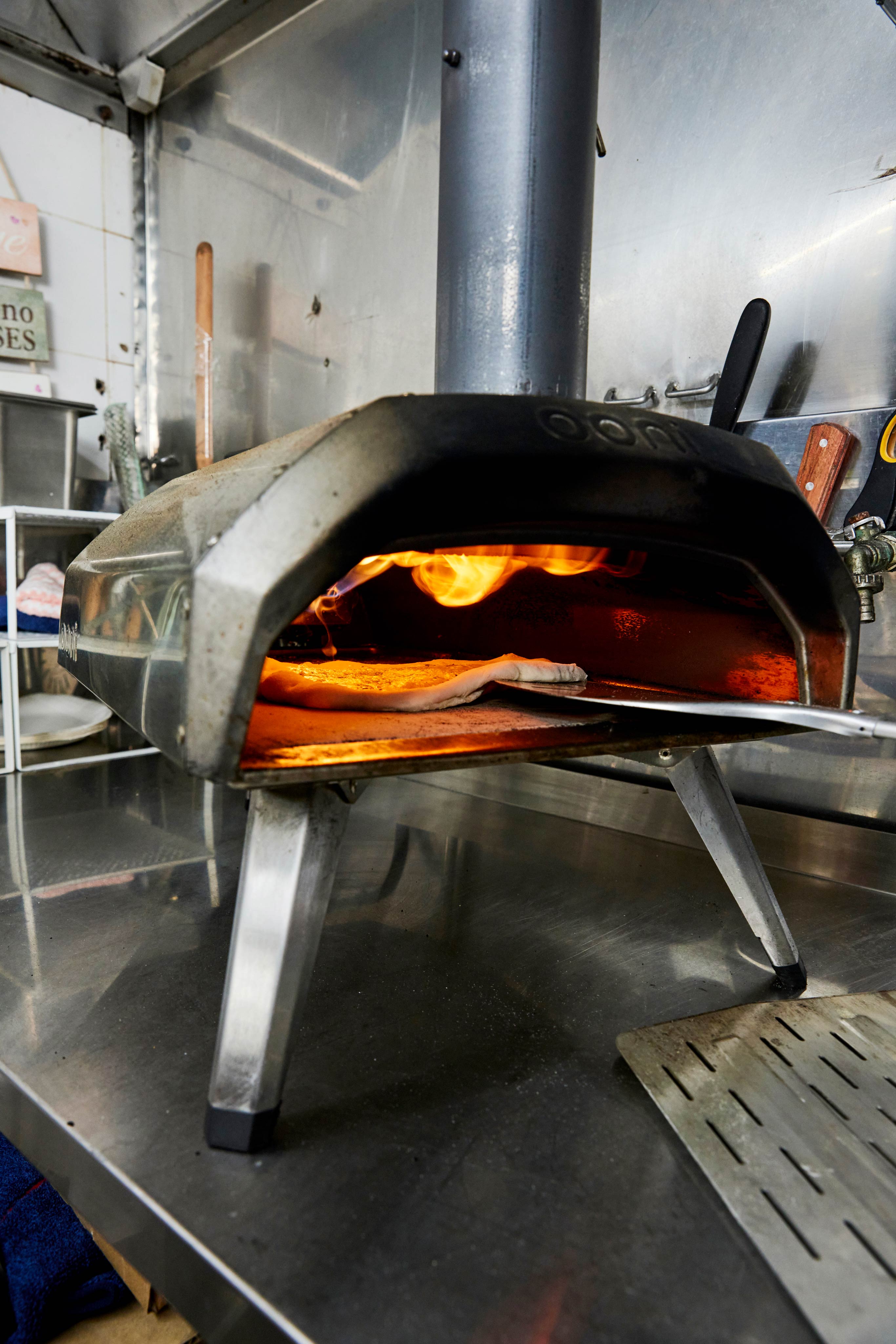 Second oven "Betty" arriving soon
To better cope with demand, the hawkers have ordered a second oven (tentatively named Betty), due to arrive later this week. They've also introduced a pre-order system via their website so customers can cut down on waiting time.
Now "very motivated to carry on" in hawker setting
Ailyn shares that biz has been "pretty good" over the past month. "We know there's an affluent crowd here that can afford our prices [which are higher than average for a hawker centre]. People were willing to give our food a try and some have even become repeat customers. We're very motivated to carry on," she says. Christina makes a maximum of 45 pizzas per day (they're open only for dinner five days a week) and so far, the stall has no problem selling out all their pies daily. "We're thinking of ways to scale up our production," she adds.
The hawkers have invested about $30K into the biz so far, and are not thinking of expansion for the time being. Their one-month-stall has yet to start making a profit. "While it'll be nice to have a standalone place someday for people to have their pizzas with drinks etc, we're very comfortable with this hawker setting. I know most of the stall owners here and they've been very encouraging. We're very happy with where we are now," says Christina. Ailyn agrees. "We just want to create good quality food for the community for now. We're very happy to see reviews from customers who appreciate us for bringing good food to an old hawker centre."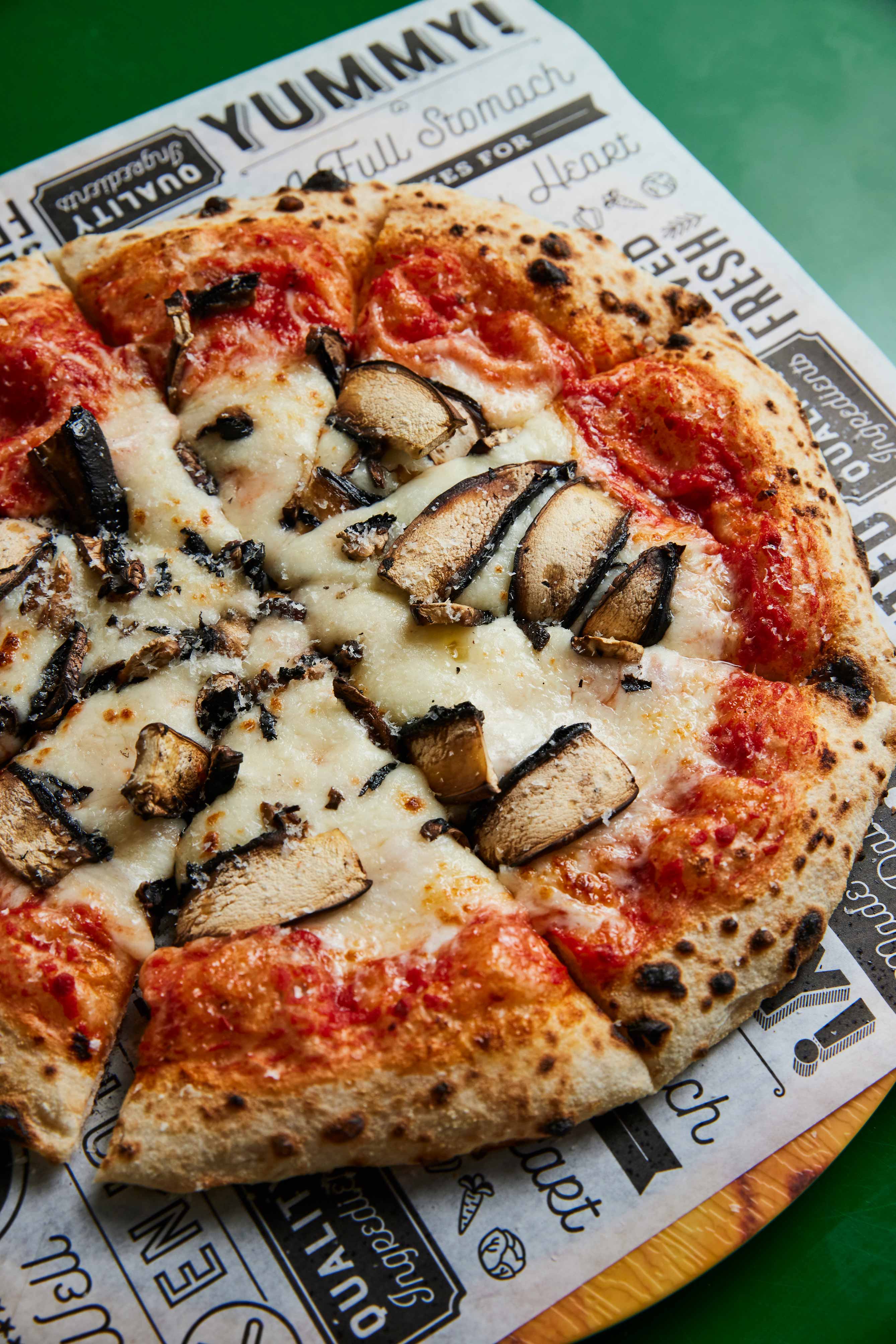 Portobello Mushroom, $14.90 for 10" (feeds 2 pax); add $1.50 for truffle oil
This has the requisite chewiness and moderately puffy crust of a Neapolitan-style pie. It's thin and floppy in the middle (you'll need both hands to eat this sans cutlery), but without the distinct sauciness of Napoli pizza. The texture is light, though not as airy as we'd like. Thanks to the slow proof, the pizza base is flavoursome even when eaten on its own. Toppings wise, the slices of portobello mushroom add a pleasant earthiness to the basic combination of tomato sauce and mozzarella. We'd prefer a more liberal application of truffle oil (available as an add-on) as it was hard to pick up on the condiment's typically bold notes. Otherwise, this is a pretty legit entry-level pizza to try.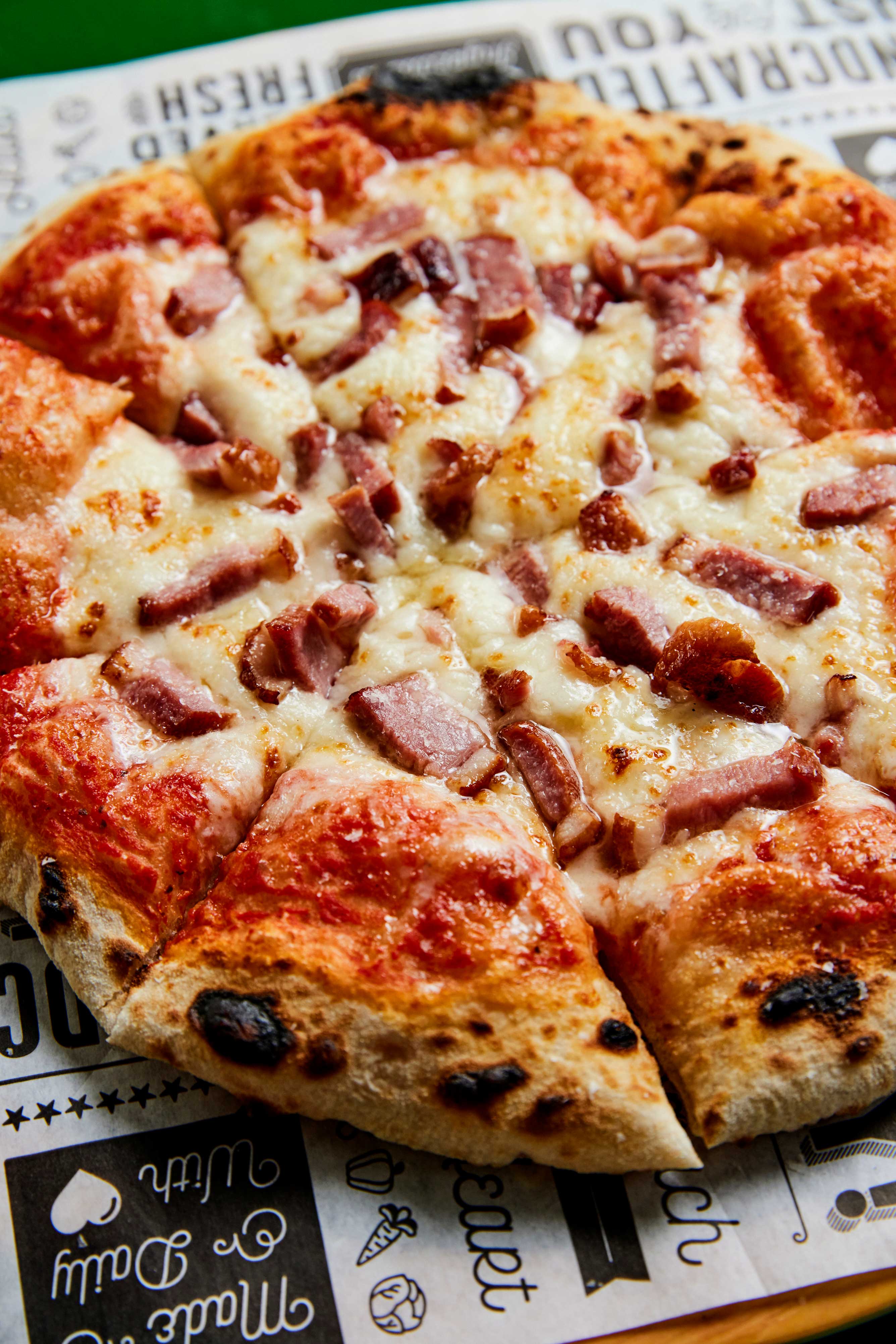 Smoked Duck , $17.90 for 10"
Slivers of smoked duck deliver savoury, meaty notes to the same pizza base. Though the slicing of pizza could be more precise, the topping distribution was meticulous and the bird was flavourful enough to justify the slightly steep price.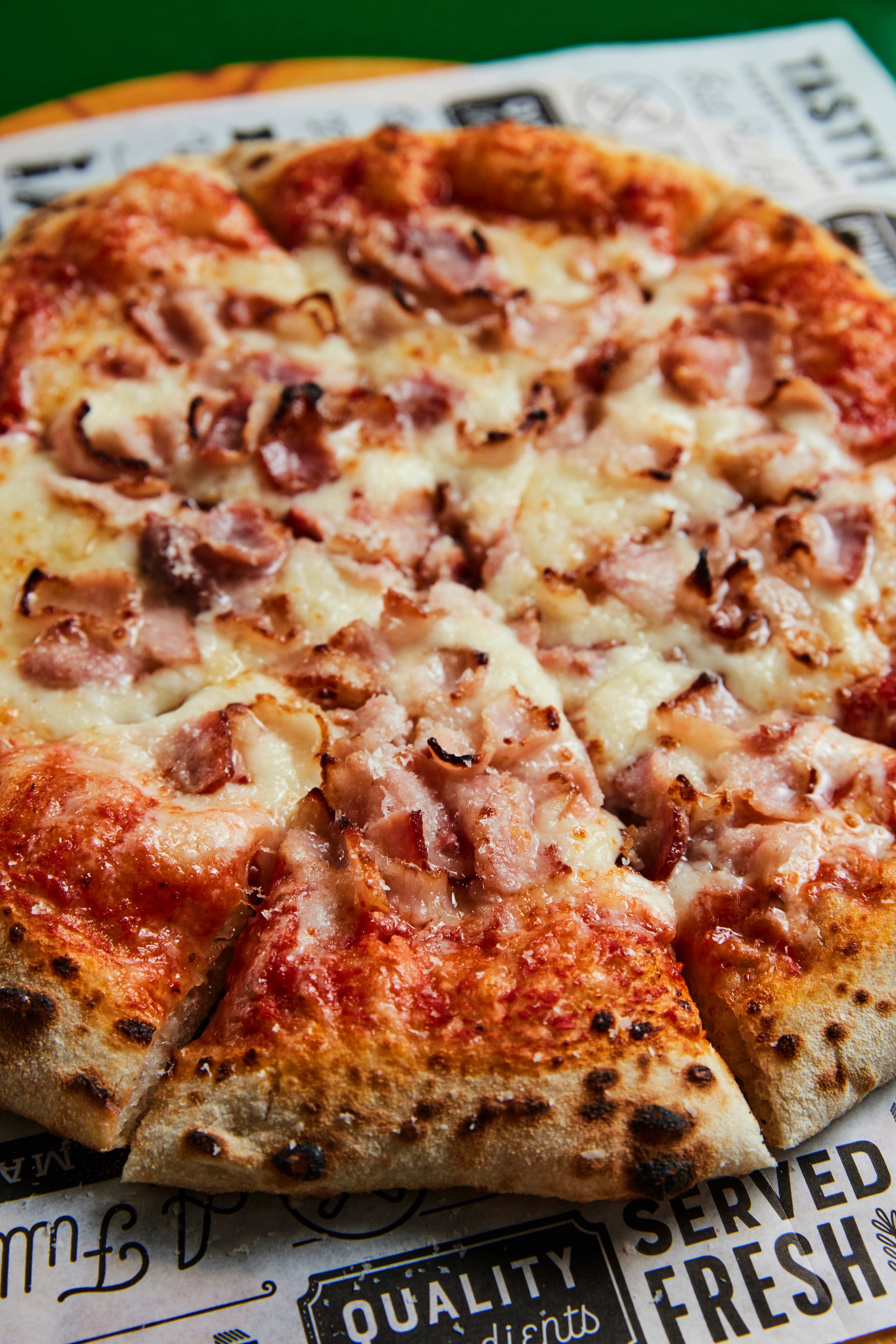 Applewood Bacon, $17.90 for 10" (8 DAYS Pick!)
Crisp-edged bits of applewood-smoked bacon impart a lovely complexity (this has a more intense smokiness than the duck option) to the pizza. We love how the bacon fat gets cooked into the cheese and gilds every bite with savoury richness. A solid pick for bacon lovers.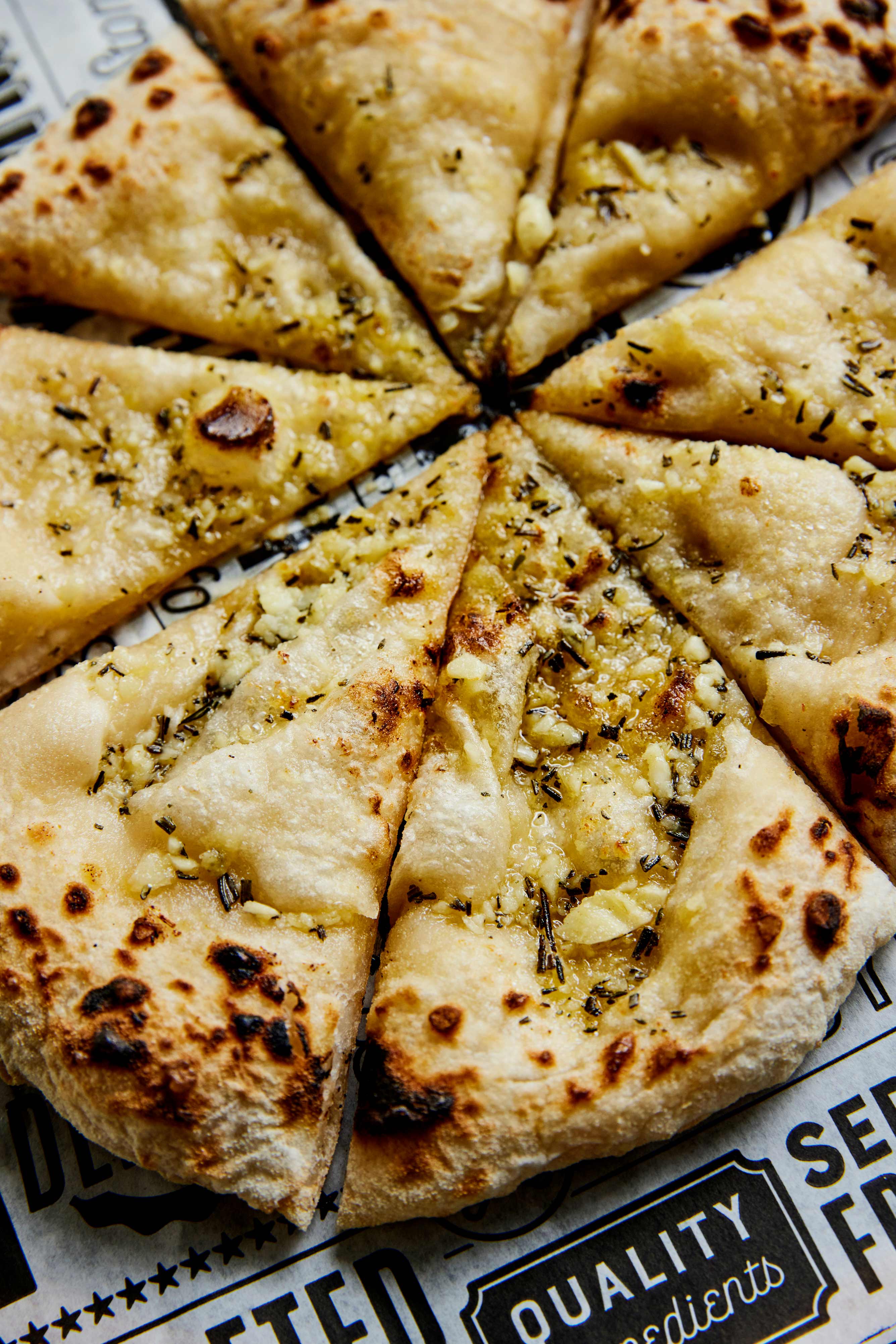 Rosemary Garlic, $14.90 for 10"
One of the rare non-tomato-based pies on the menu. The bread's pleasant chewiness is enhanced with a sprinkling of fresh rosemary, olive oil and garlic – think garlic bread, in pizza form. We recommend sharing this with others, and ordering the bolder, red-sauced pies for your main course.
Chocolate Banana, $16.90
For a dessert pizza, you can't go wrong with chocolate and banana. Christina insists on using Nutella imported from Italy ("it's just tastier," she says) via a supplier, combined with banana spread from a supplier. We found the Italian Nutella to be less sweet with a stronger hazelnut flavour compared to what we get from most local supermarkets (which are usually made in Australia or Turkey). The sweetness of the toppings are well balanced by the slight saltiness of the dough base, so it's not too cloying. Order this if you like dessert pizzas.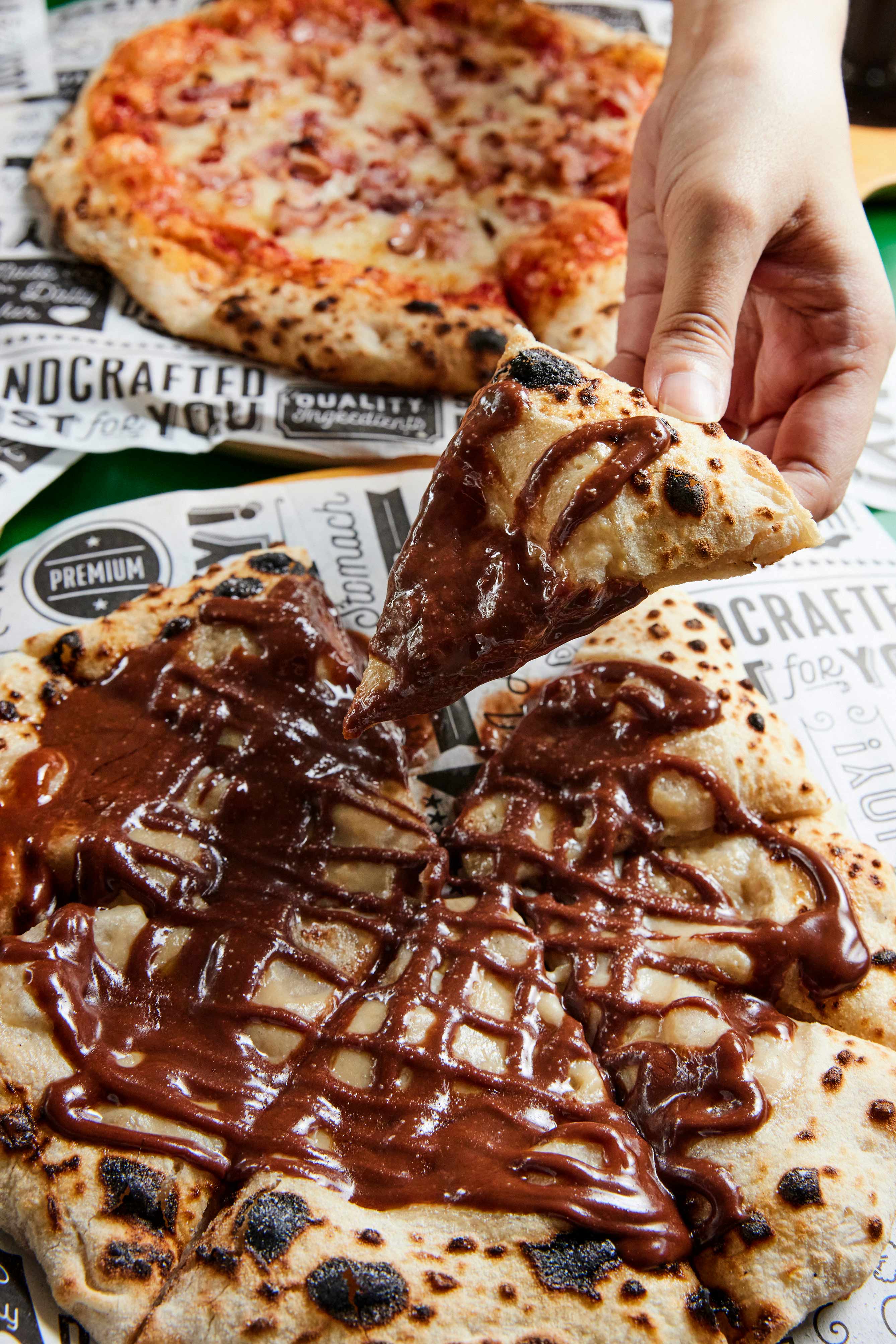 Bottom line
Rustic pizzas with simple toppings that complement the flavourful, house-made dough. They're not 100% authentic Neapolitan-style, but quite tasty nonetheless. Prices are slightly steep for a hawker stall, but you're paying for quality ingredients like good smoked meats and a pizza large enough for two. As there are only 45 portions of dough available each day, we suggest placing an advance order via their website to secure your pie and minimise waiting time.
The details 
That's My Pizza is at #02-198 Bukit Timah Food Centre, 51 Upp Bukit Timah Rd, S588215. Open Wed 5pm-8pm & Thu to Sun 4.30pm-8.30pm. Closed Mon & Tue. More info via website & Instagram.

Photos: Aik Chen

No part of this story or photos can be reproduced without permission from 8days.sg.