"I'll Have To Eat Grass," Says Golden Mile Chicken Rice Hawker If Malaysia Prolongs Chicken Export Ban
"If they end up stopping fresh chicken exports for a year and I close for a year – then I'll have to eat grass," laments the hawker behind Thailand Chicken Rice stall.
When it rains, it pours. As the F&B industry grapples with a shortage in manpower, along with rising electricity, oil and egg costs — Malaysia's announcement that it'll halt all chicken exports indefinitely from June 1 came like a bolt from the blue. Approximately 34 percent of Singapore's chicken supply comes from Malaysia — most of which are brought in live, then slaughtered and chilled locally. This disruption has serious repercussions on the livelihoods of those who run any business relying on a steady supply of fresh Malaysian birds. Especially when said biz is a humble hawker stall or small eatery. 8days.sg reaches out to a few chicken rice hawkers who greeted the news with a mixture of resignation and uncertainty.
All photos cannot be reproduced without permission from 8days.sg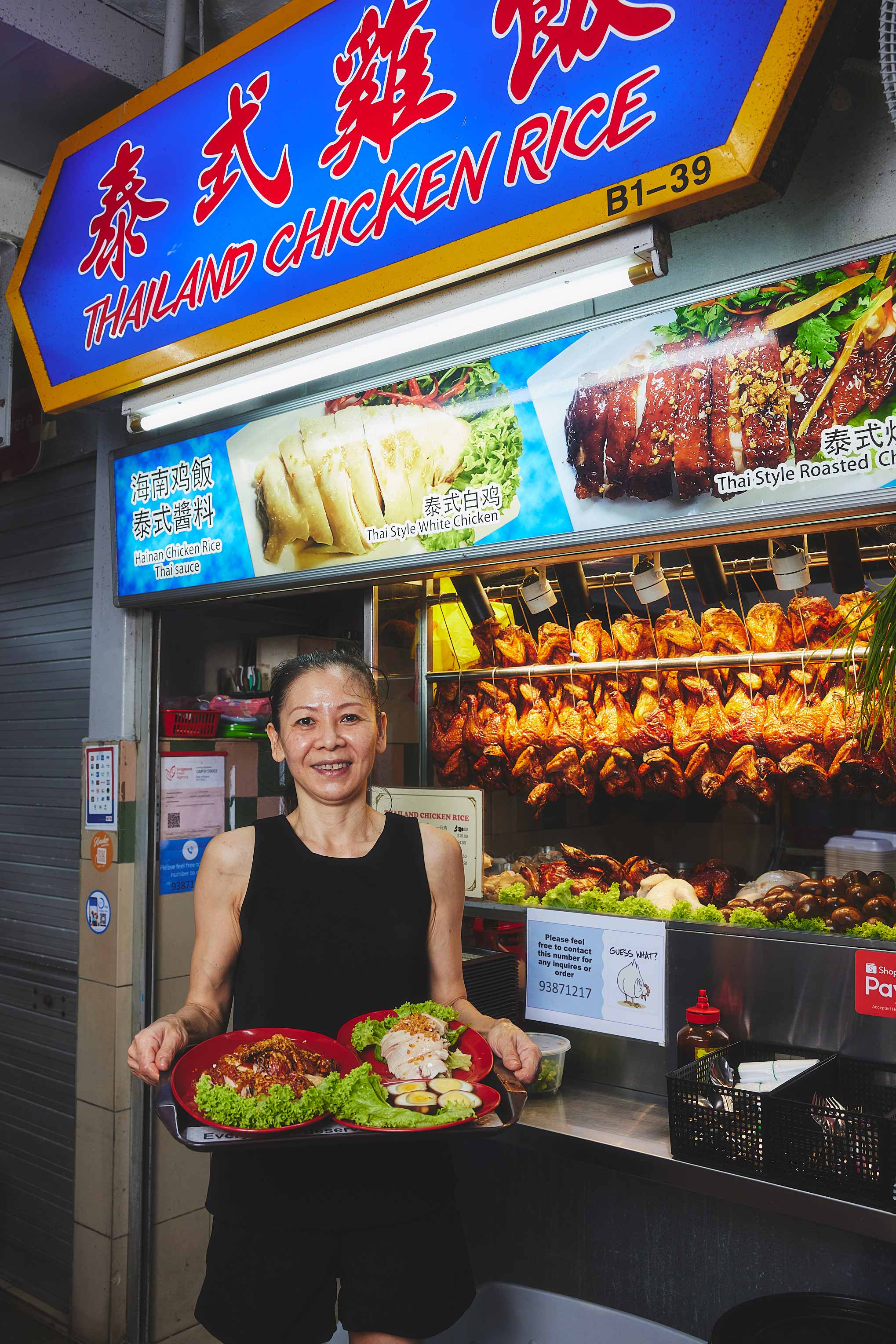 Thailand Chicken Rice hawker: "Customers' salaries haven't gone up — how can I raise prices again?" 
May Lee, who runs two-year-old stall Thailand Chicken Rice at Golden Mile Food Centre solo despite suffering from hand tremors due to a kidney-related condition, was told by her poultry supplier to be "mentally prepared" for a price hike of about "40 to 50 percent" come June – up from around "$4 per kg now". The 50-year-old hawker shares: "But he told me nothing is confirmed yet, the only thing for sure is that the price of chicken will definitely go up."
"I'm worried. Because chicken prices keep going up, and I'm only selling each bird for $20, so I'm only making a slim profit. Everything is going up — oil and gas too. I just raised prices [from $3 to $3.50 a plate a few months ago]. But customers' salaries haven't gone up — how can I raise prices again?" she laments. However, she says she might remove the smallest $3.50 option from her menu temporarily in order to "make a bit more money".
Although she currently uses fresh chicken at her stall, she confirms that her supplier informed her that they "can only provide frozen chicken from June 1 onwards". But taking a break until fresh chicken imports from Malaysia resume is not an option for her, she says. "I can't just stop working, if not I'll be done for," says the mother of a teen daughter dejectedly. "I need to make a living. I need to pay $2,100 rent monthly for my home too. If they end up stopping fresh chicken exports for a year and I close for a year – then I'll have to eat grass lor."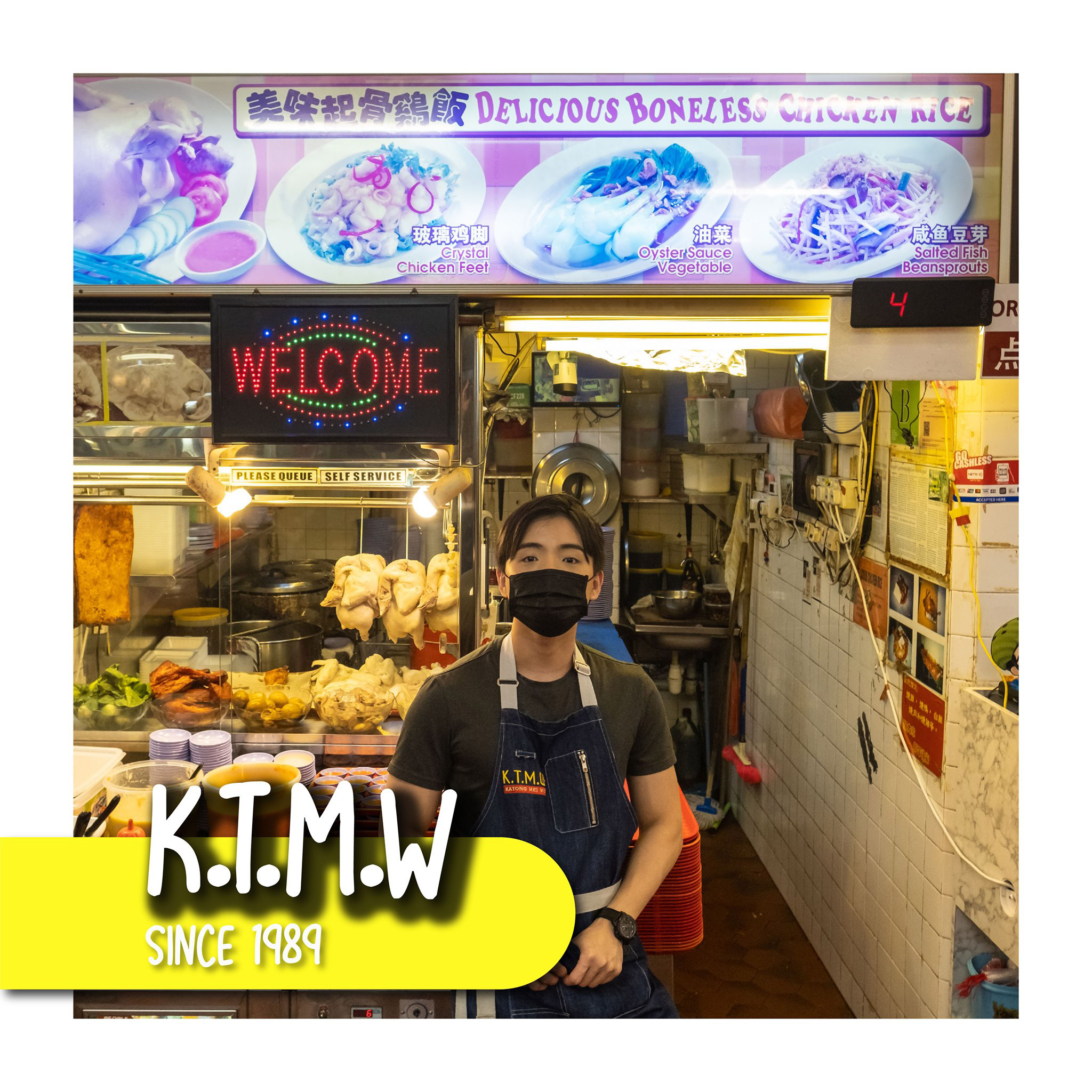 Might now sell fish soup, jokes towkay of popular Katong chicken rice stall
"We'll have to look at the situation for now. Otherwise, we're just going to sell fish soup," jokes Katong Mei Wei Delicious Boneless Chicken Rice's second-generation boss, Soki Wu, who put his dreams of being an actor on hold to take over his father's popular chicken rice stall in a Katong Shopping Centre food court four years ago (the boyish 31-year-old played a supporting role in theatre company Toy Factory's Masters of Comedy).
The towkay says that it's still too early to say where he'll get his chook from following the export ban. "All of our chickens are imported [fresh] from Malaysia, and I believe that frozen and fresh chicken taste different as I've tried cooking with both while doing R&D. We might not be able to uphold our standards with frozen meat. I'm still looking for alternatives — I'm hoping to get a response from my suppliers soon," he shares.
Pow Sing Restaurant co-founder worried about "livelihood issues"
Other chicken rice eateries are also looking for alternative sources of chicken. Steven Tan, 62, director and co-founder of four-decade-old Pow Sing Restaurant in Serangoon Gardens, shares that the price of Malaysian chicken has already risen by some "15 percent" even before the export ban kicks in.
After shipments of live birds cease altogether, his suppliers will only be able to supply the remaining stock of chilled chicken in their warehouses – which the restaurateur estimates are unlikely to last for more than "around a week". "Then we will need to look for another source of chicken. The issue isn't if it's frozen – the chicken itself has to meet a certain standard. If not, our customers won't buy it," he says, adding that if they can't find chicken that meets their criteria, they'd fall back on selling their zi char dishes instead in order to keep their crew of "20 plus" employed. They are also planning to raise prices in tandem with increasing costs, but haven't decided on a timeline for implementing the hike.
"If it's one week, it's still okay. Two weeks, a bit tougher. But if it's one month, it's a headache for the bosses and staff," Steven adds. "I'm hoping that the government will be able to help us with these livelihood issues."
Lee Fun Nam Kee boss may explore cooking its soy sauce chicken with frozen meat
Meanwhile, David Lee, second-generation owner of soy sauce chicken specialist Lee Fun Nam Kee in Toa Payoh (which has been around since 1968), is still waiting for more information from his poultry supplier. If fresh Malaysian chicken remains unavailable indefinitely, he says he might switch to frozen chicken. After all, the 56-year-old used it when Malaysian chicken exports halted in 2004 due to bird flu.  

"During that time, there was no [fresh] chicken. So I had no choice but to use frozen chicken. But frozen chicken doesn't really work for chicken rice – back then, we only managed to get parts like the drumstick and breast. If we can get whole frozen chickens now, it might work better, but I don't know yet," he explains. He plans to keep the eatery open even amid any supply gaps: "I still have to take care of my staff. I cannot just close and stop paying them their salaries." Incidentally, David is the father of Genevieve Lee, runner-up of MasterChef Singapore's first season and owner of doughnut shop, Sourbombe Artisanal Bakery.
8days.sg also reached out to Chatterbox restaurant, famous for its gourmet, pricey take on chicken rice. The spokesperson for the newly refurbished restaurant (now owned by OUE Restaurants) in Hilton Singapore Orchard declined to comment.
Photos: Alvin Teo, Loy Wee Meng, Lee Fun Nam Kee, Katong Mei Wei
All photos cannot be reproduced without permission from 8days.sg