'I'm willing to do all the dirty work': Mediacorp actress Jernelle Oh, 29, on what makes her different from her showbiz peers
The star of upcoming Mediacorp drama Cash On Delivery shares with 8days.sg her thoughts on her competition in showbiz and why she doesn't have a backup career plan.
Next time you need someone to put a positive spin on things, just hit up Jernelle Oh .
The 29-year-old actress, who plays Huang Meizhen, a food delivery rider who suffers from cerebral palsy in upcoming Mediacorp drama Cash On Delivery, is just about the most optimistic star person we've spoken to in a long while.
8days.sg met Jernelle along with the rest of the cast  — Richie Koh, He Yingying, Cavin Soh — when they delivered meals to the elderly at the Sree Narayana Mission (Singapore) nursing home.
The young actress had a sparkle in her eyes when she was interacting with the elderly folk and her inherently positive personality certainly rubbed off on everyone around her.
Speaking to us after the event, Jernelle shared that she's actually very similar to Meizhen, who, despite her disability, is self-reliant and stays optimistic no matter what obstacles life throws at her.
"For every single thing that happens, I always find a positive twist to it even to a point where my friends are like, 'Yeah, sure… If you believe it..'," chuckled Jernelle.
She continued: "For example, if I got caught in a traffic jam today and I am late, I'll say: "I think it happens for a reason lah, probably something worse is going to happen if I was on time. Now that I'm late, it means that I've managed to escape that misfortune (laughs)!"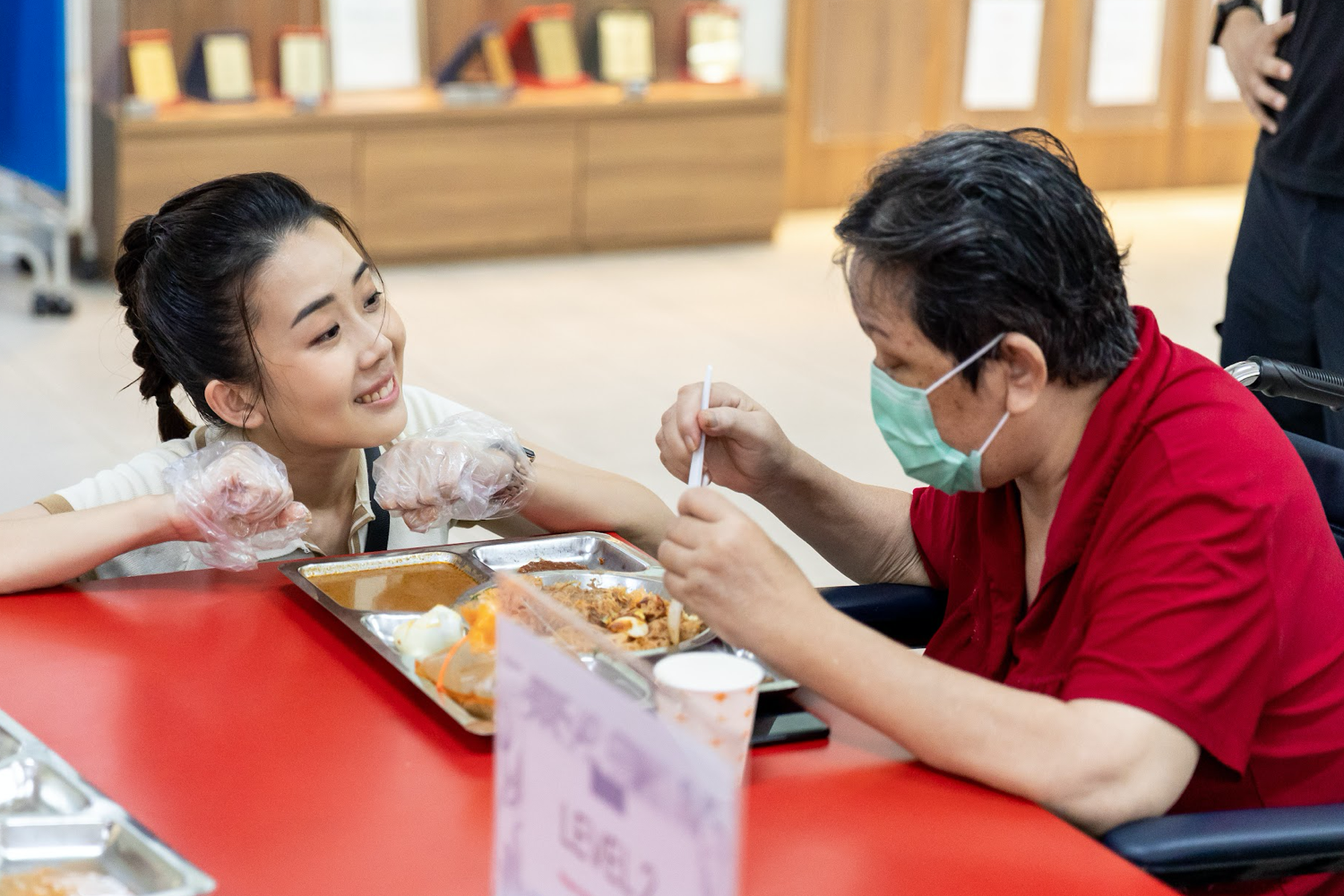 Jernelle at the
Cash On Delivery
event at the Sree Narayana Mission (Singapore) nursing home.
8DAYS.SG: Being in showbiz sometimes means you have to face quite a bit of negativity. Are you someone who's easily affected by things like that?
JERNELLE OH: I think I'm still learning how to cope with criticism, but when I see them I will just block and report! Or I'll just delete the comment (laughs). Honestly if I could, I would reply them but I think it's better to not start a war lah (laughs).
Is there anyone you look up to in showbiz or would confide in whenever you face problems at work?  
Actually I'm very fortunate that for every project that I've worked on, I have a few seniors that I can learn from and they're very willing to teach me. For example, Chen Hanwei, Ann Kok, Paige Chua and Rebecca Lim, or even Richie and Yingying whom I worked with on this drama. They're all very nice and if I have any questions or issues I can just share with them. I feel like I can be myself.
You entered showbiz along with your fellow Star Search 2019 finalists. Did you find it hard to stand out? 
I think that when there are a lot of people coming out at the same time, it will definitely be a challenge. But if you're talented, you'll still shine regardless (laughs). I think that there's something special or different about me that maybe at this point people don't see it yet, but it doesn't make me any less of a talent. And when people see it and are willing to give me opportunities, I can prove that I can do my job very well. 
What do you think makes you different from your showbiz peers then?
I think I pick up things really fast. I'm very positive and sincere. I really take pride in my work and I put in a lot of hard work. I'm willing to do all the 'dirty work' — anything and everything. I'm not saying other people don't lah but to me I feel everyone has their own package, you know?
Do you compare yourself with other actresses who entered showbiz the same time as you then?
Not really lah. We're from different age groups and we're doing different things. If you really want to compare, then let's talk about Gini Chang, who is around my age. [Ed: Gini is 28] She's doing very well in acting while I can do both acting and hosting well, so that already makes me different from her. It feels like we all have our own roads to walk so there's no point focusing on other people's paths since our end goal will all be different. 
Jernelle as Huang Meizhen in
Cash On Delivery
You're part of Mediacorp girl group 4567 along with Gini Chang, Juin Teh, and Seow Sin Nee. Do you think being part of the group makes it easier for people to notice you or is it actually the other way around? 
I think it works both ways and it should be like that. I mean, the whole point of putting us together is really to let people recognise this group because they don't remember us, right? (Laughs) But now that they can recognise this group, they will start to want to know us better and that's when our own personalities can shine. 
I'm just thinking in a more positive way. Just look at S.H.E, everybody knows each of them right? So slowly lor... (laughs)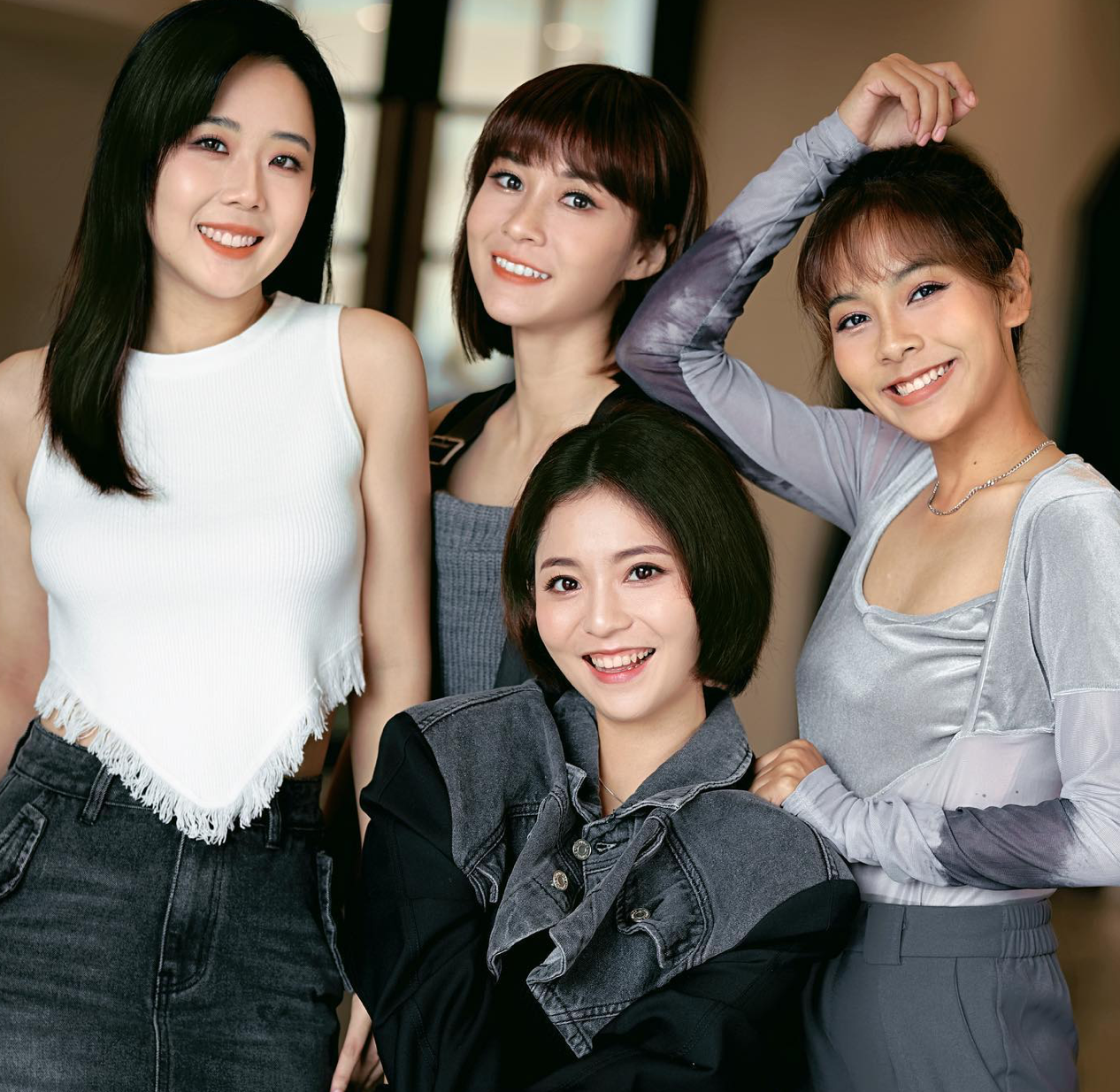 Jernelle with fellow 4567 members Gini Chang, Juin Teh, and Seow Sin Nee
You were one of the five artistes nominated for Best Rising Star at the Star Awards this year, do you think that's a sign that you're performing better than your peers? 
No lah! I think two years back there was a Best Newcomer award [where Juin and Sin Nee were nominated].  I didn't get nominated then (laughs).
At that point, I didn't have a lot of projects, so I could understand why they picked those who were performing better. This time maybe because I had more projects, so it's more of a timing thing instead of a "I'm better than you" thing. 
Were you disappointed that you didn't win?
I was very happy for Das DD. I was also thinking: "Oh, maybe it's just not my time to win the award yet". That makes me want to work even harder and do more things for people to see me. Then maybe the next award I can be nominated for will be something professional? 
Seeing that it's not easy to make a name for yourself in this industry, have you ever thought of a back up career plan?
I'm someone who knows what I want. I always have something in mind and I will work towards it until I get it. 
I actually reflected on my work and I feel happy the way I am now. All the characters I've gotten, they've been interesting. Even though they're challenging, they allow me to work harder. For me, that's good as they're all learning experiences for me. 
My goal all this while is that I want to be able to act, host and meet more people, and I think I did it already so that's enough for me. 
Photos: Jernelle Oh/Instagram, Mediacorp Photo Unit, 4567/Instagram
Catch the cast of Cash On Delivery at the Special Delivery Event in the video below:
You can catch Cash On Delivery on weekdays, 9pm, on Ch8 or on demand for free on meWATCH from May 29 onwards.