Insta-Buzz: What The Stars Were Up To This Week
Here are some of our favourite snaps from the past week.
Those of us who are parents would know that it's never easy travelling with kids. But this week, two of our celeb mums showed us what a breeze it was for them.
Speaking of vacations, read on to find out which group of celeb pals headed to Johor Bahru for a short getaway.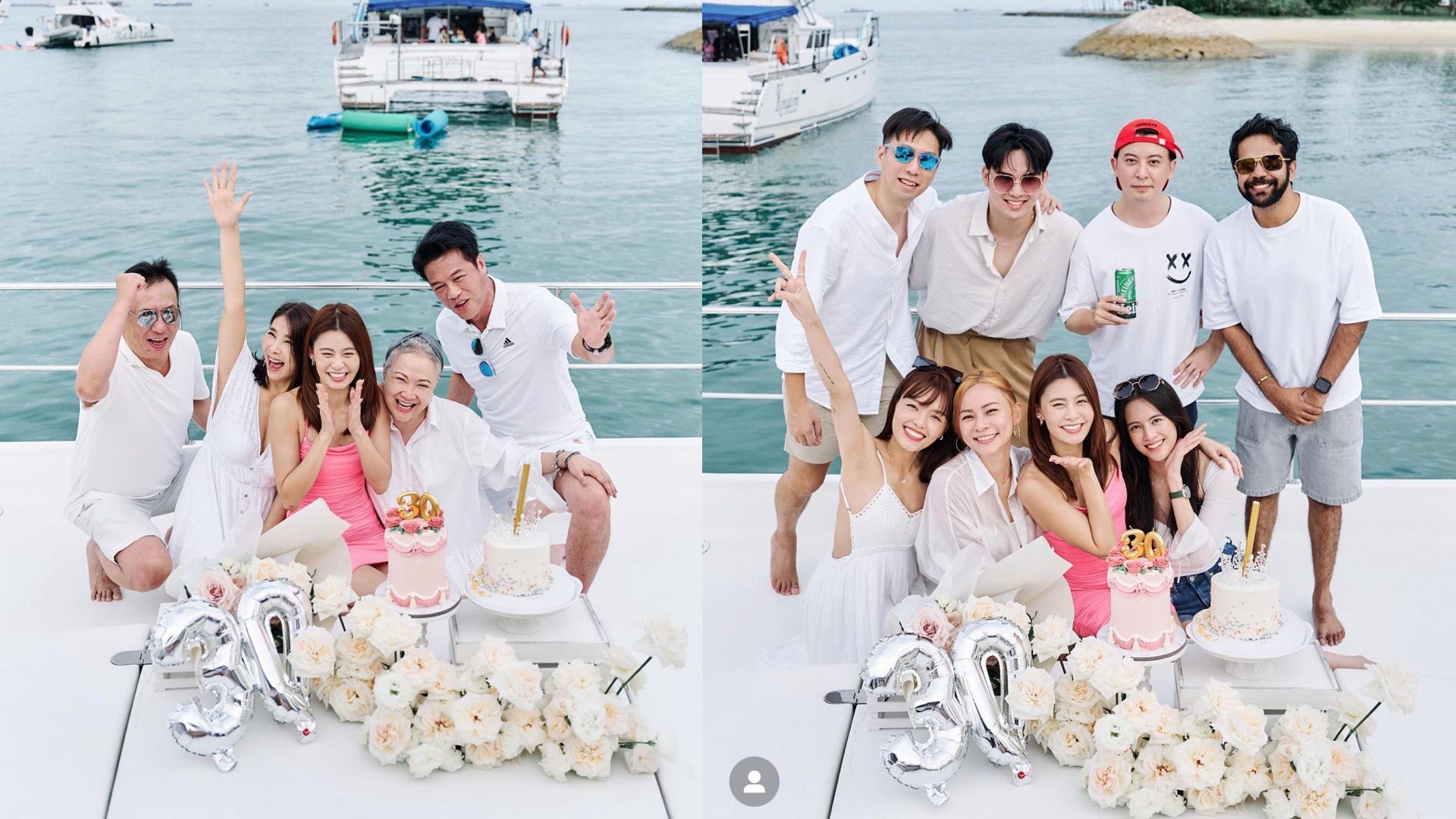 Denise Tan celebrated her 30th birthday on a yacht
The Malaysian-born actress turned 30 earlier this week, and commemorated her special day by throwing a yacht party.
Many of Denise's celeb pals, including Hazelle Teo, Kayly Loh, Tay Ying and her family, and Chen Xiuhuan and her husband were present for her special day.

"It was indeed a memorable celebration and I'm extremely blessed to have such great people in my life!" wrote Denise. 
Photos: Denise Tan/ Instagram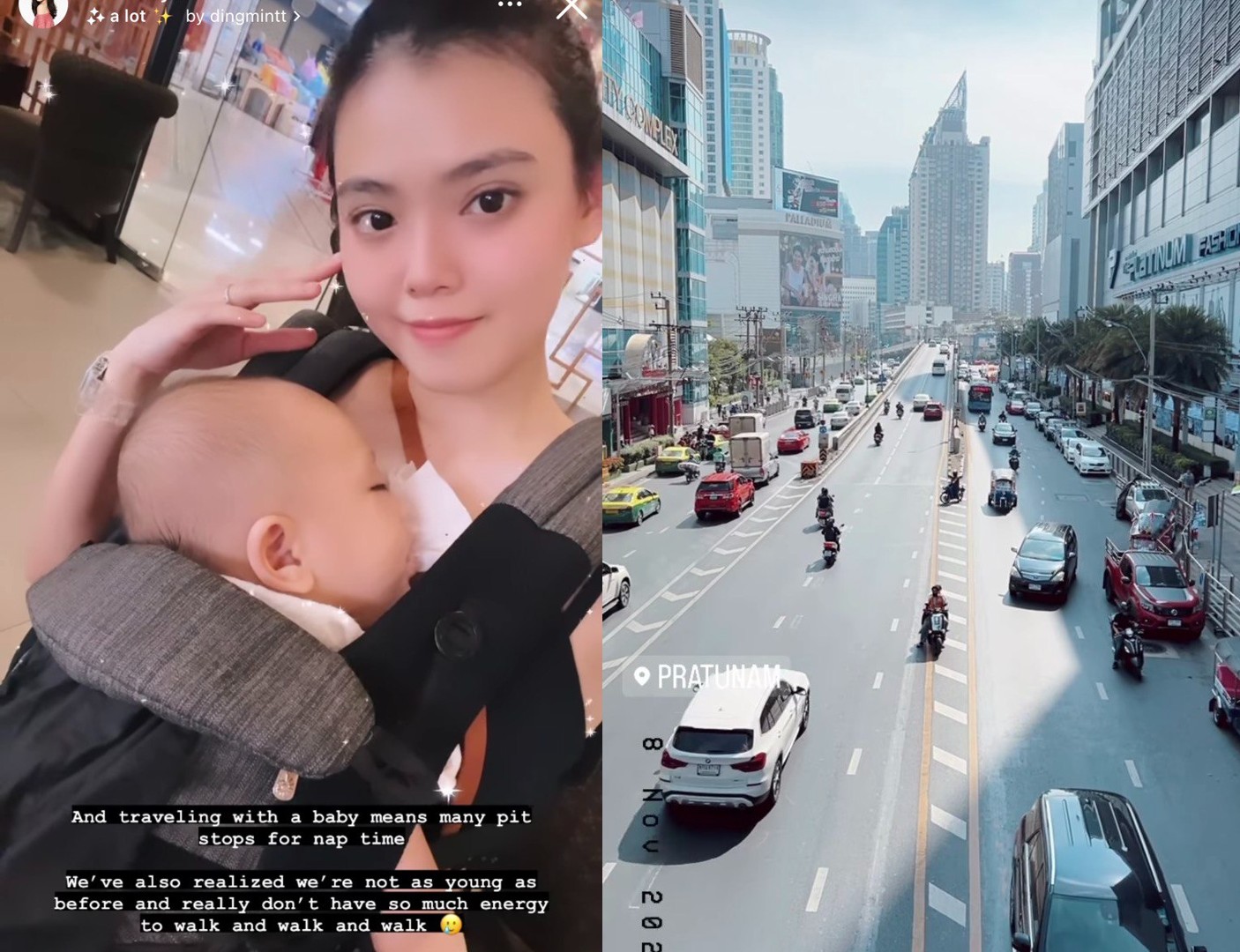 Kimberly Chia went on a family vacay in Thailand
Kimberly documented her six-month old son, Kyzen's first ever overseas trip with the family. 
"Travelling with a baby means many pit stops for nap time. We've also realised we're not as young as before and really don't have so much energy to walk and walk and walk," she wrote.

Growing older notwithstanding, Kimberly clearly had a great trip, judging from her IG posts. 
Photos: Kimberly Chia/ Instagram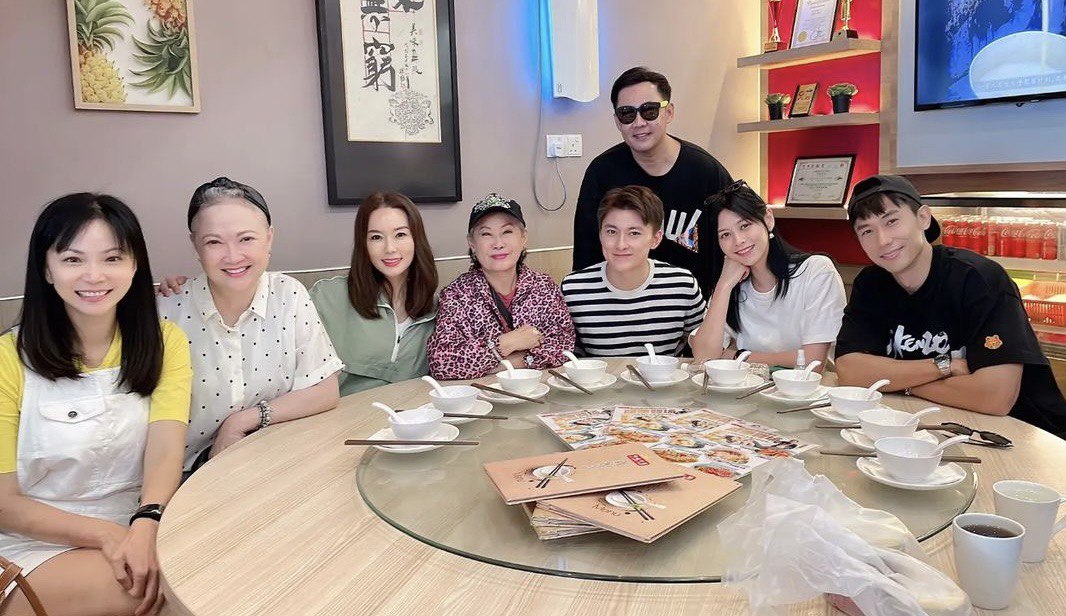 This group of celeb pals headed across the Causeway for a short getaway
It seems like the cast of upcoming drama Strike Gold have formed quite a close bond.
The group, made up of Desmond Tan, He Yingying, Edwin Goh, Jin Yinji, Yvonne Lim, Hong Huifang and Joey Swee, stopped by JB local Yao Wenlong's restaurant Sun Gourmet Kitchen for a meal. 
According to Desmond's comment on Wenlong's pic, the latter was also in charge of planning their itinerary. "Thank you Long Ge for everything you've arranged for us! Idol!" wrote Desmond. 
Photo: Yao Wenlong/ Instagram
Fann Wong and Christopher Lee visited JJ Lin's Miracle Coffee Pop-Up
Nothing screams 'star power' more than this pic of Fann, Chris and JJ. The trio posed in front of Miracle Coffee Cafe's counter at Marina Bay Sands, each holding the cup that we're super used to seeing by now.
JJ would later post a story of the couple sipping their drink from the same cup. So sweet right?
Photos: JJ Lin/ Instagram
987 DJ Natasha took her daughter Luna on her very first overseas trip to Bali
The jock, who celebrated her fourth wedding anniversary in Bali, first posted a pic of her daughter all buckled up and ready for her first flight.
"Packed all kinds of entertainment and snacks to keep her occupied only for this little missy to start dozing off the second we entered the plane #breezy," wrote Natasha, who added a pic of little Luna nodding off in her seat.

She then followed up with a hilarious pic, which showed her daughter with a blanket over her head, completely unimpressed with the view outside her window. 
Photos: Natasha Faisal/ Instagram
Felicia Chin and Jeffrey Xu finally got to spend some alone time (not with each other) three weeks after tying the knot
"3rd week of married life, we both went for our own activity with friends- pilates for me and cycling for him. Sometimes we feel it's important for a couple to have their own time as well. What about you? What does your me-time look like?" wrote Feli. 
The adorable couple also shared a few clips of Feli asking Jeffrey about his day while he scrolled through pics on his phone. "I haven't even got to post these photos myself ~ you've managed to beat me to it!" joked Jeffrey. 
Photos: Felicia Chin/ Instagram, Jeffrey Xu/ Instagram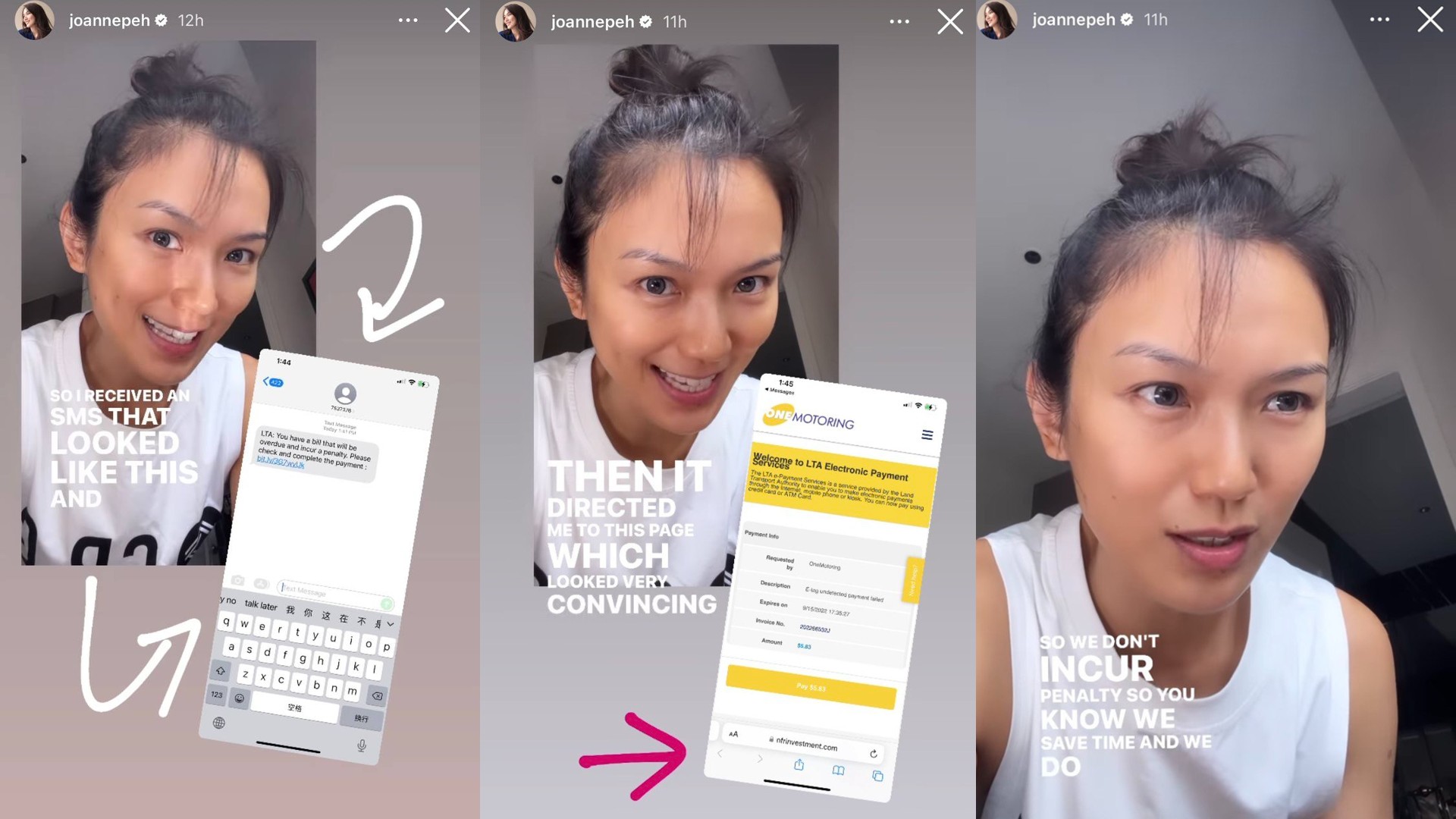 Joanne Peh warned her followers of a recent scam 
Turns out the actress herself almost fell victim to the LTA scam too. Basically, if you ever receive a similar text message from "LTA" asking you to pay your fines, don't do it. 
Joanne explained that she was busy at the moment, and didn't think much before clicking on the link provided in the message. She was then directed to a page that "looked very convincing".

Luckily, she realised that the URL looked "fishy" just as she was going to pay the fine and managed to avoid being scammed after checking the actual LTA site. 
She also realised that one could very easily be scammed if they wanted to get the fine "over and done with" without incurring any late charges. "So just be careful okay?" she advised. 
Photos: Joanne Peh/ Instagram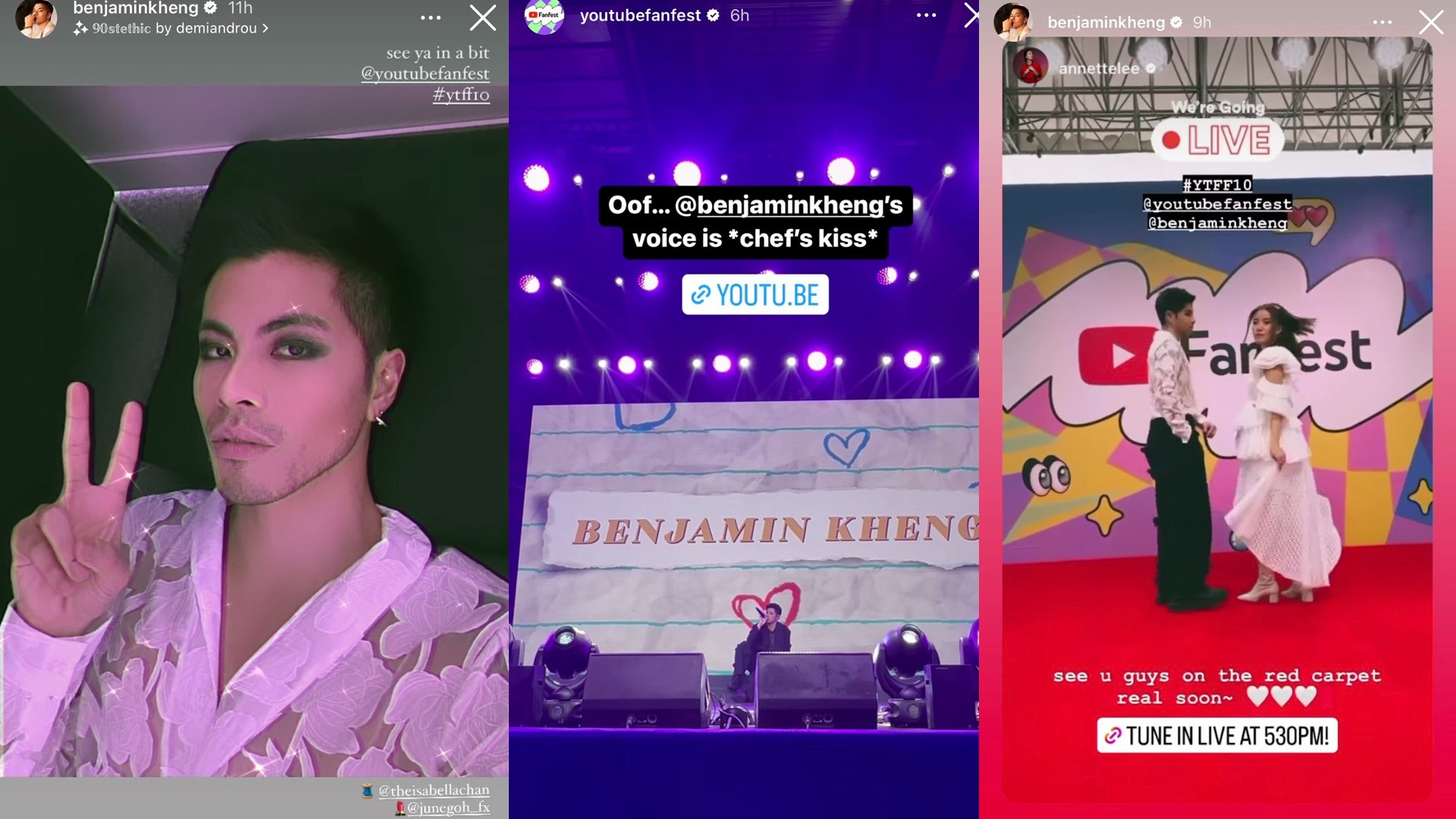 Benjamin Kheng performed at the YouTube Fan Fest
This year saw the YouTube Fan Fest return in full force for its tenth installation. And all dolled up for the event was Benjamin Kheng who blew audiences away with his performance. 
Also with Benjamin on the red carpet was host Annette Lee, who glowed in her flowy white gown.
Photos: Benjamin Kheng/ Instagram, YouTube Fan Fest/ Instagram
Chantalle Ng became an honorary member of The Freshmen 
To celebrate Chen Diya and Carrie Yeo's birthdays, Chantalle serenaded them with her rendition of their song. 
"Making them sit down to listen to me perform THEIR song," quipped the actress, whose performance wasn't half bad.
She also shared a story of the singers taking over the stage, writing that she was "very serious" about the concert, what with the perfectly placed chairs and all.
Photos: Chantalle Ng/ Instagram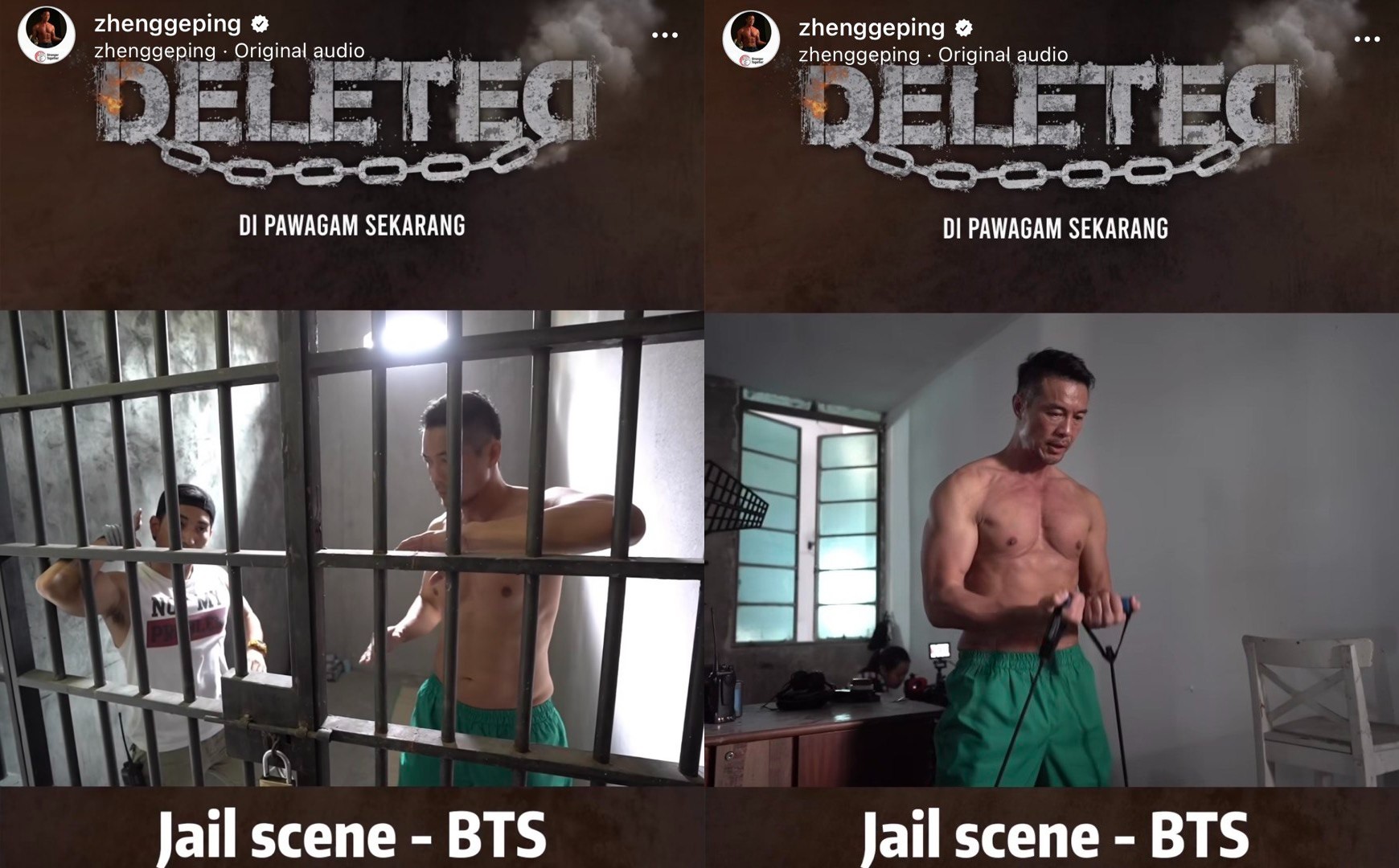 "Some friends asking how "real" is it? Well, a video speaks a million words. Filming action scenes, sustaining some injuries are inevitable...There were tears, sweat & blood...Every fight scene day, we have ambulance and medics standing by the whole day," wrote Mediacorp's resident hunkle Zheng Geping.
The action scenes in the clip were indeed intense, and as Geping said, it's best we let the video speak for itself. 
Deleted is rated NC16 and is now airing in all cinemas.
Photos: Zheng Geping/ Instagram