Insta-Buzz: What The Stars Were Up To This Week
Here are some of our favourite snaps from the past week.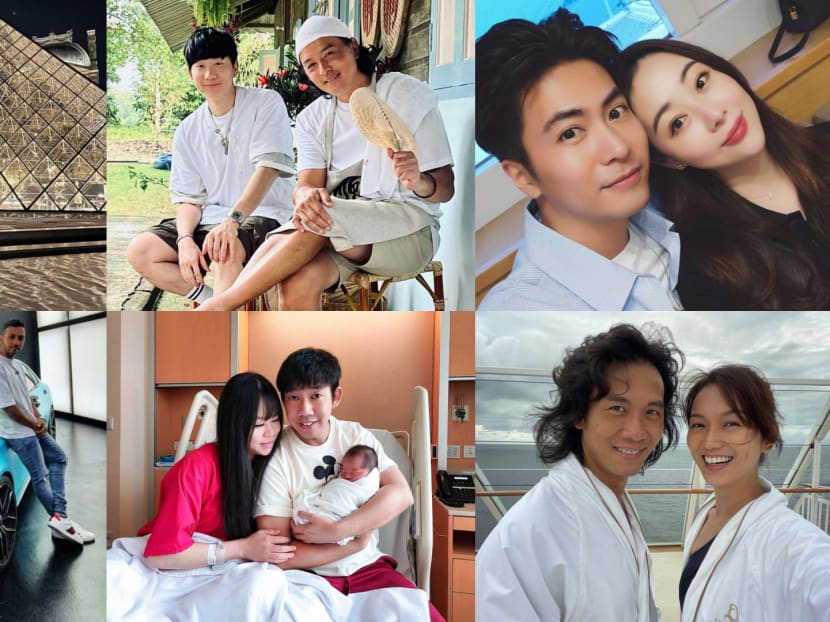 The opening of Vaccinated Travel Lanes (VTL) means that overseas holiday pictures are becoming more and more common on our feeds, making us both green with envy and relieved that there are some things that are sort of going back to normal.
Say hello to little Elly Fong. The actress and entrepreneur announced what she has christened her third kid in an Instagram post on Monday, as well as the reason why she and her husband Roy Fong chose the name, which means "God is my light" and "God is abundance".
"Having [three] kids rather quickly, and in our journey thus far, God has indeed shown us abundance in blessings which we are grateful for everyday," she said, explaining that they "took a little longer to name her ['cos they] were deciding how to spell her name".
Photos: Cheryl Wee/Instagram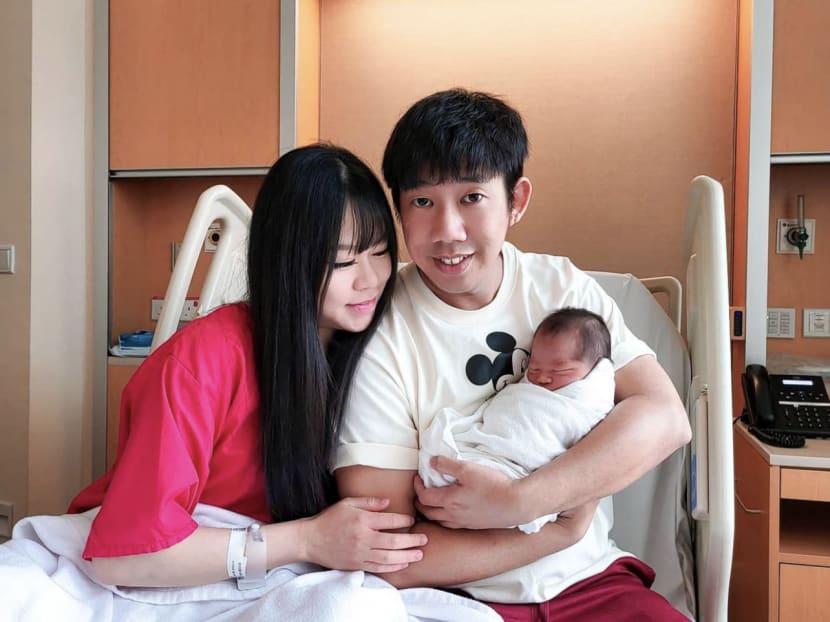 Speaking of babies, Gerald and his wife Thia Zhixin have officially joined the parents club after welcoming their first child, daughter Gemma, on Friday.
In his first Instagram post as a father, the jock admitted that even though he "pretended" to be Zhixin's "pillar of strength during the delivery", he was actually "shaking". "I hope my cheerleading next to you helped at least a tiny bit because it was nothing compared to what you went through," he wrote.
Congrats!
Photo: Gerald Koh/Instagram
Also having a birthday on Friday — although he was born 27 years earlier than Gerald's little girl — was the Rio 2016 Olympian and national sprinter, who appeared to enjoy a simple celebration at home.
No prizes for guessing what his favourite soccer team is.
Photo: Timothee Yap/Instagram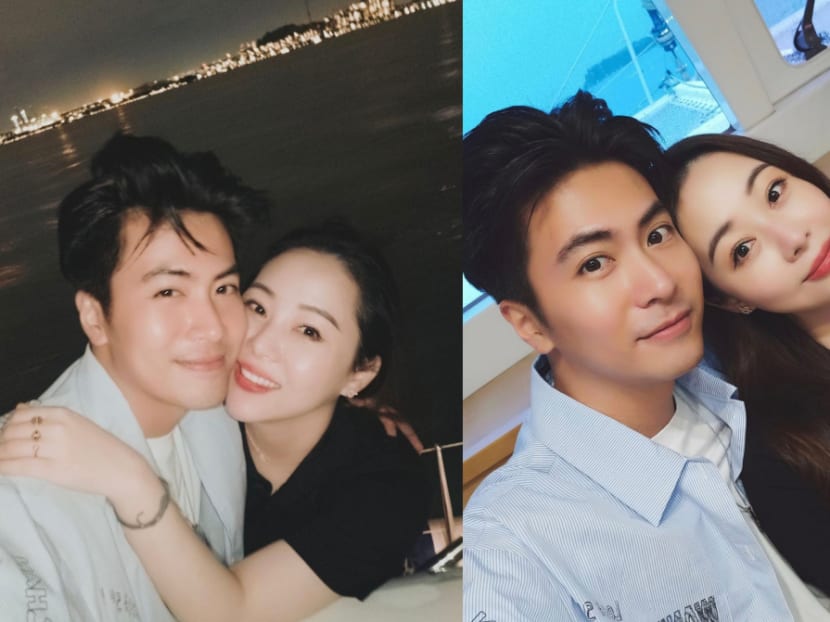 We can't believe it's already been four years since the actor dropped the bombshell about his engagement to his wife Wang Yifei, whom he went on to marry on November 3, 2017.
Fast forward to today, and they are now proud parents-of-two, including a baby daughter whose arrival was just as unexpected as their wedding news. However, they still managed to find time for a romantic one-on-one date sans kids for four precious hours on their anniversary.
Photos: Xu Bin/Instagram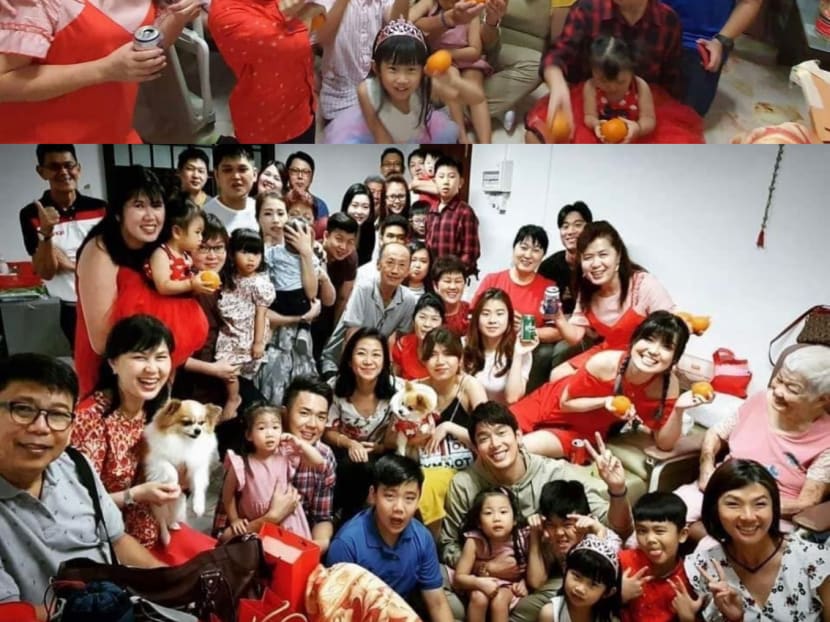 It's been a sad week for Elvin, who announced that his beloved Ah Ma had "passed away peacefully" last Saturday (Oct 30) at the age of 88.
Posting two photos from his family's last Chinese New Year celebration with his grandma, Elvin described her as a "strong and resilient" woman who "raised a bunch of good children, had a lovely smile" and "always caught many cockroaches with her bare hands on her way to [his] house to feed [their] arowana".
"You'll be dearly missed by the family, my mum and myself," he wrote. "Keep smiling on us, and rest in peace."
Photos: Elvin Ng/Instagram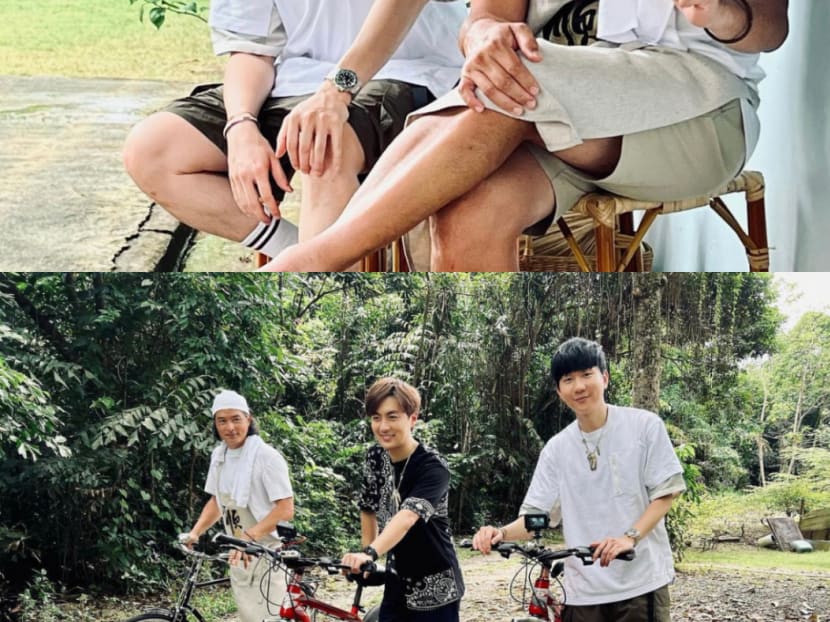 It looks like JJ's been busy making rounds on the local variety show circuit. Not long after his appearance on A Conversation with Minister, the singer started work on another Mediacorp production called Dishing with Chris Lee (as in, Christopher Lee), which also featured his long-time pal Hong Junyang.
Besides cycling around Pulau Ubin, the trio also "shared the joys and struggles of being in showbiz", as JJ revealed. We can't wait to hear what they chatted about.
Photos: JJ Lin/Instagram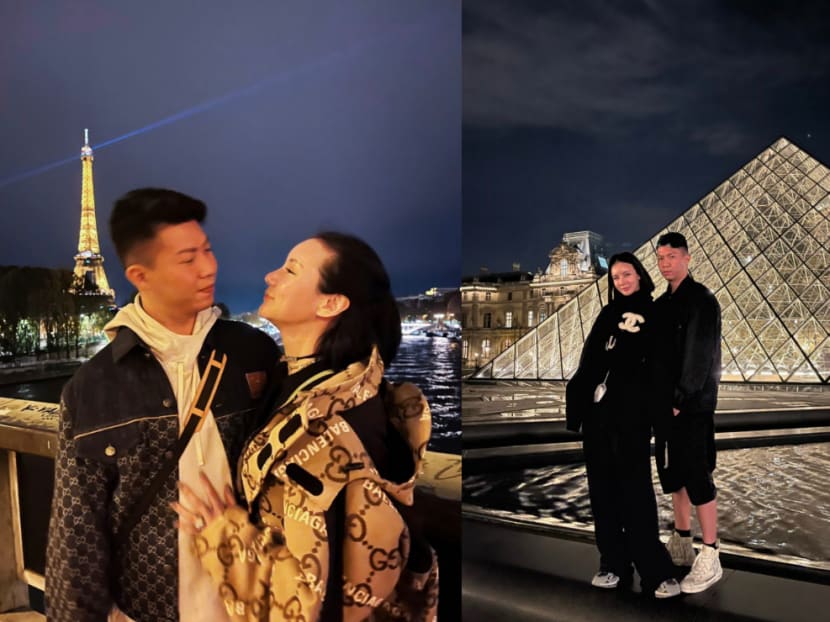 With more VTLs in place (like we mentioned earlier), travel-starved folks have been hopping on planes to make up for all those lost holiday opportunities, no thanks to COVID-19.
Among them is the newly engaged billionaire heiress, who is living it up in Paris with her fiancé and another friend. For those of us who have no plans to go overseas any time soon, guess we have to settle with living vicariously through her posts for now.
Photos: Kim Lim/Instagram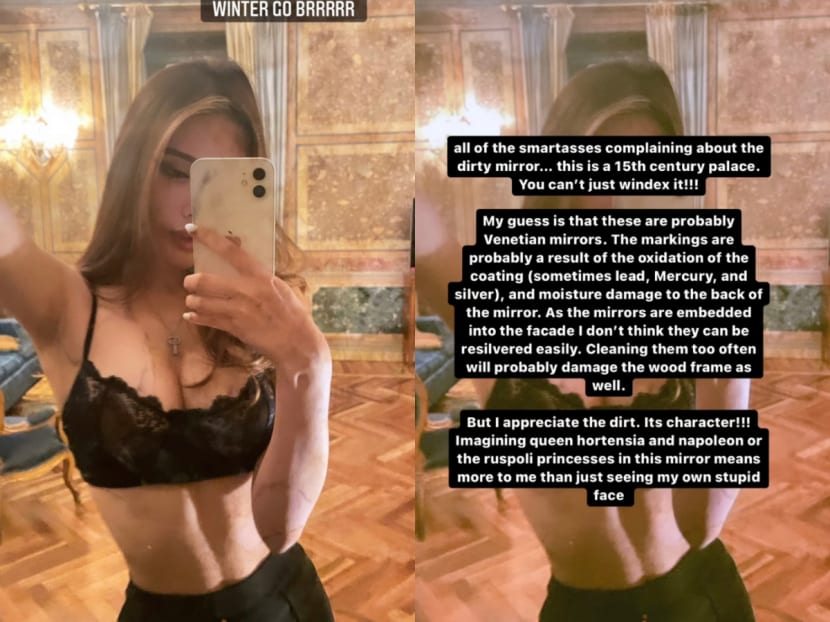 Also making us green with envy with her European holiday snaps is Jade, who spent her week in Italy.
A couple of her Instagram Stories posts had her flaunting her red hot figure in a lacy black bra, but surprisingly, it seems like netizens were more distracted by the "dirty mirror" instead, which she stood up for.
"This is a 15th century palace. You can't just Windex it!!!" she wrote, going on to explain that the stains are probably due to moisture damage and the oxidation of the metallic coating. Who knew a sexy selfie could be so educational?
Photos: Jade Rasif/Instagram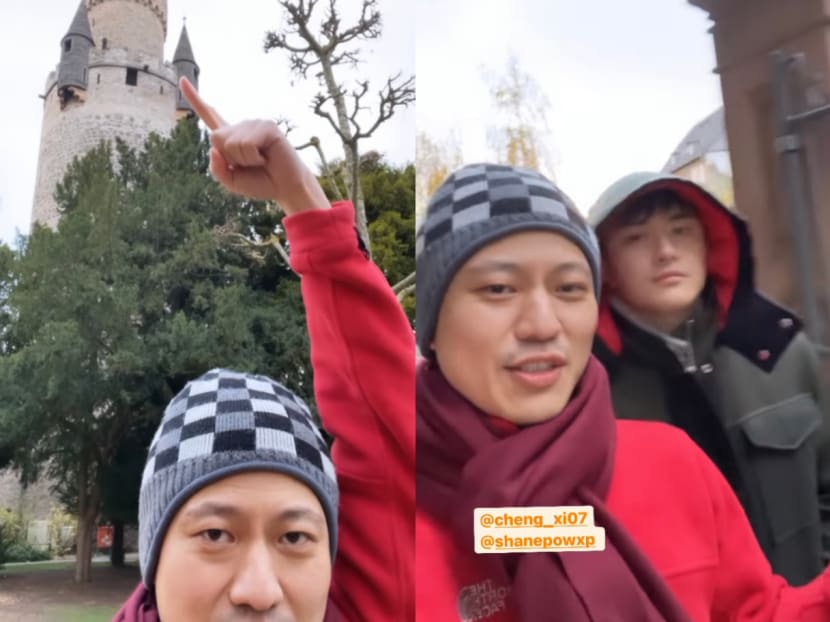 We guess this is one of the 'perks' of travelling in the middle of a pandemic: less tourists. Pornsak and Shane are in Germany with another friend and this week, they visited Friedberg Castle, with Pornsak reporting that there was pretty much nobody else around but them. How lucky!
Photos: Pornsak/Instagram
With overseas trips still not a wise option for families with young, unvaccinated children, the couple decided to opt for another staycation, or in this case, seacation on board a Dream Cruises ship, and it looks like everyone had a really wonderful time.
Photos: Joanne Peh/Instagram
While the rest of the world's Halloween tributes to Squid Game were limited to their costumes, Yvonne decided to take it one step further and prepared food inspired by the hit Netflix series, including a bento box with the show's iconic three shapes and, of course, the now-famous dalgona candy.
The family also played the games featured in the drama, and judging from the shot of her son AJ victoriously holding a bowl of money, it looks like he emerged the champion.
Photos: Yvonne Lim/Instagram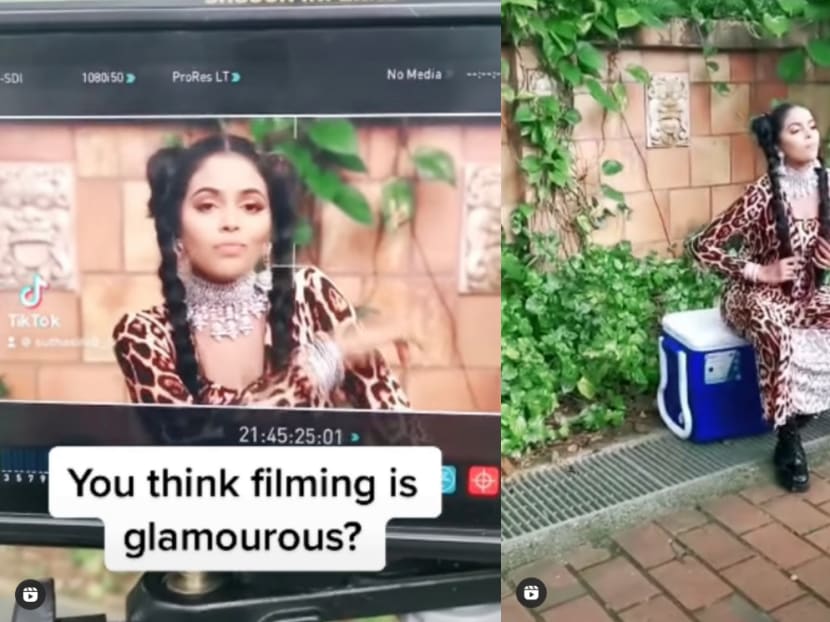 After sharing a snippet of her Deepavali performance for Vasantham, the singer then posted a light-hearted #Instagramvsreality look at what the camera didn't capture, which revealed that she was actually sitting on a cooler box while filming one of her scenes. Talk about looking cool!
Photos: Suthasini Rajenderan/Instagram