This "Invisible" Hotel Is Perfect For Group Staycations; Each Room Accommodates 4 People Comfortably
There is a hotel room in this picture. Really.
Can you spot a hotel room in the photo above?
Here's another look that may help.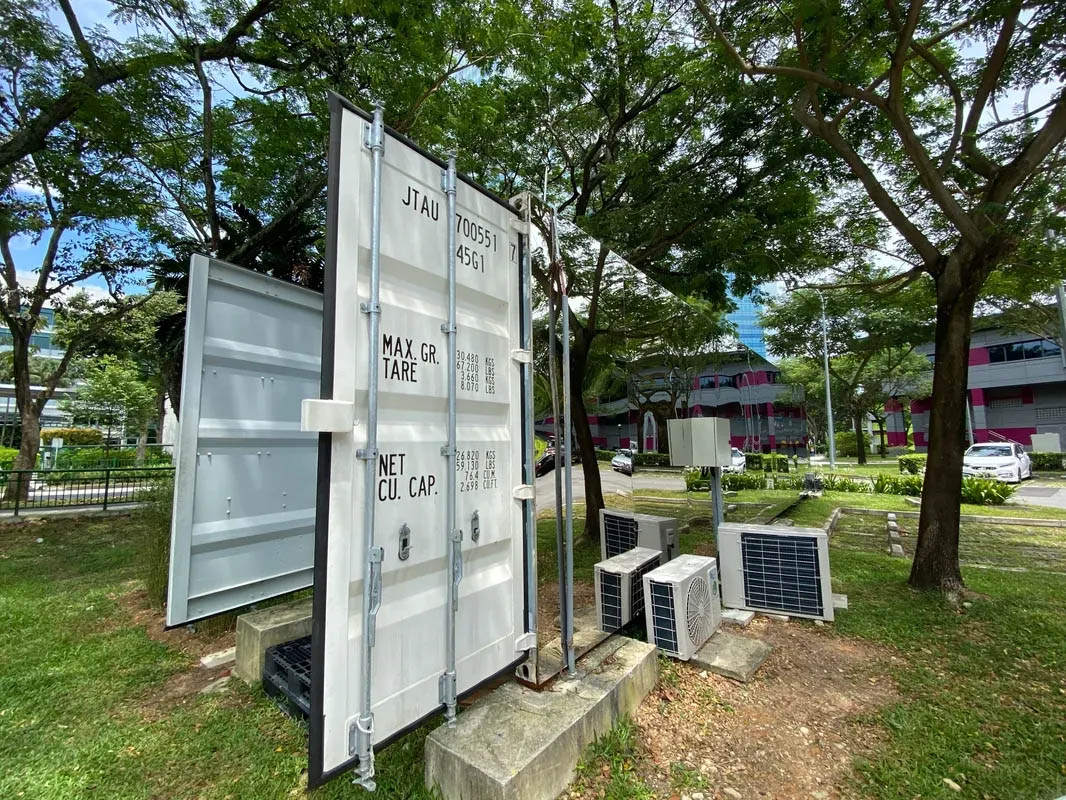 If you think the entrance to the structure looks like a shipping container, that's because it is. Look closely and you'll see the "invisible" structure is really a shipping container that's clad in a mirrored surface, hiding it in plain sight.
This is one of the two shipping containers in one-north that have been converted into hotel rooms by the aptly-named Shipping Container Hotel, which also has two more container hotel rooms in Haw Par Villa (more on that later).
The folks at Shipping Container Hotel inform us that the containers at both one-north and Haw Par Villa are considered temporary structures and will be moved around the island every few years, making it the first movable hotel in Singapore.
1 of 2

"Invisible" mirrored container hotel in one-north

Shipping Container Hotel's one-north outpost has just been soft launched this month. Here, you'll find two containers that are nestled in JTC Launchpad (77 & 81 Ayer Rajah Crescent), which leaves you with plenty of food options just steps away at Timbre+ or Fusionopolis across the road.

Room rates here are $250 per night on weekdays and $350 per night on weekends.

Only one out of the two containers at one-north are mirrored — the other boasts laidback modern cabin vibes. You can choose which cabin you want to book if you reserve directly via Shipping Container Hotel's website.


Each 40ft long container sleeps up to four people, and spans about 290 sqft of indoor space.

Inside, the contemporary design is reminiscent of a studio apartment. There's a good amount of communal space with segregated living, dining and kitchenette areas.


Although there's a queen-sized murphy bed tucked away in the living room, each container also has a separate bedroom decked out with a king-sized bed. An extra mattress is available at an extra charge if you have a fifth person in the group.


It's a staycay after all, so it's only right that there's a bathtub in the bathroom with a view for you to luxuriate in.


There's also plenty of room to chillax outdoors — each cabin has a sizeable patio area of about 300 sq ft.


"We created a large deck because we want to encourage our guests to spend more time outdoors and to explore the neighbourhood," founder and CEO of Shipping Container Hotel, Liang Chiang, tells 8Days.sg. "Unlike most traditional hotels, we do not have any amenities but we hope to leverage on and complement the surrounding amenities and attractions."

2 of 2

Staycation in Haw Par Villa, anyone?

Sleeping in a shipping container in the land of kitsch that is Haw Par Villa? This is as quirky of a staycation as it gets.

Over at Shipping Container Hotel in Haw Par Villa, there are two shipping containers converted into rooms nestled within the park itself, each accommodates up to four people. Room rates for Haw Par Villa are $200 per night on weekdays and $300 per night on weekends.

Pawrents who wish to bring their furkids along on the staycay will be happy to know that pets are allowed at the Haw Par Villa containers, but on a case-by-case basis. If approved, there are no extra charges for pets currently.

There are no mirrored hotel rooms here, but the Haw Par Villa containers boast optical illusions of a different sort. Each structure is swathed with pictures of greenery, partially camouflaging the containers in with the actual lush flora and fauna in the background.

Bookings and more info here.
Photos: Shipping Container Hotel