Ipoh-born brothers serve hearty S$3.60 century egg porridge and spicy Hakka mee at Hougang hawker stall
One of the bros used to work as a chef at Din Tai Fung and Tim Ho Wan — that's why dim sum items are also offered at Lao Foong Ji.
We are thoroughly confused by dim sum and noodle stall Lao Foong Ji's signboard at a Hougang kopitiam. It reads in mandarin — "Lao Foong Ji since 1992: 3rd generation descendent, currently the first generation". Wait. What?
It turns out to be a marketing tactic; a conversation starter, if you will. For the record, '1992' refers to restaurant chef-turned-hawker Jackus Foong's birth year. The '3rd gen' claim points to the fact that he and his brother were inspired by their late grandfather's Hakka noodle recipe, while the 'currently the first gen' bit explains that they are, well, the first-gen owners of this new brand. Apparently, this tactic works — the bros tell 8days.sg that customers have been asking them about their unusual signboard.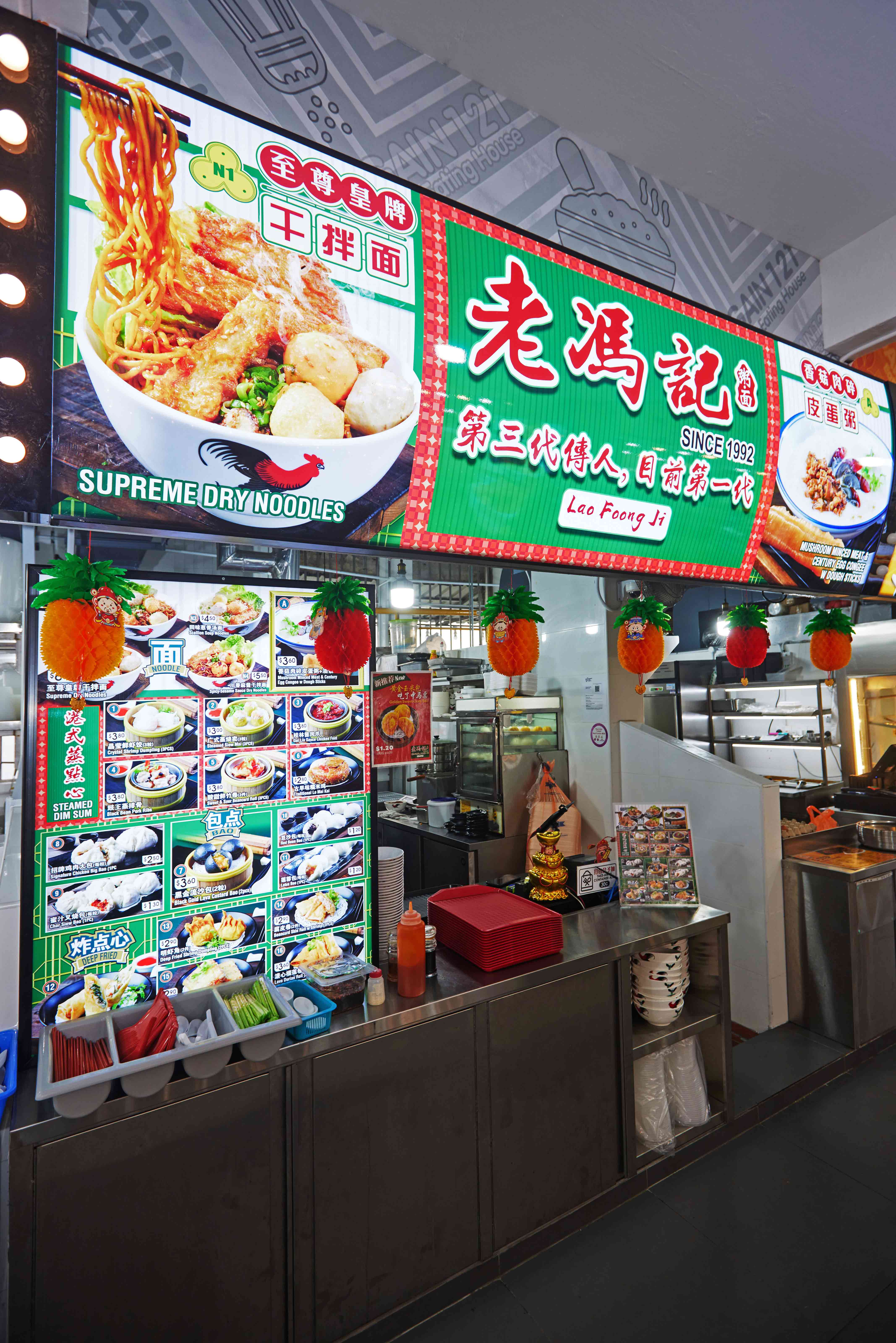 Bewildering signage aside, Jackus (left in pic), 31, and his brother Kelson (right), 35, do come with culinary cred. Keen to expand their horizons, the Ipoh boys both relocated to Singapore over a decade ago. Jackus was just 18 when he started out as a dim sum sous chef at Ding Tai Fung, followed by Tim Ho Wan and Shang Social. Kelson, then 22, branched into western food instead.
No part of this story or photos can be reproduced without permission from 8days.sg.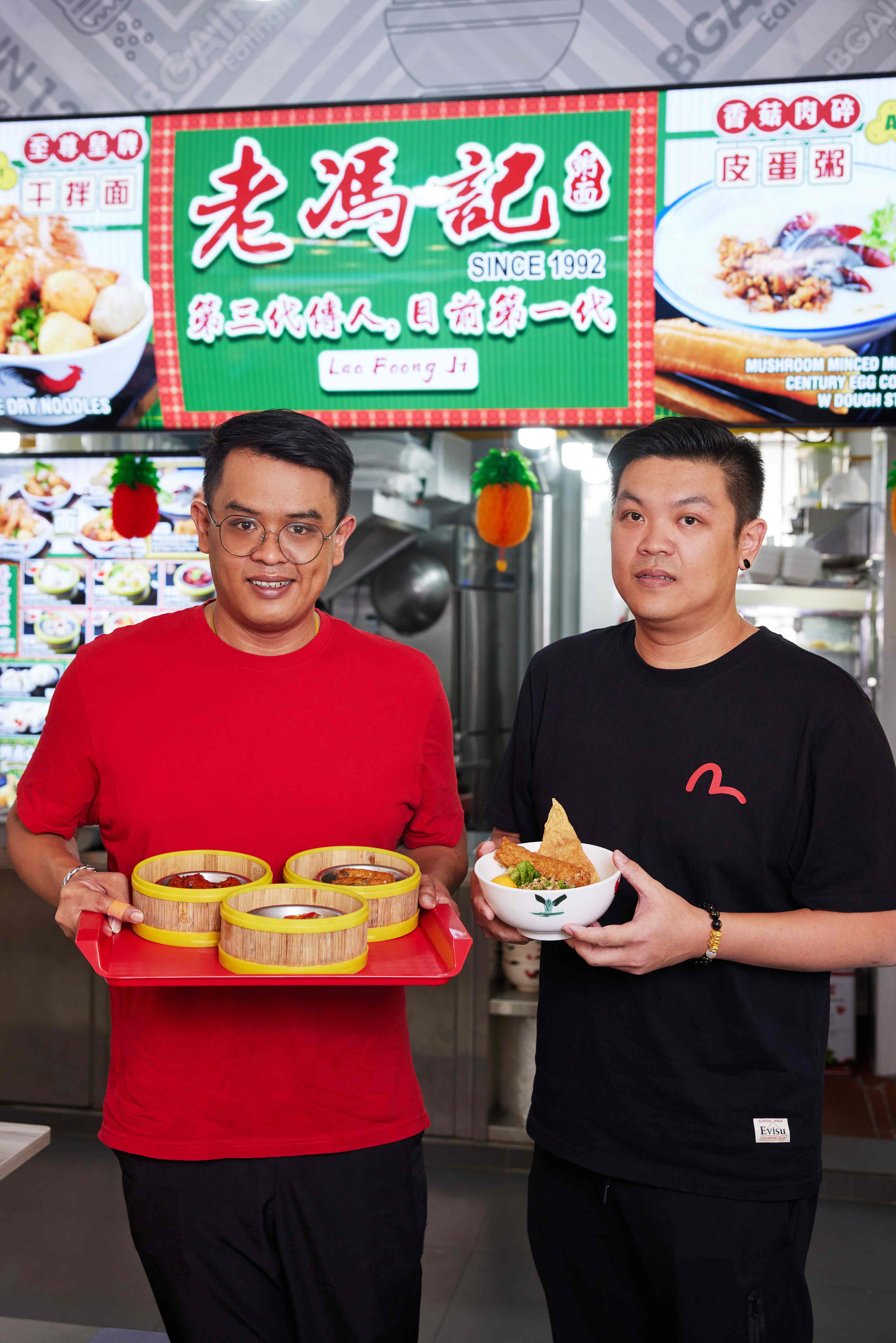 Joining hands to develop their own hawker brand
After working for big F&B brands for over a decade, Jackus decided to strike out on his own with Kelson as his silent partner. Jackus mans the stall while Kelson, who kept his day job as part of the management team of casual Western diner Char Grill Bar, works with him on R&D and marketing their brand. They opened Loong Fong Ji (located next to PrataLahhh!) in December 2022.
"Many people say that it's difficult for family members to run a business together because they quibble over every little thing, but we really haven't quarrelled much! Friction is inevitable, of course, but what's important is we have the same goal in mind," says big bro. "If anything, I think working together has helped us to understand each other better." The siblings also hope to open more branches in future.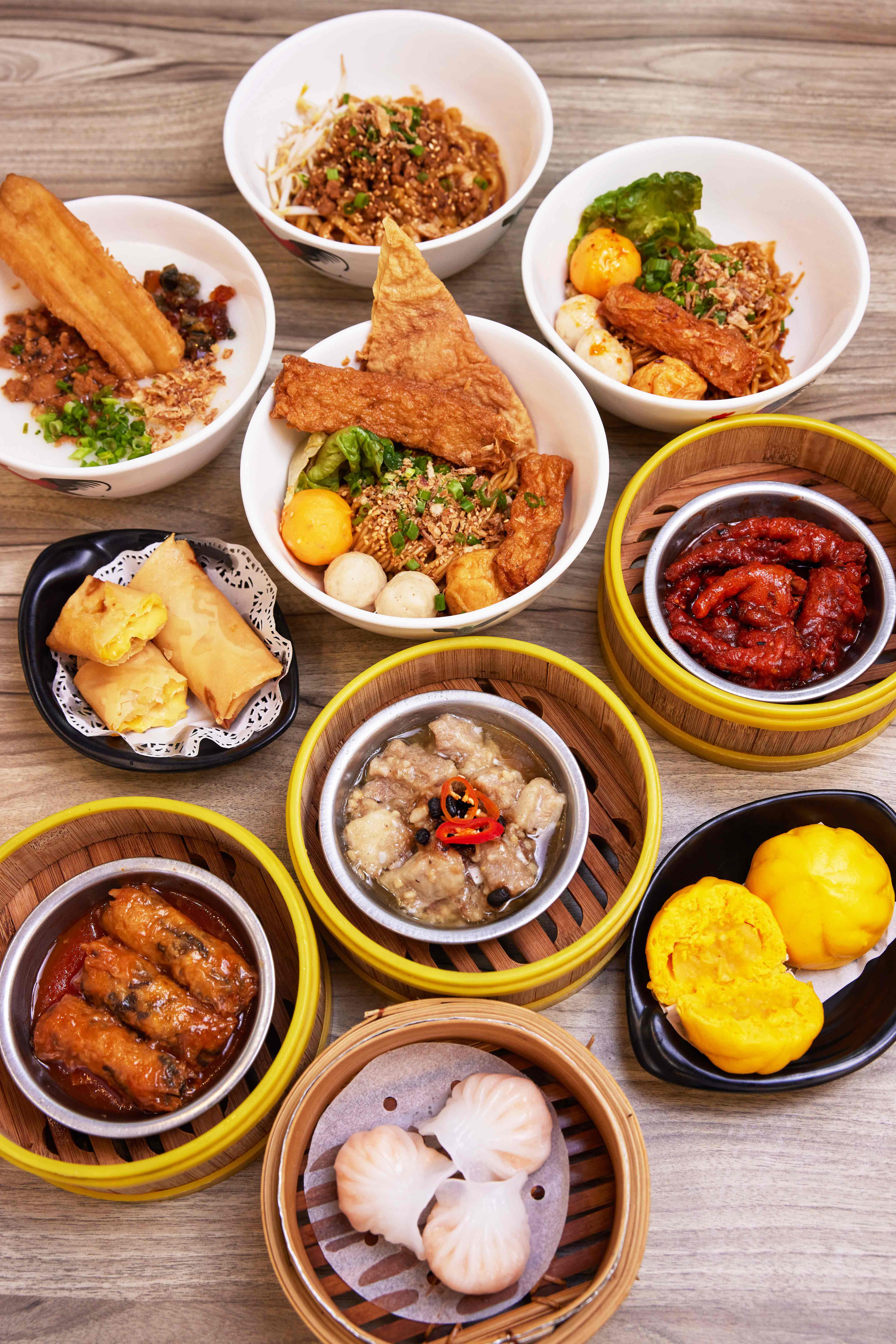 The dim sum and Hakka mee menu
So why did they decide to focus on noodles instead of dim sum, since Jackus has spent years honing his skills making the latter? 
"It's because our home-style Hakka noodles is a nostalgic flavour we grew up with in Malaysia and is not commonly found here. So, we hope to introduce it to the local market and spread its popularity," explains Jackus, who helped at their hawker parents' wonton mee stall since he was in secondary school.
The brothers also reason that customers will probably not order dim sum daily; thus, they also wanted to offer a staple dish like noodles. Theirs is a modified version of Hakka mee. "My dad is Cantonese while my mum is Hakka; we're 'mixed', that's why our noodles are a hybrid of both," laughs Kelson.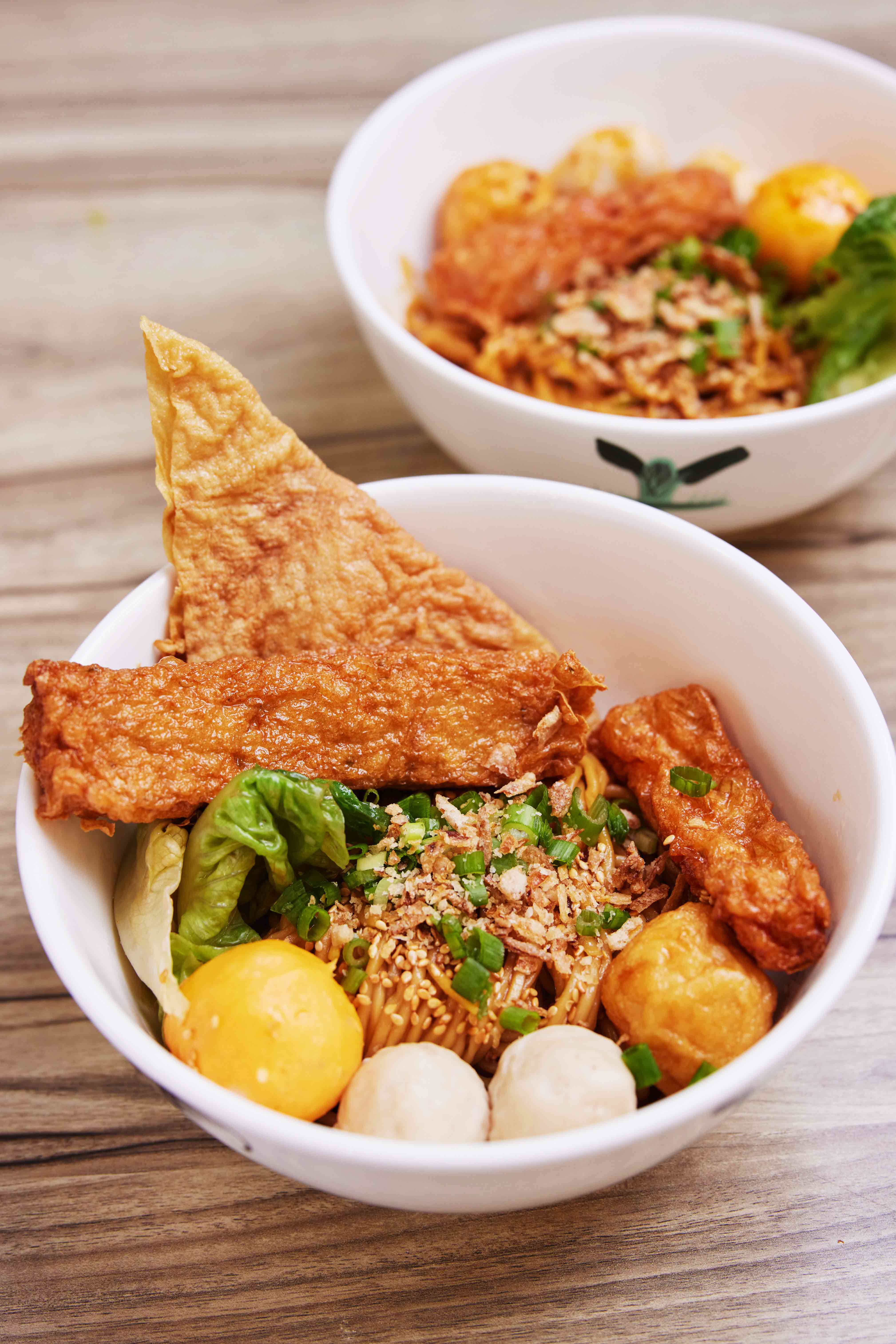 In Malaysia, gan lao mian (dry tossed noodles) is mixed on the spot with light and dark sauce, and scallion oil. To keep his noodles' taste more consistent and fragrant, Jackus prepares his own concoction (he declines to share the recipe) as a pre-mix, which is added to each order of noodles.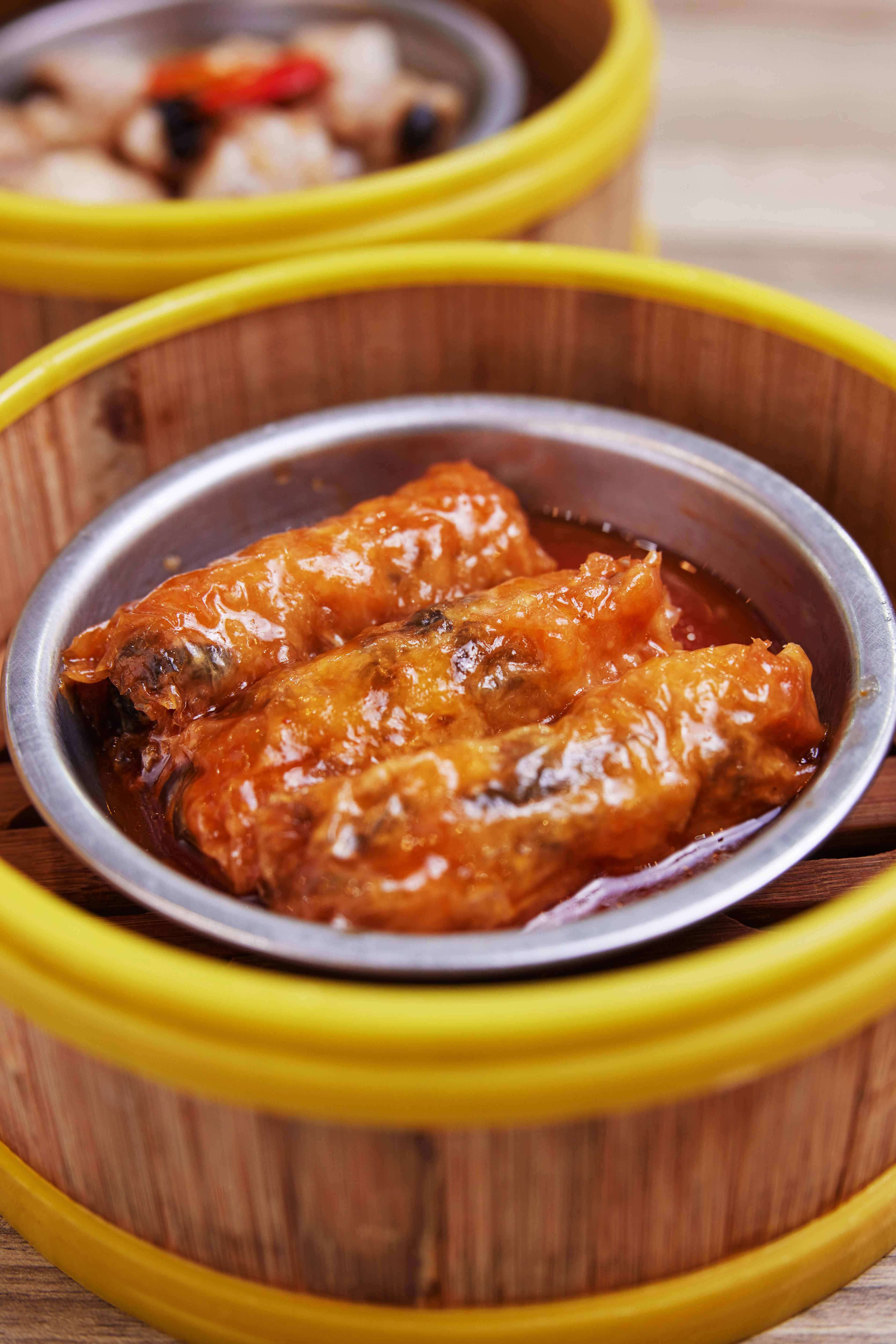 He also serves 16 types of dim sum, such as the ubiquitous har kow, siew mai and char siew bao. Prices start from $1.20 for a red bean bao, to $3.80 for the steamed items. While Jackus' expertise is in making dim sum, theirs are not made onsite. Instead, they work with a trusted supplier who follows their recipes.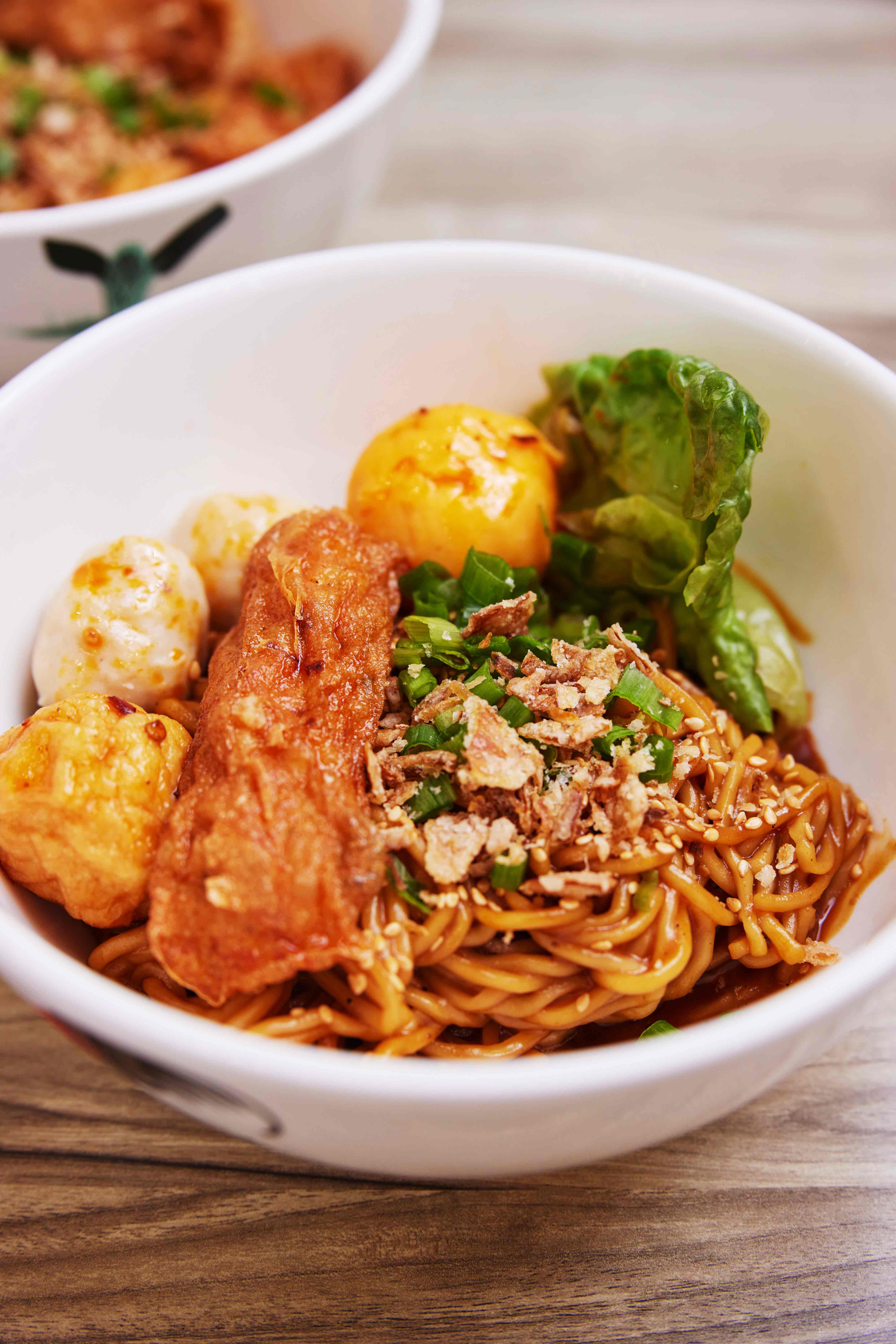 Spicy Sesame Sauce Dry Noodles, $5.50 (8 Days Pick!)
Between their regular Supreme Noodles tossed in black sauce and this Spicy Sesame Sauce version, we much prefer this. While the al dente noodles are not as thick and springy as Pang's Hakka Yong Tau Foo's specially-made noodles, they're still plenty chewy.
Well mixed in an addictive sauce made from sesame paste and chilli oil, the noodles pack a satisfyingly mouth-numbing punch. The sauce adds much flavour to the supplier-bought toppings like a beancurd skin filled with fish meat, chicken ball, fried fish ball and prawn ball which, on their own, are nothing much to write home about.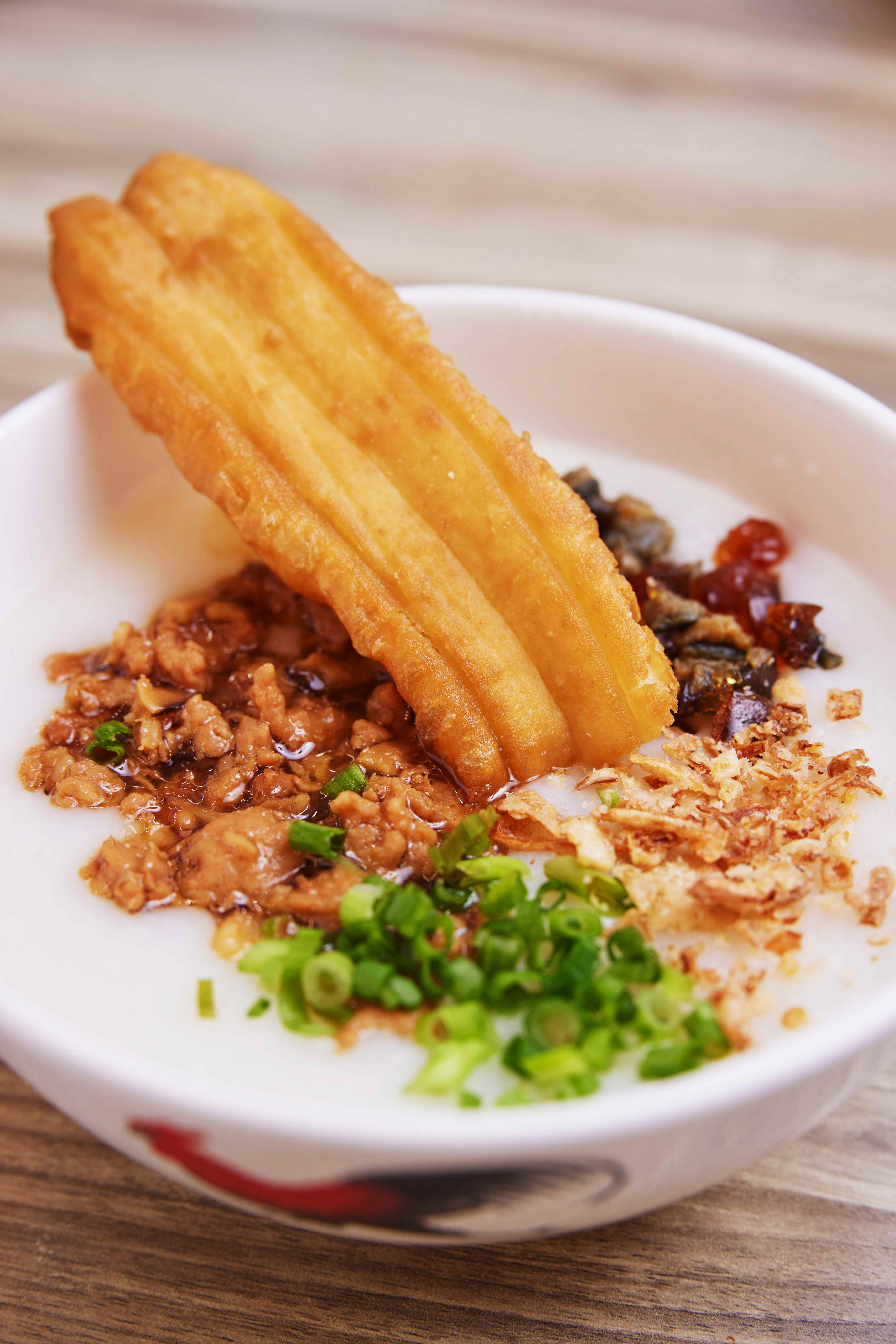 Mushroom Minced Meat & Century Egg Congee with You Tiao, $3.60
A levelled-up version of the commonly found century egg porridge, which usually includes bits of plain meat cooked in the porridge. Jackus' offering is a bowl of silky Cantonese-style congee topped with fragrant minced pork stir-fried with chopped mushroom.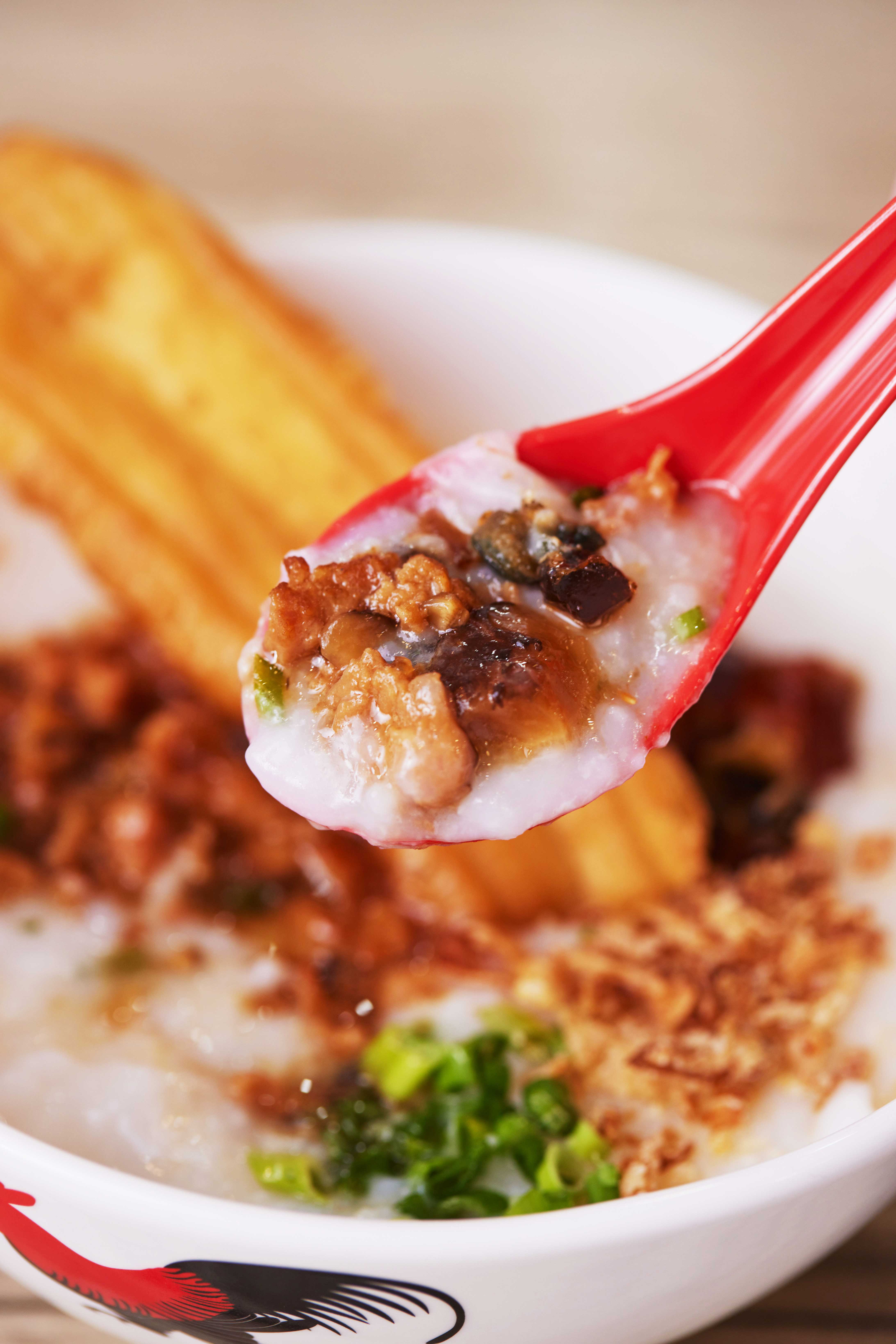 Each medium-sized bowl is served with a short stick of chewy you tiao. Comforting and perfect for a light meal.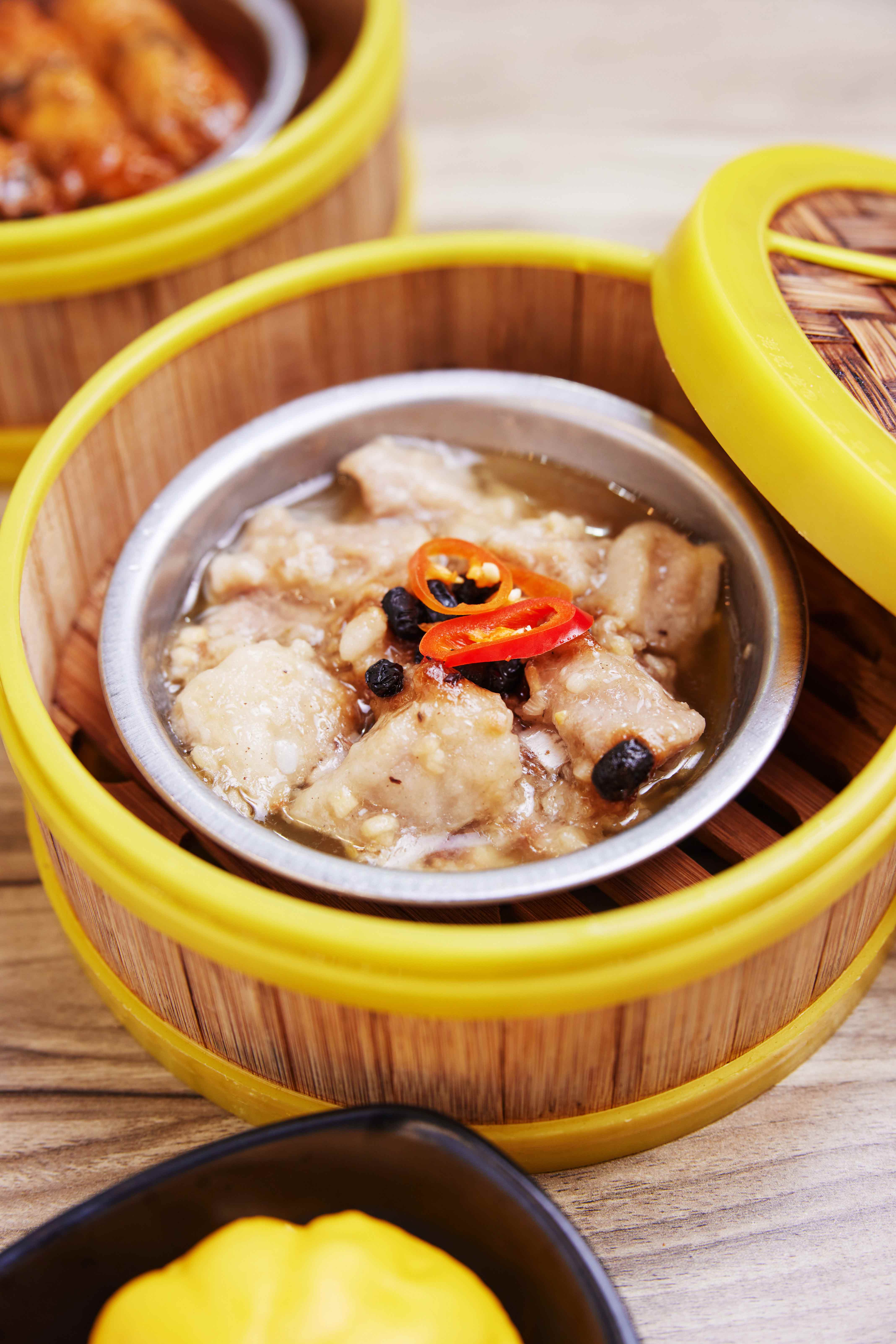 Sweet & Sour Beancurd Roll, $3.80; Black Bean Pork Ribs, $3.80 (8 Days Pick!) 
Our two favourite items from their dim sum repertoire are also the two that remind us most of the Cantonese-style dim sum we've eaten in Ipoh.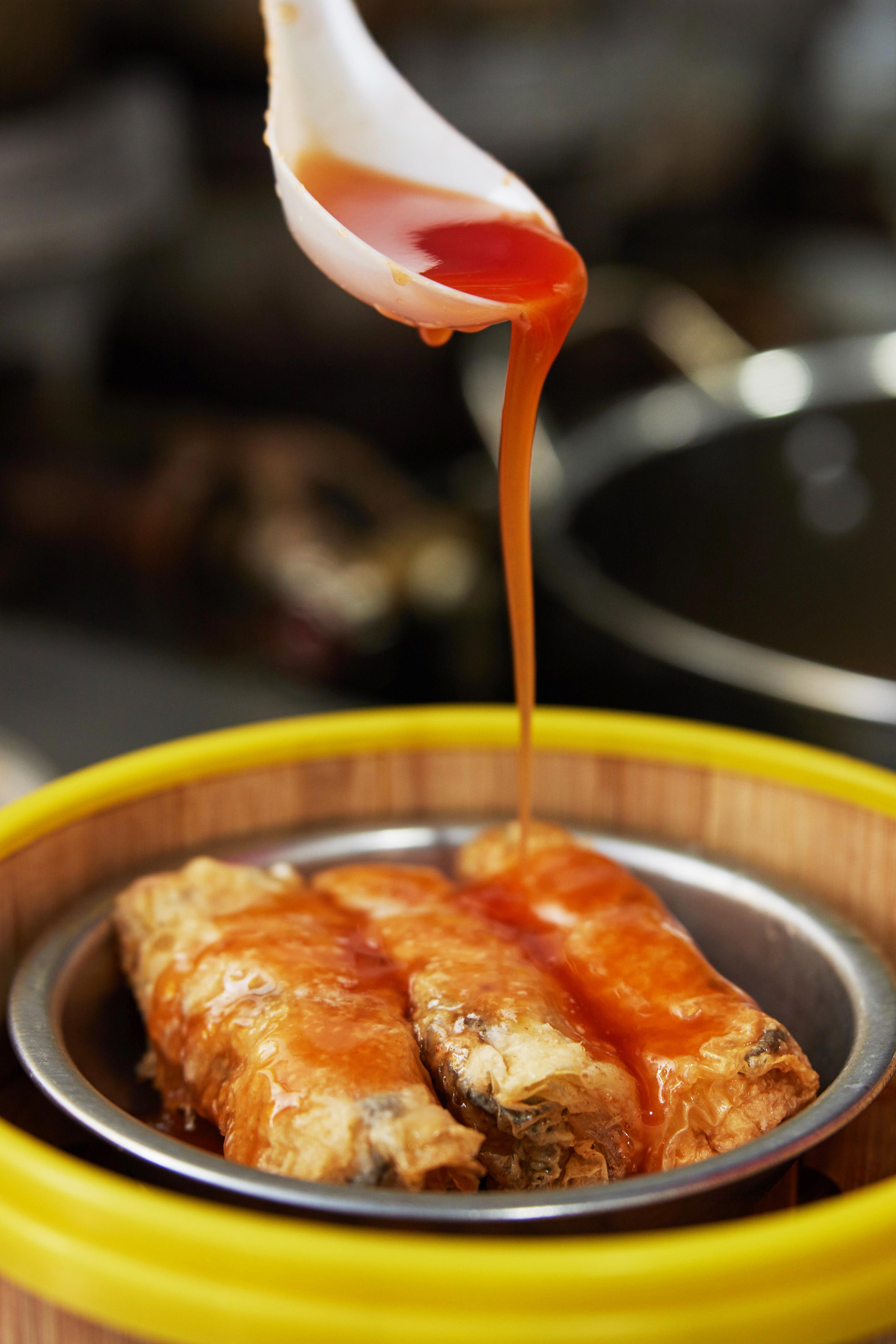 The stuffed beancurd roll is soaked in an appetising sweet and sour sauce. It's like a less viscous version of sweet and sour pork sauce and had us smacking our lips. Meanwhile, the black bean sauce Jackus uses is more in-your-face than what you'll find at most dim sum joints, as they use whole black beans to marinate the steamed pork ribs. It's a little salty but tasty. Order both items.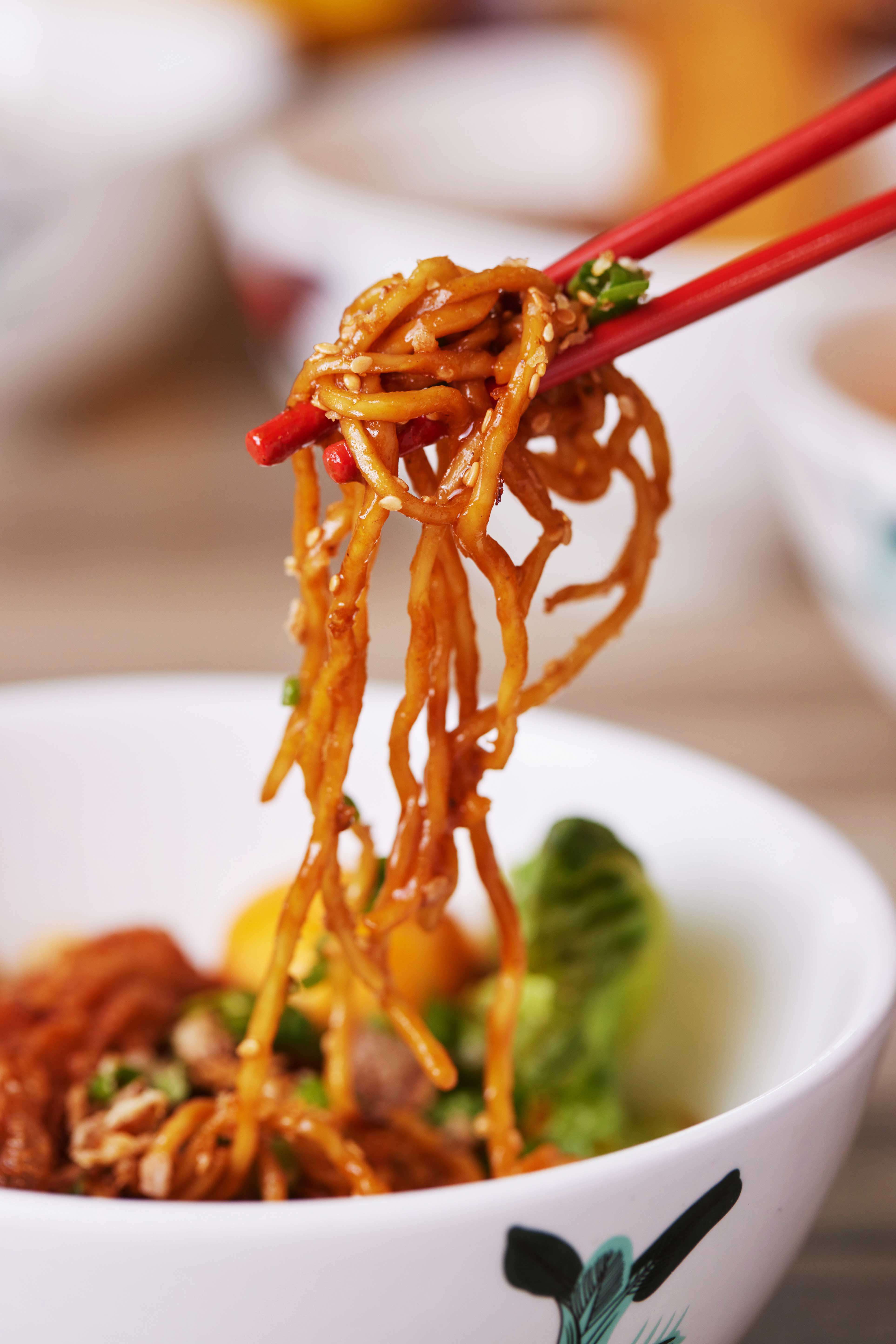 Bottom line
Like its signboard, the concept at Lao Foong Ji is a little all over the place. It looks like a dim sum speciality stall, but the signature dish here is a fusion version of Hakka mee. If you do drop by, go for the dishes with punchier flavours like the mala-style sesame noodles and sweet and sour beancurd roll. The porridge is pretty decent too. However, we wish Jackus tapped more on his dim sum chef experience to hand make some of the snacks onsite.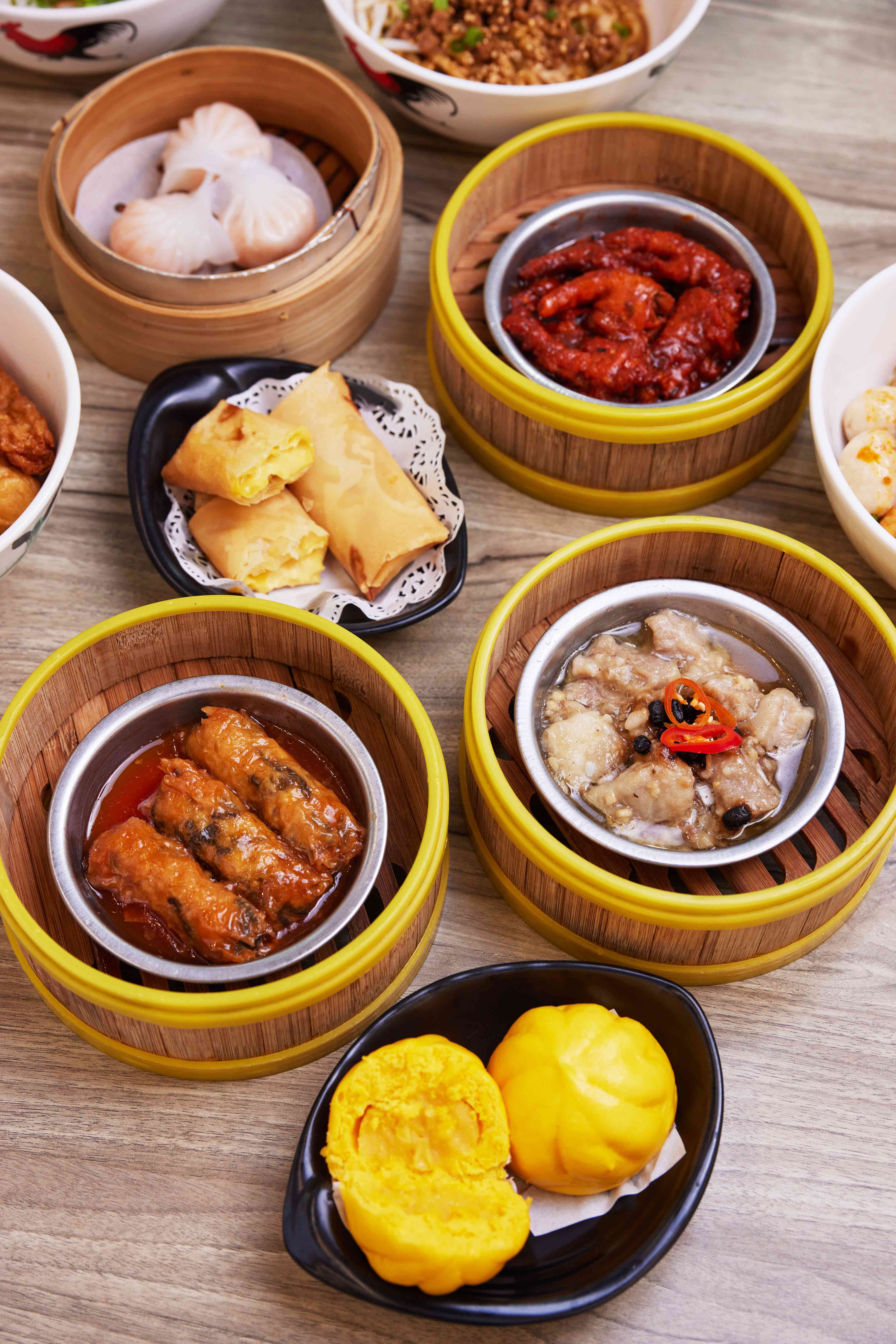 The details
Lao Foong Ji is at Bgain 121 Coffee Shop, #01-1358 Blk 121 Hougang Ave 1, S530121. Open daily 8am to 730pm. More info via Facebook.
Photos: Kelvin Chia
No part of this story or photos can be reproduced without permission from 8days.sg.
8days.sg is now on #tiktok! Follow us on www.tiktok.com/@8dayseat.