JB Charcoal-Roasted Duck Specialist Meng Meng Opens 2nd S'pore Outlet; Char Siew Yam Puff & Congee Among New Dishes
The Malaysian brand's newest stall in Singapore is housed in an air-conditioned Hougang food court.
Malaysian makan import Meng Meng Roasted Duck, popular for its signature herbal marinated charcoal-roasted ducks and other meats, launched its second outlet on November 1. Good news for fans, since its outlets in Johor Bahru are typically crowded on weekends.
Unlike its first Singapore outpost which opened in an Ang Mo Kio kopitiam last October, this new joint is housed in the recently opened Foodies' Garden food court within Hougang Mall. Here, it boasts an expanded menu that includes double-boiled soups, more dim sum items and congee alongside their roast meats.

No part of this story or photos can be reproduced without permission from 8days.sg.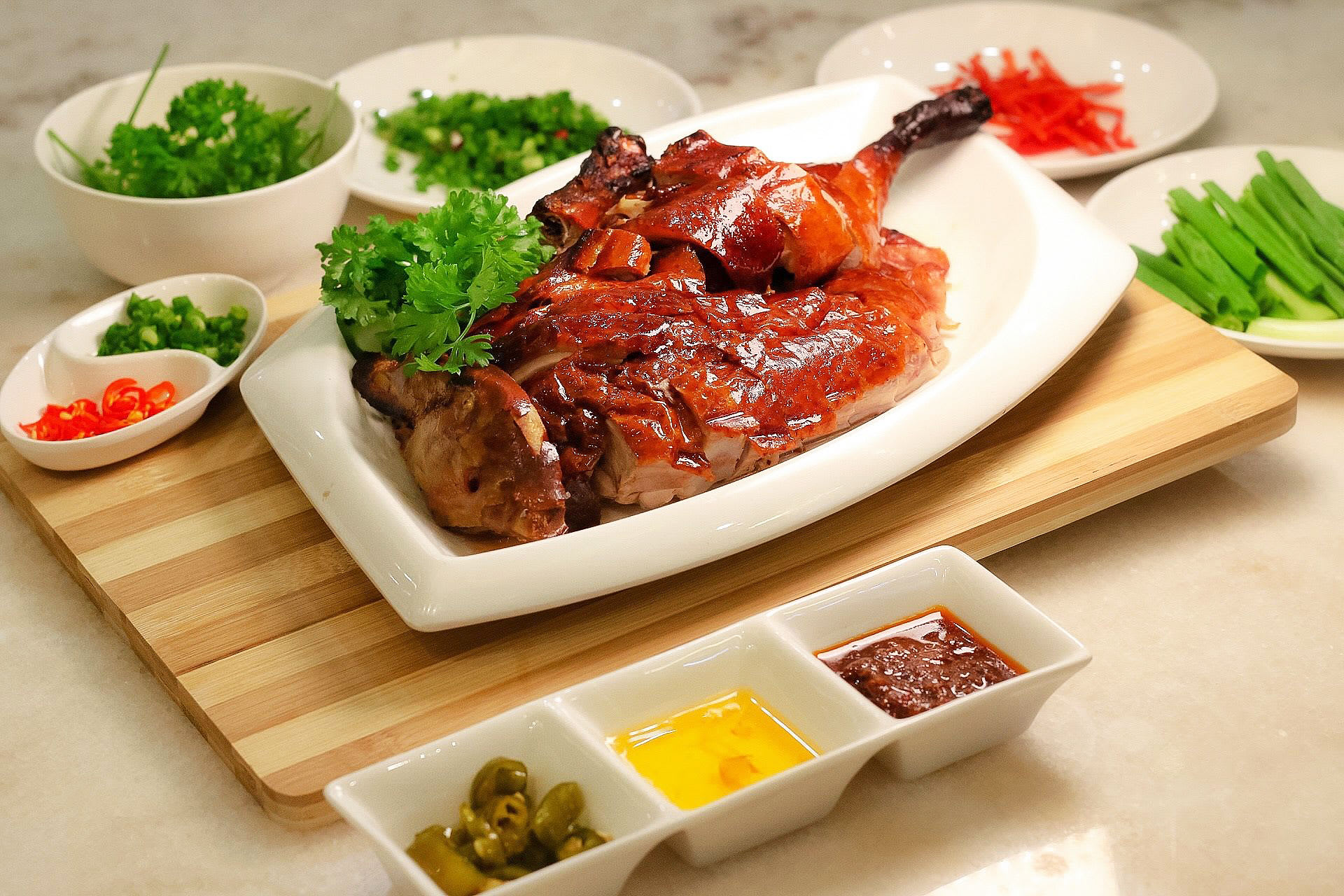 Meng Meng's 2nd S'pore outlet initially planned to open as a restaurant
Meng Meng Roasted Duck's expansion here is a partnership between Meng Meng and Singaporean management consultancy +Plentitude, the company behind Hainanese restaurant The Hainan Colony.
The managing director of +Plentitude, Owen Lau, tells 8days.sg that he initially explored opening Meng Meng's second Singapore outlet as a "full restaurant", but decided to play it safe in light of the "unstable" economic situation after the pandemic – which is why they chose to set up shop in a food court instead.
These two branches join the brand's four outlets in Johor Bahru. Three of these outlets in Malaysia are standalone restaurants housed within malls like KSL City Mall. Meng Meng Roasted Duck was founded by chef-owner Chew Kwee Meng (affectionately known as Ah Meng), 49, back in 2003 after he cut his teeth, interestingly, "at roast duck restaurants in Singapore's Chinatown," says Owen.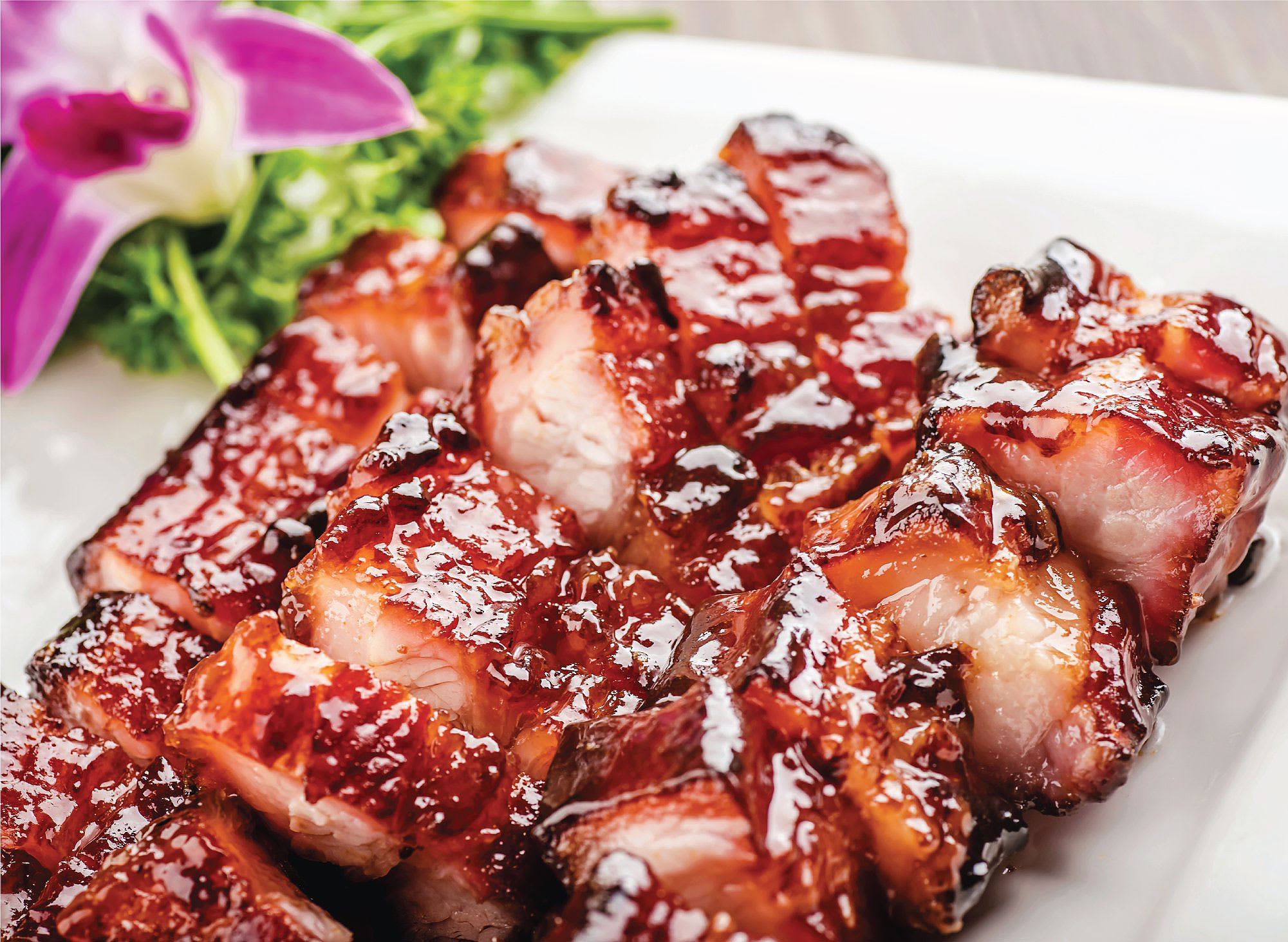 Meats charcoal-roasted onsite by chefs from JB
Ingredients are imported from Malaysia to ensure consistency at the Singaporean Meng Meng outlets. These ingredients include chilled, not frozen, ducks from Malaysia; as well as marinades and sauces from the brand's central kitchen in Johor Bahru.
The meats are charcoal-roasted on-site at both outlets independently by "experienced chefs from the JB outlets" now that borders have reopened, says Owen, adding that Ah Meng himself makes regular trips to Singapore to check on the quality of the grub.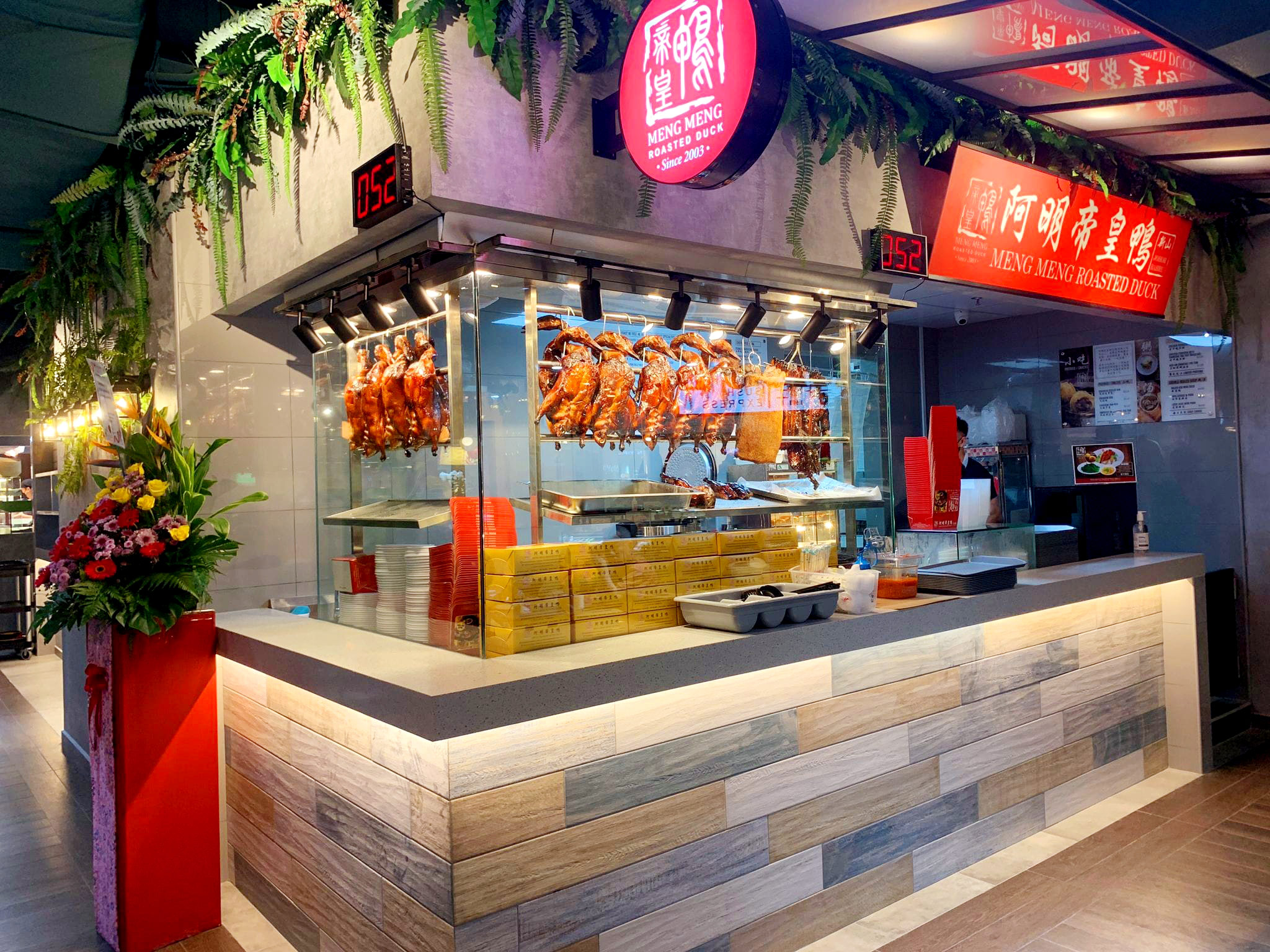 "Consistent business" despite Malaysian borders reopening
Speaking of borders reopening, Owen tells us that the Meng Meng outposts' business "have not been affected much", even after daily travel to Malaysia resumed. He explains: "When people go to Meng Meng [restaurants in Malaysia], they often go to try all their zi char items as well. Ours is more hawker-style – if people have a craving for roast duck or char siew only, then they will come to us."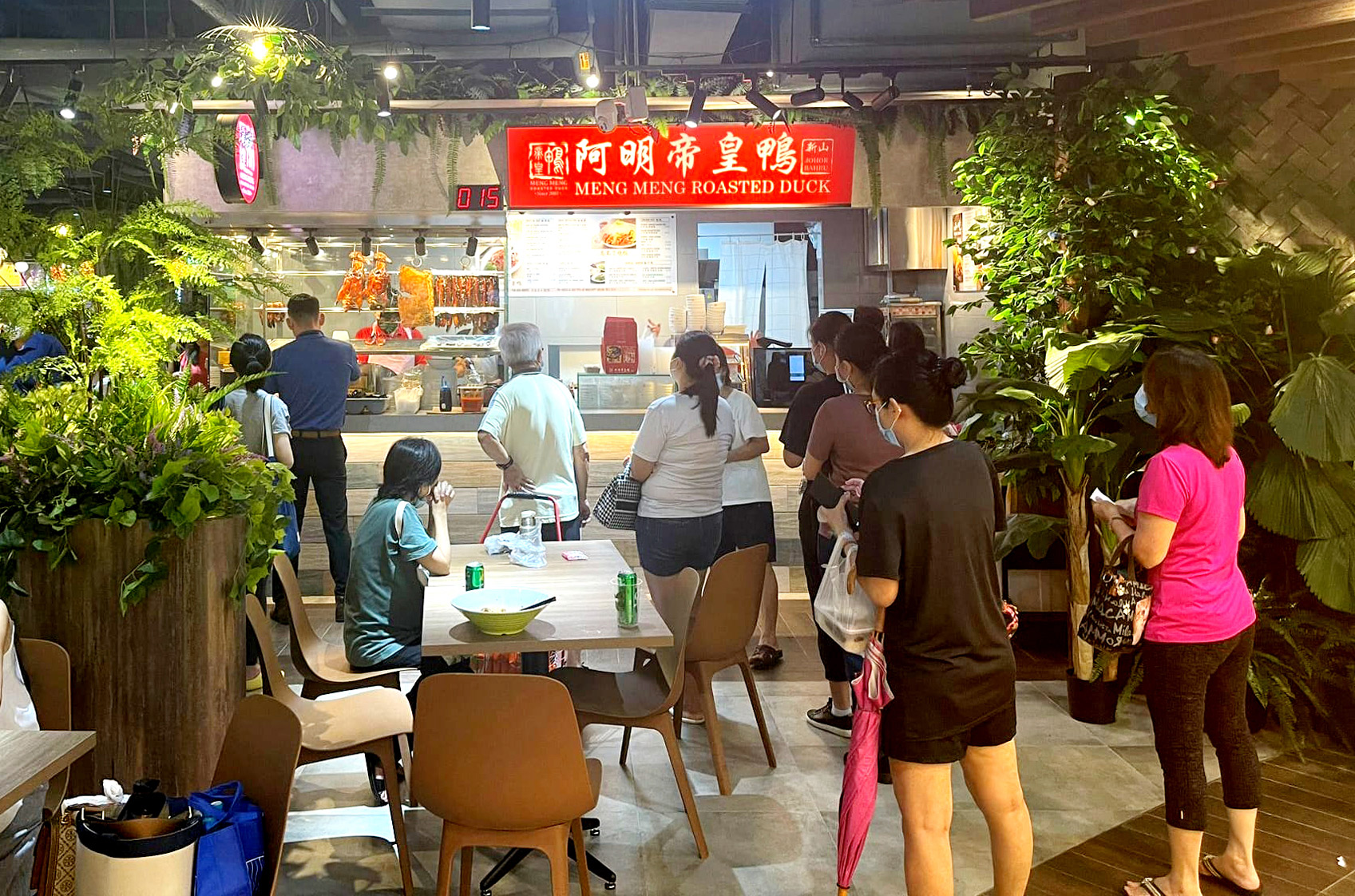 While the humbler Ang Mo Kio stall continues to see "consistent business" with only a short wait of less than "five minutes", dining at the newer two-week-old food court stall in Hougang requires a little more patience – with an average wait of "15 minutes" during peak periods. "We have a good location facing the front within the food court (pictured above), so we get a lot of curious customers who decide to queue up and try," he adds. Getting such a prime location wasn't cheap – Owen shares that rent at Hougang Mall is "three times higher" compared to Ang Mo Kio.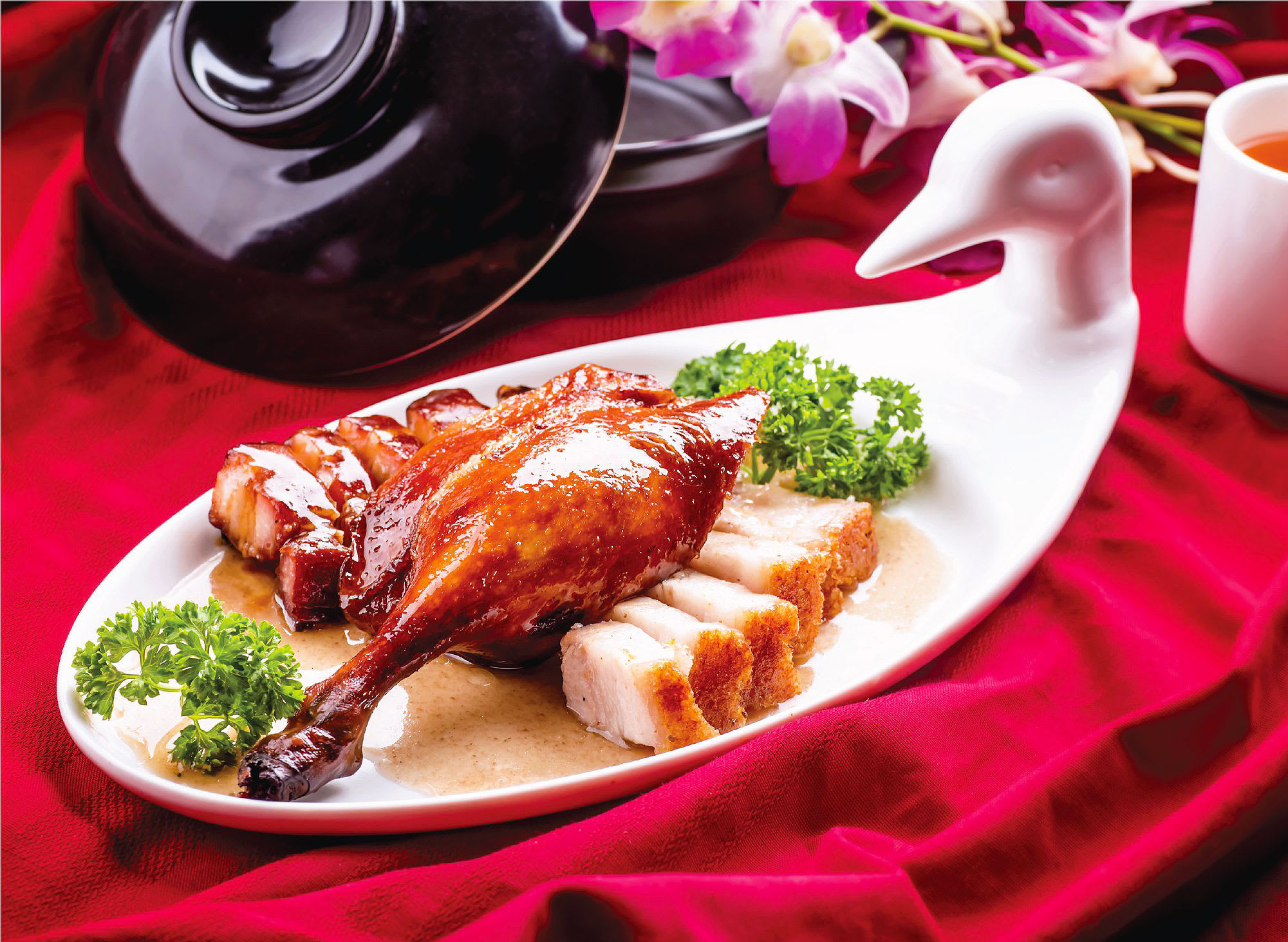 Expanded menu with slightly steeper prices 
Naturally, you can expect Meng Meng Roasted Duck's grub to be slightly pricier at the air-conditioned food court. The brand's signature duck, marinated with woody dang gui (Chinese angelica root) and charcoal-roasted daily, costs $50 a bird here – $5 more compared to when they first opened in Ang Mo Kio last year. The charred, sweet-savoury Malaysian-style char siew goes for $65 per kg, while the Roast Pork Belly costs $60 (up from $60 and $50 per kg respectively). It costs $5.50 for rice with one type of meat; $6.80 for two and $8.50 for all three.
A plus point: the stall now serves chicken rice instead of just plain rice.
They have also bolstered their offerings with poached and roasted chicken ($32 whole; $18 half), Cantonese-style congee (from $3.50) and double-boiled soups like Salted Veg with Duck or Lotus Root with Pork ($4.50).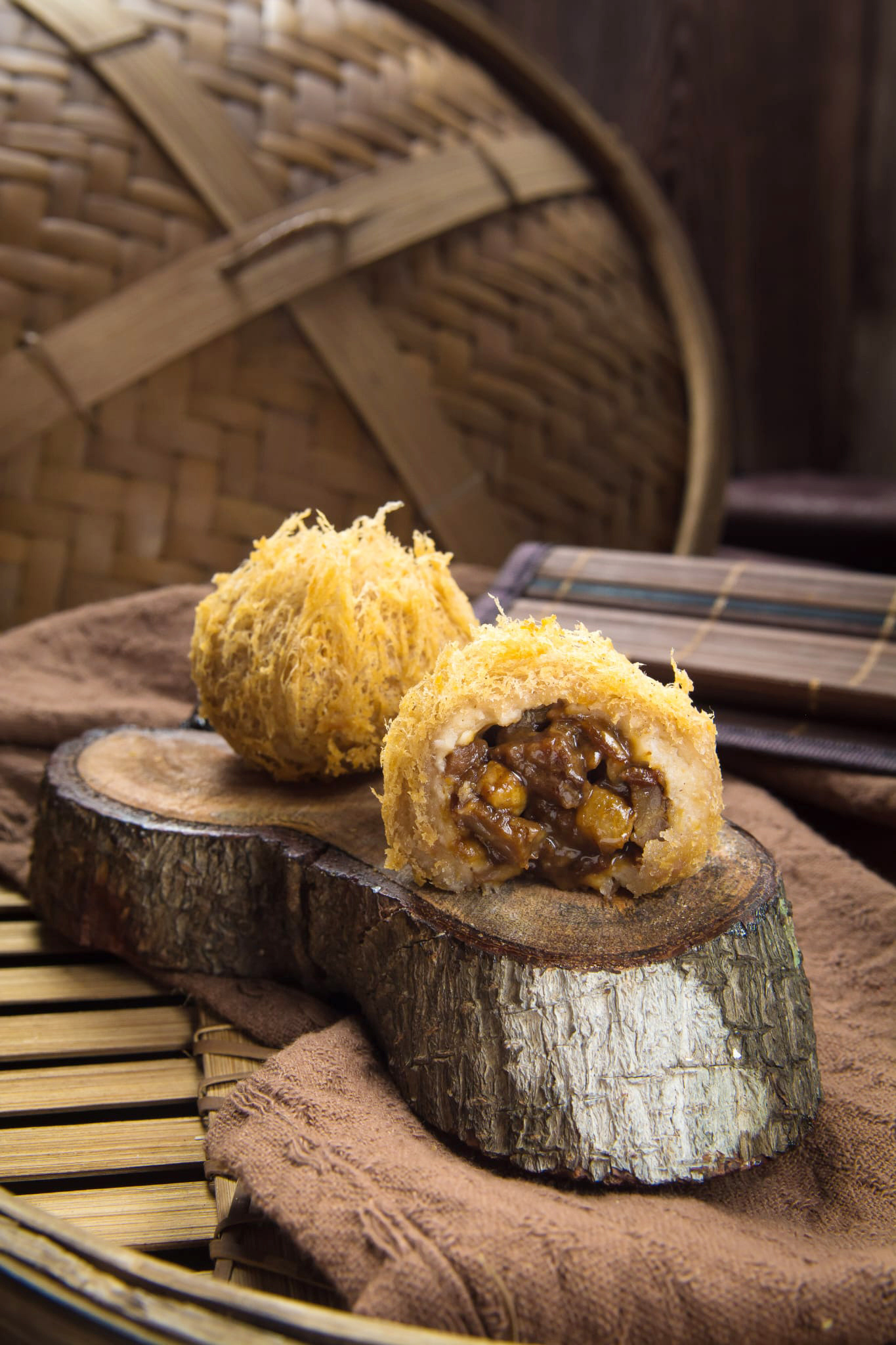 The dim sum offerings are more extensive too. Joining their existing char siew-stuffed snacks like the Char Siew Sou and Char Siew Bolo Bun (both $2.20) are the Char Siew Yam Puff ($2.20, pictured above) and Char Siew On Charcoal You Tiao ($3.80). These new offerings are exclusive to the Hougang outlet for now.
Prices to go up at Ang Mo Kio outlet soon
Due to the rising cost of ingredients, prices will be adjusted at Meng Meng's Ang Mo Kio outlet soon. The whole Dang Gui Roasted Duck will eventually cost $48 there, but that's still $2 cheaper than the Hougang outlet's prices. One type of meat on seasoned rice starts at $4.80 here, vs $5.50 at Hougang. However, the char siew and roast pork belly at Ang Mo Kio are similarly priced at $65 and $60 per kg. 
The details
Meng Meng Roasted Duck's second outlet is at #04-11 Foodies' Garden, Hougang Mall, 90 Hougang Ave 10, S538766. Tel: 9811-0123. Open daily 11am – 8.30pm. More info via Facebook and Instagram.
Their original outlet is at #01-2823, Blk 721 Ang Mo Kio Ave 8, S560721. Tel: 8908-7000. Open daily except Wed, 11am – 7pm.
Photos: Meng Meng Roasted Duck
No part of this story or photos can be reproduced without permission from 8days.sg.