Jesseca Liu And Jeremy Chan Mourn Their Cat's Death; Say He Went To "Chop A Seat" In Heaven First
Jess and Jeremy both dedicated heartbreaking posts to Crusso, who was diagnosed with end-stage pancreatic cancer in August.
Yesterday (Nov 8), celeb couple Jesseca Liu, 42, and Jeremy Chan, 40, took to social media to pay homage to their 14-year-old cat Crusso, revealing that he had died on Sunday (Nov 7).

Just a week ago, Jesseca shared with 8days.sg that Crusso, whom she had raised since he was a few months old, was diagnosed with end-stage pancreatic cancer in August this year.

In her post announcing Crusso's death, Jesseca revealed that they'd planned a farewell ceremony for Crusso in advance.

When we found out that he had pancreatic cancer, [we] knew that he wouldn't have much time left, so we arranged for friends to hold a farewell ceremony beforehand", she wrote.

Jesseca went on to reveal that they did not manage to see Crusso one last time before he died.

According to the actress, Crusso passed away in the hospital around noon. He was hospitalised for a check-up, as per his usual routine after his cancer diagnosis.
"I suddenly felt that this departure is the last form of parting that he has given us, wrote Jess. He knew that we were already prepared, and he also knew that we were already strong enough to allow him to head over to Father Heaven's side to wait for us. Just like his dad [Jeremy] said, he went there first to help us chop a seat 'cos he's Singaporean.

She continued: "My obedient child, thank you, your mum and dad won't have to make the painful decision, thank you for choosing to leave on your own, so that the vet and us won't have to experience the process and struggle. The day you went to the hospital, the flowers at home bloomed, your dad said it was you coming back to visit us. My child, thank you for giving us a lifetime of love. One day, we will meet again on the other side of the rainbow. Don't worry about mum, dad, and your older brother [Jesseca's other cat, Tigger], we will all take good care of ourselves, rest assured.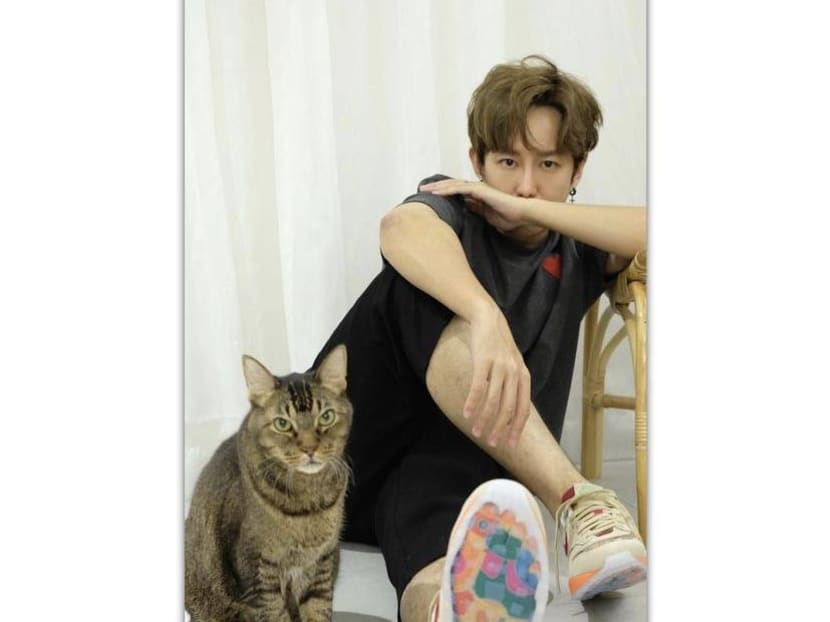 Similarly, Jeremy also dedicated a heartfelt post to his furkid.

"Today, we brought Crusso home. The doctor said he went very peacefully, just like he was always, never troubling anyone. Mum said he's a gentleman, and he never disturbed anyone." he wrote.

Jeremy went on to share more about Crusso's usual behaviour, writing: "Every time Dad played games in the wee hours of the night, you'd silently come and act as Dad's hand rest, and silently stay by my side. In the morning, you would quietly accompany your mum to drink honey water. These are all your expressions of love towards us. Very fortunate to be able to accompany you for half your life. Being able to know you guys allowed me to fall in love with cats, to practice love, to practice sacrifice.