Jesseca Liu, Star Of Circle Line, On The Creature-Feature's Extensive CGI: "It Was Interesting To Work Opposite Air"
The Malaysian actress' co-star in the monster movie was a green stick. Yes, really scary.
Jesseca Liu loves train rides.
Growing up, her mother would take on overnight train rides around Malaysia, the 43-year-old Langkawi-born actress tells 8days.sg over Zoom.
Since then, she makes it a point that whenever she's overseas that she would get the lay of the land on rails.
"As long as I am out of the county, I'm on a train," Jesseca said. (In fact, just days before our interview, she was on a family trip in Thailand where they took a sleeper train from Chiang Mai to Bangkok.)
Jesseca's latest ride, however, is on-screen: Circle Line, a S$3-million creature-feature following a group of commuters trapped in the underground metro system — alongside a reptilian behemoth of unknown origin (picture a graboid's head mounted on a Komodo dragon),
Among the terrorised passengers, Jesseca's character, single mother Yi Ling, and her tween son. The Mandarin-language movie also stars Peter Yu and Andie Chen as the embattled engineers trying to de-escalate the situation.
The opportunity to work on a Singapore-made monster flick was good to pass up, said Jesseca. "The most attractive part of the production was the CGI," she continued.
While Jesseca is no stranger to genre storytelling (2015's Bring Back the Dead, 2019's When Ghost Meets Zombie, 2021's Crouching Tiger, Hidden Ghost, 2022's Soul Detective, and 2007's Untold Beauty, produced by Mediacorp Raintree Pictures but was never released), Circle Line was a whole new ball game.
"I've worked with CGI before but not on such a massive scale. Any actress would jump at the chance to learn about the process. It's interesting to work opposite air!"
By 'air', Jesseca is referring to the entirely computer-generated ginormous beast. "From beginning to end, I was looking at a green stick [that stood in for the scaly ogre]," she said.
To help her visualise the beastly threat, director JD Chua, the local filmmaker making his feature debut, showed her the animatic (or animated storyboard), a miniature model of the monster, and select film clips (Ridley Scott's Alien was a recommended viewing).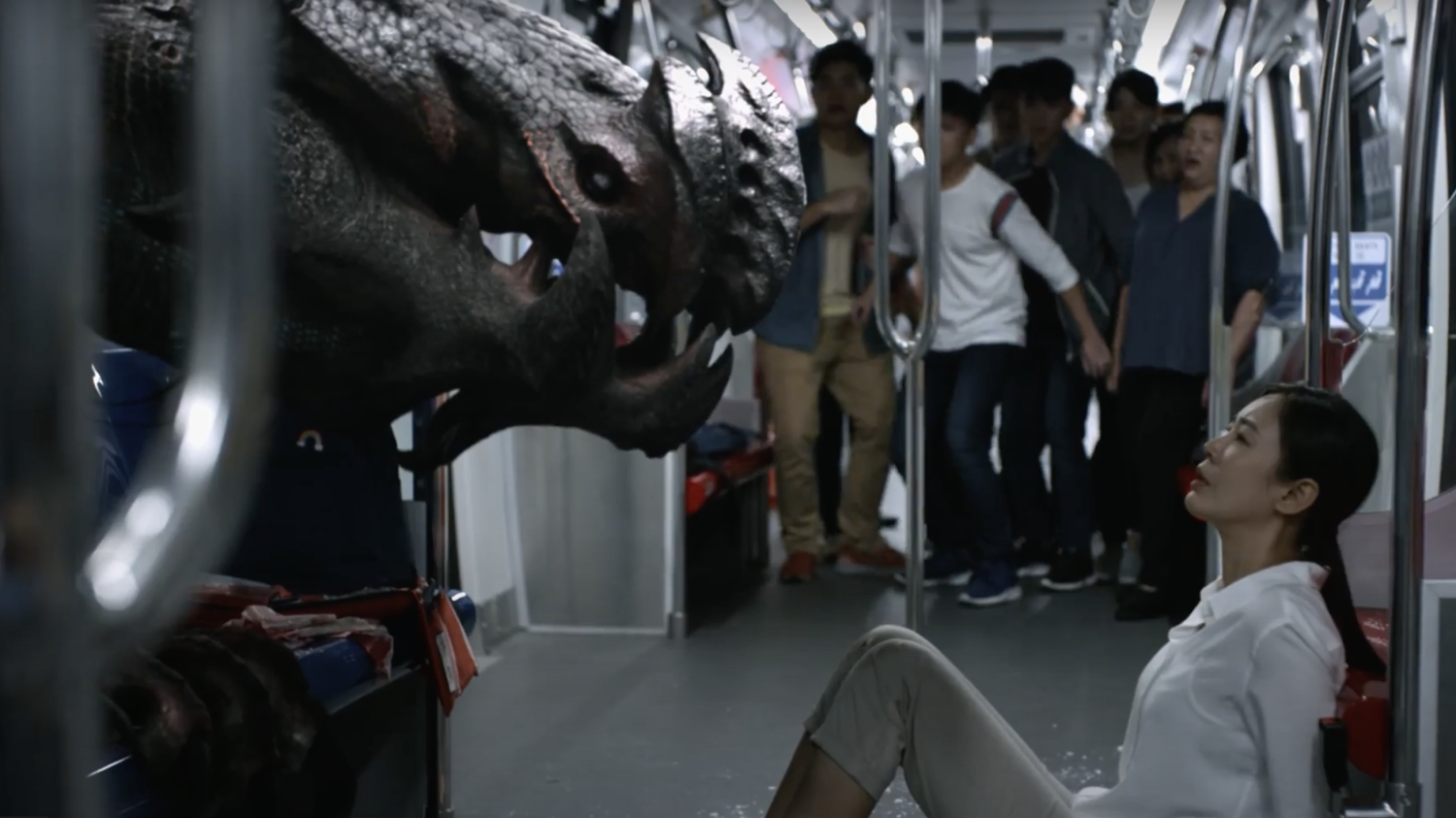 You're one ugly mofo: Jesseca Liu confronts a scaly monster in
Circle Line
. 
"I had to imagine that the monster is many times bigger [than the stick]," she recalled. "But when I saw the movie, I didn't know it was that big."
"I don't think I was imaginative enough, so I thought I under-acted certain moments," she said. "Had I been more imaginative, I could've given a better performance. If I get another chance to do it, I would do it differently, if not, better."
But not every moment in Circle Line required imagination, notably a flashback of Yi Ling in a car accident. a sequence Jesseca knew all too well: she. too, had experienced an automobile mishap.  
The incident, which happened in Malaysia when she was 18, left Jesseca with post-traumatic stress disorder (PTSD) that lasted for six years.
Did working on that flashback scene trigger her PTSD? "The trigger point is usually when I'm in a fast car that's moving at 100 km/h. Or I'm in a stranger's car and he's driving fast," Jesseca said.
When that happens, anxiety will kick in; she'll have sweaty palms, heart palpitations and numbness. "My condition has improved all over the years, I've overcome it to some extent," she added.
"When I am in a fast car, I rarely rest unless I really trust the driver, like my mother. Even when [my husband] Jeremy [Chan] was behind the wheel, it took me a few years to be relaxed. It's all about trusting the driver."
Just out of curiosity, when was the last time Jesseca took the MRT? Maybe five or six years ago, she reckoned.  
"That was back when Jeremy and I just started dating and we had yet to go public with our relationship," she said. "We would go on train and bus rides in the town area. No one recognised us because we were wearing caps and kept our heads down. It was rather romantic."
Circle Line (PG13) is now in cinemas. Bring Back the Dead is on Netflix; When Ghost Meets Zombie is on Disney+ and we still have no idea what the hell happened to Untold Beauty.
Watch exclusive 8 DAYS interviews on meWATCH and Mediacorp YouTube Channel.