Joanne Peh Posts Pic Musing About The Price Of Fresh Coconuts In Singapore; Gets Accused Of "Humble Bragging" By Netizen
And we thought the main point was how fit Joanne looked.
Joanne Peh recently jetted off to Thailand for a family holiday with husband Qi Yuwu and their kids, Baby Qi and Qi Didi.

And of course, since they were there for a beach vacay, we couldn't help but to note just how fit Joanne and Yuwu looked in their pics.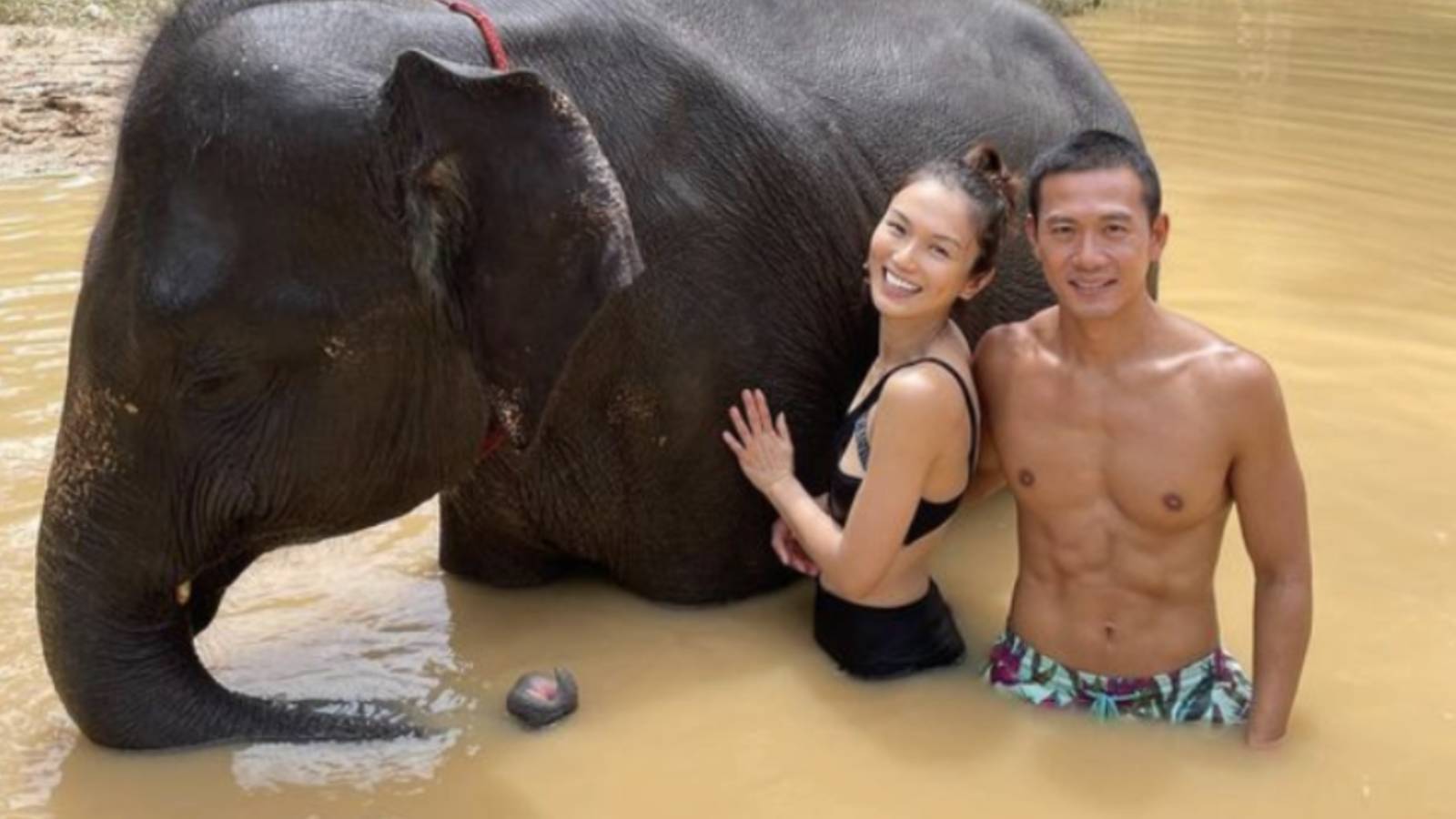 Oh-so-fit.
Seriously, what's their gym routine?! And it looks like Yuwu's gotten even more fit since the last time he bared his body, no?

Check out those abs.
But it seems like that was not what netizens focused on. Instead, a couple of them took offence at Joanne's light-hearted caption in a post, resulting in a back-and-forth exchange in the comments sections.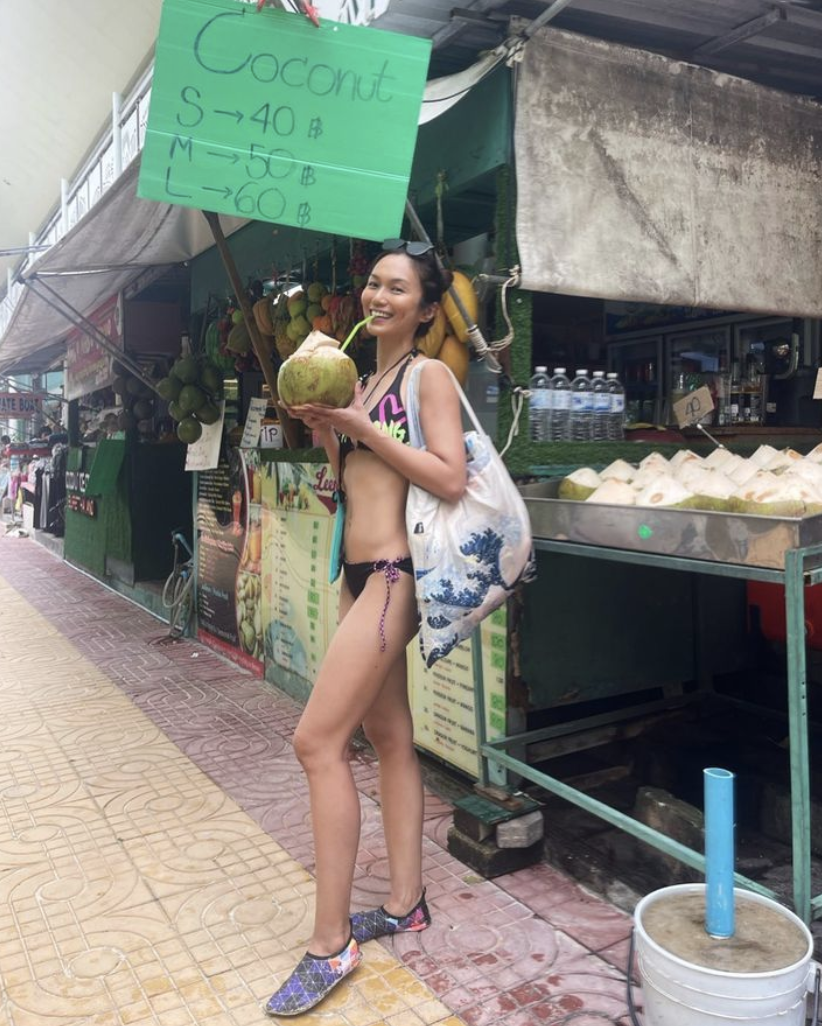 This is totally nuts.
In Joanne's caption, she shared that she finds the fresh coconuts in Singapore too expensive, so she can't bear to buy them here. Even when she was in Phuket, she couldn't bear to buy any too, until she reached Phi Phi Island.
"Later, when I saw this sign in Phi Phi Island, I remembered that this is their local produce… I immediately bought a big one!" she wrote in her caption. According to the sign in Joanne's picture, a large fresh coconut cost 60 baht, which is about S$2.25.
One netizen got the ball rolling, with a rather mild comment. "A coconut in Singapore is $2.50, it shouldn't be that you "can't bear" to [buy] one, right?"
Joanne then replied with a light-hearted comment, writing: "Where, where can you buy one for $2.50? The small ones in supermarkets are $3+, and it's finished in a few sips. This one is big and sweet and I [practically] drank till I was drunk".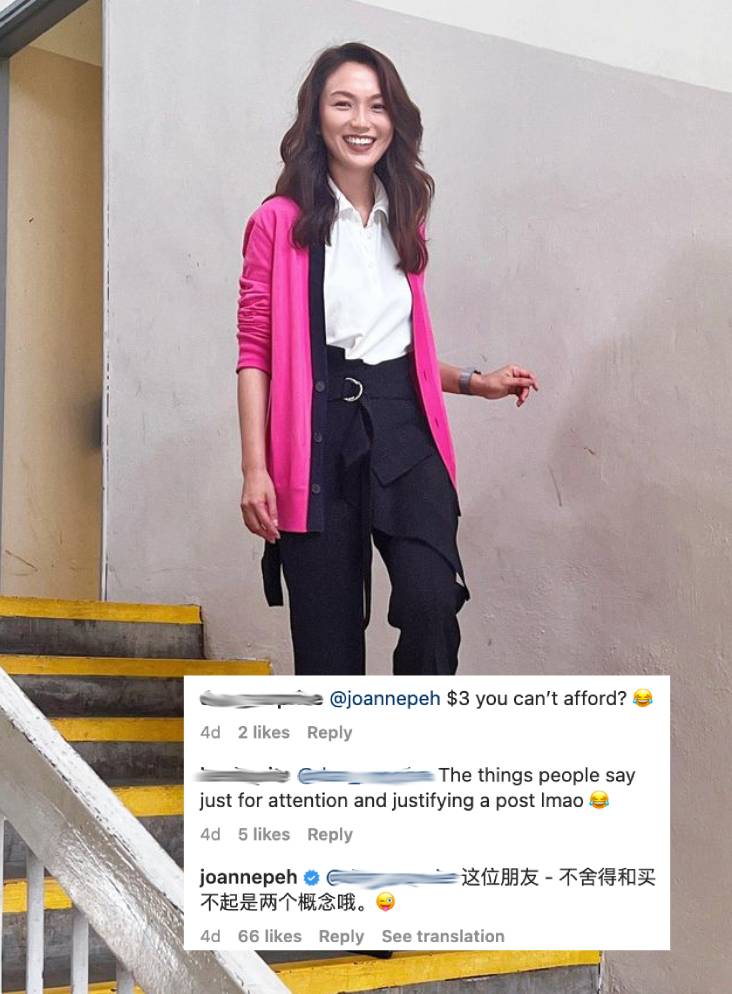 All about the semantics.
And then, a different netizen chimed in, with a comment that was decidedly more pointed.
"$3 you can't afford? " the netizen wrote, adding a laughing emoji. Another netizen replied to his comment, adding: "The things people say just for attention and justifying a post ".
Joanne first replied in a joking tone, writing: "My friend, being unwilling to, and being unable to buy [something] are two [entirely] different things."
The netizen then replied, asking Joanne if she knew the meaning of the words "humble brag".
"If you can't bear to buy something that costs $3, then that'll be a real headache," the netizen wrote.
By then, it was clear that the netizen wasn't up for any banter.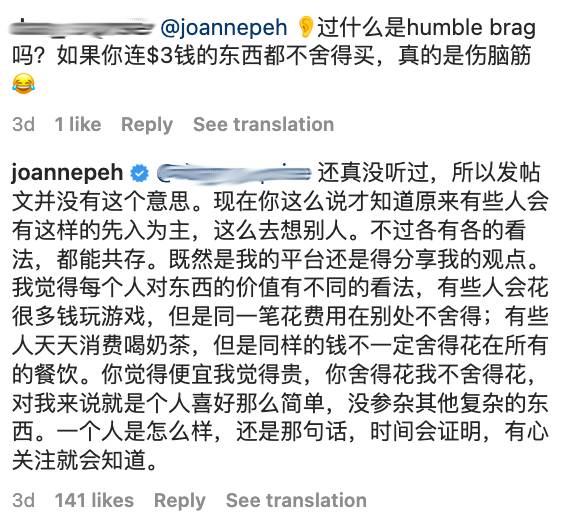 Getting into it.
Joanne then replied to the netizen with a 200-word comment.

In her reply, she wrote that she didn't mean to 'humble brag' in her caption.
She added that everyone is entitled to their own opinions, but since this is her account, she wanted to share her own viewpoint.
"I feel that everyone has a different way of calculating the worth of something. Some people will spend loads of money on games, but might not bear to spend the same amount on other things; some people will drink milk tea every day, but they might not be willing to splurge on everything they eat," she wrote.
"You find it cheap, while I think it's expensive, you might be willing to spend, but I cannot bear to do so. To me, this is up to individual preference," she added.
Their exchange drew mixed opinions, with some agreeing with Joanne, and others agreeing with the netizen.
In any case, Joanne has not replied to the netizen, who still stands by his opinion that it's "weird" to know that a celeb can't bear to spend $3 on a fresh coconut.
Photos: Joanne/Peh Instagram
Catch Joanne Peh in Streamers Go Live on meWATCH here. The first episode is below.