Joshua Tan Spent $200K To Overhaul His "Too-Expensive" Telok Blangah Luxury Condo After A Termite Infestation
The 32-year-old actor has been saving 60% of his salary every month since he was 19 to buy his own place.
"It's been my dream to get my own apartment since I was 19," says Ah Boys To Men star Joshua Tan, 32. "I started saving when I was in the army and that habit has continued throughout my career. I would put away at least 60 per cent of [his earnings from acting and appearances] every month. I finally got it in 2020 when I was 30. It's been quite a journey."
Home for Joshua and his wife, houseman Zoen Tay, 25, is a 1,300 sq ft condo in Telok Blangah, which they moved into last December, just before their wedding. Tucked away from the main road and surrounded by greenery, the ground floor two-bedroom, two-bathroom apartment is bright, spacious and quiet.
"It feels like we are not in Singapore. It's very peaceful and that is part of the charm. When we saw the place, we knew we wanted to get it. The only thing on our minds was can we afford it," he tells 8days.sg.
While he declines to reveal how much they paid for the "too-expensive" condo, it was "a really good deal" for a unit at the waterfront development.
"I paid too much," he laughs, "it's really stretching it. I'm a struggling actor."
No part of this story or photos can be reproduced without permission from 
8days.sg
.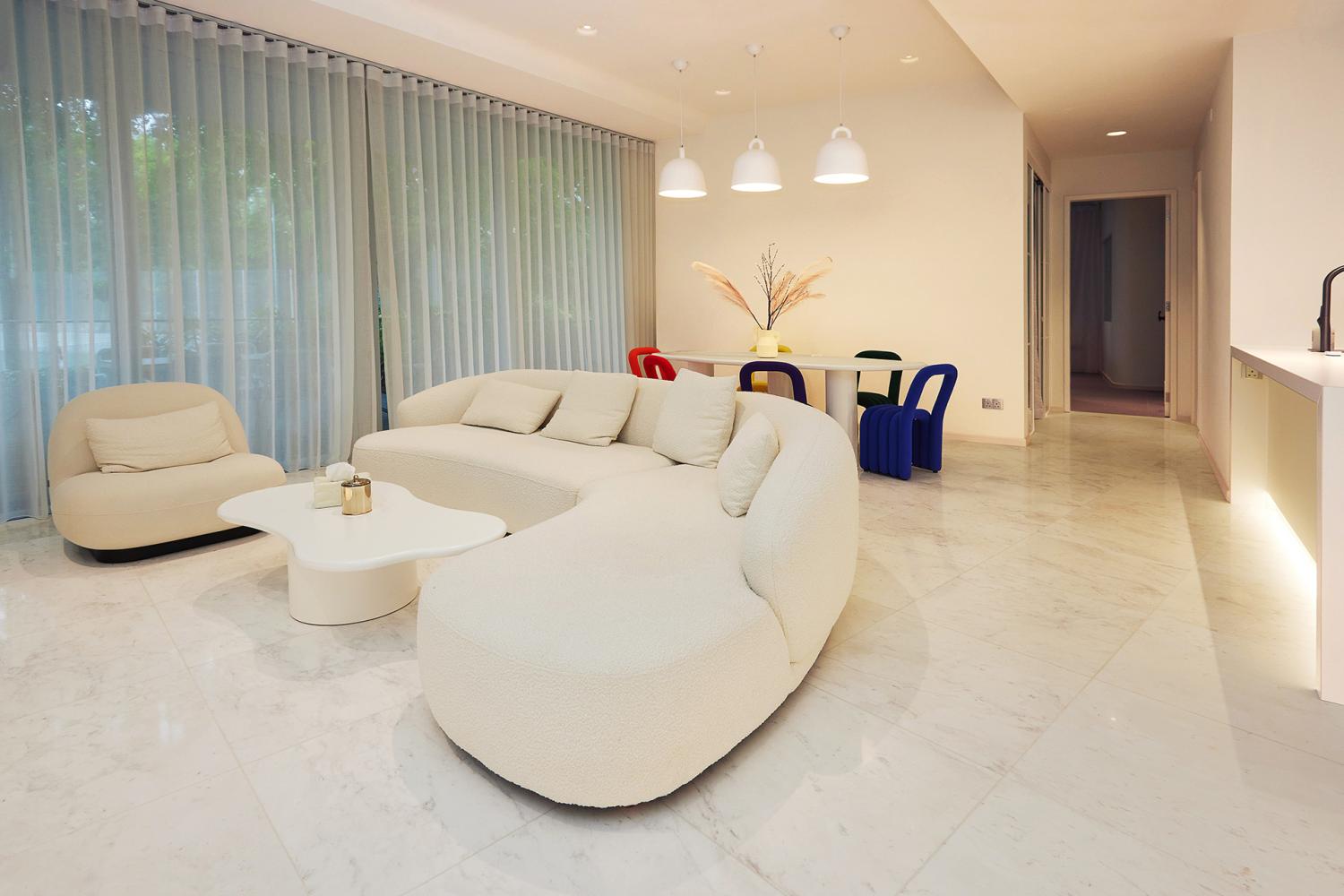 As Zoen was then still studying in Sydney, they tenanted the apartment for two years to lighten the financial load. However, just before the tenancy ended last August, they were faced with a "scary" problem.
"Our tenant went back to South Africa and the UK for a long holiday and when they came back after a month, there was a termite infestation in the house. From the balcony to the toilet and the master bedroom, and even inside the parquet, it was all affected," says Joshua with a shudder.
"It was a scary lesson 'cos there are things that a ground floor unit might experience that others might not. So, when we renovated, we overhauled the entire place and made sure we treated it thoroughly. Now we have minimal wood in the house. It scarred us."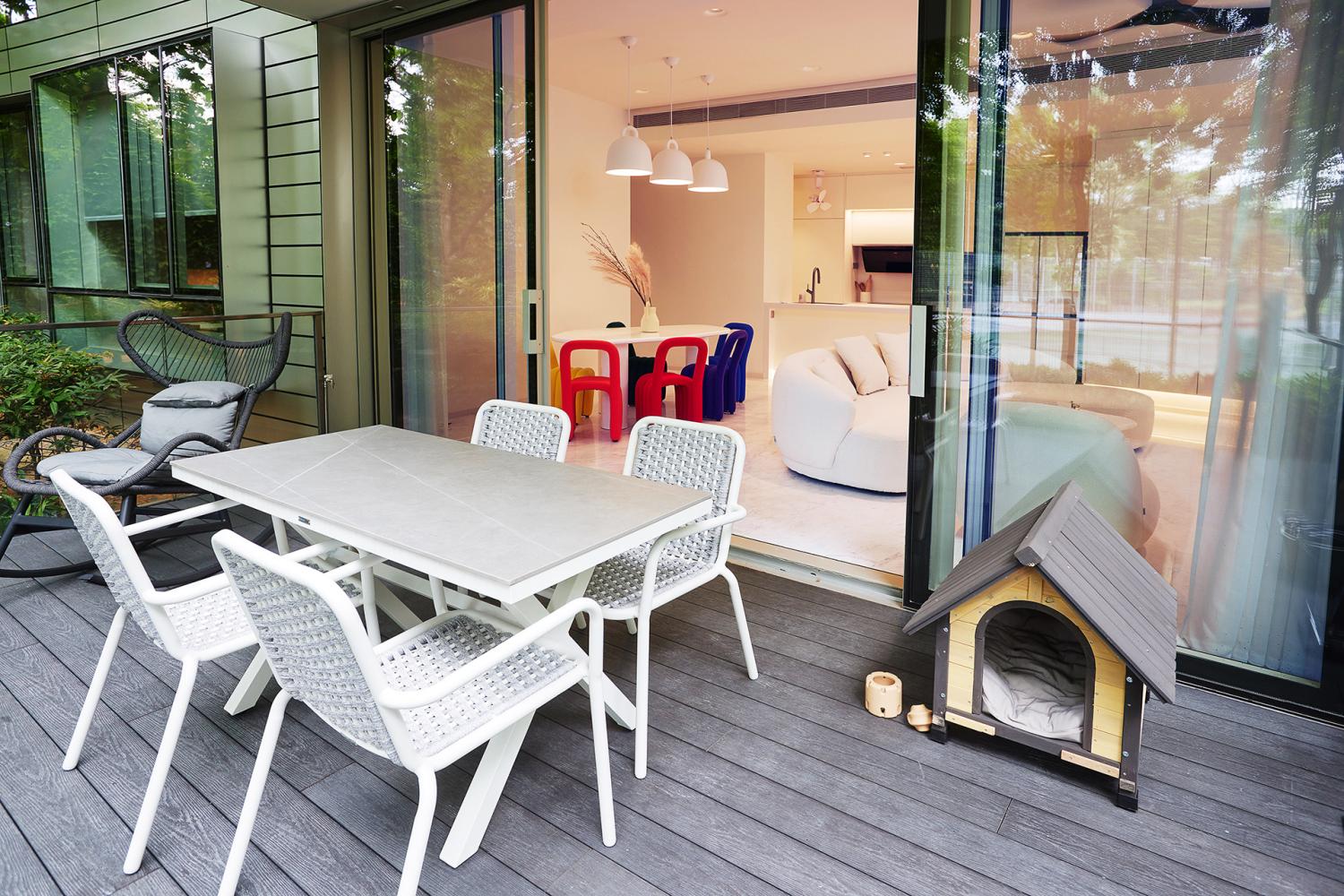 It took around four months and $200,000 (including furnishings) to transform the 12-year-old apartment into a minimalist haven. Joshua let Zoen, who has a strong eye for aesthetics, take the lead in designing the home. 
"She's in charge of the aesthetics, while I take care of everything else. I am the money and logistics guy as well as the sai kang warrior (in charge of menial tasks). I had to do all the legwork 'cos she was away in Sydney. I would go to the different stores and show her what they have… then she would shortlist three options and I would pick my favourite. That's how we got stuff done," shares Joshua.
"As long as she's happy, I'm happy," he chirps.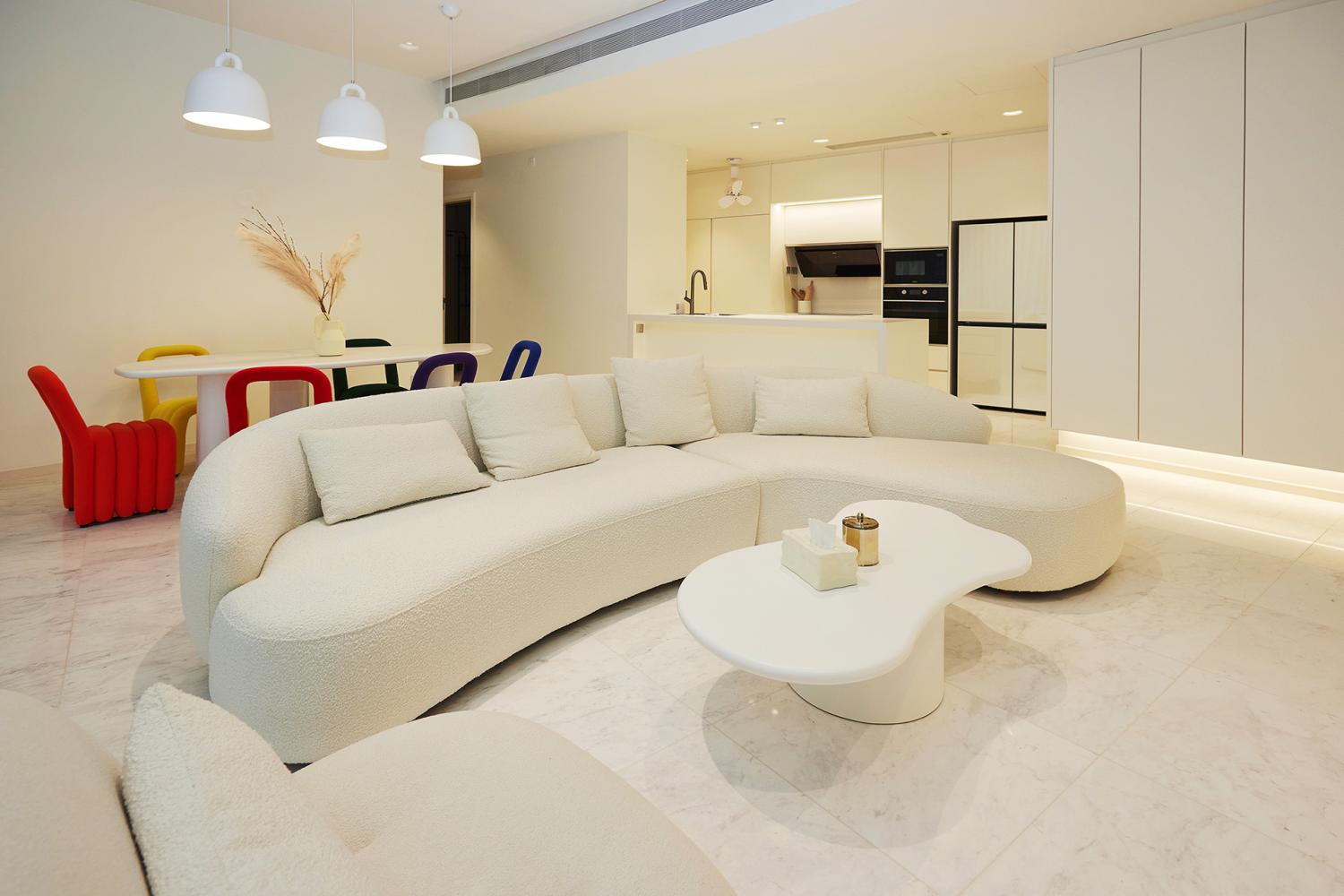 Embracing the curves
The first thing you'll notice as you enter the apartment are the almost all-white palette and curves, a running theme through much of the apartment. Not only were curve design elements incorporated into the ceiling, walls, and cabinetry, they also accented the home with curvy, odd-shaped pieces to soften and inject character to the space.
"There's a curved ceiling design in the living room and also a column in the master bedroom, so maybe Zoen was inspired by them," says Joshua.
Subtle curves accent the space.
Plush bouclé couch and matching lounger, irregular-shaped tables and marble floor come together to create a luxe, cosy aesthetic in the open living-dining space. Zoen had wanted to replace the marble flooring with microcement, but Joshua insisted they keep it. 
"I love marble, but my wife is less keen on it. As a compromise, we kept the marble in the living, dining areas and kitchen, but the bathrooms, which were full marble, had to go," he says.
Adding a jolt of colour to the space are the fun rainbow-hued dining chairs, which cost around $200 each. 
You will not find posters, paintings, or photos of the couple in the home as they like the space clean and simple.
"Definitely no
movie posters
, unlike
some of my friends
," quips Joshua. "I don't particularly want to see pics of myself everywhere. I see enough and I think it's the same for my wife. But more than that, this is an escape from work. When I am home, I don't want to be reminded about work."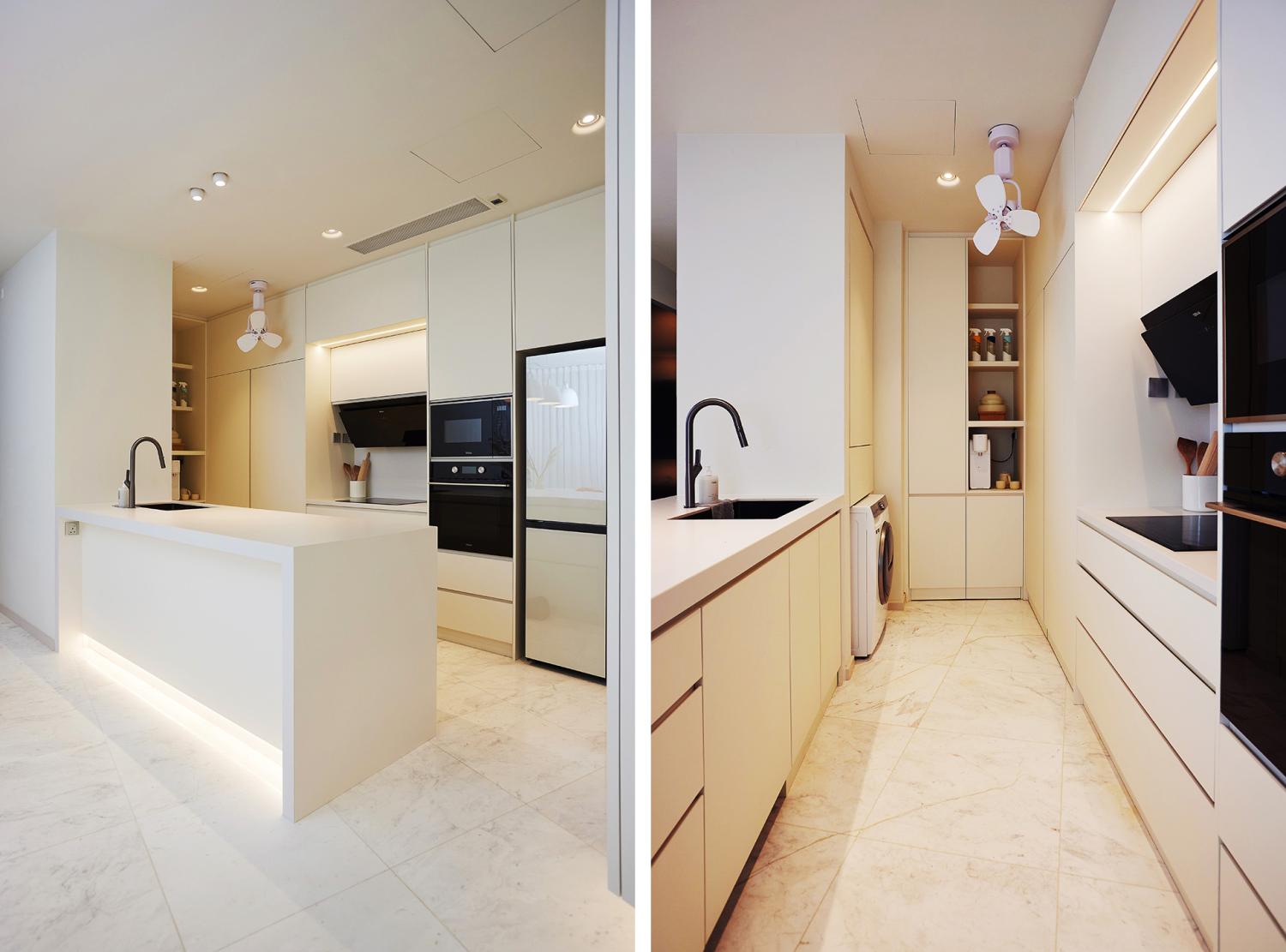 Kitchen
The kitchen is equally sparse and clean. Cabinetry is built around it for storage, while luxe
touches like sintered stone countertop and sleek appliances elevate the space.
To maximise the bomb shelter, they
converted it into a walk-in pantry for their dried food and appliances.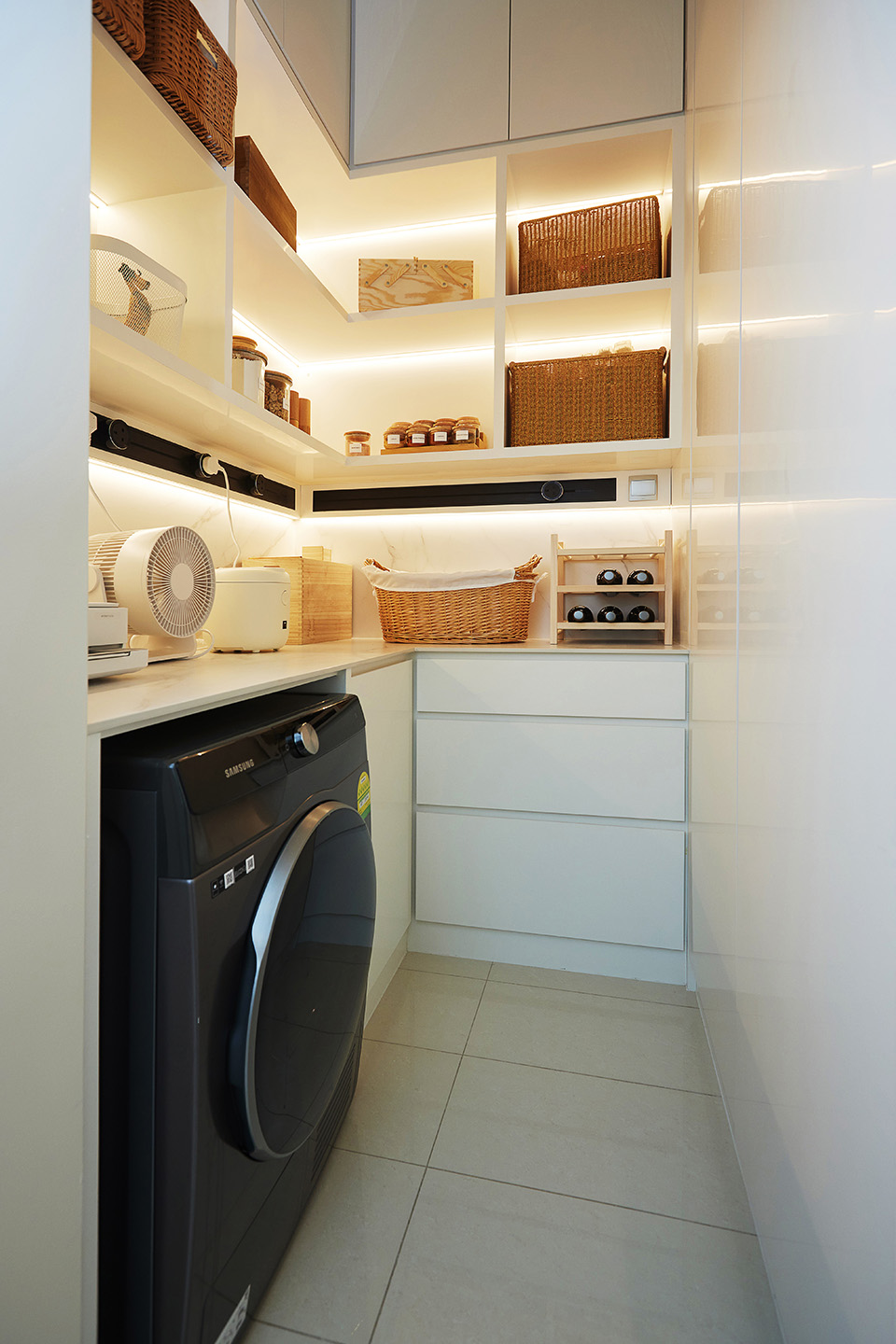 The bomb shelter, which is just beside the stove, has been converted into a pantry.
While a white, open-concept kitchen looks pristine and timeless, it is, as Joshua learned, not the most practical.
"This is bad for heavy cooking. I made fish and chips on the first week and the place was permeated with the smell of oil. And I had to clean the floor after cooking 'cos it was oily from the splatter. The kitchens in our parents' homes are enclosed, so we took it for granted. You don't realise how bad it is until you do heavy cooking. For my next home, I definitely want an enclosed kitchen," he says.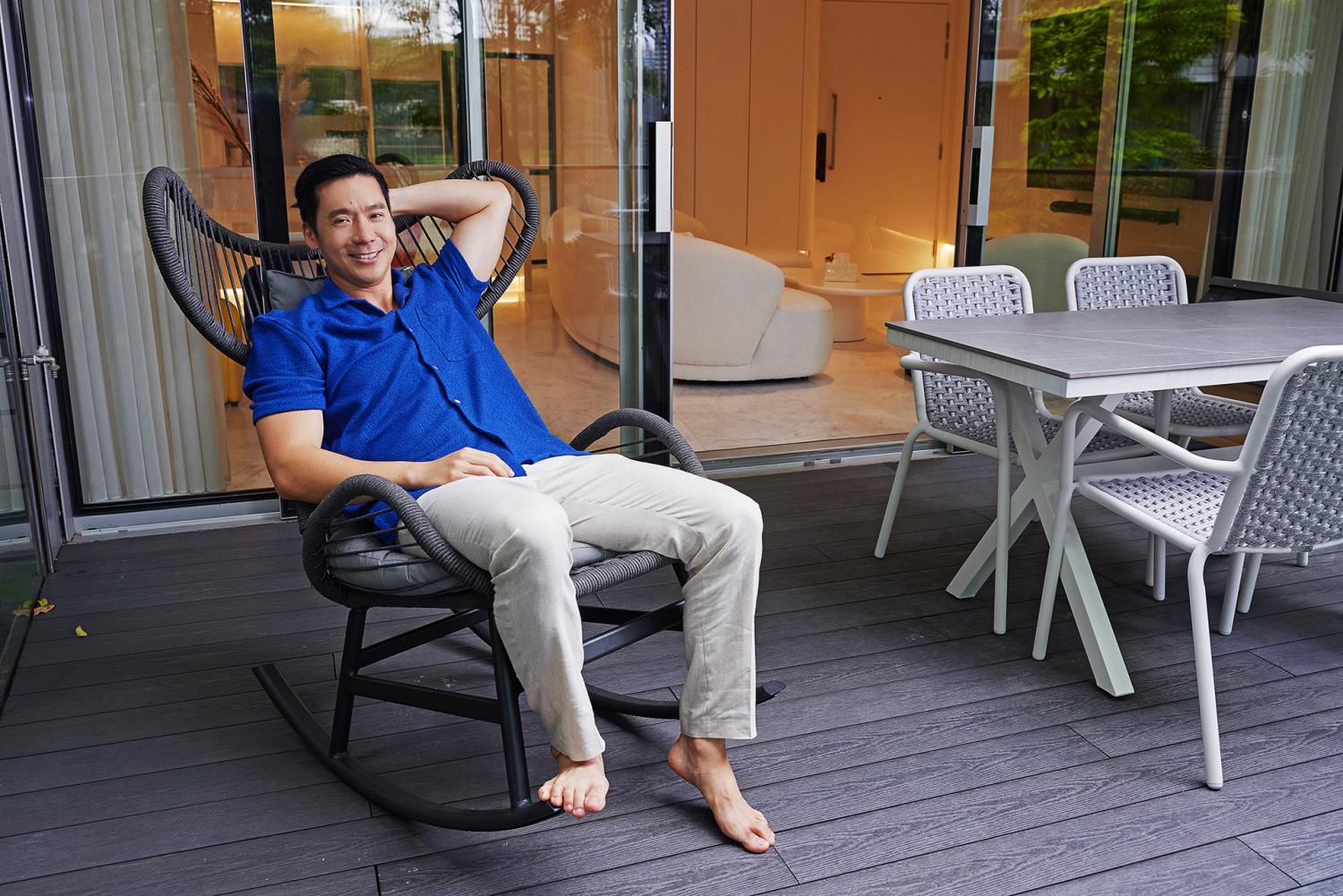 Balcony
Across from the kitchen is the spacious balcony. Scarred by the termite infestation, they replaced the wooden deck with a PVC one. Joshua enjoys nature-watching while lounging on his rocking chair. "It's a bit uncle lah but it's very calming. You see squirrels and colourful birds, it's quite a haven. I really like the privacy and peace," he shares. 
In fact, the ones disturbing the peace are his two pooches, Wolfe and Panthère. 
"Whenever dogs or people who are slightly noisy walk past, they will bark. We don't want them to wake up the neighbours, so we are sending them to obedience school. This was not an issue 'cos previously our home wasn't so exposed," he shares.
The space is still a work in progress. Joshua plans to add privacy screens and plants to create a little herb garden.
Master bedroom
Decked with just a bed and glass wardrobe, the bedroom is the picture of minimalist chic. The original parquet floor was replaced with grey ceramic tiles, matched by similarly coloured platform bed and curtains.
As the couple sleeps with their pooches, they custom-made a door with a dog flap to accommodate the furry members of the family.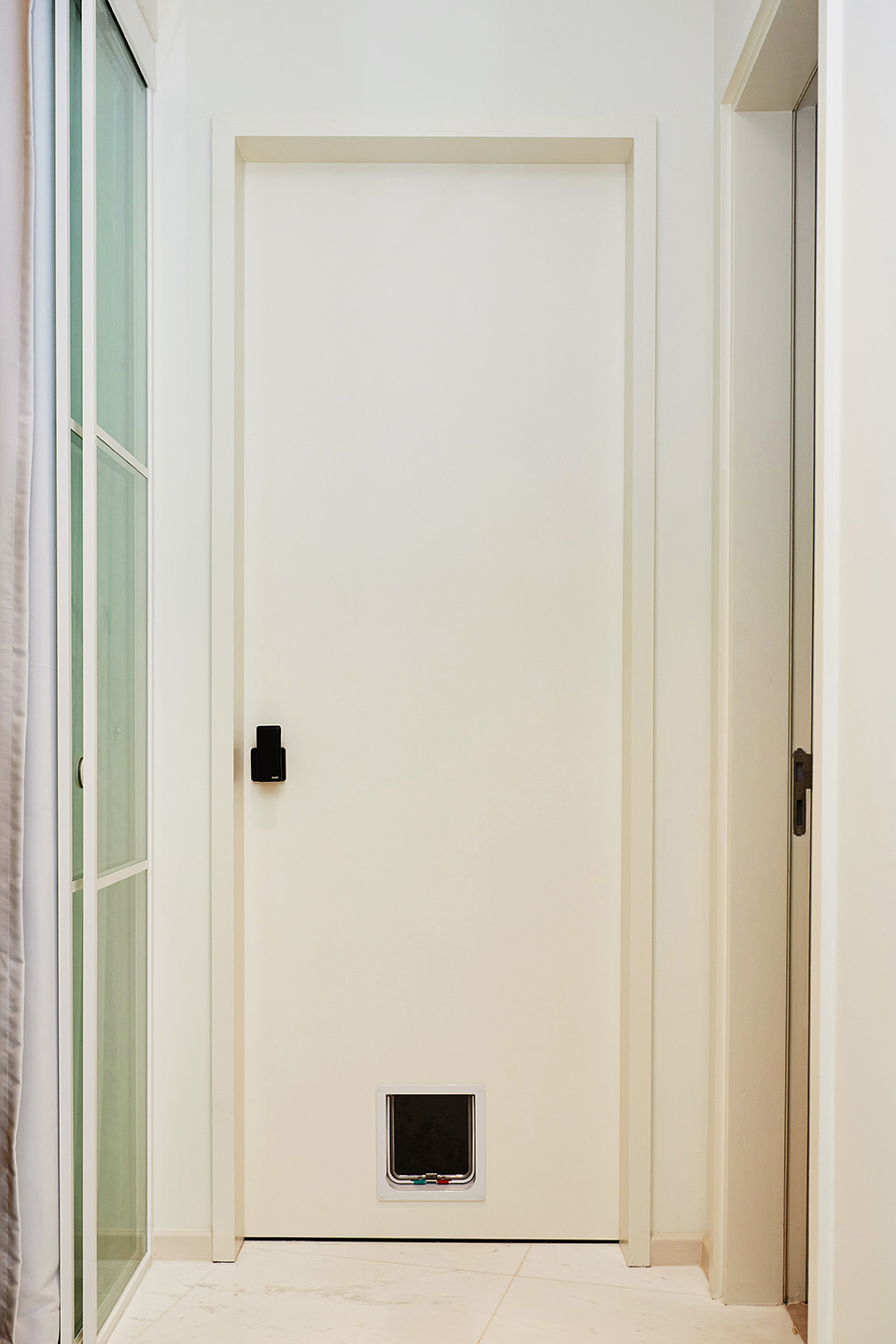 They extended the master bedroom slightly into the adjacent study and the wall between the rooms was hacked and replaced with a glass closet for a walk-in-wardrobe-like-effect. It also gives the illusion of a more expansive wardrobe. As the wardrobe is see-through, they make a conscious effort to keep it neat and only black wooden hangers are allowed, says Joshua.
He shares that his clothes only take up a third of the closet, while the rest belong to Zoen. But even then, a good portion of her things are still at her parents' place. "She only brought 60 per cent of her clothes over," he elaborates. "She's not very willing to part with her stuff, especially clothes. When we went to donate her stuff to The Salvation Army in Sydney, she was like 'Wait, I need to say goodbye to my clothes.'"
Master bathroom
The curve theme follows through in the bathroom. Marble walls and floor were replaced with microcement for a more minimal look and these were accentuated with brass finishes. A portion of the wall was replaced with smart glass, which cost around $10,000, so the space feels less enclosed.
"
Zoen feels claustrophobic when she uses the bathtub, so our ID suggested we add it," reasons Joshua.
While Joshua is pretty easy-going about most things, he had to fight for the toilet bowl of his choice for, um, five days — and won.
"I spend a lot of time on the toilet and initially, my wife picked this weird spaceship-like toilet bowl that was so uncomfortable. It's edgy and cool, and I get that it suits the vibe, but I was like 'NO. I'm putting my foot down as a man, your husband, and picking the toilet bowl,' so I picked a conventional one," he says.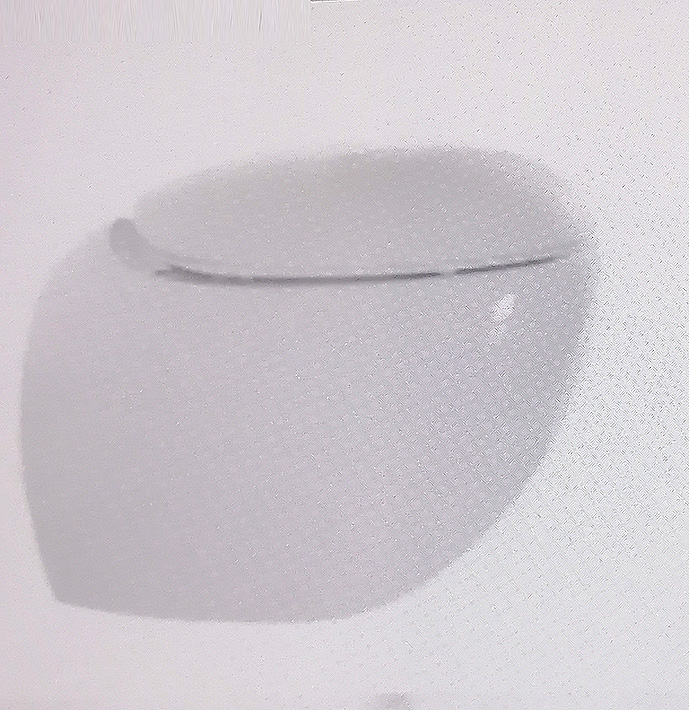 This edgy toilet failed the comfort test.
Common bathroom
The common bathroom features a slightly darker palette. The floor and walls are decked with grey tiles and paired with gun metal sanitary ware.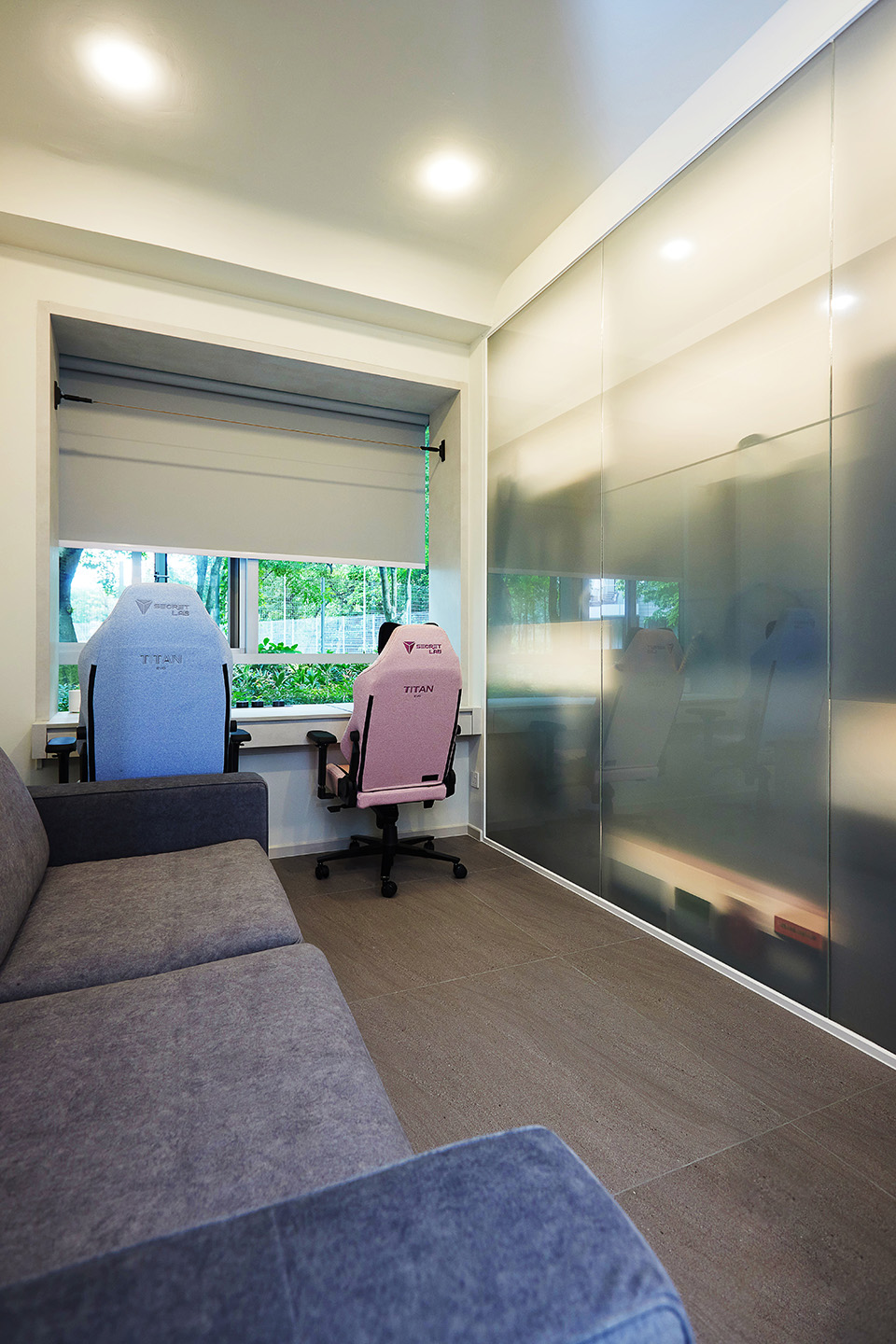 Study
The study is rather small after the couple extended the master bedroom into the space. Instead of a wall, they installed a glass panel to give the room a more spacious feel. The room is simply furnished with a sofa bed and desks are built by the window so they can enjoy the greenery when they work. The desk, which flips open to reveal a mirror and storage, also doubles up as a vanity.
They had considered converting the room into a walk-in wardrobe but decided to keep it for guests. Says Joshua: "I also felt it's a bit of an over-indulgence to have such a huge wardrobe. It's literally encompassing another bedroom." 
Photos: Kelvin Chia
No part of this story or photos can be reproduced without permission from 8days.sg
Watch #JustSwipeLah for a tour of Joshua's home.