KFC's New Satay Crunch Fried Chicken Taste Test: Nice Or Not?
8days.sg has a preview taste of the National Day-themed turmeric-glazed chook served with peanut sauce.
To "celebrate all things local" in anticipation of National Day, KFC is launching the limited-edition Satay Crunch fried chicken.
Like its name suggests, the fast food chain's new offering – available from July 20 – takes inspiration from the beloved local dish and applies it to its signature deep-fried chook – so don't expect grilled meat on wooden skewers.
No part of this story or photos can be reproduced without permission from
8days.sg
.
The look
What 8days.sg receives during our preview tasting is craggy-skinned chicken, cloaked in an alluring, spice-rich, golden-yellow batter thanks to a marination with a "special blend of turmeric glaze". Accompanying our chicken is a smallish tub of peanut sauce.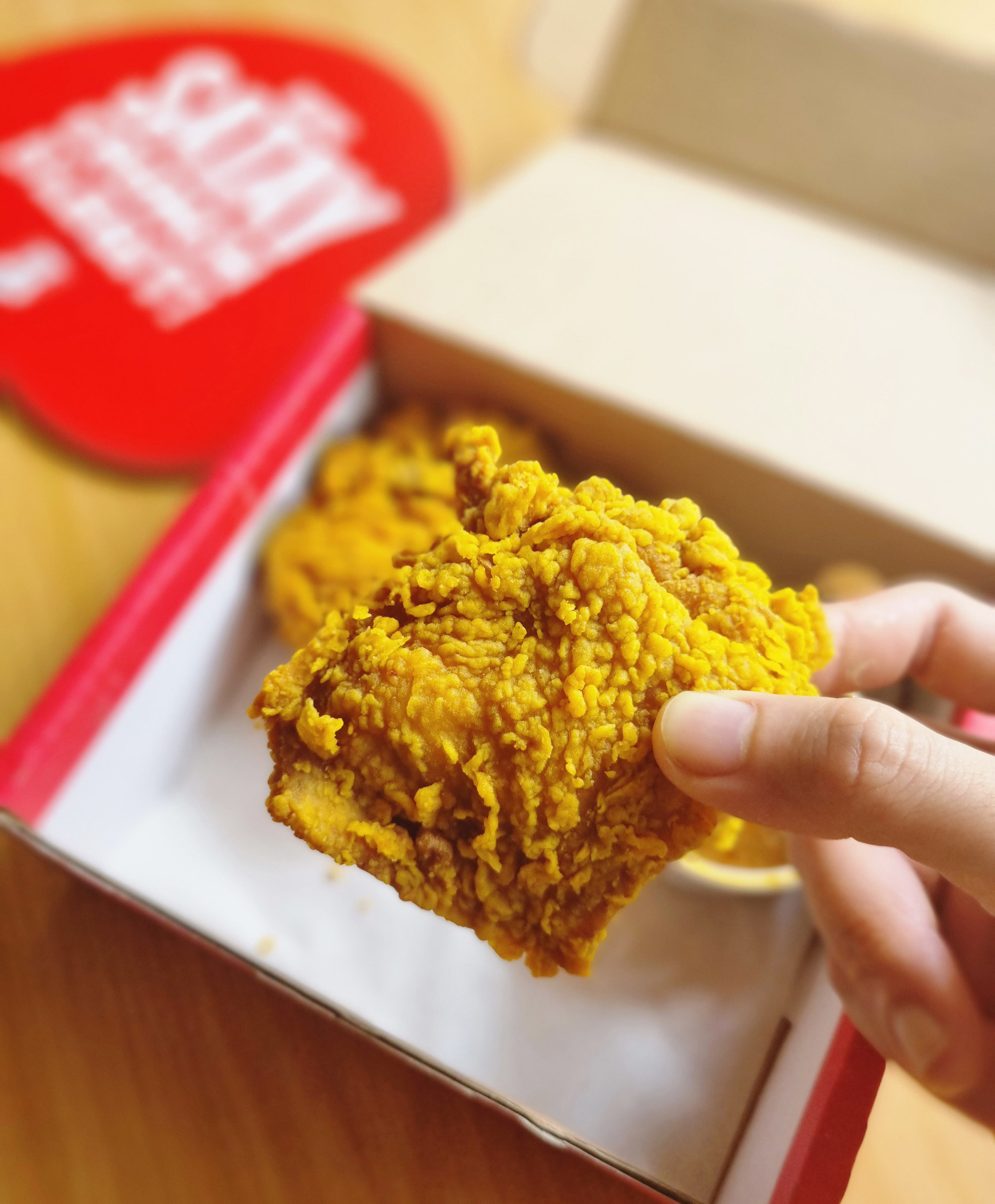 Satay Crunch Taste Test, $8.20 for two pcs a la carte; $8.95 for two-piece meal
We bite into the chicken sans sauce first: satisfyingly crunchy skin yields to well-seasoned, savoury flesh brimming with the pleasant fragrance of spices, mostly turmeric. Think of it as a Singapore-accented, milder version of KFC's quintessential Hot & Crispy flavour.
While the press release advises customers to "dip or douse" their chicken with peanut sauce, proceed cautiously: though it is well-balanced between sweet and salty, and redolent with the scent of lemongrass and crushed peanuts, it's also rather fiery. But we like our food hot, so we find the heat addictive – although not particularly authentic, as most satay sauces are typically sweet, nutty and mild on the chilli.
Verdict
Even though only the accompanying (albeit spicier than usual) peanut sauce tastes distinctly like satay, the chicken itself is still pretty moreish because of the fragrant turmeric marinade. We wouldn't mind munching on this while waiting for the fireworks to start. 
If you're planning to tapow some for your gang, consider the Satay Crunch Family Feast. It costs $39.95 for eight pieces of Satay Crunch fried chicken, nine Nuggets, one Popcorn Chicken and two medium tubs of Whipped Potato.
KFC's Satay Crunch fried chicken is available from Jul 20 (while stocks last) for dine-in, takeaway and delivery at all 80 KFC outlets islandwide except for the branches at Singapore Polytechnic, Nanyang Technological University and Singapore Zoo. More info via website.
Photos: KFC, Alvin Lim
No part of this story or photos can be reproduced without permission from 8days.sg.