King Of Fried Rice Towkay, 25, Opens Mentaiko-Themed Japanese Rice Bowl Hawker Stall
Will the young entrepreneur's new Japanese fusion concept replicate King Of Fried Rice's success? Well, he hopes to open "as many outlets as possible".
After setting up a whopping 25 King of Fried Rice outlets across various kopitiams over the past four years, Lester Li, 25, is hoping that his latest concept, a Japanese fusion hawker stall named MentaiKing, will replicate the success of his first venture which sparked the trend of Din Tai Fung-style fried rice at hawker joints. "I think I can do better than the other mentaiko rice bowl concepts in the market. I want to offer restaurant-grade dons (Japanese rice bowls) at an affordable price and I'll try to open as many outlets as possible to make it convenient for more people to try," says the young entrepreneur.

Nestled in a busy coffee shop near Boon Keng MRT, MentaiKing serves Japanese-inspired rice bowls with ingredients like pork cutlet, tiger prawn and salmon – all topped with house-made mentaiko (spicy cod roe) mayonnaise. Unlike his King of Fried Rice stalls, which offer a variety of carbs like mala or tom yum fried rice, MentaiKing uses garlic butter rice as its only base. "The mentaiko sauce is our focus here, so I wanted something [lighter] that would work well with it," explains Lester.

MentaiKing shares a spacious kitchen with a new King of Fried Rice outlet next door – the brand's latest stall – and both are opening on September 16. The two concepts will be run by their respective teams. 8days.sg gets an exclusive sneak peek. 
 
No part of this story or photos can be reproduced without permission from 
8days.sg
.
Mentaiko concept inspired by fave Jumbo dish
Before opening the first King of Fried Rice stall at Golden Mile Tower in 2018, Lester worked as an assistant chef at Chinese restaurant chain Jumbo Seafood's Clarke Quay outlet for three years from the tender age of 16. One of his favourite dishes there was grilled king prawn topped with mentaiko mayo. "When I like something, I'll try to make it better and see if I can start a business with it," says the straightforward towkay. "I thought of doing something with mentaiko and started creating some dishes with it. I gathered my friends to try my food and got positive feedback, so I went ahead [to launch MentaiKing]."

The house-made mentaiko mayo dressing is also borrowed from his time at Jumbo, tweaked with "secret" seasonings and "top grade ingredients" that aren't just cod roe and mayo. Instead of king prawn, MentaiKing uses the more affordable tiger prawn to keep its prices accessible for the hawker crowd. "Most mentaiko dons use plain rice, but I wanted something nicer and more unique so I came up with garlic butter rice," he adds. All the recipes at MentaiKing are developed by Lester.
"I'm a high risk taker"
As the sole owner of King of Fried Rice, which operates 25 stalls all across Singapore, Lester is surprisingly spontaneous when it comes to his business philosophy – he came up with the concept for MentaiKing just two months ago. "If I want to do something, I will do it properly and really go for it," he asserts. "I'm a high risk taker." Lester's initial investment came from a college fund that his mum, who owned a nail salon, set aside for him. "Since I didn't want to go to uni, I decided to use the money to set up my stall instead." The plucky entrepreneur, who is married with two young children, also owns "a few other businesses", including an automobile workshop and a car rental business, and claims that his risks have all "worked out well" so far. 

We asked if he believes this go-getter attitude has been key to his success so far. "I haven't really thought about it. When I talk to other people, I find that some of them only think but never do, so [their idea] remains a dream. For me, I start businesses not just for earning money but for passion. Even if I lose money, I don't mind." He has no plans to sell the business or look for investors at the moment.
No plans to open a restaurant
Lester says he's not considering opening a full-scale restaurant for either of his concepts at the moment. "The price has to go up if I open a restaurant, but my aim is to keep the pricing low and keep offering restaurant-standard food at affordable prices for my customers."

For now, the gutsy entrepreneur will focus on MentaiKing's first outlet, while looking out for a suitable location for their next stall. "I plan to spend more time here," he says. In addition to managing his hawker empire, Lester occasionally cooks at the stalls as well. "I don't let myself get rusty. I train my staff regularly and I will personally prepare some of the ingredients at the stalls. Over here, I make the mentaiko sauce myself."
Also, despite increased competition from other DTF-style fried rice copycats, Lester plans to continue expanding his
King Of Fried Rice
empire. "I've tried their food and I still think ours is better," he insists. He does not think the trend is slowing down anytime soon. "I want to see how far I can go.
The target is to open the 30th King Of Fried Rice stall this year. My ultimate goal is to have 40 outlets."
The menu
Compared to King of Fried Rice, MentaiKing's menu is much more streamlined. Choose from four rice bowls options: pork cutlet, tiger prawn, beef or salmon. Prices range from $8.90 to $10.90 – slightly steeper than say, Mentai-Ya, a hawker chain that also specialises in mentaiko-themed dishes (prices start at $7.80 there for a chicken mentai don). That said, MentaiKing's dons are more elevated – all items are served with garlic butter rice and a few slices of Japanese rolled omelette (from a supplier) and blanched broccoli (compared to just plain grains and proteins at Mentai-Ya). You can also jazz up your meal with chicken karaage, gyoza, ramen egg and grated parmesan.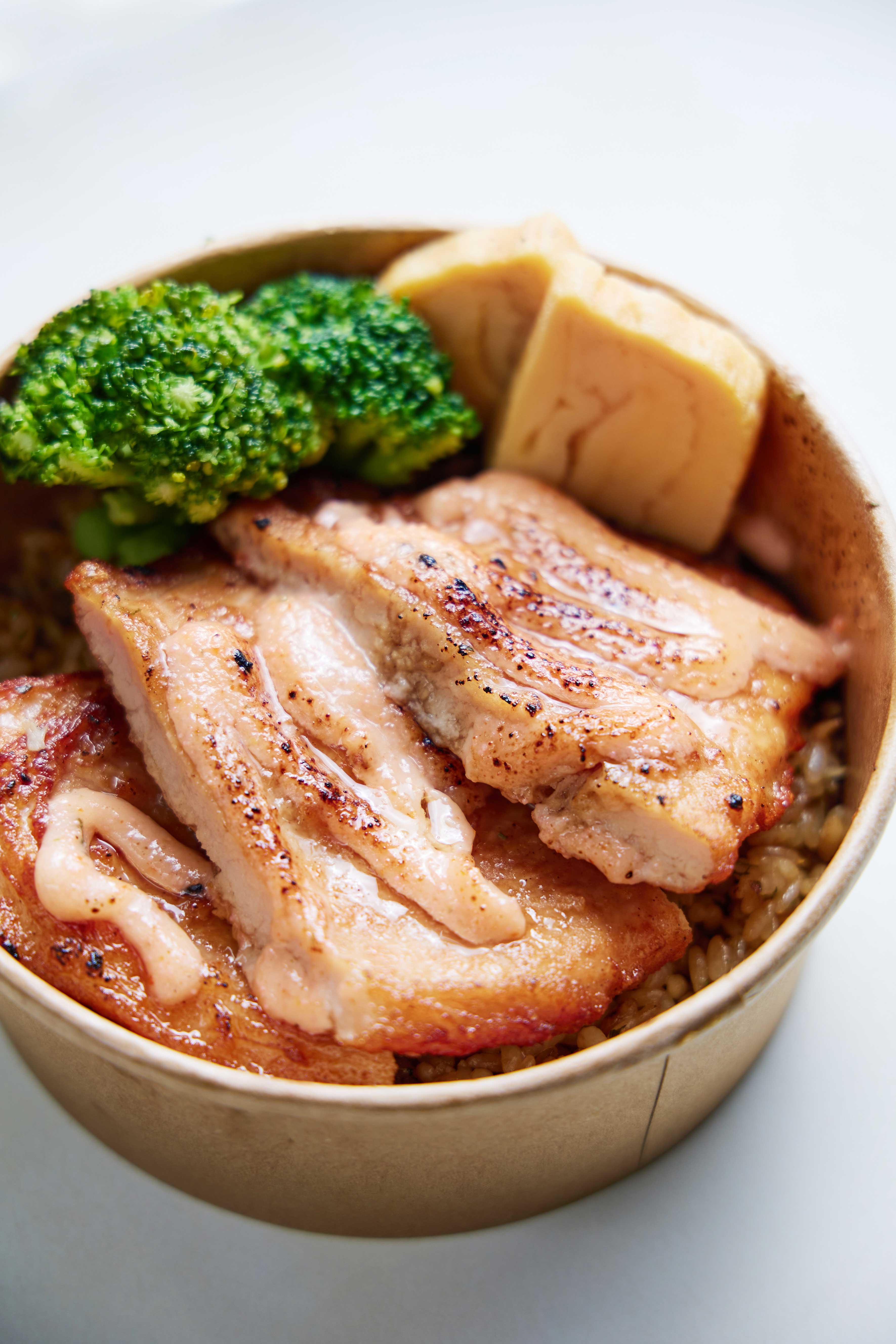 Mentai Pork Cutlet, $8.90 (8 DAYS Pick!)
A spin-off of King of Fried Rice's signature dish. Unlike KOFR, however, the rice here is not meant to feature wok hei. "This is more like flavoured rice than fried rice," explains Lester. Japanese short-grain rice is fried over medium heat with Danish Lurpak butter, garlic and parsley. The rice is moist and chewy, and rather fragrant despite the simple ingredients.

We're pleasantly surprised by the harmonious mingling of the slightly spicy mentaiko mayo and pork cutlet. The dressing, which is torched before serving, bears subtle hints of smoke, though not as heavy as wok-fried dishes. The meat is less peppery and savoury than your usual KOFR pork cutlets, so as not to overpower the creamy dressing, which is more robust than most mentaiko dressings we've had in a hawker setting. Deep-fried to order, the meat is superbly cooked – tender and juicy with every bite. A hearty, comforting meal that hits the spot.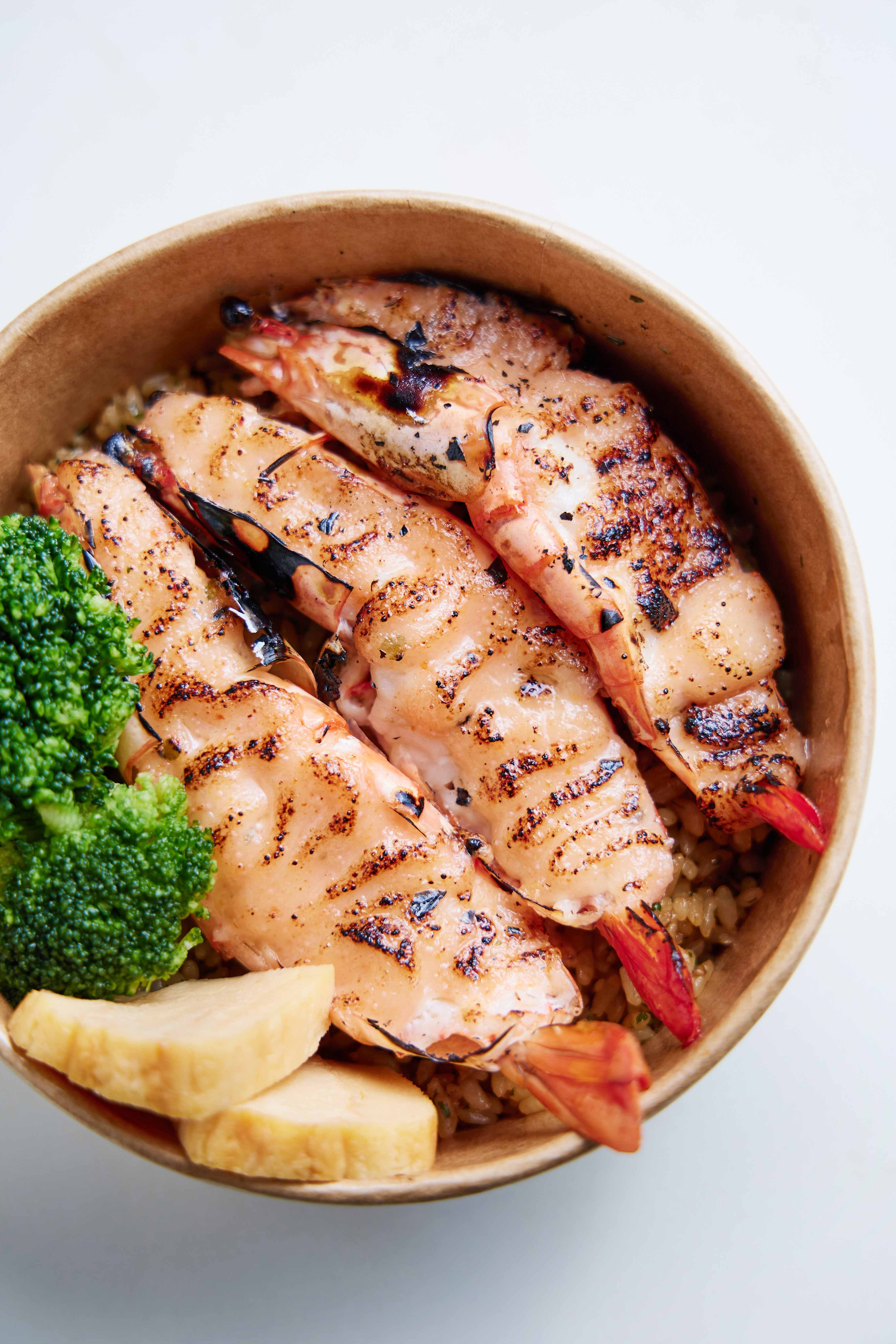 Mentai Tiger Prawn, $9.90
An aesthetically-pleasing dish with three medium fresh tiger prawns generously slathered with mentaiko mayo. The sweet, springy prawns carry the house dressing well – a good pick for crustacean lovers.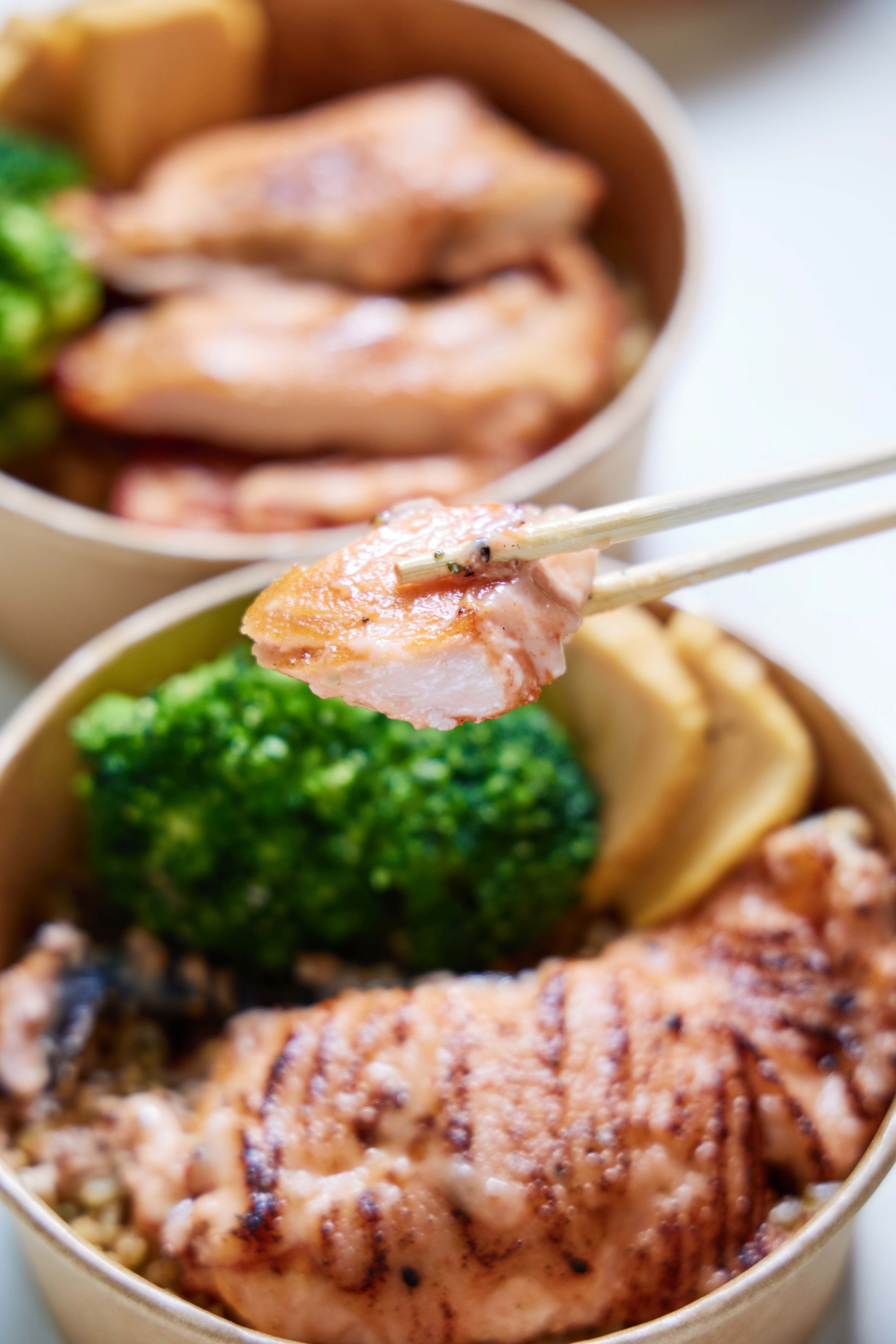 Mentai Salmon, $10.90
We found the protein a tad dry, but not unbearably so thanks to the lavish creamy dressing on it. Taste-wise, the seafood flavours from the fish and mentaiko mayo are an effortless match. The
texture of the Norwegian
salmon fillet was also plusher than most hawker versions, which makes this pretty good value-for-money.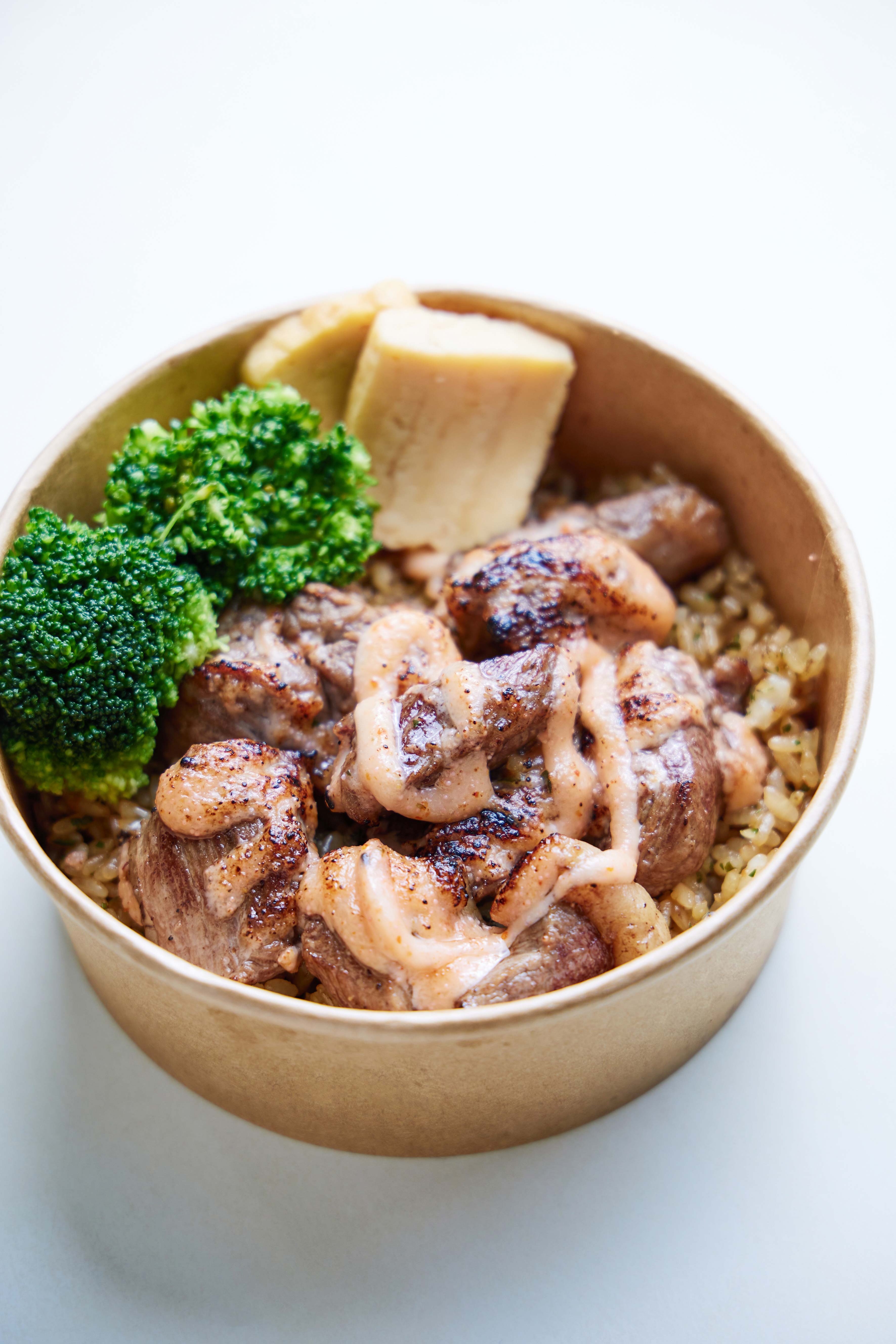 Mentai Beef Cube, $9.90
A rather discordant pairing in our books. The grilled NZ rump cubes did not benefit from the addition of mentaiko mayo – we recommend the tastier pork cutlet and tiger prawn bowls instead.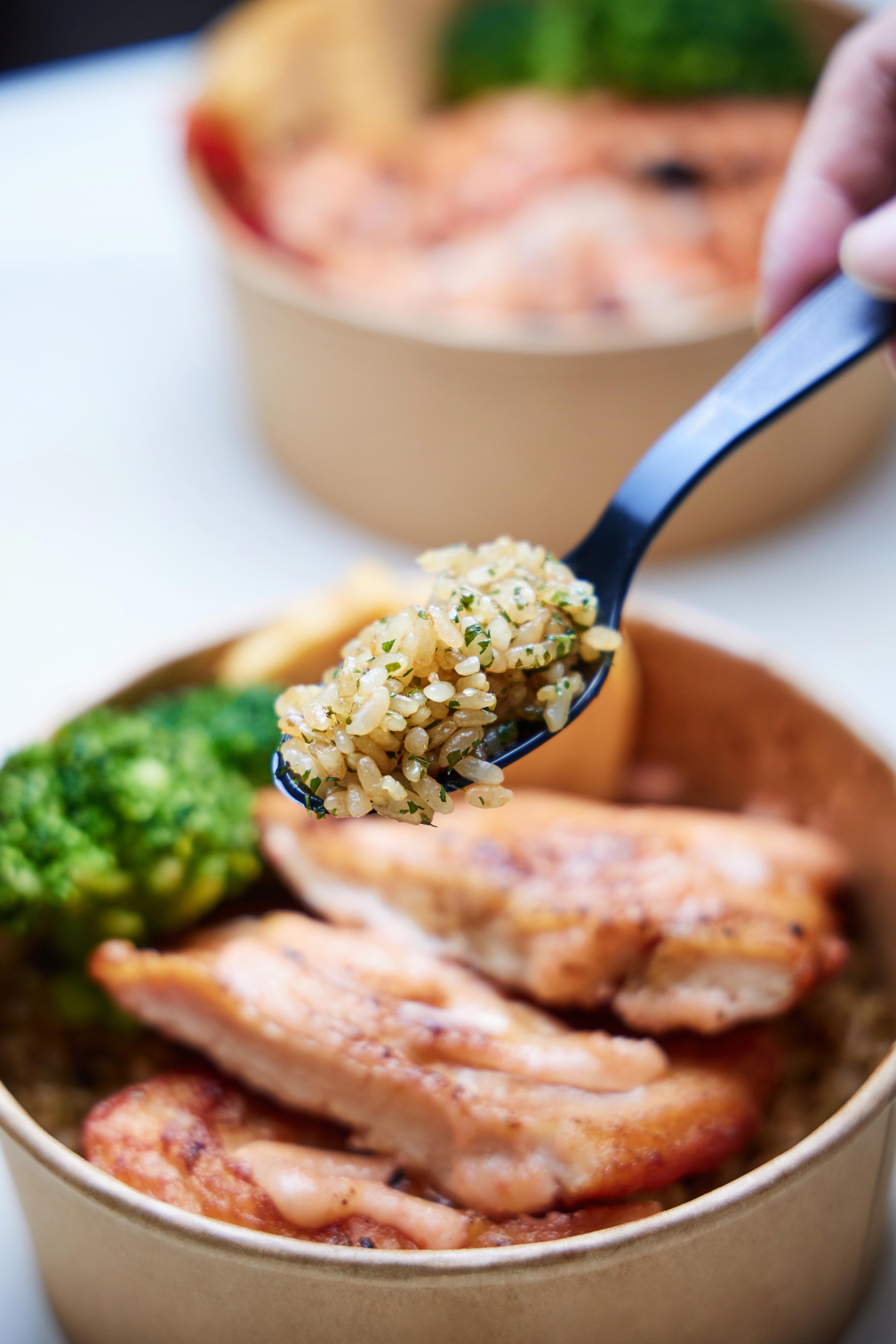 Bottom line
Will MentaiKing replicate the success of King Of Fried Rice? While the house-made mentaiko mayo is yummy and flavourful, we're not sure the overall creations have the same allure as KOFR's smoky wok hei-heavy menu. That said, we enjoyed the shiok pork cutlet bowl.

Prices here are higher than at KOFR, due to the use of more premium seafood such as tiger prawns and salmon fillet. Restaurant-style touches, like the rather elegant presentation and inclusion of sides such as omelette and broccoli, also set MentaiKing apart from its hawker rivals. Worth a visit if you enjoy mentaiko-based dishes.
The details
MentaiKing is at City Foodcourt, 27 Bendemeer Rd, S330027. Open daily 11am - 9pm. More info via Facebook & Instagram.
No part of this story or photos can be reproduced without permission from 
8days.sg
.
Photos: Mark Lee