Korean actress Kim Tae Ri slammed for asking fans for 'unpaid labour' after seeking volunteers to translate YouTube vlogs
The actress and her agency have both released statements addressing the controversy, where they apologised for "causing distress with their actions".
Korean actress Kim Tae Ri, 33, is best known for her appearances in the film The Handmaiden (2016) and more recently, the 2022 drama Twenty-Five Twenty-One.
The actress often shares short vlogs on her agency Management MMM's YouTube channel in order to better connect with her fans. Her videos, which feature snippets of her daily life, have been well received by viewers, boasting some of the highest views on the agency's channel.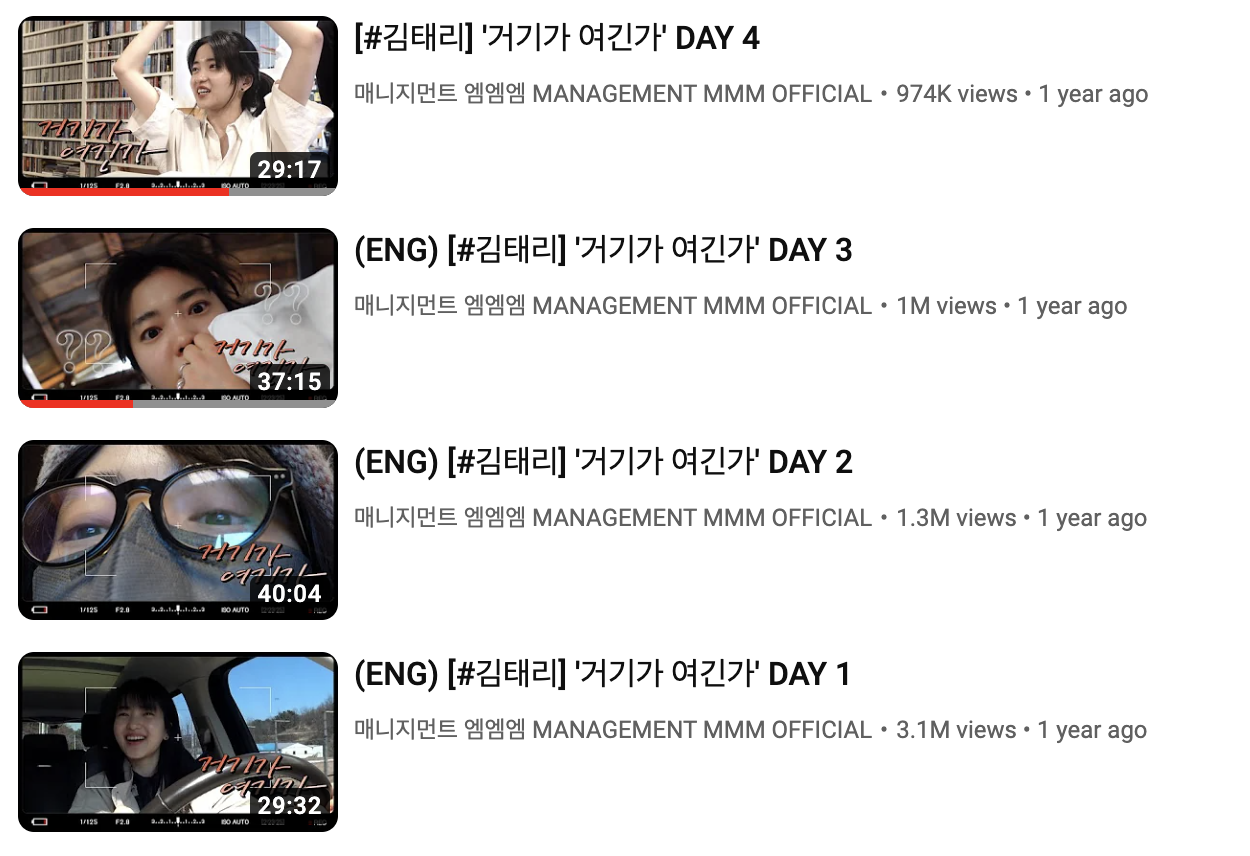 Tae Ri has uploaded four vlogs in her "So This Is The Place?" series to date
On May 22, Tae Ri announced on her Instagram that she had completed the English subtitles for the third episode of her vlog series, which was posted a year ago. She expressed her gratitude to fans for their patience and added that she was "trying her best" to finish the subs for the fourth episode by next month.
Tae Ri was also aware that she had viewers from all over the world and thought it would be good to have subtitles in "as many [languages] as possible". That, and she didn't want to have fans wait so long for subtitles.
"There have to be talented fans out there who are frustrated at my subtitling speed and have thought to themselves, 'It would be quicker to just translate it myself!!'," she wrote.
The idea that she came up with to solve the subtitling issue was to call for volunteers who were interested in translating her videos into their language. She then provided a website which came with a form for keen parties to fill in their particulars.
Tae Ri has received plenty of backlash since her announcement, with netizens questioning why she was seeking "unpaid labour". 
Many did not take well to the news that the 'volunteers' would not be paid for their subtitling services, with some wondering why her agency did not have the "budget" to simply pay someone to do the work.
She has since deleted her Instagram post and taken down the volunteer application site. 
Yesterday (May 23), Tae Ri uploaded two separate IG posts, in English and in Korean, apologising to those who felt "uncomfortable" with her initial announcement.
"I planned my vlog as a way to repay the love I have received from my fans, and I have been involved in every step of the process, from filming to editing to, at present, the English subtitles. I thought that this might be a more complete way to repay my fans," she wrote.
She then explained that she was "so focused on the idea of completing something meaningful" with her fans, that she neglected to "approach the issue with caution".
She again apologised for asking her fans for "talent donations", and stated she had sent an apology email to those who have offered to help her with her vlog translations.
Management MMM released their statement on the issue as well, clarifying that Tae Ri's vlogs "does not generate any revenue from advertisements or other means". 
They stressed that it was not their intention to "take advantage" of volunteers, and the purpose of seeking help from the public was so that Tae Ri's vlogs would be more accessible to international fans. "We sincerely apologise once again for any distress our decisions may have caused," they concluded.
Photos: Mirror Media, Management MMM/ YouTube, Kim Tae Ri/ Instagram