Korean-Style Egg Sandwiches & Rice Bowls From $3.20 In Sembawang Coffee Shop
The hawker is assisted by her sons, one of whom is a 1.85m-tall freelance model.
"It's been my dream since 10 years ago," says Lynna Yon, 45, of her career switch to a hawker in middle age.
The boss of month-old coffeeshop stall Eggciting – which sells egg toast and rice bowls – is a hairstylist-turned-housewife who used to own several salons in Woodlands before retiring two years ago.
Covid boredom drove her to fulfill her F&B dream and drop $8,000 on a stall fronted by a cute chick mascot. "I had to do something – I didn't want to play mahjong all day," she says. "I love to cook, and I love to see people happy to eat my food."
All photos cannot be reproduced without permission from 8days.sg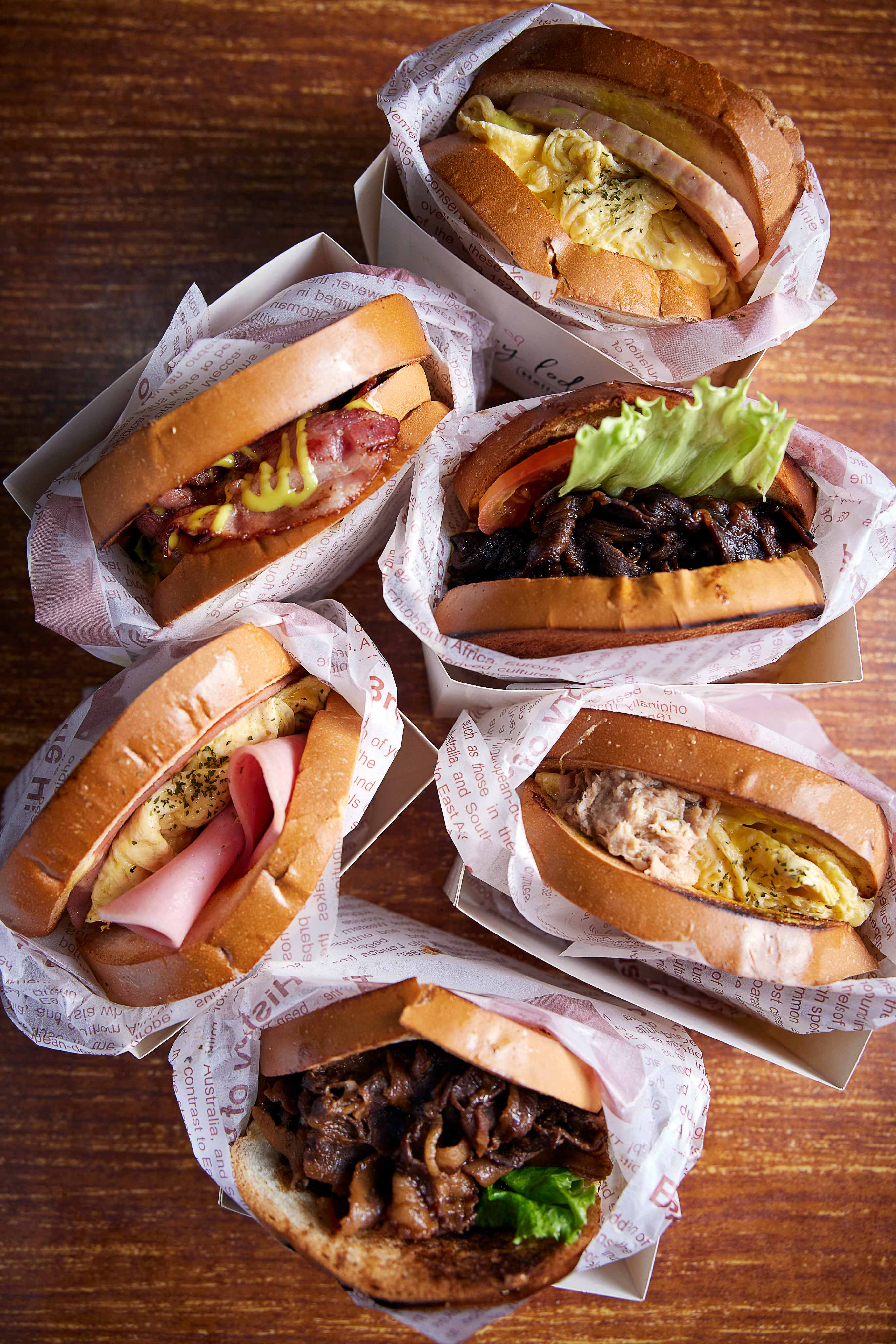 How eggciting
Eggciting sits in a new-ish coffeeshop in a BTO estate that's a five minute walk from Canberra MRT in Sembawang. The mother-of-four was inspired to sell egg toast after trying popular Seoul egg toast chain Egg Drop on her family's biannual holidays to Korea.
"It was a simple breakfast but very yummy, and it stayed in my mind," she says.
To round out the menu, she added Taiwanese braised pork rice and beef and pork rice bowls, her specialities at home.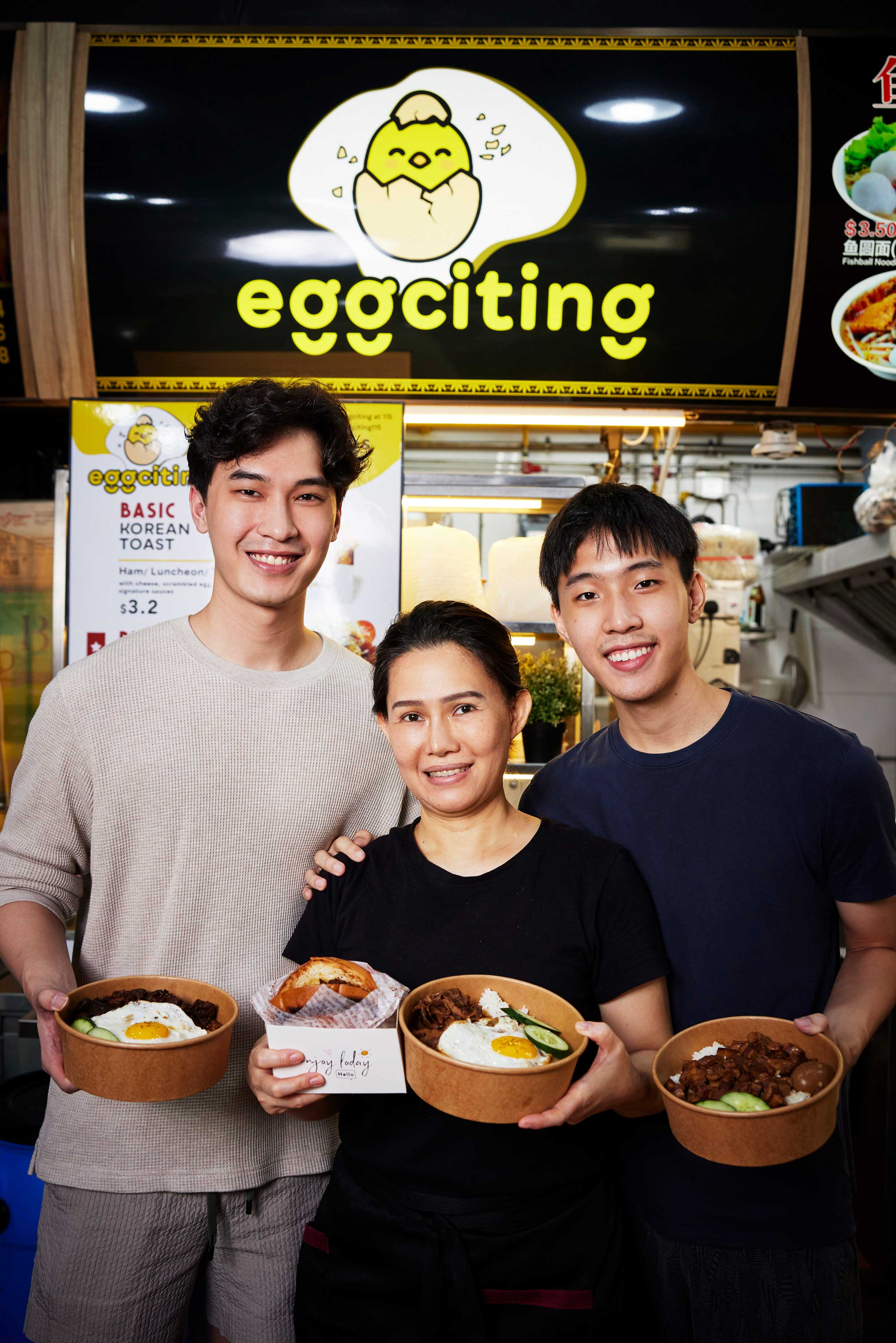 Her family helps out
Luckily for Lynna, who starts prep work at 6.30am, the men at home chip in. Hubby Lim Yoke Poh, 50, a factory supervisor, sometimes buys the ingredients, while her sons occasionally take orders and serve customers.
Her brood comprises Jack, 27, an air traffic controller, Mike, 25, a freelance model (left in pic), polytechnic pharmacy student Ayden, 18 (right in pic), and Hau Yu, 13, who is in secondary school. They pop by to help about twice a week.
"Mum's cooking is very yummy. Luckily, I work out quite often so I'm able to maintain my weight for photoshoots," laughs Mike. The boyish 1.85cm-tall fashion model says he often gets stared at by "aunties" visiting the kopitiam.
"They just give me harmless compliments and sometimes they stare after that, so it's kinda funny," he quips.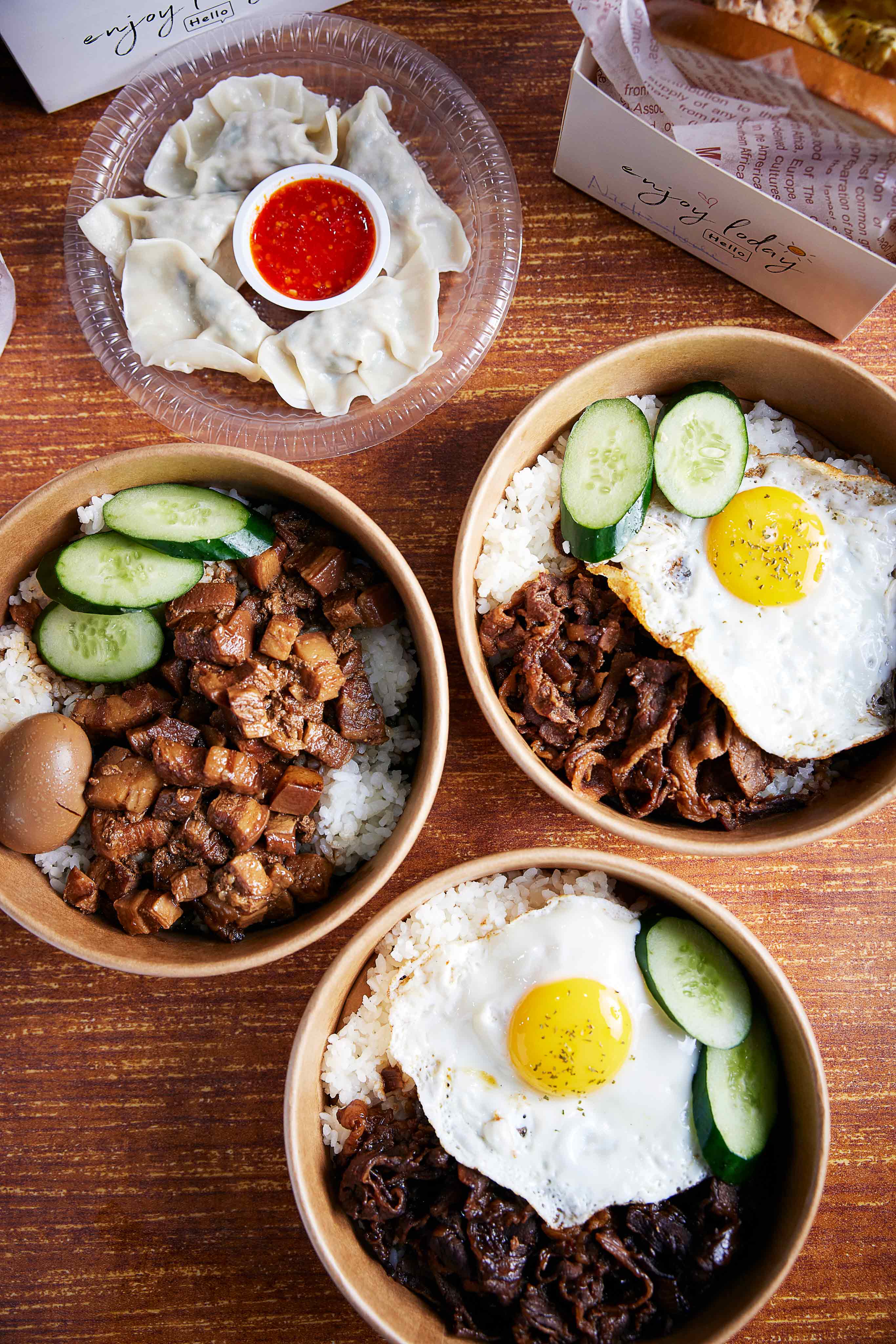 Regulars visit daily
Despite opening only on December 8, eggciting already boasts regulars young and old, some of whom come daily not just for the toast, but also the rice bowls.
Since being featured on hawker Facebook groups, some customers have come from as far as Tampines and Punggol for Lynna's toast. Eggciting sells about 50 toasts and 100 rice bowls a day, with many orders coming in via Foodpanda.
Lynna's ultimate dream is to open a cafe, so she can cook her entire repertoire of dishes.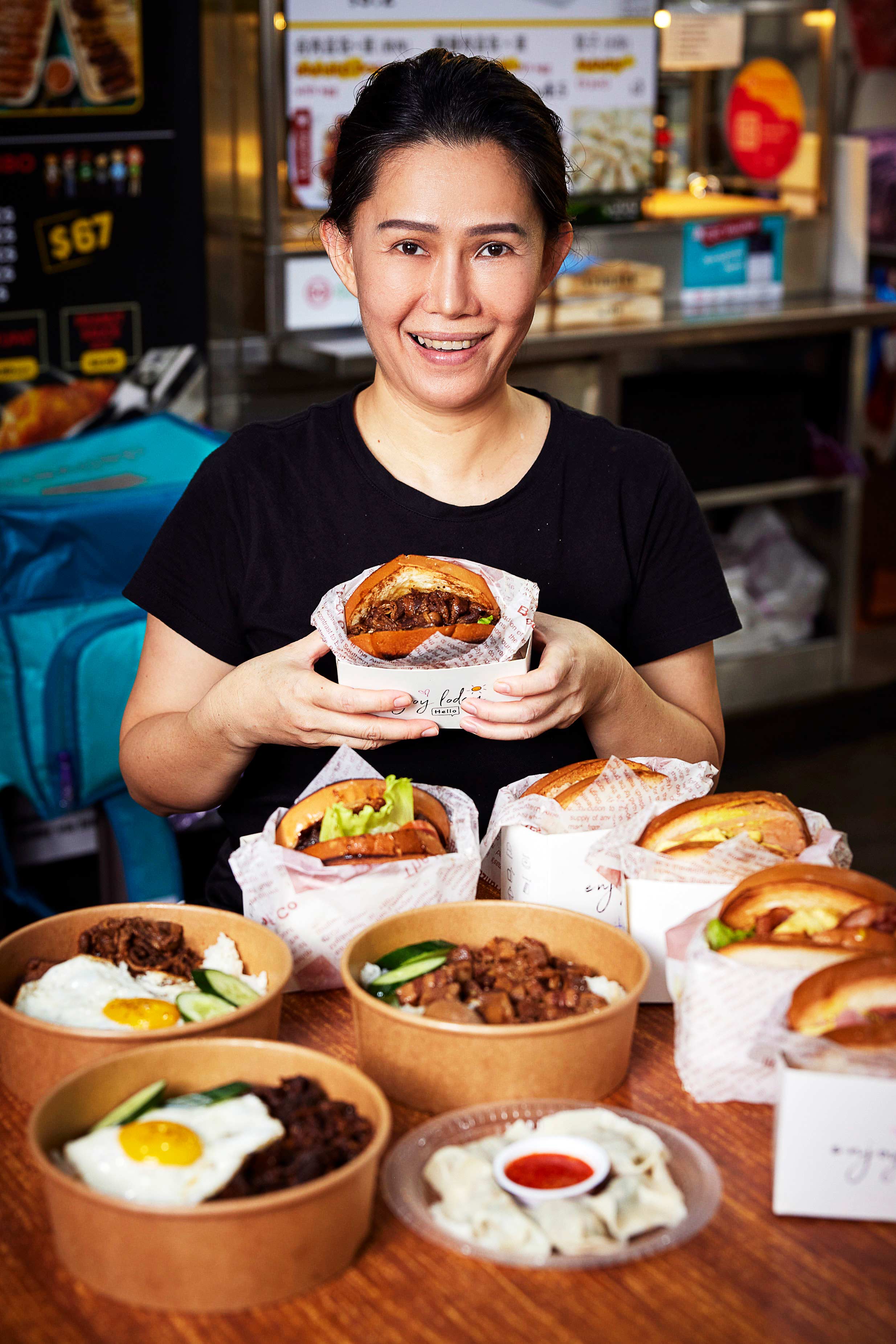 'Singapore-style' Korean egg toast
The Korean egg toast here started out resembling the real deal from Seoul, but when we visit, ended up tasting rather like homemade sandwiches. The reason? Customer complaints.
The thick toast, initially meant to be sliced part way through and stuffed with fillings, has been replaced with two separate slices of bread, after customers complained the final bit of toast had no filling.
Lynna also removed milk from the eggs to prevent them from going watery during takeaways, so instead of fluffy, cloud-like eggs, hers are now fried omelettes.
Each toast comes with a choice of two sauces: pick from honey mustard, Japanese mayo, nacho cheese, Thousand Island, sweet Thai and chilli sauce.
Basic Korean Toast with Ham, $3.20
The bread here, bought from a bakery in Admiralty, is sweet in the way neighbourhood bakery bread is. It's thicker and fluffier than supermarket white bread, but suffers from dryness after being toasted. The flatter eggs are pleasant enough – but less fluffy and moist than the Korean version – and tasty paired with honey mustard and mayo.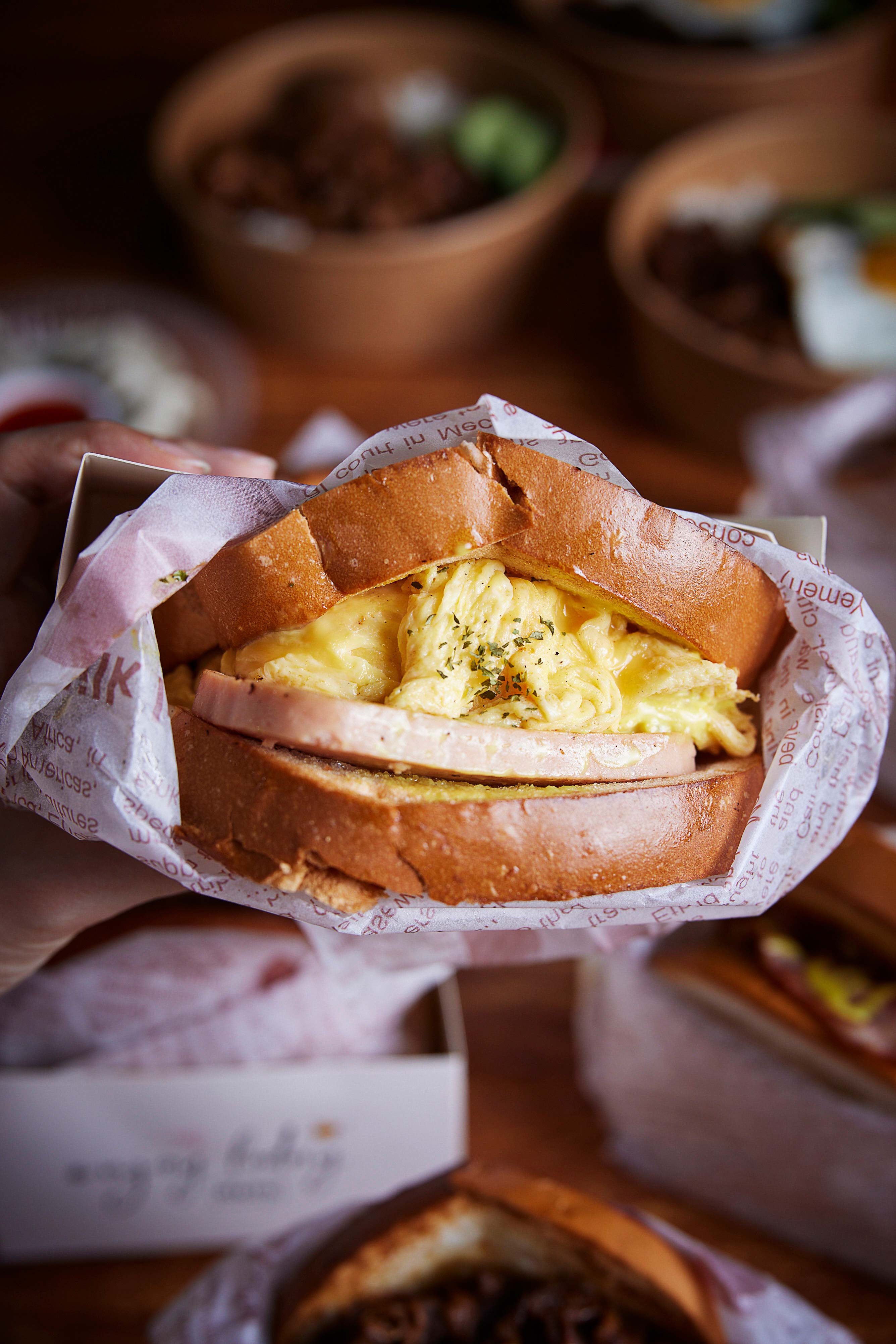 Basic Korean Toast with Luncheon Meat, $3.20
The luncheon meat here is pale and soft instead of browned and slightly crispy, but works well to moisten the bread. We like the cheddar cheese, but our sandwich comes with lashings of mayo and Thousand Island that drown out the taste of the egg.
Basic Korean Toast with Tuna, $3.20
This tastes a bit like roti john, because of the chilli sauce and mayo combo. The tuna is similar to the kind found stuffed in tuna buns at heartland bakeries.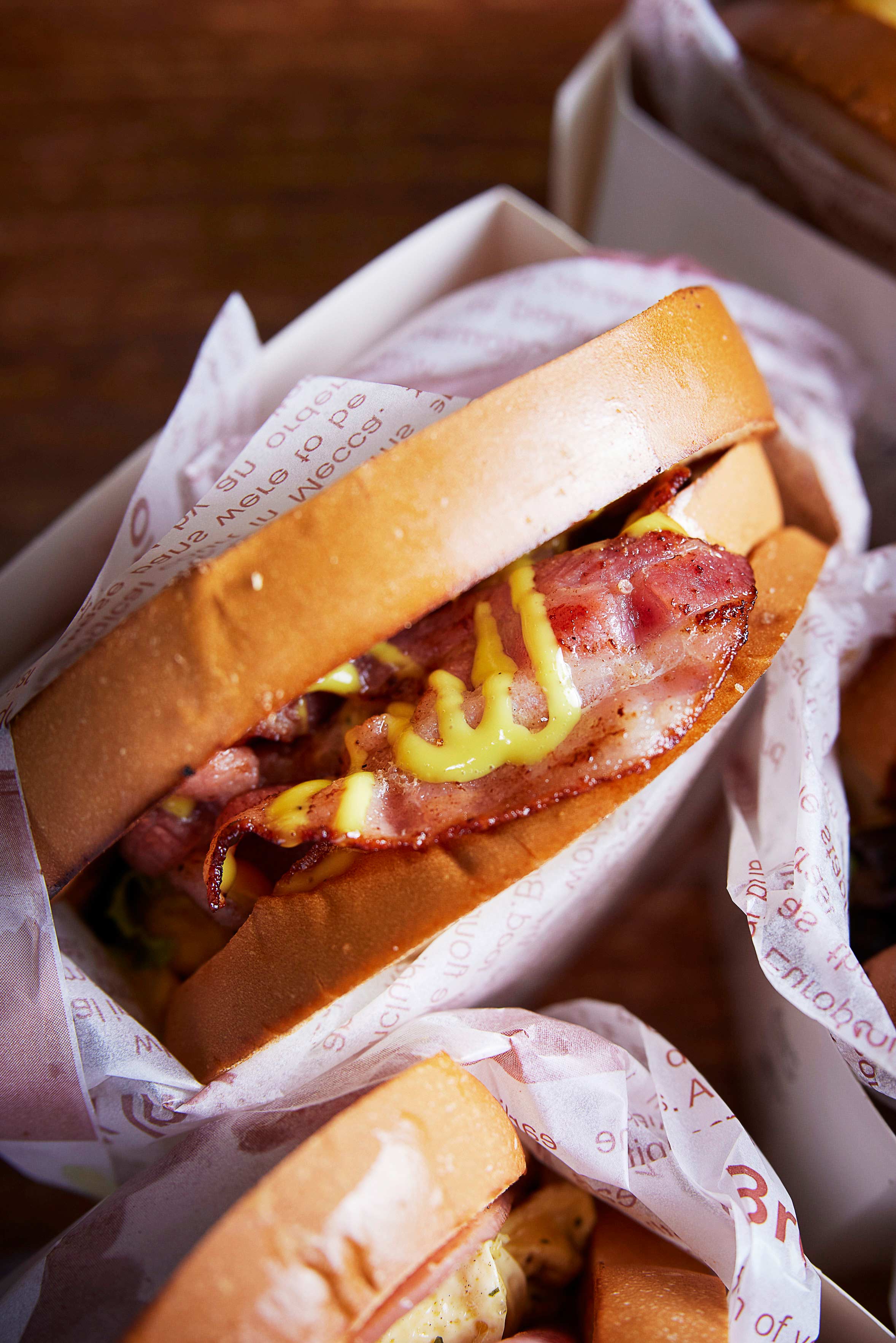 Premium Korean Toast with Bacon, $5.20
It's hard to go wrong with the tried-and-tested bacon and eggs combo. A reliable Western-tasting breakfast pick.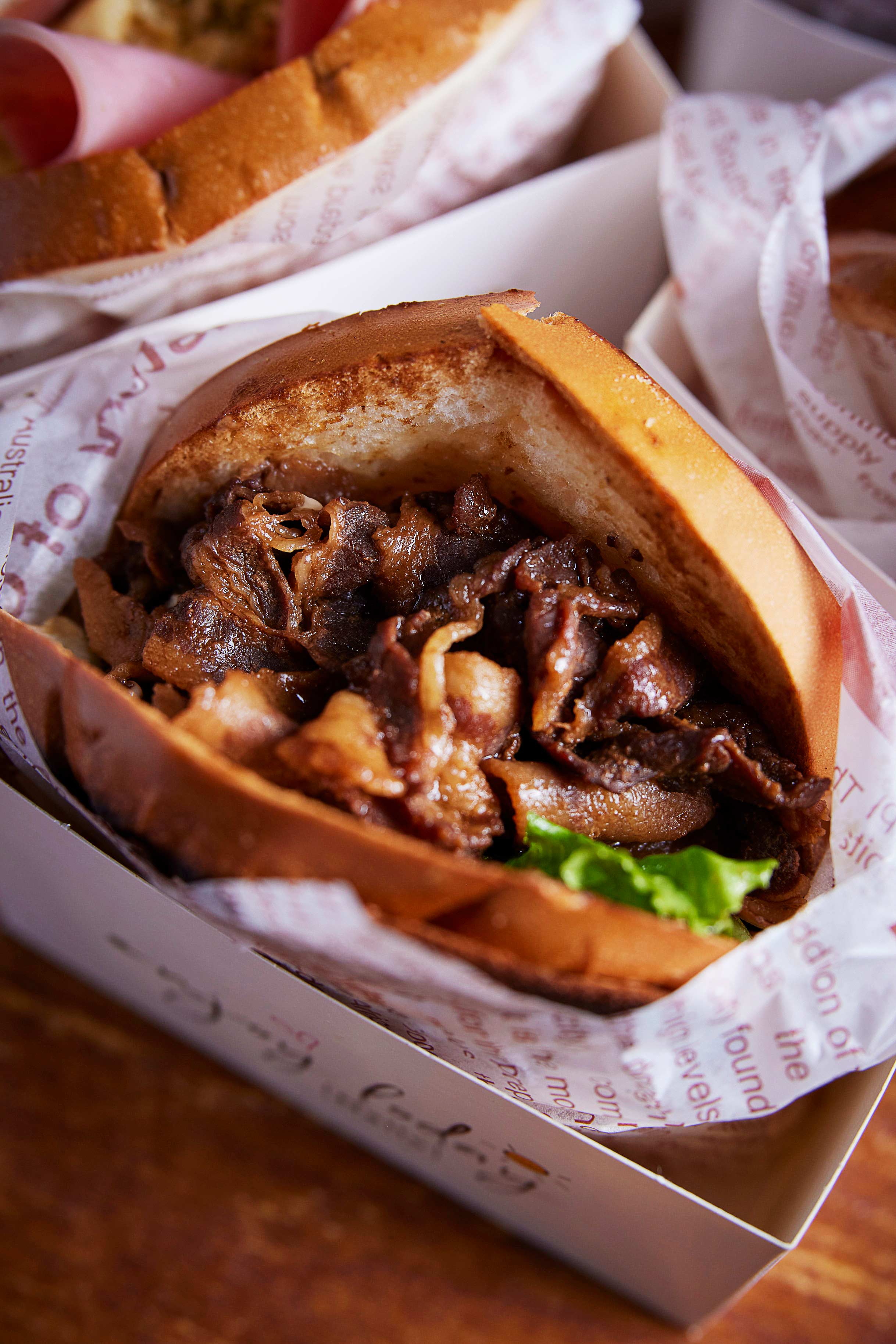 Premium Korean Toast with Pork Shabu, $5.20 (8 DAYS Pick!)
Comes with heaps of decent quality, thin-cut shabu-shabu-style pork cooked in beer, soya sauce and oyster sauce till soft and sweet. Delicious, plus value for money given the quantity of meat. The pork is flavourful enough, so skip the sauces. Overall, a worthy contender against the big Korean chains.
Premium Korean Toast with Beef Shabu, $5.20 (8 DAYS Pick!)
As yummy as the pork, but with a sweeter taste thanks to the addition of sugar. The beef is flavourful, with a good amount of lean meat.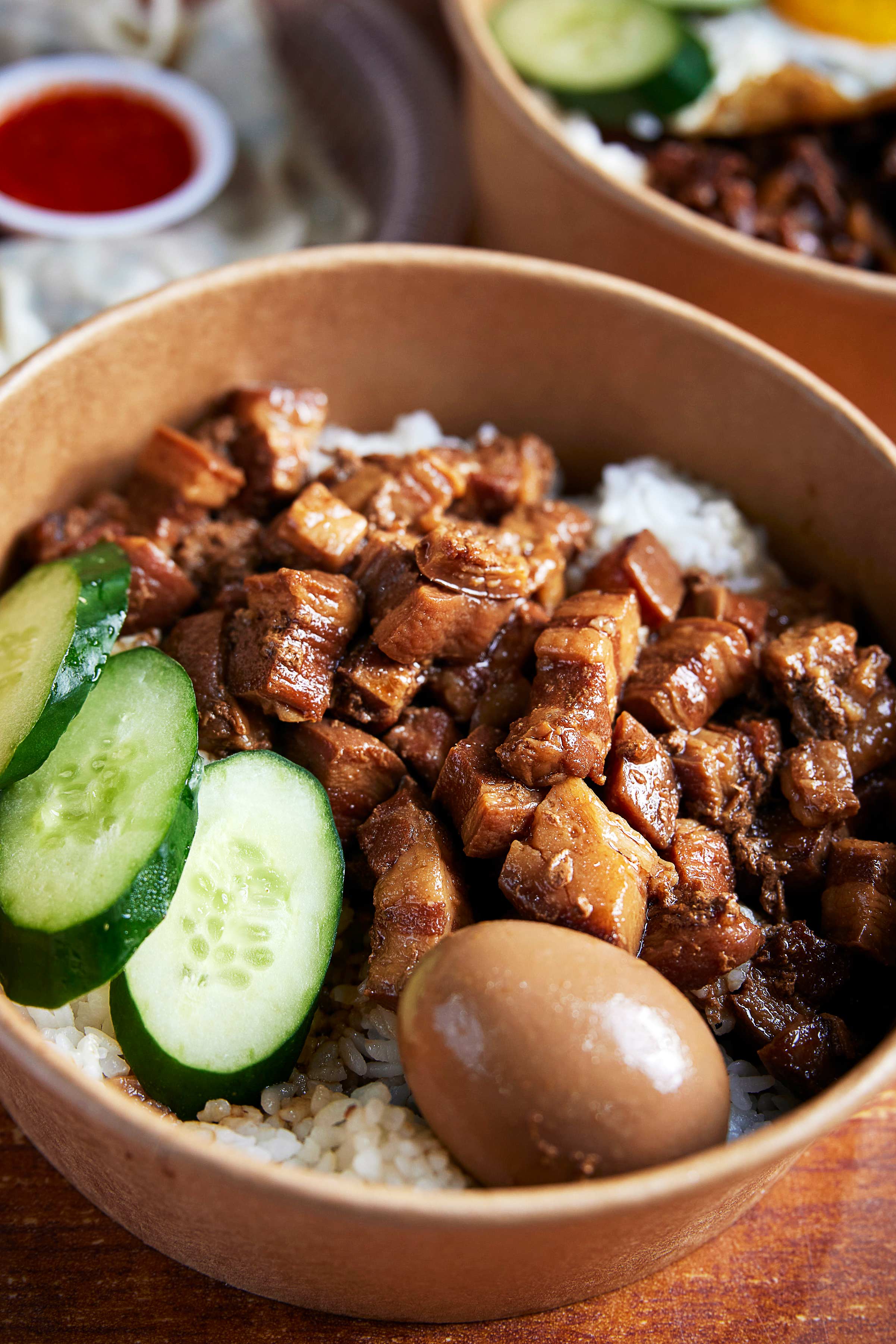 Braised Pork Don, $4.50
Reminds us of grandma's cooking. Lynna's signature dish is a light-tasting, slightly herby bowl of short-grain rice topped with braised pork that smells a touch gamey. The rustic-looking pork, diced unusually large, boasts a good proportion of melt-in-your-mouth fat.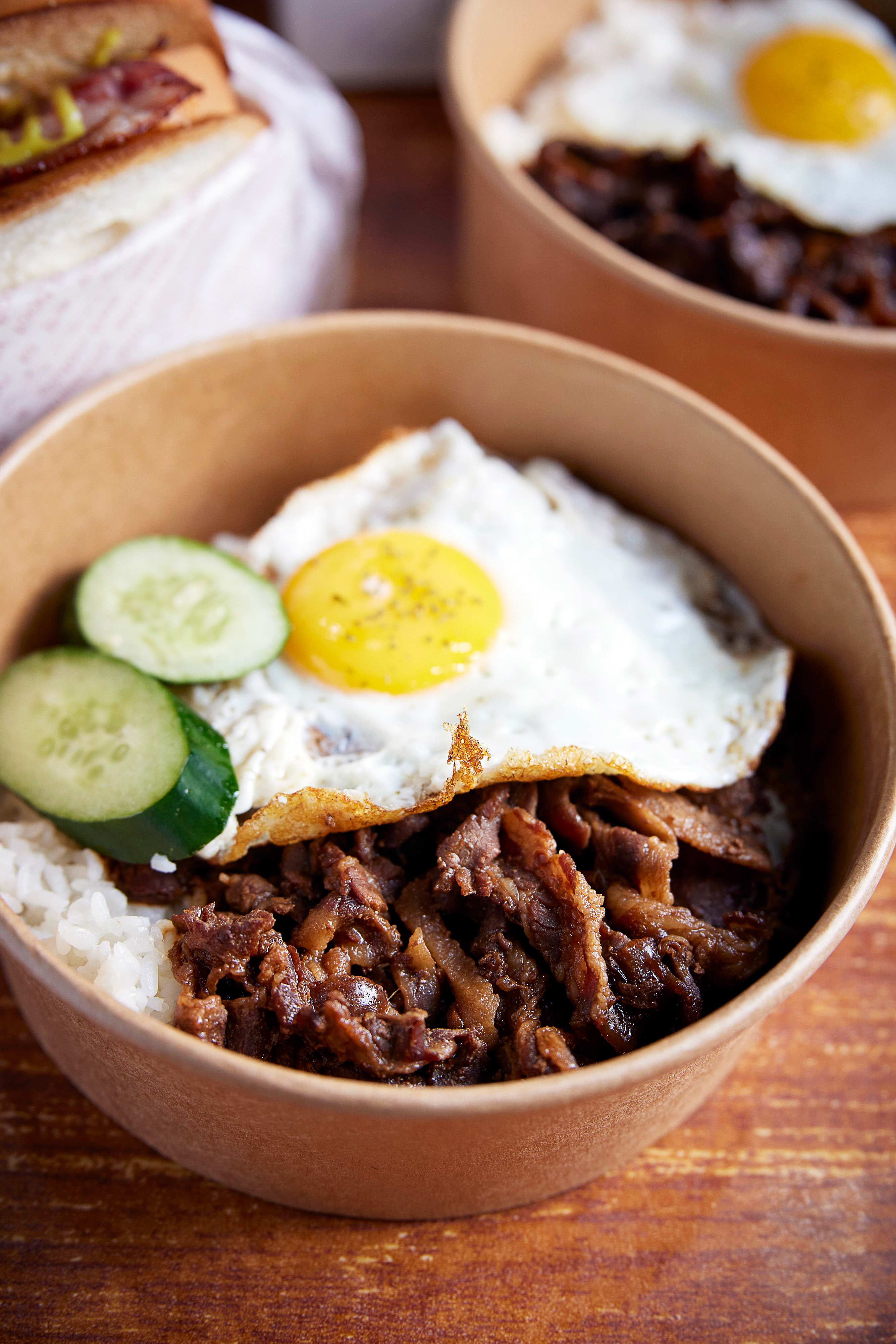 Shabu Don with Pork, $4.50
Pork shabu strips find their way over rice, with the addition of beer in the cooking process particularly prominent, since the meat is the star against plain rice without additional sauces.
The alcoholic addition imparts the pork (and beef, see below) with a nuanced complexity and good softness. Bonus points for a fried egg with a gooey centre.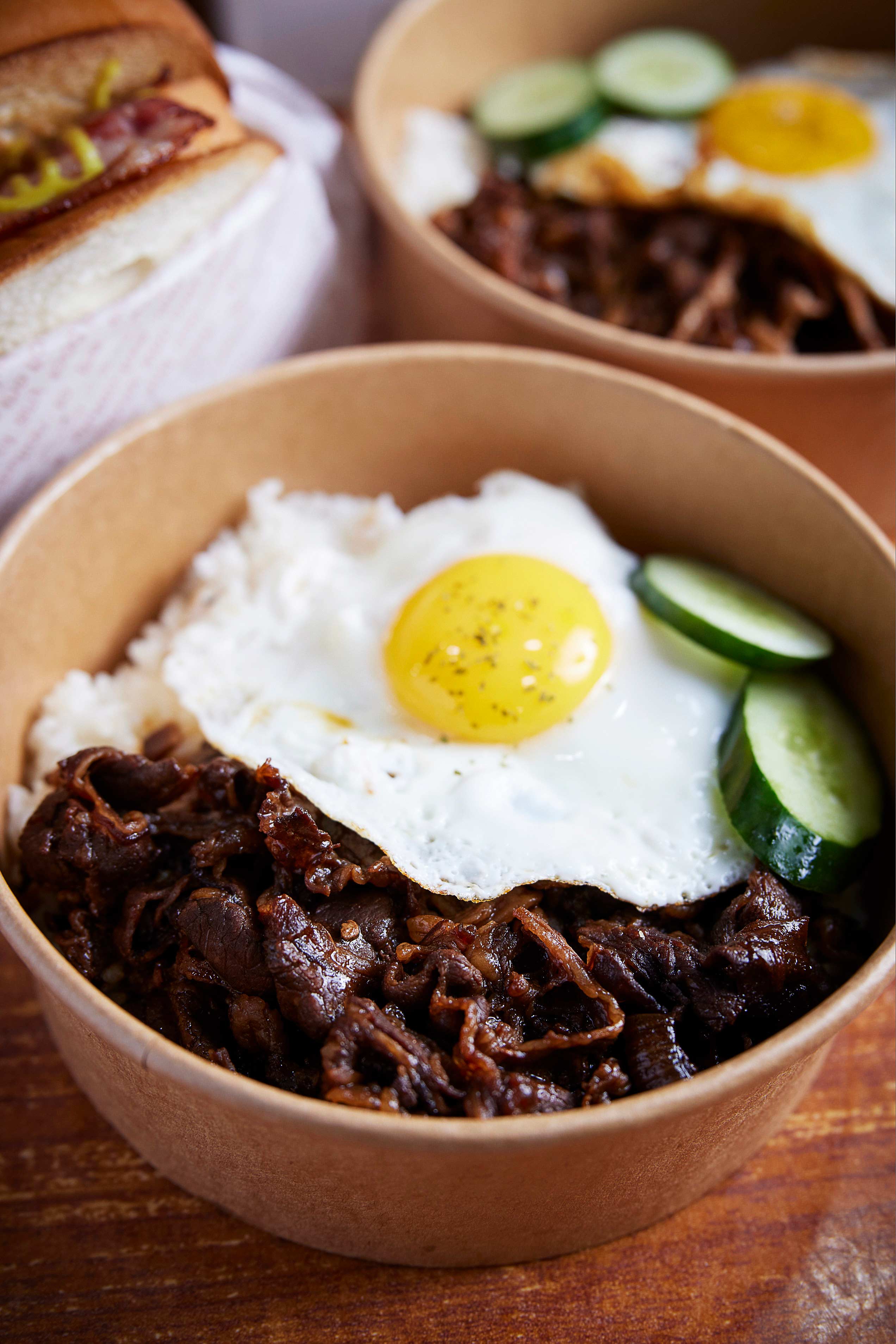 Shabu Don with Beef, $5.50
Same as the pork, except more flavourful, with stronger sweet and salty notes. The meat portion is reasonable for the price.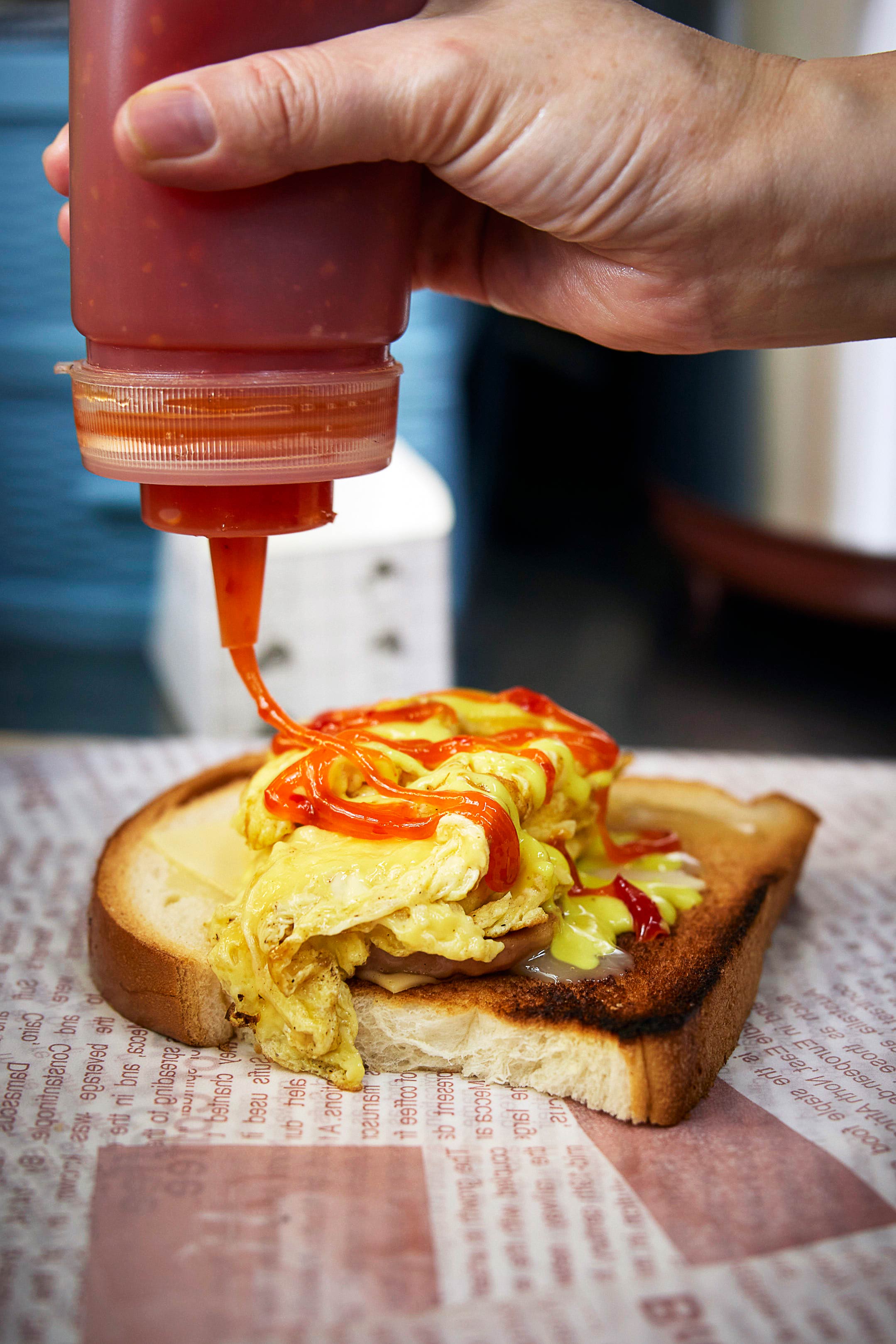 Bottom Line
Eggciting's egg toast is only loosely Korean-inspired after being tweaked to suit heartlanders' palates. So while the omelette sandwiches are quite comforting, they taste more like local sarnies — we'd rather splurge on the yummier beef and pork shabu renditions. The tasty meats also work well in rice bowls, sold at pocket-friendly prices. Skip the sauces to savour the beer-braised meat at its best.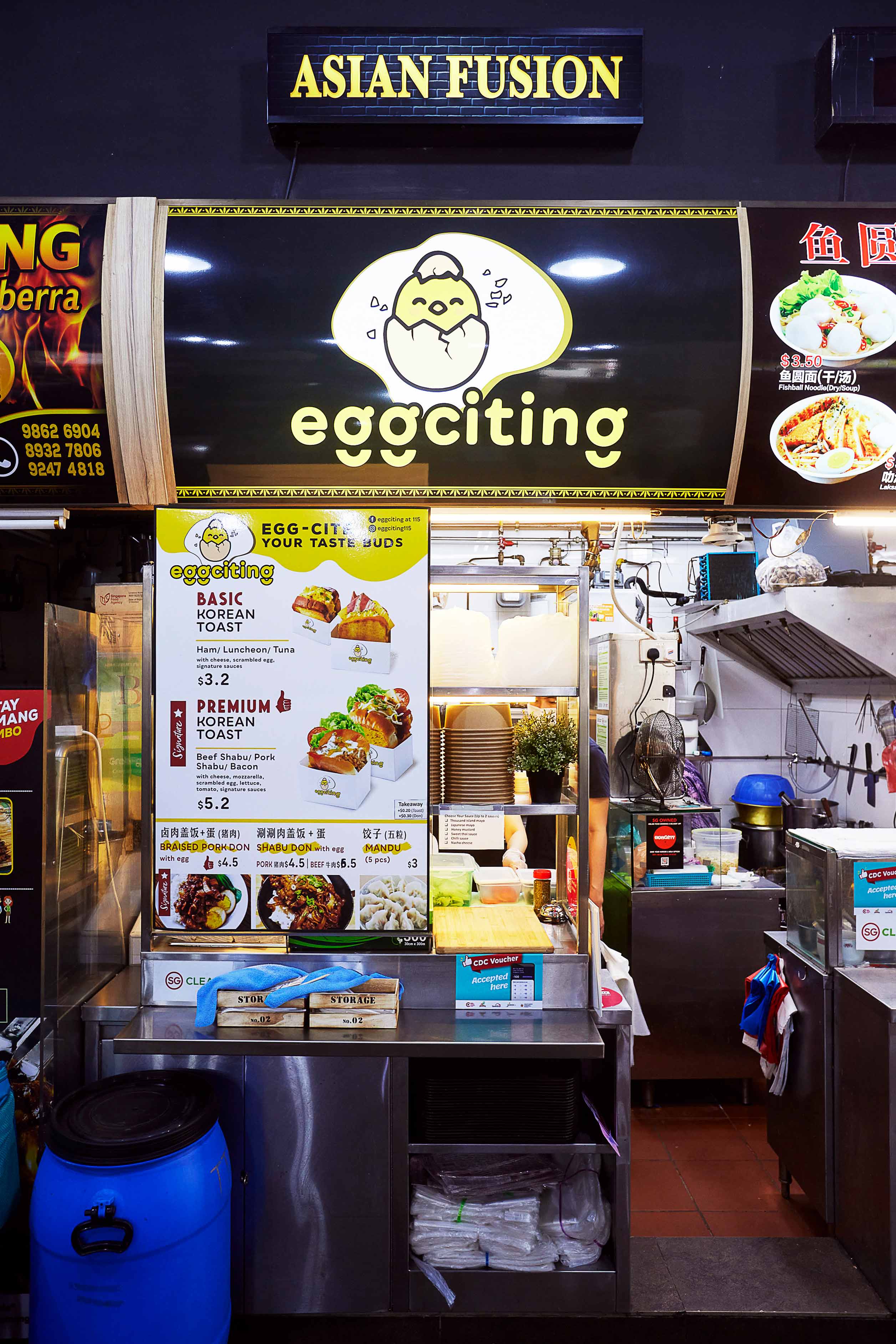 The details
Eggciting is at 2A, Block 115 Canberra Walk, S750115. Open Mon – Sun, 8am – 8pm.
More info on Facebook and Instagram.
All photos cannot be reproduced without permission from 8days.sg
Photos: Kelvin Chia